Hair toning is smooth, thanks to the new wave of fashion revolutions. The modern woman is gradually moving out of the traditional looks. With the simple do it yourself kit, you do not need to go to the salon.
Halo Highlights are the new trending hair coloring blend that will restore your confidence with ease.
What is Halo Highlights?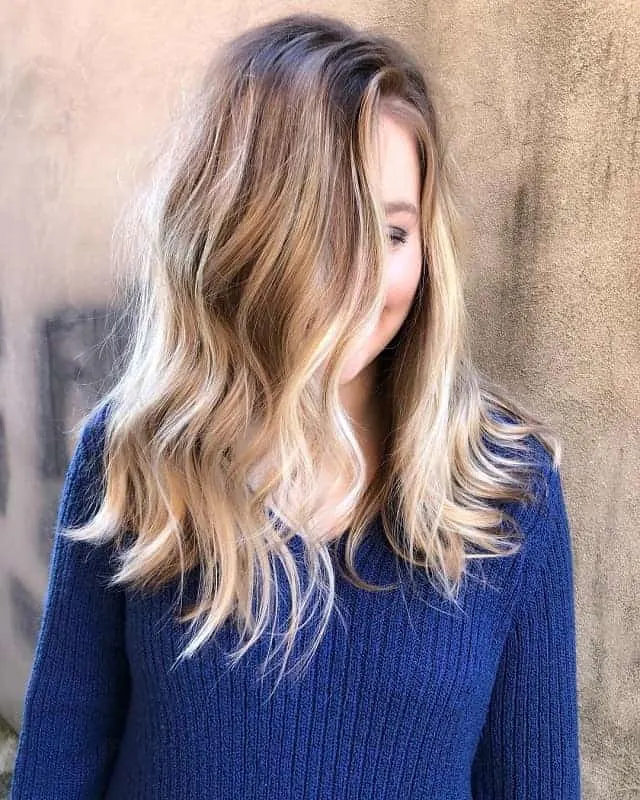 There are several hair coloring and toning techniques in the market. The age of identifying yourself with one hair tone is over. So if you want to make a statement with your hair, you need to try Halo highlights.
These highlight techniques are easy to apply and maintain. It will help you make a statement without venturing away from your original hair pigmentation.
Impressive Curly Hair Highlighting Ideas for Women
How To Do Halo Highlights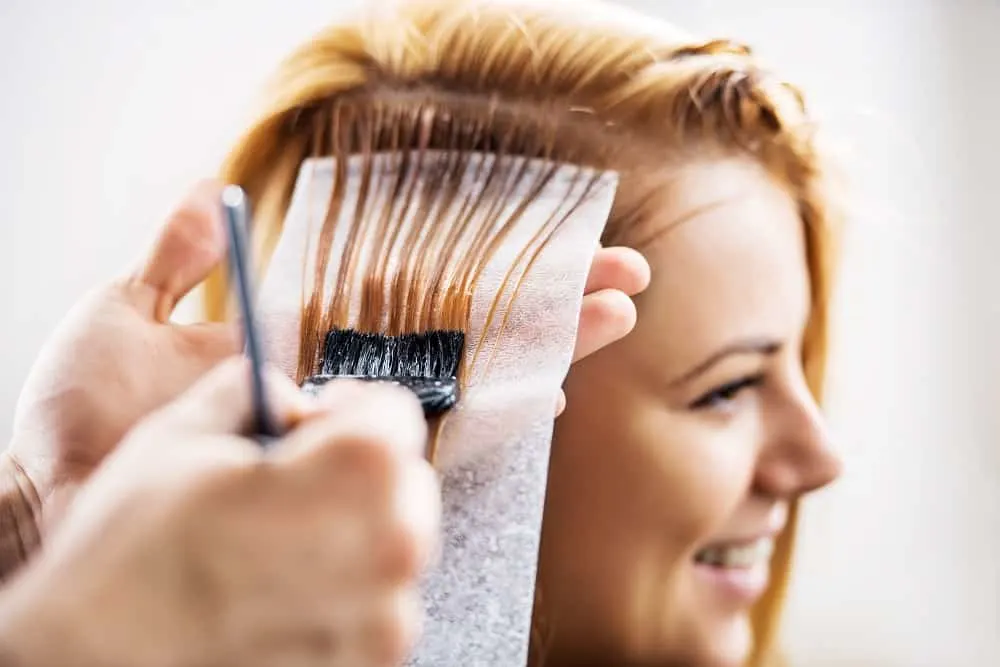 The goal of halo highlights is to create a set of light, dreamy highlights to frame your face. Getting this look requires slow, precise work.
Step 1
First, you will need to section off the front perimeter of hair near the face. This should ideally be about a two-inch-thick section of hair. Include all the hair around the face from ear to ear, similar to the shape of a headband.
Step 2
After you have sectioned the front portion of the hair, you can begin to pick out which strands of hair will get highlights. The key to halo highlights is giving the hair babylights. Babylights are extremely thin highlights, usually in a lighter color than the rest of the hair. This styling technique makes the highlights look more natural as if the hair has been lightened by the sun.
Step 3
The portions chosen for highlights should be dyed using the aluminum foil method. The aluminum foil method involves applying bleach and dye to the section of hair and then wrapping the hair in tin foil as it dries. This technique will keep the highlighted portions precise, which is essential for the delicate look of babylights.
At the end of this process, the hair should be noticeably lighter in the front but in a natural tone. If the highlights create the illusion that a light is shining on the person's face, you have successfully done halo highlights.
Watch the following tutorial to learn how to do halo hair highlighting.
Best Halo Highlighting Ideas for Women
Here are the top 15 ideas you should know about Halo hair highlighting. Have a look to get inspiration.
1. Keep It Natural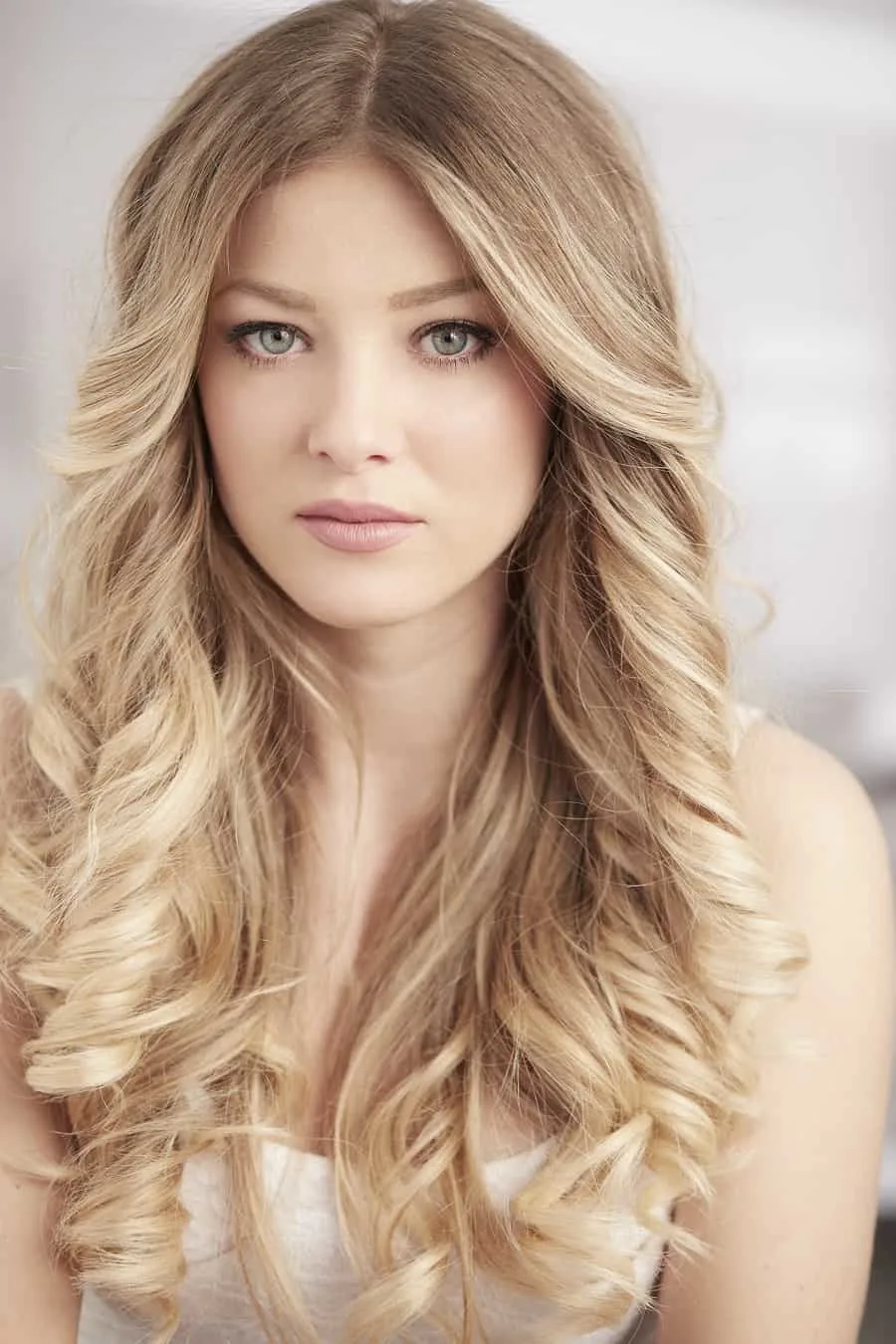 To start with, this hairstyle is ideal for blonde ladies. Keep it subtle by going for a lighter shade of golden blonde for highlighting the front and to contrast with the natural darker golden blonde hue. This barely-there hair look will add an instant gleam to the face.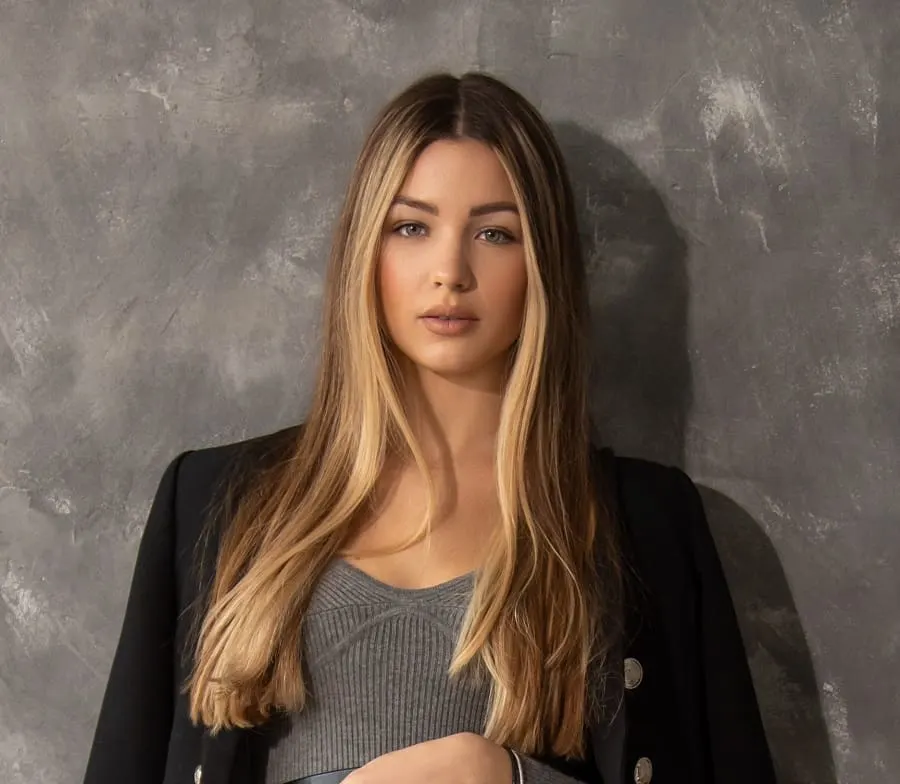 Those who want an instantly noticeable change in their hair but don't want to overpower their natural base shade can go for these chunky highlights. The hair is dyed in a medium champagne shade and coupled with light blonde streaks at the front framing the face flawlessly.
3. Contrasting Front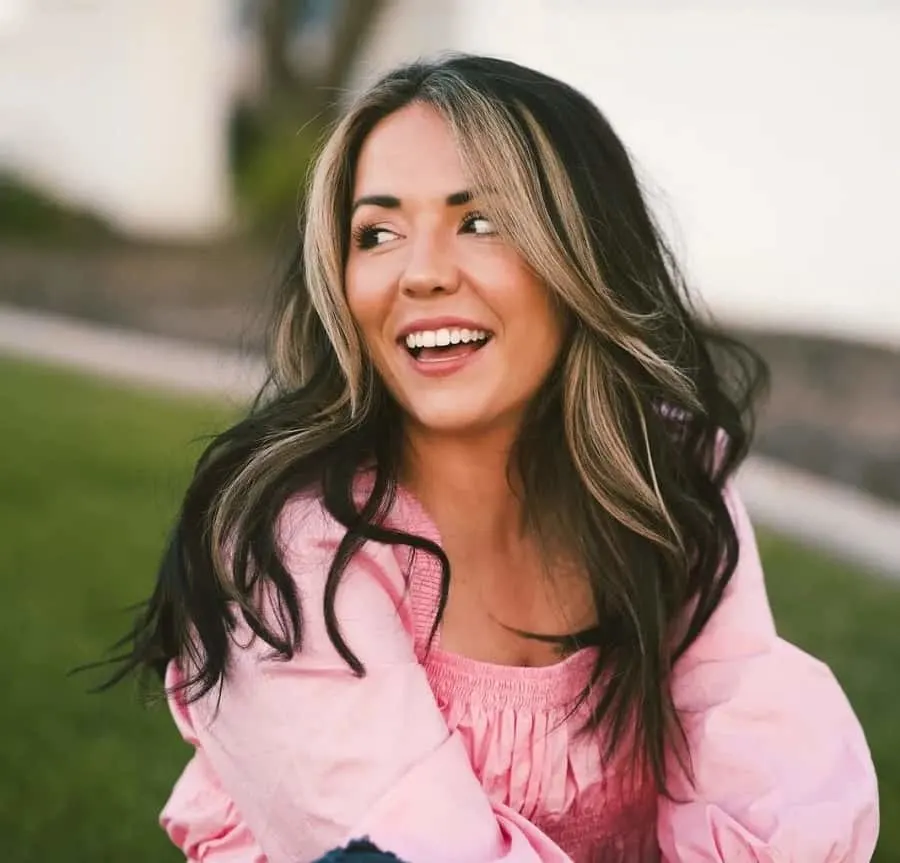 Halo highlights are all about the prominent front fringe. Turn around heads by selecting some strands at the front and lightening them down into an ashy blonde shade to contrast vividly with the layered black tresses. This look is suitable for women with naturally dark hair.
Spice up your brown locks by taking the front sections of the middle-parted hair and dying them in a warm auburn hue. Whether you wear your hair in loose waves or secure them in an updo, these highlights will surely keep all the eyes on you.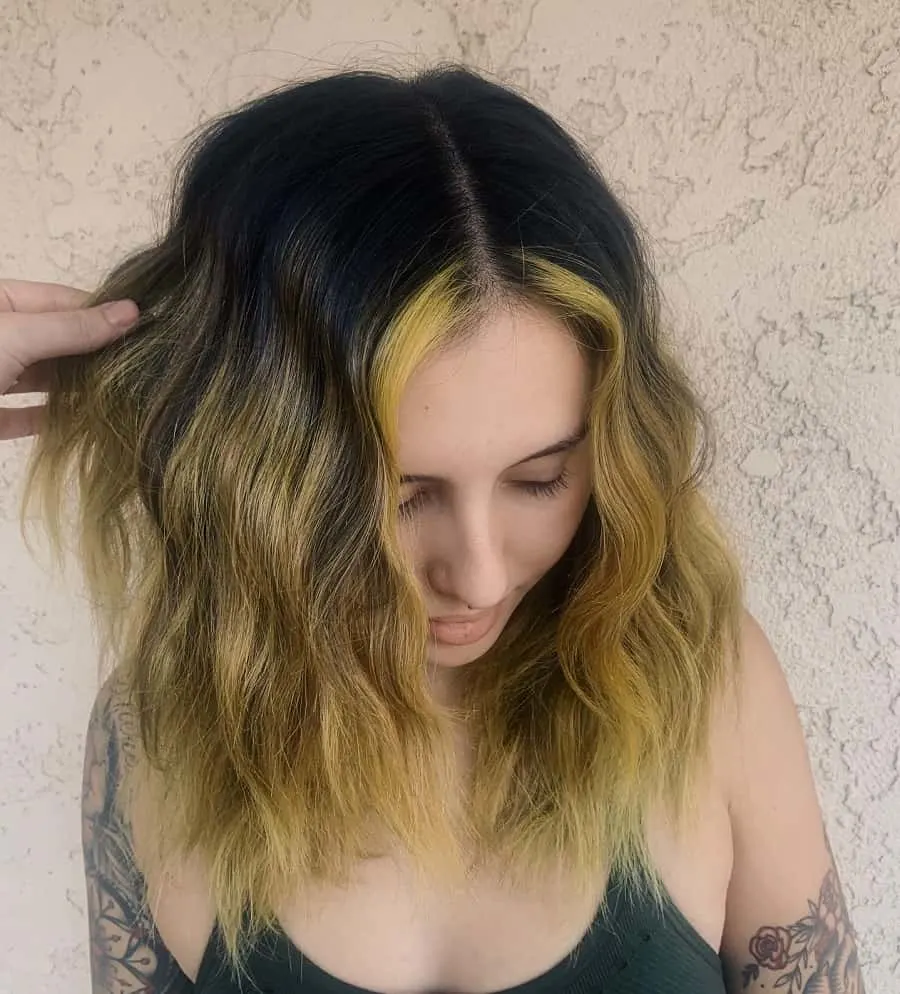 A balayage hairstyle looks gorgeous when coupled with halo highlights. Create this look by coloring the money pieces in a vivid light yellow tinge while the remaining black hair melts into the yellow shade seamlessly reaching the ends. Top off this light and dark hair color combo with waves.
6. A Hint of Green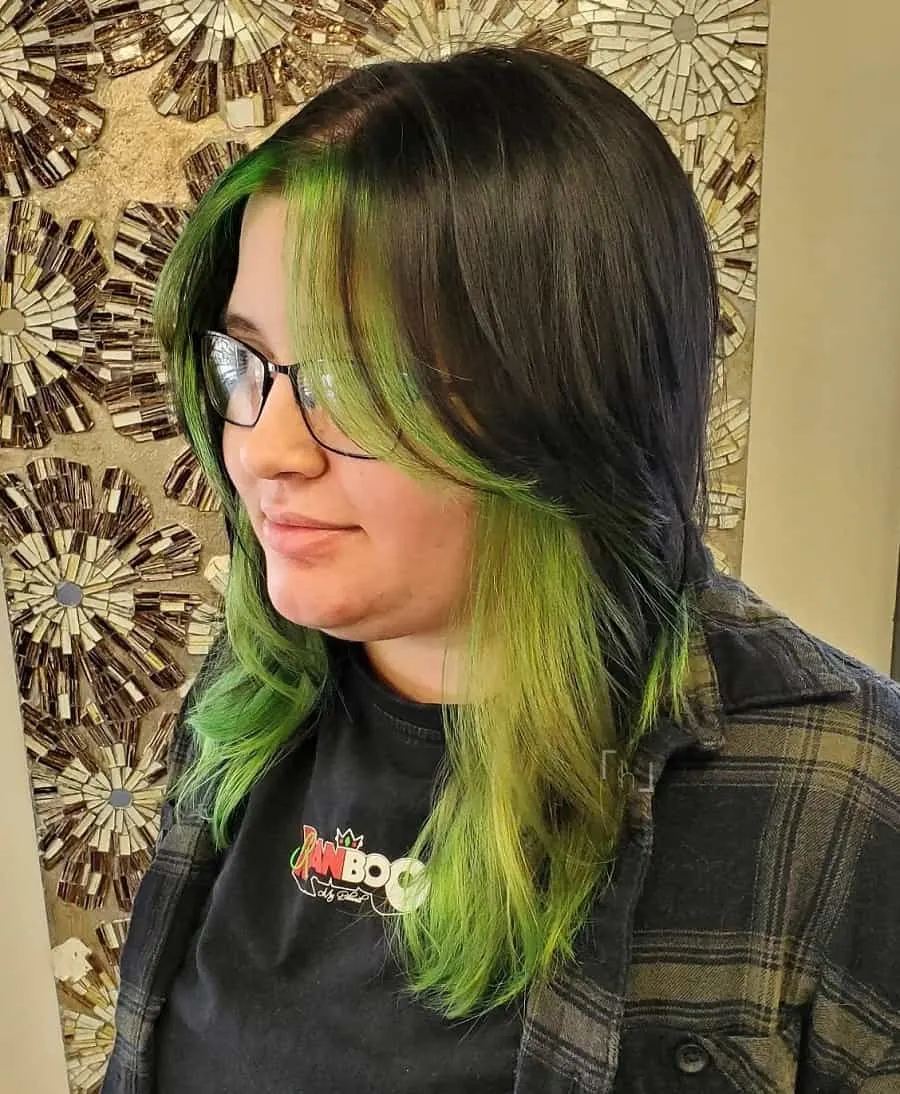 Get an emo girl-inspired hair look by using an unconventional hair shade when highlighting the front. Tie the hair back and pull out all the strands from ear to ear. Bleach and dye them a light neon green hue to stand against the layered black hair.
7. Flaunt the Greys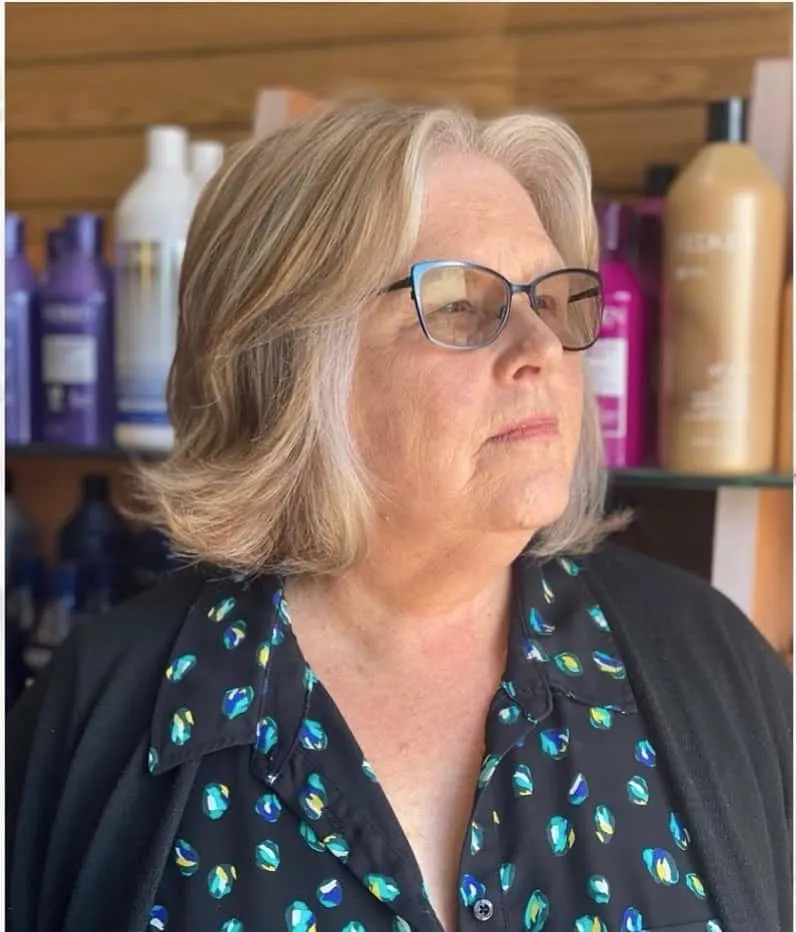 Here is a halo highlights idea for women over 50 who are not afraid to flaunt their natural greys. The short blonde bob has platinum blonde streaks at the front that accentuate the face beautifully. With this look, those aging silvery strands will appear like highlights too!
8. Fierce Red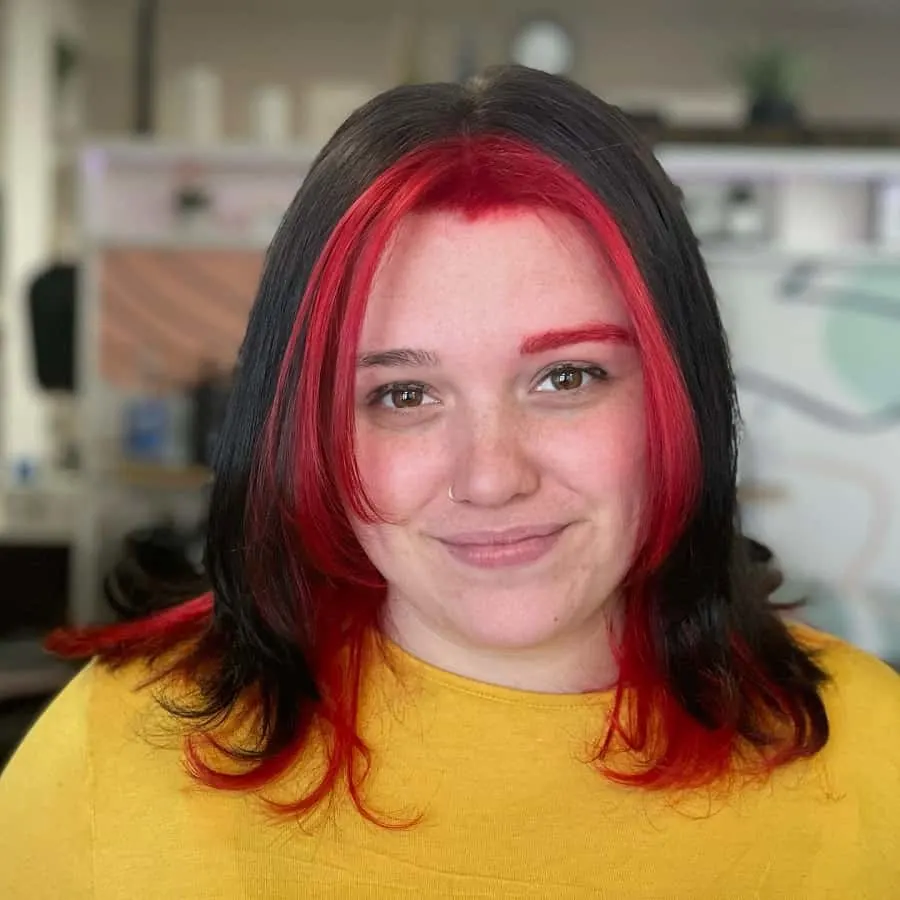 Ever tried a black and red hair color combination? If not, try it next time by keeping in mind this fierce hairstyle. The front is dyed in a bright red shade while the remaining hair is black. Color an eyebrow red too to set off this two-toned bold look.
9. Warm Brunette Mane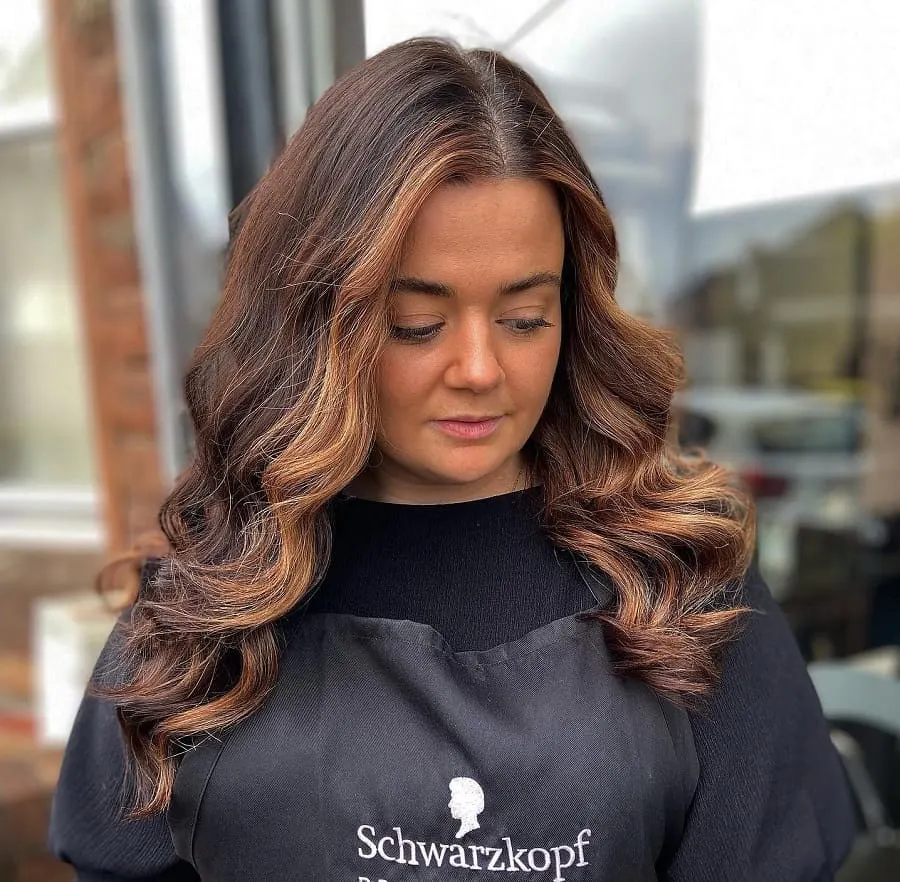 Give a beautiful dimension to your brunette mane by toning down the chunks at the front into a toffee blonde tint intermixed with light blonde babylights. This hair look will add instant refreshing warmth to the face when paired with bouncy waves.
10. Tri-Color Combo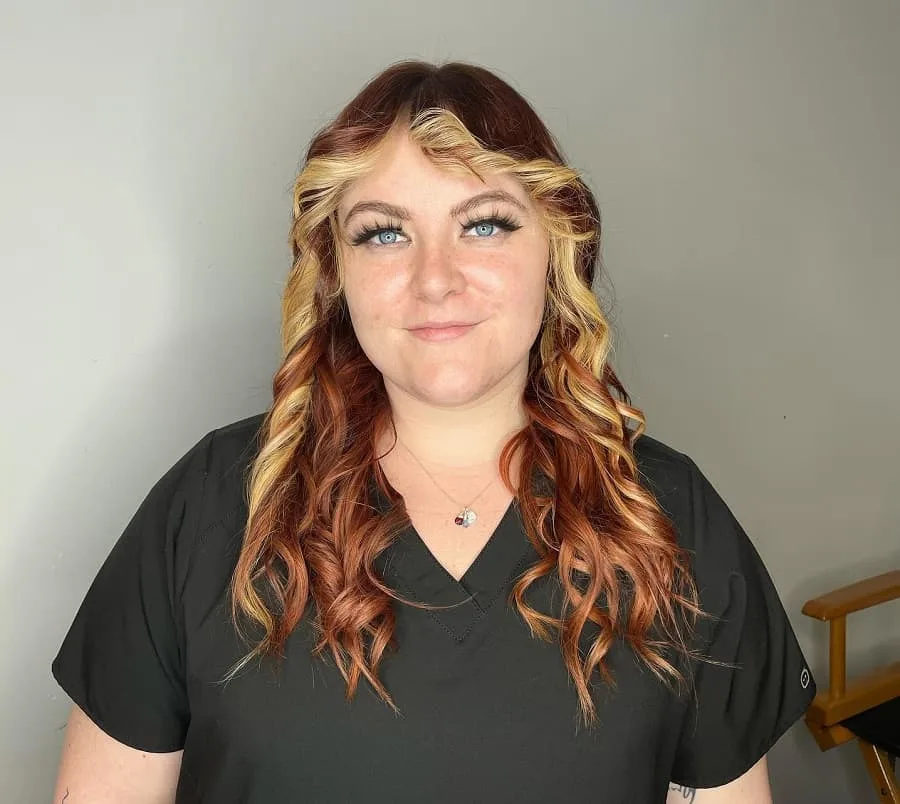 Go for a three-toned look to create a unique hairstyle. The front hair is sectioned horizontally into two parts with the lower one being dyed sunflower blonde while the one falling over it has a dark chocolate brown hue. Color the remaining hair in a light auburn shade.
11. Bangs + Highlights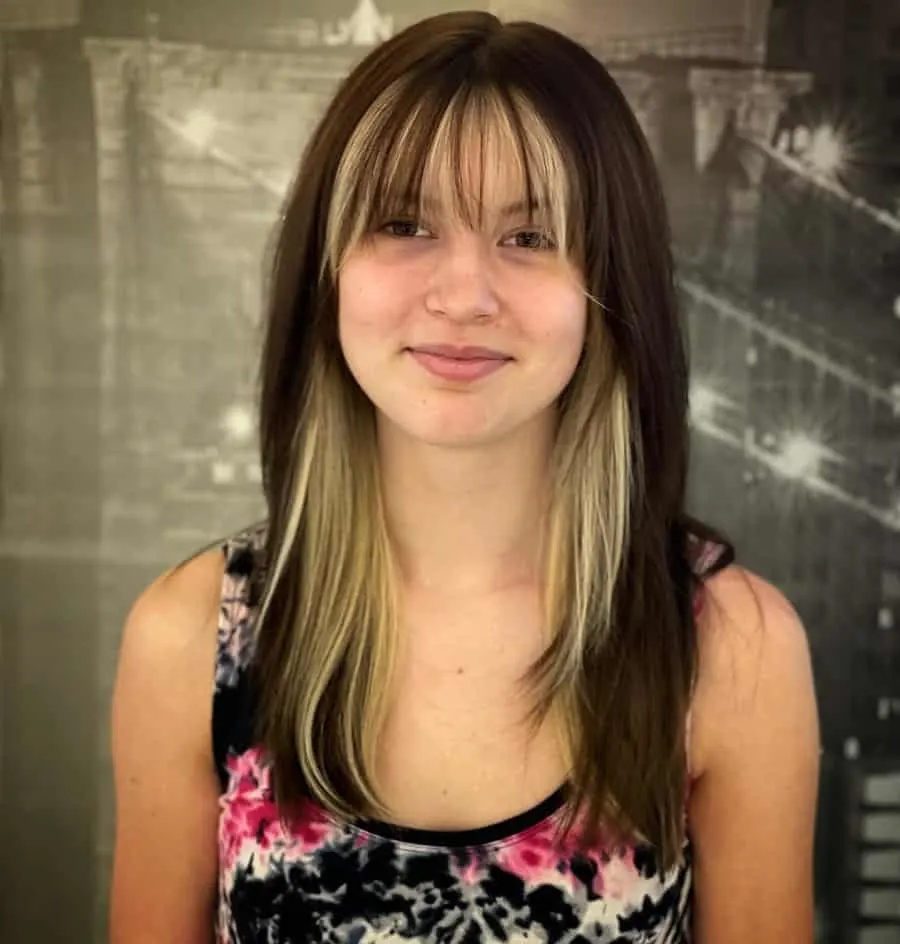 Halo highlights can be achieved at home with ease and are cost-effective too which makes them suitable for young girls longing for a hair change. Recreate this look by dying the bangs and side locks in a light blonde hue to peek through the black strands.
12. Sun-Kissed Appeal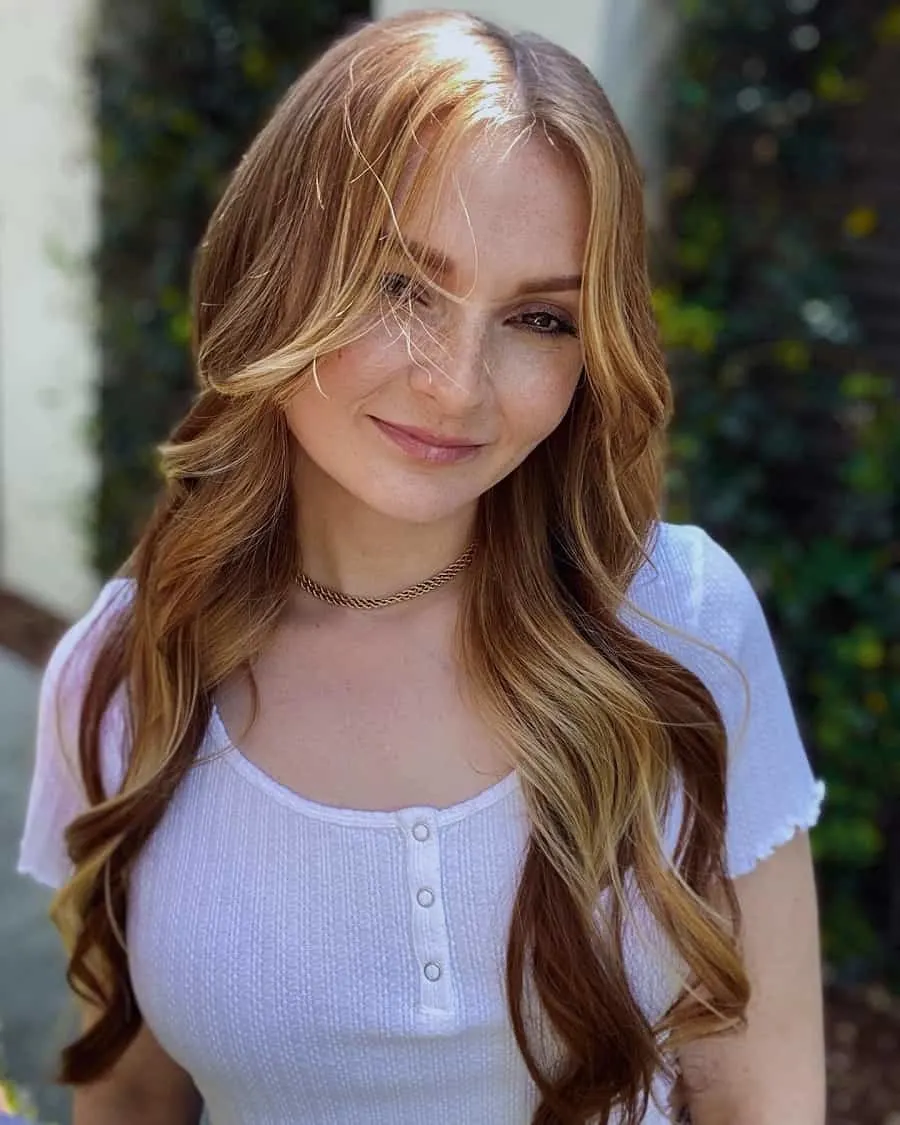 Here is yet another idea to stay low-key but keep all the eyes on you. The base color is a soft light brown shade while the front chunks are lightened to a medium natural blonde hue. Add loose waves intermixing the two colors to finish off this sun-kissed look.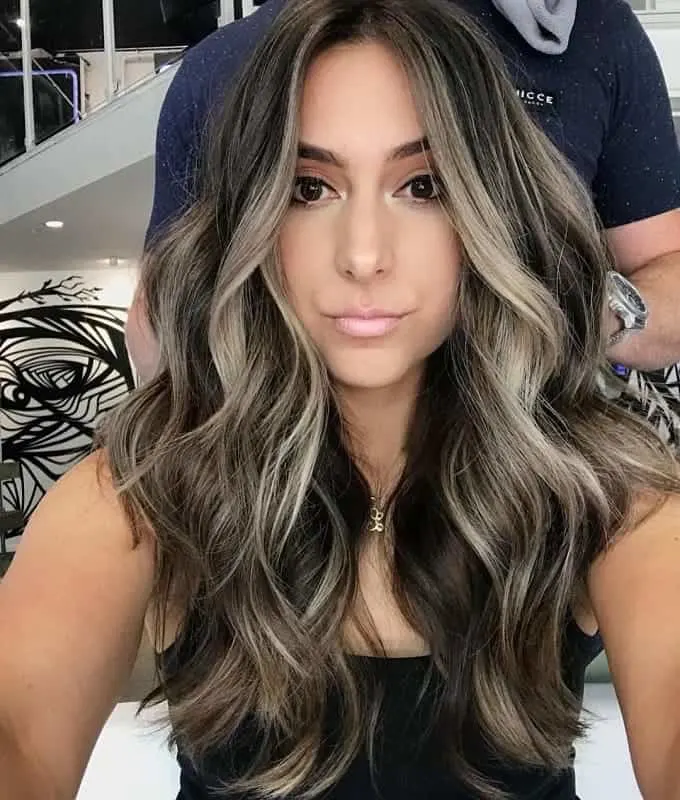 Hair highlighting is different from dying. Halo techniques are similarly different. With this highlighting technique, you do not tone your entire hair.
To get this long hair highlights style simply choose a few threads of hair around your face. Then apply the color shades of your hair color with a highlighting kit.
Two or three shades are perfect. Since you are using a few strands of hair, it is not proper to overdo things. It is a fashion statement and not a hair-dying routine.
Gorgeous Short Hairstyles with Highlights for Women
14. Dark Shade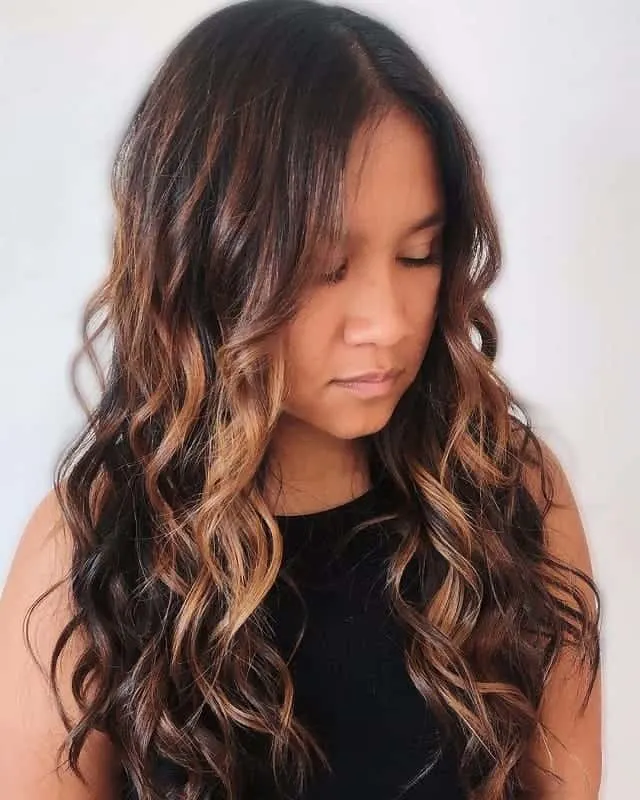 It is vital to choose the perfect shade for your hair. For instance, if you have brown or dark hair, try some lighter shades on the front part. Get something light brown to auburn hair shade. This complements perfectly with the background.
15. Highlights for Light Hair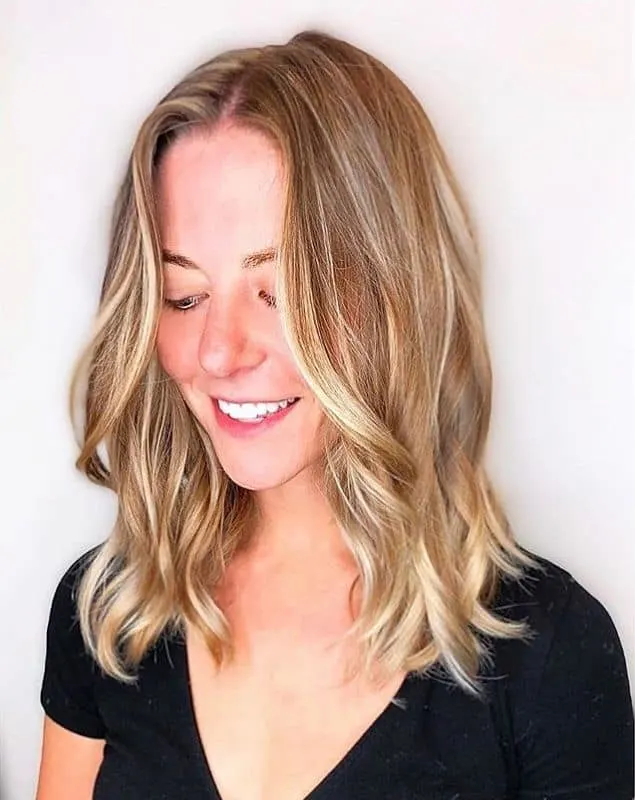 If you are light in color, you should go for darker shades of highlights. The essence of this toning is to define your style and still maintain your original hair tone.
The secret to Halo highlighting is that the fewer shades you have on the hair, the better the style. The skin tone will provide a perfect middle toning color between the hair and the babylights.
Halo Highlights vs. Partial Highlights
Halo and partial highlights come from the same concept of selectively applying highlights to create dimensionality in the hair. While some may consider halo highlights a type of partial highlight, the term partial highlight is much broader.
Partial highlights are any highlights that a stylist only applies to a certain section of the hair. Partial highlights are often done in the front half of the hair to intensify light and depth. Compared to halo highlights, a partial highlight in the front of the hair would extend further back and be less concentrated in the first few inches of hair.
Treatment Routine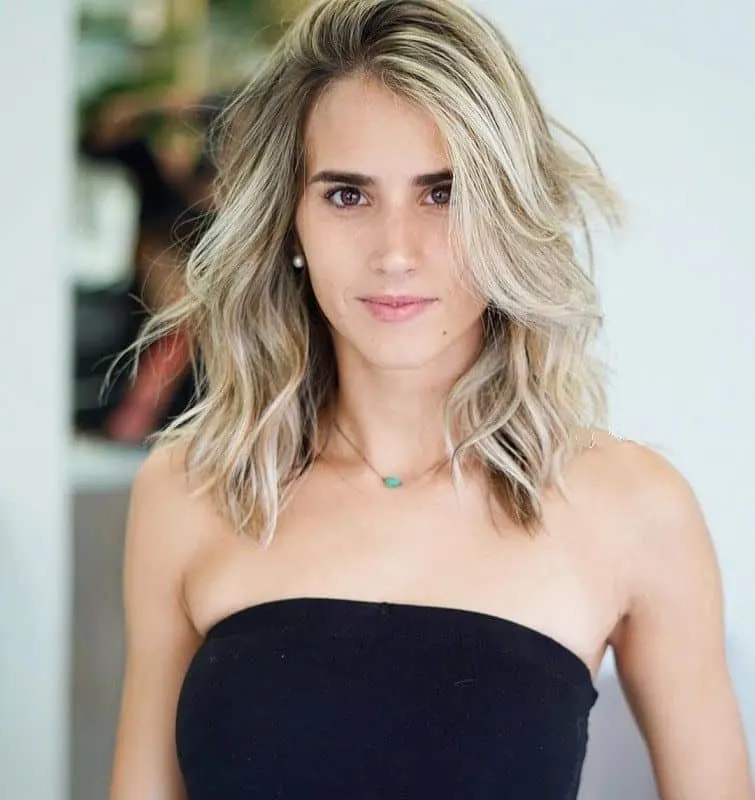 Hair highlighting removes the original hair color pigments. In the process, it lightens or darkens the hair. Therefore it is difficult for the body to treat the hair tissues naturally. Taking good care of your hair is a serious recommendation.
Use a hair treatment toner once a week. For the best results, try the semi-permanent gloss treatment for about 30 minutes. If you maintain that routine, your hair will retain its color and style for longer. This treatment also opens the hair cuticle for the overall well-being of the hair.
Demi Vs Semi-Permanent Hair Colors
Frequently Asked Questions
Here are answers to some of the most frequently asked questions about halo highlights.
Are halo highlights expensive?
The cost of halo highlights will vary depending on the salon and hairstylist. Most highlight appointments will cost at least 70 dollars. While partial highlights are less expensive than full highlights, the careful work required for babylights will cause the price to increase.

Other factors that influence salon prices include the training and experience of the stylist and the typical costs within the region. If you have concerns about the cost of your hair appointment, consult with your hairstylist beforehand to confirm pricing.
How long will halo highlights last?
How long halo highlights last depends on how well you take care of your hair. Many factors will cause your hair dye to fade quickly. Some common causes of faded hair dye include harsh shampoos, sun exposure, swimming in pools with chlorine, and using low-quality hair conditioners.

If you are attentive in maintaining your halo highlights, you should be able to go 12 to 14 weeks between appointments. In the case that your halo highlights are extremely subtle and low contrast with your natural hair color, you could wait a little longer than that between appointments.

However, if there is a significant level of contrast between your highlights and natural hair color, you will need to go into the salon for touch-ups more frequently. This is relevant if you have super light blonde highlights, or unnatural highlight colors, such as blue or pink.
What's the difference between halo highlights and balayage?
Balayage is a completely different dyeing process than halo highlights. Balayage is a subtle highlighting technique where a stylist dyes sections of the hair in a slightly lighter shade than the base shade.

For balayage, the stylish paints the dye onto the hair with a brush. They usually start in the middle of the hair and increase the amount of dye applied towards the ends. This technique has a dynamic effect, making the hair appear to have more texture and shine.

Halo highlights are quite different from balayage. While some stylists may choose a painting technique when creating halo highlights, especially if done alongside balayage, many stylists will opt for a babylight technique.

Additionally, halo highlights are applied to the front of the hair, exclusively for framing the face. Balayage, on the other hand, is a technique for creating more depth throughout the hair.
Are babylights and Halo lights similar?
Babylights and halo highlights are similar. Most high-quality halo highlights will incorporate a babylight technique. Some people choose to have babylights done throughout their entire head of hair.

Getting small, delicate highlights throughout your hair will make for a natural, sun-kissed look. Babylights require quite a bit of skill and time, but the results are fantastic. If you plan on getting halo highlights, you should consider incorporating additional babylights throughout your hair.
We hope that you are now knowledgeable about Halo highlights. So next time around, you should pick these highlights for your hair.
You May Also Like