Michelle Williams is one of the most famous American actresses in their 40s who has starred in many Hollywood movies like 'The Greatest Showman' and 'The Fabelmans'. She is known for her gorgeous hairstyles, ranging from long hairstyles to bob and pixie cuts.
Her blonde hair is perfect for pixie cuts, which can definitely be seen in her various red carpet appearances. In this article, we will go through Michelle Williams's iconic hairstyles that will inspire you for your next look.
Michelle Williams's Latest Hairstyle in 2023: Blunt Bob
Michelle Williams looks ethereal with her blunt bob recently. A blunt bob is a shorter bob haircut with equal length rather than layered. As Michelle has blonde hair, her blunt bob makes her hair prominent and perfectly suits her face shape.
Iconic Michelle Williams Hairstyles
Michelle Williams has captivated audiences with her nuanced performances. She also consistently dazzles with her hairstyling choices.
Whether she's portraying a beleaguered wife in 'Brokeback Mountain' or the iconic 'Marilyn Monroe', her hairstyles never fail to make a lasting impression.
1. Pinned Bob Cut
Michelle Williams looks breathtaking in her bob cut that she has elegantly pinned at the back. She is one of my favorite blonde actresses over 40. This blonde hairstyle adds grace and suits her face shape well.
2. Bob Cut with Beach Waves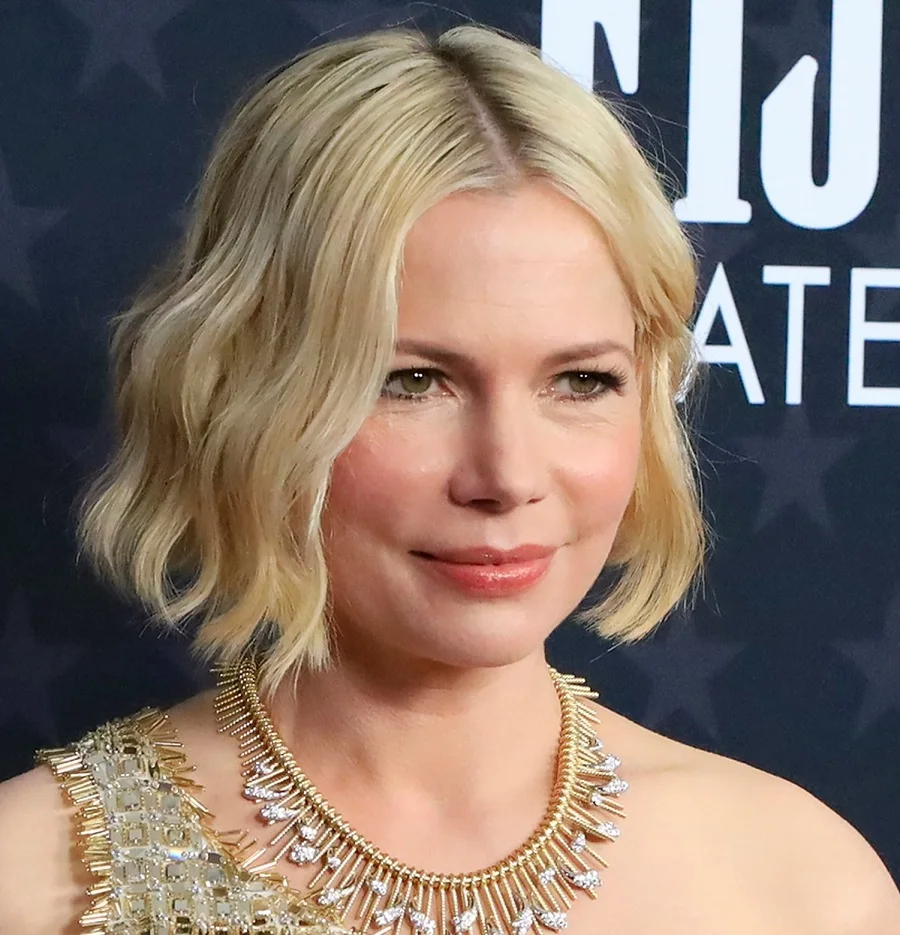 One of the best hairstyles for all seasons is definitely bob cut with beach waves. Michelle Williams' face is perfect for bob haircuts. She has styled her hair with beach waves to make the hair look more enchanting.
3. Platinum Bob Cut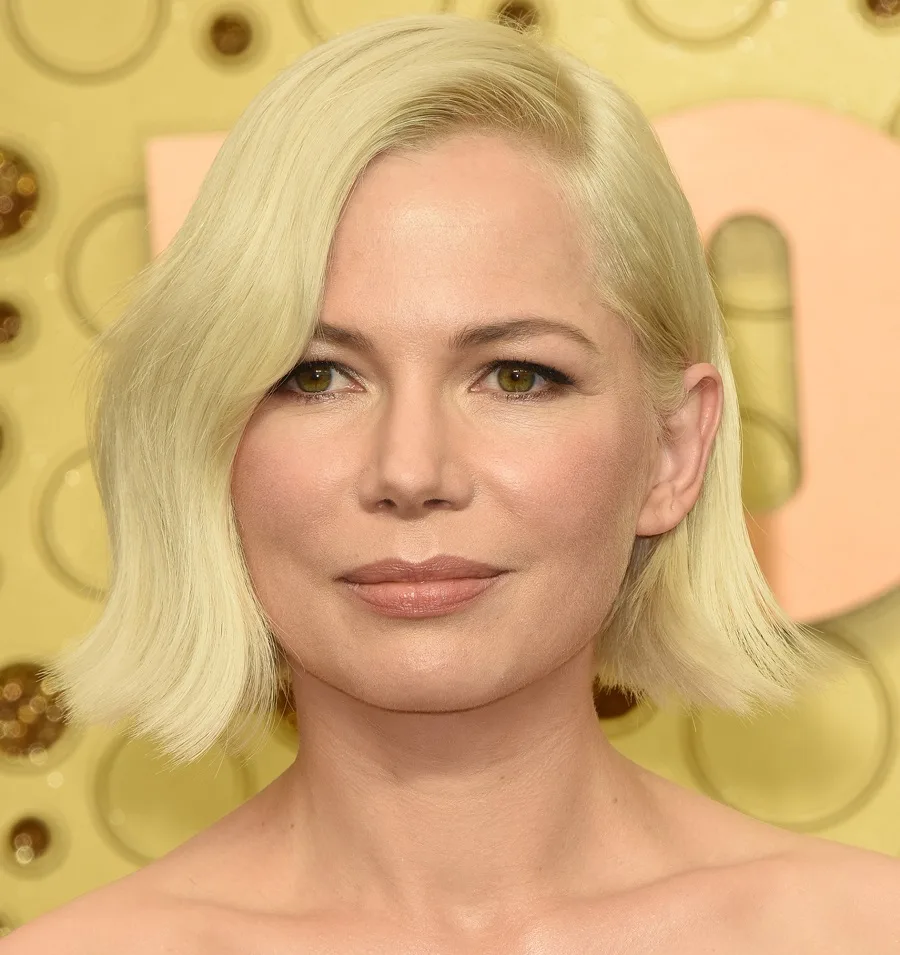 Michelle Williams has tried several hairstyles by dyeing her hair platinum. She looks stunning as ever in her platinum bob cut with side part. The blunt waves look simple but are also adding life to the hairstyle.
4. Pixie Cut with Side Swept Bangs
As pixies are in fashion nowadays, how about getting a pixie cut with side bangs like Michelle? Throughout her career, Michelle has gotten different types of pixie cuts. She is modeling with her side swept bangs and bleached pixie cut hair.
5. Side Part Pixie Cut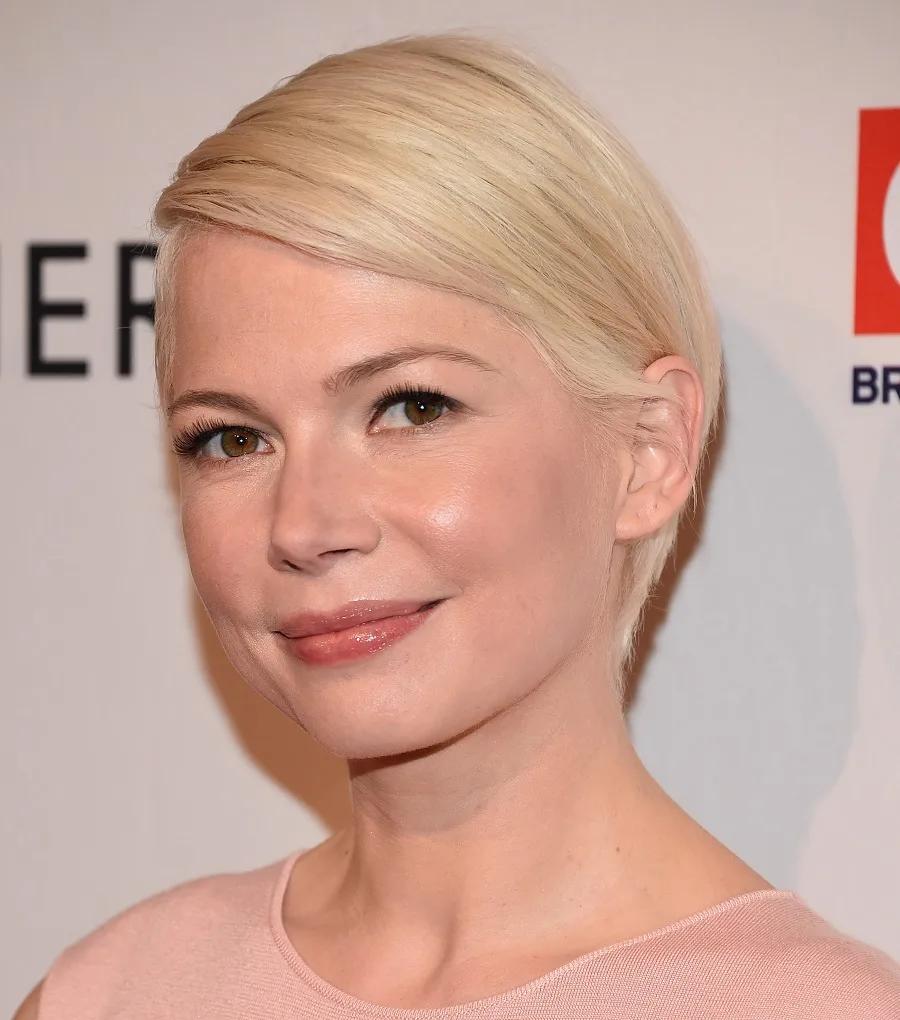 If you are looking for a tamed and simple pixie cut, you should definitely get side-part pixie cut. Michelle Williams has her hair neatly combed and styled in this pixie cut.
6. Short Pixie Cut
Michelle Williams chopped off her hair as much as possible to get this short pixie cut. The hair at the sides of her head is a lot shorter than the ones in the middle.
7. Bob Cut with Short Bangs
You can add some short bangs in your bob cut to get the same exact look as Michelle Williams in this picture. Don't forget to roll your hair to give it a natural look.
8. Bob Cut with Curtain Bangs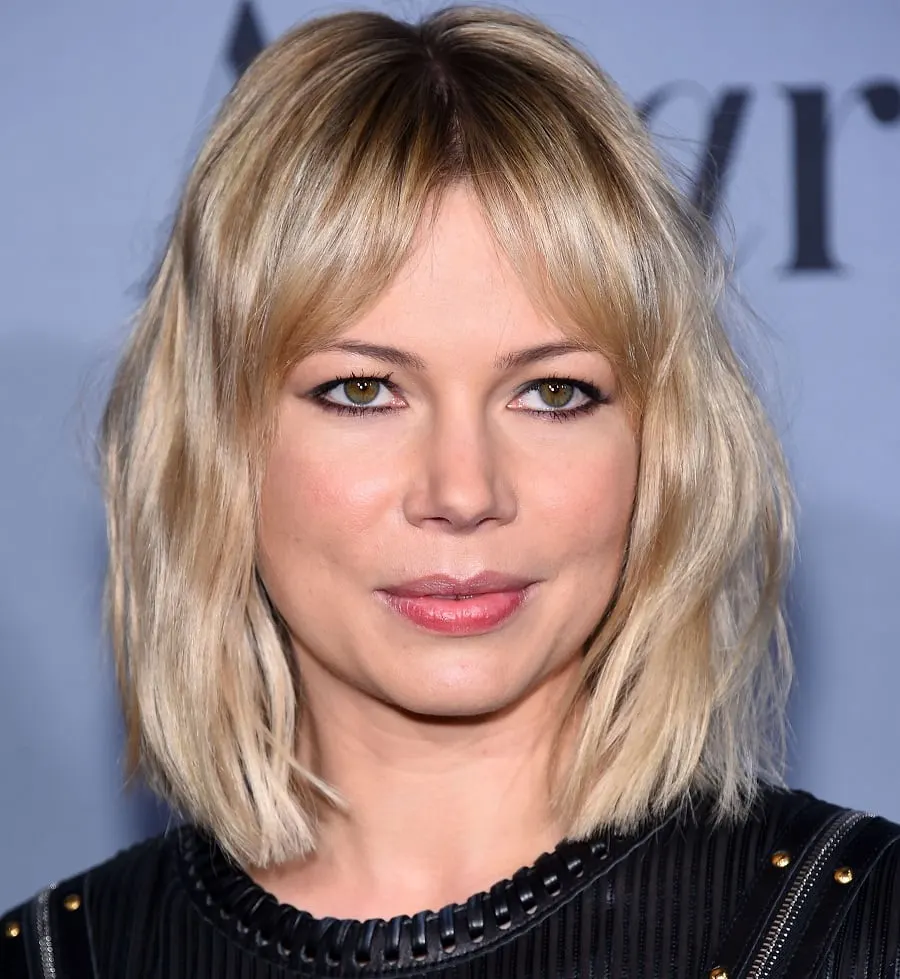 Want to try a little bold hairstyle? Try curtain bangs with a bob cut that will make you feel confident and pretty. The dark roots in Michelle Williams's hair are making her bob cut and curtain bangs look prominent.
9. Pixie Cut with Side Swept Hair
If you love hairstyles with side parts, you will love this one. Here, Michelle Williams has a pixie cut, but the hair at the front is longer. She has styled by throwing them to one side. This is making a great side-swept hairstyle along with a pixie cut.
10. Tapered Pixie Cut
Michelle Williams's golden brown hair looks gorgeous in this tapered pixie cut. The hair at the top and the middle of her head are longer than the sides of her head.
11. Side Swept Pixie with Headband
Michelle's blonde hair makes her short side swept pixie cut look beautiful. The headband is a great accessory to make such a simple pixie cut turn into something formal.
12. Platinum Layered Pixie Cut
Try this platinum pixie cut with layers. Add some bangs to the front and give an effortless look by keeping the hair messy.
13. Shoulder Cut hair with Curtain Bangs
Michelle Williams isn't seen much with shoulder-length hair but the hairstyle in the picture above is proof that long hair also looks good on her. Her blonde hair is perfectly curled while the curtain bangs are styled gracefully at the sides of her head.
14. Side Bangs with Low Ponytail
The side bangs and low ponytail hairstyle make Michelle Williams look simple but still attractive. The layered side bangs hold the whole hairstyle together, while the low ponytail is something new in Michelle Williams hairstyles.
15. Wedge Cut
Wedge Cut is also a hairstyle that suits Michelle Williams. She has thrown most of her platinum hair over her head to create a look with side swept bangs.
16. Layered Bob Cut
This layered bob cut of Michelle Williams looks different among all those simple bob cuts. In the front, her hair hair is styled into bangs while the hair in the back is curled nicely.
17. Messy Bangs with Layers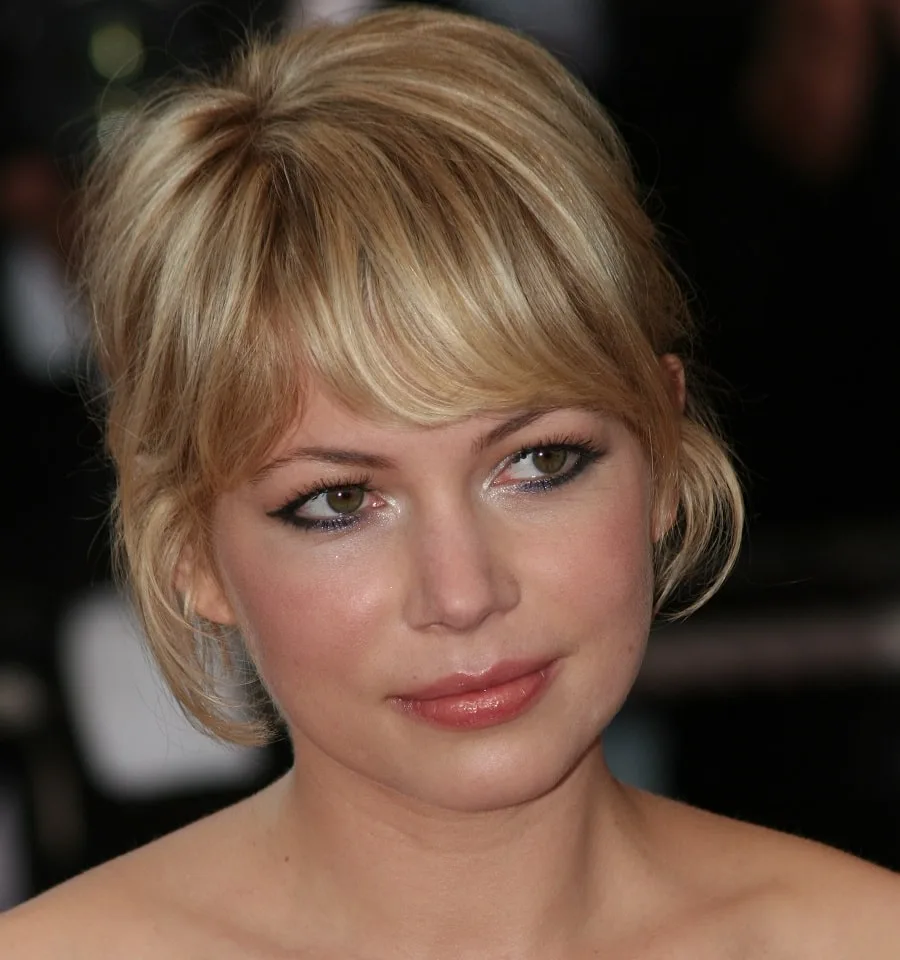 If you are a fan of messy bangs, you are definitely going to love this one. The bangs are reaching her eyebrows while the rest of the hair is cut into short layered hairstyle.
18. Layered Pixie Cut
Michelle Williams loves pixie cuts, and the layered pixie cut she has in this picture is proof of it. It is a simple pixie cut with short layered hair that looks perfect on her blonde hair with dark roots.
19. Long Hair with Short Curtain Bangs
In this picture, Michelle Williams has short curtain bangs styled on the sides of her head. Her hair is a bit longer than the shoulder cut that shines because of her golden locks.
20. Short Layered Hair with Loose Bun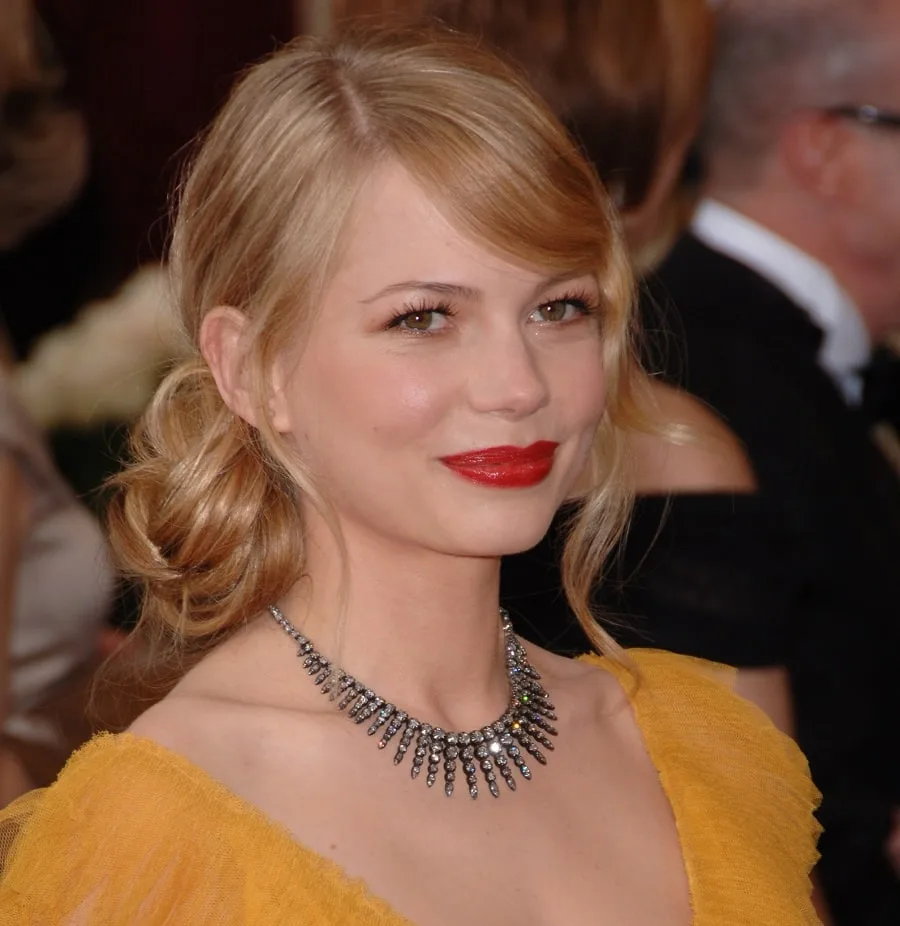 Michelle Williams has nicely parted her front layered hair to sides while gathering the rest in a loose bun. The hairstyle that she looks absolutely heavenly in is perfect for formal occasions.
21. Baby Bangs with Layered Haircut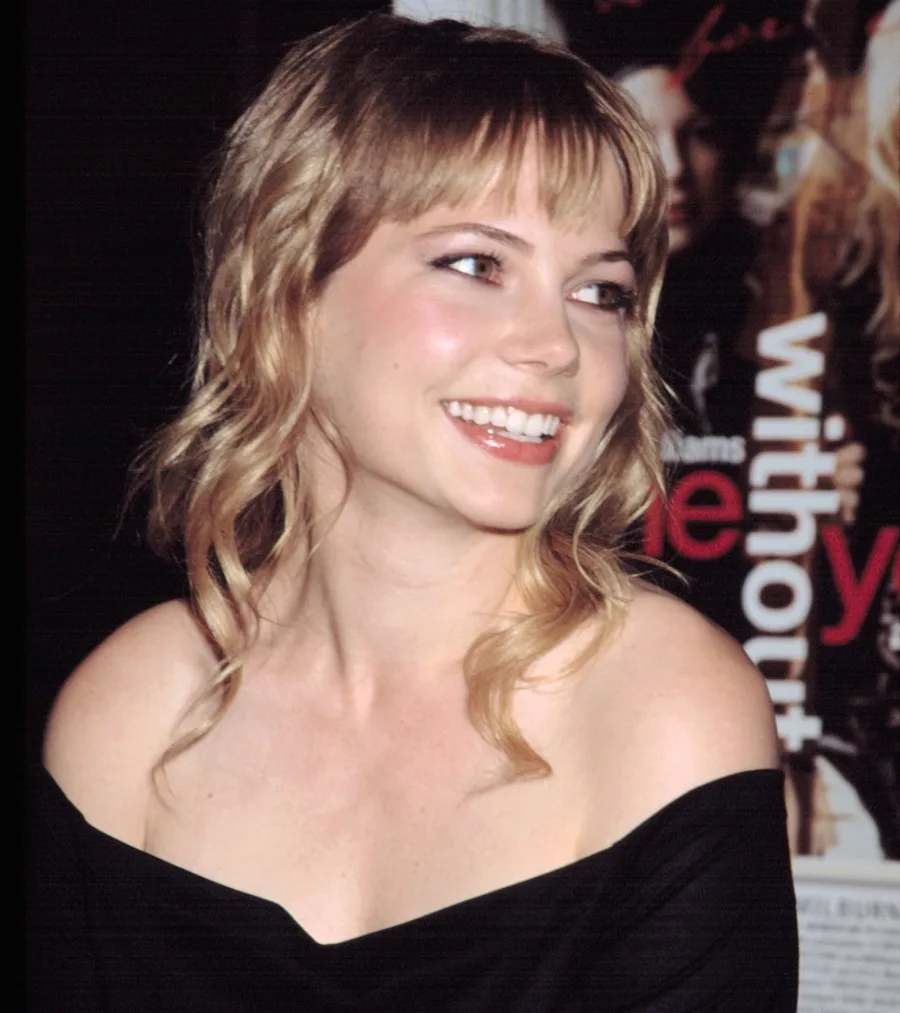 It is an old-school hairstyle but Michelle has made it look stunning. The hair in the front is cut into baby bangs, while the rest of the hair is layered perfectly. Curling the layered blonde hair is a great way to level up this hairstyle.
Michelle Williams's face is perfect for every type of hairstyle, whether on long or short hair. She has sharp features that make even the boring hairstyles look fun and unique.