Long red hair is incredibly attractive, but only when styled correctly. Women who choose to have red hair or who have naturally red hair need to know how to cut and style their locks so that they look their best.
Understanding how to style hair will ensure that any woman turns heads when she leaves the house.
Chicest Long Red Haircuts for Women
We have compiled 11 most ravishing red hairstyles for women with long hair to give a shot this year.
1. Red with Matching Eyebrows
Women who have long hair and want to really show off the red hair color can do so by dyeing their eyebrows to match.
This is a bold and stunning hair look, so it's not one that all women can easily pull off, but the end effect is impressive. Matching the shade perfectly is key to creating a unique and put-together look.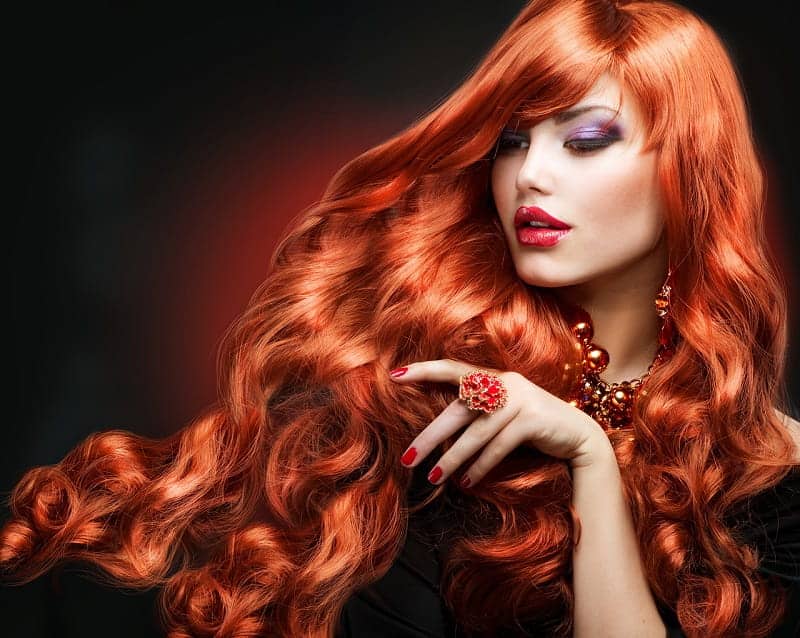 Shorter bangs pair perfectly with long and flowing waves of hair, as this copper red hair clearly shows. The hair has a lot of movement to it, which prevents the style from looking boring or outdated.
With short bangs above the eyes, it's a great time to try out funky eyeshadow for a fresh and new look.
Lots of volume on top looks great with most any style, and this red hair is no exception. The hair is all long, with no bangs, which means that it flows around the face and shoulders in a very attractive way.
This is a great choice for any woman who is willing to go bold with her color choice and wants her face to shine.
Smashing Red Haistyles for Brown Eyed Girls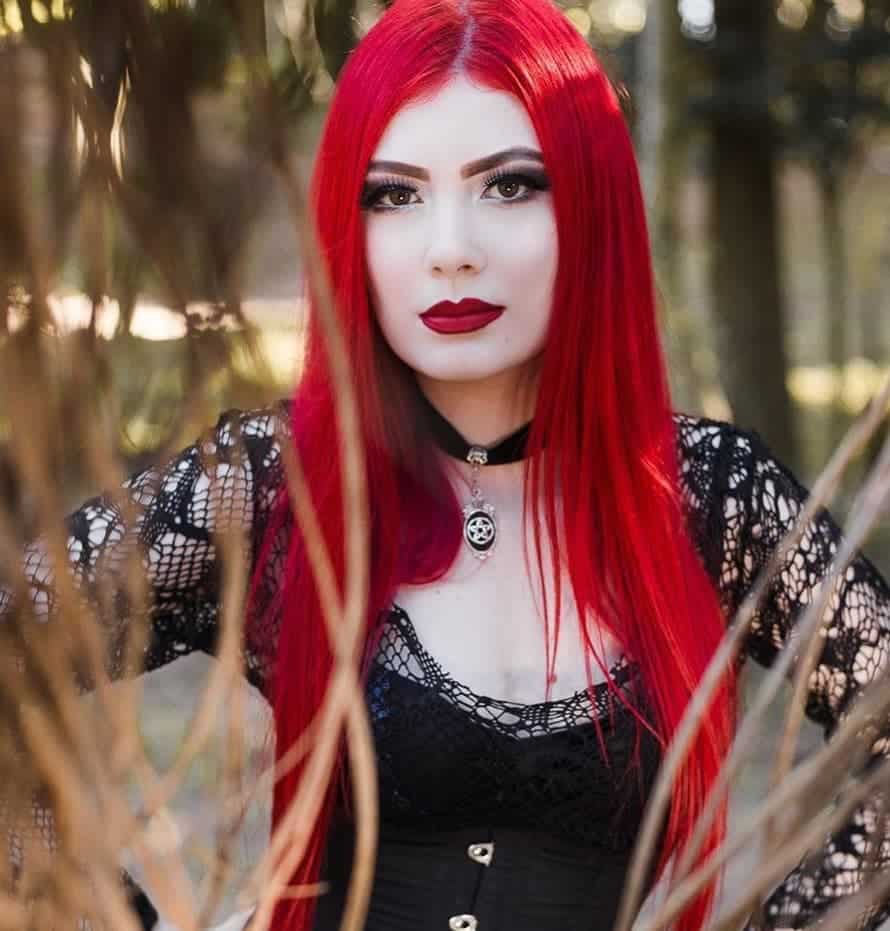 There's no reason why long hair has to be fancy, as this simple look shows. What it lacks in difficulty, however, it makes up for in chicness and attractiveness.
It's an eye-catching look thanks to the way the long cherry red hair are allowed to hang straight around the face and shoulders, which helps to frame the face and really looks gorgeous.
In this fun look, the long red hairdo has a deep undercut, resulting in the focus being on the longer strands on the top of the head.
Gathering them into a high ponytail and allowing the hair to cascade down around the neck is sure to stop people in their tracks and makes this long hair undercut a favorite among bold women.
Very simple bangs that frame the face make this red haircut a great everyday look. The long strands can easily be pulled back into a ponytail if desired, although they look great simply hanging down around the face and shoulders.
With the bangs creating focus on the face, it's a good look for confident women who want something simple.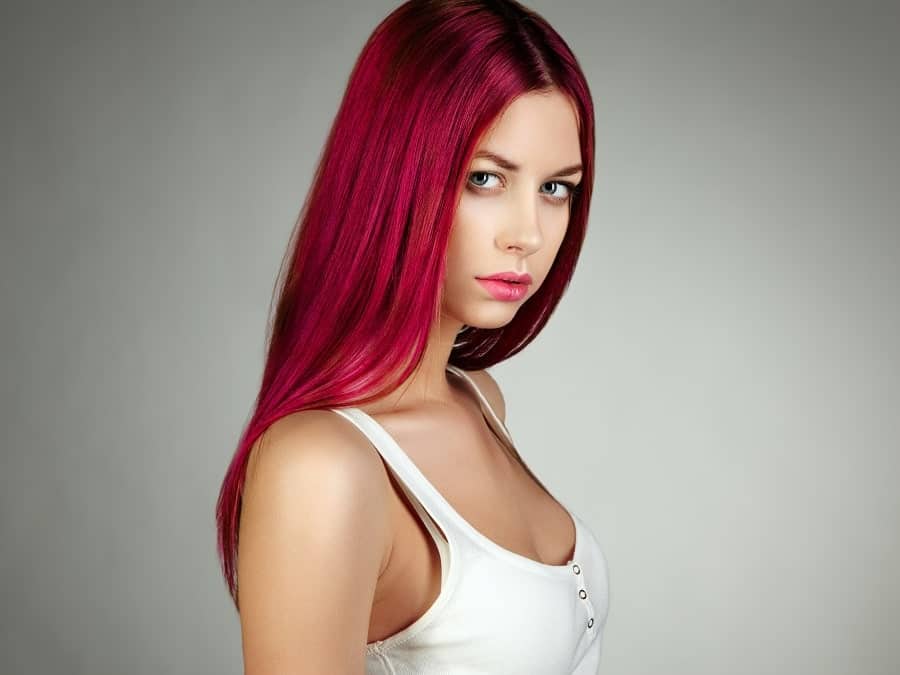 Sleek and chic, this bold look parts the long strands right in the middle of the head. They are then allowed to flow back over the shoulders.
The hair color is more of a magenta red than a real red, which is sure to be the perfect option for bold long haired women. It's easy to maintain, and only requires regular trims and color touch-ups for the best look.
Prfect Red Hairstyles for Girls with Green Eyes
A thick and chunky braid can break up the monotony of long and straight auburn red hair, as seen here. Rather than opting for a braid down the back, braiding hair around the face frames the face and looks very elegant.
It's a fun style, especially when the braid is thick and eye-catching, which makes it look purposeful and bold.
More Related Articles
9. Multiple Black and Red Braids
Multiple smaller braids that come from the back of the head and then swoop down over the forehead are a lot of fun. These are black and red, and then the hair is allowed to flow from around the ears to the shoulders.
Getting the braids nice and tight is key, as is making sure that they don't cover too much of the forehead. This red hair color is perfect for blue eyed women.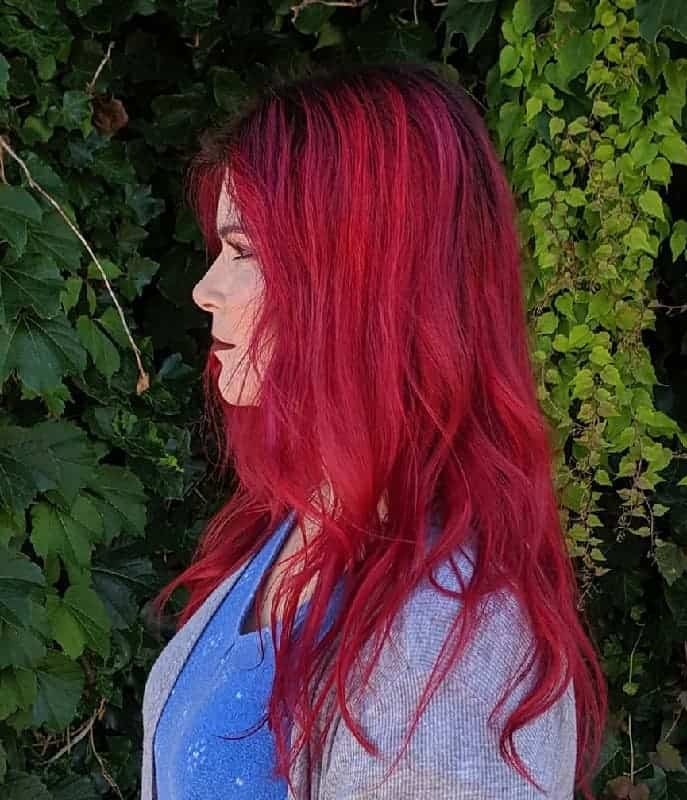 Great layers do a lot for any cut and can give it depth and movement. This long red haircut is no exception, as the layers cut into the hair to prevent it from falling flat.
Darker roots add interest to the cut, as well as some depth. A professional dye job is key to ensure that the red and black flow evenly into each other.
11. Braided with Strings of Pearls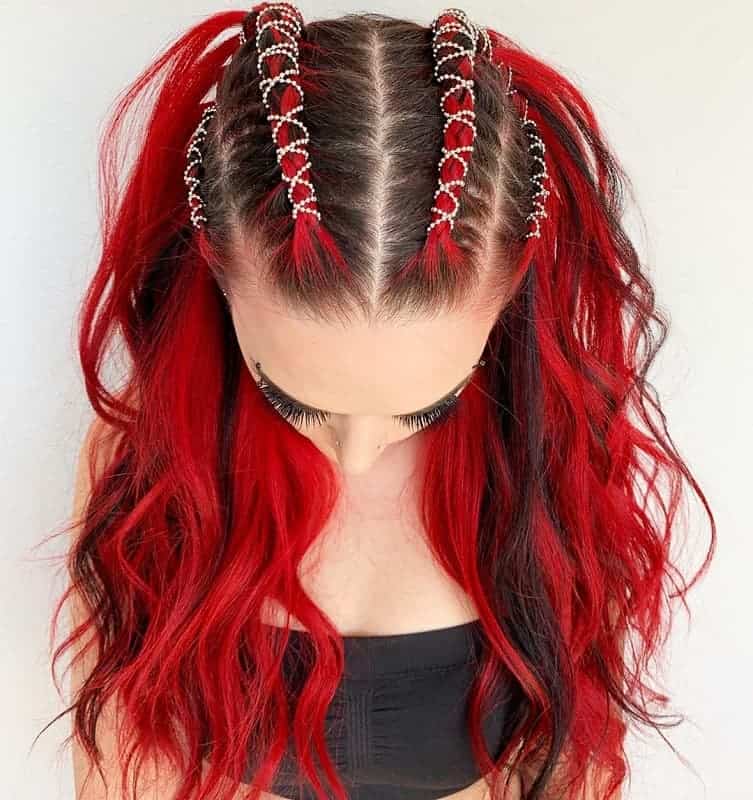 These thick braids start at the forehead and then are braided back, wrapped carefully with strings of pearls, and end with long curly strands of hair flowing around the shoulders.
It's a fun look for women who want to keep their blood red hair out of their face but are still looking for a style that will allow them to express themselves.
These are the 11 hottest red hairstyles for women who have long hair. No matter if a woman wants to wear their hair up or down, or leave it straight or curl it, there's an option on this list that is sure to please and to help her look and feel great.