Red hair color adds charm to your personality, giving you a unique look for outdoors as well as indoors. Long red hair is incredibly attractive, but only when styled correctly. If you choose to have red hair or are a natural redhead looking for hairstyling ideas, we are here to help you find your dream long red hair look.
Wonderful Long Red Hairstyle Ideas
Long red hairstyles look awesome on most women, but at times, it's quite confusing to choose the style. Thus, to ease your confusion, we have listed some red hairstyles that you can try easily.
If you wish to be the talk of the town and want to leave everyone in awe of your style, check out these red hair color ideas for women with long hair.
1. Wonderful Wine Locks
This hair color is as intoxicating as wine and looks just as pretty. It looks even more prominent on the fair complexion as each complements the other perfectly.
2. Fiery Red with Orangish Highlights
Wavy hair can look more attractive if you go for orangish highlights for your fringes while keeping the rest of your hair fiery red. Now simply middle part your hair, keep them open, and you are ready to rock anywhere you go.
A little crimp is all you need to make a basic hairstyle funkier. It even creates the illusion of thick hair, giving you a fuller and bouncy look.
4. Straight Ginger Hair
We cannot stress the fact that ginger red looks cute and, at the same time, sensual enough. So with it, keep your locks straight, and let the fringes cover your face, giving it a more framed structure.
The style easily goes with any attire and easy-to-make as well.
5. Magnificent Magenta
There are too many shades of red that can easily confuse you, and when it does, we suggest you go for this color. It works great with all kinds of skin tones.
Just make long loose curls to add more charm and depth to your style. Then, use hair spray to keep the style intact for longer durations.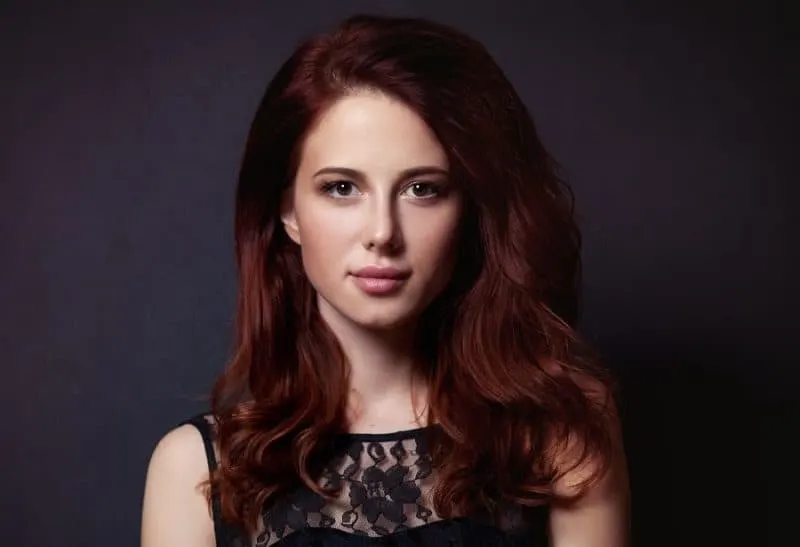 Another long red hairstyle for those who have thin hair to get a fuller look. Add slight waviness to your hair and keep the fringes to one side.
If you have a long face, then the style will surely help you frame your face perfectly.
7. Vintage Look
Have you ever thought about choosing a long red hairstyle inspired by the 50s? If yes, then do check out this classy hairstyle.
The best part is that you can even opt for this one if you love gothic themes.
8. Mess It Up, Perfectly!
With the no-makeup look in trend, fashionistas have also developed a new love for messy hair. It is the perfect blend of style and comfort that gives you a "rolled out of bed" look.
You can look effortlessly glam without much pump and show.
9. Short Messy Curl Updo
Brownish-red hair tied into a bun but messily can give off a perfectly imperfect look. It is great for all sorts of occasions as well as everyday outings. Brides are also opting for this hairstyle for their D-day.
The sheer class and sophistication this looks offer is unparalleled, making it one of the most popular long red hairstyles.
10. Edgy Bob Cut with Blunt Bangs
Bangs are the perfect way to hide any scars or lines on the face perfectly. So if you have a big forehead, this look can work magic for you.
Your orangish-red color will surely spice things up with this simple haircut.
11. One-Sided Ponytail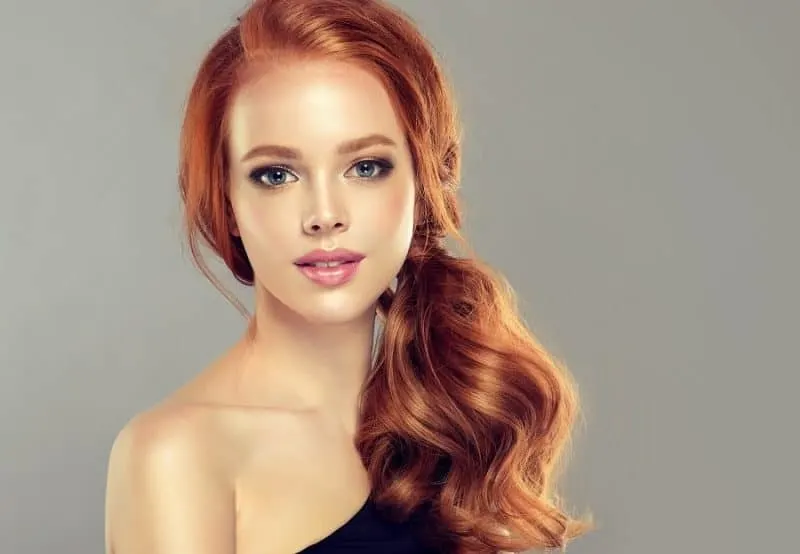 There is something about the style that makes it mystical and graceful. Added with slight waves or curls, it can add a lot more volume to your hair.
12. Amazing Auburn
Let us add one more vibrant red shade to your long hair to look mystical. Be an epitome of grace and elegance with this auburn long hair. You can look like a vision straight out of a fairyland in this one.
13. Curl It Up
Curls can never go out of style and will be a craze for ages. The color reddish-ginger brings out the curls distinctly and adds a lot more sensuousness to this adorable hairstyle.
Teens to adults, anyone can try it irrespective of their age, face shape, or skin tone. The style will surely compliment everyone.
14. Charismatic Copper Hair
There is nothing to worry about if you are not one of those risk-takers who love experimenting with bold haircuts.
You can be unique and different just by opting for an amazing hair color such as the charismatic copper that can take your style game up a notch. It works great with medium and fair skin tones, for it flatters them the most.
15. Brilliant Burgundy
Now, this is the shade you would love if you want a little break from all the redness. This color is simply cool and too attractive to resist.
We say, go for it and ace this look with wavy hair, for it can help bring out the rich color of the burgundy. So what are you waiting for? Get it today, and be the belle of the ball!
16. Ferocious Fiery Highlights

Curls are not here to serve just cuteness but a lot more than that, just like the women of today are. So, embrace the yin and yan sides of yours, with cute curls added with the fiery shades of red.
It will look fierce enough to balance out your whole personality. Finally, the red-colored long curls can truly make heads turn wherever you go.
17. Little Red Mermaid
Do you love the Little Mermaid? We bet the little girl in you still adores her. If so, then get back to your childhood days and fulfill your dream of becoming a Disney princess with this hairstyle.
But do not forget to channel the gracious woman that you are. This hairstyle can make you experience the best of both worlds.
18. Choose Your Favorite Cherry!
It baffles us how this color can be so cheerful yet be an ideal choice for you if you are into the whole gothic culture.
Long metallic red cherry hair with Kohl's eyes can give you an edgy look. It's a must-try if you are looking for something different yet classy.
19. Flame It Up!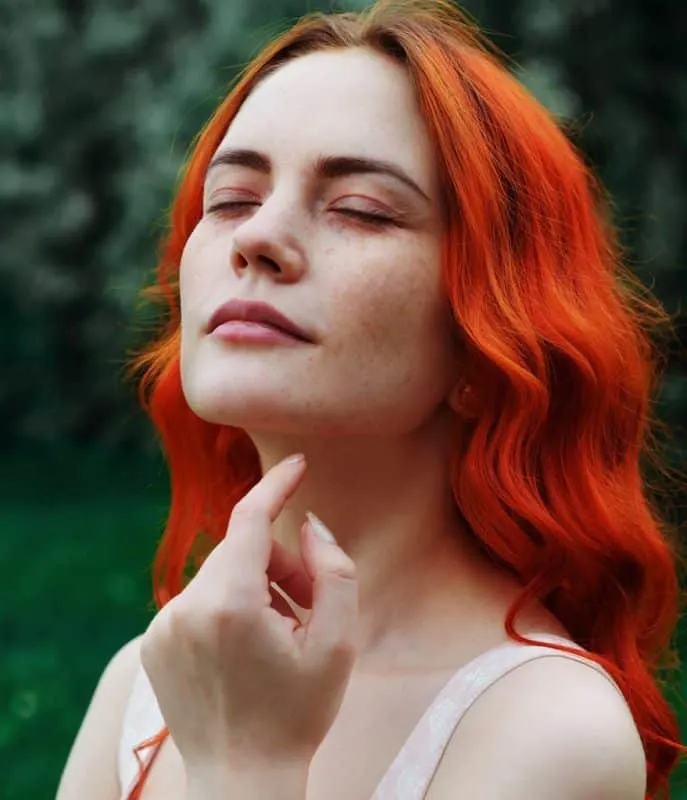 Channel your womanhood that is warm enough to spread love yet can be fierce as a flame if handled incorrectly. Try out this breathtaking hair color and be under the limelight wherever you go.
20. Diva Look
We are sure you must have googled long red hairstyles of celebrities before you decided to go for one yourself.
So what's stopping you from trying out your favorite actress' hairstyle? Go get yourself a layered cut with Maroon dye, just like Ariana, today.
21. Red with Matching Eyebrows
Women who have long hair and want to really show off the red hair color can do so by dyeing their eyebrows to match.
This is a bold and stunning hair look, so it's not one that all women can easily pull off, but the end effect is impressive. Matching the shade perfectly is key to creating a unique and put-together look.
Shorter bangs pair perfectly with long and flowing waves of hair, as this copper red hair clearly shows. The hair has a lot of movement to it, which prevents the style from looking boring or outdated.
With short bangs above the eyes, it's a great time to try out funky eyeshadow for a fresh and new look.
Lots of volume on top looks great with most any style, and this red hair is no exception. The hair is all long, with no bangs, which means that it flows around the face and shoulders in a very attractive way.
This is a great choice for any woman who is willing to go bold with her color choice and wants her face to shine.
Smashing Red Haistyles for Brown Eyed Girls
There's no reason why long hair has to be fancy, as this simple look shows. What it lacks in difficulty, however, it makes up for in chicness and attractiveness.
It's an eye-catching look thanks to the way the long cherry red hair are allowed to hang straight around the face and shoulders, which helps to frame the face and really looks gorgeous.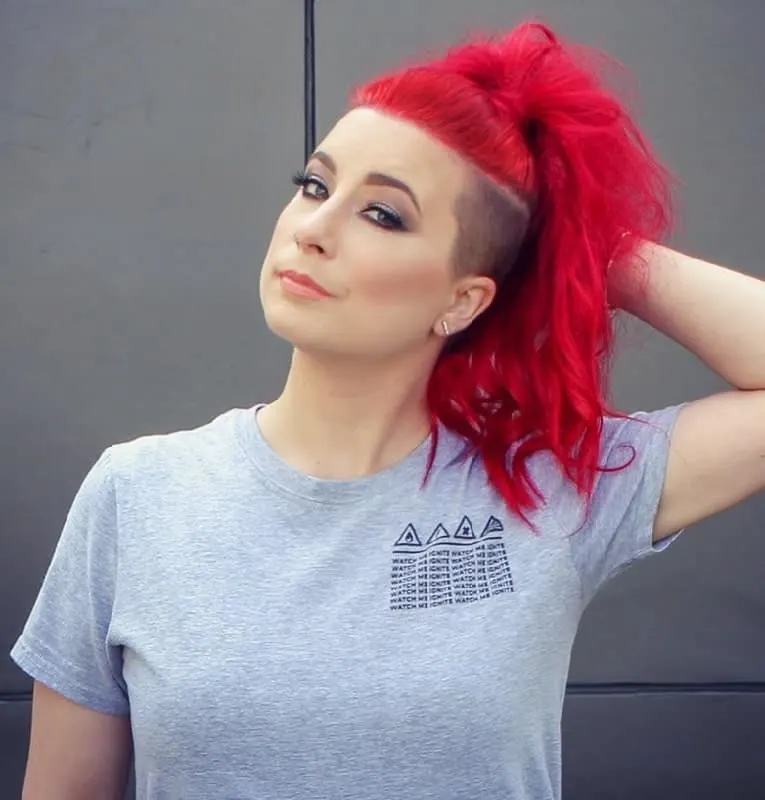 In this fun look, the long red hairdo has a deep undercut, resulting in the focus being on the longer strands on the top of the head.
Gathering them into a high ponytail and allowing the hair to cascade down around the neck is sure to stop people in their tracks and makes this long hair undercut a favorite among bold women.
Very simple bangs that frame the face make this red haircut a great everyday look. The long strands can easily be pulled back into a ponytail if desired, although they look great simply hanging down around the face and shoulders.
With the bangs creating focus on the face, it's a good look for confident women who want something simple.
Sleek and chic, this bold look parts the long strands right in the middle of the head. They are then allowed to flow back over the shoulders.
The hair color is more of a magenta red than a real red, which is sure to be the perfect option for bold long-haired women. It's easy to maintain and only requires regular trims and color touch-ups for the best look.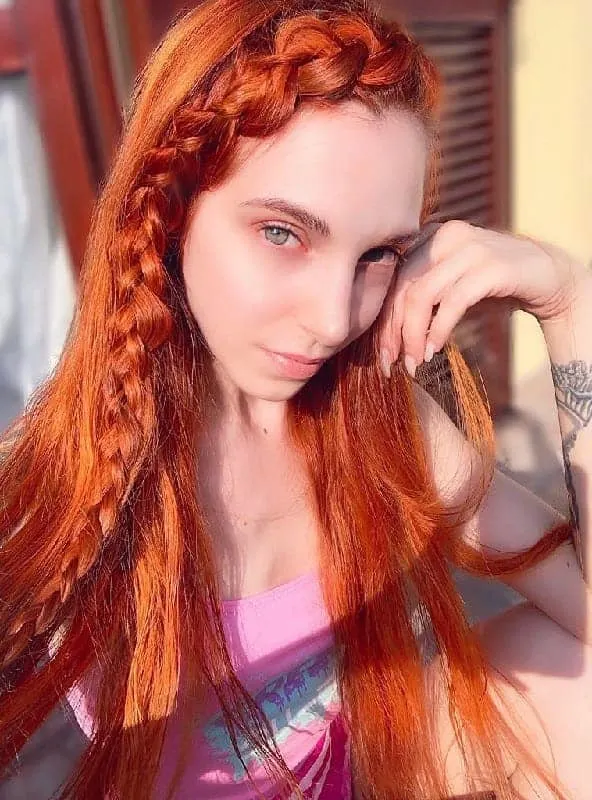 A thick and chunky braid can break up the monotony of long and straight auburn red hair, as seen here. Rather than opting for a braid down the back, braiding hair around the face frames the face and looks very elegant.
It's a fun style, especially when the braid is thick and eye-catching, which makes it look purposeful and bold.
More Related Articles
Epic Maroon Red Hair Ideas
29. Multiple Black and Red Braids
Multiple smaller braids that come from the back of the head and then swoop down over the forehead are a lot of fun. These are black and red, and then the hair is allowed to flow from around the ears to the shoulders.
Getting the braids nice and tight is key, as is making sure that they don't cover too much of the forehead. This red hair color is perfect for blue eyed women.
Great layers do a lot for any cut and can give it depth and movement. This long red haircut is no exception, as the layers cut into the hair to prevent it from falling flat.
Darker roots add interest to the cut, as well as some depth. A professional dye job is key to ensure that the red and black flow evenly into each other.
31. Braided with Strings of Pearls
These thick braids start at the forehead and then are braided back, wrapped carefully with strings of pearls, and end with long curly strands of hair flowing around the shoulders.
It's a fun look for women who want to keep their blood red hair out of their face but are still looking for a style that will allow them to express themselves.
These redheads with long hair can give you ideas on how you can get a long red hair look for yourself. No matter if a woman wants to wear their hair up or down, or leave it straight or curl it, there's an option on this list that is sure to please and help her look great.