Women draw inspiration from all around them when updating their style, and anime characters can be a great style icon for a lot of women. Anime girls with blue hair are popular, fun, and attractive, which is why we have put together these 15 great styles for women and girls to consider.
Popular Anime Blue Hairstyles
Have a look at these renowned blue-haired anime characters and get all the inspiration to level up your style game.
1. Aki Adagaki – Long Pigtails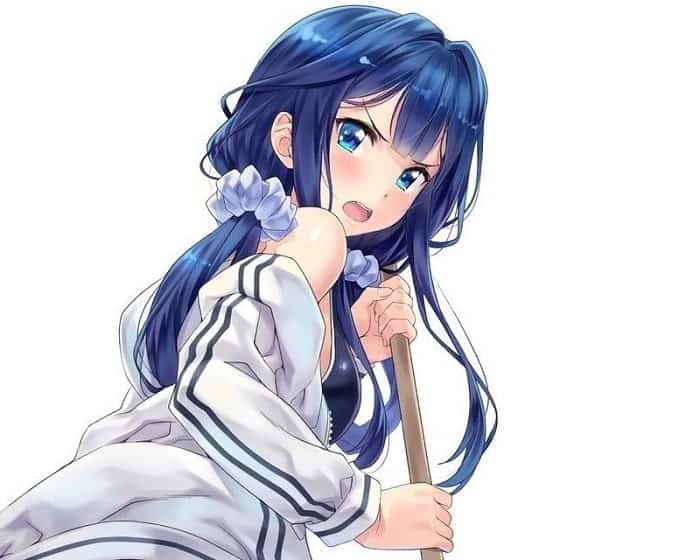 This anime girl with pigtails features long midnight blue hair that are pulled to the sides of the head. They are secured in place with oversized scrunchies that are a lighter blue than the hair, which creates a fun and interesting contrast.
Longer bangs complete the look and help to define the face without weighing the girl down.
Flowing locks are always a great choice for women who have very long straight hair, as this fun look clearly shows.
The bangs aren't worn down over the eyes, instead, they are pushed up and to the side to add some depth and interest to the look. There aren't a lot of layers cut into the hair.
Coolest Anime Girls with Pink Hair
Anime characters look great when the hair has a lot of volume and interest. This short blue hair look is fun thanks to the choppy bangs and all of the layers cut in around the face.
Adding some cat ears to the top of the head is a great way to finish the look.
4. Blue Haired Anime – Erio Touwa
Lots of layers that are cut around the face keep this look from being boring. The layers help to lighten up the hair, which is great for women who have really thick hair that can be hot and sticky.
Wispy bangs won't weigh the woman down and keep this look a lot of fun.
Braided pigtails are a wonderful way to keep hair back from the face and prevent it from being annoying.
These pigtails are paired with longer bangs that perfectly frame the face. It's a great combination of hair out of the way and some still softening lines of the face.
The soft layers of this anime blue haircut are very appealing and do a great job softening harsh features on some women. With plenty of layers cut into the bob, the bob won't ever appear hard or angular.
Bangs are pushed to the sides a bit to add volume to them in the middle and to prevent them from falling flat.
7. Kiriya Aoi
An asymmetrical cut is a lot of fun. This navy blue hairstyle has a much shorter back than front, which helps keep the nape of the neck cool while adding interest and softening the face.
The longer front layers can easily be pushed back behind the ears, if necessary, but look great hanging around the face, as well.
Cutest Anime Characters with Ponytails
8. Konata Izumi
One popular anime girl with blue hairstyle is Konata Izumi, who has spiked hair all over, adding a lot of volume to the top, back, sides, and front.
This look takes a fair amount of product to ensure that the spikes are going to stay in place and to keep them from falling flat. It's a fun option for women who want something that will help them stand out in a crowd.
A fringed bob is famous hairdo among anime girl and it looks great on almost any girl, especially when the hair is held back from the face with a headband.
A headband is a wonderful way to keep hair under control, no matter how long or short it is. This is a great style for women who are growing out shorter hair.
10. Medaka Kurumi
Long hair can be overwhelming, especially when it is really thick, but this wispy style is a great compromise.
The hair is attractive thanks to the movement that it has, and the long straight bangs and layers keep the style from looking weighed down and unattractive. It's great for confident women who want to show off their length.
11. Nishizono Mio
Colorful short hair looks great specially when it is cut and styled close to the neck. This keeps the hair under control and ensures that the bangs and length won't grow out too much.
A small headband can help keep hair in place and ensures that the hair won't get too messy.
A shorter cut with bangs is a sweet option for a lot of women. This cut is styled close to the face, which can really help to show off the eyes.
It's a low maintenance cut for the most part, although it does require regular trims to keep the hair from looking grown out and messy.
Top Anime Girl Characters with Curly Hair
Adding some braids to any style is a fun way to add interest and make it look a bit different. These braids on short hair take a basic cut and make it a lot more fun.
The shaggy bob needed a little something to make it interesting, and the braids are the best option in this case since they are so easy to do.
One thing that a lot of anime characters with blue hair have in common is that they have bold bangs and strong lines in their hair. This cut is no exception.
The straight fringe perfectly highlights the eyes, and the hairband helps keep the longer back under control and from getting in the way. It's a bold and angular look some women will love.
15. Yoshino -Flowing Layers
Flowing long layers with bangs look ethereal on women who are willing to take the time necessary to grow out their hair. The long bangs on this style add to its interest and attractiveness.
The bangs are cut so that they will hang in the face, helping soften the lines of the face and also adding interest and movement. Blue haired anime girls are fun style icons to follow, which is why so many women turn to them for fashion advice.
When looking to change up a style to include anime-inspired hair, women need to consider their personality, how long their hair is, and how much time and effort they are willing to spend on styling their hair in the morning.