The curly asymmetrical bob is an interesting cut to try out. The unique look, exaggerated by the curls give you a complete revamp. The hairstyle is very versatile, providing you with a number of options that you can try to achieve the look. Each style is more inspiring than the previous one and is surely worth your attention.
Trendy Asymmetrical Bobs for Curly Hair
Have a look at 9 of the most stunning asymmetrical curly bob hairstyles that are hot in the fashion world today.
We are in love with this vintage hairdo. The loose curls channel the 80s vibe and are a stunner for any occasion.
Ideal for: We think the style will look amazing with long, rectangle and oval face cuts. The voluminous curls on the side serve to add dimension to your face, counteracting the length.
How to style: These curls are best achieved with overnight rollers. Use some hair gel and hair spray as an aid to achieving the look.
2. Vibrant Pink Bob
When going for a change in hairstyle, why not go all the way with this trendy pink curly hairdo? The pink streaks add a fresh, summery vibe to your hair for an instant lift!
Ideal for: This curly asymmetrical bob style goes best with teenage girls or young women with relaxed office culture. The style is on the bolder side, so you need some effort to pull it off.
How to style: Get some rose gold streaks in your blonde hair to channel the look. Add in some curls with a curling iron to add texture.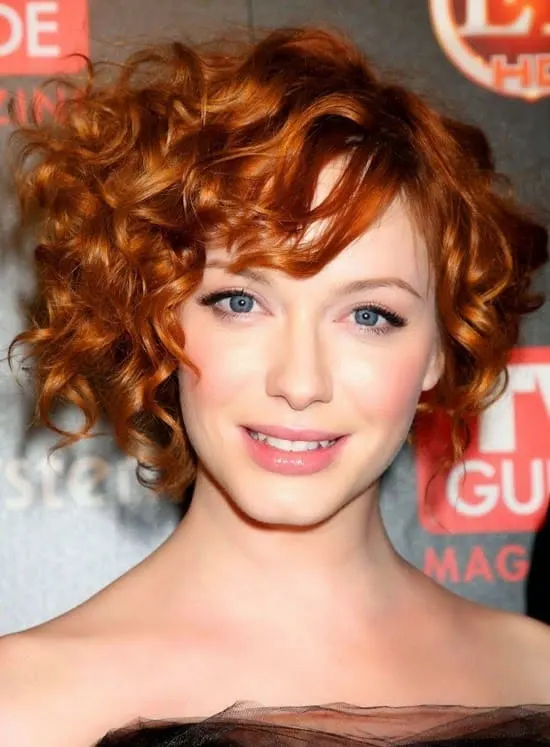 This is the all red-orange hairdo that is gripping young girls everywhere. We have to admit, it is an instant eye-catcher.
Ideal for: Being a versatile look, this asymmetrical curly bob with bangs goes well with most women. It is versatile, stylish and not too crazy! Give it a try!
How to style: Dye your hair your favorite red-orange color. Use rollers overnight to add in neat, heat-less curls. Use some setting spray to make sure your style stays.
Everyone loves this look. Well, now you can have it with this asymmetrical bob with curls!
Ideal for: The hairstyle works well in a formal and informal setting, making it the ideal candidate for the working woman. The sexy hairstyle also looks stunning on teenage girls and most women in general.
How to style: Use a straightener to skillfully add long beach waves into your blonde hair. Don't forget the serum to protect your hair and the gel to finish the look.
A true blend of the old and the new. The style merges the modern trend of crazy colors with sophisticated vintage curls.
Ideal for: The light blue hair color may not be for everyone, but this vintage style with its sophisticated curled asymmetrical bob cut is a must-have for the ladies. You can wear it to any occasion or simply wear it to the office!
How to style: To achieve the synchronous curl, use the curling iron to wrap each strand of hair tightly around the wand. This will ensure the curl travels through the hair.
This cute short curly bob is an immediate attention grabber. The short bangs work to draw the eyes to the face and the asymmetric cut curly bob complements them to make a stunning combo.
Ideal for: The style does need some guts to pull off, but once it suits you, it sticks with you forever! Mostly students and the younger girls try the style for maximum impact.
How to style: The trick here is to cut the bangs really short. The rest of the hair is wound in pretty curls to complement the face.
7. Wispy Curls
Women having thin curly hair can enjoy this asymmetric bob style too. The wispy curls take advantage of the thin hair to give a subtle curly look.
Ideal for: The style can be a great addition to any work attire or casual wear. The style is usually limited to the work zone but women have started wearing it to casual get-togethers too!
How to style: Use a thin curling iron to get each strand of your hair. The curling strands turn wispy as they are thin, giving you a flattering look.
8. Eu De Natural
Sometimes it is best to go out natural, especially if you have a head full of curls with blonde highlights!
Ideal for: Women of all ages can try this look. The best part is that it is time-saving and relaxing, relieving women of having to do their hair daily!
How to style: All you need is a good cut which allows you to channel your natural curls and have a stunning curly asymmetrical bob with minimum effort.
9. Curled Ends
Another way to play with your hair is to style the ends alone, giving you the best of both worlds!
Ideal for: The asymmetric bob with curly hair and side part, the style works impressively for the round face. We recommend it for women struggling with volume as it adds immediate lift to your hair.
How to style: Use a straighter to manipulate the ends of your hair and turn them upwards for a curly finish.
The curly asymmetrical bob is surely here to stay. The numerous styles above are proof enough of a bob era that is in no hurry! Try out these fabulous styles for yourself and revamp your look in an instant!