Silver hair is undoubtedly hot right now. But don't think you've got to cover your entire head in a grey or silver hue. In fact, you can add silver balayage highlights in a variety of ways to create a unique blend for you. Blonde, black, or even lilac looks great with silver thrown in the mix.
Below are 20 of the most stunning and versatile ways to create silver balayage hair.
1. Silver Blonde Balayage
Silver looks so gorgeous when blended with your usual blonde locks. This icy-toned silver blonde balayage hair looks best with a bit of blonde root and works on hair both long and short.
2. Silver Hair With Dark Roots
Don't think that roots are just for blondes. A black hair to silver balayage look is totally sexy. When blended right, the hair will grow out evenly and blend easily. A darker, more ash-hued silver is best with dark brown or black hair.
3. Beautiful Brunette and Silver Blend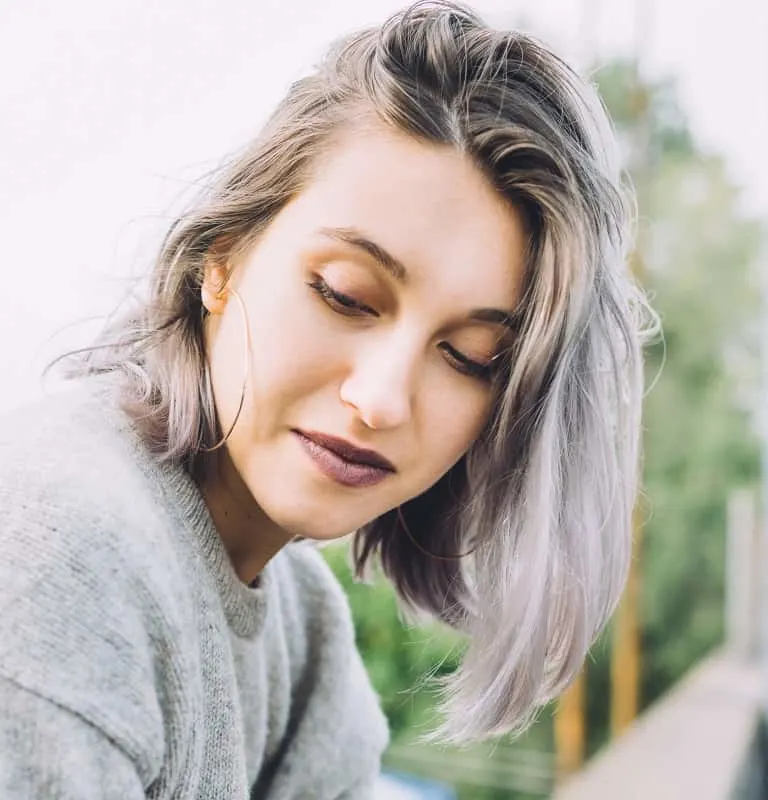 For a look that is sexy yet totally punk, try silver balayage on brown hair. Ask your stylist to keep your hair brown at the roots and underneath the hair, but make sure hair is blended well around the face. This will make your color combo look natural and utterly cool.
4. Silver Pixie Bob
Incorporate babylights to create beautiful short silver balayage hair. This finely blended look is great on a cute pixie bob with long bangs. Keep your root color and stretch the time between salon visits.
5. Blue-Grey Hues
Different silver tones are popular within the silver trend. Try a silver grey balayage hairstyle and give it a tint of blue if you're fair-skinned with pink undertones. It will provide the perfect contrast and look icy cool.
6. Brunette and Silver Ombre
Silver balayage on dark hair is easy, so long as you incorporate an ash silver color. This will blend best with your natural dark hair as opposed to a light, platinum silver. Create as much root as you wish to ground your new look!
7. Smooth Platinum
This platinum silver balayage hair is so gorgeous, you just want to touch it! Ask your stylist for this fine balayage blend in a light color. It looks fabulous on all textures, but we love how smooth it looks on straight hair.
8. Purple to Silver Ombre
Fancy lavender locks? This silver purple balayage look uses purple instead of your natural color as the base that discreetly blends in to purple-hued silver strands. This look may require more upkeep, but if you love it, it's worth it.
9. Ash-Toned Silver
Dark hair and dark complexions are so well suited to silver ash balayage hair. The deeper ash purple quality of this look contrasts with tanned, olive skin and looks great on both straight and wavy locks.
10. Blended Silver Highlights
Why not use silver balayage highlights so they blend with your natural color all throughout your hair? A fine blend, such as the one achieved with babylights, will let your newly silver strands work with your brunette tresses.
11. Silver Curls
Even super curly locks can look fabulous in a silver 'do. To achieve this curly silver balayage hair, try a chestnut or light brown color close to the neck and at the root to blend elegantly with the remainder of your bright silver hair.
12. Icy Lilac
Incorporate silver into your ashy purple hair. This gorgeous lilac silver balayage hairstyle is a subtle yet beautiful way to rock the purple hue you've always wanted while keeping things trendy with a silver tint.
13. Dirty Blonde Silver Hair
Instead of adding in blonde highlights, why not incorporate ribbons of silver into your dirty blonde locks? This silver balayage on blonde hair serves as the perfect hair inspiration for brightening your look in a trendy way.
Classy Silver-White Hair Ideas
14. Silver Balayage on Dark Hair
If your natural hair is dark, try silver balayage ombre hair that maintains your dark brown or black root color. Silver-gray is your best bet for fitting contrast.
15. Dark Grey Rooted Balayage
Another great look for brown locks is long silver balayage hair that transitions from a darker grey to light grey. You can always add lighter silver streaks for a touch of brightness.
16. Silver Balayage on Straight Hair
It's easier to see how well your stylist blended your silver balayage on straight hair look when no waves or curls can hide mistakes. A seamless balayage is key for a beautiful silver look.
17. Wavy Silver Balayage Hair
Show off your full silver balayage hair with sexy, tousled waves. This tinted hue is not only gorgeous, but hair is clearly moisturized properly and cared for.
18. Blue and Silver Ombre Balayage
Cool blue hair looks so fierce with a silver blend! Creating blue and silver balayage hair is rather easy, especially with a great ombre style. This color works best on hair with red and pink undertones for that perfect contrast.
19. Pink and Silver Balayage
Another popular combo is the pink hair to silver balayage look. A pastel pink is ideal for a muted, seamless faded blend.
20. Bronde Balayage With Silver
A great way to spruce up trendy bronde is with a silver balayage hairstyle. Instead of light blonde highlights, add silver to the ends of hair.
There are dozens of ways to incorporate silver into your hairstyle without having to go full silver. Of course, you can, but adding in lavender, lilac, blue, or even pink is a cool way to make it fun!