Have you decided to chop down your long tresses? If yes, add a brown hue to them and the result will be a cute simple yet edgy look. Short brown hairstyles are chic and timeless although choosing the right one can be an overwhelming task, but no need to worry as we have brought you 35 options to choose from.
Make sure you stay ahead of the trend with your short hair by going through the following sassy brown hairstyles we have rounded up for you.
Short Brown Hair Ideas
These are the short brown hairstyles we love. Be it light or dark shade we have got you covered.
1. Asymmetrical Bob
If you have dark brown hair an asymmetrical bob can bring an edgy change in you. Keep the hair on one side longer than the other with a subtle side part. This look is simple but visually effective at the same time.
2. Tousled Brown Hair
This tousled hairstyle gives you a carefree look. Chop down your hair to ear length and add waves. Subtle highlights and a side part with wavy strands falling over your forehead complete this short style. Finger brush your hair and you are good to go.
3. Side-Braided Lob
This one-sided braid hairstyle adds a stylish touch to your chestnut hair. Get a bob with a side part and braid your strands on one side. Secure them up at the back and your chic look is ready.
4. Ear-length Curly Pixie Cut
Grow out your short pixie with style. With a deep side part curl your hair in all directions for a fuller look. Allow a few strands to fall over your eye for a dreamy look. A light hazelnut brown hair color will further enhance this hairstyle.
5. Pink Ombre on Brown Hair
For this chic look get a French girl bob with bangs. Instead of leaving your light brown hair as it is add a pink ombre for a beautiful contrast. This hairstyle is low maintenance but will surely make you stand out.
6. Low Ponytail
Updos don't always work for shorter hair and this is where you can go for a low ponytail if you want to tie your brown hair for a change. Secure your hair back with your favorite hair accessory and let a few strands loose at the front.
7. Sleek Look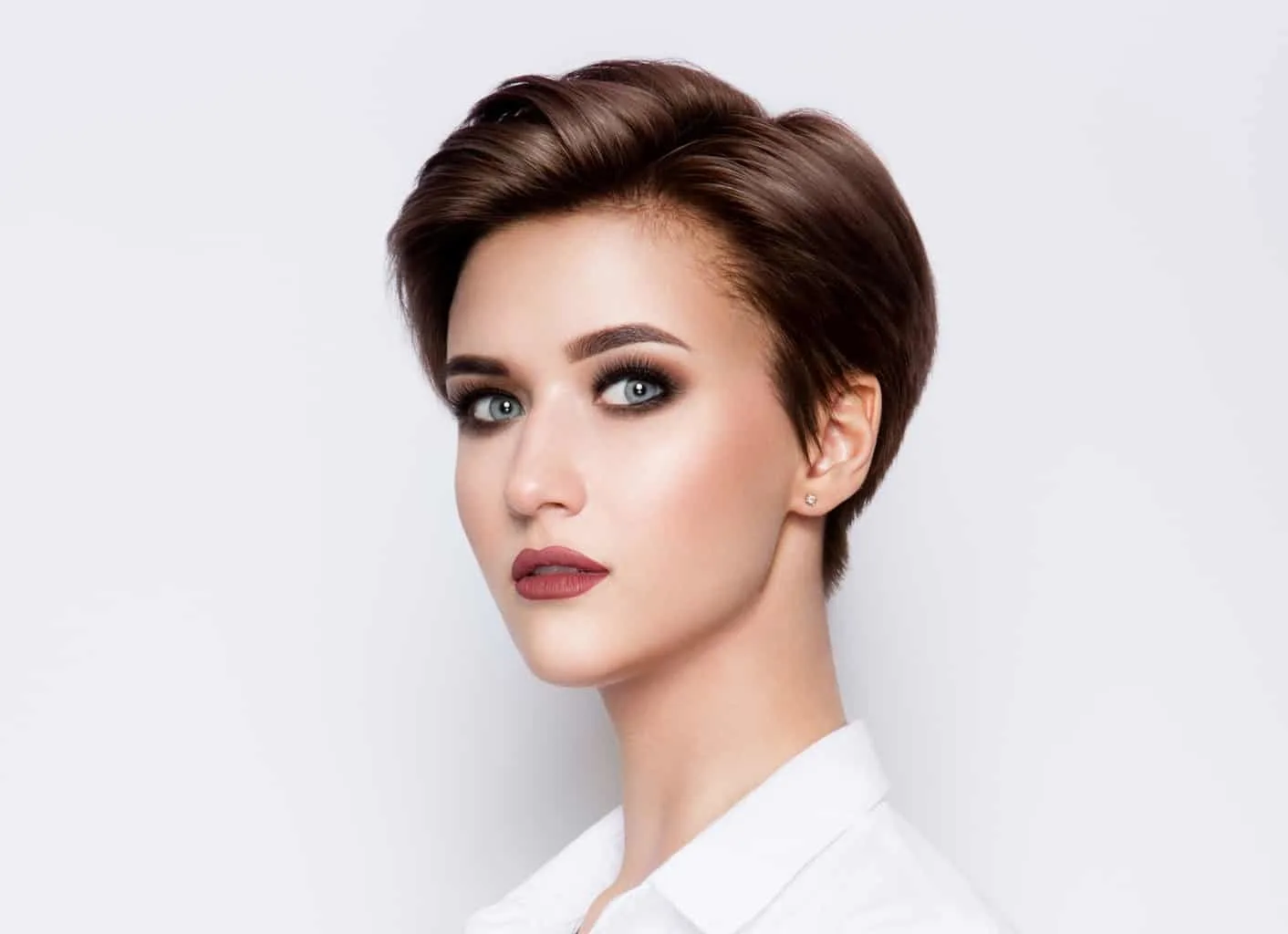 Get this sleek short hairstyle to set off your dark natural brown hair. Ask your hairstylist to neatly trim your sides leaving the top longer. Pair your neat side part with smoky brown make up to complete this chic look.
8. Highlighted Brown Curls
Give your short curly shag a twist by adding highlights. Highlights with a dark brown base are timeless and perfect for every skin tone and hair texture. A nice side part coupled with hair tucked behind your ear on one side gives you a modern look.
9. Eyebrow Skimming Bangs
This simple short brown hair look is ideal for middle-aged women. Ask for a short bob haircut with a side part and eyebrow skimming bangs. This style is easy to maintain and a look that never gets old.
10. French Twist Braids
This hairstyle is ideal for young girls. Your simple shoulder-length brown hair will stand out in public if you get these French twisted braids at the top. The ends of braids are wrapped around to form cute little buns at the back.
Full and longer bangs look great when they are tucked away from the face so that a woman's beauty can easily be seen. This cut has a lot of volumes, which is a great option for women who have full and thick brown hair.
12. Sleek Brown Bob
A sleek bob won't ever go out of style, as this short layered thick haircut easily shows. The layers are cut much longer than with other hairstyles, which allows the brown pixie bob to look chic and put together. The strands can be tucked behind the ears if desired.
13. Curled Away From the Face
Short hair looks great when it is curled away from the face. This hairstyle is longer in the back and shorter in the front and looks refreshing and updated thanks to the gentle curls and wisps that are pushed back from the face.
Modish Brown Balayage Hairstyles for Modern Girls
Shorter layers on top have a ton of volume, and these layers look great when paired with very short sides and in the back. The trimmed sides and back help women stay cool and make the brown hair on top of the head look even longer than it is.
This short brown haircut has a little curl and movement all over. A little bit of product can be used to easily hold the strands in place and keep the hair from falling flat.
16. Longer Brown Bob
This longer bob is known as a "lob," and has all of the movement and freedom of a bob with a bit more length. It's a great option for women who have very straight and shiny dark brown hair and will look great for almost any situation.
Gorgeous Copper Brown Hairstyles to Rock
This short dark brown haircut stands out because of the bold and blunt bangs. They are much shorter than the rest of the hair, which is worn tucked behind the ears. With blunt lines around the face, this is not for the faint of heart.
Keeping bangs out of the face can be a struggle for any woman, and this is a great way to handle that issue. By pinning the bangs straight back from the face and allowing the rest of the hair to hang loose, women look trendy and updated.
These perfectly long bangs are tucked to the side behind the ear, creating a sleek and chic look. It's a wonderful look for going to the office or spending time out with friends, as women look fun and fresh.
Moody curls look exceptional in dark hair. These brown curls have a mind of their own and are trained to fall gently around the head. Pinning them back on one side is a great way to control them at work and to ensure that a woman can see.
Gorgeous Curly Brown Hairstyles with Blonde Highlights
A thick bob looks exceptional when it is paired with honey blonde highlights. By slightly stacking the back, it's easy to give the illusion of a thick head of hair, even if the woman has relatively thin hair.
Blonde tips set this look apart. The light brown roots are a great contrast to the tips, and by tucking them behind the ear, any woman can create a fun and funky look. regular trims are key to ensuring that the hair doesn't look too grown out.
23. Perfect Caramel Brown Cut
Perfect caramel highlights are dreamy in this brown hairstyle. The chin-length cut fits perfectly around the face, and the longer bangs can easily be brushed back and to the side. The end result is attractive and ideal for work in an office or going out with friends.
24. Strawberry Highlights on Brown Hair
Short light brown hair doesn't have to be boring, as this messy and curly look shows. The messy curls add a ton of volume and interest to the cut and make everyday fun and exciting. Thanks to the strawberry blonde highlights, the cut has a lot of depth.
25. Framing the Face
This is a simple cut that frames the face. The even color and lack of highlights allow the natural beauty of the woman wearing this short haircut to really shine through. Keeping the bangs cut to match the flow of the light brown hair is key to a great look.
The perfectly straight bangs on this cut match the straight line of the bob, giving the look a lot of symmetry. It's all angles, but that doesn't mean that it's a really harsh cut, as it works perfectly on women with sharp features.
27. Slightly Longer in the Back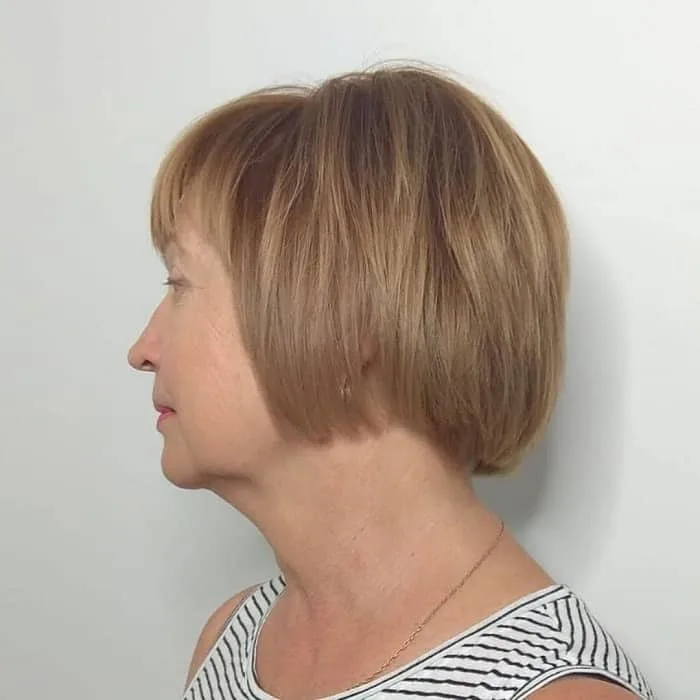 Allowing for a little additional length in the back of this short haircut helps to balance out the bangs.
There are some light highlights scattered around in the lighter brown hair to add some interest to the style, but otherwise it is a very relaxed and low-key option.
Best Light Brown Highlights on Dark Brown Hair
Teasing the hair at the crown to add a ton of volume makes this auburn brown haircut fun. The dark color perfectly frames the face, and the bangs are swept off to the side so that they are not in the way or getting in the eyes during the day.
Girl with short brown hair who really want to stand out in a crowd will love the severe look of this cut. It's all straight lines and sharp angles, making it a great option for any woman who knows exactly what she wants and is willing to work for it.
See-through bangs are a sweet way to break up a style. These bangs pair perfectly with small pigtails, resulting in an attractive look. A straight part down the middle of the head helps to create the illusion of symmetry.
This shorter brown bob rests perfectly above the chin, giving it a lot of personalities. The bangs are kept shorter, as well, and are pushed slightly to the side to give the illusion of plenty of movement in the hair.
32. Blunt Brown Hair
Not all short hairstyles need to be cut incredibly short, as this longer option shows. The brown hair is allowed to grow out into a long blunt bob and almost brushes the tops of the shoulders.
Tucking hair behind the ear is a great way to break up the monotony of bob and bring new life into an old style. This option looks great because of being pulled back and because of the slight highlights.
Epic Ash Brown Hair Colors Women Love
Brushing a bob back from the face and allowing the hair to curl around the shoulders is very attractive. This is a confident short haircut and style that will make any woman with brown hair wearing it look like she is in charge.
35. Short Stacked Brown Hair
A short stacked bob has a lot going for it and is a lot of fun to wear. This light brown bob has a few layers cut into it to remove some of the weight of the hair and to allow it to have a bit more movement and style.
Any of these 35 short hairstyles are sure to be a great option for any girl with brown hair. They're fun, updated and chic, and easy to style, which will make any woman look and feel her best.