There is no better way to reveal yourself than through expressive scene hair. Inspired by both shag and mullet styles, the classic scene hairstyle is full and thick around the face with choppy layers and long bangs characterized by long, thin layers worn underneath. There are, however, many variations on this look for different hair textures and short lengths like cool, edgy pixies for every babe to try.
How to Style Scene Hair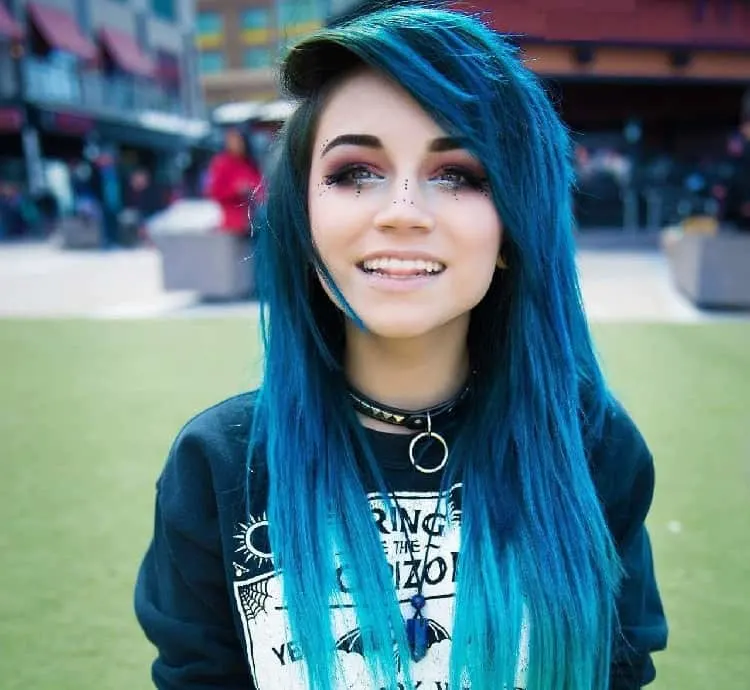 Regardless of whether your scene style is short or long, you'll want to focus on one feature in particular: choppy layers. Even if you have curls, the hair at the top of your head should be the fullest. If you're looking to style scene hairstyle, it's important to remember to create height at the top of the head. When hair is wet, spray on a root lifter or volumizer and focus on the roots. Add any serums or heat protectors at this point, if they are made for wet hair.
Next, you will want to blow all of your hair straight with a blow dryer to avoid too much flat ironing. Even though the heat from blow dryers can cause damage, straighteners typically wreak the most havoc, thanks to their intense heat. Once you've blow-dried all of your hair, it's time to straighten all of those fun, choppy layers.
Once hair is straight, focus on creating, even more, lift around the face and on the top of the head. Use a fine-tooth comb to tease hair so that the short layers up top lift up. Adding hairspray before teasing is often a good idea to create that perfect hold. To tease, take a small portion of hair and hold it up. Take the comb and gently run it downwards through the hair. Do not be aggressive to avoid creating any knots. When done right, teasing, or backcombing, as it's also called, should be able to be brushed out with ease.
Once you've teased your hair, you'll want to smooth down the outermost layer for a polished effect. Teasing should be treated as a boosting style, not one you want to display. Before your styling is complete, you may need to add a touch of baby powder or dry shampoo to keep the height going.
Scene Hairstyles
Curious about what different scene hairstyles have to offer? Below are 35 looks that are as unique as you are.
1. Scene Bob Style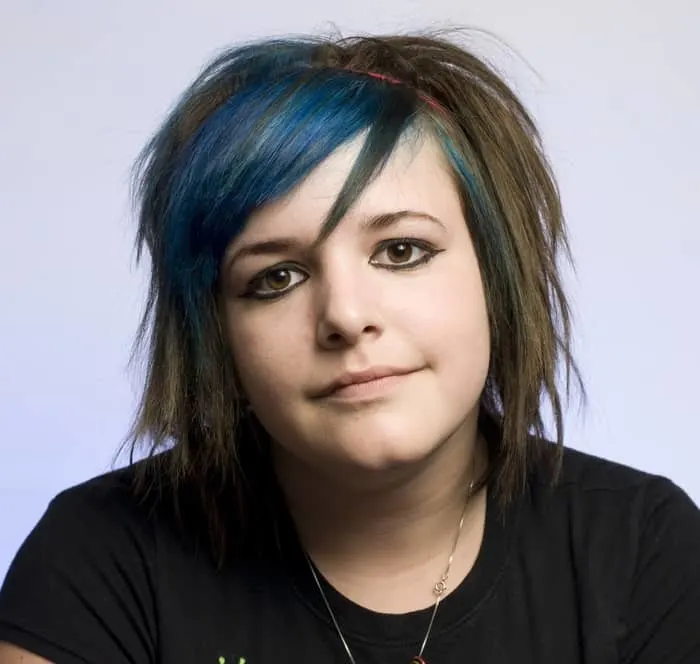 Long lengths are typically a no-go for the scene girl with thin hair because hair can appear limp and stringy. A cute bob length, however, is very flattering. Make choppy layers on the bottom of the hair for a scene vibe.
2. Spiky Scene Pixie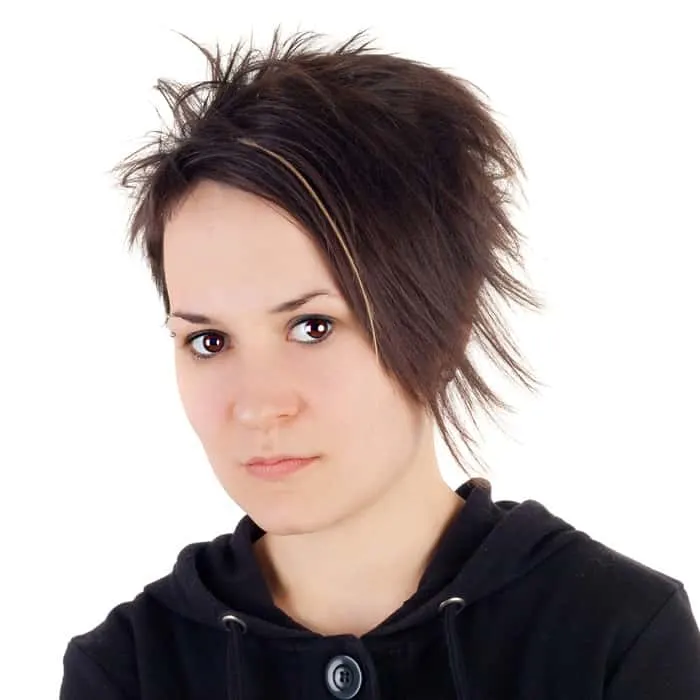 Even if your brown scene hair is short, you can still create those signature bangs and straight, choppy layers. Make a side part and use a razor to cut hair on the opposite side of the head. Spike hair up in the opposite corner for a funky effect.
3. Face-Framing Highlights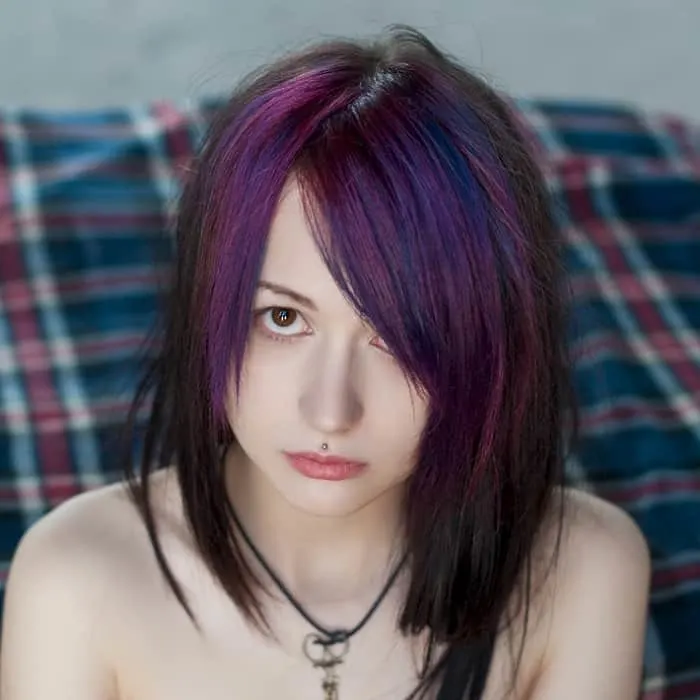 Many medium scene hair looks use bright and bold colors to make a statement. If you crave a splash of style as opposed to all-over color, focus your favorite hue to the bangs and front layers of the face to display the color best.
4. Shaved Temples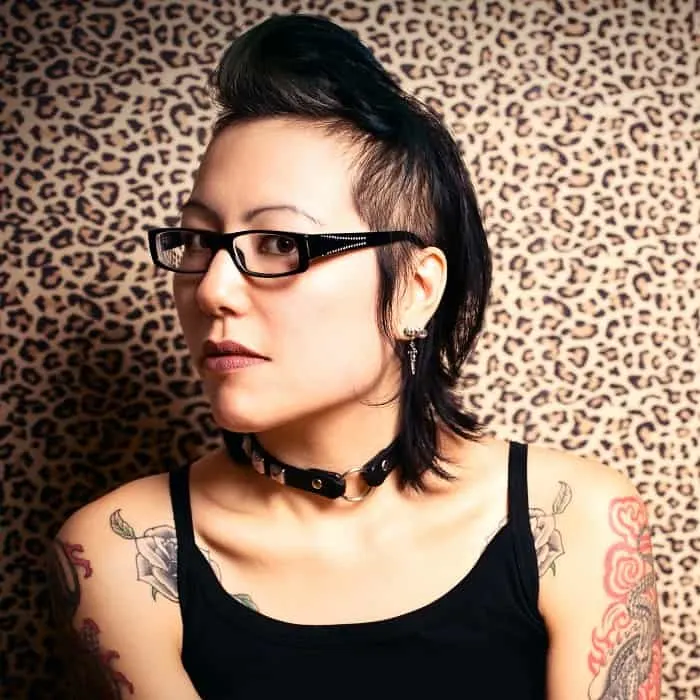 Combining retro and modern styles is very edgy, making it ideal for Asian scene hair. Create a 50s style roll at the top of the forehead and pair with super cool shaved temples and a long, thin side burn detail.
5. Vibrant Dreads
Even dreadlocks can embody the scene aesthetic. Also a highly individualistic style, dreadlocks are the perfect accompaniment to short, wispy layers and choppy bangs surrounding the face.
6. Center Part Scene Style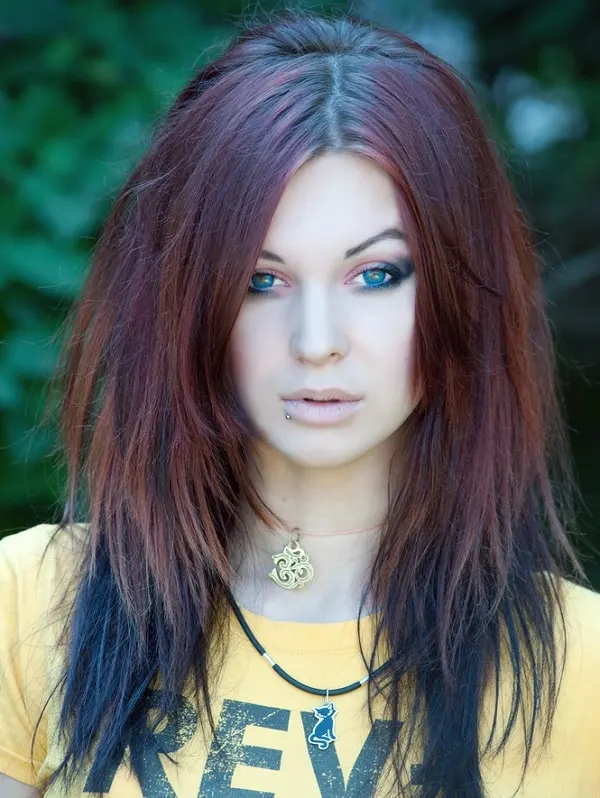 Okay, so it's slightly off-center, but this look is quite different than the ultra-deep part that is common among scene styles. A center part is a little more mainstream and highlights some gorgeous cheekbones.
7. Curly Hair and Baby Bangs
There are even awesome varieties for curly scene hair out there. Shorter lengths and baby bangs create the cool, punk feeling that you're going for. Try a bold lip or winged liner to enhance your overall vibe.
8. Ribbon Pigtails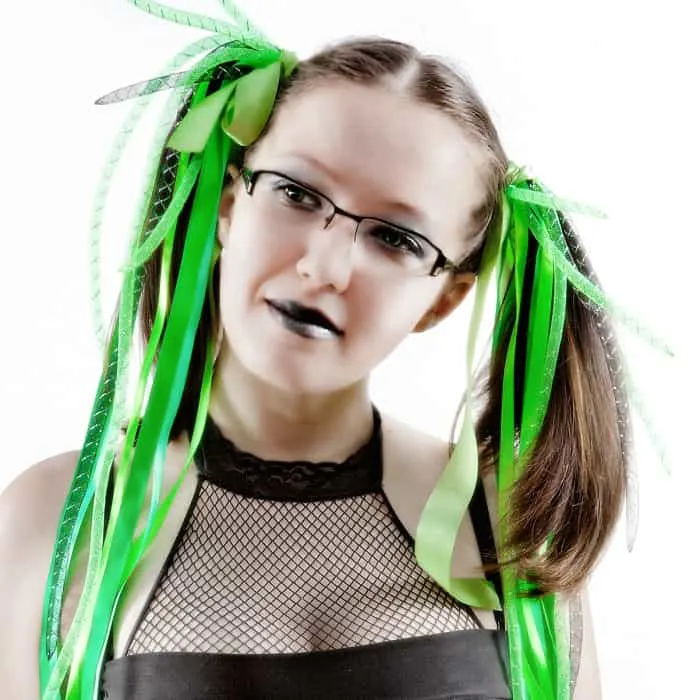 Turn a sweet style into something fun if you crave a scene hair with glasses. High pigtails are pretty punk when you add ribbons or accessories in bold colors. A center part helps it feel pulled-together.
9. Curls and Straight Bangs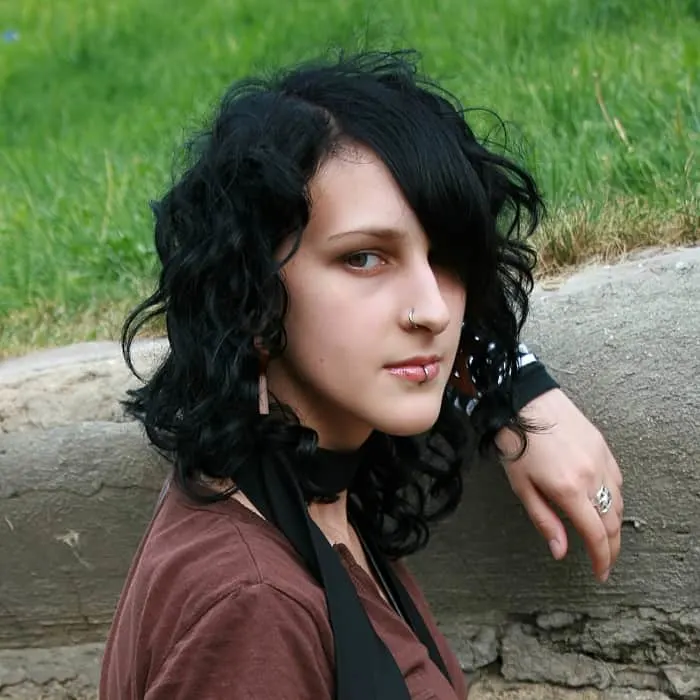 Contrasting textures work well as scene hairstyles. Add hairspray and dry shampoo to curls to create a dry look and straighten long, angular side bangs for that edgy element. It's perfect on a long or oval face shape.
10. Blunt Cut Bangs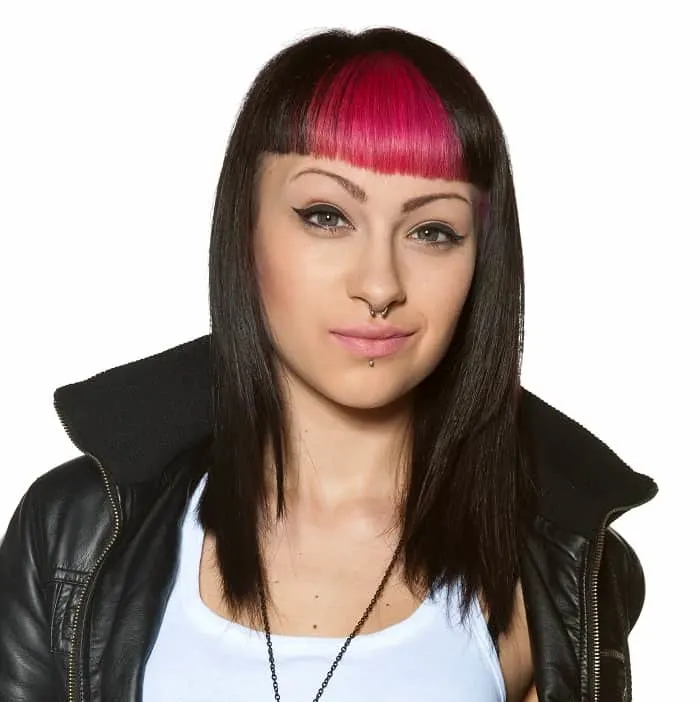 Short and straight bangs are definitely edgy, but you can kick this scene look up a notch by extending the bangs out past the temples. This works especially well on oval and round face shapes. Add a pop of favorite color at the center.
This is one of the boldest scene hairstyles that you can have. The color combination of violet and aqua is alright, but the sharp cuts and edges add an overlying intensity to your overall personality.
The side bang is quite flattering and goes perfectly with the choppy ends and edges. You can own this look too, but you need to be very bold and confident when it comes to showing it off.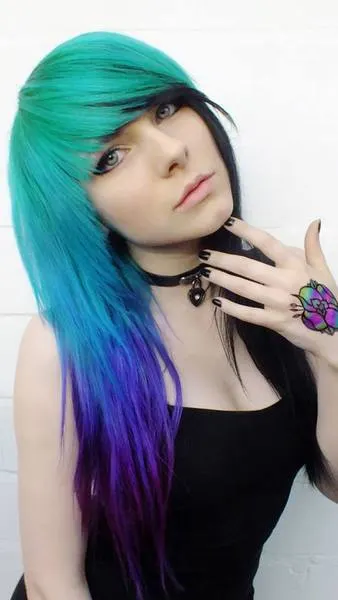 This hairstyle is totally your thing if you are not ready to part with the length of hair that you have grown over the years. The added layers are an extra detail which accentuates your facial features and the shorter front is fun and carefree.
You can have different shades of hair dyes for this one as it gives you the freedom of going all over the hair dyes that you love.
13. Wispy Red Hot Hair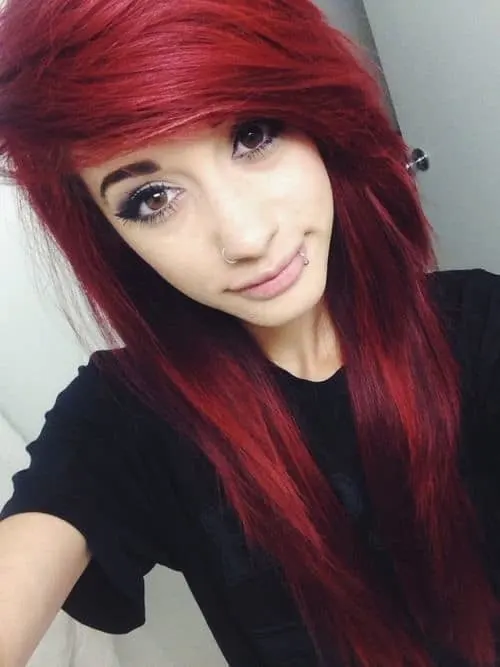 A wispy haircut is great if you are looking for a bold hairstyle as it gives you a wild yet oddly tamed looked without going too messy. The sharp cuts when ironed look even prettier, so it is a great scene haircut for starters.
If there is one color that does justice to this flamboyant haircut it is red hot! So go for red-hot wispy hair and have fun this season.
14. Blue and Black Framing Bob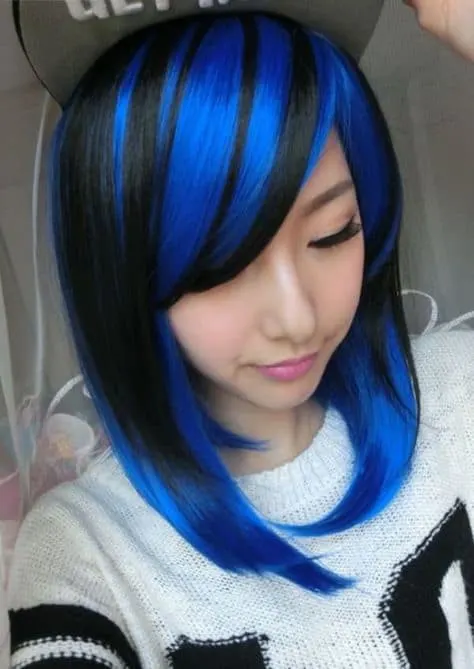 This bob frames the face in a subtle and classy way. The blue and black pattern is attractive and cool making it a desirable style for scene hair. The short hair in the front and the bangs on sides are exquisite as they suit every face shape. The look is perfected by blow drying the hair towards the front.
15. Fairyland Pixie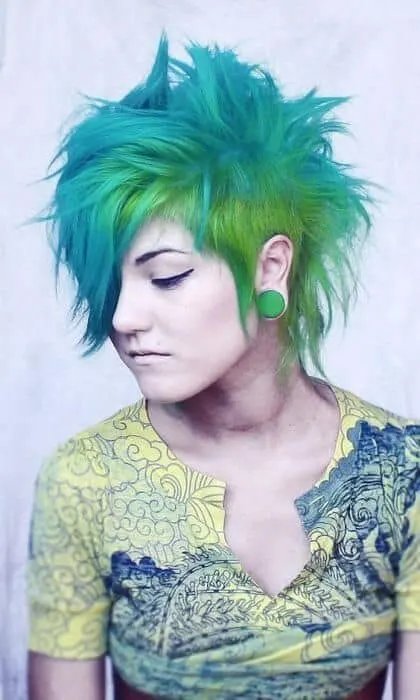 This look is only for bold and confident girls who can face the world courageously. The finely chopped side and wildly cut hair look extremely fun with the added bit of color.
16. Braided Pink Scene Hair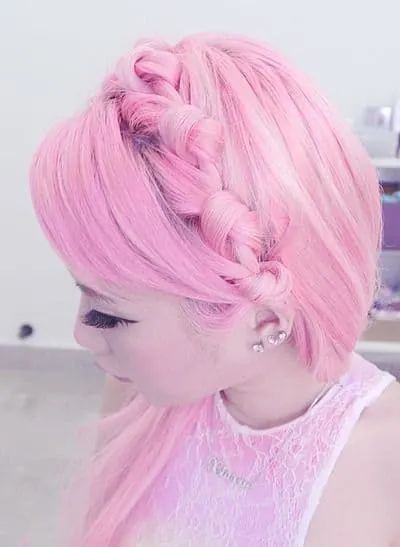 This lovely hairstyle is all about having long hair and flaunting them in the most discreet way that you can. The light pink hair looks pretty and youthful, which becomes more carefree with the addition of a loose braid along the crown of your head.
17. Long Sweeping Layers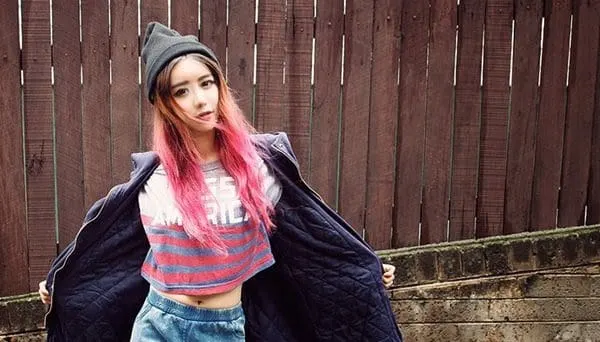 This is the perfect scene hairstyle for girls who have long hair and want to add details to it in the form of layers. They can have multiple shades of hair dyes paired up with a middle parting and be ready to take up any look that they want for college or work. This is a fun and vibrant style which brings out the fun side of your personality.
18. Rockstar Material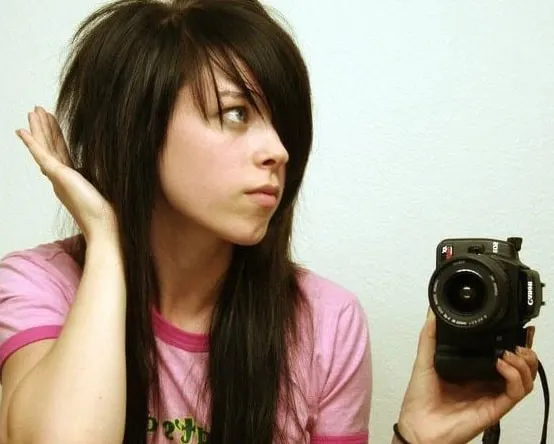 You can look like a true rock star with this scene haircut as it has the right feels to it. The hair remains long generally and gets layered at the shoulders.
The front is cut short and there are sharp edges and layers which bring out the rock star feels even more. You can have streaks of other colors or an all-out different hair color with this one.
19. Zebra Hair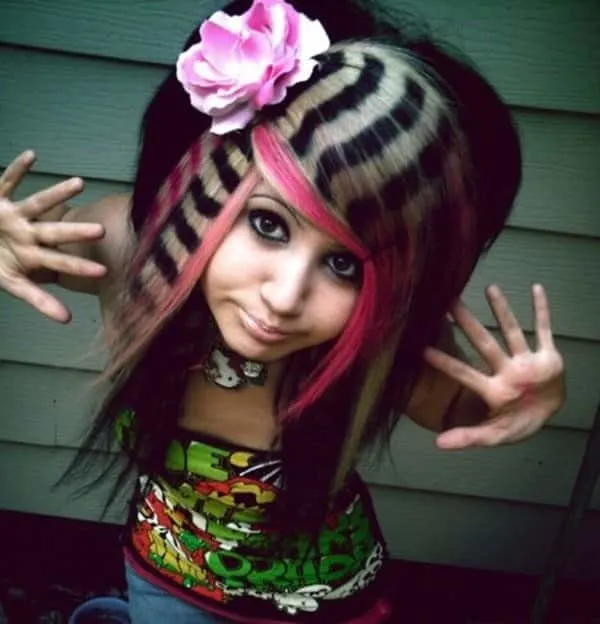 The hair stays long in this one too and has layers as well. The front is not layered and a simple style, whereas the zebra color pattern makes this style different and more fun. You can have his one to show the real fun side of your personality.
20. Checkered Red Hair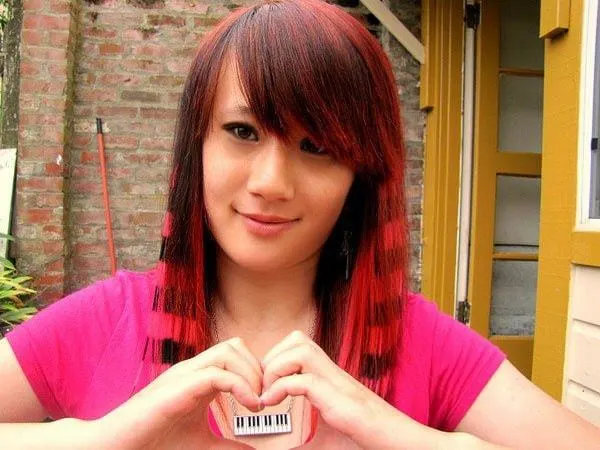 This particular style goes as well with long hair as with short hair. There is no layering or chopping off required except for the bang in the front. The red checkered pattern makes it completely unique and appealing.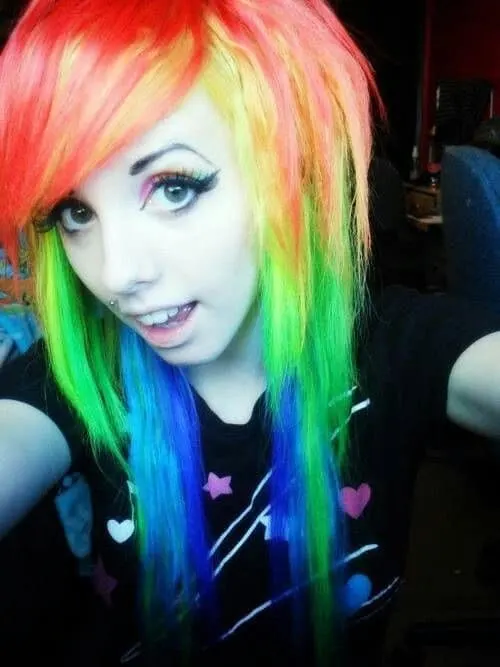 The rainbow hair looks fun, bold and absolutely attention grasping. Here the hair is quite long and has some layers, but not too many of them. The look goes really well for women who own their wild and funky side proudly.
22. Pixie Dreams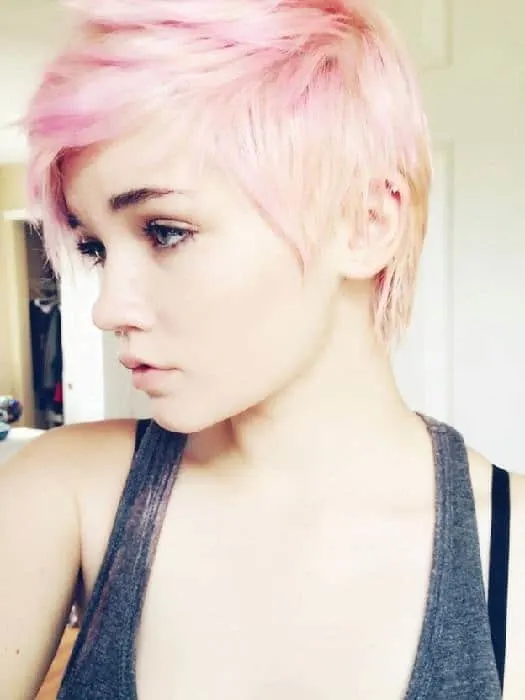 This short haircut looks quite adorable and cute with pink dye. The short dramatic layers add more detail and fashion to it and you look perfect for a cover page.
23. Long Silver Hair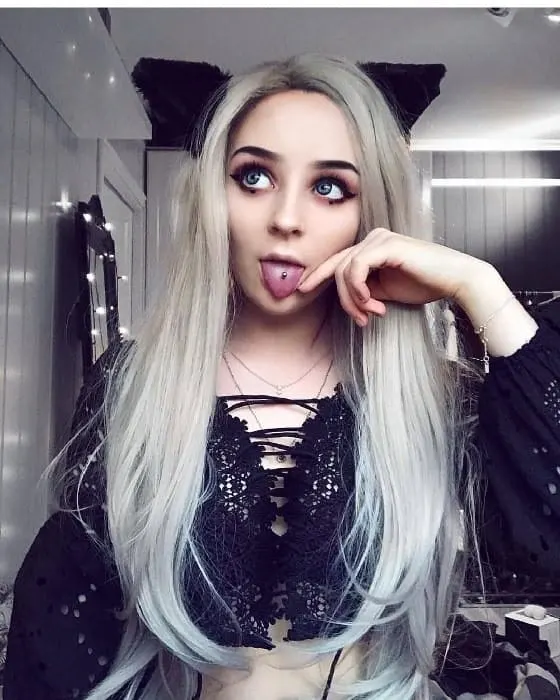 This is one of the best and most lovely scene hairstyles for women of all ages. The subtle silver goes well with all kinds of looks and the best part is that you can keep your hair as long as you want. You do not even cut off the edges to provide layers.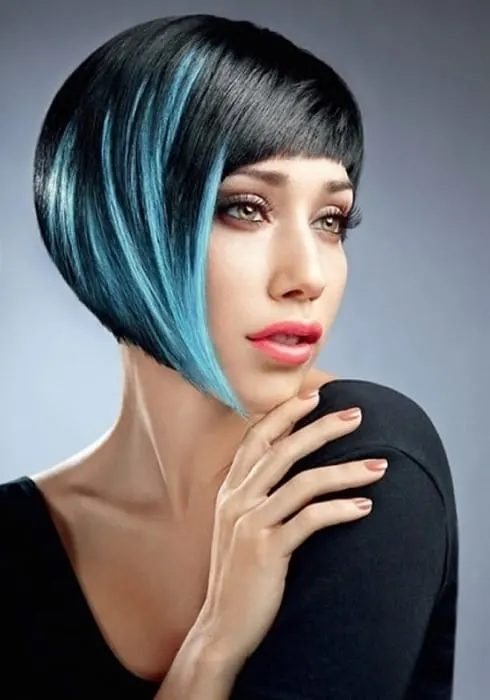 Angled bob is back and that too with a bang! This bob is special for it has short chopped hair at the back while longer layers in the front. This sure is a cool look, which you can rock even in plain black.
25. Bieber Bob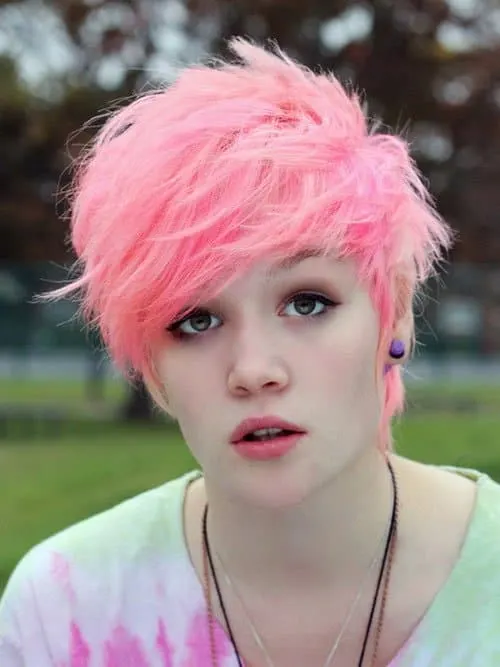 This finely chopped but overly layered bob became famous with Justin Bieber's appearance on screen. This short bob looks great when blow-drying to the front in a way that all the layers appear distinct. You can even dye your hair in any way that you like with this one.
26. Choppy Teal Hair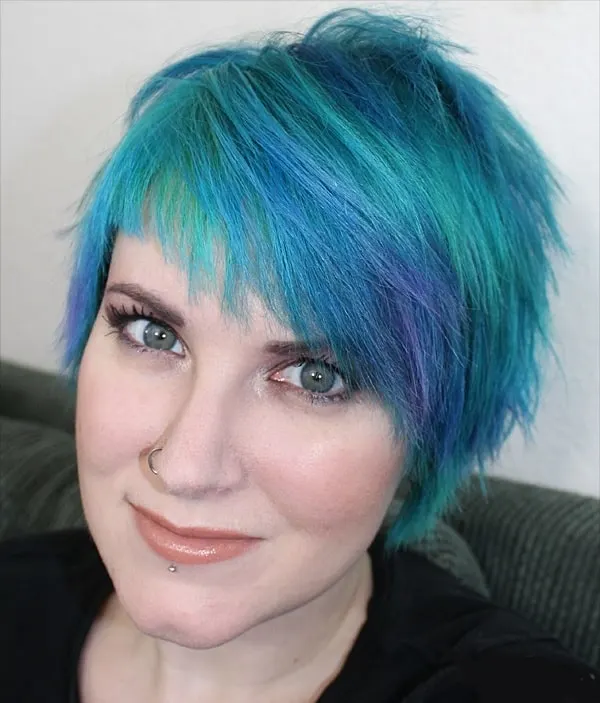 This is one of the most fun scene hair for women as the teal shade gives you a super funky vibe. The chopped hair look bold and mixed with teal dye they are the perfect kpop star hair that you can have.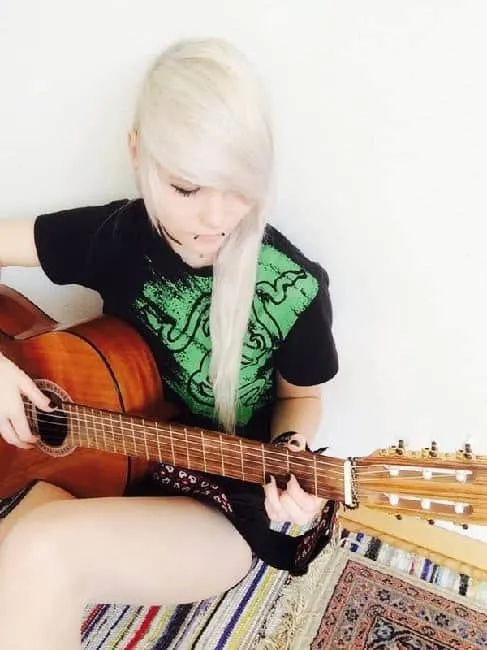 This girls scene hairstyle is different from others as there is an unusual distribution of length on both sides of your face. One side has long hair while the other one has a short but fuller side bang. This one is perfect for the blondes.
28. Fuchsia Dreams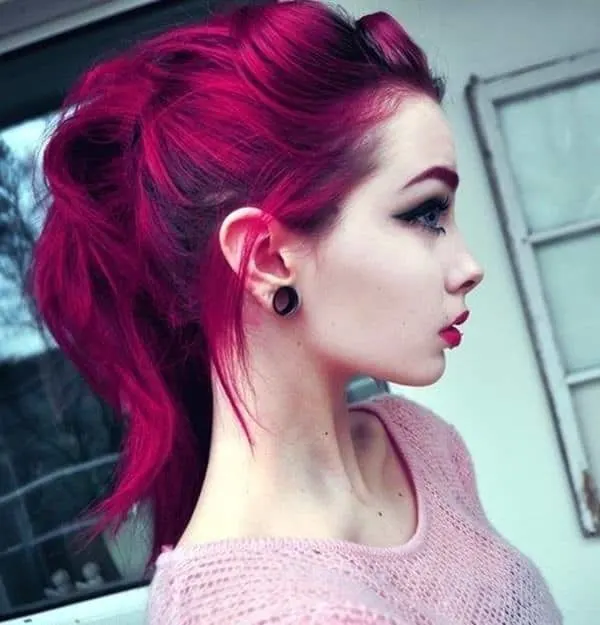 Fuchsia pink is one of the coolest scene hair colors that you can possibly go for. You can keep the original length of your hair without even going for bangs. You can simply pull all your hair into a ponytail and look great in no matter what you are wearing.
29. Blonde with Little Bangs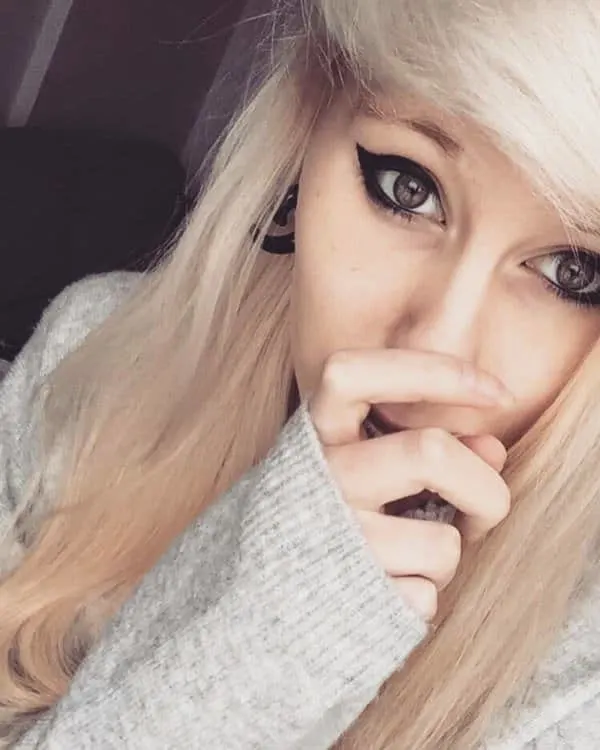 Blond hair looks best when it is longer and this hairstyle complements blondE hair just perfectly. You can have long hair, but add a touch of freedom and fun to it by having a sharp side bang. The bang makes you look more intense and bold than any other style that you can opt.
30. Perky Purple Hair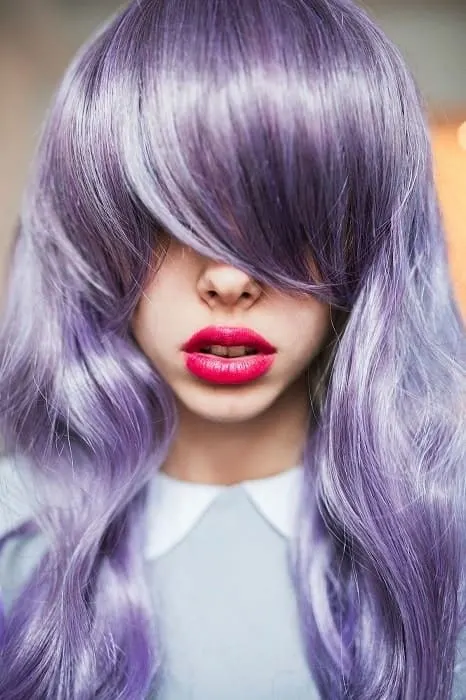 This perky little hairstyle is the best option for those who neither want to cut their hair too short nor want to sport extra-long hair. The mid-length style goes perfectly well with purple as the color brings more life and energy to any haircut. You can even have any other hair dyes that you prefer as it really comes down to your preferences.
31. Edgy Colors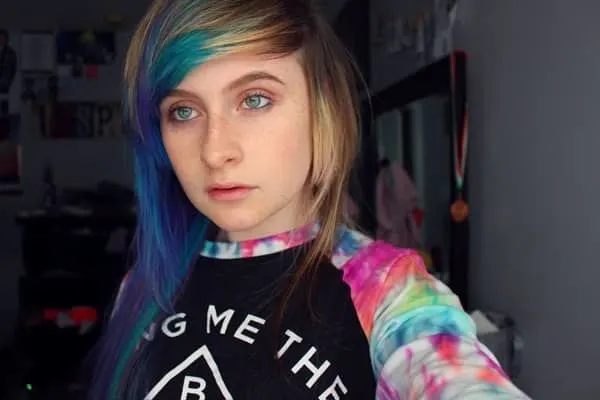 This lovely scene hairstyle is perfect for those who love getting fun and sharp haircuts. There are a lot of layers which make every color stand out on its own. The sharp and long bang at the side is very distinguished. You can have as many colors as you like and it will never go out of proportion for you.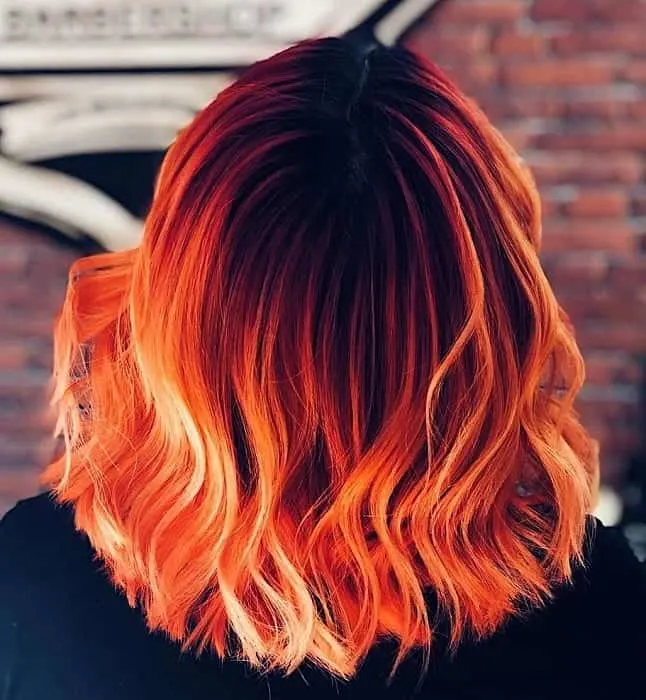 The sharp and extreme layers cover the face in a nice fashion and make your facial features look sharper and more prominent. The hair is cut just above the shoulder and looks great with a rich showy orange. You can go all fun and wild with this one, but you can have any other shades that you prefer as well.
33. Silver Sweeping Fairy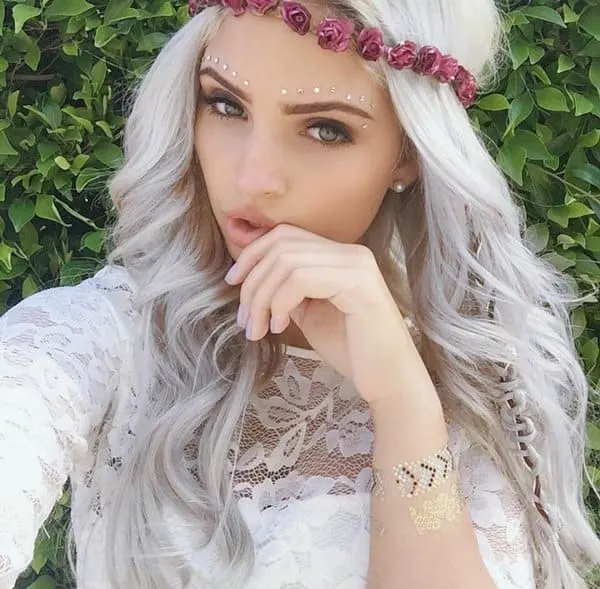 Who doesn't love to have fairylike wavy curls cascading down their back and shoulders? This lovely scene hair look is an absolute stunner as silver looks exquisite with long layered hair. You can adorn your hair with some flowers to take this look to an even greater level.
34. Perfect Red Mane
This one is a perfect blend of cool, sophisticated and wild as there is so much to this hairstyle. The hair stays long throughout and falls below your shoulders. There are layers, but even they are not too extreme. The added volume looks fine and the red shade adds intensity and life to this style.
35. Sweep It to The Side
This scene hairstyle comes with a mixture of lengths as the hair is long, goes below shoulders at some points, and is very short at other points. The angled hair looks more pronounced with a funky dye and a blow dry.