Zac Efron's hairstyles are gaining popularity since this actor is conquering the hearts of men and women all over the world. Even the toughest critics have something good to say about Zac Efron.
Zac takes good care of his appearance. He has professional stylists tending to his image. So why not take advantage of their services for free? You can take a look at the hairstyles he sported throughout his career and copy the one you like the most.
How to Create Zac Efron Hairstyles
Zac Efron's haircuts and hairstyles are not hard to make. All you need to do is take a look at the examples. We are offering you 15 different hairstyles to choose from. If you are not sure how to create your favorite one, you can take one of these photos to your hairstylist to get professional advice. Carefully read the simple tips under each photo.
Teenage Boy's Haircuts to Look Fresh
Most Popular Zac Efron Hairstyles
Popular actors usually have unique styles. The good part about them is that they like to change them often. Regular guys can take advantage of this by copying the hairstyles. If you like Zac Efron haircuts, you can enjoy wearing one of them and looking just as stylish as this popular actor.
Don't hesitate to be a copycat. When it comes to the celebrities, they don't mind others copying their style. In fact, it adds to their popularity. So give one of these hairstyles a try.
1. Zac Effron's Spiky Hair
This stylish haircut involves keeping the hair shorter on the sides and longer (about 3 inches on top). Then the side part is made to allow you to brush most of the hair to one side and style it into a pompadour.
Men's Blowout Haircut Ideas for Snazzy Look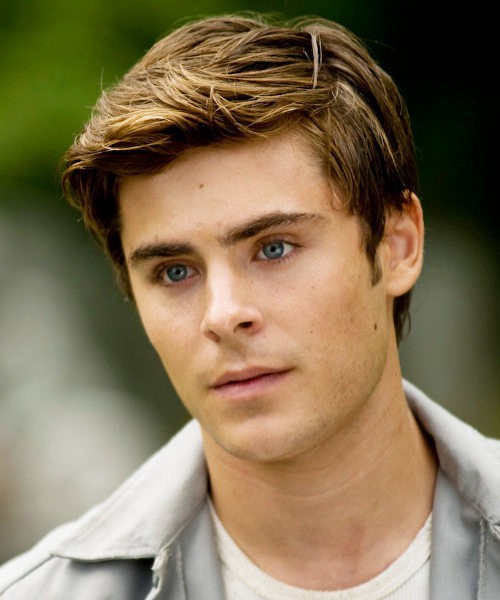 If you have dark hair just like Zac Efron but want to brighten up your image, you might want to consider blonde highlights. The top part of the hair is highlighted while the lower part stays natural. Also, you can try men's platinum blonde highlights.
This Zac Efron's hairstyle is exactly what you need to look fashionable. The hair on top needs to be about 2 -3 inches long to create wild spikes. Use some hair gel to brush through the top part and spike it up.
4. Whiskers
Whiskers are an amazing choice for men who like facial hair. You don't have to make them too long. Just let them down a couple of inches. Create spikes on top to give the hairstyle some contrast and extra style.
5. Blonde Pompadour
If you have thick hair, you can create a voluminous pompadour on top. Your hair needs to be about 4 inches long. You need hair gel to style it and hair spray to keep the volume intact all day long.
This Zac Efron hairstyle is perfect for guys who don't want too much hassle with their hair. The top part is cut short so no maintenance is required. The sides are arranged into a low fade. Learn more about the low fade and high fade here.
7. Zac Effron's Signature Hair
If your hair is slightly curly, it's often hard to manage. A high and voluminous comb over is a perfect idea for the top part of your hair. The sides can be tapered in order to minimize hair maintenance.
20 Most Popular Cristiano Ronaldo Haircuts
8. The crest
Arrange the top of your hair into a stylish crest. All you need to do is grab some hair gel and use it to shape the hair into a crest on top. You can either taper the sides or leave the hair all the same length.
This Ivy League hairstyle donned by Zac Efron is perfect for office workers or guys who like a sleek image. You need to use hair gel to smooth your hair so it stays looking great all day long.
Many men prefer an out of bed type of look. Zac Efron appreciates it as well. Don't hesitate to copy this style. You'll just need a little hair gel to avoid the top part from going all over the place.
11. Touch of honey
Honey blonde hair color is a perfect choice for guys who want to diversify their images but are not ready to go blonde. Ask the hairstylist for the best color combination depending on your natural shade.
12. Windblown crest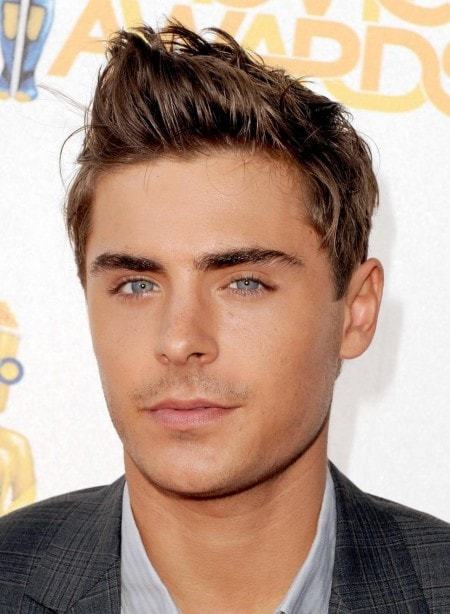 This Zac Efron haircut is not much different from the regular crest style. The difference is in the amount of gel you use to keep it intact and the length of your hair. Leave the hair a little longer to get a windblown look.
Relevant Men's Hairstyles:
13. Soft spikes
Take a close look at the soft spikes created on top of Zac's head. They appear very natural and give him a romantic image. The secret is in using the hair spray instead of hair gel after shaping the hair.
14. Combover
Comb-overs can differ. This one is the loose kind. If you grow the top of your hair about 4 inches long, you can arrange a stylish combed over short pompadour.
Hipster Haircuts for Men Who Care About Style
15. Smart arrangement
When you deal with long hair on top, you always need hair gel. It's up to you how to use it. Stand in front of the mirror and try to copy what you see in the photo. With some practice, you can achieve an amazing style.
Coolest Faux Hawk Hairstyles for Men
These Zac Efron hairstyles won't just allow you to be a copycat of a popular artist, they can give you smart ideas about the new ways to go about your old hairstyles.