3B hair types have gorgeous spiraling curls that make those with straight hair swoon. But when it's on your head, 3B hair can be tough to manage. That is if you don't know what a good curly hair routine can do or what products you should use.
We've all tried the latest hair trends, only to discover our hair doesn't work with the proposed technique. It's frustrating, to say the least. After all, styling hair takes time, and buying new products can put a serious dent in your wallet.
If you want to learn the in's and out's of your curly hair types, including how to style them, maintain them, and what cuts work best with your hair, you've come to the right place. But first, let's dive into what a 3B hair type is. Then we'll learn how to make it shine in all it's natural radiance!
3B Hair Defined
If you have springy curls that range from loose ringlets to tight corkscrews, you likely have a 3B hair type. Hair like this is voluminous and often very dense. It can be coarse too, which can make it more difficult to style and manage.
The curls' circumference is typically about the size of a dry-erase marker or might be a little smaller. It's beautiful when left in its natural state, but using the wrong styling method can make it appear frizzy and dried out.
Taking care of 3B hair correctly is the best route for bouncy, well-defined curls. So let's learn what that looks like in more detail.
Related:
Taking Care of Curls
Moisture is the name of the game when it comes to curly hair maintenance. Those spirals sure are pretty, but they also make it difficult for scalp oils, or sebum, to travel down the length of your hair.
Though type 3B is looser than type 4 curls, which need a lot of extra hydration, 3B hair still requires a routine where moisturizing is front and center. Usually, a once-a-week deep-conditioning treatment is a good idea. A curl cream and oil sealant after every wash is a smart move too.
That said, too much product will weigh curls down. So take a less is more approach. Use each product sparingly and only as often as you're sure you need to.
Along with using the right moisturizing products, curly hair benefits from a few other lifestyle hacks. Sleeping on a silk pillowcase will ensure your hair retains its moisture. You can also use the pineapple pony technique to retain your styled curls.
The Pineapple Pony
Styling 3B hair after washing can be a lengthy process. Luckily, you'll probably only need to do it once or twice a week. Using a pineapple pony while you sleep ensures your curls don't flatten.
To make one, bend over and pull all your hair to the very top of your head so your curls fall forward. Then, secure it with a scrunchie. This keeps the curls on the side and back of your head from flattening as you sleep.
The pineapple pony is also cute for going out and about. It's a fantastic option when you don't want to wear your hair down.
Styling Curly Hair
When it comes to styling your curls, there are several techniques. Some of the most popular include diffuser styling, plopping, and shingling.
Diffuser Styling
A diffuser is an attachment that comes with many hair dryers. It dries the hair while it's scrunched close to your scalp, which means curls come out as springy as possible. Drying your hair this way will provide long-term curl separation and hold.
To use the diffuser method, start by washing and towel drying your curls. Add a little defining mousse and give all your hair a gentle scrunch.
Then separate the hair into sections and turn the hairdryer down to medium or low. Start with the diffuser touching the ends of your hair, then work it all the way up to your roots, scrunching the hair with the diffuser as you go.
Check this video to avoid making any mistakes:
The Plopping Method
The plopping method is a quick way to achieve manageable curls overnight. After washing and towel drying your hair, add in a smoothing cream.
Then grab a large, cotton t-shirt and lay it on a bed in front of you. Make sure the collar points towards you. Bend so that your hair is in the shirt, then wrap it around your head like a turban. Criss-cross the sleeves in front, then tuck in the loose ends.
Wearing the shirt on your head overnight will protect your curls while you're in bed. The next morning, use a diffuser to touch up any damp strands. Then rock your curls to work, or whatever the day has in store.
The Shingling Method
Shingling takes the most time out of any of the methods described, but it also has stunning results. Many curly-haired women swear by it.
Start by washing and conditioning hair. Use a leave-in conditioner and then an oil sealant. Coconut oil works well, and it smells fantastic.
Next, you'll section the hair and spritz each section with water until it's dripping but not drenched. Finger comb curl cream into each section and then pull out each curl between your index finger and thumb. Run your fingers from root to end, smoothing each curl out.
Running your fingers along each individual curl provides a beautiful, smooth definition. It also makes sure you get rid of any excess product that could weigh dry curls down.
Ideal Hair Cuts
Now that you know the basics of style and care, let's focus on the perfect cut. Some haircuts are better suited to 3B hair than others. The ones listed below are always a good bet.
Cropped
Short, tight, and close to the scalp, curls look soft but edgy. This look is fairly low maintenance day-to-day, but you'll need to have your hair trimmed often.
Pixie
A pixie cut is a classic style, and it works beautifully with 3B hair types. If you have fine hair, you can finger wave the curls to create flapper-era vibes.
Rounded with Bangs
Curly-Q bangs give runway vibes when paired with a soft, round cut. It's ideal for 3B hair types and relatively low-maintenance.
Wedge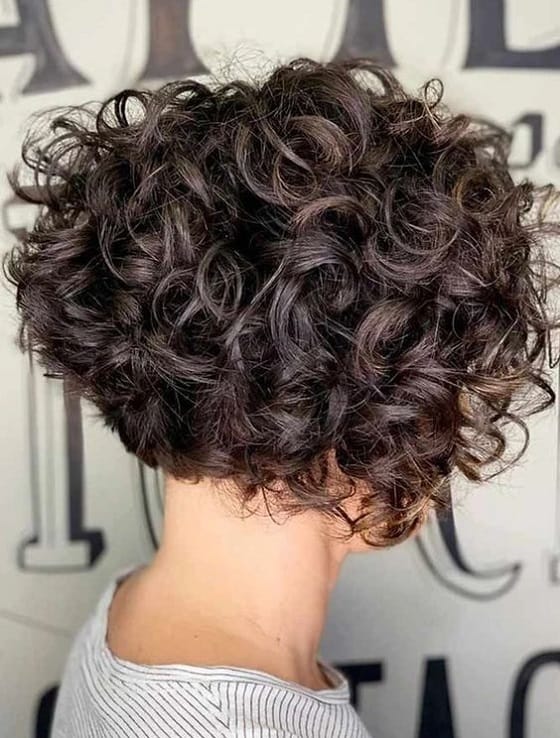 A wedge haircut gives clean edges to slightly longer curls. It works best if you have a square chin and broad facial features.
Long Triangle
For those who want to rock long locks, a triangle cut is a great option. Wear it with an off-center part for a near-universally flattering look.
Conclusion
3B hair means springy curls that some can only dream of. It can be a challenge at times, but with the right care routine taking care of curls becomes far easier.
Focusing on moisture, but avoiding too much product, is the key to keeping curls bouncy but well-defined. It takes a little extra TLC, sometimes, but the outcome looks downright divine.
If you don't have the extra time to spend on your hair, a shorter cut can be a stylish solution. Having a 3B hair type might seem like a lot of work, but knowing how to care for your hair correctly makes all the difference!