If you're a woman over 50 feeling uninspired by your current hairstyle and want an update but aren't sure how to do that, the answer is simple: balayage!
Adding balayage is an easy way to take your hairstyle from level 1 to level 10, with many flattering colors to choose from.
Let a light blonde or caramel balayage add another dimension to your hair and bring lightness to your complexion or use a dark balayage to offset other dark bases. If you are over 50 years old, you'll love how quickly balayage hair colors make you feel just like a young twenty-something again.
For the best and most beautiful balayage hair colors for women over 50, you simply must see our list of favorites!
The Best Balayage Hair Colors for Older Women
To get those hair color wheels turning, check out our 21 favorite balayage hair color ideas for women over 50!
Women over 50 whose natural hair color is a medium or dark brown should feel comfortable opting for a light brown or caramel balayage. The darker color up top balanced out by the lighter shade at the ends will nicely warm up any complexion.
For a medium or dark blonde natural hair color on women over 50, a light blonde balayage will look natural and even beachy if you'd like it to! Flaunt the color on long curly hair parted in the middle.
Women over 50 who are embracing their hair color turning grey would do well to choose a silver balayage. It will make those grays look even better and show everyone you're proud of your age!
We love how this classy updo shows off a beautiful dark brown balayage. If you're a woman over 50 whose skin tone is light or pale, dark brown is a gorgeous contrasting color to show off that porcelain complexion.
Are you a woman of color also over 50 wondering which color to update your natural black hair with? Caramel balayage won't let you down! Rock it on older black women's short natural hair and flip up the ends with either a curling iron or flat iron.
A short straight haircut parted in the middle becomes chic and sophisticated on women over 50 when a medium blonde balayage is added. Those blonde pieces will subtly peek through a dark base for a soft natural look.
7. Blonde and Gray Balayage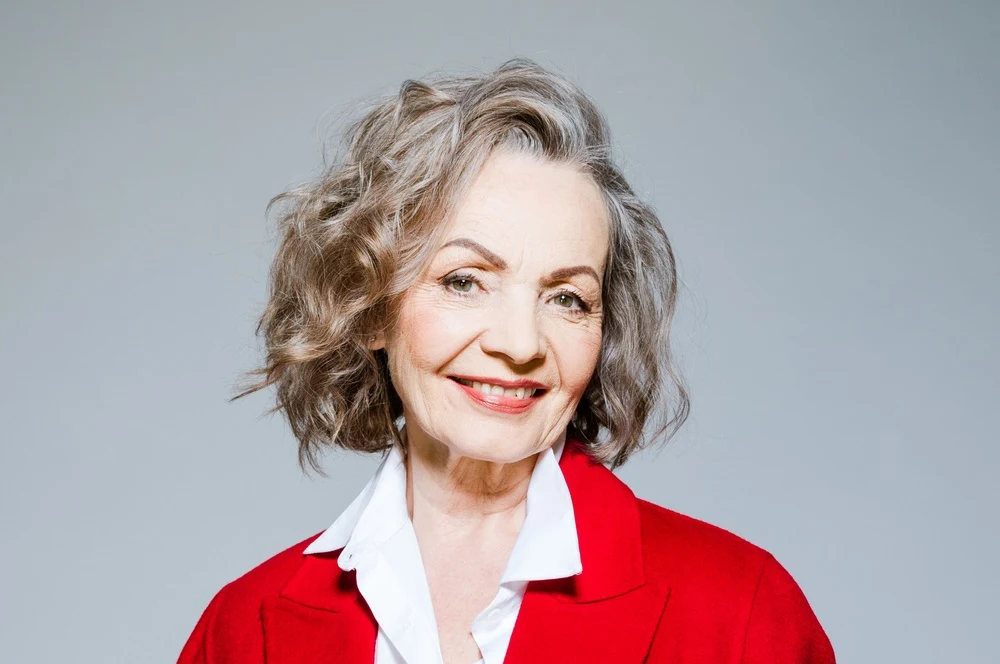 If you're a woman over 50 whose hair is gray or starting to turn gray, give it a little unexpected update by adding a light blonde balayage. The combination of gray and blonde is actually really beautiful and will keep you feeling youthful.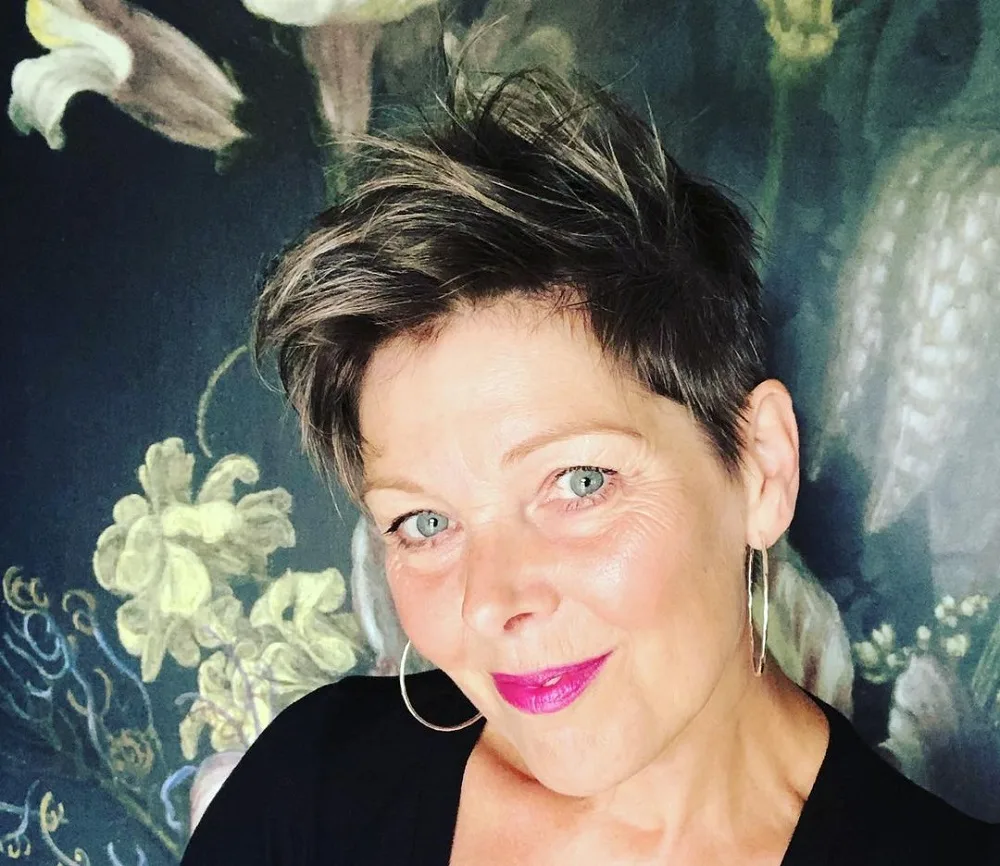 Since black is an edgy hair color when worn on the right haircut – like this spiky pixie – a light or medium blonde balayage will add a soft and very cool contrasting tone. For women over 50 wanting to retain a beautifully edgy look, this is the best balayage hair color idea for you!
9. Gold Balayage Highlights
If your current hairstyle consists of a simple center part, you can continue with that but get a boost of color from golden blonde balayage highlights. They'll warm up your complexion and make you feel like you got a makeover.
10. Warm Blonde Balayage
A warm blonde balayage is flattering to almost every skin tone, even super light or porcelain tones. Try the shade on a perky bob or other short haircuts with lots of short layers.
11. Light Caramel Balayage
Oftentimes older women go short with their mane because of its easy maintenance. If that's you, don't overlook the fabulousness of a light caramel pixie parted off center.
12. Light and Dark Blonde
When your base color is a medium or dark blonde, just a little bit of light blonde color added throughout will look completely natural. We love the way it highlights this short curly hairstyle.
13. Medium Gray Balayage
If you're over 50 and starting to see more gray hairs pop up in your mane, embrace it by going for a gray balayage. In a flattering medium shade, you'll feel empowered with how it works its wonders.
14. Rainbow Balayage
Do you love playing with unusual or bright colors? Try adding red, blue, yellow, and orange as front highlights to complement your locks. When they're right alongside your face, everyone will be sure to notice.
15. Long Balayage Bob
If you're a woman who's chosen to keep your locks long, a long bob is a manageable length. A mix of blondes will give your hairstyle a youthful feel, as well as long bangs that come down to just above your eyes.
16. Sleek Bun
A low bun is a soft, chic hairstyle for every face shape, and it's an easy style for women over 50 to do in minutes. Slick it back to let light blonde highlighting shine.
17. Blonde Wavy Bob
A light blonde or ash blonde balayage makes a low-key edgy hairstyle on older women. A chin-length or slightly longer bob will feel very playful with lots of wavy texture and the unique coloring.
18. Blonde Curls
If you're lucky enough to have long curly hair in your older age, you're practically obligated to show it off! A light blonde balayage will emphasize your natural texture easily.
19. Straight Pixie
To give short hair a fresh shape, ask for an asymmetrical cut or cut it down to pixie length. The new cut, as well as a shade of blonde balayage, can transform any older woman's short hairstyle.
20. Long Pink Hair
Pink hair color has no age limit, so rock it in your 50s without fear. Blend light and dark pink in long hair to get the most bang from your buck. The color will stun whether your hair texture is straight or curly.
21. Purple Balayage
Bored with brown hair? Punch it up with light purple balayage! This shade is a must try for women over 50 who appreciate pops of color. You can even give your fringe a curved cut for more character.
The above 21 ways to style balayage hair colors are all fresh ways to update any hairstyle for women over 50. Whether you choose the beachy and summery long wavy hairstyle with blonde balayage, short natural hair with caramel balayage, or just update your current hairstyle, the result will be gorgeous!