Fashion trends come and go, and so does hairstyle trends, but one of the trends that have stayed since 2014 is the balayage with bangs hairstyle that never gets old. Next to ombre hair technique, most women go for balayage style because it makes your hair appear natural yet subtle at the same time.
There is a fine line between ombre and balayage. Balayage hair technique aims for natural colors that are lighter than your natural hair color whereas, in ombre, you could choose any shade of color according to your preference. However, you could pick out versatile balayage shades such as grey, blue or pink but they are blended naturally with the base color.
How to Style Balayage Hair with Bangs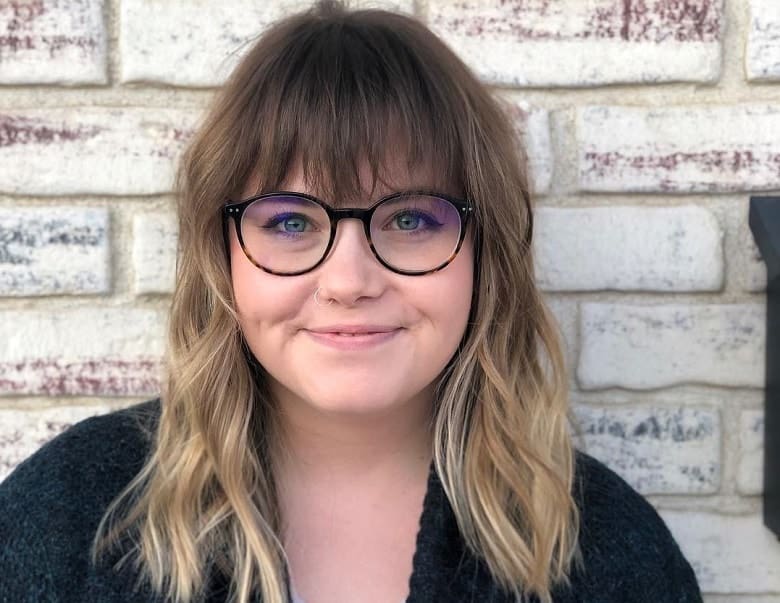 Balayage hair color technique can be tried out by anyone possessing any shade of color such as blonde, brown, black, etc. It's low-maintenance, and it doesn't give off a sharp or drastic look to your hair. If you're opting for natural highlights, balayage is your best friend. The best part is you don't have to go to your hair-styles every 4-6 weeks for getting the balayage treatment because you don't dye your whole hair. You only get highlights which tends to grow out.
To choose a balayage shade, you might want to check on your natural hair color. If it's darker, you should preferably go with lighter highlights, and that requires bleaching. Consult a professional hair colorist who can choose the right balayage with bangs haircut for your face. You can style any bangs (front bangs, curtain bangs, wispy bangs, baby bangs, etc.) with any shade of balayage.
Your face shape determines the bangs that would suit you the most. If you've got a round face shape, you can go for side-swept bangs or front bangs that will make your face look chubbier and honor your facial features.
For oval shape, you can flaunt a variety of bangs be it side swept or thick blunt bangs on your forehead that can make your face look slimmer than it already is. You could also try out medium length micro bangs that are just above your eyebrows as it gives a feminine yet a sober look.
A bob hair cut with front bangs will look stellar on your face. However, if you don't want to go for a short haircut, let your wavy hair fall over your shoulders with sweeping bangs.
For heart shaped lovelies, you can look like an urban chic with feathery crescent bangs that are shorter in the middle and longer at the sides. If you want to cover your wide forehead, go for a style having layered haircut with side bangs.
Watch The Following Tutorial to Learn How to Style Balayage Hair with Bangs
Trendy Balayage with Bangs Hairstyles
If you want to get a complete hair transformation, why not go for balayage and bangs hair look? Bangs have become universal, and it suits every face shape. Check out the hand-picked 10 bangs on balayage hairstyles for women.
If you've got long brown hair, brunette highlights will look absolutely flattering on you. The balayage complements the hair color and gives sun-kissed vibes. Style it with side bangs, and you're all set to go.
Another balayage with bangs hairstyles that looks promising and crisp. The light brown balayage shade gives an edgy look to the cascading beachy waves. The entire look is completed with baby bangs.
Caramel and cocoa shade adds definition to your hair and looks ethereal with side sweeping bangs. The bangs on balayage hairstyle compliment the wheatish skin.
Lovelies with pixie haircut can give their hair a hint of balayage and look chic. This blonde balayage with bangs hairdo is meant for bold and daring girls who prefer low-maintenance hairstyle.
The dark brown balayage seamlessly flows with the black hair and gives a smooth texture to the slight waves. Style it up with blunt bangs and look glamorous while you're on the go.
Rock your short beachy waves with this adorable bob cut with brunette balayage and look stylish. The balayage gives a sun-kissed vibe for sure. Complete the look with pink lippies and off you go.
One of the go-to summer hairstyles! This balayage with thick bangs definitely looks majestic and can catch anyone's attention while you're under the sunlight.
We've our heart out on this short hair balayage style that looks feminine yet perky. The textured haircut shows the variation of chocolate brown balayage while the bangs sit over the chin-area framing the round face flawlessly.
If you've got dark brown hair, look no further and add a hint of brunette to your hair. Go with the front see-through bangs to top off the balayage look.
You can't go wrong with white hair. Although this is a hard look to pull off because it requires multiple sessions to get the desired output, it's definitely worth the money. Try out this versatile sandy blonde balayage with bangs hairstyle.
Experiment your hair with these ravishing balayage with bangs hairstyles and glam your way.