If you are looking for stylish yet wearable updos for short hair, you are exactly where you need to be! Often, women with short hair feel excluded when it comes to their formal or even everyday hairstyles because they think that they lack options. However, know that there are many different styles which you can go for, and this article will let you in on 15 mesmerizing ideas!
How to Style A Updo with Short Hair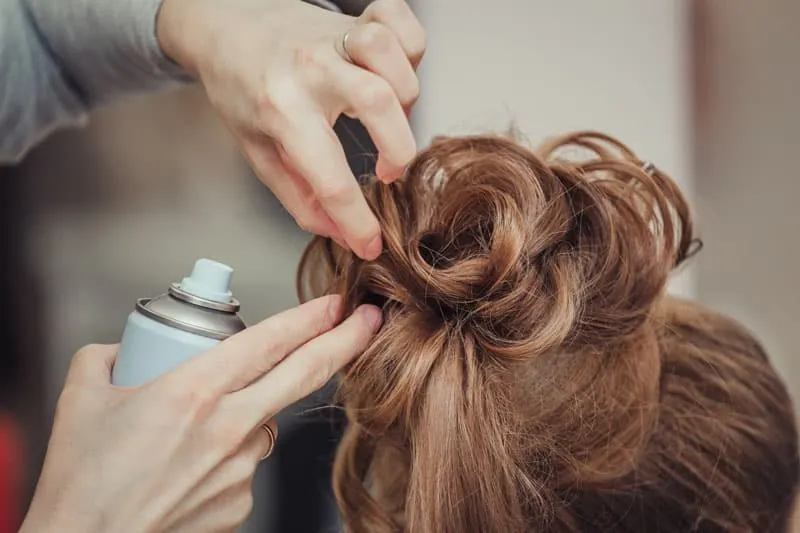 Step 1: Start off with naturally dried down and combed through the hair. It is a lot easier to work with your natural texture. Since your hair is already short, it is also quite likely thin & flat. If so, make sure you add a lot of hair spray to add some definition and volume around your roots.
Step 2: Go for a slightly formal bun and divide your hair into a few sections. Start at the back and take two pieces of hair on each side, and connect them at the middle point in the back, just above your ear level.
Step 3: Connect two more pieces of hair on the lower portion, just beneath the previously connected strands. Tie them up in a knot and seal the deal with some hair ties.
Step 4: Twist the already connected hair pieces inwards to get a messy bun. Use the fallen out and un-tied strands of hair to make cute & chic statement pieces. You will secure them with several bobby pins and call your updo hairstyle for short hair a day!
Tips for Short Updo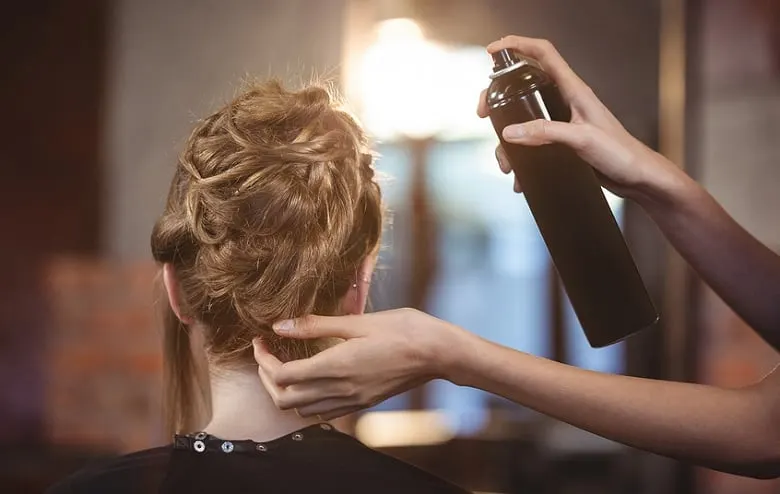 If you want your easy updos for short hair to last as long as possible for your formal or everyday event, always make sure you follow certain rules. For instance, they are:
– Always dry your hair before bed. Short hair if not dried down properly can become frizzy overnight and will lose all the volume while only gaining frizz. Make sure you avoid this by always drying it before your 8-hour beauty sleep.
– Always use a small round brush to comb it through. It will easily brush every little strand while preventing breakage.
– Use a lot of texturizing and defrizzing products since shorter hair can curl up in a matter of seconds.
– Don't wash it too often if you are trying to regrow it healthy. Use colder water and a lot of dry shampoos to avoid frequent washes.
Amazing Updo Hairstyles for Short Hair
We have compiled these 15 cute updos for short hair to make it easier for women to choose from.
1. Short & Wavy Updo with Accessories
If you are still in high school or at university and you are trying to get the ultimate school-appropriate length, as well as style, why not stick with this option? This short hair updo style is easy to do, and all it takes is a few loose curls at the end, as well as a feminine hair clip on the side.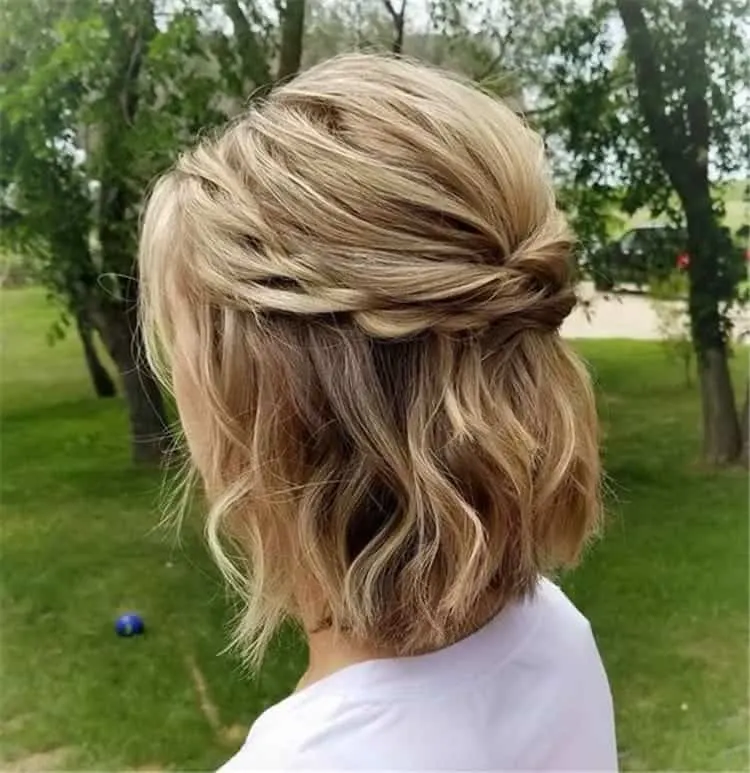 If your hair is naturally thin & it lacks in the volume section make sure you disguise it by adding a stylish detail in the back. This updo for short hair look is a lot similar to the one that we've explained in depth at the beginning of the article, and it is easy to do. Just tie some strands in the back, and don't forget to curl your leftover strands to give them volume.
3. Updo for Maid Of Honor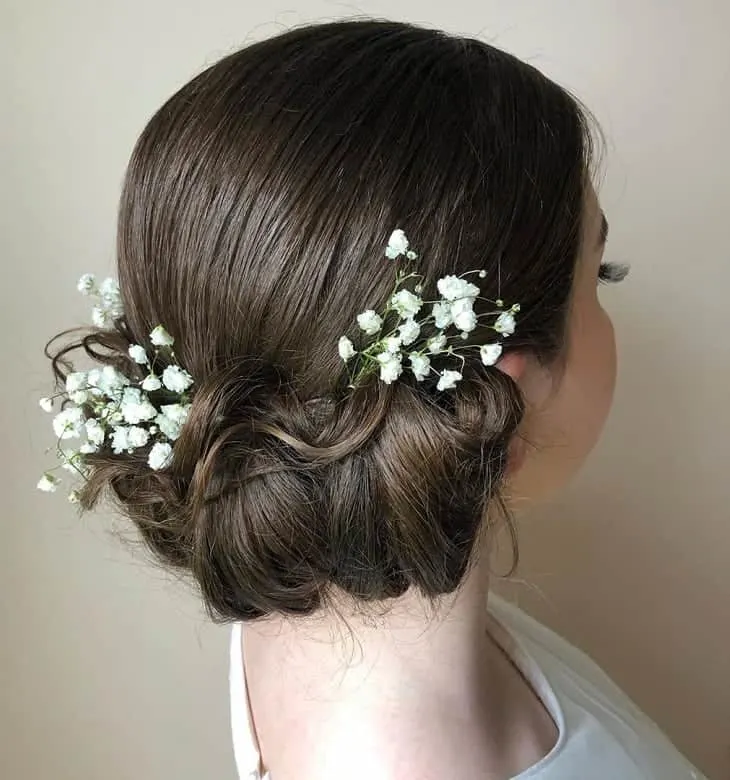 This elegant bun screams maid of honor, and is the perfect look for those who are off to a wedding! It is easy to achieve, as you can see, and it can look very formal & feminine if you simply add a colorful accessory at the back.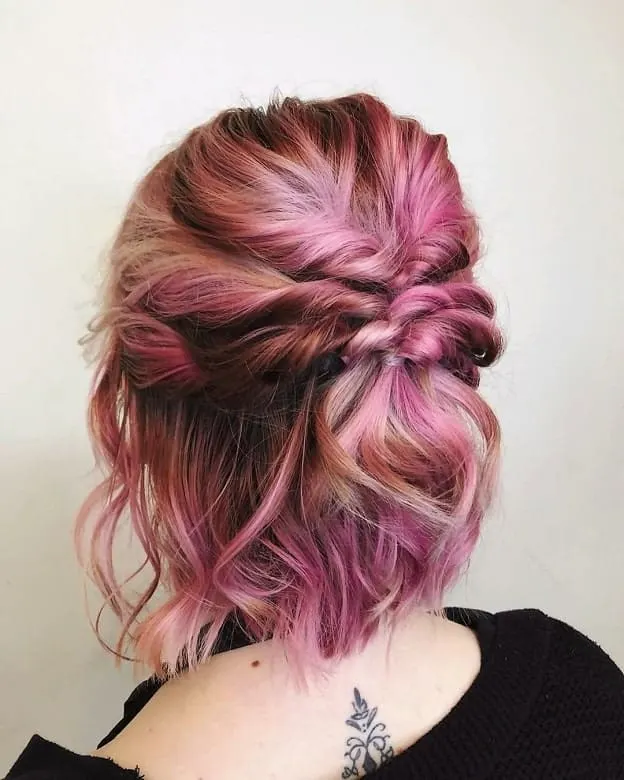 Those who crave some color and who don't mind bold and attention-seeking looks will enjoy this creative style. This updo with short hair will suit teen girls the best and will look appropriate for any smaller gatherings, parties, and birthdays.
5. Elegant Short Updo for Blondes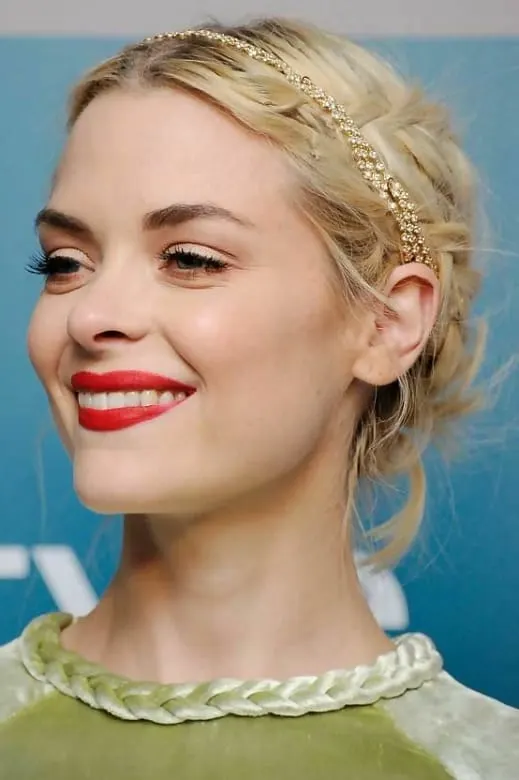 If your short hair is naturally blonde, or if it has been bleached know that you will look the best with some golden accessories in your bun. This look screams elegance, femininity, and looks ideal for any formal events thanks to its shimmering headband accessory!
If you are a bride-to-be; first of all: congratulations! Second of all, would you consider this hairstyle as your go-to choice for the reception? This updo hairstyle is ideal for short hair, and it looks super voluminous thanks to its floral details and big pearls in the back! If you love old-school and traditional looks, you are going to enjoy this one for sure.
7. Short Updo for The Prom
Since it is the prom season make sure you are well-prepared for it by doing research on different types of updos. This short hair updo, for instance, is ideal for girls who have thin & brittle hair, but who want to create an optical illusion of fuller & fluffer hairline.
If your wavy hair is cut to bob and you are not too sure how to style it, why not go for these gorgeous Dutch crown braids? You can leave one top braided and pin it while leaving the rest of your hair loose. This style is ideal for daily wear and every age group.
9. Accessories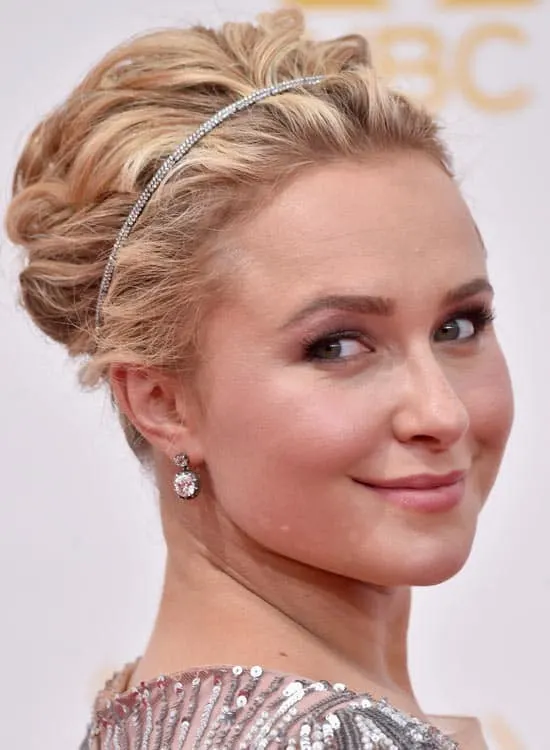 If your face shape is round you can go for this easy updo for short hair with a silver tiara, as well as a pair of silver earrings to create a slight illusion. These two elements will give you some dimension, while the style itself will look the best for upcoming formal gatherings!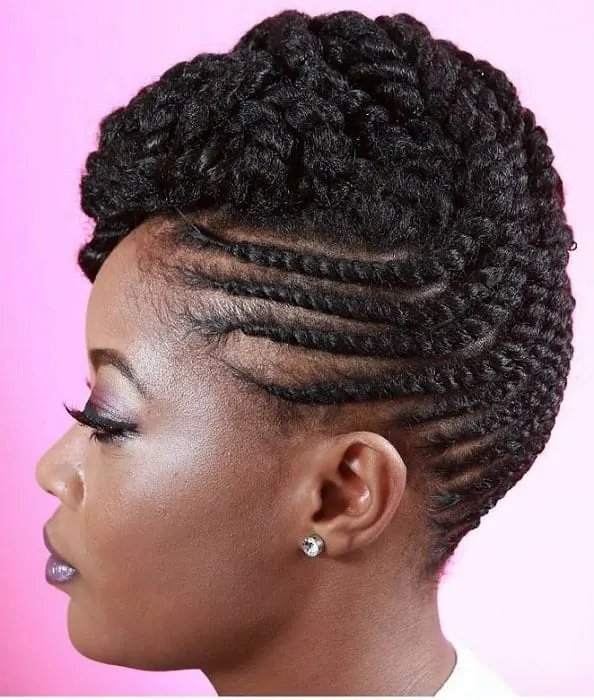 If you have a hairstylist which you love & deeply trust make sure you go and get these braids, asap! This look will look the best on women who have curly hair, and who love original braided hairstyles.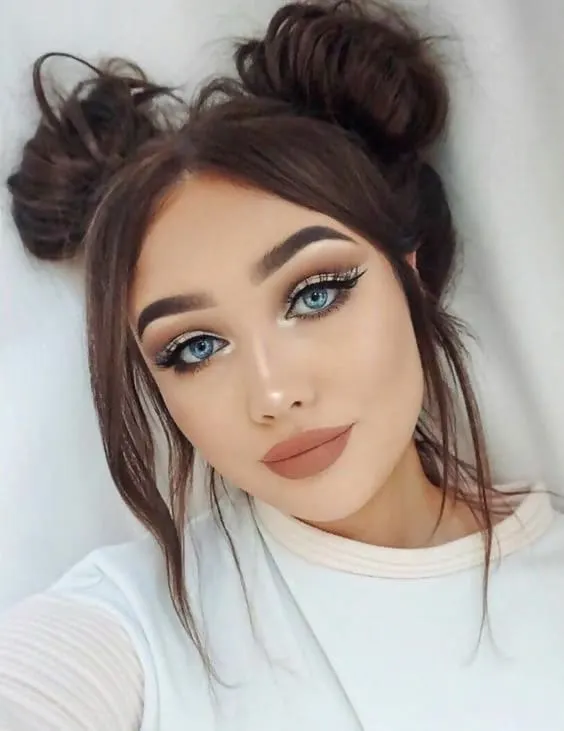 If you love playful looks or you are still at school know that pigtails are always a good idea! You can achieve them in less than two steps since all you need is two hair ties, as well as some hairspray.
12. Short Updo for Everyday Wear
If you need something really simple and easy for a day-to-day basis, make sure you get this updo for short hair with bandana. It is tied with a scarf around the ponytail and is an excellent choice for women who prefer minimalistic and wearable looks.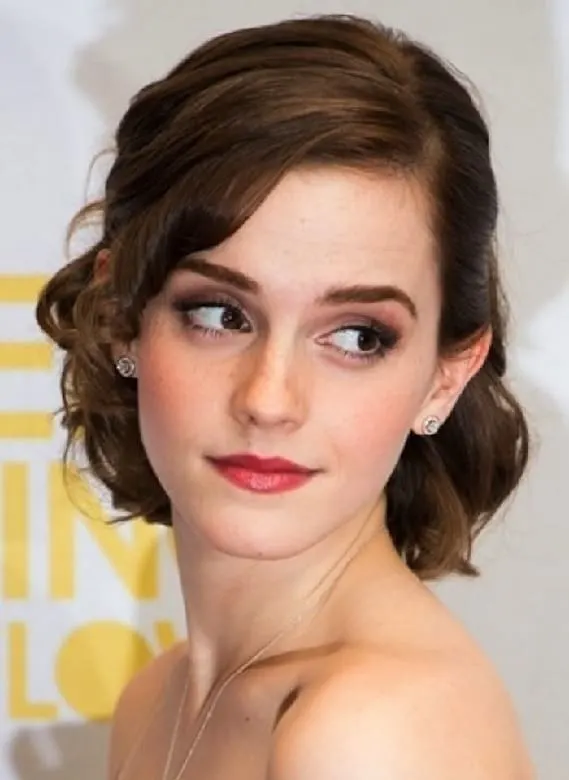 Emma Watson looks so irresistible with this updo with short hair, and so will you! If you have naturally wavy & voluminous hair make sure you style it half up-half down hairdo. Secure the back with some bobby pins, and call it a day!
This sleek & smart hairstyle will look the best on women who are into high-end looks. If you are off to a wedding you should rock this look and show off your bun in every possible picture you end up taking!
Lastly, if your hair is naturally super curly and you are not too sure how to tame it why not get this updo hairstyle for short hair? It is simple yet cute and will allow you to enjoy your daily activities while keeping your hair away from your face, at all times.
As you can see, there are several different ways to style your short & thin hair. If you are afraid of commitments make sure you gradually cut it, till you get to the perfect short length. Also, you can always switch it up and go for bangs, waves, pigtails, and whatnot since there are definitely ways to rock & style updos for short hair.