One thing that does not change with age is one's desire to look attractive. So when you turn 80 or above, there's no reason to stick to that same go-to hairstyle of yours. Even if so, making little changes can go a long way!
When entering the oldest phase of life, the first thing you need to do is to look fresh by changing your hairstyle. The right one will make those wrinkles and sags look good too!
In this regard, the following 20 age-defying hairstyles for women over 80 will refresh your look in no time.
Decent Hairstyles for Women Over 80
Pixies and bobs, ponytails and updos, you'll find a bit of everything below!
1. Soft Pixie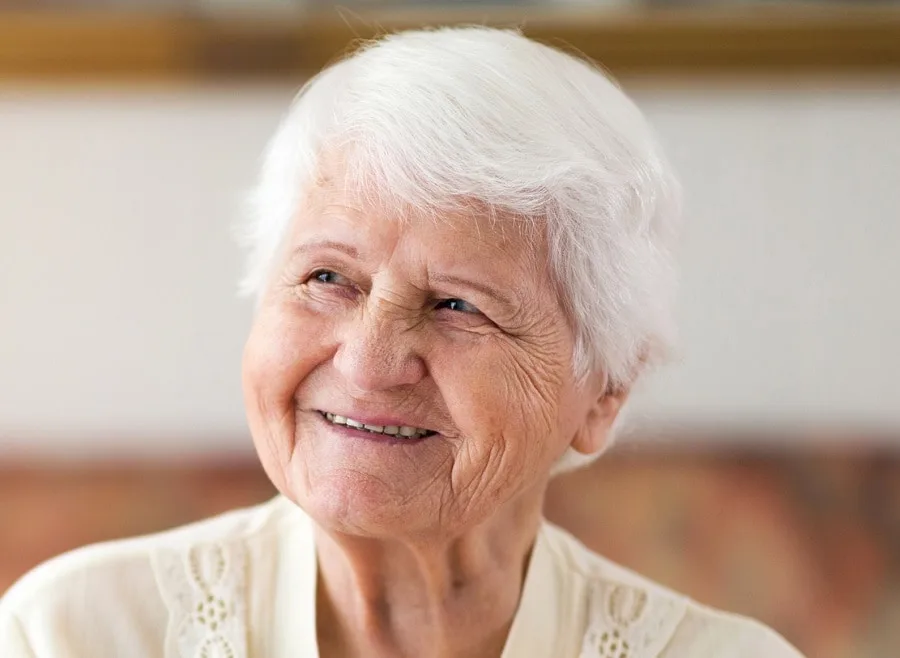 Pixies are by far the most sought-after haircut by elderly women. Why? They're easy to style and maintain while adding a youthful touch to the face.
Opt for some soft layers that'll grow out beautifully into a bob and brush the strands sideward covering up any visible baldness.
2. Round Bob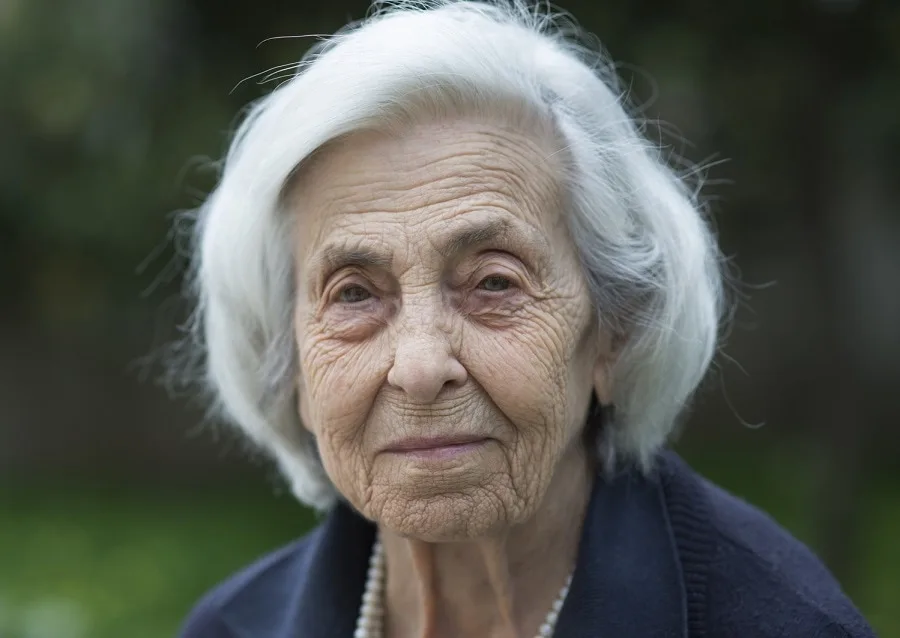 If a senior lady is not opting for a pixie the next thing she is going to ask for is a short bob. This one is for those looking for a perfect grandma hairdo that is both simple and stylish. Instead of going for short bangs try long side-swept ones and you won't regret them.
3. Layered Curls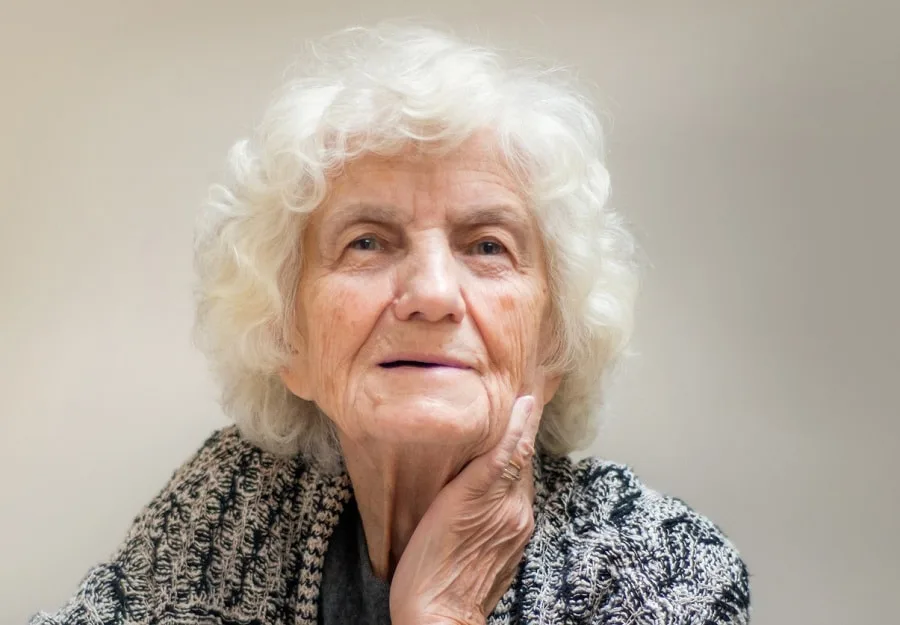 This hairstyle is ideal for women over 80 with naturally fluffy curls. After years of straightening, it's time to embrace your hair in its original shape.
The strands are cut at varying lengths to create a short round hairdo. All you need now is a good curl-defining leave-in conditioner.
4. Brushed-Back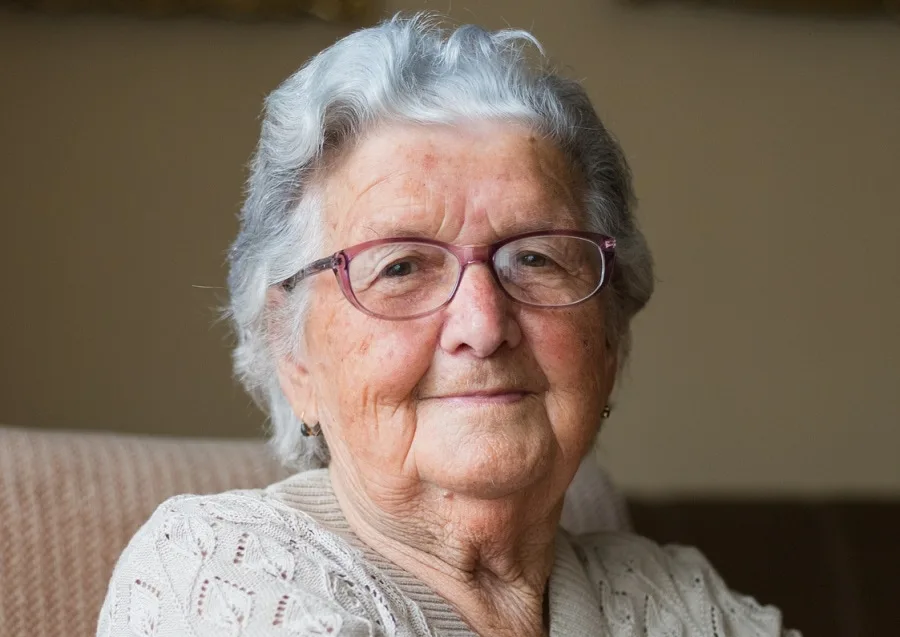 Whether your hair is straight, curly, or wavy keep it away from the face with a nice brush-back. Apply a little mousse before combing the strands and you are set for the entire day. Can't get any simpler!
5. Mushroom Haircut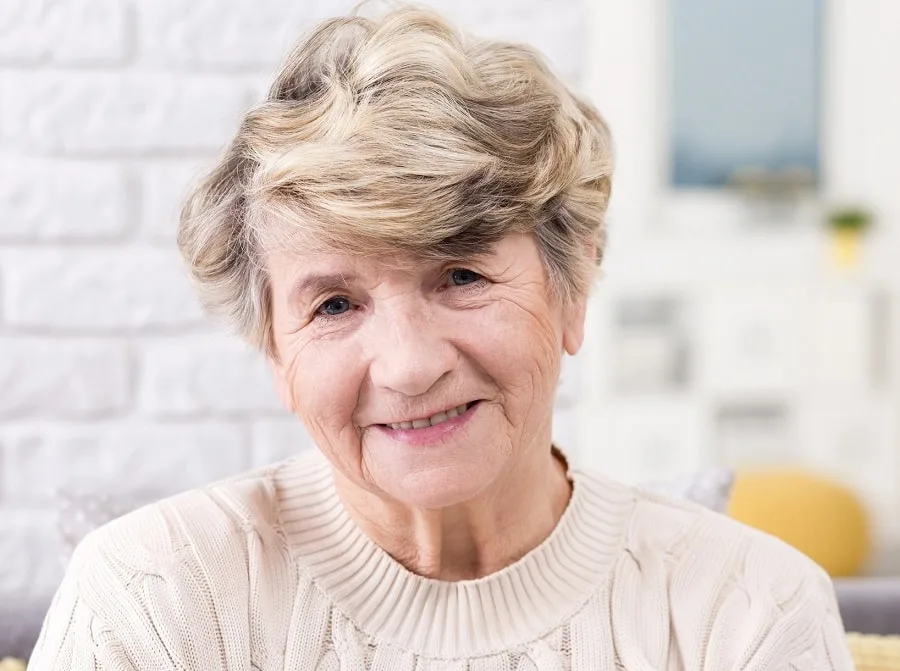 Be the 80-year-old lady with a sexy mushroom haircut. The top is long with short sides and a buzzed back.
Leave those grays to shine with pride or cover them in a light sandy blonde tinge. The front strands falling over the forehead work perfectly to highlight those beautiful eyes.
6. Volume Boost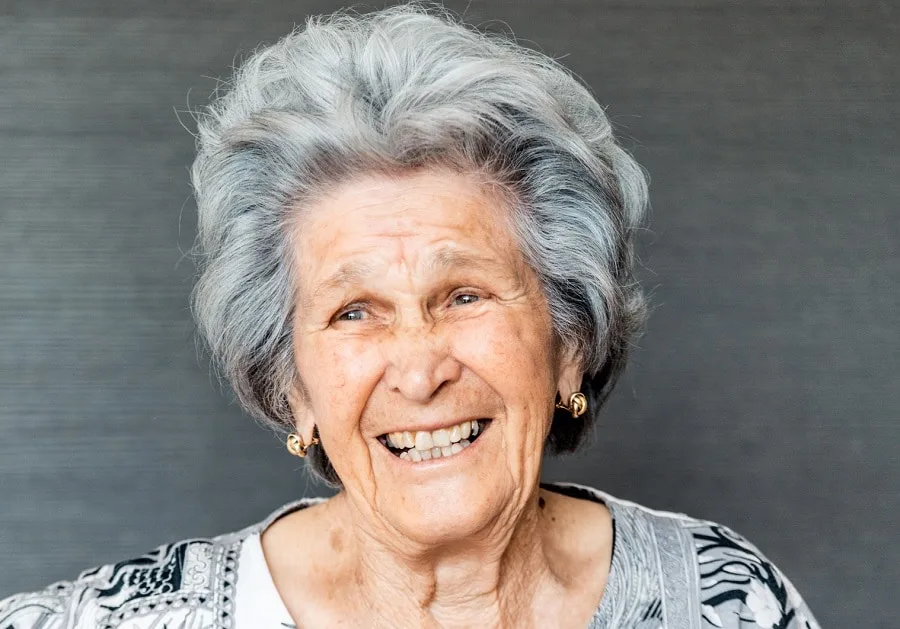 Those who have thin tresses can still make them look thick and healthy with just the right haircut. After getting a short layered bob, the trick lies in fluffing up the strands with a good blowout and a texturizing spray of course!
7. Short Ponytail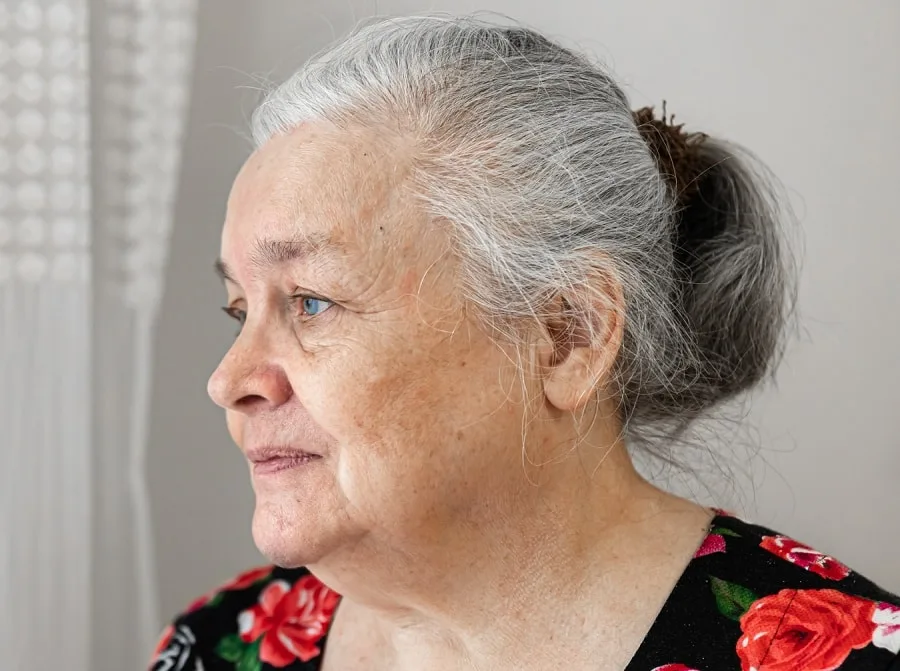 A simple ponytail can be wonderful to add a refreshing look to the face. While a low pony may appear too boring and a high one not suitable for your age, assembling all the hair at medium height is just what you need to do when not in the mood of leaving your locks loose.
8. Tousled Fringe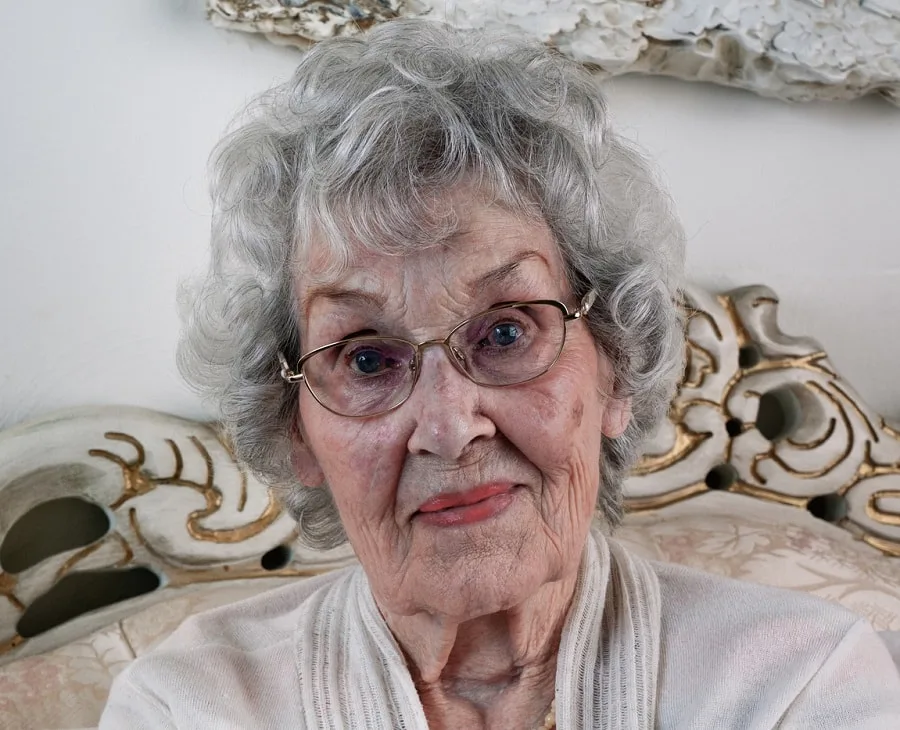 Apart from hair fall, a receding hairline is one of the most common problems among senior ladies. Conceal a wide forehead and those wrinkles with bangs.
Opt for ruffled ones in case of curly hair or a wispy fringe if you've got straight tresses choosing the length that suits you the best.
9. Chic Bixie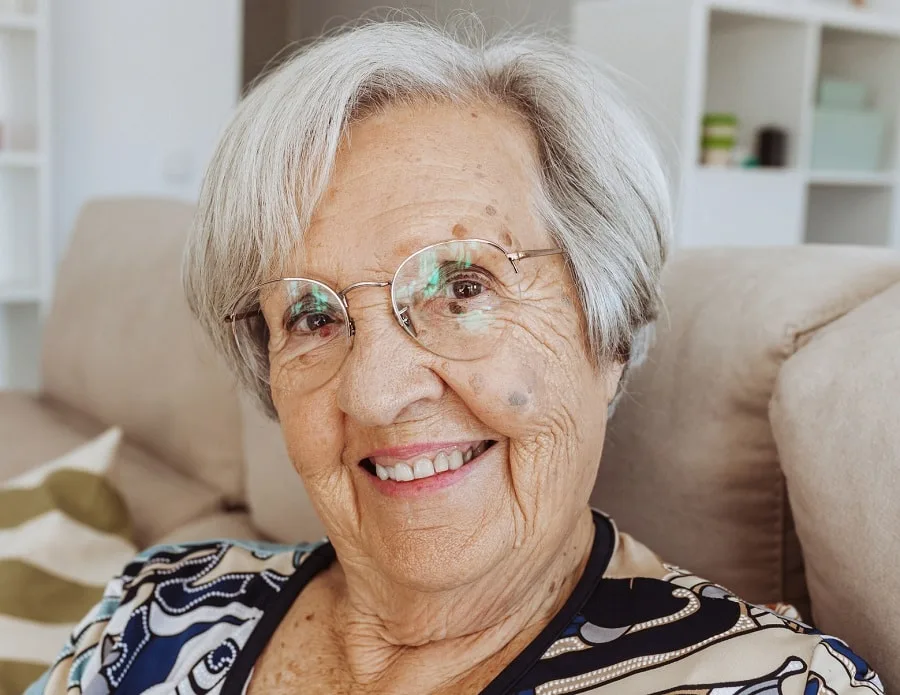 Stuck with an outgrown pixie or a short bob? Ask the hairdresser for a little shaping and you'll end up with the chicest hairstyle for women over 80, a bixie!
It is best to opt for an ear-length chop for the strands to clasp around the head naturally.
10. Curly Crop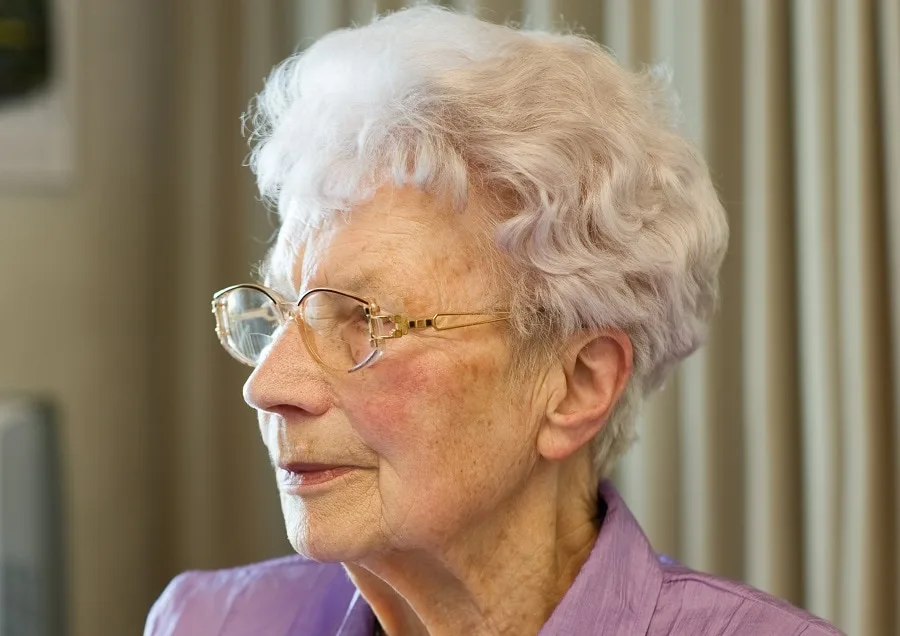 A tapered crop is suitable for those who have little to no energy to style their mane daily. Those with a slight curl or wave in their hair have an added benefit as the hair tends to look fuller without much effort. The baby bangs at the front are worth a shot too!
11. Classic Side Part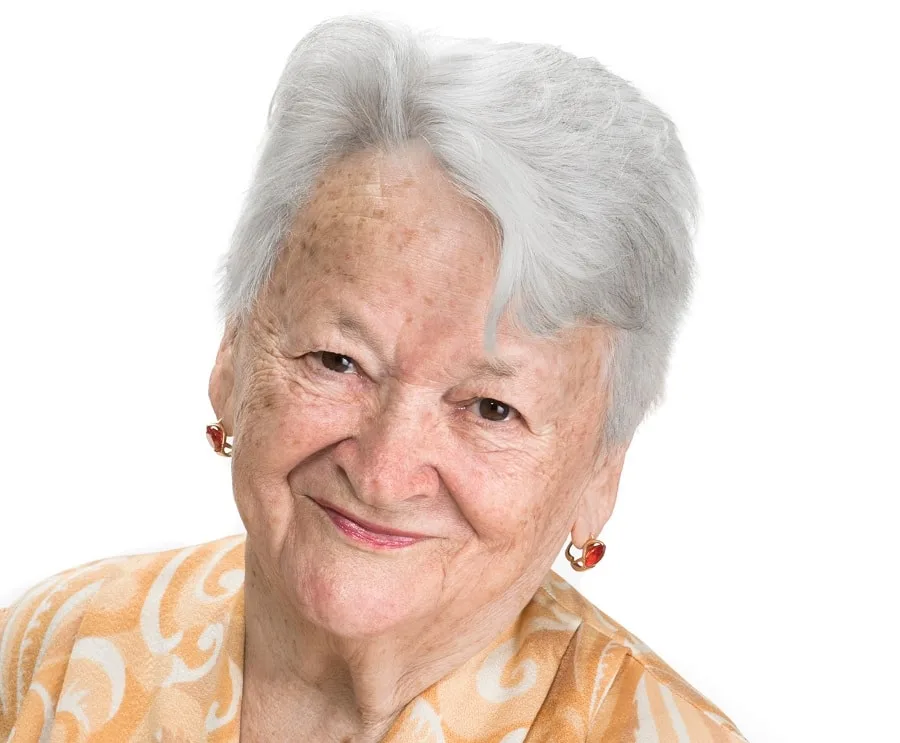 Maintain a smart professional look by experimenting with a long textured top while clipping the sides and back prominently short. Comb over the top and let the strands fall along the sides naturally. That's it!
12. Headband Style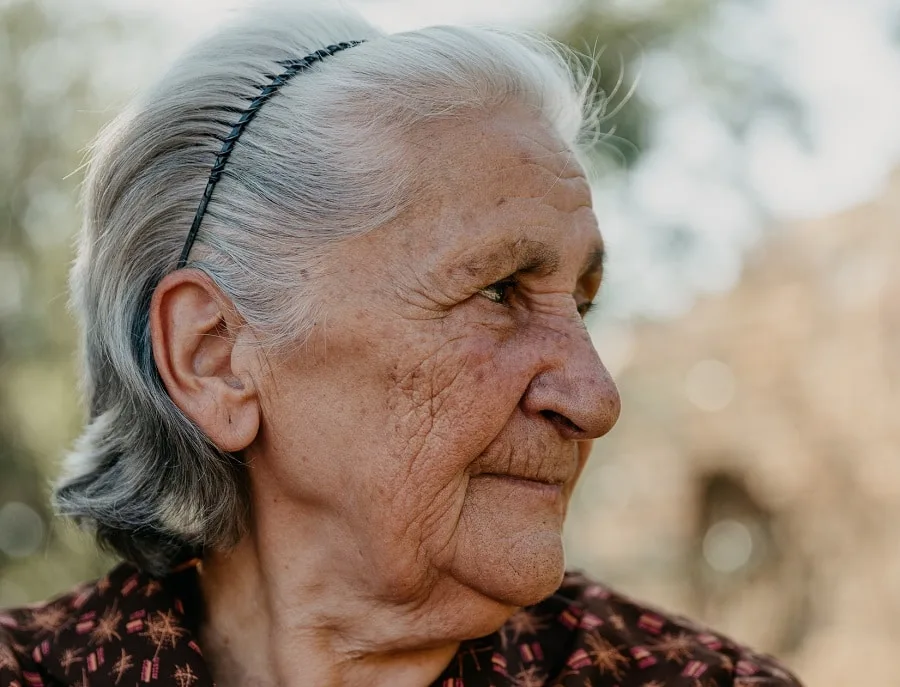 Remember when you used to wear a headband all the time during your youth and childhood? Well, there is no harm in putting on one every now and then. Push the headband slightly forward to create a subtle pouf on top, avoiding a blunt look.
13. Salt and Pepper Comb Over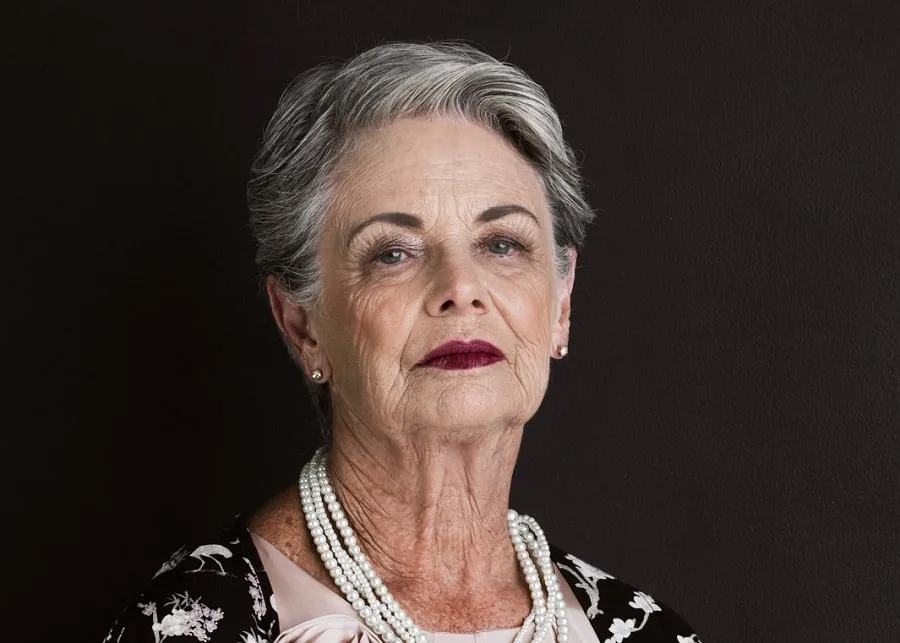 Another hairstyle for ladies over 80 to make even the younger generation gasp with amazement.
Opt for black lowlights or grey highlights to achieve the most perfect salt and pepper tresses and flaunt them with a neatly styled comb-over hairdo. Sexy without a doubt!
14. Choppy Bob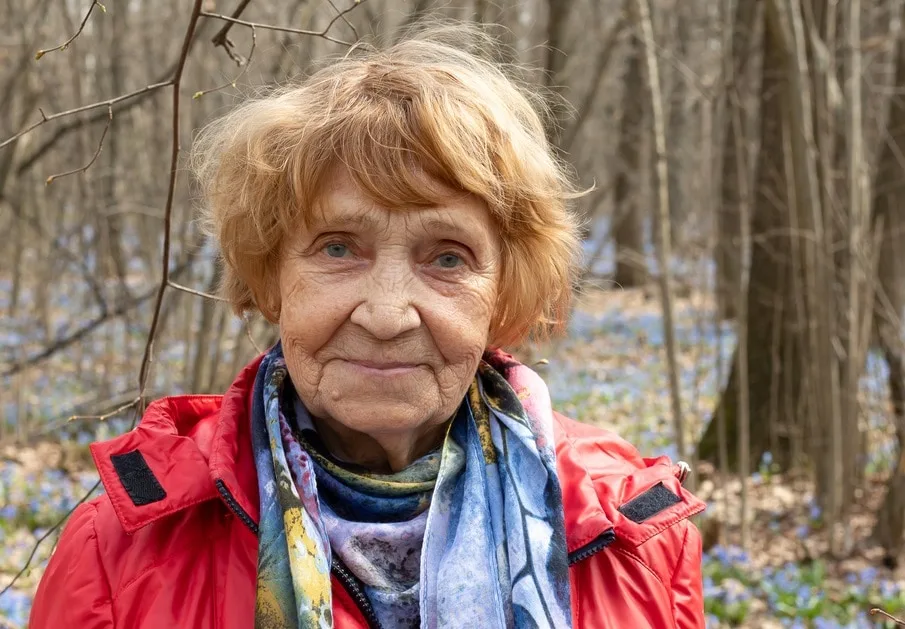 Keep it low maintenance by picking out this razor haircut featuring a bob with jagged layers and wispy ends that require a mere hand tousle to set them into place.
Frame the face with some bangs and color the hair in a soft honey-blonde tinge to revive your look.
15. Long Locks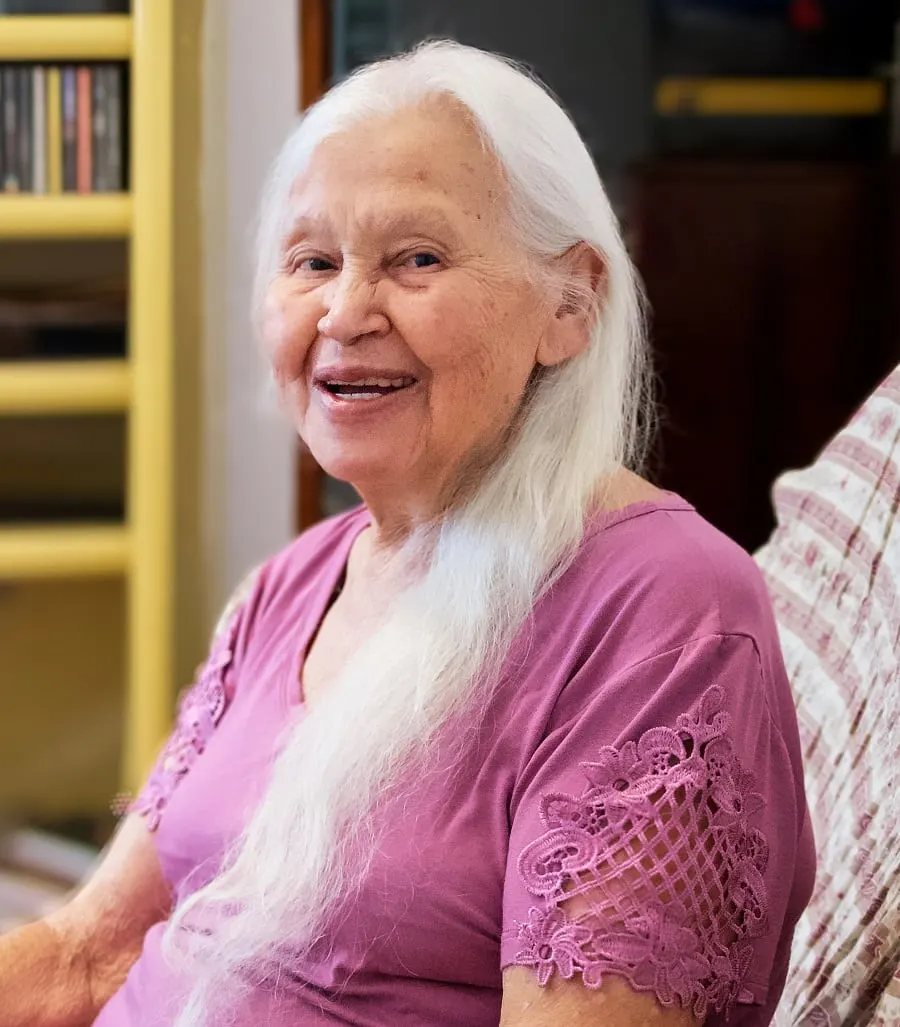 If you still have healthy tresses while touching the age of 80, there's no issue in keeping a long hair length as long as you are able to look after it.
Keep in mind to get regular trims snipping off those dead ends. Tousle the mane on one shoulder and braid it down or don't!
16. Elegant Updo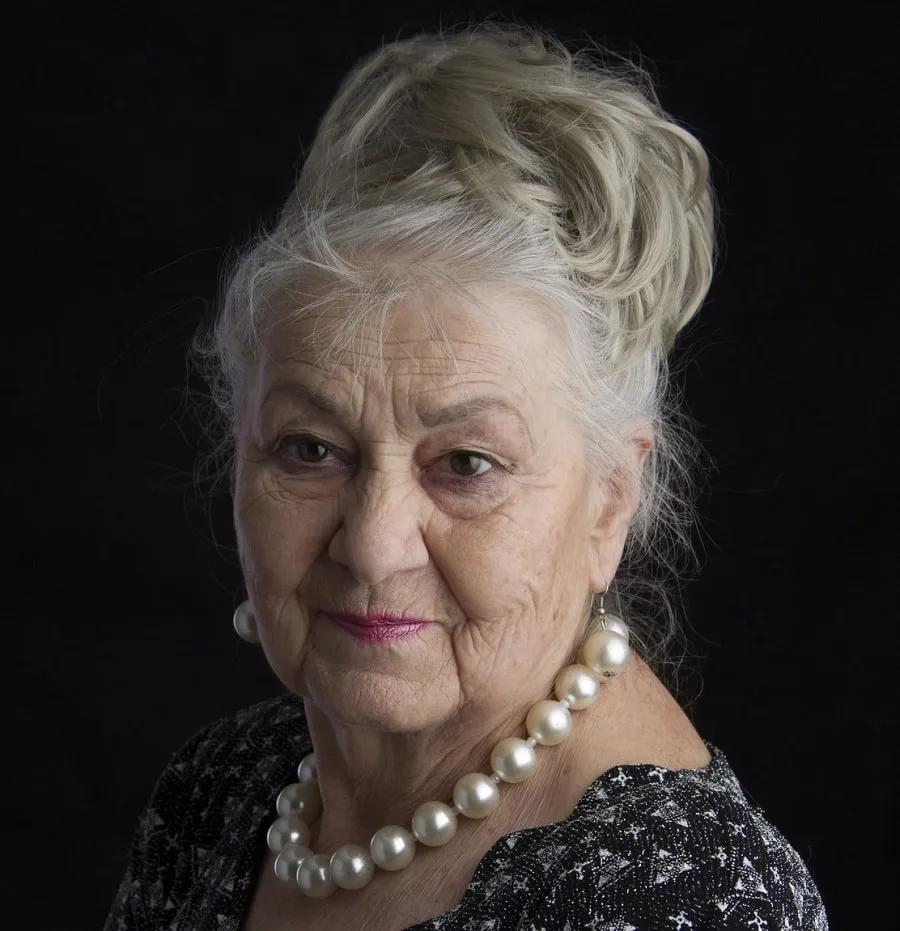 Be the center of attention at formal events by gathering all the hair in an elegant bun. Use extensions if needed and keep in mind that the higher the updo the better it will look. Spare the flyaways for a natural appeal or tame them using a little hairspray.
17. Feathered French Cut
Look like a French Madame by rocking a cropped bob at ear-length full of layers and feathered ends. Keep your short fringes over the forehead or sweep them on one side for a change.
Coming towards the hair color for older women, a medium brown hair shade will make you feel young again.
18. Stacked Curls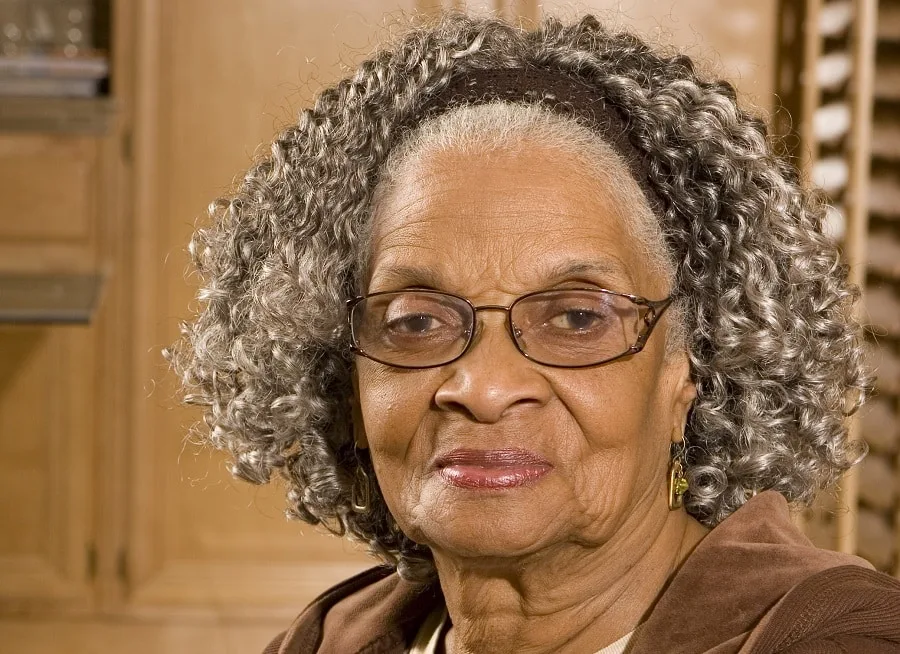 One of the most elegant curly hairstyles for women over 80 with glasses. Considering the old black ladies it's time to give those natural coils some shape. Those who have a thinning mane can try on a wig and stack the strands with the shorter ones falling over the longer ones along the sides and back. Some highlights, a headband, and tada!
19. Polished Boy Cut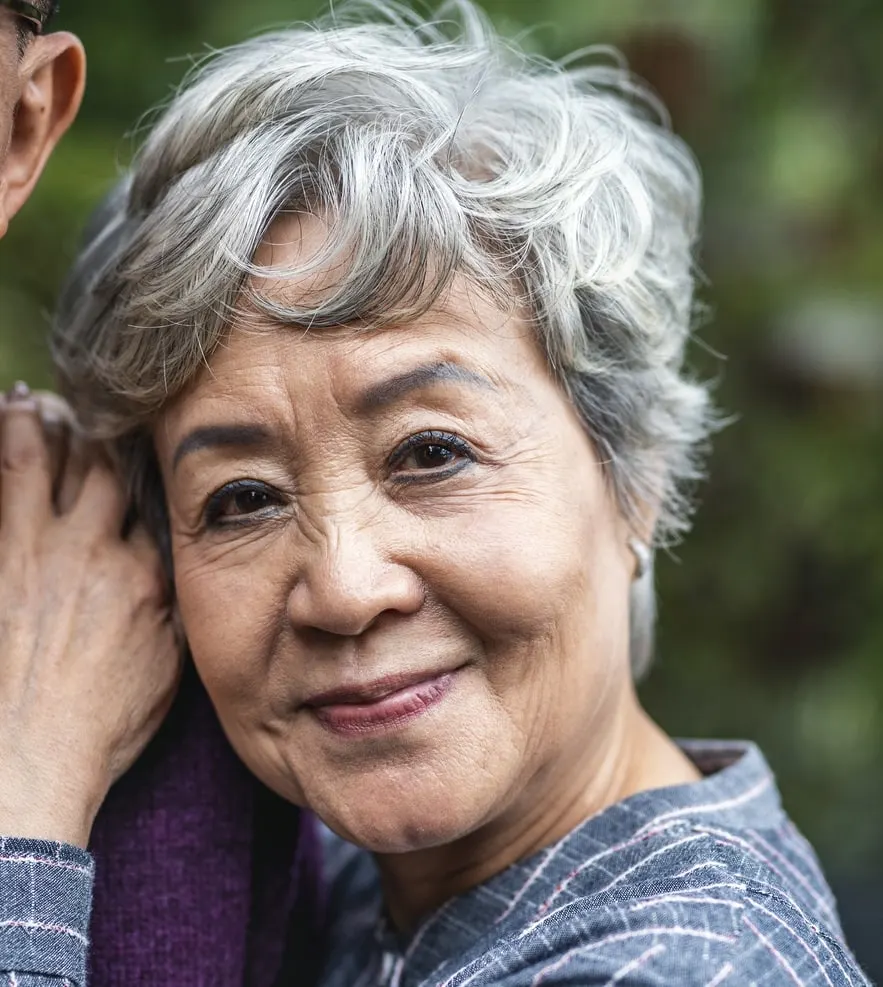 The main difference between a pixie and a typical boy cut is that the latter is a bit longer featuring clipped sides and back, less tapering, and a more masculine appeal that still looks gorgeous on a woman's face. Use some pomade while finger-brushing the wet hair for a ruffled look.
20. Half-Up Look with Wispy Bangs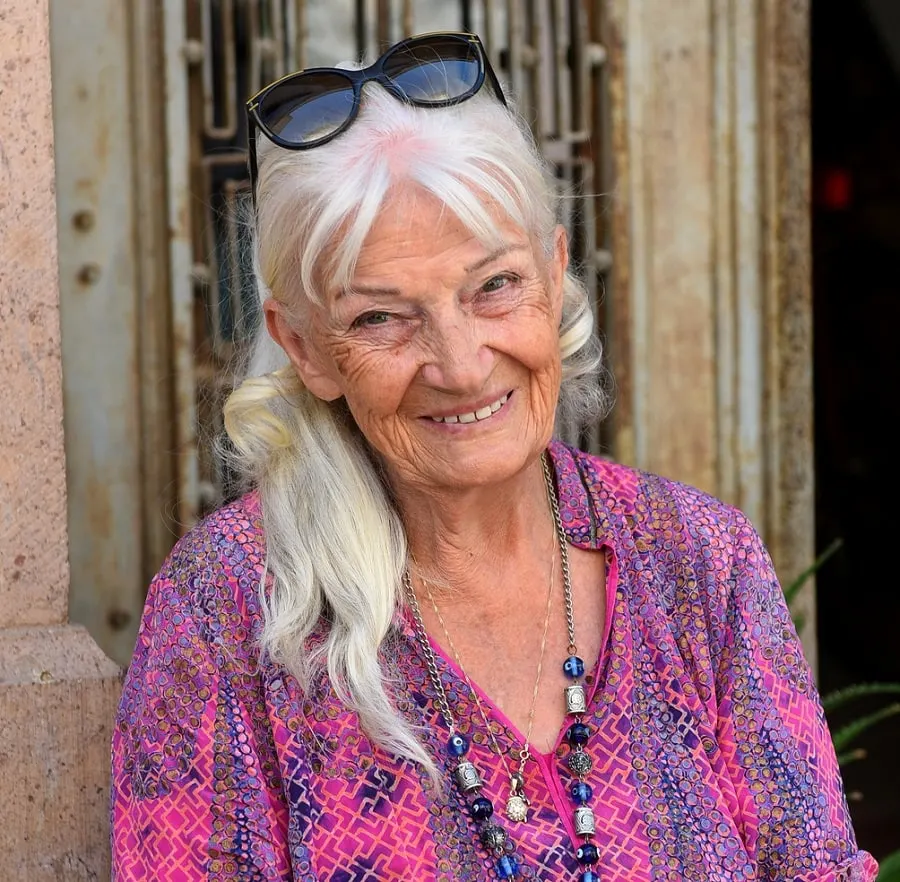 This hairstyle is ideal for women over 80 who don't want to chop off their hair. Get a U-shaped haircut with wispy bangs parted in the middle and flaunt your new style with a classic half-up half-down hairdo. Put on some sunglasses and enjoy your days as much as possible!
The above-mentioned hairstyles for women over 80 cover almost all hair lengths and textures and are sure to help you decide on a look before reaching out to the hairdresser. Just remember, there is no rule when to it comes to styling your hair apart from one and that is your satisfaction!