Everyone likes to keep their hair up to date during their youth but as soon as we step into our 50s, we start to drift away from these little things that add to our appearance. If you are a woman above 50 with thin hair, don't get fooled by thinking you can't style your hair the way you want. You can pick both long and short hair, but it's the fact that short hairstyles look much better on women above 50s no matter you have thin or thick hair.
Ideal Short Haircuts for Thin-Haired Women Over 50
To help you keep your look fresh and lively despite your age, here are 70 amazing hairstyles for women over 50 years old with thin hair that'll keep you looking absolutely stylish even at the age of 50.
1. Short Layered Bob
Just because you have thin hair, that doesn't mean you can't get a fuller look! After cutting hair to a jaw-length bob, have your stylist cut in short layers. Work in a bit of mousse with fingers to get soft texture.
2. Light Pink Bob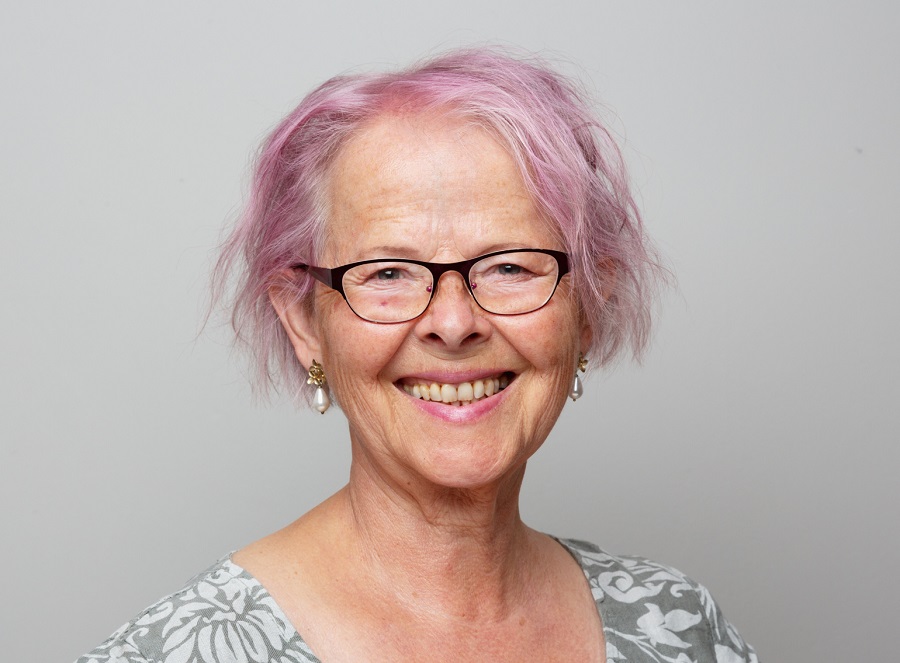 If your main goal is to distract from your thin hair, a bob with vibrant color is a beautiful choice. All you'll have to do is comb in a soft center part. The cut will rock the feminine pink on its own and make you forget about your thin locks!
3. Straight Asymmetrical Bob
For women over 50 wanting a quick glow up, just add in blonde highlights! This asymmetrical bob features straight side parted hair and thin light blonde highlights that warm up the face nicely.
4. Edgy Pixie with Fade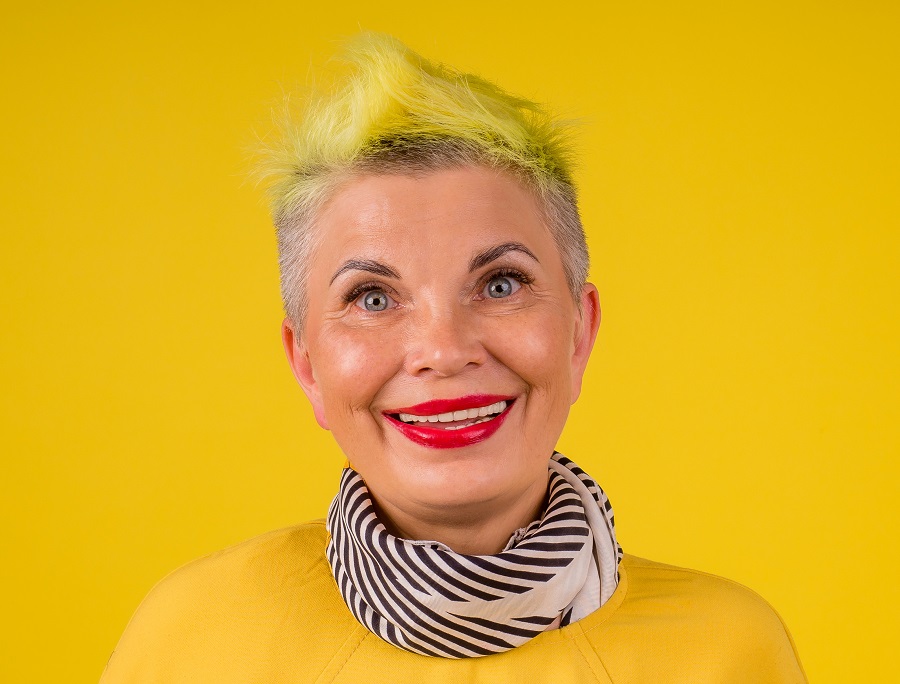 Love a statement hairstyle? Consider a short pixie with a fade! This punk hairdo is perfect for women over 50 with thin hair since it involves minimal styling and maintenance. Of course, a cheery yellow hair color will add another level of personality.
5. Short Wavy Perm
A short permed haircut featuring soft waves will last several months. Any woman over 50 with thin hair should consider this chic short hairdo for wake-up-and-go style!
6. Short Hair with Bangs
Bangs, despite what many people think, don't have an age limit! If you're a woman over 50 with thin hair, try these soft bangs with their slightly curled ends on a short haircut.
7. Choppy Pixie
We love this fierce teal color on a short pixie hairstyle for women over 50 with thin hair. The bangs are choppy, an ideal style of fringe because it makes the cut look more friendly, unlike a blunt bang.
8. Straight Platinum Blonde
Another thing that doesn't have an age limit is platinum hair color! Be bold and rock it on a short straight pixie or bob. You'll love how the chic hairdo makes the color and cut the focus, instead of your thin hair.
9. Combed Back Bob
Heading out for the evening? Comb your short hair back off the face for an "updo," careful not to make it too slicked back. Teasing the hair with hairspray or mousse while combing back will add volume, making thin hair look thicker.
10.Relaxed Bob with Side Bangs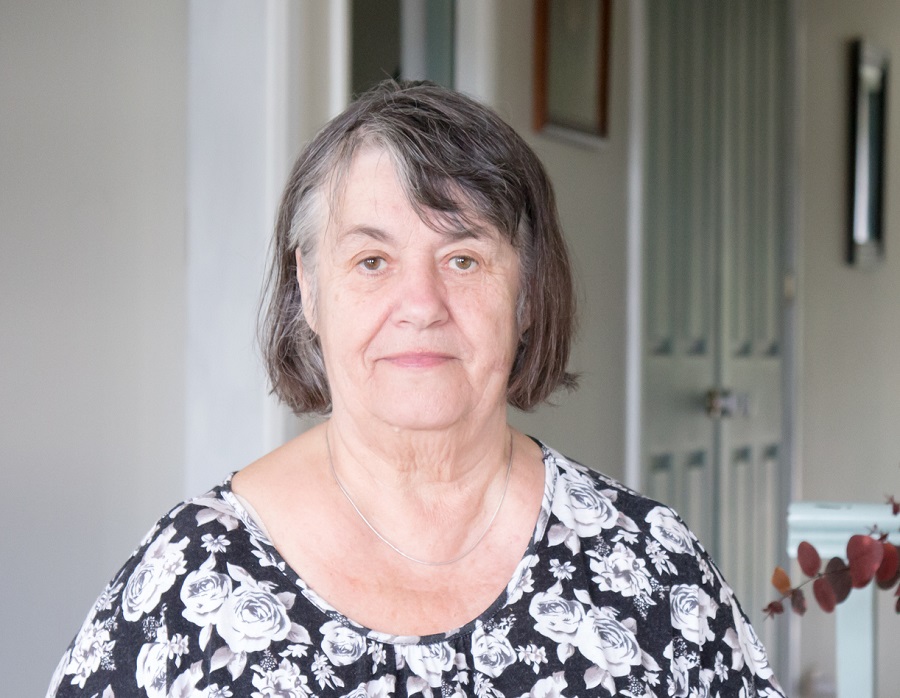 Women over 50 with thin hair who are retired and just need a low key hairstyle for daily life will appreciate the ease of a neck-length bob and a side bang. Finger combing will get the job done, no products needed!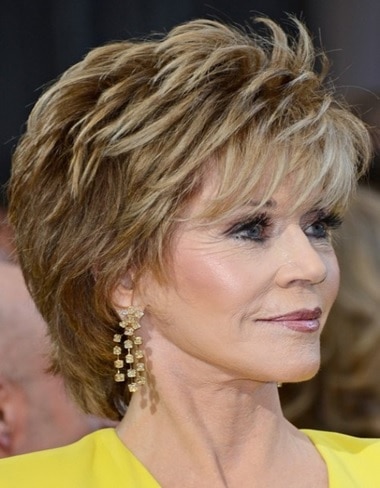 A layered bob that is not quite even can bring back tons of texture to your hair. Whether you have curly hair or straight, some choppy layers can bring back the life and volume to your hair. With this hairstyle, you won't have to spend hours in front of the mirror taming your hair down.
Layers never go out of style. Add some life to hair by getting a layered haircut with medium length. No, this hairstyle for short hair won't make you look like you are straight from the 90s, but add a ton of glamour and sophistication to your appearance.
Women In Their 50s With Round Face? Thee Hairstyles Are Awesome.
13. Back To The Feathered Layers
Remember the time when every woman sported a feathered, medium length haircut? Yes, it is now back. Get as many layers as you can to fluff up the thin mane and rock your sky-high hairstyle to the kitty parties and fun family gatherings this year.
14. Sophisticated Bob Cut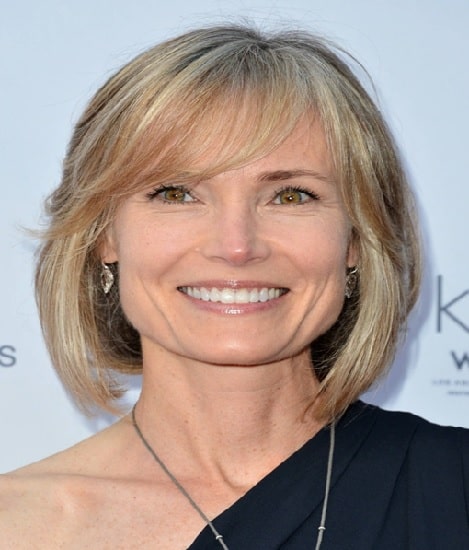 A bob cut is an ultimate way to add sophistication to your face. A short bob and elegant bob will also save you from the hassle of styling your hair differently every day as it looks very elegant and stylish on its own. Sweep it back of brush it forwards, your hair will always look good in this short hairstyle.
15. A Blonde Sleek Bob
If you have sleek blonde hair then get yourself a modern bob cut. It is the perfect hairstyle for women in their 50s. Side swept bangs will compliment this hairstyle perfectly and make you look a lot younger than your age.
16. Casual Fringe With Highlights
A little bit of fringe on the forehead is the easiest way to freshen up the look of your thin hair. To add a little bit of interesting factor to your hair, opt for minimal highlights. This will give your hair a lot of texture whether tied up or worn down.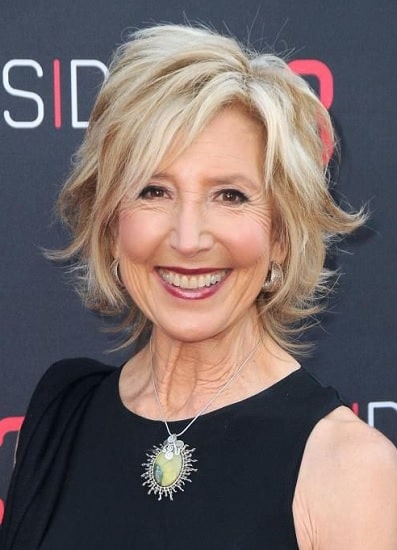 You don't want to compromise on the length of your hair but still, want to enliven your hair a little? Go for long layers without losing the lengths. It will not only give your short hairstyle for thin hair a whole new look but also add volume to thin and long hair.
18. Side Swept And Messy
To change your look up a little bit, pull all your hair to one side and pin them securely. Keep your hair messy to add volume to the hairstyle. It will make you look gorgeous and up to date in a few minutes effortlessly.
19. Classic Wavy Lob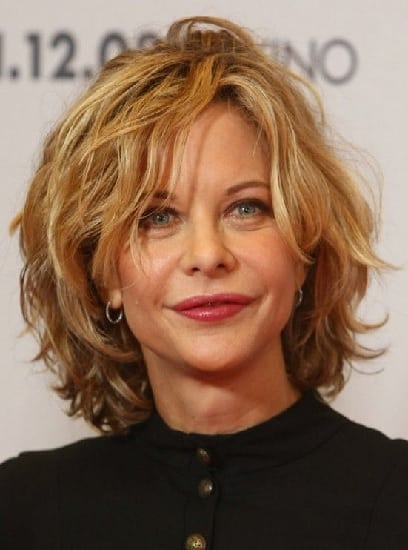 A wavy long bob is what most of the celebrities go for, no matter what age. This short hairstyle for women suits all ages, face shape, and personality. It is the perfect hairstyle for women with naturally wavy hair but the same effect can also be achieved using a waving hot iron.
Grey hair is all the rage these days. Whether you have grey hair naturally or not, get them dyed into a beautiful and contemporary grey balayage. It looks good on all kinds of haircuts, hair types and most skin tones, which is a win-win situation.
21. Pin Curls
Don't you just miss those days when curls were achieved using pins and rollers? Well, bring back the style by styling your hair into pin curls overnight and brushing them thoroughly in the morning. The wavy hair achieved by this technique is unmatchable.
22. Natural Lengths
If you like to keep this simple then sport your hair the way it is. Just trim the ends of your hair to get rid of any split ends and dry edges. It will make your appearance look clean and natural while keeping your hair natural.
23. Kris Jenner Inspired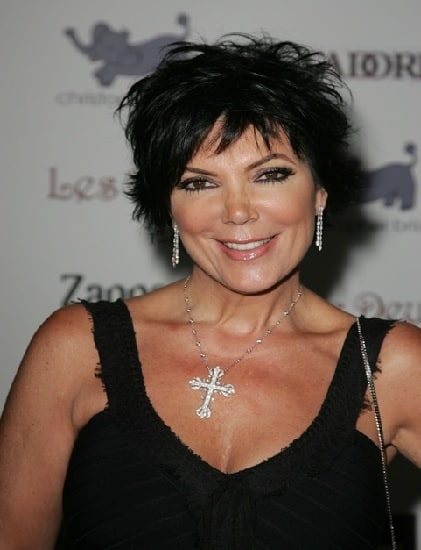 Kris Jenner is the ultimate glam mom that is a major inspiration for most women in her 50s. Her pixie cut with a long quiff is absolutely gorgeous. The reason she looks so young even when she is in her 60s is that she keeps her hair short and modern. So take some inspiration from Mama Jenner and update your look.
Just because you are in your 50s, does not mean you cannot sport a modern look. An asymmetrical bob is a new and contemporary way of keeping your hair short. This short hairstyle for women 50 over adds a modern yet feminine appeal to your appearance.
25. Vintage Volume
Keep your hair short like with tons of volume around the crown to tackle your thin hair. To add more volume and texture to your hair, wear it in a messy bouffant and you will be turning heads with your incomparable style.
Being in the age of 50s does in no way imply that you can't work with bangs. Bangs will provide with an effortless, fashionable and cool short hairstyle. Plus, another great advantage of bangs is that they take away years from your face, keeping up your smart appearance even in the grand age of 50s.
27. Airy Lob
A right haircut will make you look 100% sophisticated at all times. A long bob with infinite layers with more volume at the crown will brighten up the whole look. This short hairstyle for thin hair will frame your face gracefully and make you look more fashionable and up to date than before.
28. Tight Yet Short Curls
Cut your hair short and style them into tight curls to add extra volume to your hair. If your hair is naturally curly then simply let your hair air dry and you will be ready to head out the door.
29. Layers With A Puff
When you reach your 50s, your hair starts to thin out naturally. To tackle this issue, cut your hair into long layers to add volume. To maximize that volume add a puff to the front and crown of your hair and you will look like a million dollars instantly.
30. Swept Back Bangs
The 50s is the best time to get bangs back in your life. To add an oomph factor to this elegant and short hairstyle for your thin hair, swipe your hair back and create a wavy texture in your bangs. For a more refined swept back bangs look, gently brush your hair back and pin them at the crown.
31. Modern Layered Bob
Women with longer face shapes, especially the ones who are used to wearing glasses can perfectly sport a modern layered bob hairstyle. The sleek, straight, and contemporary layers is perfect short hairstyle for thin hair and it will add a Hollywood glam to your overall look.
32. Soft Focus Curls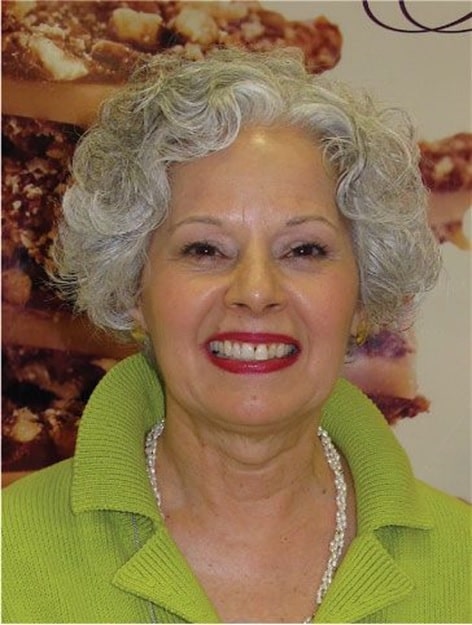 Soft curls can never fail to make anyone look beautiful. Use a one and a half inch curling barrel to add loose curls in your short hair. This will add a bohemian vibe to your look making you look youthful and beautiful.
33. Dark And Young Short Haircut for Women Over 50
All hair colors are beautiful but there is something about black hair that can make anyone look youthful and enchanting in a blink of an eye. Dye your hair in black color and style them the way you want to look you, charming, and elegant with this amazing hairstyle for sleek short hair.
34. Salt And Pepper Curly Bob
A mixture of white, grey, and black hair can add a new twist to your aging thin hair. This is a great look for all kinds of hair and all hairstyles. You will see fashion enthusiast women sporting this short hair look because of its high street appearance.
Inspired by Audrey Hepburn this pixie crop is coming back in all its glory. You will see more career-oriented wearing this hairstyle because of how low maintenance and stylish it is. Sport this look and steal the spotlight, quite subtly.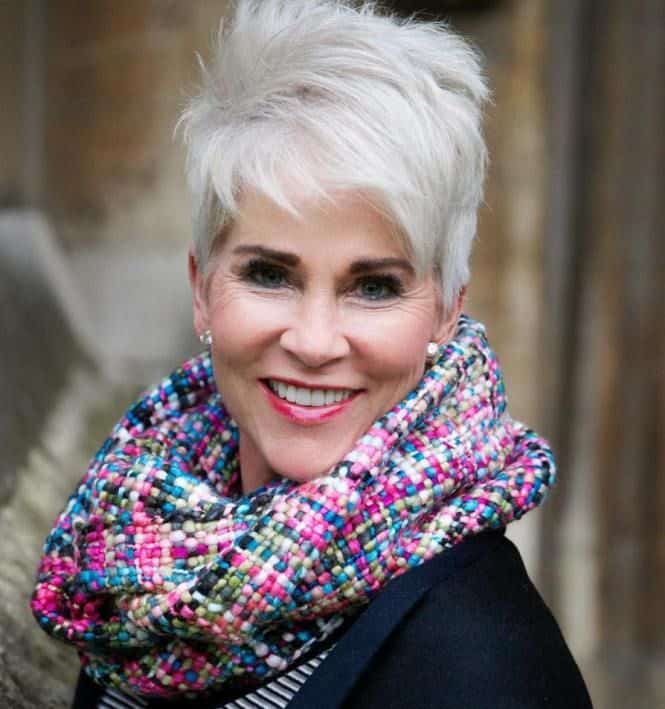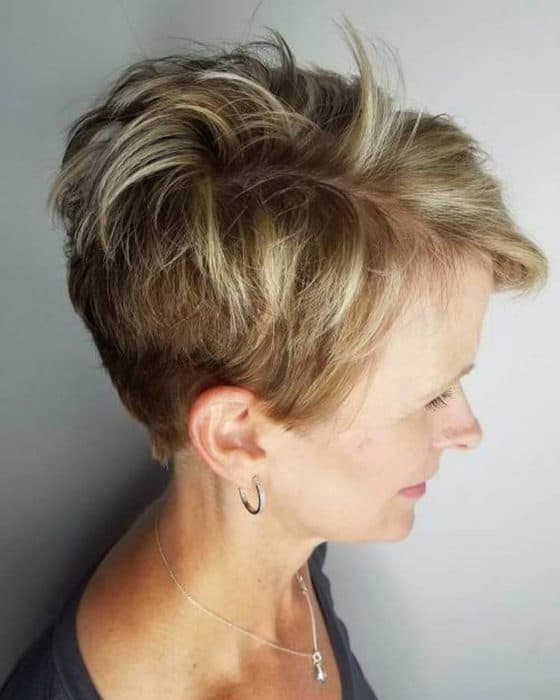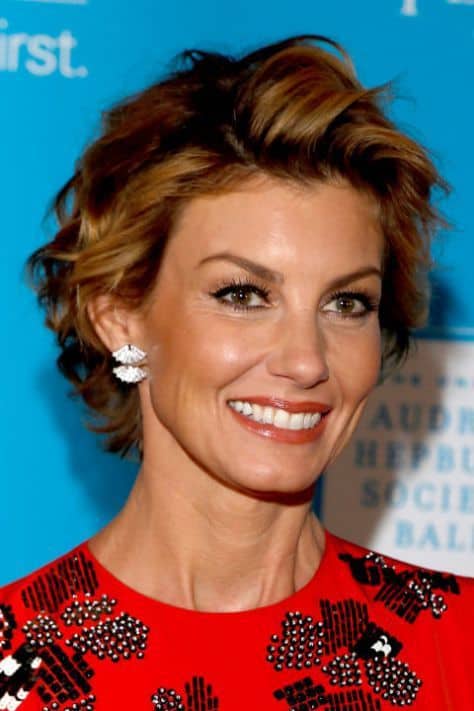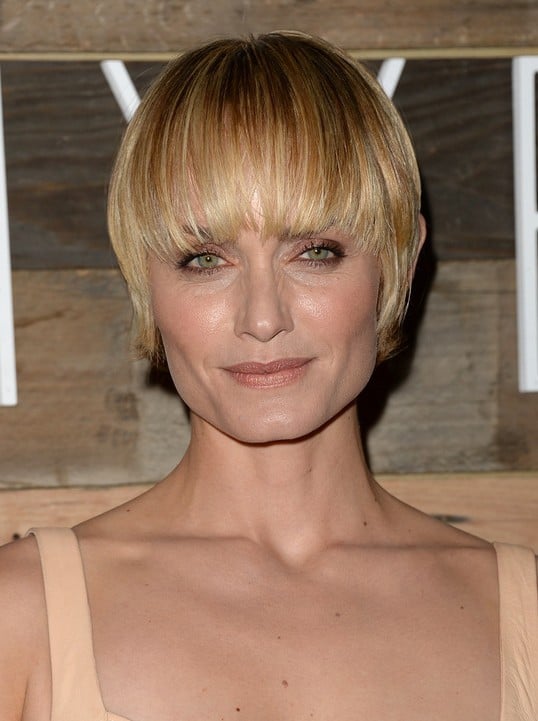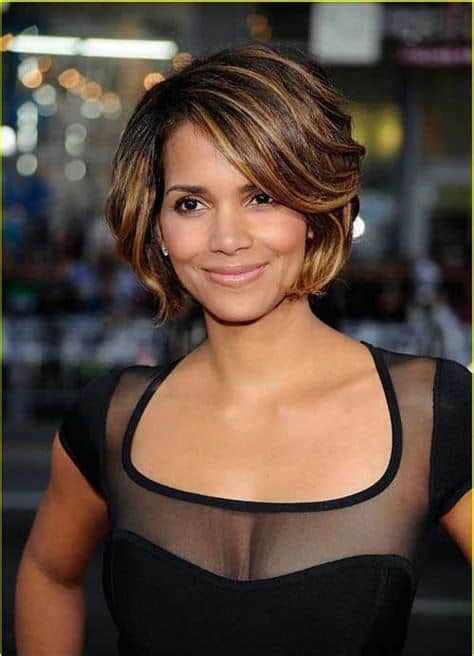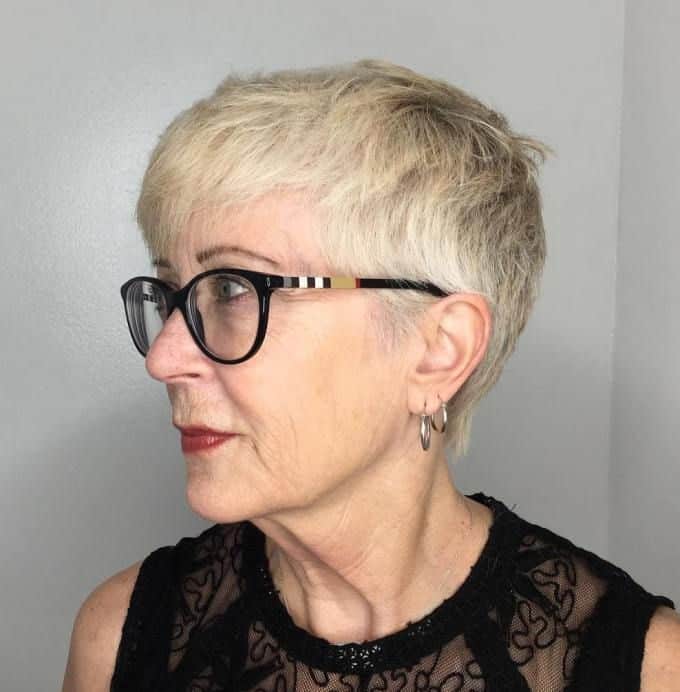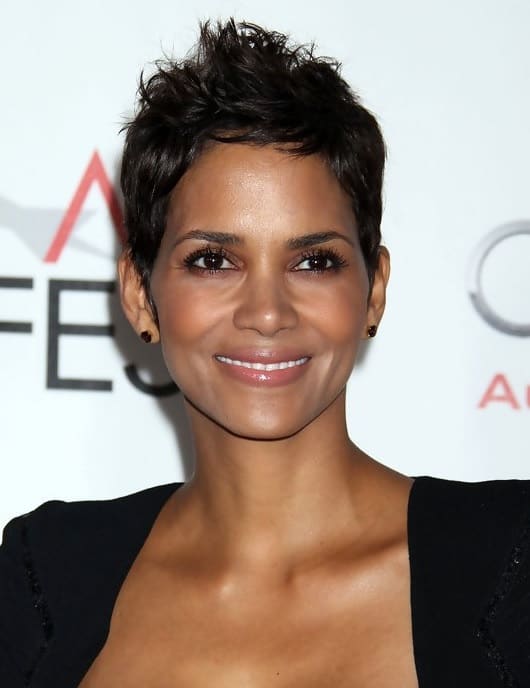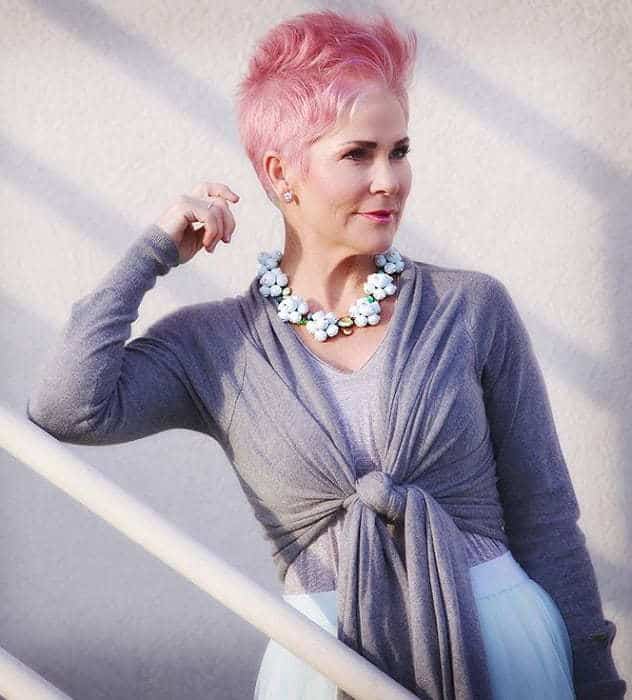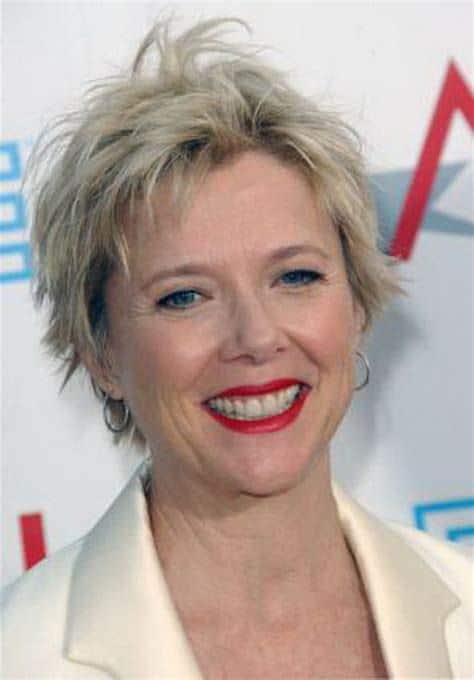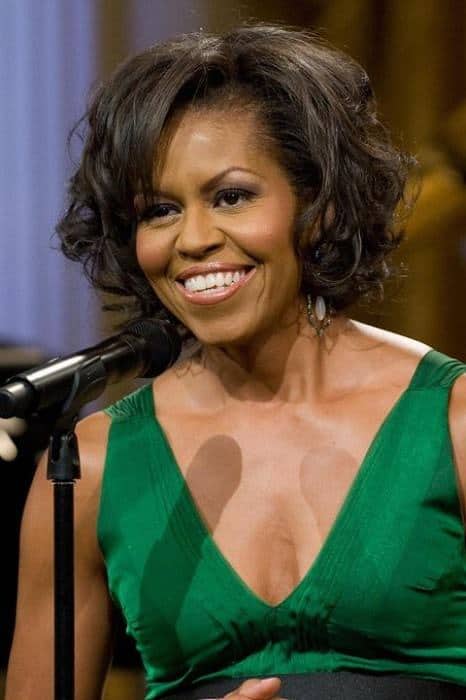 Whether you are in your late 40s, 50s that are also known as your second youth, or early 60s, these elegant short hairstyles for thin hair women over 50 will definitely freshen up your look instantly. It will not only take some years away from your overall appearance but also make you look more sophisticated than ever. Just remember to go with what you feel comfortable and feel stylish in and you will be turning heads even in your 50s.