Why pink ombre: Ombre has been a hot topic for the past few years and it's easy to understand why. The color combinations and gradient patterns have made ombre hair one of the most desired dyeing options to hit the scene. One very popular selection is pink ombre hair and we've seen colors ranging from pastels to hot pink and shades of fuchsia.
How to Get Pink Ombre Hair at Home
If you're interested in ombre hair but don't want to pay hundreds to get it done, it can be achieved at home. You'll want to start this process on day-old (as opposed to freshly washed) hair so that the "oiliness" you feel can protect your strands from the harshness of the chemicals.
Also, remember that if your hair is darker (brown or black) you will need to lift the color from your ends by bleaching the hair before applying the color so that the color is prominent. If you try the process without bleached ends, it will not show
Here is a great step-by-step video instruction on how to achieve hot pink ombre hair at home.
Pink hair dye typically lasts for about 3-4 weeks before you need a touch-up, but if you wash your hair multiple times a week, it may fade even sooner than that. Many women typically make appointments to revive their coloring bi-weekly, so keep that in mind before dyeing your hair.
If you're looking for a bit of whimsy to spice up your ombre choice, incorporate purples and light blues to make your pink stand out. Not only is this "unicorn" ombre hair super cute, but it's also daringly different so you probably won't see many others rocking it.
2. Pastel Pink Ombre (for brunettes)
This pastel pink hair color matches great with her chocolate brown hair and the subtle hints of blonde almost makes this look like a Neapolitan.
3. Pink and Purple Ombre ( for blondes)
This faded pink and purple combo could be the result of an old dye job, but we're loving it! The subtleness of the colors makes this dye job sexy while still keeping it fun and playful.
Dyeing Two-Toned Hair and 20 Best Two Tone Hairstyles
4. Dark Pastel Pink Ombre (for brunettes)
If you still want a pastel pink but don't want for it to be too light, then this shade could be the perfect option for you, especially if your tresses are relatively dark.
5. Bubblegum Pink Ombre (for brunettes)
This pink is a darker shade but isn't overbearing. The pale shade of this dark pink pairs great with deep brown or black hair.
6. Pink and Purple Ombre (for blondes)
This pink and purple ombre is another subtle dyeing job that has left us speechless. The blonde highlights play off of the deep purples and subtle pinks, while the waviness of the hair ties the whole entire look together almost effortlessly.
7. Bubblegum Pink Ombre (for blondes)
This bright pink is playful and whimsical, letting off the spunky, carefree vibe that so many of us wish we could pull off. If you're daring enough, then this shade of pink would definitely be up your alley.
Best Blonde Hair Color Options for This Year
8. Barbie Pink Ombre (for blondes)
Reminiscent of your good old Barbie doll days, who wouldn't want to rock this playfully pink ombre style? This deep pink is awesomely executed and the color is bold without being overbearing.
9. Full Purple and Pink Ombre
This purple to pink ombre dye job is perfection, as the pastel pink and lavender colors really complement each other. The best thing about this ombre is definitely the subtle pink highlights that frame the face and are incorporated throughout the purple.
Epic Blonde Hairstyles With Lowlights To Look Like a Star
10. Barbie Pink Ombre (for brunettes)
We absolutely love this deep Barbie pink ombre dye job for a number of reasons – the main one being that the blonde highlights and deep lowlights really set this coloring aside from the rest.
11. Multi Pink Ombre

This pink ombre dye job features multiple shades of pink and finished with a lovely shade of purple. From roots to tip the hair gradually gets a shade darker and really shows the skill set and attention to detail as well as the successful blending and pairing of colors.
12. Deep-to-Light Pink Ombre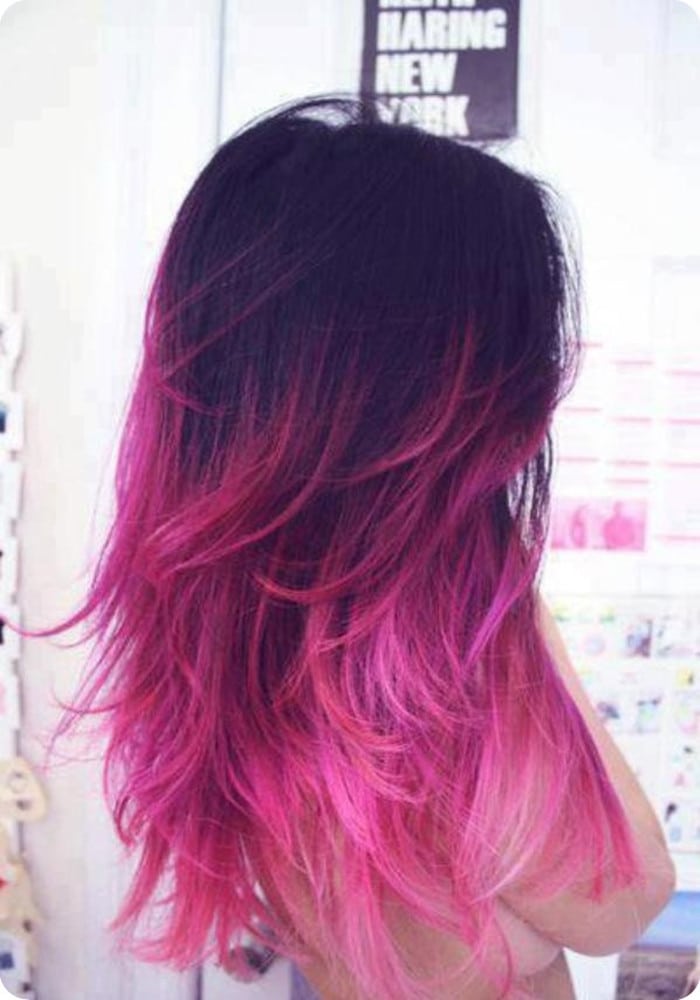 This pink ombre dye job features a gradual lightening of the hair from root to tip. Starting from black, the hair graduates to fuchsia and continues on until it reaches light pink at the ends.
Ombre hairstyles can help a lot of beautiful updos to look even dreamier and more gorgeous. The different shades of this gorgeous pink ombre make the texture of the flower bun even more emphasized. Once you've created the bun, use a curling iron to curl the hair underneath it.
14. Pink Ombre with Black Hair
The bright pink ombre gives an electric dimension to this hairstyle that already has a mat black base. The short bangs give it a bit more edge, while the curls are soft and girly, which means that this hairstyle has everything you need for a strong, authentic look.
While an electric ombre looks eye-catching and bold, it is important to think how your ombre is going to blend into your hair even after it's washed out. If you have honey blonde hair, a shade of pink that has a little bit of a yellow undertone will be a great match.
16. Pink and Purple Ombre on Platinum Blonde Hair
If you have a clean platinum blonde base, a colorful ombre such as this pink and purple one will look great on it. You can even spice the hairstyle up if you experiment with braids that will intertwine the colorful strands.
This light pink ombre hair color is very subtle and it looks beautiful on naturally light-brown hair. If your hair color is natural, you should definitely also go for a more natural shade of pink that would match it well.
Braids bring out the best of a well done pink ombre hair. The more braids in different shapes and sizes you have, the better. This hairstyle is perfect for girls who like unique styles and colors and who like to use their imagination to create something fun and different
19. Baby Pink Shade on Lilac Hair
These sweet pastel shades that remind us of unicorns and mermaids are so stunning. However, they do require to go through a certain amount of trouble such as bleaching your hair entirely and then toning the top part with lilac toner and the ends with pastel pink toner to create an ombre effect.
20. High Ombre on Dark Brown Hair
This high pink ombre hairstyle can only be properly executed on good quality hair. You will need a high volume developer to bleach your hair entirely and then apply bright pink toner to it.
Afterward, you can just use a flat iron to curl these gentle curls. Keep in mind that a bright pink toner washes out relatively quickly, so you should also maintain the color every few weeks.
If you don't want to commit to a bold hairstyle but still want to try something exciting, then you should definitely try a dark pink hair shade. It covers only a few inches on your ends, and if by any chance you don't like it or get bored of it, you can always chop the ends off.
As you can see, there are many pink ombre hair options to choose from. Whether you decide to dye your hair yourself or get it professionally done, it is important to know exactly what you're looking for and follow the proper procedures to achieving it.
Pink Ombre vs Pink Highlights
If you've ever wondered what the difference between an ombre and a highlight is, then we're here to take away your confusion!
Pink ombre means hair that is dyed in a way that the pink color seems natural. Pink ombre hair requires you to have two different shades of hair and one shade gradually transforms into the other along the length of the hair.
On the other hand, when you get pink highlights, certain locks of hair from different parts of your head are dyed pink! In this case, there is no gradual shift from one color to the other.
If you want to experiment with pink ombre hair without the damage or permanence of bleaching and dyeing, there are hair chalks that you can apply to the hair (that don't rub off on your clothes) to achieve a similar look! What was your favorite pink ombre hair color?