When you are looking for a new and improved hairstyle, you should give a short faux hawk a chance. There are so many different faux hawk fade haircuts for men out there that you will surely find something you need and enjoy. The fade part of the hairstyle makes it much less outrageous than a regular Mohawk. No matter what type of hair you have, you can get this hairstyle as long as the length is satisfactory.
Styling a fade faux hawk might seem complicated at first. However, all you will need is some gel, your fingers and about 2 minutes of work. You will really love the way your image will change after you get this fohawk. If you are afraid of this hairstyle looking too outrageous, go for more subtle faux hawk options.
Outstanding Short Faux hawk Haircuts for Men
If you are not sure what you want to do with your hair but know that you need a style change, take some time to browse through the fade fauxhawk haircut options. Once you take a look at the choices we prepared for you, you will realize that you can easily look your best with the least effort. If you are bold enough to go through some style changes, you will surely find the best fade fohawk for yourself. Many men are allowing themselves to look fabulous by styling their fohawks in their own personal way. Give a couple of them a try and you will surely stick with the new hairstyle.
1. short faux hawk fade hair
If you are not afraid of real changes, consider creating a short high fade faux hawk hairstyle. Leave the top part of your hair long enough to make high spikes. Ideally, it should be about 4-5 inches long.
Men's Popular Faux Hawk Fade Hairstyles
2. Simple low fade faux hawk
This is a great faux hawk option for men who are not ready for a drastic style change. There is no shaving here. The hair is cut into a low fade and the top part is left to be about 2 -3 inches long.
3. Long fade faux hawk haircut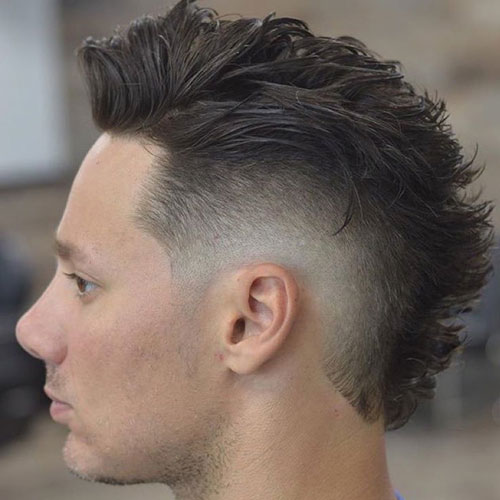 This is a great choice for guys with thick and straight hair. If you are ready for a high fade, try to shave off the most hair on the sides. This way you will be getting close to a real Mohawk.
4. Break lines
Using break lines to emphasize the shortness of your faux hawk fade is a great idea while adding a beard to your image will surely make you stand out of the crowd. Try this style and you will love it!
5. Almost Ivy League
Did you think that a faux hawk can't be Ivy League? You were wrong. Short sides and a spiky top will make any simple haircut look close to a short faux hawk fade hairstyle. Give it a go!
6. Styling is everything
Your faux hawk haircut has many different sides to it. All depends on the way you style it. If your locks are long enough on top, you can create crazy wild spikes or neat geometrical shapes.
Simple Yet Attractive Crew Cuts for Men
7. Very short fade faux hawk
Even if you are a fan of short hair, you can still create a great short faux hawk fade hairstyle by spiking up the hair on top. All you need to do is a get a neat short fade and leave some hair on top to work with.
We hope you got some inspiration from these amazing hairstyles. If you are still contemplating a faux hawk, you can start by spiking up the hair you have now and taking a look at the results. Most likely you'll want to go further.