Every woman knows that her hair makes a statement, which is why short white hair is so popular this year. This style is bold, eye-catching, and will easily attract attention in the office, on a date, or when out with friends. Choosing the right style is key to ensuring that a woman looks and feels her best.
Chic Short White Hairstyles for Women
These are most exclusive white hair color ideas for short haired women to rock this fall.
This short haircut is not only eye-catching, but it is also clean and attractive. The shorter sides and back expose the ear and are perfectly trimmed to allow the longer top to have a bit more movement and body.
It's a fun look for any woman who is bold and daring enough to wear such a short cut.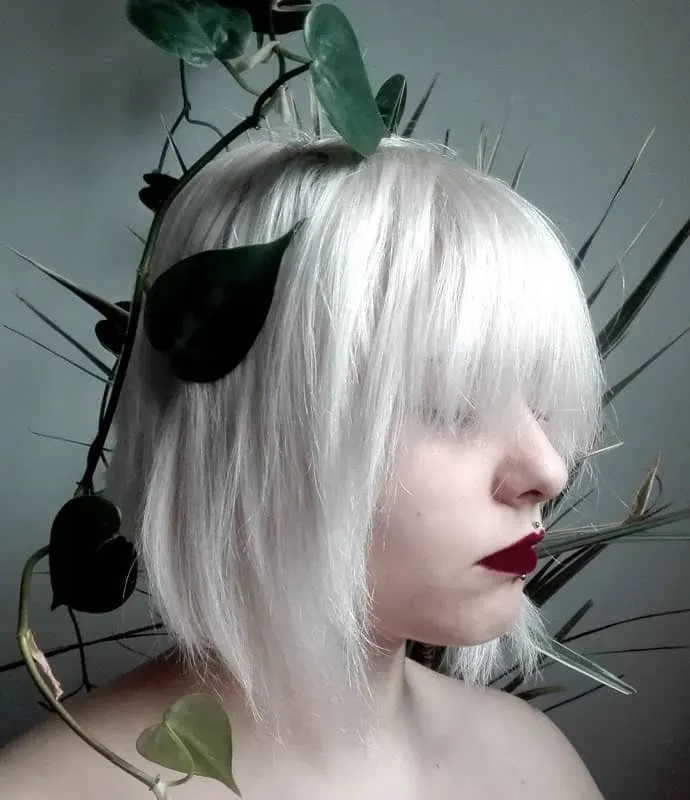 Short hair doesn't have to expose the ears, as this slightly longer bob shows. The ends are kept incredibly wispy, which prevents the icy white hair look from being too harsh and angular.
Longer bangs on short hair and the addition of leaves or flowers in the hair helps to break up the style, as well.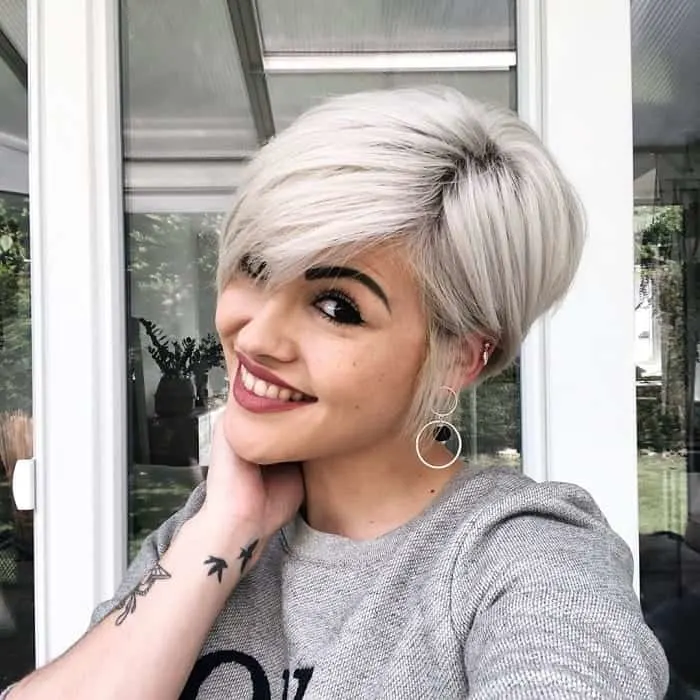 This is a classic shorter style and has a stacked back to add volume and interest, as well as some fun side bangs. Being able to tuck some of the hair behind an ear allows women to keep the hair out of their face.
Additionally, bold and dark eyebrows help to complete the short white hair look and ensure that the woman doesn't look too pale.
4. Side Swept Pixie
This white pixie perfect for women with short thin or fine hair. The layers give shape and minimal texture that's easy to style with fingers, while the side swept look is soft on the face.
5. Blunt Bangs
If you have a long face or a wide forehead, bangs may be in your future. Blunt bangs make a statement and will look great with a short bluntly cut white bob.
6. Pink Highlights
How pretty is this a-line bob with its light pink highlighting? While it's mostly straight, there's plenty of volume and texture thanks to teasing at the crown. If you prefer, you can even add a side bang for face framing.
7. Choppy Waves
On a bob or a short simple white haircut with long bangs, add lots of soft waves in a choppy cut. Women with fine or thin hair will appreciate the addition of volume.
8. Short and Choppy
White blonde will highlight the gorgeous choppy texture in a pixie cut and stun against your light skin. You can easily style this haircut with your fingers and a little product.
Some white hair color ideas for short hair involve a lot of layers, but this great style does not. The hair is kept very short and is trimmed close to the head.
This allows the shape of the head and the beauty of the face to easily be seen. With such short hair, this is a great style for women who are busy and on the go.
10. Shorter Bangs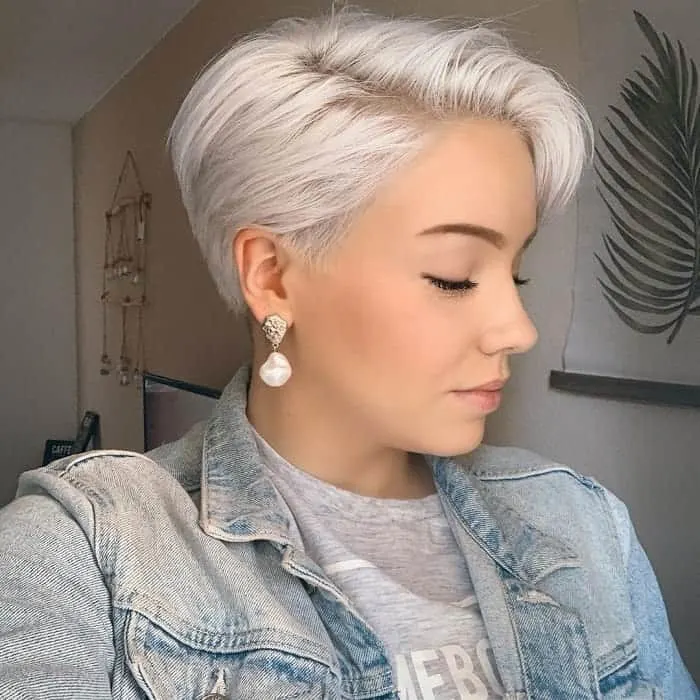 These shorter bangs are pushed up and away from the forehead so that they add some movement to the style. The exposed ears are cut out so that the hair is shorter on the sides.
This means that women can't easily tuck hair behind their ears, but it still looks great and is a lot of fun for bold women.
Bangs don't have to be long to be eye catching. These baby bangs are cut perfectly straight so that they form a bold fringe across the forehead.
The rest of the hair is trimmed shorter, as well, making the bangs the focal point. This style looks great when paired with funky and bright sunglasses.
12. Undercut with Longer Top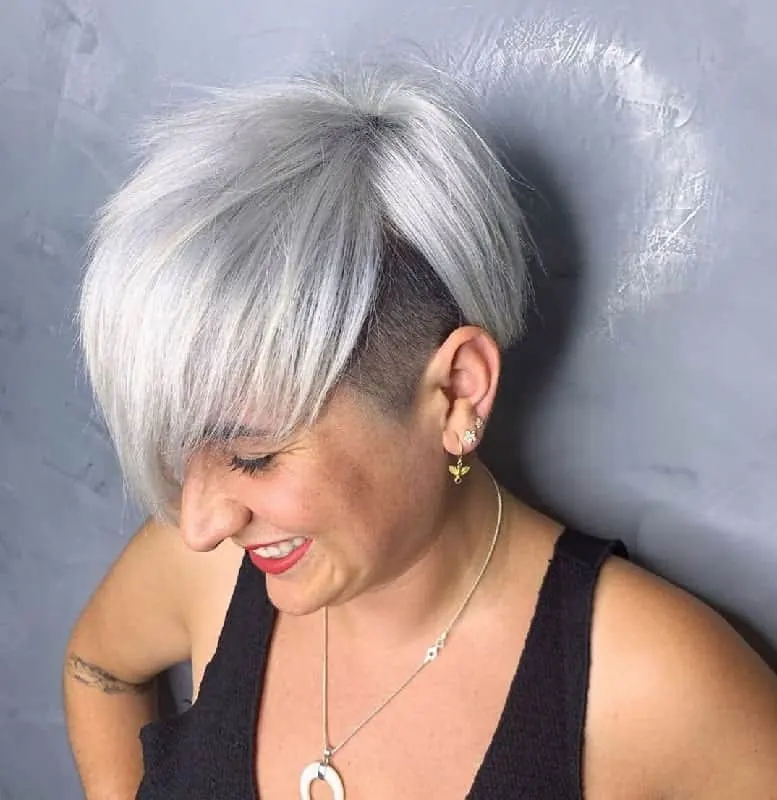 An undercut is a great way to make a short hairstyle unique and to help remove some of the weight of thicker hair.
This female undercut shows off a gorgeous natural hair color and allows the white hair to really shine. Keeping the hair longer so that the bangs are in the face is natural and a lot of fun.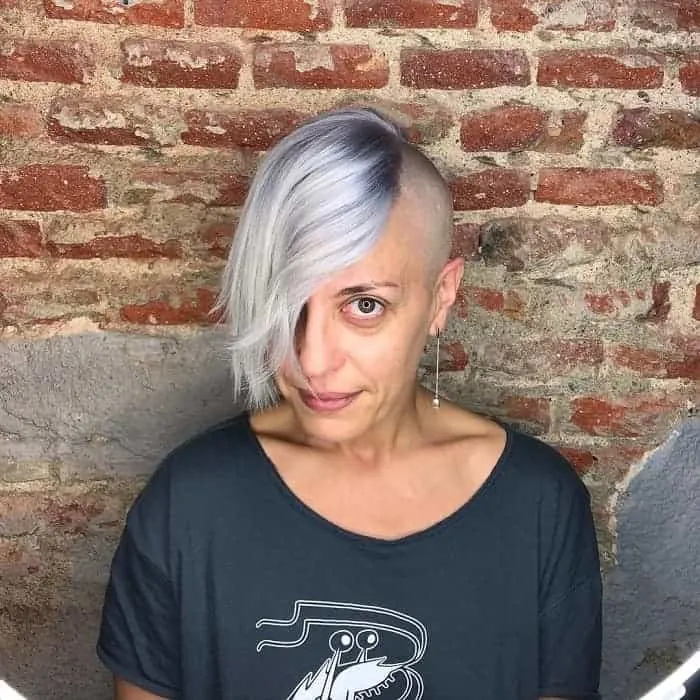 An asymmetrical cut is not for everyone, but bold women who are willing to take the plunge will love this silver white hair option.
By shaving one side of the head, women can increase focus on the rest of their hair. The rest of the hair should be grown long enough to hang down over one eye to add mystery and fun.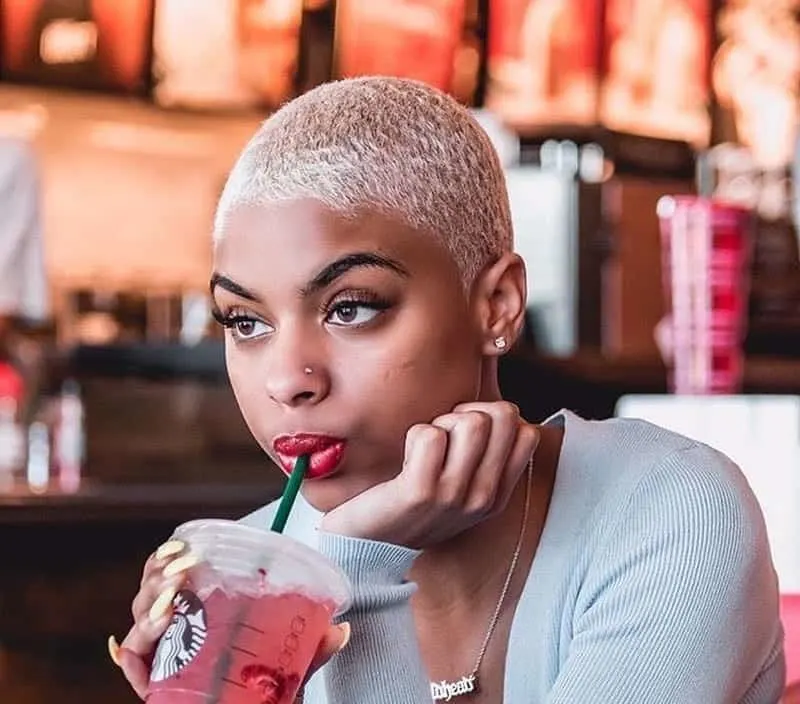 Designed to be eye catching and easy to take care of in the morning, this incredibly short style is a lot of fun for women who are bold enough to try it out.
The dyed white hair is cut very short to the head, which is great for women who want to show off their facial features. Dark eyebrows complete the look.
15. Fluffy Back with Longer Front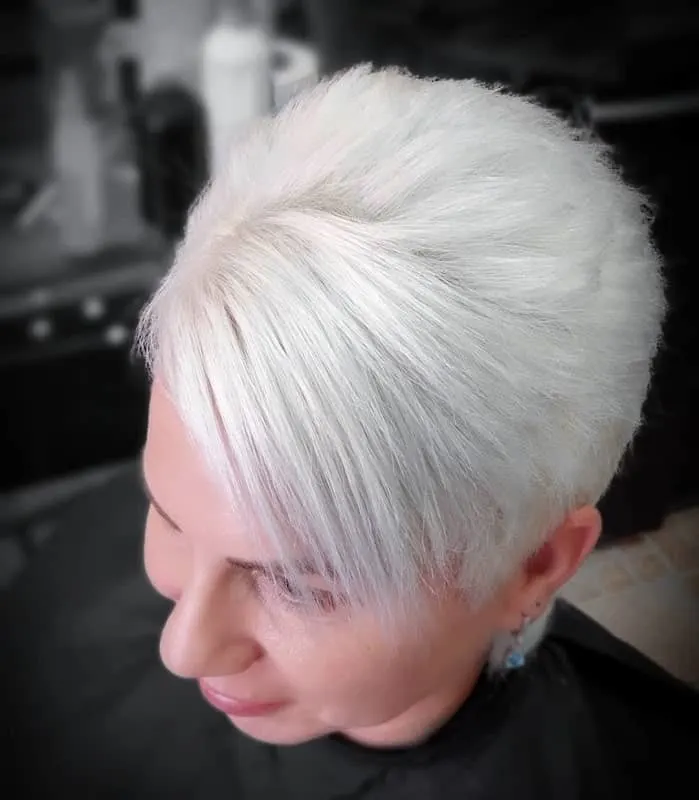 Short hair can be all different lengths and look great, which is why this cut has shorter and fluffier white hair in the back and longer lengths in the front.
It's key to use plenty of product to help keep the shorter hair up and full of volume so that it won't fall flat in the heat.
16. Short and Spiked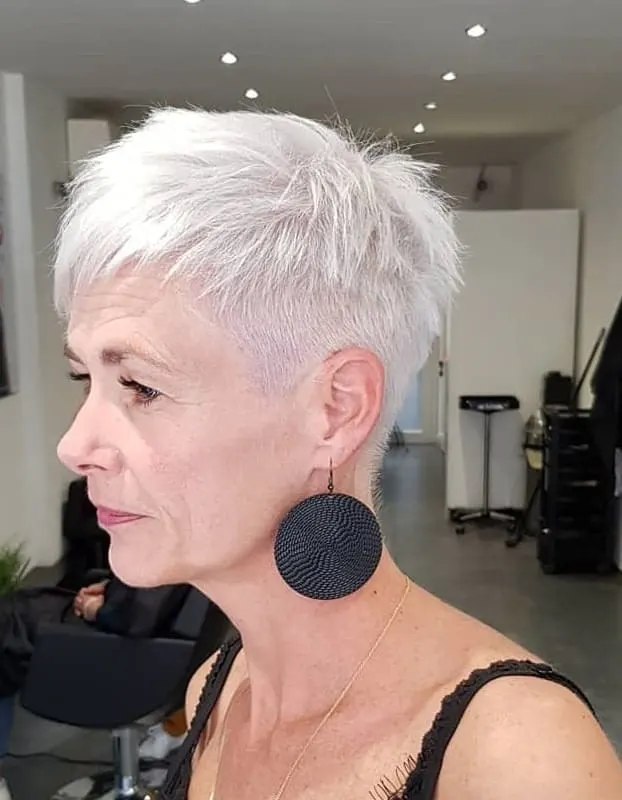 This short and spiky hair look for women has a lot of layers and lengths, but the main focus is on the hair on the top of the head.
This hair is a bit longer and can easily be spiked in different directions with the help of product. It's a fun look for women who want to stay cool in the heat.
Full curls look glamorous and attractive when they are bold and icy white. This look is exceptional, as the curls perfectly frame the face. Keeping the hair curled away from the face allows women to showcase their features while enjoying a bold style.
Short white hair looks great on women of all ages. This fun look has longer bangs that are allowed to hang down in the face.
By pairing this longer length with shorter sides, women can enjoy a lot of volumes. The bangs have a huge swoop at the roots to give them lift and control.
19. Wavy Top with Product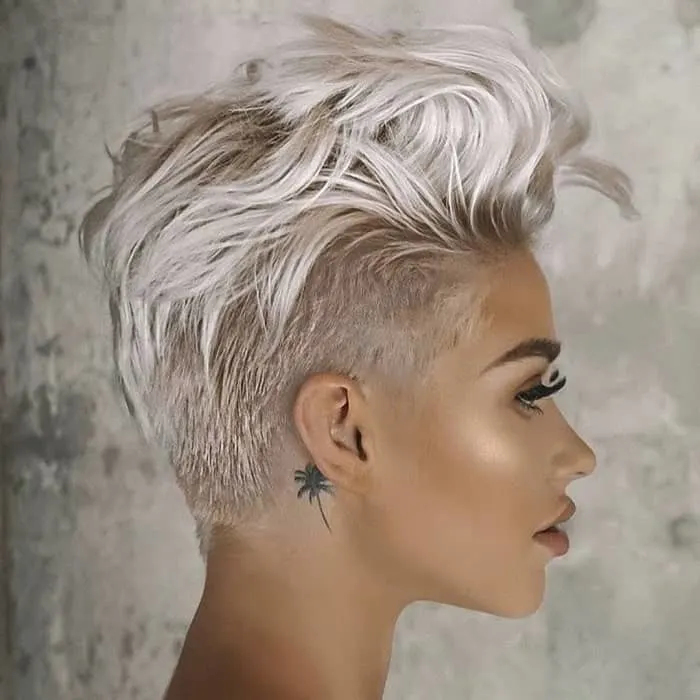 A faded back and sides with longer hair on top are ideal for women who have waves. This is a great way to show off the thick waves in short hair without them feeling or looking out of control.
By pushing the hair back from the face and allowing it to have some natural movement, this style is attractive and fun.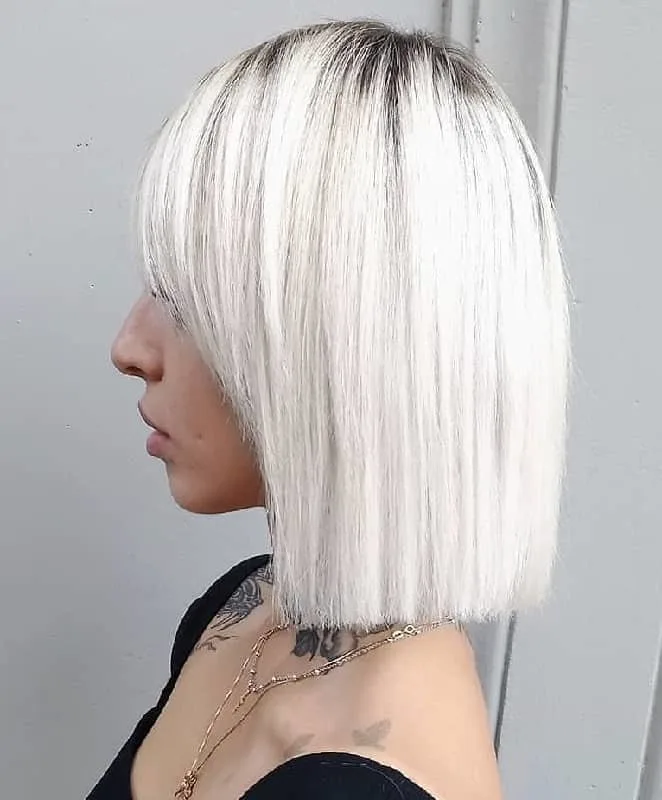 A longer bob is a bold move for women who want shorter hair, but aren't committed to a pixie.
The bold and blunt ends of this white bob make it appear more modern and updated than if the ends were wispy and flowing. Perfect layers around the face add to the beauty and make the cut appear a bit softer.
These incredible short white hairstyles are sure to make any woman stand out. They're fun, bold, and sexy, but do require some upkeep. Choosing a style that fits a woman's personality and lifestyle will ensure that she is happy with how she looks.