Gone are the days when things were branded strictly male or female.  In order to erase boundaries between male and female new, androgynous haircuts are edgy, creative, and liberating all at the same time. Gender fluidity is changing everything, and hair trends are not the exception. Throughout this post, you're going to see 21 amazing ideas to try in order to get on board with the androgynous style and gender fluidity movement.
Exceptional Androgynous Hair Ideas
Androgynous hair is all about abandoning classical "feminine" looks and opting for more creative, empowering, and edgy alternatives. Scroll down to see them all.
Braided Mohawk is one of those hairstyles that look great on men and women alike. Shaved sides, voluminous Mohawk and sheer power this look oozes makes it an ideal hairstyle for women who'd like to try androgynous vibe. This style works on women with thin and thick hair, which is always a good thing. Simply comb back your hair, and you're ready to go.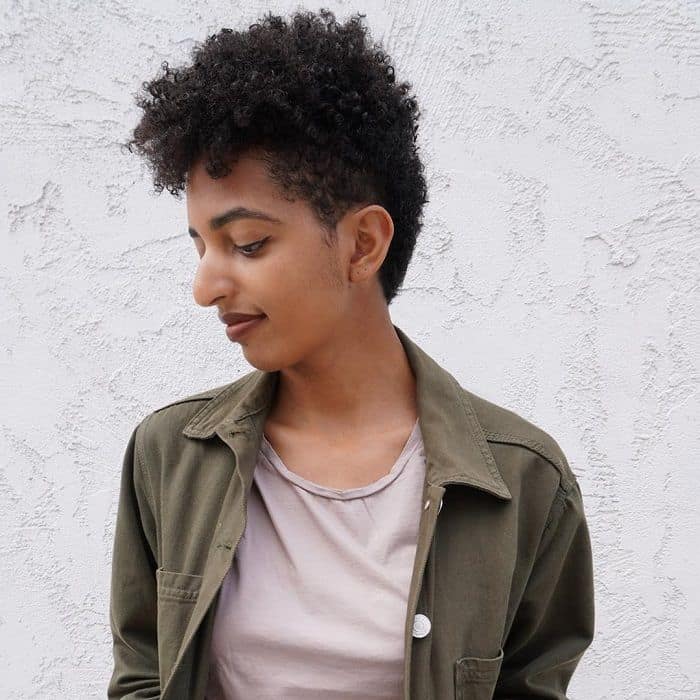 Afro style is the embodiment of freedom and power. You can give it an androgynous hair twist by rocking it short. Make sure sides are shorter than the top for a complete effect. This length will accentuate your lovely tight curls, but it will also give you a gender fluid vibe at the same time.
You don't always have to do something outrageous to show off your creativity and bold side. A simple short androgynous haircut will do the trick too. Use mousse and a nice brush to give your hair volume and playfulness while retaining its gender-neutral character.
Pixie cuts are considered to be one of the most stylish and elegant hairstyles around. What we love about this cut is its versatility. You can adapt your pixie to ooze any vibe you want, including androgynous style. Just tousle your hair with fingers or use a brush to get a layered look and voila – you're good to go.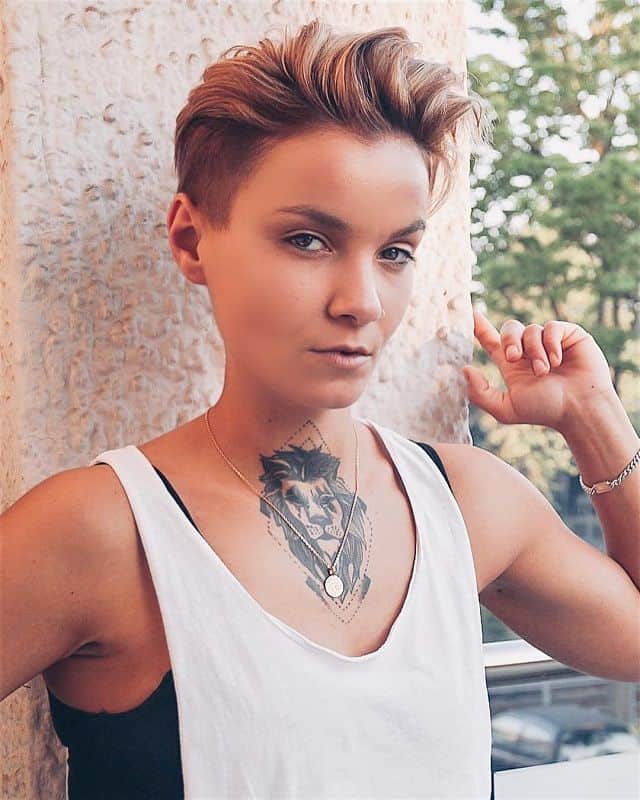 Cool women don't care what others think. They go by the beat of their own drums and rock their own thing. Your hair should match your creativity and empowered nature. This is a perfect androgynous hairstyle to make it happen. Simple, short, and it also retains movement and playfulness of your style. Perfect!
Short hair flatters any face shape and hair texture. Your hairdresser will take the texture and face shape into consideration in order to give you a perfect short cut. For an edgier effect you can opt for undercut, side shaves, pattern sides, you name it.
Pixie cuts are timeless, and we're glad that's the case. Why? Their versatility is the reason. You can adapt pixie to any style you want and even turn it into a wavy and textured cut. That's why this is one of the best androgynous hairstyles you can try. Look how amazing it is.
Speaking of Mohawks, here's a look that all rock chicks and brave women will absolutely adore. Mad Max style hair will make it seem like you've just stepped out of the movie. It's outrageous, edgy, adventurous, and ever so cool.
9. Wavy and Textured Look
Short hair appears a lot more voluminous when it's done in a layered and textured manner. As a result, hair appears to have tiny waves. Add shaved undercut into the picture and you're going to get an androgynous hair look that everyone will love. For an edgier effect, make sure your hair is two-toned just like on the photo below.
10. Rainbow on Your Head
You don't shy away from edgy rainbow hairstyles that many other people would be too scared to rock? If so, you'll love this style. Instead of rocking a simple and minimalistic buzz cut, you can take it one step further and create patterns with different colors. How unique!
Grey hair isn't a symbol of old age anymore. Young men and women are rocking it with ease nowadays. You're probably aware this hair color is a major trend, and you can give it the androgynous vibe by combining it with short, textured hair.
12. Flower Power
Who says flowers can't be androgynous? We have a proof that says otherwise. Two-toned Mohawk and hair designs are even more noticeable thanks to flower pattern. Petal patterns demonstrate attention to detail but also show off your creativity.
Spiky hair isn't for men only, and women can pull it off with ease too. To emphasize androgynous haircut, you may want to opt for some unusual hair color such as grey. Use gel or some other styling product to create spikes and make sure they remain perfect throughout the day.
We love red hair, who doesn't? This hair color is all about being edgy, wild, adventurous, and free. To make red hair androgynous, you may want to cut it short and use a curling iron to create gentle locks. It looks great, doesn't it?
15. Simple and Easy
If you don't like to spend too much time on your hair, then this simple and easy burnt orange hair look is a perfect solution. One of the easiest androgynous hairstyles involves pixie with bangs. But, instead of long bangs opt for a shorter or mid-length alternative.
Dark blue hair is a popular choice for many, and we understand why – it's awesome! Various shades of blue are available, and the choice of hue depends only on your personal needs and preferences.
But, for a striking effect, you may want to consider electric blue Mohawk combined with cool patterns of your choice. Of course, you can choose any other unusual color instead of blue.
17. Ultra Short and Asymmetrical
Asymmetry is a great way to achieve the slimming effect, boost hair volume visually, get an edgy style, and you name it. Asymmetrical short choppy hair swept to the side gives you androgynous vibe without too much trouble. Shave sides of your hair and leave them that way for a pattern-free and minimalistic approach toward boyish look.
If you have long hair that you don't wish to cut further, you can simply use a mousse and other styling products to create a Mohawk-like 'do that will emphasize unusual highlights. Choice of colors depends on you. It can be midnight blue hair, purple, red, and you name it.
Some women stay away from bangs, but you shouldn't. They are always a good idea because they allow for versatility due to various shapes and sizes. Short hair and messy bangs are a perfect match.
20. Curly and Carefree
Here's a great androgynous haircut for women who want the well-known "I woke up like this" look. This curly Mohawk hairstyle will help you look great without too much effort. Try it out.
Yes, pink can be androgynous too! Take a look at this amazing short pink hairstyle; different hues and colors were used to create a truly powerful effect able to empower any woman.
Androgynous hairstyles are taking the world by storm. Now that you've seen 21 amazing hairstyles, you're probably wondering how it is to rock them. Dare to be different! Use our post as an inspiration to bring out your wilder side, more gender fluid side.