For those who already have short hair and want to spice it up with long bangs, read on as we unfold the tips and tricks to decide the best short hair with long bangs that will compliment your face and how to style them.
Summer is just around the corner, and it's indeed difficult to manage your long hair when the atmosphere isn't cooperating with you. Hot summers come with sweat under your hair, oily scalp, and frizz that can be difficult to tackle.
However, you can beat the sun by going for a short haircut with long bangs that are low-maintenance and looks effortlessly chic at the same time.
If it's your first time and you're contemplating whether short haircut will suit you or not. Worry no more! This guide will help you in making the ultimate choice.
How to Choose Short Haircuts for Long Bangs
Bangs can easily level up your fashion game and highlight facial features such as eyes, cover wide forehead area and accentuate your cheekbones. For every short haircut, long bangs can look totally gorgeous.
There are various types of bangs – side swept, front bangs, feather bangs and many others. Before picking one, you need to make sure which type of bangs suits your face the most. Your face shape plays an important role here. Here is what you need to consider.
If you've got full and pointy cheeks, it means that you've got a round face. Note that, straight bangs may not suit your face because it will make you look chubbier than you already are.
Instead, go for a side-swept feather fringe that falls just below your eyebrows and will give off a striking appearance. You can also go for long side bangs suited best for short haircuts like a bob or a pixie. These bangs will frame your face and look beautiful.
Square Face
If you've got a well-defined jawline, you've got a square face. Eye-length bangs look elegant on square face shape.
You can create versatile looks with those bangs such as making them side-swept or partitioning them in the middle. A curtain bangs will create a balanced look and looks ethereal with a layered bob haircut.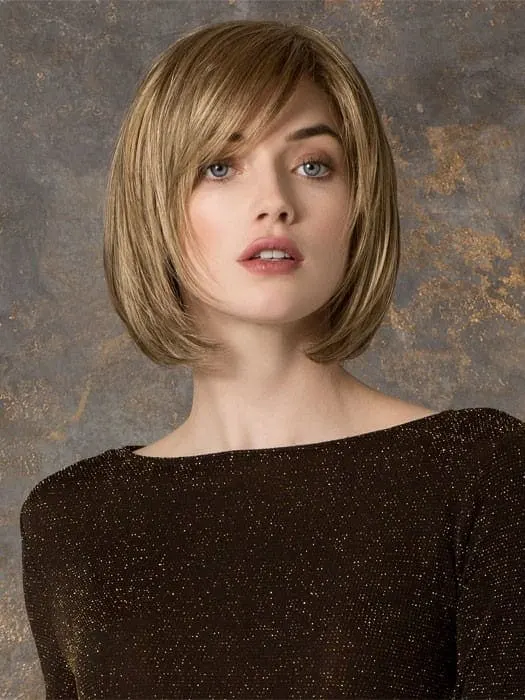 Women blessed with oval faces are the luckiest because they don't have to worry about choosing a particular style. You can experiment with various fringe styles and choose the one that makes you stand out among the rest.
Heart-shaped Face
A heart-shaped face consists of a wider forehead, a defined jaw, and a small chin. Shaggy bangs that are longer at the sides will look ideal for heart-shaped lovelies. It looks best with a pixie haircut.
Wide Forehead
A general rule of thumb is if you have a long face that shows your wide forehead area, you want to make sure that you don't want to draw too much attention to your forehead. In this case, go for long side or front bangs.
If you've got natural waves/curls in your hair, this short hairstyle will look great. But if you've got a small forehead, heavy side-parted bangs can easily flatter your face shape.
How to Style Short Hair with Long Bangs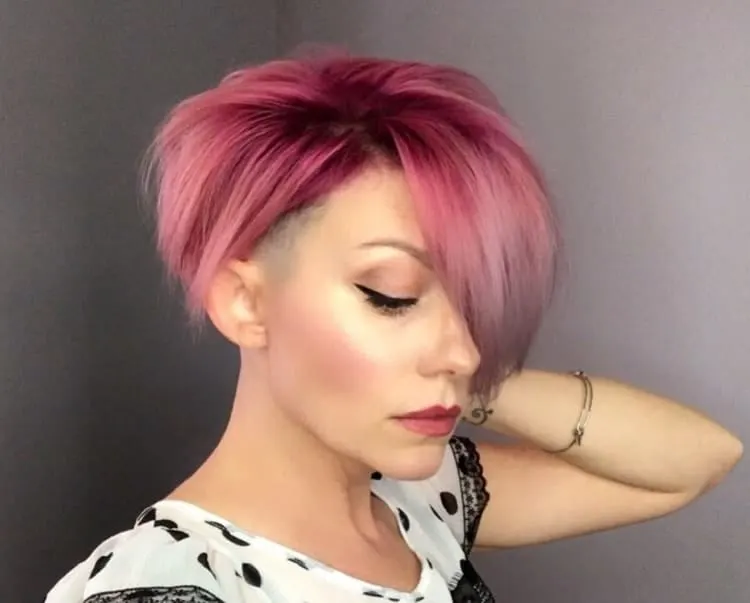 Bangs are said to be the universal statement for every hairstyle. You can easily pair up your long bangs with any short hairstyle. Whether you tie up your hair into a bun or let it loose, you can experiment with different long bangs styles to change your look.
If you get tired of wearing your bangs on one side, you can part them in the center to enhance the look or you could for full front bangs to complement your eyes. It's that simple!
Watch The Following Video to Learn How to Style Short Pixie Cut with Long Bangs
For fine hair, you can go for lob or bob haircut as it gives definition to your hair and makes your hair look thicker on the edges.
To style your short haircut, go for side bangs that add fullness to your face and divert the attention of people away from your thin hair. Don't go for shaggy layers as it tends to make your thin hair texture much more prominent.
Short Hair Ideas with Long Bangs
We've listed down top 10 short hair with long bangs ideas that will look flattering and make you fall in love with your short hair.
Beat the heat with this edgy arched bob that looks ultra-chic with long side fringe. This short hair long bangs hairstyle is recommended for busy moms who have a tough routine.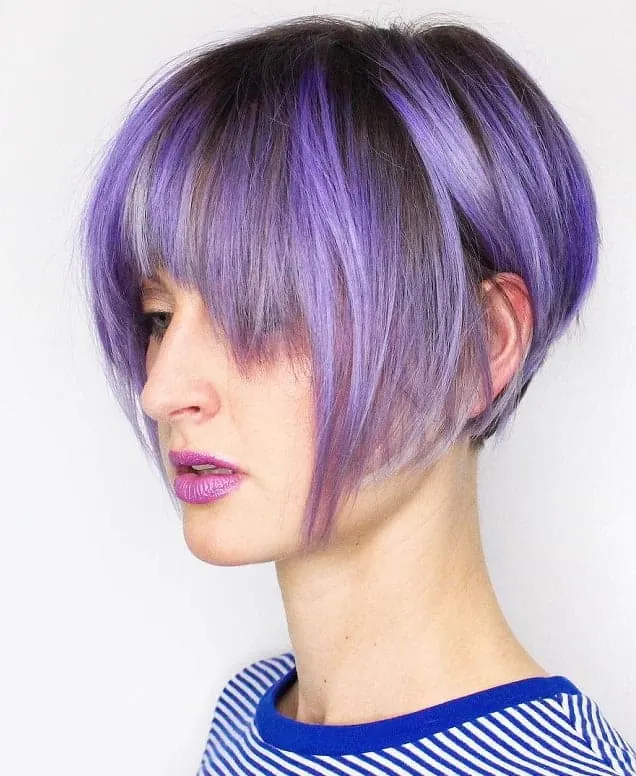 Flip your long bangs with this cool yet cute short hairstyle that looks on point. You can either go for medium-length bangs that fall across the arch of your eye-brow or long side bangs that fall below your eyebrows. You'll look amazing either way!
3. Messy Bob with Side Fringe
Beat the heat with this short hairstyle along with side fringe and look effortlessly stylish wherever you go.
For girls having natural goldilocks, you can't simply go wrong with short a-line bob with long bangs. Who says that you can't rock wavy fringes with short hair? It looks aesthetically pleasing to the eyes.
If you aren't a fan of bangs parted on one side, this bob with middle part is the look you should try. With your middle partition, you can look glamorous with long fringes that accentuate your round face.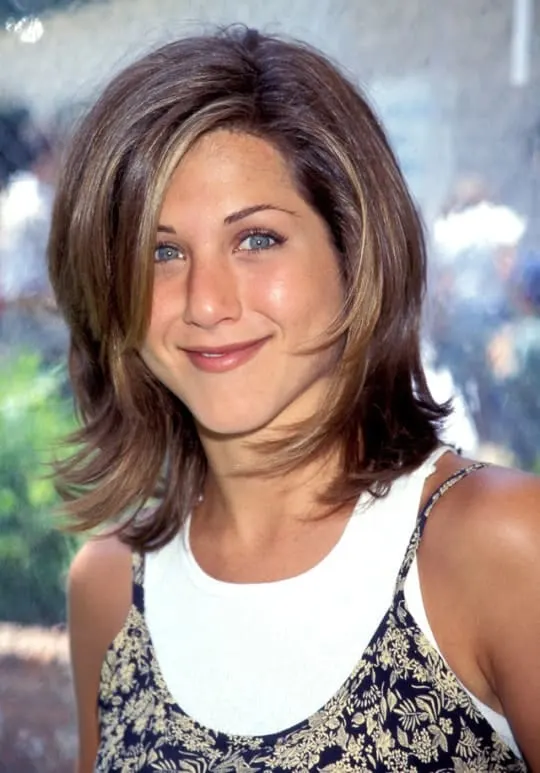 Are you inspired by Jennifer Aniston's look in the show "friends"? Go for this choppy bob look with layered bangs perfect for defining your jawline. A classic long bangs for short haired women!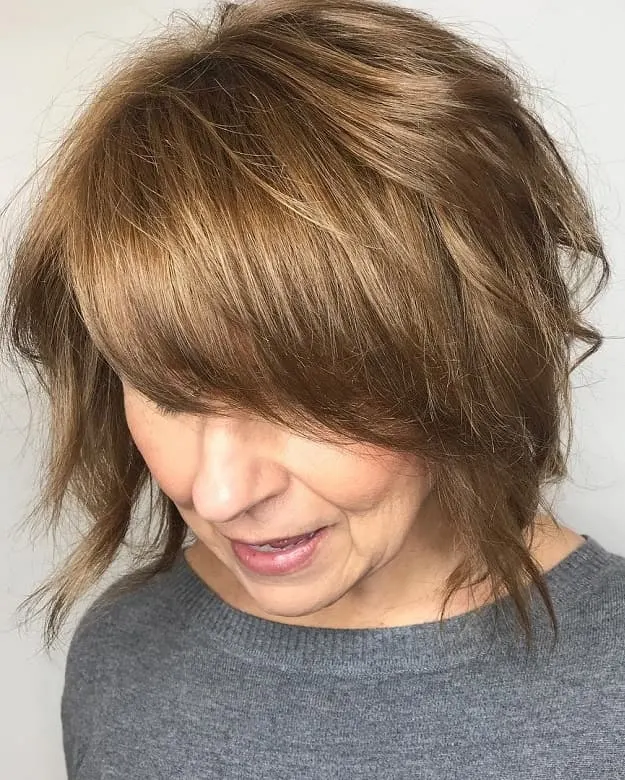 Another bold short hair with long bangs haircut that's high-maintenance because of the layered texture. The full front thick bangs top off the bob cut and look great with this style.
One of the casual hairstyles adorned with side bangs that never goes out of style. If you don't want to go overboard with short haircuts, this long bangs with short copper brown hair look is meant for you.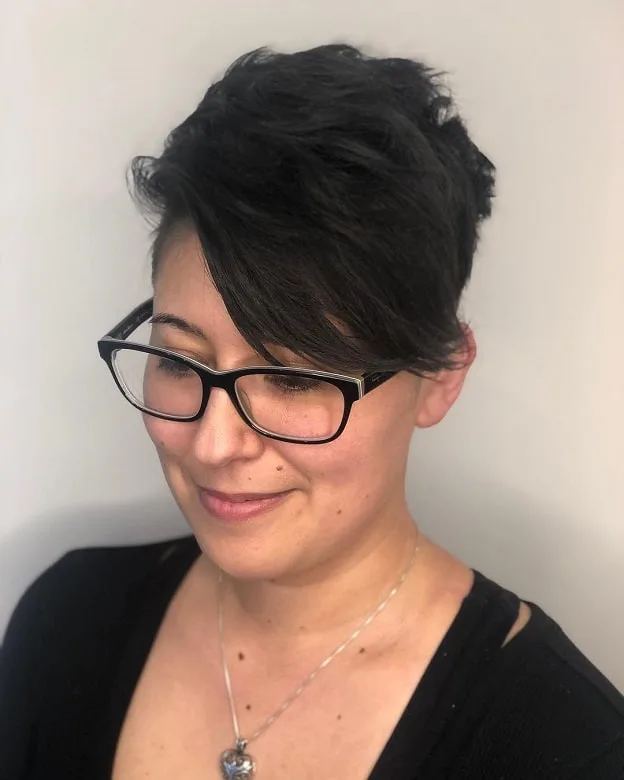 If you're a girl who loves trying bold and daring hairstyles, you can't go wrong with this short hair long bangs hairdo. The side bangs cover up the wide forehead region and falling over one side of your eye.
Unleash your feminine power and look trendy with this modern short haircut with long bangs. This style looks attractive on sleek and smooth hair having razored edges.
FAQs on Short Hair Long Bangs
Can guys try long bangs as well?
Yes, guys can definitely try long fringes, but it all comes down to their face shape and the texture of their hair. Long bangs are suitable for long faces and large forehead area.

If a guy has a slim rectangular face, the fringe will make his face look smaller than it already is. Another fact that you should consider if your hair texture because that will decide whether your bangs could stick or not.

For guys with sleek hair, you can choose an angular fringe cut that's similar to side-swept bangs and exhibits an edgy look. For curly-haired dudes, let your naturally loose curls fall over your head.
Which face shape is best for long bangs?
An elongated face shape with a high forehead is best for long bangs that frame your face and hides your forehead. Long bangs will look odd on long faces because it will look unattractive and draws attention to your forehead.
Side swept bangs or asymmetrical bangs? Which one is better?
Both of them looks banging on different hairstyles. Asymmetrical bangs are much more suited to bob or lob haircuts whereas side-swept fringe can fit into both long and short haircuts.
Upon completing this guide you must've made up your mind of going for short hair long bang hairstyles that will make you look like a complete fashionista and are easy to manage and carry with style.
If you want to go for a hair makeover, try out these haircuts according to your face shape and flaunt while you're on the go.