We all know that we do not have the energy and time every day to create elaborate hairdos. But this does not mean that you cannot rock a casual ponytail or a messy bun. If you are looking for some easy hairstyles that are quick to do on a day-to-day basis, we are here with some cute and simple casual hairstyles that are chic yet hassle-free to create on your lazy days.
Casual Hairstyles
When it comes to casual hairstyles for women, options are endless. Scroll down to get inspired for your next look.
1. Classic Middle Part
You don't always need to style your hair on a lazy day, instead leave it loose with a middle part. This hairstyle is simple yet classic. A nice balayage with a layered haircut completes your look.
2. Simple Braid
This is the simplest hairstyle you can achieve with minimal effort. Just Brush out your locks and twist them into a simple braid with a side part. Leave some strands loose on the front for a cute messy look.
3. Braided Front
Cute and elegant this one goes well with or without bangs. Brush out your long hair and braid the front. A particular plus point of this casual style is that it keeps your hair out of your face day-long.
4. Low Casual Ponytail
If you want to tame your beautiful wavy locks but don't have the energy for a detailed hairstyle just brush your hair and secure it into a low ponytail using a bow hair tie or hair scarf. This style gives you a cute girly look.
5. Twist Back
This hairstyle will keep you in style with a little work. Just grab your strands at the front that frame your face and secure them back with bobby pins. You can also twist your strands for a little detailed look.
6. African-Style Turban
This African culture-inspired hairstyle gives you a chance to experiment with a turban although some effort may be required to tie it. Whether your hair is long or short, just brush it down and tie a head wrap on top for a chic look.
7. Casual Messy Updo
This hairstyle surely gives some bridesmaids' vibes. Pair up a side part with a low messy updo and some loose twists at the back. Leave some strands loose to accentuate the style that gives you a soft and delicate look.
8. Messy Bun
Another sophisticated causal hairstyle for you that never gets old. Whether your hair is long or short just style it up in a messy high bun. You don't need to worry about your untamed frizzy strands as they set off your look.
9. Pinned Back Curls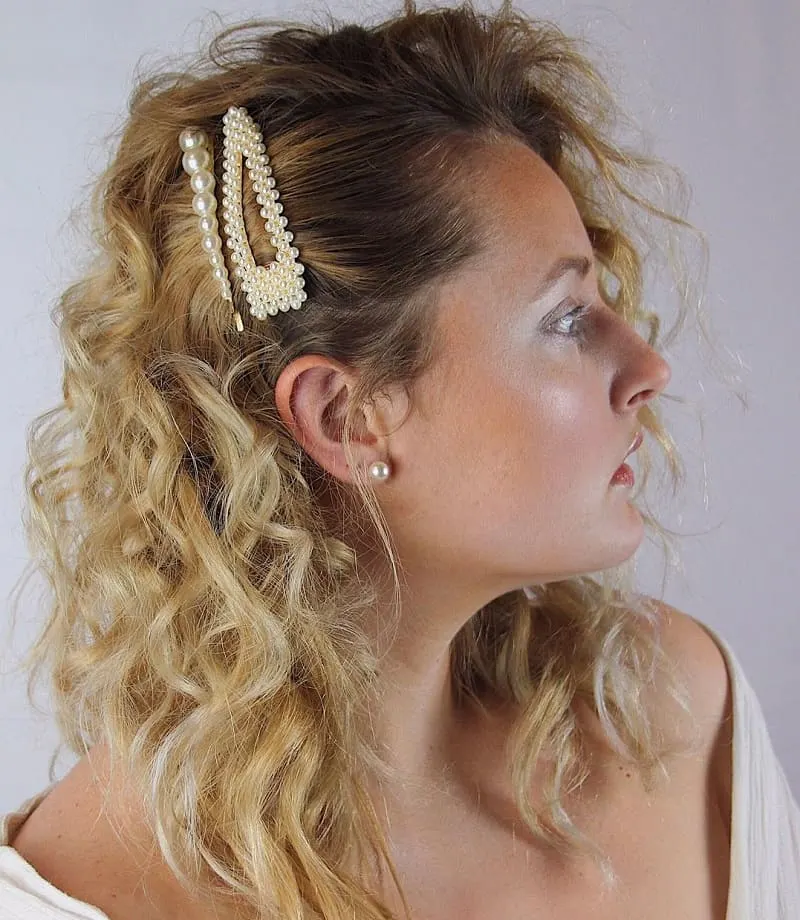 Rock your thick curly locks in a casual way by using some cute hair accessories. Create a subtle side part and add some adorable plus-sized hairpins on one side to complete your look.
10. Twisted Head Chain
This hairstyle is easy to go with if you have long wavy hair. Leave your strands loose by creating a center part. Twist sections of your hair at the front on both sides and wrap them around your head like a head chain. Lastly, secure with bobby pins.
11. Half Up Half Down Hairstyle
Create this messy sweet hairstyle by securing half of your hair in a high ponytail or a bun and leaving the remaining loose. Short bangs will accentuate this look. Although this hairstyle seems ideal for short hair it will go equally good with long hair.
12. Low Ponytails with a Hat
You can rock a hat casually with this hairstyle. Create a middle part and secure your hair into two low ponytails. Leave two long wavy strands at the front loose to frame your face. Add a hat and you are good to go.
13. Low Messy Bun
This one is suitable for short and medium hair. Gather hair at the nape of your neck and tie it into a ponytail using a scrunchie. Twist it around to make a messy bun. Leave some strands loose at the front.
14. Casual Twisted Braid Style
This is a chic yet casual hairstyle that will give you a dreamy look. Create twisted loose braids and wrap them around your head. Complete your style with a nice hair accessory and loose waves at the back.
You've probably seen top knots everywhere lately. They have become a major hairstyle trend, and we're here for it. The best thing about top knots is that they can adapt to both formal and informal occasions.
Not only can you rock them in a casual setting, but a more elegant one as well. For a casual half up half down hairstyle, use hair from the top of your head and let the remainder of your lovely locks to flow over your shoulders gently.
16. Rocking 70s Vibe
Channel the vibe that reminds of the 1970s with this sleek, yet casual hairdo. Take hair from the front and gently pin it in the back and let it over your back with the rest of the hair. The effect is even better if you have long Bardot bangs that you can part in the middle. Not only is this look easy to create, but look how practical and casual it is. Wonderful!
Buns are awesome. It takes a minute to make them, and they get the hair out of our way when we're out and about or when we're just relaxing in front of the TV. Instead of creating just one top bun, you can go a step further and make two. Look how cute it would look.
18. Hair Accessories to The Rescue
Don't shy away from using hair bands and other accessories to take your casual hairstyle to a whole new level. Make a big, voluminous bun that you'll decorate with an adorable hair accessory for a "wow" effect. How gorgeous!
Speaking of accessories, we must not forget about flowers. Yes, real flowers. While plastic flowers can be useful, the best effect is achieved when the flower is real as it gives a dose of nature to your hairstyle.
One of the most unique casual hairstyles for long hair is to create a long braid that you'll decorate with flowers. The impact is even stronger when hair is colored in an unusual shade such as purple.
Hair bands are practical as they allow you to keep hair out of the way, but are also stylish. Nowadays, you can get hair bands and scarves in all shapes, sizes, and featuring different patterns.
Get a few different hair bands that you can rotate for a whole new look every time. Simply put in your head, and that's it. This casual hairstyle for women works on both short and long hair.
A common belief is that updos should be sleek and elegant at all times, but it doesn't have to be like that. You can make your hairstyle more casual by tousling hair a little bit in order to create a messy and effortlessly chic & cute casual hairstyle.
When it comes to casual hairstyles, high ponytails are a go-to look for most girls and women. That's not so shocking if we bear in mind how easy it is to pull hair up in a high ponytail and get on with your day. Instead of a scrunchie or hair elastic bands, use your own hair for a unique look, just as it's demonstrated in the photo.
Did you know what besides hair accessories you can also use your own hair with the same purpose? Use a portion of your hair to create a braid that you'll gently secure to the opposite side of your head in order to make the braid appear as a hair band. To complete a look, you can also make a low side bun. Very pretty indeed!
Thick hair is gorgeous thanks to its volume, but it can give us a lot of trouble when it comes to styling and controlling it. One way to make it casual is to make a delicate braid that you'll attach diagonally to create almost like a hat-like as seen in the photo.
Nope, we are still not done with braids. Use their versatility to your advantage and create any style you want. One way to jump on the casual hairstyles bandwagon is to create double braids. Don't be alarmed by strands that "fall out" or get loose, leave them be. The combination of sexy yet messy look is out of this world.
Women with thin hair want more volume, and with this style, you can make it happen. Take a section of your hair from the front and gently tuck it in the back, as seen in the photo below, using bobby pins. Now only does this hairstyle look casual, but it will visually enhance the volume of your hair.
Here's a cute hairstyle you should try if your hair is long. Start by braid hair on the top of your head only. As you move to the crown, instead of continuing with a braid, finish it up and create a half ponytail. Let rest of your hair loose and free. This casual half up half down hairstyle has a lot going on, and it perfectly depicts your creativity and casual vibe.
Since braids allow you to style your hair any way you want, a practical thing to do is to create multiple tight braids that will merge in a low ponytail. Depending on the outfit, you can rock this style in both casual and those more formal situations.
For those days when you're not in the mood to do something wild with your hair, side braids can come handy. Just make a few of them, and you're ready to go. For an extra casual hairdo impact, tousle your hair using fingers for a messy look.
Make a braid on the top of your head and form it into a tiara, just as it's demonstrated above. It's also useful to color your hair in some wild shade.
Casual hairstyles listed in this post are absolutely amazing, don't you think? Not only is it easy to create them, but they also do a great job combining two worlds: chic elegance and casual vibe. Combine them with some casual outfit, and you are ready to go out and have fun.