Women these days are experimenting and creating a bold statement by sporting unique fade haircut for women. Not every woman out there wants long hair layered beautifully.
Many women prefer to carry their own style. Today's makeup and hair industry faces a revolution every other day, and the latest in trend is the fades for women.
How to Style Fade for Women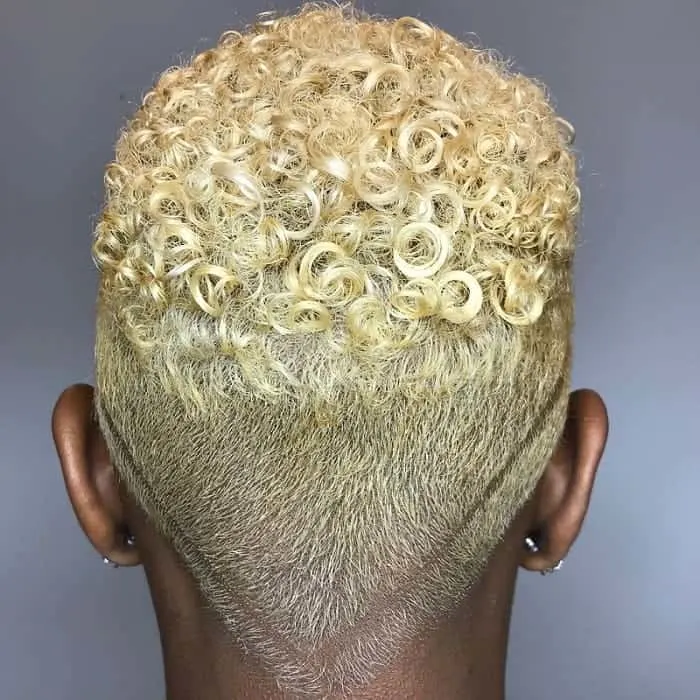 What exactly is a fade cut and how to style it? The main idea while styling a female fade haircut is to make the sides as well as the back of the head bald while keeping the hair on top styled. It is just an urban variation of a buzz cut for women.
To perfect a fade haircut for women, a razor is used for the sides as well as the back of the head. As we move towards the top, a tapered look is given. Thus, the hair becomes thicker towards the top, creating a perfect fade for women.
Watch The Following Video to Learn How to Style Short Natural Hair with Fade
Latest Fade Hairstyles for Women
The types of fades for women are plenty. Some are having long hair at the top while some are with top colored hair. Check out the best and most popular ones listed below!
1. Sassy Pompadour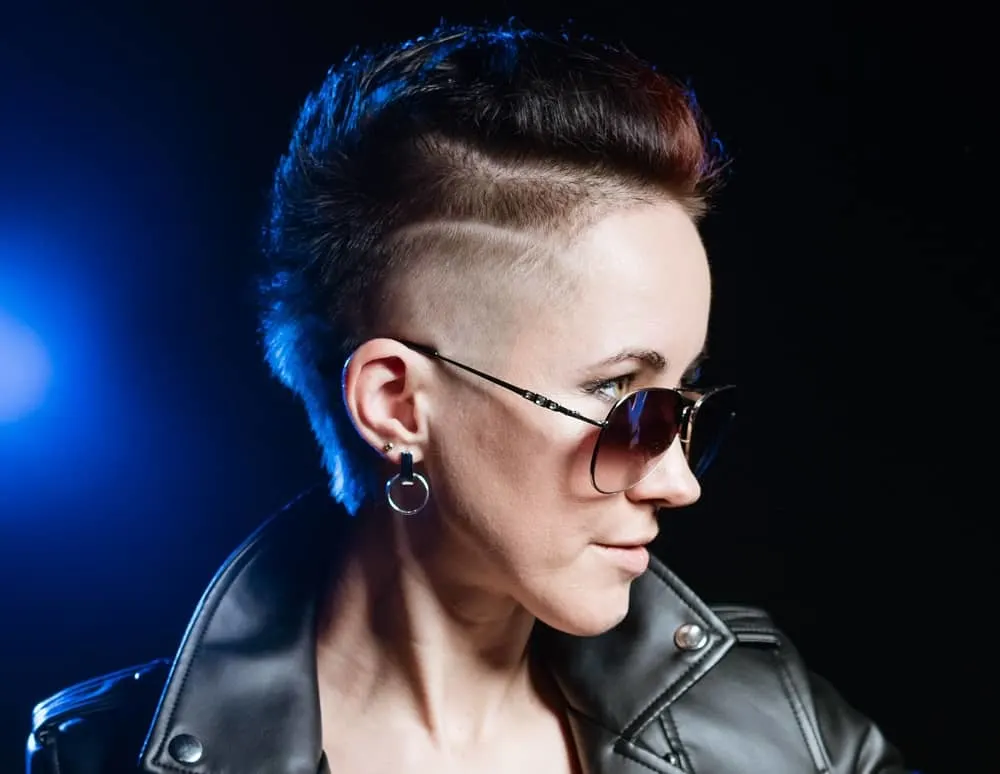 Make a bold move this year and opt for this sassy tomboy look. The faded sides keep attention on the top that is styled into a sleek pompadour. To further define the look get shaved slits on each side for a disconnected feel.
2. High Fade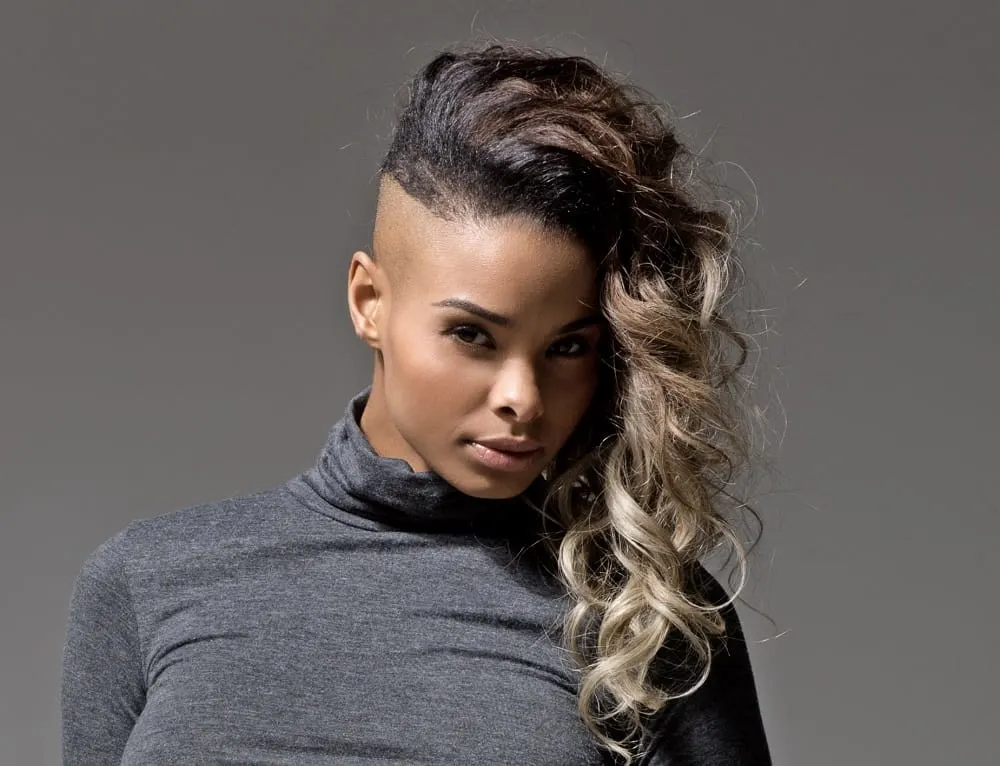 This fade haircut is not for the weak-hearted ladies. Change the look of your long curly strands by fading the sides to expose the skin. Dye the long dark-rooted top in a chocolate brown hue that merges into a blonde shade to create an ombre effect.
3. Spiky Fauxhawk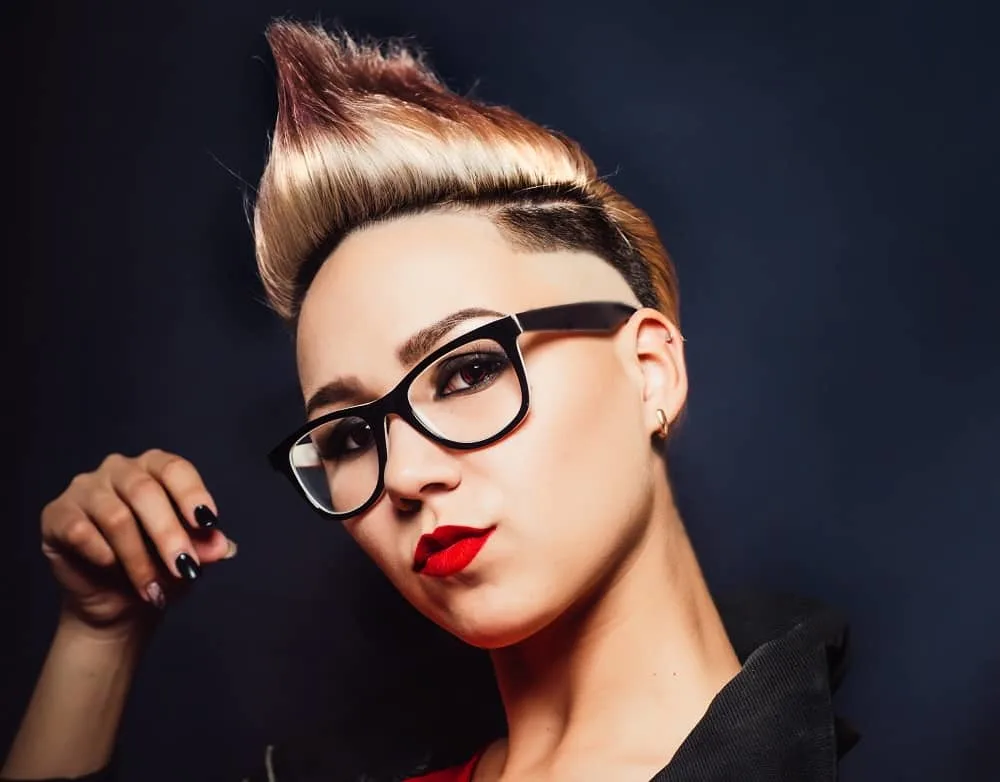 A fauxhawk looks the best with a bold fade. The temples are shaved down with a trimmed one-inch hair strip above. The longer top is dyed in a shiny blonde hue and spiked up using pomade to complete this look.
4. Zigzag Design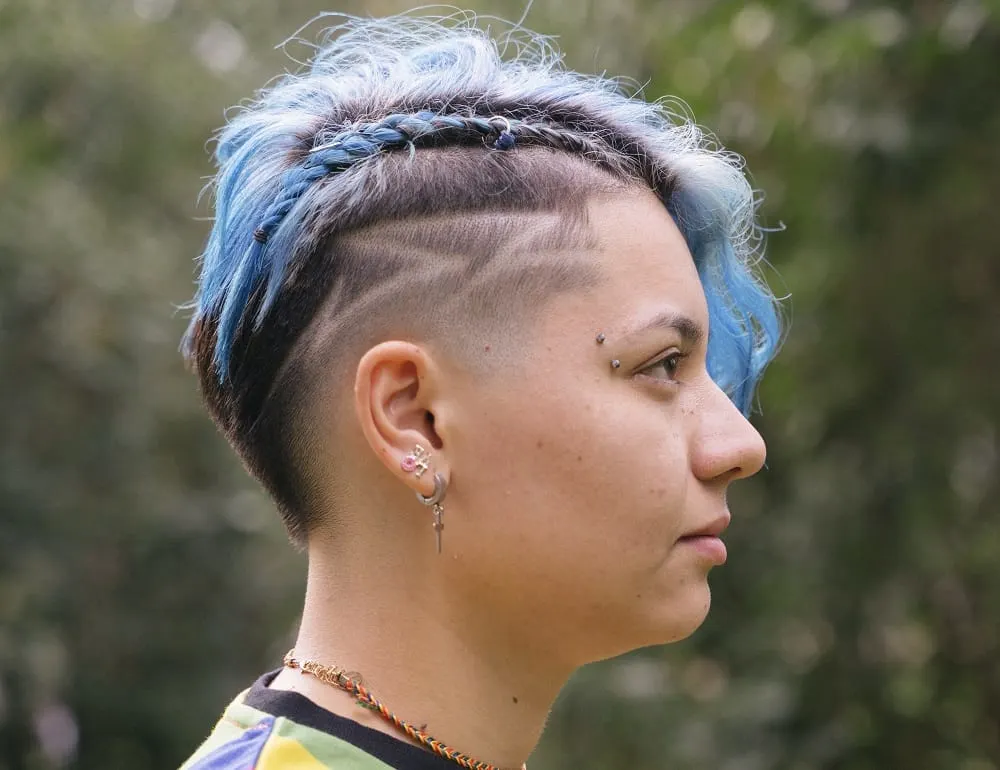 Create a punk look by getting a long fauxhawk haircut and dying it in an electric blue hue. Pair it with a high fade that has a zigzag design shaved into it. Don't forget to braid down the strands on one side of the long top.
5. Fiery Red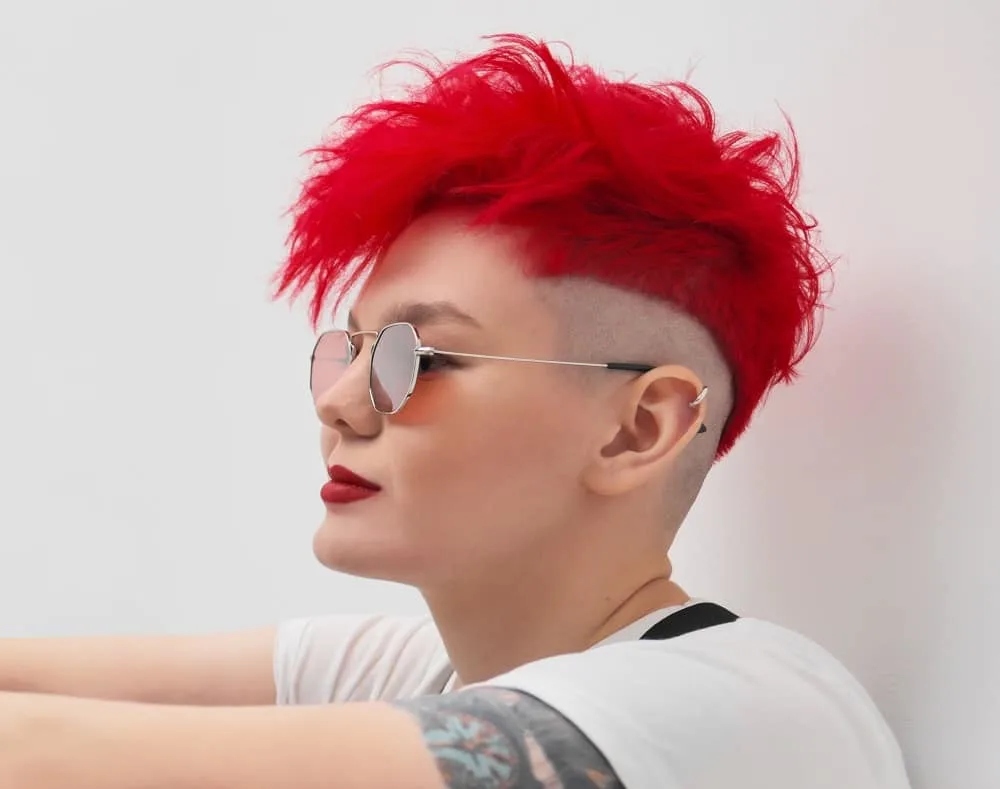 A fiery blood-red hair color like this will surely keep all the eyes on you. The faded sides are followed by a neat undercut that merges into the longer tousled red strands falling over the forehead. This women's fade haircut however requires regular visits to the salon.
6. Top Knot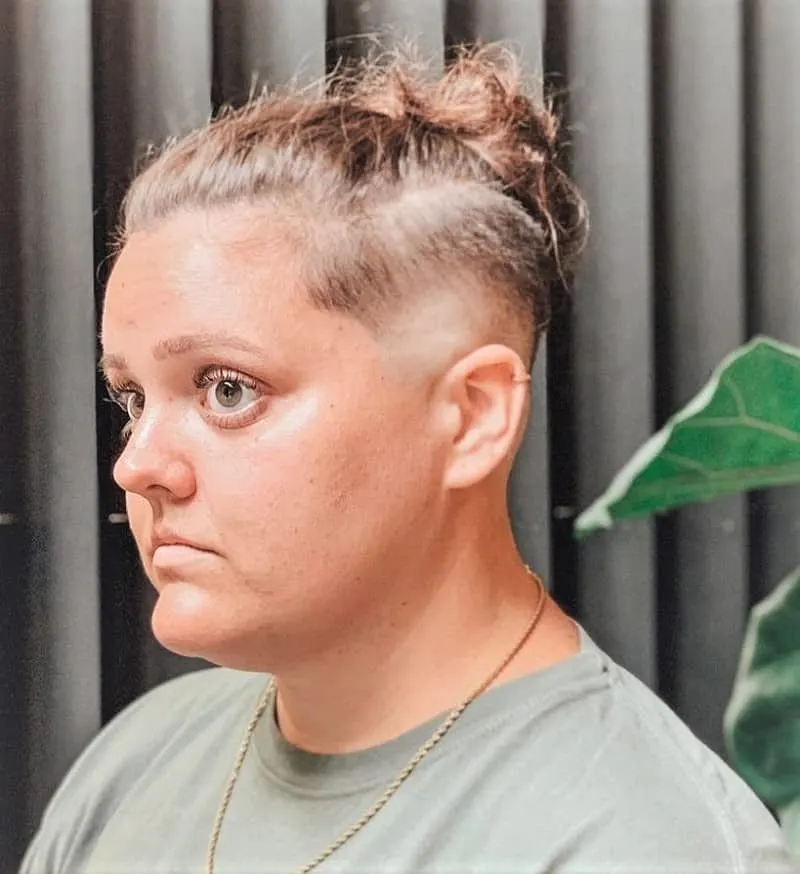 For a change, women can copy this bold fade hairstyle from men this year and flaunt a top knot with confidence. The sides are taper faded to contrast the longer top that is secured in a hair tie. This look is suitable for all hair textures.
7. Sleek Bowl Cut
Bring out the bad girl within you with this short haircut. Combine a sleek side-parted bowl cut with fade and dye it in a platinum blonde hue to contrast the darker strands beneath. Remember to wear some punk earrings to top off the look.
8. Cropped Top
This bold hairstyle is ideal for the laid-back women out there. The sides are faded neatly to accentuate the messy top with a blunt hairline. Hand-tousle the short top each time and you are ready to rock.
9. Braid with Fade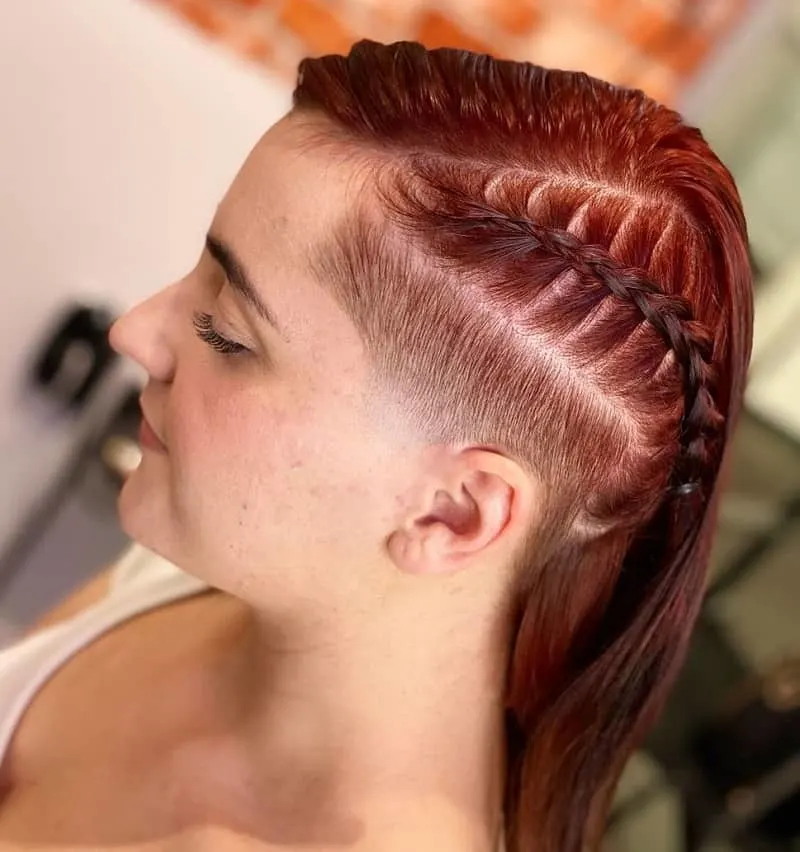 Flaunt your dark auburn red hair by getting a fade on one side. Step up the look by brushing the hair with a middle part and braiding down a section of strands above the fade. Secure the braid in a hair tie and the look is ready.
10. Short and Tousled
For the women who are not afraid to carry a boyish haircut, this is the look to go for. Chop down the hair into a short tousled top with faded sides that have shaved lines in between for a funky appeal.
11. Long Highlighted Waves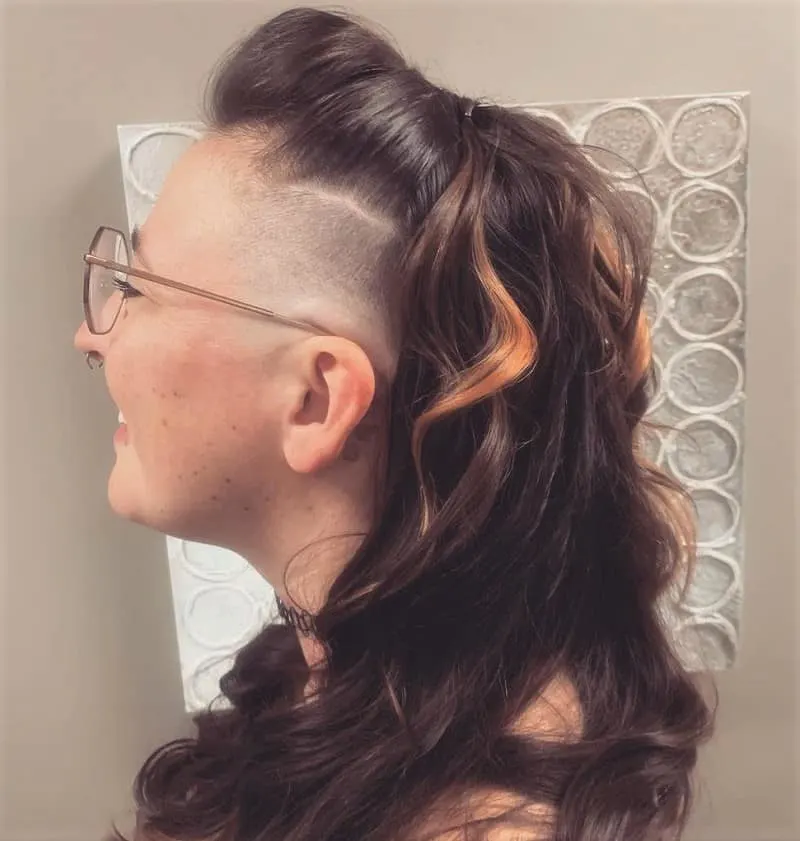 Have a look at another hairstyle that combines long wavy hair with an edgy fade to reveal the skin along the sides. The two chunky warm blonde highlighted strands contrast the remaining dark hair. Backcomb the top and pin it to create a puffy front.
12. Lavender Hair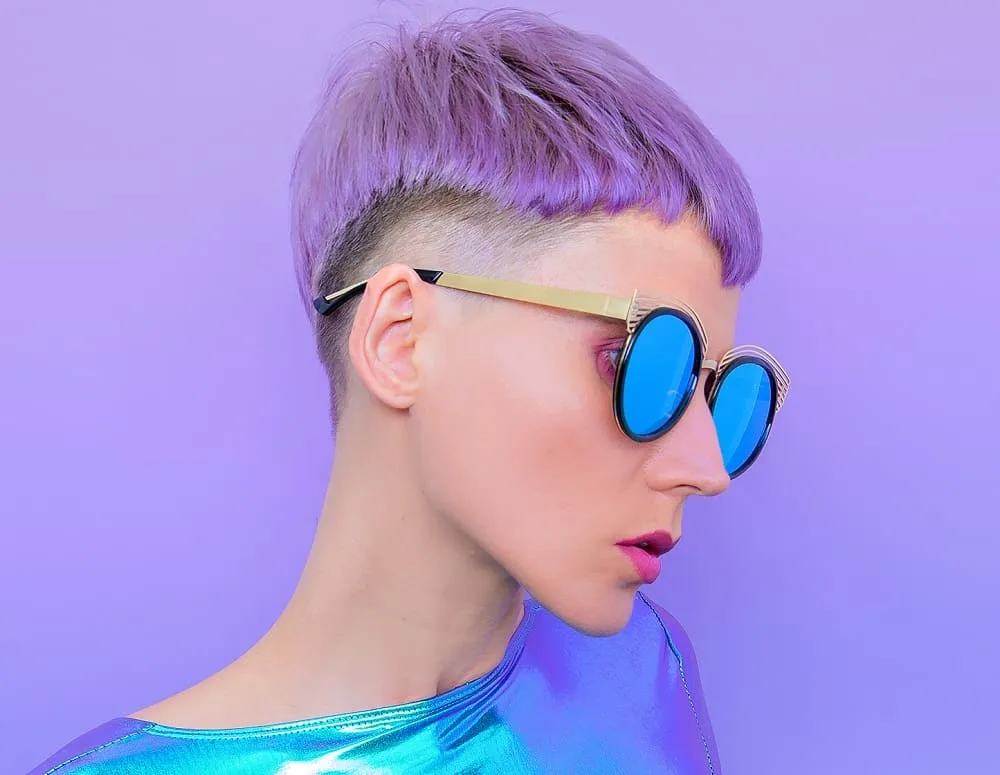 Rock this bright and glossy lavender hair shade with a short haircut. Brush the strands forward to create wispy short bangs at the front. Contrast the dyed top with a fade for a neat and clean look.
13. Wavy Side Lines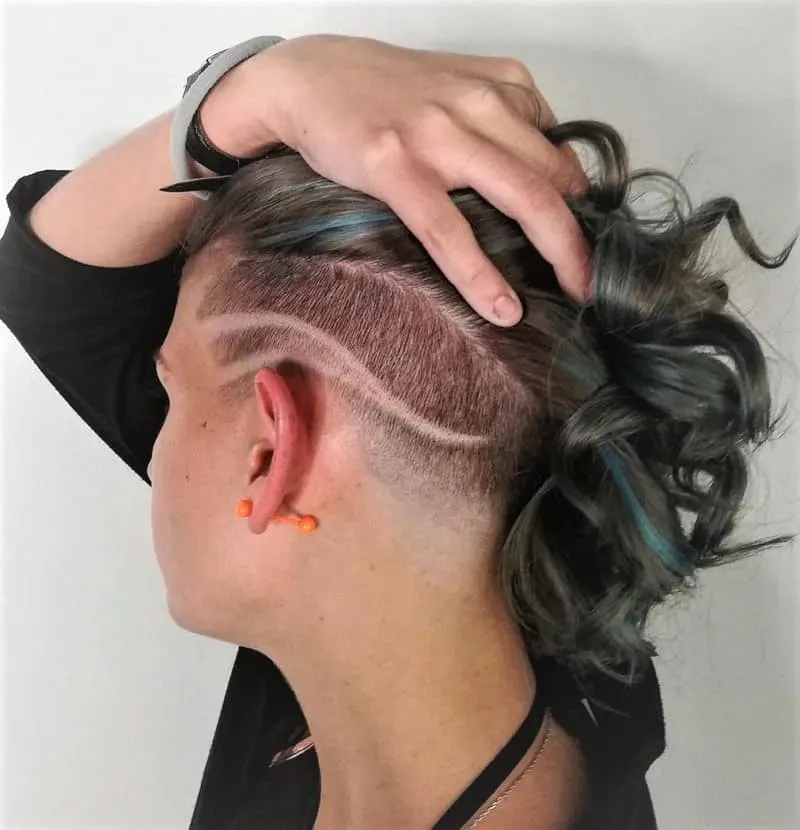 This fade hairstyle is here to be copied by all the fearless ladies this year. The faded sides have wavy lines shaved into them while the curly top is dyed in a steel grey hue with aqua blue highlights.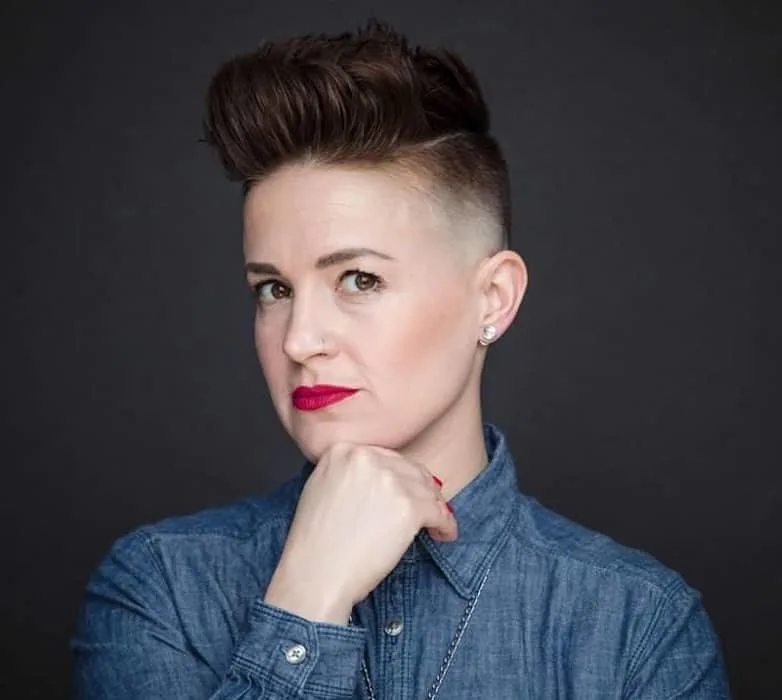 Who said faded hair looks are only for men? Women can carry a fade look with style too! If you have hair with a soft and fine texture, opt for this ultimate pompadour fade haircut for women.
Create a style statement with your hairstyle. Don't be afraid and wear the outfit of your choice. Walk with confidence in this super classy fade haircut!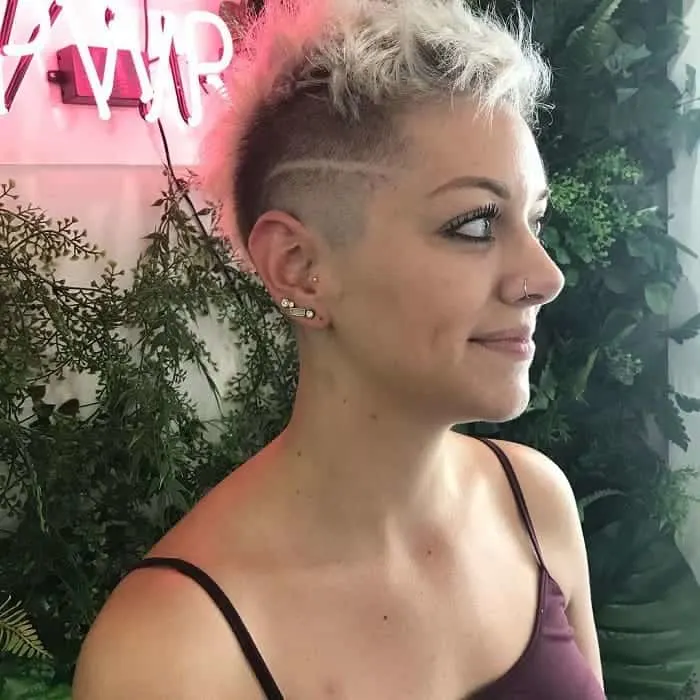 If you wish to portray the personality of a modest woman with a quirky twist, this short and messy fade cut is meant for you! Accessorize your ears with statement jewelry and carry the fades for women with grace. Let your face and haircut express who you are!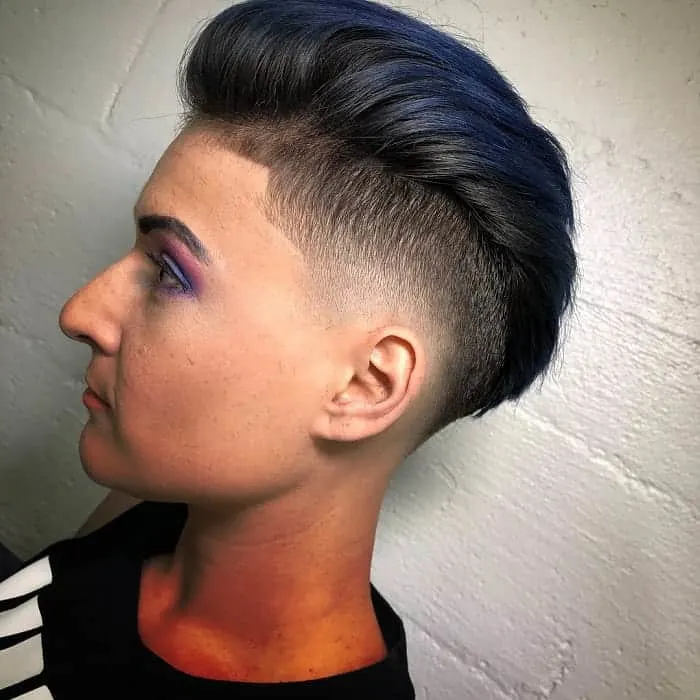 If you like it dark and bold, go for this women's fade haircut with the top hair long and swept back. The swept back style makes the side fade as well as the forehead more defined.
Color the tips of the top hair with midnight blue hair dye to get a unique and rich look. Let style accompany you wherever you go.
17. Buzz Cut with Fade
Stand out amongst the crowd with this bold black women's fade haircut. In this cut, the sides and back are a complete fade, and the top has short permed hair. The distinct shave line in the front just adds a bolder statement look to it.
18. Forest Light Brown Top with Fade
For those of you with a good hair density but not-so-smooth hair texture, this fade for women is the best haircut! The sides and back are completely shaved off while the top has hair having good density. The light brown shade of the hair just makes it more fashionable!
Express your independence and freedom with your hair looks! Try out this rich and subtle looking fades for women. Its feel and appearance talks of independence and elegance. Undoubtedly, this one is the most graceful fade for women listed here!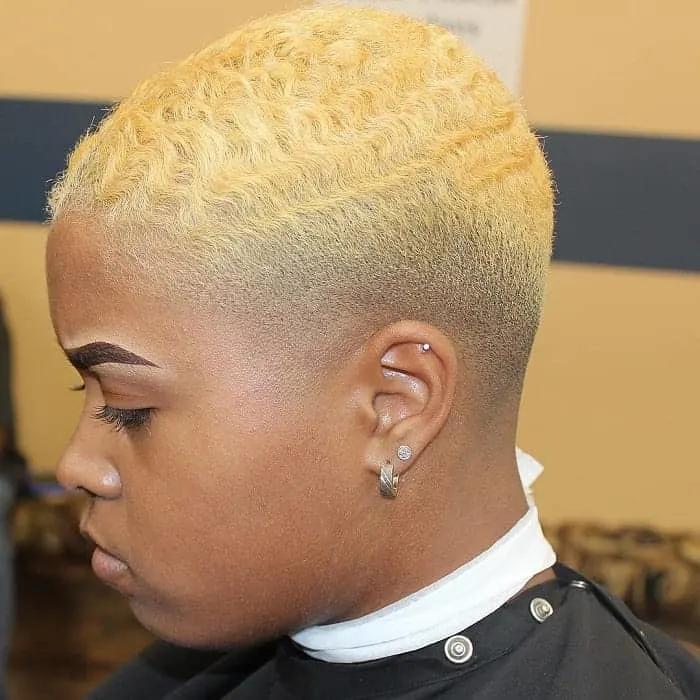 Not all of us have hair that is thick and straight! If you have natural waves in your hair and wish to get a fade haircut for black women, try this short thick wavy hair look!
The blonde shade of the hair makes the waves more prominent, making it an even more unique fade hairstyle for women!
Bring out the cheerful side of yourself with this elegant black women's faded style. The fade in this cut is gradual and not completely bald.
The gradual increase in hair thickness towards the top looks very elegant. All you need is a good hair spray to complete the hair look and make it shinier.
22. Dare to Chop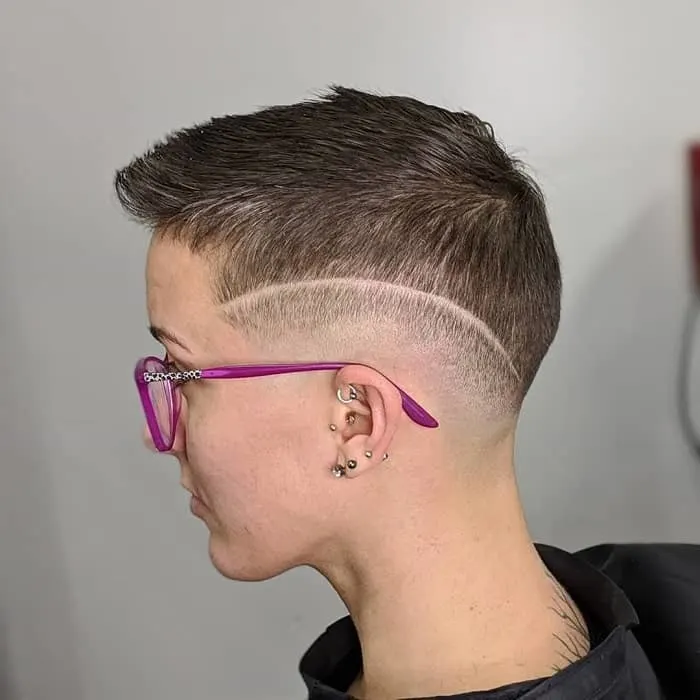 Do you want a rebellious haircut, that'd suit your personality? This female fade haircut does the job for you. It screams "I'm a rebel." The crop is very short, which is a bold decision and the sharp hair design on the sides, convey a daring message.
With junky jewelry and tacky accessories, the look you want can be achieved. Keep the makeup minimal; let the haircut do the talking.
23. Fade for The Afro Curls
This comes under the royal catalog of fades for women. This haircut will mostly suit dark-skinned women; due to their hair texture and features. This is a full taper fade haircut, with an artistic touch to it.
The very short curly hair texture, makes the top part look extravagant. The exquisite fade on the side, are like the cherry on top. The faded hairstyle for black women in itself is dressy and chic. It can be personalized with some stud earrings and heavy neck pieces.
This is a low fade haircut for women, who want things to be simple and subtle. this is a simple haircut for those who opt for short hair because long hair is too much to maintain.
It's an easy, happy-go-lucky haircut which can be pulled off without any efforts. No fancy hairstylist is required, due to its simplicity. Overall, it's a chic and cute updo.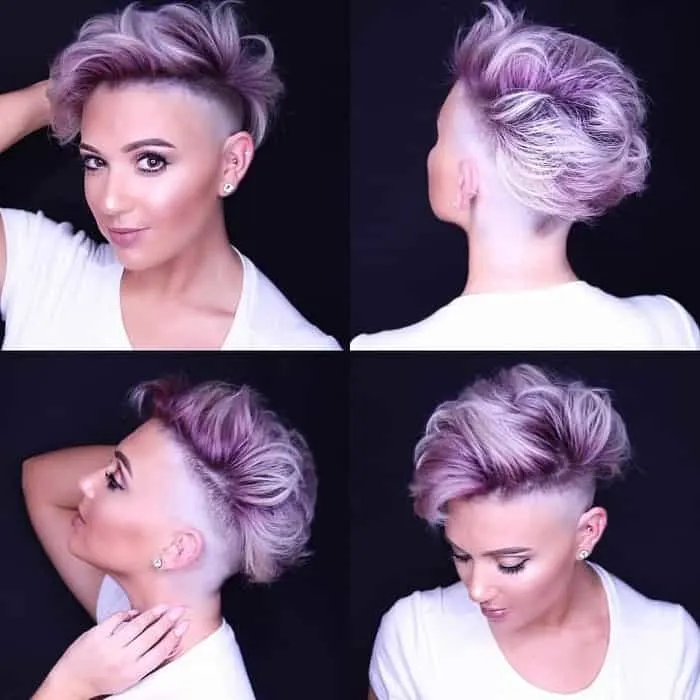 This fade haircut for women is unconventional. Unleash the punk in you and get this punk haircut. The sides are shaved off, and the top is untouched. You could have fun with some colors to make the hairdo look chic and classy. This look is definitely edgy and will make heads turn.
FAQs on Female Fade Haircuts
Which type of fades suits women best?
There are multiple face types and hair textures. Thus, there isn't just one type of fade haircut that'd look good on all. The mid tapered fades suit the majority of women.
Undercut or Fade, which style is bolder for women?
Undercut for women, I definitely bolder. Undercut includes sharp features, whereas fades are comparatively subtler.
How long will it take for a woman to grow out fade?
Depending on average hair growth, it takes about seven to ten weeks.
Fades for women is a comparatively newer trend in the fashion industry. It's a bold and daring look that not everyone can pull off.
Since it's quite unconventional for a woman to get an undercut or a fade cut; in most situations, there are head turns. Do you want to make a statement? Are you a daredevil? Pick a look and up your cool quotient!