Beards are excellent tools for framing the structure of your face. However, the beard style that works best for one man will not have the same results for the next man. Some have been designed for round faces, oblong faces, or oval faces.
Beards make a statement about who you are, and they can make a man look rugged, sophisticated, or anywhere in between. So, when picking the perfect beard style, you want to work with the shape of your face to accentuate your best features.
Don't panic, though! There is a trend-setting beard style out there for everyone and we intend to prove it!
What Is a Round Face Shape?
A round face shape is a full, curved face with a wide hairline. Many people confuse round face shapes with oval face shapes, but they are different.
Both oval and round faces tend to have wide hairlines, but oval faces are narrower in the middle and generally longer. Round faces appear softer without any facial hair.
Generally, the way to best wear a beard with a round face is to choose styles that add length and depth to your features.
Beard Grooming Tips for Round Face
When you are considering beard styles for your round face shape, the most important consideration is highlighting hazy features.
Normally you will have a wide jawline, wide cheekbones, and a rather short chin. So, any type of beard that can help create the illusion of a longer and angular jawline is what you need.
To groom and style a beard with a round face, consider the following:
Keep your cheekbones clean to bring attention to the cheekbones and add length to the face.

Any beard should be below the cheekbones or, if they are on the cheekbones, should come down at an angle towards the chin.

Longer beards add length to a round face.

Angled beards that make a soft "V" shape bring attention to the jawline while adding length to the face.

If your chosen beard style allows sideburns, longer and thinner sideburns can help add length to your face.
You should also follow these tips for any face shape:
Keep your beard clean and soft. You should brush your beard frequently and apply beard oil when necessary.

Trim your beard every few weeks or as necessary to maintain the original shape.
Ideal Beard Styles for Round Faces
The first step is to determine your face shape. If you are unsure your barber will be able to help you. Longer faces tend to fall into the rectangular, oblong or oval category while smaller face shapes include the round, the heart-shaped, square and the triangle.
There are ways in which you can work out your face shape for yourself but let's focus on those with a round one first. Here is a quick look at some of the best beard styles that men with round faces can rock.
This is one of the most common styles for the round face. Though growing the beard may need patience and time, the look invariably is worth all the wait and care.
2. Pointed Beard + Sideburns
When you are looking for the right beard, it is all about bringing a pointy edge to your rounder chin. The beard here is effortlessly flowing into the sideburns creating an illusion of a full beard.
This is a decidedly a beard for round faces that is both functional and cool too. It is also a relatively easy maintenance beard style that can easily be taken care of.
4. Salt and Pepper
This salt and pepper one of the most striking examples of a professional beard. If you have a round face and keen on a full beard, this is one style that can always do justice to your face.
The goatee is undeniably one of the most conventional beard styles. It is uncomplicated, stylish, chic and will look great on the round face.
The best part about this beard is the illusion of the angular cheek that it creates. It sets out to make your round face look rugged and masculine.
This is a facial hair option that will make each one of you feel that you are Leonardo Di Caprio. It is casual, cool, chic and absolutely rugged in appeal.
French beard goes well with any face shape irrespective of the beard color or the skin tone. This is about looking effortlessly handsome.
8. Patchy Beard + Disconnected Mustache
You may have heard the saying that if life gives you a lemon, make a lemonade. Well, this is exactly a manifestation of that. This completely celebrates the patchy beard style to the hilt in a most becoming way.
This wavy medium length beard is all about making a conventional style stand out. Especially when you are looking one for your round face, this seeks to offer an uncomplicated option.
You may not be Hulk Hogan but can surely rock the horseshoe if you have a round face and looking for appropriate beard styles.
11. Curly Buzz Beard
If you have curly and bushy facial hair, the curly buzz beard is one of the best beard styles that can help you showcase your facial hair's natural texture.
Basically, you just need to let your beard and soul patch grow out, so it can conceal your jawline (or the lack of it). For a more angular shape, try shaving your mustache and the beard in your cheek area.
12. Goatee with Moustache and Soul patch
The goatee is one of the best beard styles for round faces because it accentuates your chin, making your face look less round.
For a more rugged look, keep your goatee a bit scruffy and undefined. Balance it off with a subtle soul patch for a more polished touch.
13. Long Full Beard
Do you want a beard style that can conceal your double chin? A long full beard will certainly do the trick.
Pro Tip: Just make sure that the full beard is perfectly shaped and structured to achieve that slimming look.
14. Long and Bushy Hipster Beard
If you want your beard to give you a more youthful appearance, nothing beats the hipster beard. A long hipster beard is just what you need to create the illusion of length and a slimmer face.
Pair it with an equally bushy mustache so you can maintain that air of authority with a playful touch.
15. Garibaldi
Another amazing long beard style for a round face would be Garibaldi. What makes this beard unique is it has an angular shape with a wider and rounder bottom part that is pointing upwards.
This is perfect for round faces because its angular shape emphasizes the cheeks while the bottom part creates a face that looks slimmer and longer.
16. Long Ducktail
With its pointy bottom, the ducktail can help elongate your face. The longer the ducktail, the greater its lenthenting effect is.
As compared to a full beard, the cheek area of the ducktail beard is trimmed down a bit so it also creates the illusion of a slimmer face.
17. Disconnected Goatee + Soul Patch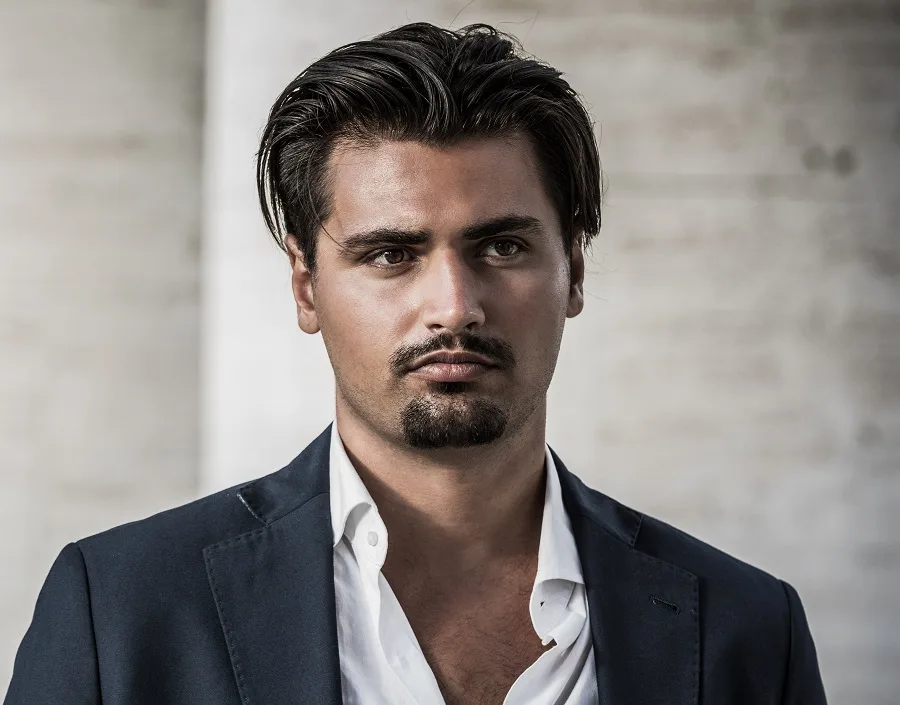 Surprise: a goatee is so versatile so you can style it in any way you want!
For an unusual yet classy look, go for a disconnected goatee. It retains the slimming effects of the traditional goatee but has a bolder and edgier look.
18. Braided Beard
Are you looking for ways how to care for and style your long beard? Try braiding it! A braided beard is definitely a welcome change to your everyday beard style.
Fun Tip: Create three braided strands for a fun and unique look.
19. Beard Dreads
Are you tired of your dull and boring beard? Give it a dramatic flair by creating a beard dread.
You can make this by ratting the beard into tight tangles and then rolling it into shape. FYI, achieving the beard dread is only possible if your bread is around 6 inches long.
20. Long Square Beard + Hipster Moustache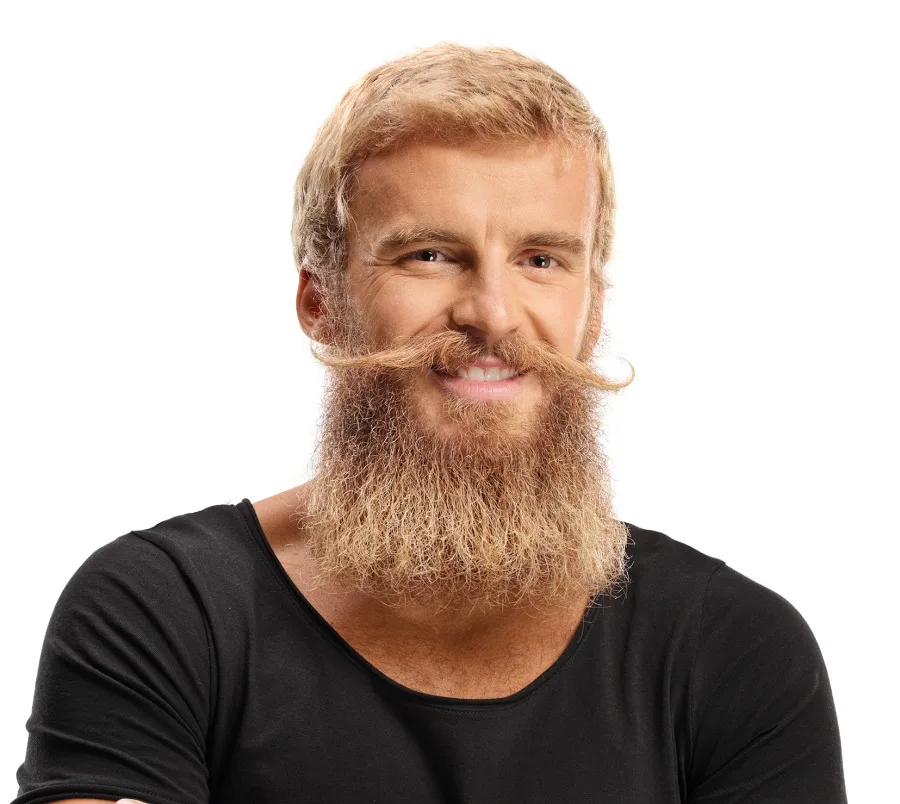 Give your round face a more angular shape by wearing a structured square-shaped beard. The crisp clean lines of this beard shape are quite enchanting and will give the illusion of striking angles, making your face look less rounder.
The hipster mustache adds a playful touch to this serious-looking beard shape.
21. Medium-length Van Dyke
The Van Dyke beard is one of the most elegant beard styles for round faces. The beard's V shape creates a slimmer face and gives it a more masculine touch and an authoritative tone.
Pro Tip: a narrower and longer Van Dyke beard suits round faces the best.
22. Light Stubble
This ginger colored stubble does brilliant stuff to your face. It highlights your soft yet rugged appeal and makes sure that you will always stand out in a crow when coupled with the soft wavy brown hair.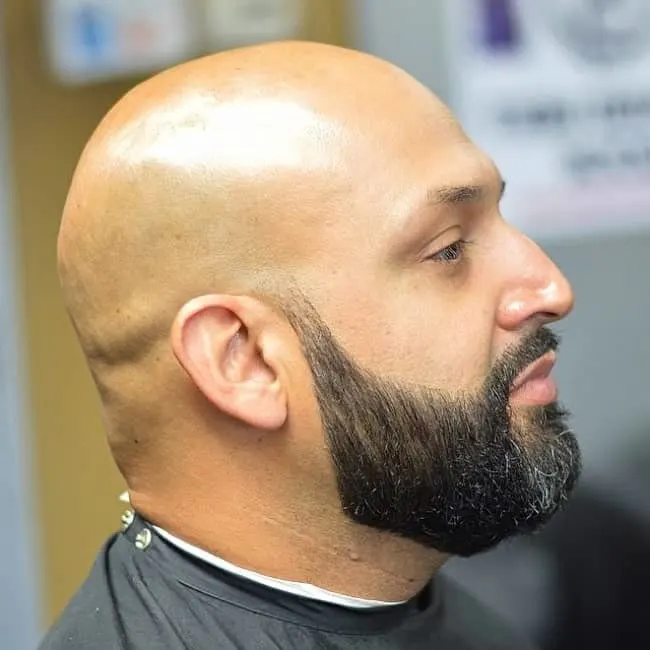 The natural full beard is trimmed with a precision of a pencil beard. The lines are well demarcated and this beard does justice to the round face and short chin. It is a straightforward, conventional option, which is always a hit.
These thick beard styles never go out of fashion especially if you have a round face shape. This is a brilliant manifestation of the same.
If you like to wear your beard long and wondering about styles for round face men, this is a great bet to go ahead with.
If you are looking at beard options for round face, this tight well-trimmed beard will stand out both for the sophisticated appeal as well the convenience of maintenance.
Some Related Articles
If you thought stubbles are for lazy Sundays, then think again after seeing this classic cool avatar.
Somewhere in between the Fun Manchu and the horseshoe, this mustache style with the soul patch is all about reiterating the conventional styles with a punch.
A traditional circle beard with a stylish and petite handlebar mustache is all you need to make a statement with your round face. The sideburns add to the whole impact.
30. Anchor Beard
This is another classic beard style for round faces that never fail to make an impression.
This beard style is one of the best bets for men with round face shapes. It makes your face look oblong, angular and rather masculine. The hint of a soul patch further adds on to the overall look.
The stubble here serves a double purpose. Apart from highlighting the rugged masculine energy, it also does a brilliant job in camouflaging the very obvious double chin.
33. Crusader Cool Beard
This is a suave, sophisticated and terribly urbane ginger beard for the super stylish men who are conscious about looking good and making an impression. The beard perfectly complements the brown hair.
This is one of the most recent adaptations of the inverted beard style. It is cool, confident and distinctly unique.
This beard style for round faces got its name from the fictitious character with the name Klingon. But maintaining this specific hair cut can be rather difficult.
If you are looking for the most appropriate beard styles that will suit your face shape and shaved head, this is undeniably a classic. This pointed beard style in the boxed design highlights the best assets in your face.
Some of Our Mustache Articles You Might Want to Read
This is a kind of beard style where the entire jawline along the chin is covered but the beard is not bushy. It is relatively patchy and the thin mustache line adds to the look.
38. Clean Shaven
When you are looking for a possible beard for round faces, this is yet another option. Especially, for many who may not be confident about a patchy and disconnected beard growth, this clean-shaven beard may offer the simplest solution. It also looks appropriate.
One of the most important aspects of round face shape is that you need to style your beard in a way that shifts the focus to the chin.
This stubble gives the impression of an angular chin. The thin mustache stubble along with a hint of soul patch adds to the entire effect.
40. Goatee + Disconnected Mustache
In this beard style, natural beard growth is celebrated. It is patchy, disconnected but looks stylish. The mustache accompanying the style also complements the look.
There is no forced twirling or turning of mustache and just follows the natural mustache line.
In this style, the beard has been allowed to grow close to a year. But the interesting aspect is that it is bushy from the chin downwards.
The relative hair growth is much lesser on the jawline. This, therefore, complements round face shape despite the beard style being heavy growth one.
What Beard Styles To Avoid for Round Face?
When it comes to round faces, there are several styles that you should avoid. Some of the worst beard styles for round faces include:
Short beards – These are bad for round faces because they emphasize the lack of length to the face and make it seem smaller.
Curved lines and "C" shapes – These lines can make your face seem wider, which in turn makes your face look too short.
Stubble – A shadow of a beard buries the cheekbones and jawline without accentuating them and can make you appear heavier than you otherwise would.
Thick hair on the sides and cheeks and short hair on the chin. A full beard can be a great look on a man with a round face, but if your beard brings more attention to the cheeks and less attention to the chin, your face will seem even wider.
Mutton Chops – Mutton chops hide the cheekbones of a man with a round face and add extra width.
FAQs
Do beards suit on a round face?
This is one of the most frequently asked concerns. It is a myth that a beard does not suit the round face. The trick is to go for the right style. All you need is the right perspective on choosing the right type of beard.

This is what will ensure that you are able to style your beard in a way that complements your features in an appropriate way.

More than the shape of your face, it is important to determine the style of your beard that goes with your beard.
Does beard give a thinner look to the round face?
If you are able to choose the right beard style, you can always make your chin look angular and slimmer.

In fact, when you have a rounder face shape, it means that you have a wide jawline. The idea should be to cover the jawline and shift focus to the chin.

This will go a long way in creating a thinner and angular perception of the face. But in case you go for the very thick or full covered beard, it will do the reverse and make your face look heavy.
Will beard hide the double chin?
When you have a round face, you will let your hair grow longer as you move toward the chin. This will cover the upper neck area if you let it grow adequately long.

That will, of course, hide a considerable amount of the skin underneath. Indirectly this will then go a long way in hiding the double chin if it is not particularly pronounced.

However, if your double chin is quite prominent and large, the beard may not be able to cover it adequately. It may stand out despite the beard if your facial hair is patchy and short.
How to trim beard for a round face?
You must have a clear idea about which aspect of the face you want to camouflage with the beard and what part you want to showcase.

This will also impact the shape of the beard eventually. Therefore trimming the beard needs technique and precision.

It should be done in a way that highlights your best features and does not unnecessarily put the focus on areas that you wish to keep away from the limelight. All in all, the style also needs to properly compliment your facial shape and overall look.
Beard styles for men have to be a unique combination of the latest trend, the best styles and the most appropriate options in sync with the facial shape.
Those with round faces who are keen about wearing a beard must also pay attention to how they can make this one of the best assets of their personality.
If all of this seems to be confusing, simply refer to this easy guide on the best beard options for round faces. We promise you the trendiest styles, best tips and the most comprehensive collection of options at the click of a mouse.