It isn't uncommon to see Hollywood celebrities grow a beard as soon as they are over the age of 50. In fact, they like to grow beards that become a part of their unique identity.
From plain old French beards to Balbo and anchor beards, they like to test it all, creating a huge selection of beards for you to choose from.
So, here's a list of 15 bearded celebrities over 50 that could be the inspiration for your next beard style.
Famous Bearded Celebrities Over 50
Ever notice how some celebrities seem to defy age? A big part of that magic is a well-groomed beard. Male celebs over 50 know that a stylish beard isn't just for young guys—it's a timeless way to add a dash of panache to your look.
So, if you're thinking beards are just a young man's game, think again. Let's take a look at some famous celebrities who are rocking their beards over 50.
1. Brad Pitt
Brad Pitt has to keep evolving because he's considered one of the most attractive men on earth. This recent style is minimalistic, with a goatee and mustache created out of stubble. The spiky haircut is probably his way of not looking too old.
2. Brad Paisley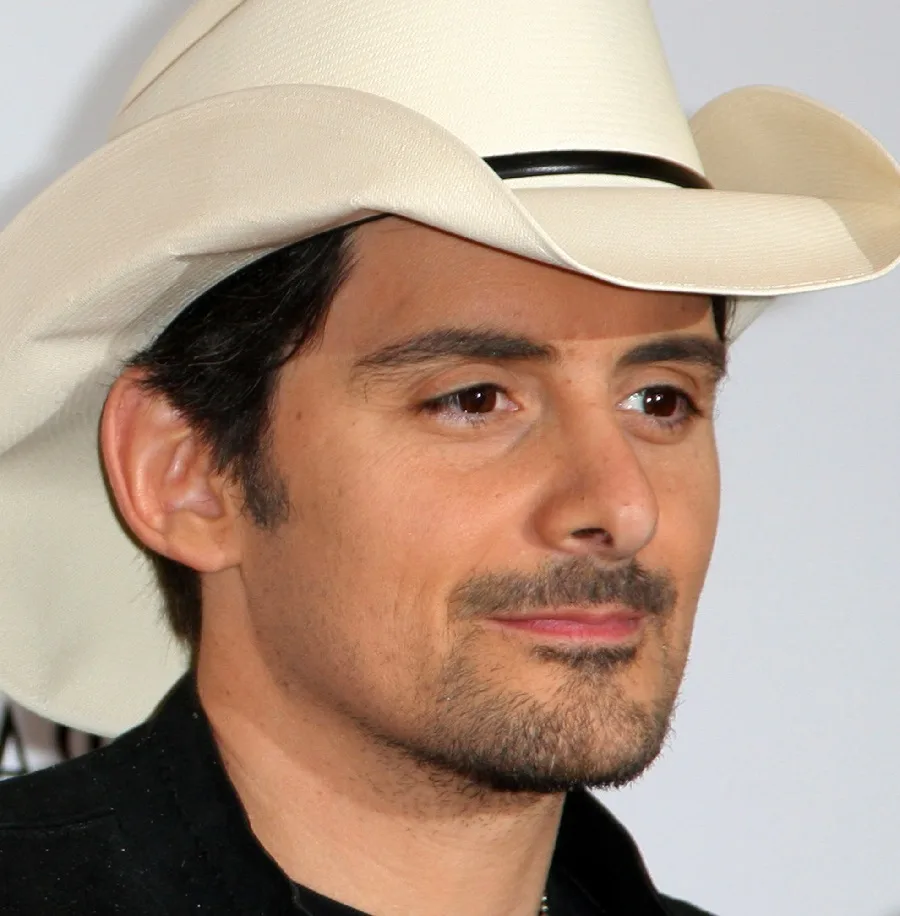 The famous country music singer has recently turned 50, but his beard is that of a teenager, with slight stubble on and around the chin. The same stubble makes up his mustache and extends down onto his neck.
3. Ben Affleck
Ben Affleck chooses not only his roles in movies but also his beards very wisely. He has a slightly longer face, so he's one of the bearded celebrities who have a short yet full beard. The hint of salt and pepper is very subtle in his beard.
4. Brian Posehn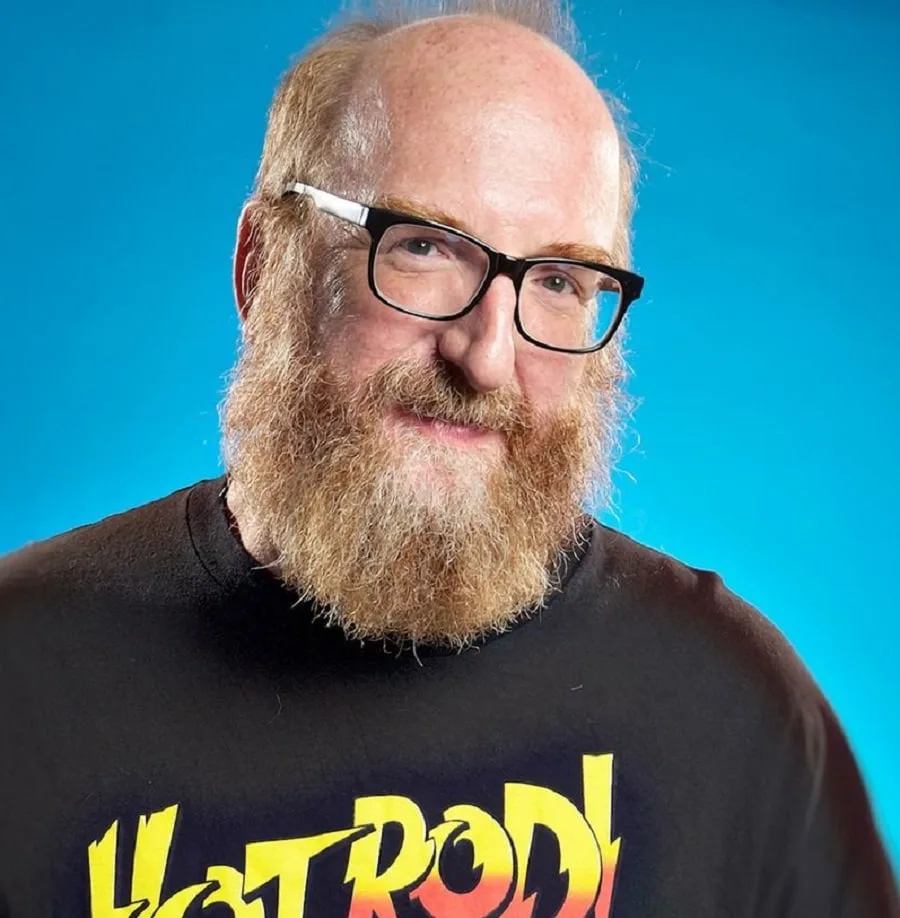 Brian is the epitome of multi-talented, as he's not only an actor but also a musician and comedian. If you're a bearded guy with a round face who wears glasses, try this look. He grows a full and bushy beard that's a combo of grey and red hair. Can we call it salt and red chilli?
5. Common
He's won a Golden Globe, an Academy Award, and several Grammys. His curly and thick Garibaldi beard contrasts with his bald head. The inner and outer edges of his Garibaldi are nearly trimmed and so is his mustache.
6. Dwayne Johnson
Dwayne "The Rock" Johnson is the embodiment of charisma, and his changing beard styles are a part of this show.
The tall and muscular wrestler-turned-actor is above 50 now and so his beard is predominantly grey or silver. It's a medium stubble beard he's rocking (pun intended) here.
7. Eric Dane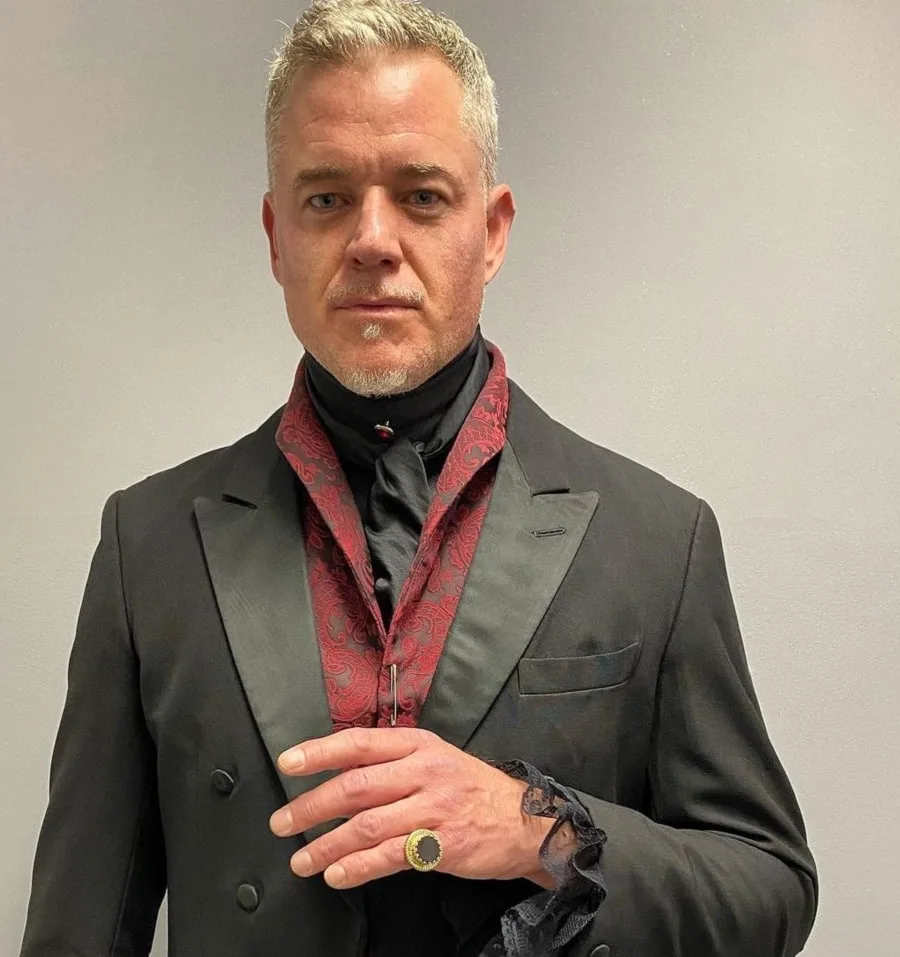 Dane remains great on TV as well as in films, and his stylistic choices are on another level. Count him among the bearded celebrities who think less is more. He has a petite goatee and a soul patch. As for the mustache, he's picked a pencil-thin style.
8. George Clooney
Yet another star whose charisma remains unmatched. George Clooney's predominantly silver beard has dark inner edges. The full beard really suits him, but he makes things even better with a beautiful side-swept haircut.
9. Hugh Jackman
He has a natural Wolverine look with a beard that seems a little untamed on the cheeks. The grey hairs have started to peek through around his chin. He rocks a rugged look with an untamed beard that extends down his throat.
10. Idris Elba
Idris has a shaved head, which doesn't have a lot going on, but his connected goatee and mustache definitely grab attention.
The goatee has some salt and pepper effect, while the branches connecting the beard and mustache have been trimmed to be very thin for a clean look.
11. Jared Leto
The method actor really proved his skills in Dallas Buyers Club, and his beard is something to talk about. The long, untamed, and curly beard combined with long hair is a look many crave and he sports it with a thick mustache that covers his upper lip.
12. Johnny Depp
Who doesn't know Johnny Depp and his beards that have evolved with time? Johnny is 60 years old now, but his beard remains patchy.
Despite that, he remains among the bearded celebrities with his short goatee and a pyramidal mustache.
13. Keanu Reeves
The "sweetest" Hollywood actor is the biggest badass, known as John Wick. Keanu grows a short patchy beard with an obvious salt and pepper in certain spots.
His beard is slightly patchy near the corners of his mouth. The mid-parted long curtains really put up a show with that beard.
14. Matthew McConaughey
Matthew, the Interstellar protagonist, is usually either clean-shaven or has short stubble. The stubble here is hardly noticeable on his face but it does create a clear goatee outline around his chin.
15. Robert Downey Jr.
He's among the most celebrated bearded celebrities, with anchor and Klingon beards being two of his most well-known beard styles.
Over time, his beard has started showing signs of old age, and you can clearly see grey hair throughout his beard now. He's gone with a Klingon beard and pencil mustache created with the help of mostly grey stubble.
The beard you grow could be a sign of your affection or infatuation with a particular celebrity, and may even make you look like them. But there's nothing wrong with looking like a celebrity you like, especially if they morally inspire you.
So, pick your favorite from this list of 15 bearded celebrities over 50 or go after one that might not be on the list.