Tony Stark beard styles are one of the most versatile and admiring ones because of their masculine look. Robert Downey Jr. who is also known as an Ironman has given guys the major beard goals.
Despite his superb acting skills, his hairstyles along with his versatile beards have given him the opportunity to become the style icon of the young generation as well as mature men. He carried a lot of different beard styles in movies as well as in his real life like a boss.
His fashion sense surely deserves a big round of applause. Whether it is a reel scene or real award ceremonies, the iron man has never failed to stimulate his fans and audience through his masculine attire. If you are the biggest fan of tony stark, try his most promising beard styles that we are going to explore here below for inspiration.
Evolution of Tony Stark's Beard Over The Years
Tony Stark starts with a classic goatee during his early Iron Man days.
Stark transitions to a more pronounced, angular beard as he joins the Avengers.
The angular beard evolves into the "Iron Man" beard with sharp edges and defined lines.
Stark adopts a fuller, more rugged beard during his time on the run in "Infinity War."
The rugged beard is maintained but with a slightly cleaner look in "Endgame."
Stark briefly sports a clean-shaven look when using the time-travel suit.
The clean-shaven style transforms into a well-groomed, fuller beard as Stark returns to the present.
Tony Stark's beard style matures, with added length and a more distinguished appearance.
Stark experiments with a trimmed, but still full, beard towards the end of "Endgame."
Ultimately, Tony Stark's beard style remains iconic, with the "Iron Man" beard being the most memorable.
Tony Stark Beard Style: Copy The 'Iron Man' Beard
Our experts have compiled a list of 11 Robert Downey Jr., popularly known as 'Tony Stark' or 'The Iron Man' beard styles for all the men out there to get inspired!
It is one of the trendiest and most stylish beard styles of the 'iron man' that the guys love to follow for a professional and handsome look.
Ideal for: Round and oval face shape. It looks awesome on taper fade as well as on little fluffy and messy hairstyles.
How to Style: Shave the cheeks completely for a neat look. Trim the small patch of beard below the lips that connects the chin beard. Grow a mustache for a masculine look.
Soul patch is basically a small patch of facial hair below the lower lip and slightly above the chin which is also known as a jazz dot. Robert Downey Jr. has given the soul patch beard style a completely appealing and interesting look.
Ideal for: Round and wide face shape.
How to Style: Keep the cheeks area completely shaven for a clean look. Connect the soul patch with a chin beard and keep the beard slightly trimmed. Carry the beard with a brushed-up hairstyle for a complete Tony Stark beard look.
It is the classiest and most graceful beard style of Tony Stark. It looks awesome with medium length and straight hair. It is easy to maintain and simple beard style.
Ideal for: It suits any face shape perfectly.
How to Style: It does not include any hectic or complicated process. Trim your beard to make it slightly visible. Medium length comb-over hairstyle makes the overall look balanced.
4. Silver Blonde Shadow Beard with Spiky Hair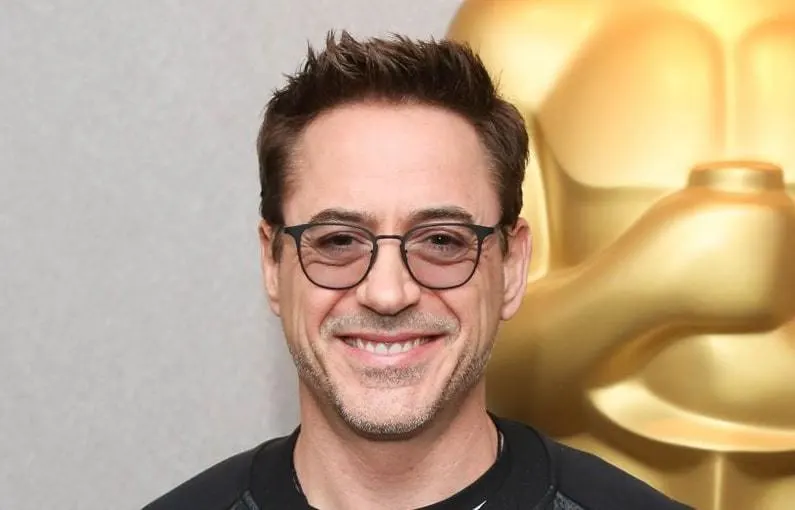 It is an amazing combination of white beard and brunette short spiky hair that looks very sophisticated on Robert Downey Jr. You can also try this iron man beard if you want a matured look.
Ideal for: It is ideal for any face shape except a square face shape.
How to Style: If you have white hair then, no need to blonde your beard. Trim the beard and balance the look by short spiky hair.
Want to add a class to your personality? Try out the Robert Downey Jr beard with a disconnected mustache.
Ideal for: Oval, oblong, and heart face shape.
How to Style: It is just like French beard style, only the mustache got disconnected. Keep the cheek area clean shaved.
It is one of the elegant Tony Stark's beard styles. It is simple but become stylish when combined with edgy spikes.
Ideal for: Oblong, round, and triangle face shape.
How to Style: Extend a thin strap facial hair on the jawlines and connect it with the goatee beard. It looks best with a buzz cut. If you do not like short hair, you can wear the spiky hairstyle just like Tony Stark.
If you have medium hair, you must try the iron man's goatee beard along with messy spikes.
Ideal for: Oblong, Oval, Triangle, and round face shape.
How to Style: It is easy to maintain beard style. Clean-shave your cheek area for a neat look. Make a slight neat curve under your nose to make it look different from other mustache styles.
Stubble beard is a beard that has been shaved a few days back and now grown to slightly visible. Robert Downey Jr. gave this shadow beard growing phase an astonishingly fashionable definition.
Ideal for: Oblong, oval and diamond face shape.
How to Style: It requires a lot of maintenance in order to attain the desired length for a stubble beard. If your facial hair grows fast, trim your beard after two to three days on a regular basis. Keep the edges neat for a more decent look. Medium length hair goes well with a beard.
It is easy to maintain Tony Stark beard look. It is the best choice for those guys who hate to spend time in styling their beard. Quiff hairstyle adds more charm to your appearance.
Ideal for: Any face shape.
How to Style: Keep the side beard trimmed and the remaining beard relatively thick. White hair in a black beard or black hair in white beard makes an alluring personality.
Some guys love a messy and rough look for their regular life routine. If you are one of them, you must go for the given avatar of iron man with a beard.
Ideal for: Diamond, oblong and round face shape.
How to Style: It is the same as styling a goatee but keep it thicker for a masculine and funky look. Keep the cheeks as well as the jawline area completely shaven. Grow your hair to medium length in order to achieve the exact look of tony stark.
11. Rugged Beard with a Crew Cut
This beard gives an extra masculine look to a man that's why it is called as a rugged beard. It is the most famous beard look of Tony Stark amongst his fans.
Ideal for: Round, oval and oblong face shape.
How to Style: You do not have to trim the beard just make it shorter for a rugged appearance. The crew cut makes your personality more charming.
All these aforementioned Tony Stark beard styles are not only classy and stylish but easy to maintain also. We have specifically compiled those styles of Robert Downey Jr. that will not only give you unique beard styling ideas but the hairstyles goal as well. The best part of these above-mentioned beard styles is that guys of any age group have the freedom to carry these at formal or casual events. Trust us, you will not regret after trying any of these iron man beard styles.