Gothic hairstyles make an impression better than mohawks, fohawks, military styles, and more. Especially when they are created by girls.
If you are out of ideas about what to do with your hair in order to achieve a more gothic appearance, you can get inspiration from what other goths did about their image.
Gothic haircuts vary from simple cuts with outrageously-dyed locks to crazy hair extensions and cornrows. Whatever is your choice, you can easily create a stunning hairstyle without going to the barbershop.
Different Types of Gothic Hairstyles
When you are just starting out on your way to creating an outrageous hairstyle, you might want to find out about different types of haircuts that look completely different yet can be called truly gothic.
Vampire Style – Everyone knows the blood-sucking image of a goth. Black or completely white and long hair that looks as shiny and vibrant as possible.
Cyber Style – A futuristic looking hairstyle involves various accessories and hair extensions to make you look out of this world.
Death rock Goth – Marilyn Manson fans know his gothic style and follow it. Undercuts, pink colors, black Mohawks – take your pick.
Ugly Goth – These goths like long and messy hairstyles that usually involve dirty hair and no neatness at all.
Beautiful Goth – Goth girls who like keeping their hair neat, go for the beautiful goth hairstyles. This is somewhat similar to the vampire style and involves high-maintenance cuts without any messiness.
Creative and Unique Gothic Hairstyles
Gothic hairstyles are an amazing way to make the heads turn your way. Goths express themselves using many different approaches, including piercing and tattoos.
Changing the hairstyle is one of the most innocent ways to make a statement. If you are not sure what hairstyle to choose next, we are offering you 45 different options.
You can get inspiration from what other goths did before you and add a personal touch to their ideas. Each gothic hairstyle is unique and you can make it even more stunning by adding some new details.
1. Lime Green Braids
Two ponytails are no longer just a child's hairstyle. Make it gothic by coloring your hair black or dark blue, then adding braids in a bright electric color like this lime green!
2. Dark Red Updo
Lots of texture and a rich color, like dark red, are the keys to this gorgeous textured updo. To get the volume, use hairspray to tease in texture. A dramatic black lip will help pull the look together.
3. Ponytail Undercut
Whether you're completely out there with your gothic sense of style or you want to hide it, a shaved or bald undercut is a great detail to edge up your look. To bare your bold side, pull your hair up in a ponytail and wear bluntly-cut bangs straightened.
4. Neon Pink with Black Hat
Ordinarily we wouldn't consider hot pink a gothic hairstyle, but when worn with a punk black hat and dramatic makeup, "gothic" takes on a new look! If you wear glasses, oversized ones look great with long hair and wavy bangs.
5. Black Braided Ponytail
Looking for a low maintenance gothic hairstyle you can wear for several days without much touch-up? Go with lots of braids and put them in a high ponytail or bun. A black and white bandana and winged eyeliner tops off the style with moodiness.
6. Sectioned Low Ponytail
Where do we start with this dramatic women's hairstyle? A low side braid is always a sweet look on any lady, but when you section hair off and tease it for volume, it becomes high class gothic. Work in braids or highlighted extensions for even more detail – nothing is over the top!
7. Center Parted with Thick Curls
Do you love rich beautiful colors? A stunning magenta might be the shade for you! Color shoulder-length or long hair in the shade before parting hair in the center and loading up the bottom half with thick curls. Use hair clips to secure hair off the face.
8. Spiked Platinum Hair
We bet you've never seen a women's mohawk quite like this! Extra length and fierce platinum blonde coloring make this spiked hairstyle one to add to the top of the list.
9. Rolled Waves
Out of all the gothic hairstyles a woman could flaunt, one with two rolled waves at the top half is probably the easiest look you could choose. It looks best on women with long hair, so if your is on the short side, definitely get extensions first!
10. Long Smooth Pixie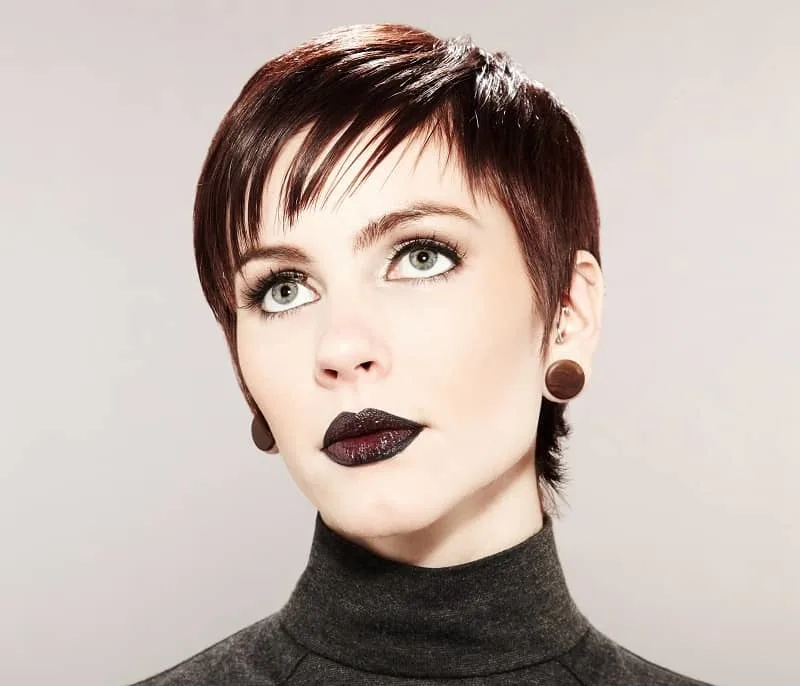 If a long dark brown pixie cut isn't gothic enough for you, go darker with navy blue or pure black. You can also add darker highlights to set your mood. Just make sure to smooth hair down to get the full look.
11. Gothic messy color mix
This messy gothic image is a great choice for girls with long hair. The locks are pinned up to make a crown around the head. The strands are dyed red and black for an impressive contrast.
12. Romantic gothic hairstyle
This vampire-style haircut doesn't require any special styling. All you need to do is dye your locks raven black and create a few voluminous waves. You might want to consider a feathered headband or hat.
13. Smart approach
You don't have to create a special hairstyle to get a gothic image. The right approach to the wardrobe, the dress, the hair and the makeup, can make you look more like a goth than girls with striking black mohawks.
14. Dark Gothic Hairstyle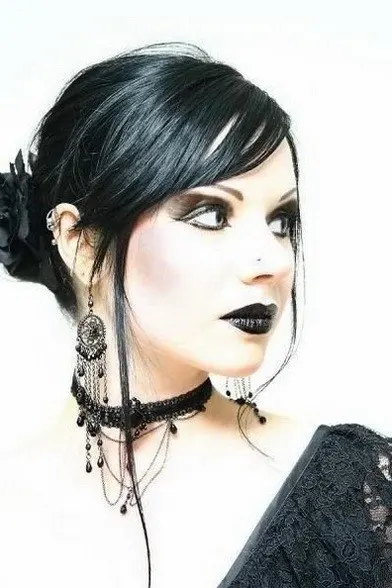 This gothic hairstyle is easy to make. All you have to do is lift your black hair to make a low bun and leave two asymmetrical strands hanging around your face. Use a feather elastic band to hold the bun.
15. Flaming red braids
Flaming red hair color goes great together with black attire. There is no need to create outrageous hairstyles. You can just make two long red braids and hang them down your shoulder.
Mohawks are a frequent choice of goths, but shaving half of your hair of is often too bold of a move. Take a smarter approach and use cornrows to imitate the shaved parts. Keep the colors wild!
17. Shaped bangs
If you have straight hair, you can play around with shaping your bangs. You can create a spear, a triangle or an asymmetrical style. Remember, such bangs will require careful daily styling to keep the shape.
18. Bat wings
If you want to create the bat wings hairstyle, you need a short bob, shaped bangs, and a little imagination. Lift the sides of your hair up with hair accessories to make it look like the wings.
If styled correctly, an a-line bob can become a wonderful gothic hairstyle that your friends will love. The extra zest is added by keeping the sides a different length, which gives the haircut some much-needed asymmetry.
20. Eye of the beholder
This hairstyle is for a beautiful goth. The hair is dyed mostly black with an addition of a large violet strand in the front. There is no outrageous styling. The hair looks neat and a little wavy.
Recommended for You:
21. Synthetic braids
This cyber goth look is easily achieved by braiding in synthetic extensions to your natural hair. The more voluminous the extensions are, the more impressive the overall gothic hairstyle will be.
22. Dark angel wings
A neat Chicago-style short bob is complimented by the feathery wings of a dark gothic angel. All you have to do is make to ponytails and feather them up with some static electricity. A piece of cake!
23. Crazy accessories
Gothic hairstyles often come with some crazy accessories. You don't need to do anything outrageous to the hair itself, just leave enough space to braid in or attach some crazy things, for example, horns.
24. Burgundy asymmetry
Eye-covering bangs, violet and black hues coupled with asymmetry create an exciting hairstyle that is worthy of an ugly goth as well as a vampire one. Take your pick.
25. Devilish style
Regardless of the color of your hair, you can create a short hairstyle that will look truly devilish. In reality, it's just a short pixie with short bangs and asymmetrical strands on the sides and one strand hanging down the forehead.
26. Sexy vampire
If you are going for a sexy vampire look but are afraid of looking like a model, you need to add some violet color to your hair. Don't forget about the right makeup too. It's what makes a good goth.
27. Ugly goth
Ugly gothic hairstyles are the simplest. All you need to is to use a headband or other hair accessories to lift up you messy locks and mess them up a little more with some hair gel.
28. Weird fun
The 19th-century vampire gothic haircuts need some styling. Consider creating waves and braids to make a voluminous vintage hairstyle worthy of a gothic poster.
An undercut is one of the most popular hairstyles for goths. All you have to do is shave at least one side of your head while keeping the rest of your hair long. The main advantage of this cut is that you can cover the shaved part with the rest of the locks when needed.
30. High up
High and messy hairstyles are a wonderful choice for a goth girl who wants to make the impression. The only downside of this hairstyle is the high maintenance. You can't wear it every day.
Related Topics:
31. Long and dramatic
Lusciously long caramel hair makes a perfect dramatic gothic look. Brush your hair once and leave them loose and long. Contrasted with a black belted skirt and smokey eyes, these hair look super-hot. Oomph up the goth hair look with a black moon locket and a netted choker.
32. Pink ombre braids
Dark pink ombre hair over a blonde base look very bold and truly gothic. Make a side part and tie your hair into high ponytails on each side. Then twist these ponytails into braids. Keep the hair messy to look effortless. A gothic-themed locket and bizarre face piercings will carry the look a long way.
Long metallic grey hair, left open with a side part look mysterious. Oomph up the goth hairstyles with smoky eye makeup for a morbid appearance that will make everyone fearful. Represent the true gothic subculture with a black dress and a fiery nose ring.
34. Half and Half
Half and half can be of anything! A non-homogenous blend of clack and funky parrot green goth hair paired up with dark makeup create a very antiquated look. Pointed eyebrows, long lashes, and nude lipstick are the additional accessories you need.
35. Color splash
That's too much of colors! But this is what a true gothic look is about. The mysterious color combination on hair, as well as eye makeup combined with fierce jewelry, looks very dramatic. This is a perfect blend of metal and emo fashion.
36. Orange swirls
Bold orange Cheetos like short hair twisted into rope-like swirls look very mysterious. Black dress and dark eye make-up accentuate the look. The messy look adds new dimensions to this gothic hairdo. You can carry a no-lipstick look with this hair to make the color stand out.
37. Gothic style curtain hair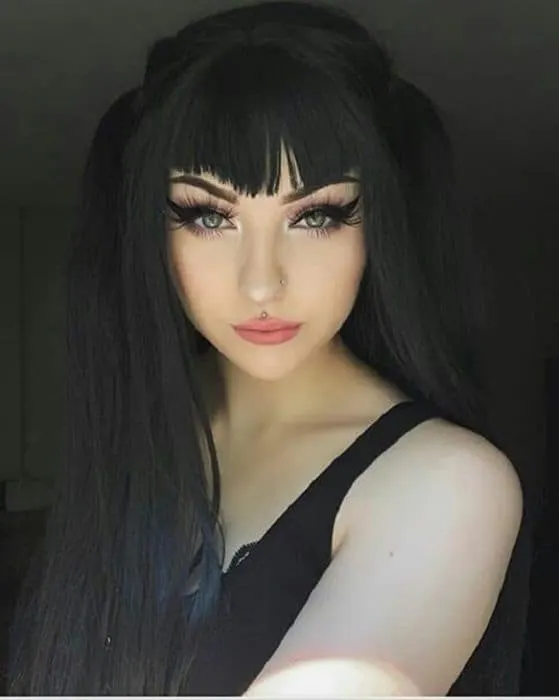 Long, sleek and jet-black hair create a perfect goth hairstyle for girls. Create a mid-part and tie both sides into half-pigtails. Cut the front fringes for a curtain hair look. A cat eye-liner, long lashes, and black dress will hype up the look to new mysterious heights.
38. Purple Waves
What about purple witchcraft? This hairstyle is quite a bold one to carry but justifies the gothic subculture. It is a mysterious blend of blue and purple, made not just for hair nut lips and eyes too. Pair the colors with your conspicuous gothic-themed outfit and metal jewelry.
39. Colored side shave
Colored shaved side with blacktop locks tied into high ponytail creates a very artistic look. Combine this goth haircut with black lips and bizarre piercings. Don't forget the heavy metal jewelry which is an essential of a gothic look.
Seafoam green ombre over natural brown hair base look very subtle. Create a homogenous hairstyle with cornrow braids on the sides and a high ponytail on the top.
The style makes hair manageable and looks artistic. Winged eye makeup with similar shades and metal piercings will take the gothic look to new heights.
41. Volumized Mess
If you want to create an easy-to-make and low-maintenance gothic style, this messy hair look is a perfect option. This style is ideal for curly or wavy hair with a messy texture.
All you need to do is leave your curls open, loose and messy. You can blow-dry the hair to add more volume and dimension to the curls. Use a hair spray to hold the mess!
42. Green Undercut
Seafoam green ombre hair with the black base might look bold. Combine this hairdo with an undercut and you'll look even bolder. No need for extra dark eye makeup or lipstick. However, pale skin will accentuate the hair color. Carry this mysterious hairstyle and see everyone's eyes turn towards you.
43. Colored Feathers
A colorful feather cut for a goth hairstyle looks mysteriously amazing. Make sure you use a pallet of bold and funky colors like orange, green and yellow.
Alternate these colors with sections of jet-black hair in between and see the style do its wonders. You can get an angled bob cut for an added effect. These bold colors will go really well with a jet-black outfit.
44. Dragon hair
Yellow dragon hair makes the boldest gothic look. Medium length hair dyed with fiery yellow and curtain fringes gives a punk-gothic look. Use grey eye lenses to accentuate the hair color. Metal piercings, winged eyeliner, and black shirt; what a deadly combination!
45. Harley Quinn hair
The comic nerd, Harley Quinn of Suicide Squad has given us the ideal goth hair trend. Alternation pink and blue hair with dark red lipstick looks crazy and colorful. Get blue and pink ombre on blonde base hair.
Make a center part and tie your hair into messy ponytails on each side. A bold golden Harley Quinn choker with "PUDDIN" written in metal creates additional pomp.
Gothic hairstyles vary greatly. We hope these choices allowed you to review your ideas about gothic hair and gave you a good inspiration to make a statement. Good luck!