Since everyone is obsessed with braids, we wanted to inspire you with a selection of cornrow ponytail styles. The 30 amazing creations below are truly a work of art. It doesn't matter if you are African-American or not, these manes will cause you serious hair envy. If you find a very good braider, don't hesitate to copy at least one.
How to Put Cornrow Hair Into Ponytail
To braid cornrows you will have to decide which size you want them, and the pattern. Beginners can start with the basic parallel style. The real cornrow braids are small, which means you will need to separate the hair in very small sections.
Start from the front. Create several rows with a comb and secure them with a clip. Grab the first one and divide it into three strands in the front and clip the rest of it. All of these braids should reach the spot where the ponytail will be located.
Get the left strand, put it under the middle one and over to the right side. You can now take the right strand and put it under the middle one and over to the left side. This is how you create the basis of the cornrow. You can continue with the same technique, the only difference is that you need to start adding more hair from the back.
Use the rest of the hair in the row, and add a small strand to the middle section. Make sure that you have enough hair so that you can put it in a ponytail. If not, you can always use extensions. For the back and sides, you are the one who decides which pattern you'll opt for. Tie the cornrows in a pony.
Watch The Following Video on How to Do Cornrow Braid Ponytails
Weaves will not stop you from getting this type of ponytail. Professional braiders know exactly how to use the weave to get the style that you like. Once the weave is on, it will be very simple.
Place your hands on the roots of the weave. You should be as gentle as possible with it, in order not to pull it off. Decide where you want to get the cornrow and separate that section. Use a small part in the front, separate three strands. Place the left piece under the middle and over to the right. Take the right section, place it under the middle and over to the left side.
During the next step, you can start adding hair from the section to the middle strand. You can continue doing this until you're done with the whole section. Use the cornrow braiding technique to the spot where the ponytail will be, from there on continue braiding in the classic technique. Use a tie to put the braids in a pony.
Watch The Following Video on How to Do Feed-In Cornrow Ponytail
Gorgeous Cornrow Ponytail Styles
Cornrow is a popular hairstyle and a ponytail with the cornrow makes it more beautiful. The following cornrow ponytail hairstyles will make you go "Wow"!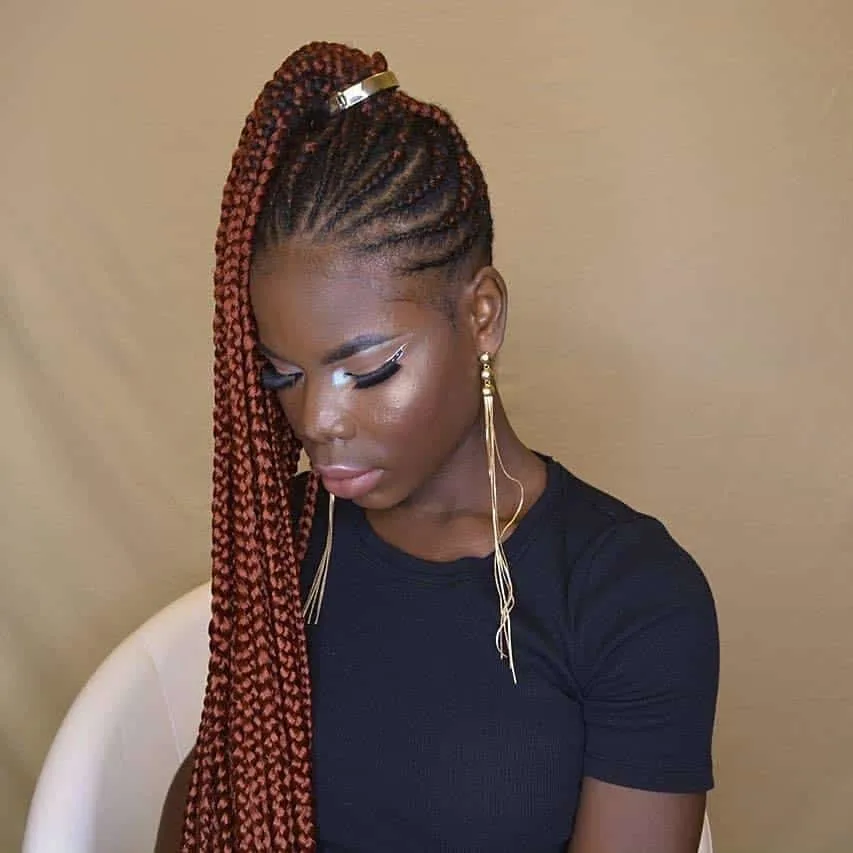 Color is always welcomed with cornrow ponytail styles. You can literally choose any color that you like, starting from basic such as brown, black, blonde, red, to very vibrant hues like neon pink, green, purple, blue, yellow and more. This mane makes it so hard for you to make a final decision.
Ideal For: Great for women who adore playing with tones. The more eye-catching it is, the happier you will be. The hairdo on the picture features a brown hue but still looks beautiful.
How to Style: The first step is to pick the hue that you like the most. Let your hairdresser know and they will do the magic. This cornrow braided ponytail can also feature any geometric shape and pattern that you like. It's so unique!
2. Sleek And Smooth
You don't have to do the whole hair in cornrows to get a ponytail. You can simply go for several braids in the front, and leave the pony very straight and glossy.
Ideal For: It's always great to escape the regular patterns. If you are not 100% convinced that you'll like these small feed in braids all over the hair, you can always try with a few. And, what's even better, there is still the option for a pony.
How to Style: Do several chic cornrows in the top part, and you can even elevate the look with a larger braid in the middle. Make sure that the rest of the hair is super-sleek. Take it up in a very high cornrow pony. You will definitely need an oil mist or treatment to achieve the shine.
3. Get Creative with Patterns
This is a pattern that will help you stand out. Once your friends see it, they will want the exact same thing.
Ideal For: It's the best option for everyone who likes to invent their own pattern of cornrow braids. The mix of smaller and larger gives such a unique finishing touch.
How to Style: Take the picture to the hairdresser and ask for this cornrow ponytail design. You can even get some highlights in the hair for the colorful touch.
Jasmin from Aladin is the ultimate hair inspiration.
Ideal For: Ladies who are obsessed with the bubble pony trend will literally go crazy over this look. It will make you feel like a princess.
How to Style: Start off with cornrow braids in the top and finish off with a voluminous bubble ponytail.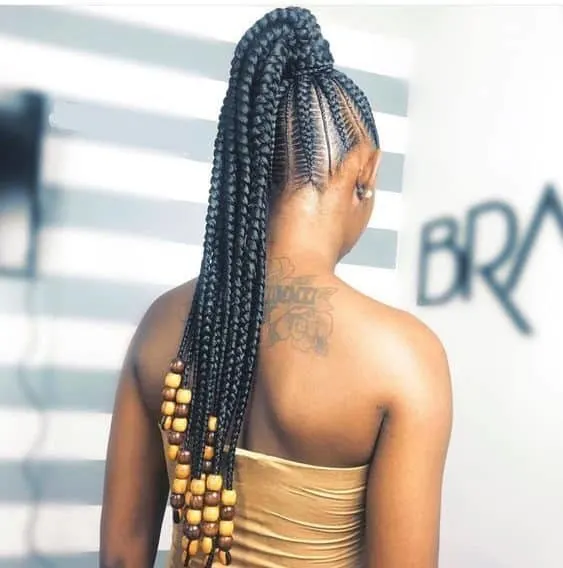 Cornrow braids can be accessorized in so many different ways.
Ideal For: If you want to take the cornrow ponytail to a new level, this is one way to do it.
How to Style: Add some wooden details to the end of the braids as a stylish finishing touch.
6. Cornrows with Curly Pony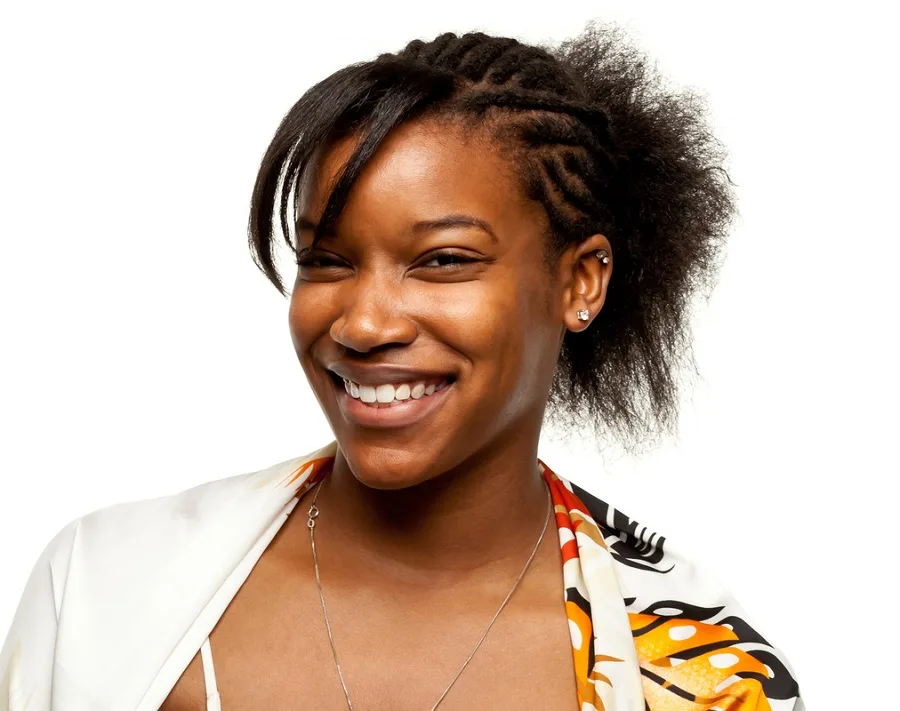 Ponytail hairstyles can come in so many shapes and sizes.
Ideal For: Women who want to keep a formal look or need a hairdo they can pull off for school days will fall in love with cornrows.
How to Style: For this particular hairstyle, you need to spare your bangs and flip them on one side. Braid only half of your hair. The ponytail will remain unknitted.
7. Reversed Cornrows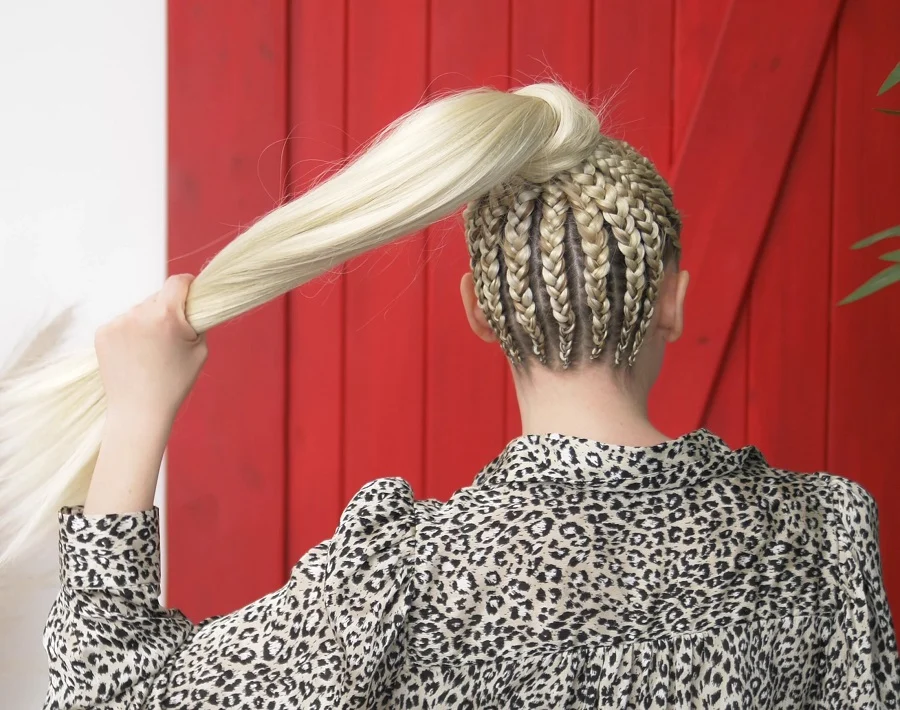 Ideal For: Who said cornrows are not a great alternative for white women? Use one or two bundles of jumbo hair to fill in the braids.
How to Style: Instead of braiding them from the forehead, you can try a different approach and start from the nape area towards the top. Here you will attach the fake ponytail.
8. Cornrows and Twists
Ideal For: Women who want a sassy look, that is suitable for glamorous parties or events, will simply adore this combination of braids.
How to Style: Use hair extension to knit the cornrows, directing them to the top back. Here you will attach twisted braids that will be your ponytail.
9. Feed In Braids
Ideal For: Anytime you want something out of the ordinary, you must know that braids have your back.
How to Style: Create multiple small cornrows that you will use to fit in the main braids. Meet them all in a top ponytail. Spare a few knits, and wrap them around the base.
10. Half Up Half Down
Ideal For: Women with rounded-shaped faces can create a little bit of height and make their figure look elongated.
How to Style: Part your hair into sections, the main being the crown. Using that part build your cornrows and style a pony. For the rest of your hair, you can create box braids that will gorgeously fall on your shoulders and back.
11. Black and Blonde
Ideal For: Women with short hair will love this hairdo because it gives them more volume length and texture.
How to Style: Part your hair into pieces, starting from the nape towards the top. You will guide each cornrow to the laterals, meeting them all in the crown area. Here you will style your braids using curly hair extensions.
12. Kids' Hairstyle
Ideal For: Kids are fascinated by unique hairstyles with beads and intricate braids. So if you want to make your daughter happy, this is a hairdo you might try.
How to Style: First of all, create a few large sections and style twisted cornrows. Meet them all on top of the head and attach regular black braids. Use colored threads around each knit, decorating tips with fuchsia beads.
13. Two Ponytails
Ideal For: Kids with Afro hair will benefit so much from these protective hairstyles. Mothers will also have less work in the morning when prepping their kids for school.
How to Style: Create curved cornrows and build two braided ponytails. If your daughter's hair is not long enough you can on can achieve more length with jumbo hair.
14. Braided Pony with Bangs
Ideal For: White woman who want a long cornrow ponytail with bangs will adore this look. It creates a great frame for your face.
How to Style: Style four sections, two on the laterals, and two for the top. Use dark blonde extensions to build four braids that you will pin in a top braided ponytail. Are your banks and cut them straight.
15. Palm Pony
Ideal For: When they go to school, kids love to impress with their intricate braids.
How to Style: Go for cornrows on the top and sides and styles six shorter box braids that reach the chin. Decorate them with translucent beads.
16. Chunky Braids
Ideal For: If you're a fan of chunkie braids, you must know they are perfect for any young girl who want a unique hairstyle.
How to Style: Instead of making thin sections that you will later braid, create larger part that will make the knits look more prominent, especially on the crown. You can also create an S-shape for your cornrows.
17. Butterfly Braided Design
Ideal For: This cornrow ponytail with four braids on top, and the beautiful butterfly design on the sides will add a lot of value to your hairstyle.
How to Style: Knit the braids tight curly jumbo hair to extend your half ponytail. Also, highlight the resulting butterfly braids with multiple glittery beads.
18. Electric Red Braids
Ideal For: When you want your hairstyle to gain more height, you should go for a ponytail.
How to Style: Create cornrows and choose one section where you'll add red jumbo hair. Tie all the knits in a ponytail, reveling those beautifully colored braids. Give your ponytail height by wrapping two braids at the base of the pony.
19. Braided Crown
Ideal For: Women with a rounded face can be surprised by how well this hairstyle will suit them. It builds a little bit of height, making the face look slimmer.
How to Style: First of all, create feed in cornrows that you will place in shape of a crown. Tie all your hair, including the braids, in a bun. Attach the fake ponytail, and wrap a few strands around the base to hide the the attachment.
20. Side Rows
Ideal For: This cornrow ponytail is all about highlighting your finger waves and the side braids.
How to Style: All you need to do is to section your hair into 3 pieces. The twos pieces from the sides will be used to create 2 cornrows on each part, while the top is soacked in jam and combed to the back.
There are so many fun ways to transform a boring ponytail into an attraction.
Ideal For: Fishtail lovers will be the first ones to recreate the same exact look.
How to Style: The braids in the front are so chic because they feature different sizes and are decorated with gold rings. Another huge standout is the oversized fishtail braid we all want to copy right away.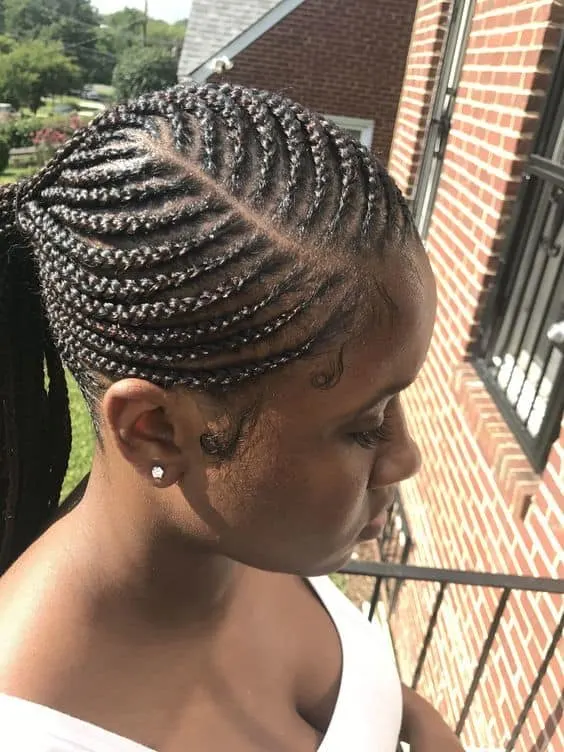 A side part can do so much good for your mane. This rule even applies to cornrow ponytail hairstyles.
Ideal For: When you need that special minimalist touch to a ponytail, this is what you should opt for.
How to Style: Start by choosing on which side you prefer to have the side part. The rest is all up to the hairstylist. You can also be picky with the pattern and the sizes of the braids, but this braided hairdo is fabulous just the way it is.
It all revolves around a middle braid that is literally the highlight in the hairdo.
Ideal For: Everyone who likes patterns will love this do.
How to Style: A single braid can do so much good for the mane.
24. Statement Front And Back
Since your cornrow ponytail styles will be high up, you can add fun details in the front and back.
Ideal For: Great for women who want to be in the center of attention thanks to their hair.
How to Style: Everyone will be able to see the chic braids you included in the middle.
Make things special with two additions in the front.
Ideal For: You want to be 100% sure that this is the style that you like before getting it.
How to Style: Two cornrows in the front in the opposite direction are the coolest thing we've seen in a while.
You probably already figured out that the cornrow braids don't have to be all in the same size.
Ideal For: When you're all about cute looks that are also different from what everyone else is getting, you might want to choose this mane.
How to Style: Ask for both large and small braids when you visit the hairstylist.
If you haven't seen these chic twisted braids by now, you are probably in love. They are so pretty to look at and you can even take them up in a ponytail.
Ideal For: If you absolutely adore this style, you should definitely try it out.
How to Style: Ask for cornrows from the hairstylist and they'll know exactly what to do. They can also be thicker or thinner depending on your preferences.
No patterns, just classic cornrow braids put up in a ponytail.
Ideal For: Best for the ones who want to play it safe. Sometimes you just want the simplest cornrow ponytail and you can't go wrong with classics.
How to Style: The whole point of this hairstyle is to get the most basic braids without any patterns. Finish off with a high ponytail.
29. Massive Braids
Cornrow braids can also he oversized. Next time you want a fresh hairstyle, this can be your mane of choice.
Ideal For: It is a cute cornrow ponytail hairstyles that really stands out. So many women prefer the larger cornrow braids compared to the smaller ones. It's a matter of choices.
How To Style: Get oversized braids and you will be so in love with them. The ponytail will also be braided in the same way.
Just a single detail in the look can do so much good. If you've tried a classic cornrow braids ponytail, your next choice can be a side one. It's really stylish and gives that unique vibe.
Ideal For: Perfect for all the women who are ready to experiment with different looks. Doing the same thing over again is not a smart idea when there are so many new variations to try.
How To Style: Ask for a very high pony that is more on the left or on the right. The pixie braids in the front can be done with a twist for an even more impactful look.
A cornrow ponytail is not a new hairstyle, but it sure is eye-catching. Women love it because it can really accentuate their best features, plus it really looks surreal. This is the right time to get creative and try one of the 30 chic cornrow ponytail styles we suggested.