As women age, their hair texture changes making many women who are over the age of 60 feel that they no longer can experiment with their hairstyles. Updos are evergreen and you can definiytely rock an updo even at your 60s.
There are tons of updo hairstyles that older women can flaunt with style and grace. All you need to do is ensure that the hairstyle you are choosing suits your face shape and is ideal for your hair length and texture.
One of the most popular and well-loved hairstyles for women over 60 is an updo. An updo hairstyle is basically any hairstyle that keeps the hair up and out of your face. There are several types of updo variations that you can try out based on how much time and patience you have. Read on to know more about them!
Beautiful Updo Hairstyles to Flaunt in Your 60s
An updo is a great way to flaunt your facial features and also show off your beautiful neckline. Here is our list of the top 18 updo hairstyles for women over 60! Keep scrolling to find your next updo hairstyle to flaunt.
1. The Quick Wrap Bun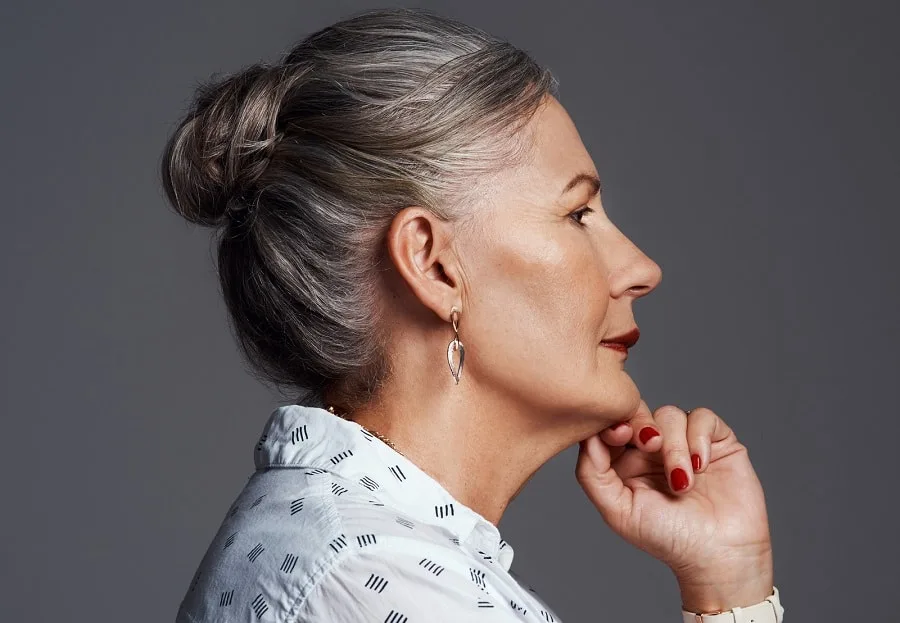 Women over 60 with medium-length or long hair can try this quick wrap bun. First, pull back all of your hair and tie it in a ponytail. Then, wrap the ponytail around the hair tie to make a bun. Hide the hair tie by wrapping the ends of the ponytail around it.
2. Messy Tresses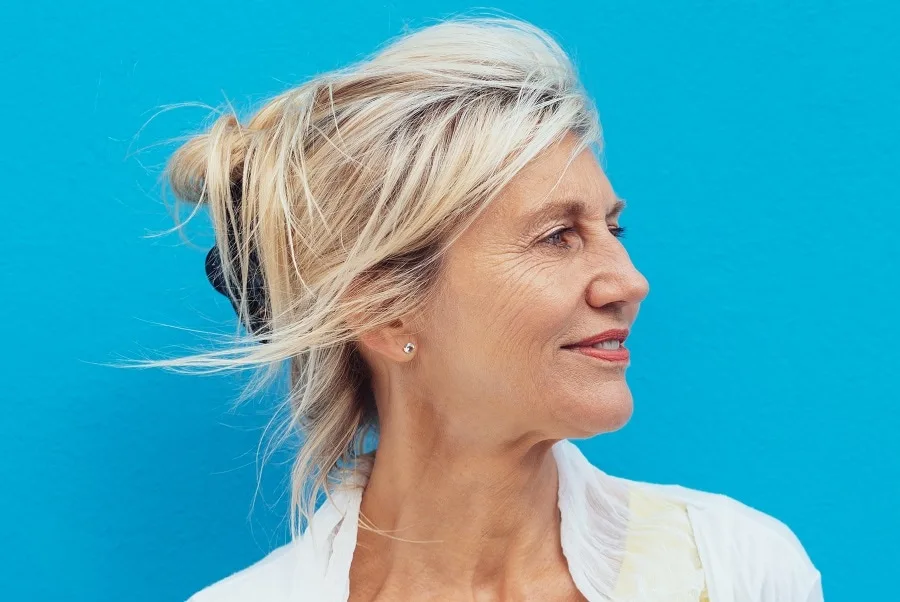 For a fun and quick hairstyle, we recommend this messy, easy-to-style hairstyle. All you need is a long hair clip to secure your hair. Gather all your hair, make a messy bun out of it and secure it with the hair clip. Leave some strands loose on the crown and nape area to simply flutter with the wind.
3. Sleek Top Bun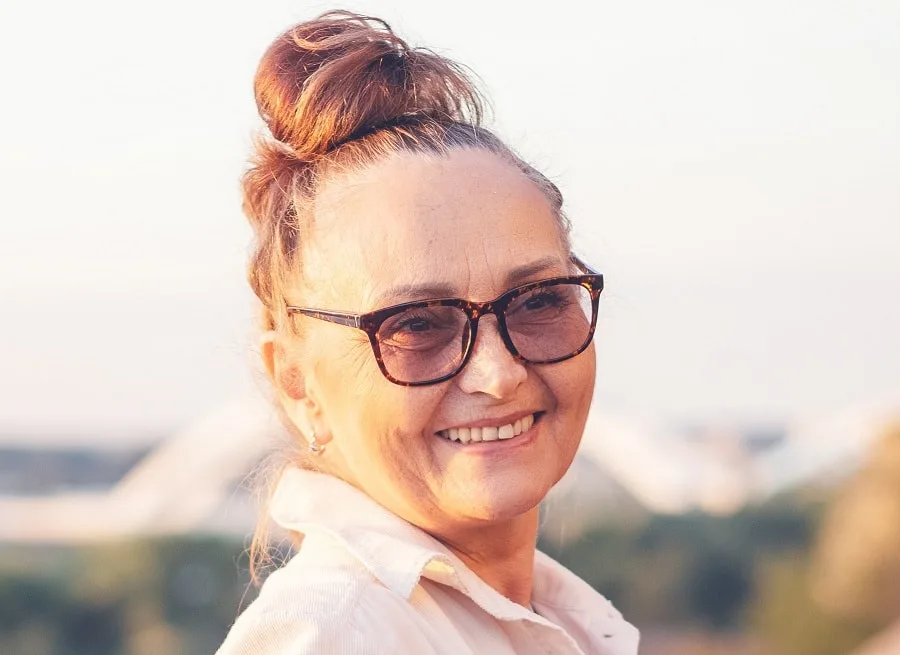 For a professional look, we think this sleek top bun would look amazing. This is one updo hairstyle that suits women with all face shapes. Make sure you use sufficient hairpins to keep the bun in place.
4. Classy Top Bun with Bangs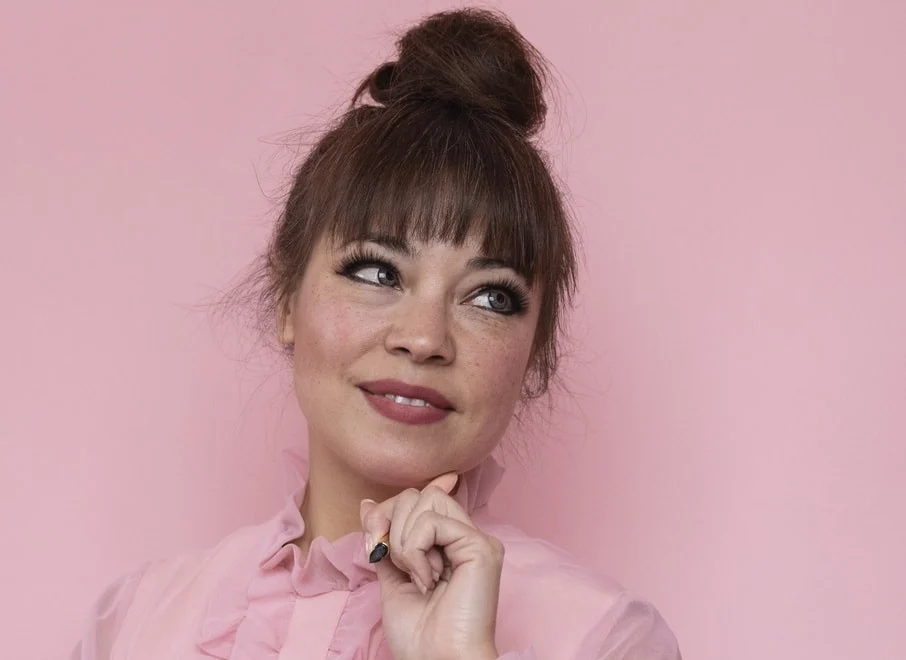 Have a glamorous evening planned and you are running out of hairstyle ideas? Try this classy top bun with bangs. An easy-to-achieve hairstyle, this updo gives off some major elegance and glamorous vibes.
5. Edgy and Curly Updo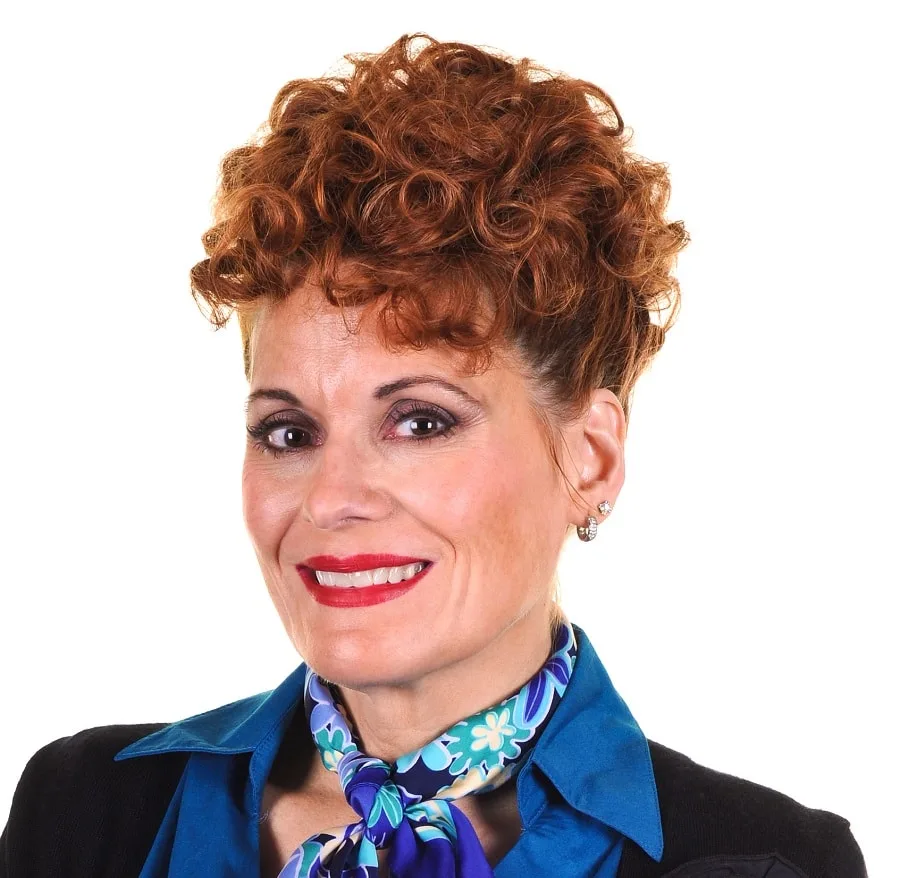 Who says women over 60 cannot sport a chic and edgy hairstyle? We are all for this super sexy and edgy updo with curls. We highly recommend this hairstyle for women who have naturally curly hair and you can simply put most of your hair in the updo.
6. Vintage Bouffant
If there is one updo hairstyle that can make people go gaga over you, it is for sure this vintage bouffant. It is one of the best updo hairstyles for women over 60 having long, thick hair. A little tricky to achieve but gorgeous nonetheless!
7. Simple Bun with Loose Strands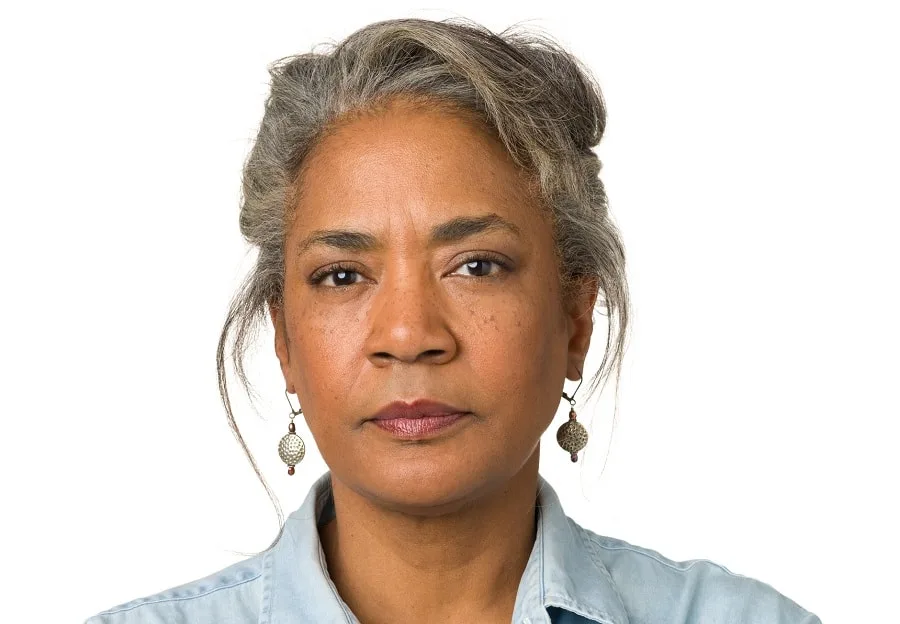 Let's go from the heavy bouffant to this simple, no-nonsense bun now! This hairstyle is suitable for women with all types of hair textures. It is an everyday updo hairstyle which takes hardly any time to style. Pull some strands loose at the top of the ear to add a flirty touch to the updo.
8. Combed Back Neat Bun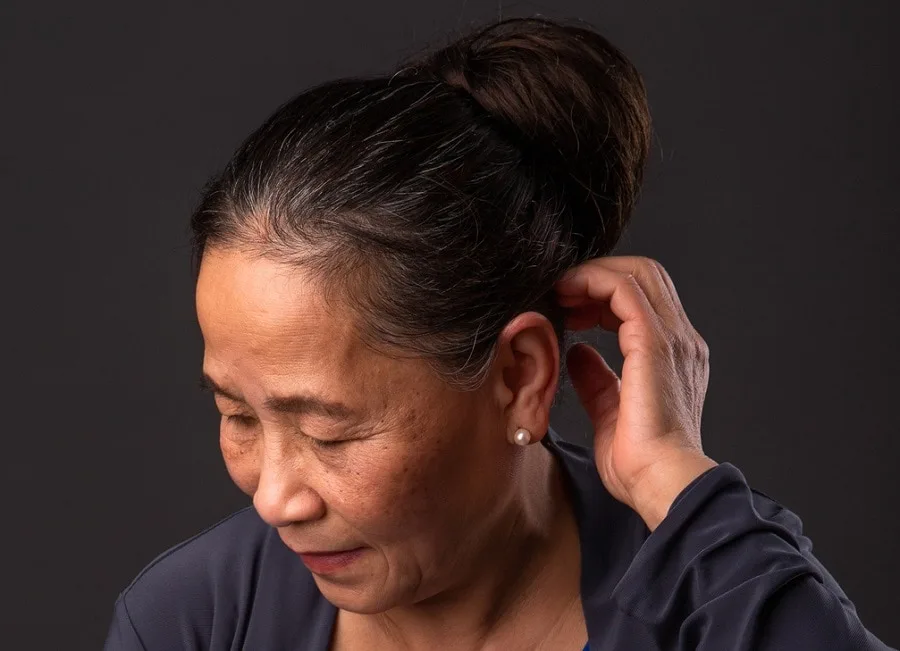 Simple hair buns like these are considered one of the best updo hairstyles for women over 60 as they are not only easy to style, but they are also fairly low maintenance. This is a great option for women with thick, long hair.
9. The Curly Mess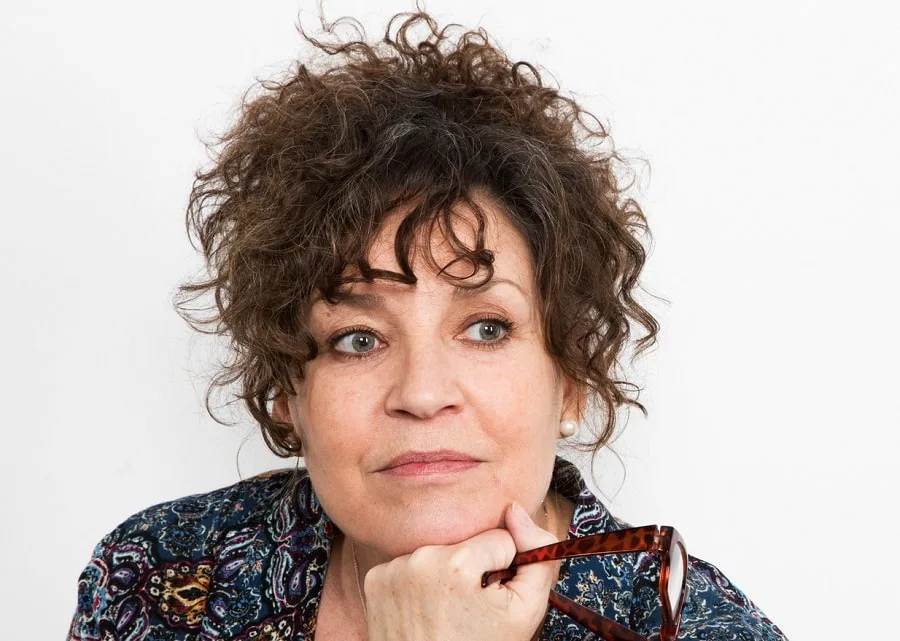 We love these messy hairstyles which look super cool without putting in too much effort. This curly and messy updo can be achieved by just pulling all your hair up and keeping it in place with a claw clip. Finish off the style by letting those wayward curls fall over the clip and around your face.
10. High Knot with Bangs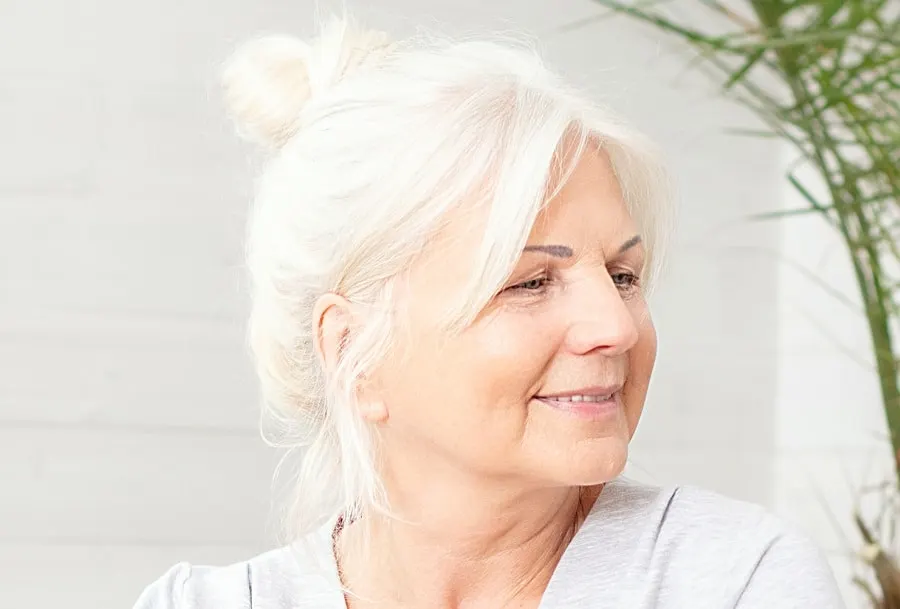 Cool and classy is what come to our mind when we see this epitome of beauty! If you want your hairstyle to reflect grace, beauty, and sophistication, this high knot updo with bangs is your best bet. It is suitable for women with medium to long-length hair.
11. Sophisticated Bun
Sometimes, it is good to go that extra mile and put in some efforts to achieve a sophisticated updo such as this one. If you are in your 60s and looking for some hairstyle inspiration to wear to a wedding, this is what we recommend.
12. High Bun with Razor Bangs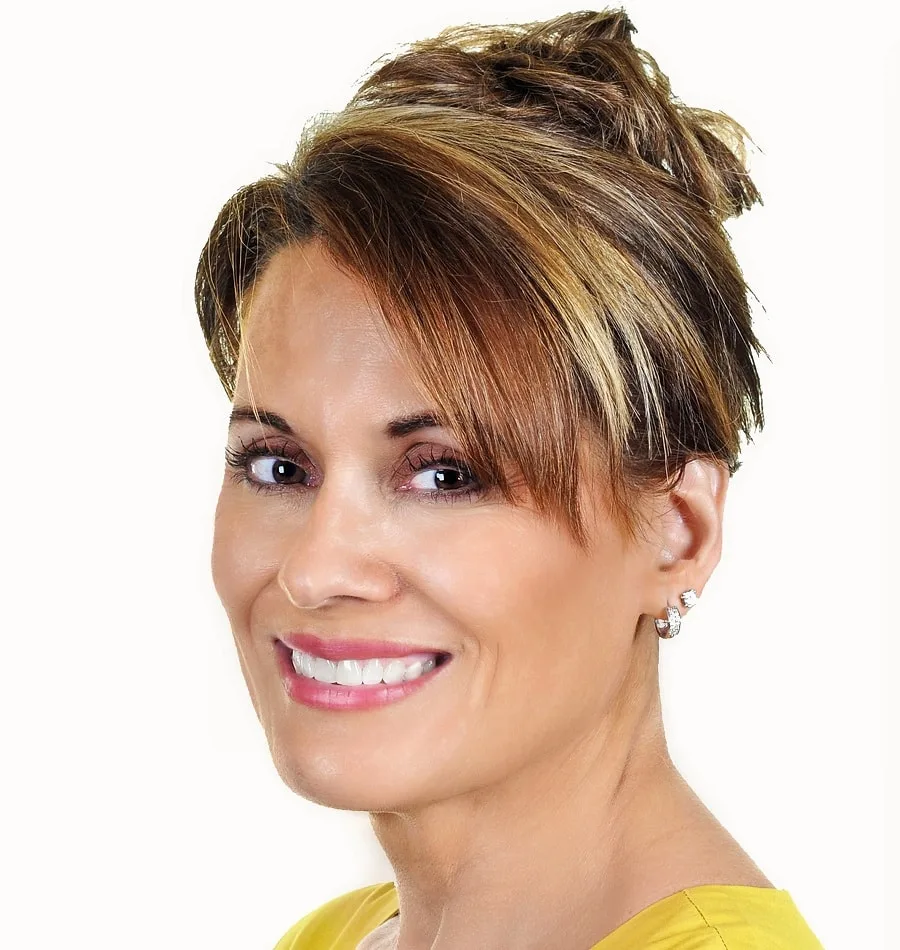 Women in their 60s with short hair might often shy away from trying updo hairstyles thinking that they do not have enough hair length. This high bun with razor bangs completely bursts this myth!
13. The Everyday Bun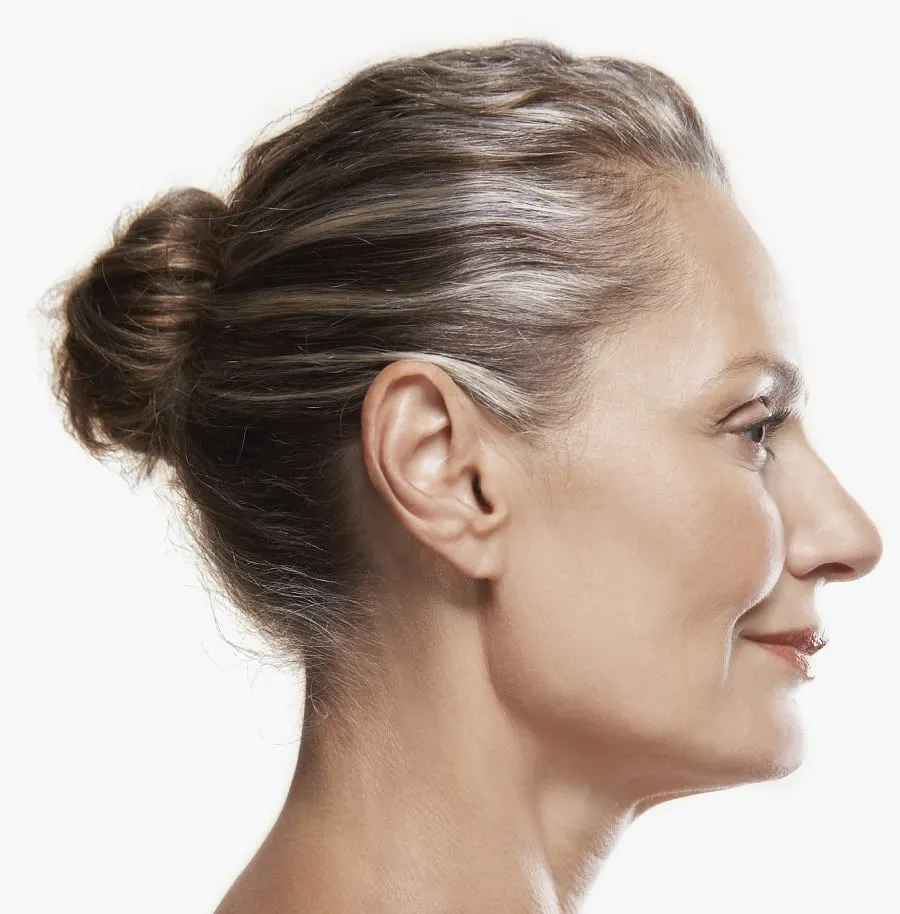 As is evident from this list, buns are one of the most popular updo hairstyles for women over 60. Here is yet another simple, everyday bun hairstyle for you to flaunt. We recommend you make it stand out by adding some highlights, which would look amazing when you tie a bun.
14. Layered Hair with Low Side Bun
A layered haircut is one of the most versatile hairstyles as there is a lot that you can do with it. For example, women in their 60s can get a layered cut and try this stunning low bun updo for that chic yet sophisticated look.
15. Twisted Chignon
Chignon is yet another stylish updo for women over 60. To make your hairstyle stand out, we recommend you try the twisted chignon and secure the ends with a beautiful hair accessory.
16. Classy Low Updo
Highlights in your hair can make any hairstyle look fantastic. This classy low updo is a simple hairstyle but the highlights completely elevate the overall look. Make sure that the classy twisted hair strands are well secured with pins and hairspray.
17. Updo with Dreadlocks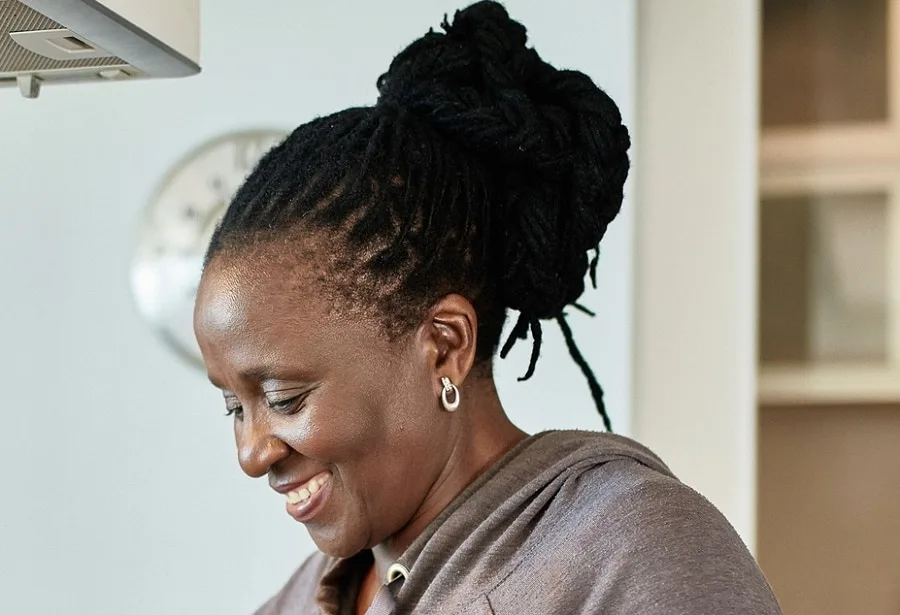 If you're a black older woman looking for an updo, go for the dreadlocks. Dreadlocks are themselves a great conversation starter and when you put them up in an updo like this, there is no way you will go unnoticed! One of the best hairstyles to keep those dreadlocks away from your face and easy to manage.
18. Loose Low Bun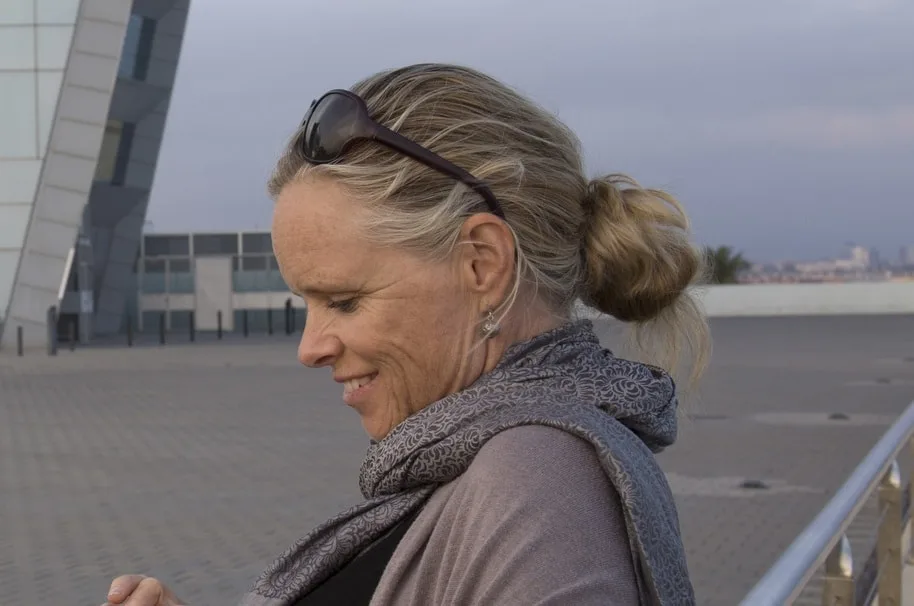 To finish off the list, we have this quick and simple loose low bun. Again, this updo does not require too much of effort and is suitable for women with most hair lengths. Different hair textures also hold this updo hairstyle quite well.
Once you reach your 60s, your hair strength is not as strong as it used to be. Hence, you need to take extra care to maintain your hair's health. We recommend that you avoid using heat styling tools and chemical-based colors, and opt for easy to do updo hairstyles.
We hope this list of updo hairstyles for older women above 60 years old will help you flaunt a different style at every gathering you attend!
Whether you want to opt for the simple quick bun or the vintage bouffant, remember that age is just a number; so, don't shy away from rocking these beautiful hairstyles.