As women age, finding the right hairstyle that is also easy to maintain, suits their face shape and hair texture isn't that easy. Short hairstyles like shag are so popular among over 60 ladies for that reason.
Since dealing with thin, fine hair is common for women over 60, the need to find hairstyles that will make their hair look bouncy and voluminous becomes significant. This is why many top hairstylists recommend shag haircuts for older women.
The shag style was popular during the 80s, and today, it is back on the trending list, thanks to all its various modern versions.
Find Your Perfect Shag Haircut
Shags are known for their layers, textures, and choppy ends. It's a great style for women who want to look their best with minimal effort. Want to try this trending style? Check out the top 30 shag haircut ideas for women over 60.
1. Medium Length Shag for Fine Hair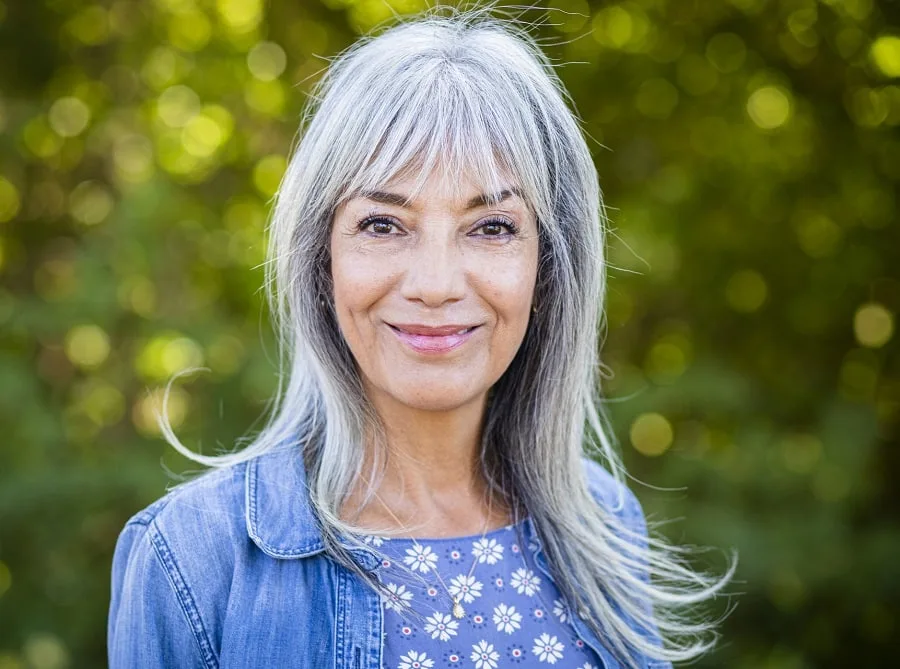 Shag haircuts are known for their minimal styling which is evident from this simple medium-length version of it.
The hairstyle with its flicked-out ends and cute bangs is perfect for women with fine hair. If you are not too keen on reducing the length of your hair, then this shag is a good option.
2. Shaggy Bob and Wispy Bangs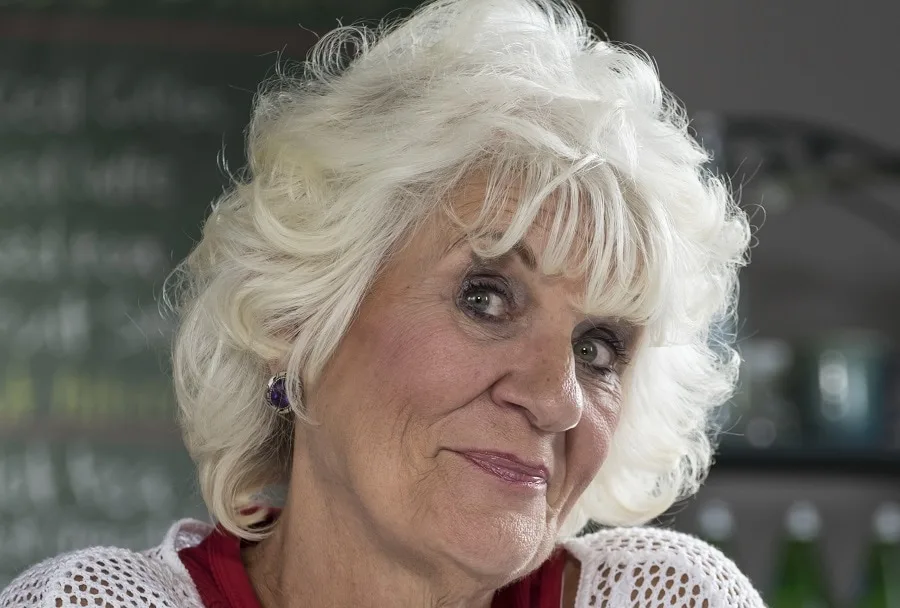 Going for an elegant short hair look in your 60s? Check out this shaggy bob hairstyle with all multiple layers that make your hairstyle look bouncy and voluminous. To soften the edgy layers, ask your hairstylist to give you soft, wispy bangs.
3. Natural Curly Shag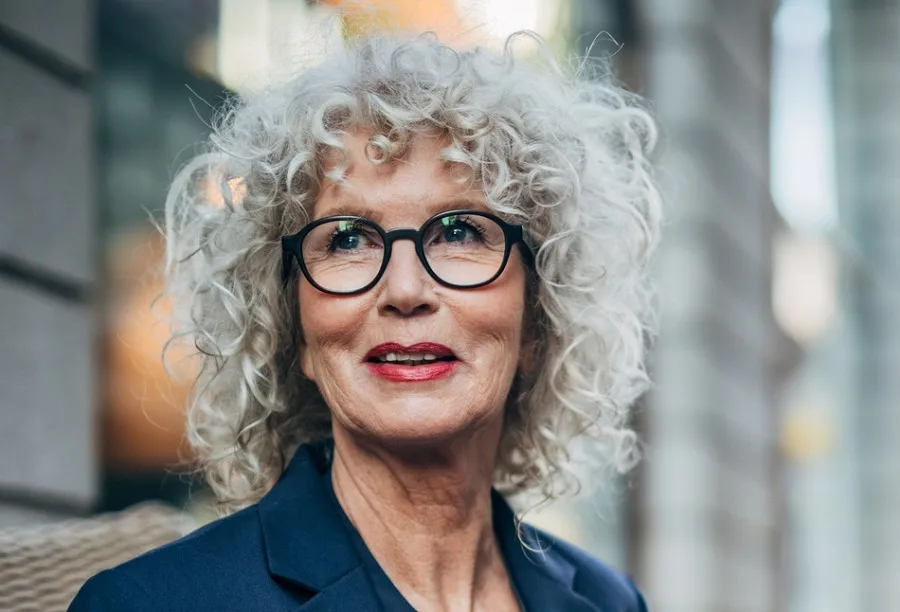 This specific style in our list of shag haircuts for women over 60 is best suited for older ladies with curls. Expert hair stylists recommend that letting your curls naturally frame your face is the best option which is why this natural curly shag is one of their top choices.
4. Simple Wispy Shag with Bangs
If you are looking for a shag haircut that will require literally zero maintenance, then this wispy shag with soft bangs would be ideal for you. You can either keep the hair length until the nape or even go an inch shorter. This style will suit women with long or square face types.
5. Wash and Go Shag Style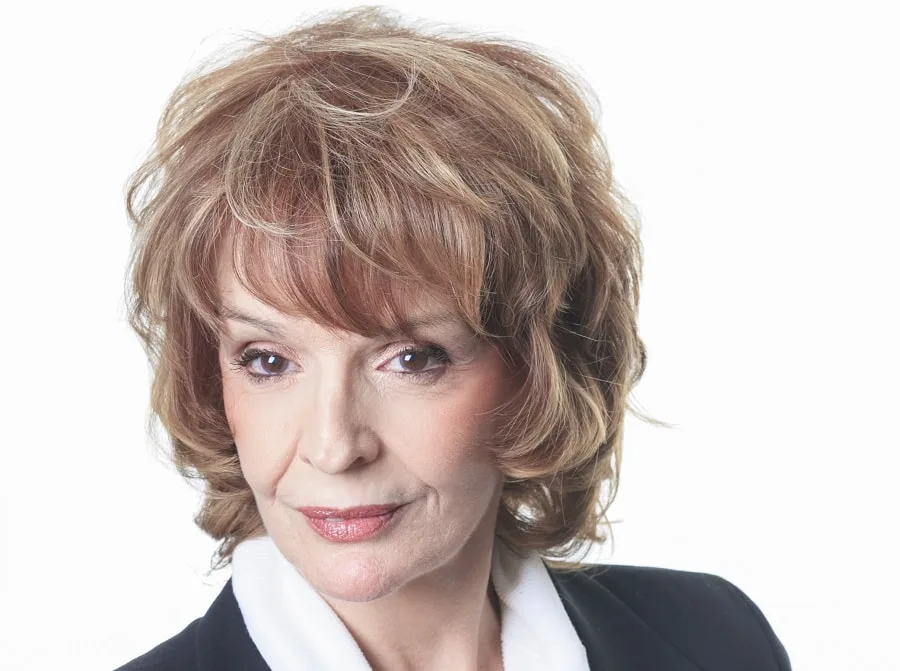 For women over 60, wash-and-go hairstyles are their best friends! Such hairstyles will have you looking chic and sophisticated without having to depend too much on styling equipment. This classic shag style oozes charm and confidence.
6. Sleek and Sexy Short Shag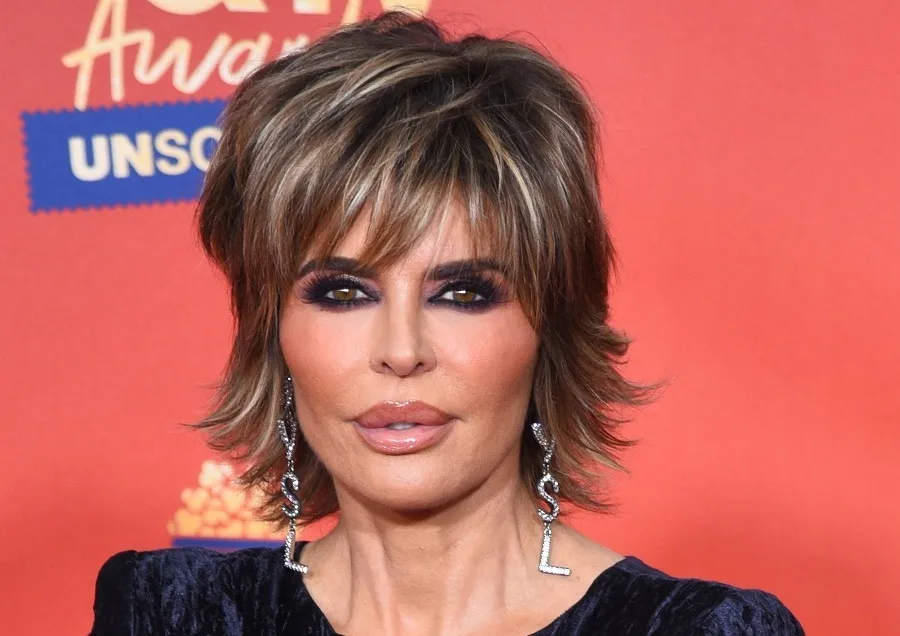 For many women, shag haircuts reflect a laid-back, messy style. Although this is true, there are several shag haircuts that can bring out your sexy and sassy side.
This sleek, short shag with flicked out ends is a great example of how to glamorously rock this trending hairstyle.
7. Voluminous Shag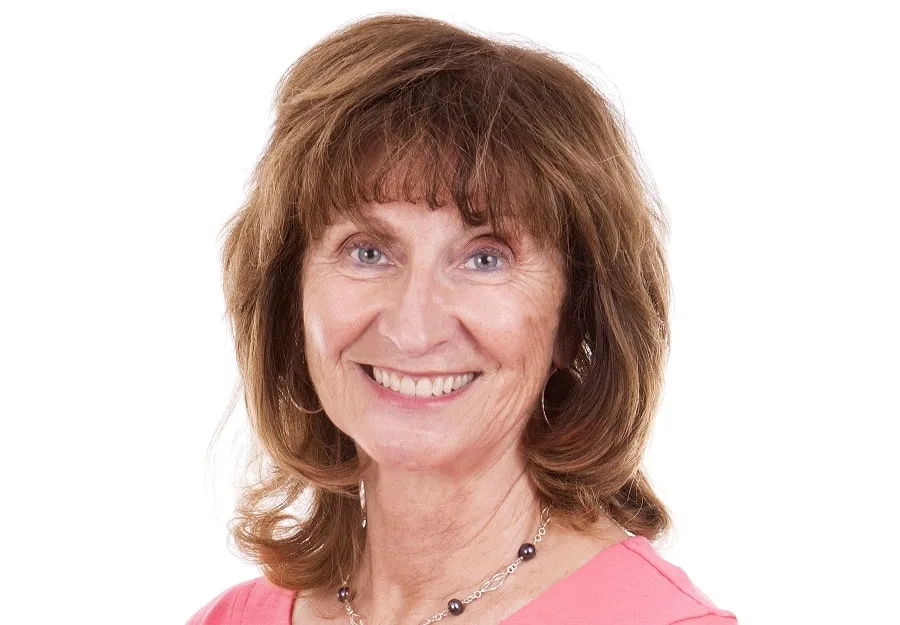 Here is a voluminous shag haircut for women who have a good crop of hair even in their 60s.
For this hairstyle, your hairstylist will maintain different hair lengths in the front and back, and use a combination of inverted and outward ends.
8. Cute Tapered Shag for Older Women
This cute shag has a tapered style with more hair on the top of the head which gradually reduces in volume as you reach the nape of the neck. It is an ideal hairstyle for older women with thin, wavy hair.
9. Bob Shag with Bangs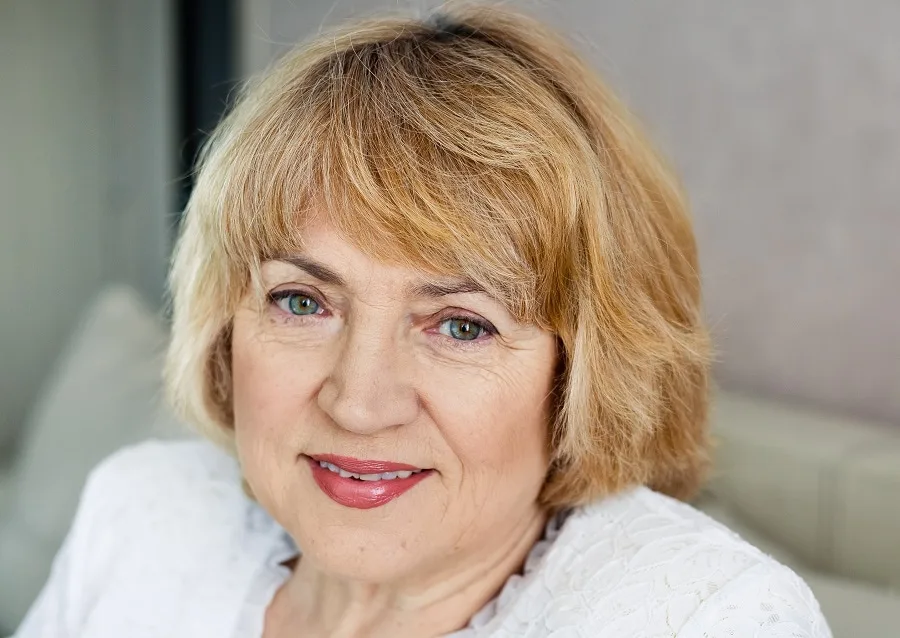 Bobs are a tremendous hit with women of all ages and even women in their 50s and 60s have embraced this cute, easy to maintain hairstyle. This short bob shag with curtain bangs will look amazing on women with round faces and overweight women.
10. Classic Textured Shag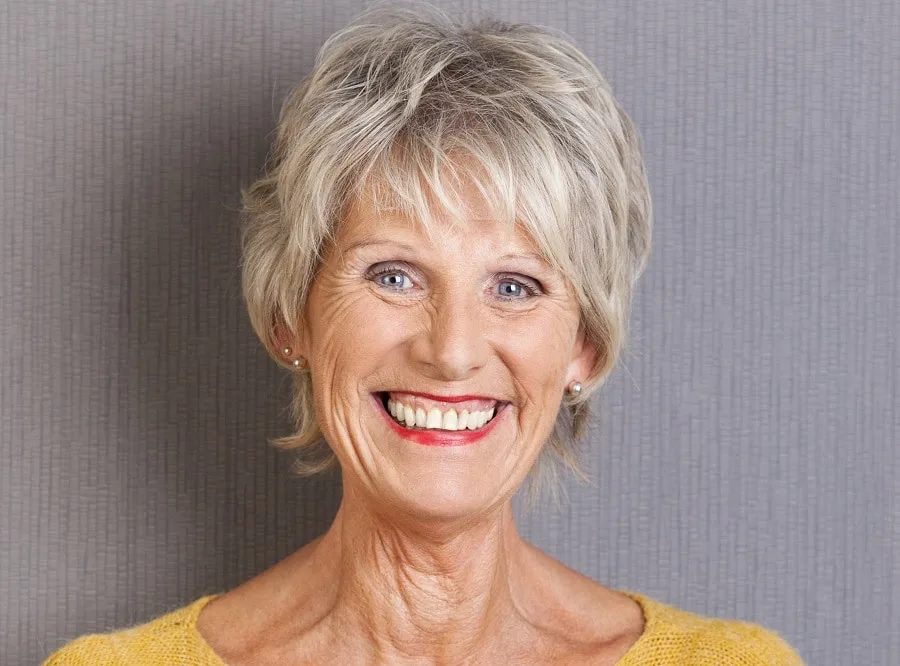 This classic textured shag is a great style for women who would like to make their hairstyle look bouncier and more dimensional. The different textures make your hair look fuller and its short length also lets you show off your gorgeous facial features.
11. Nape Length Shag with Long Bangs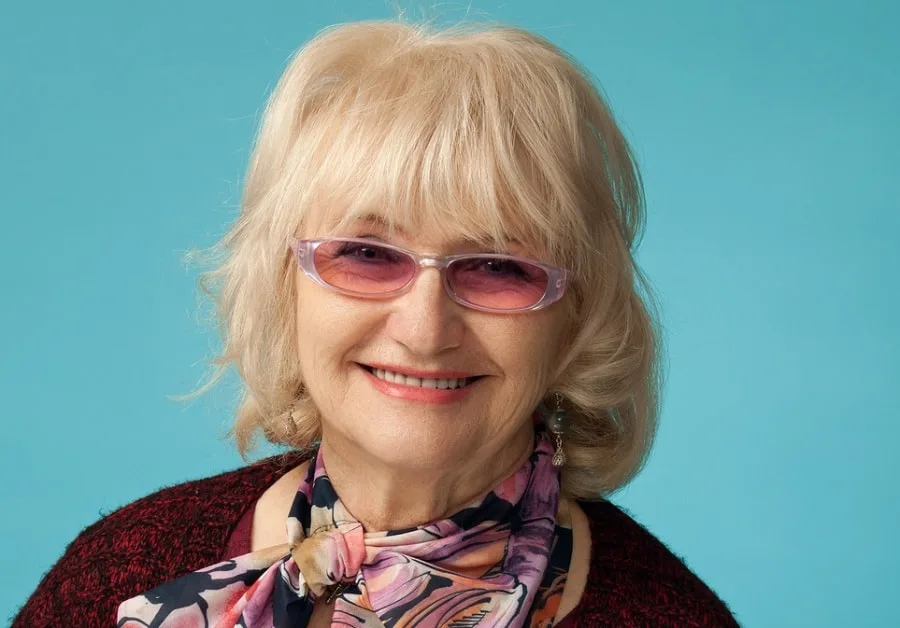 Women with large foreheads can try this nape-length shag with long bangs. The short length of the hairstyle along with those long bangs form a beautiful frame for your face, and also cover your large forehead. Keep those ends tucked in to maintain a soft look.
12. Thick Shag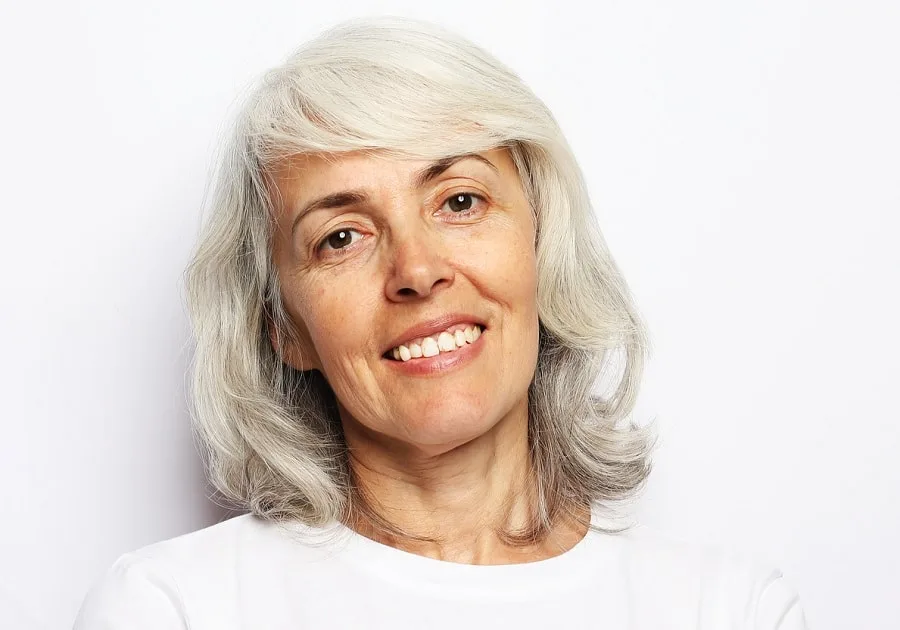 Women with thick hair often find it difficult to flaunt a hairstyle that requires less styling efforts. If you are looking for one such hairstyle, then this thick shag is perfect for you. It is a simple hairstyle which has been enhanced with those side swept bangs.
13. Voluminous Mullet Shag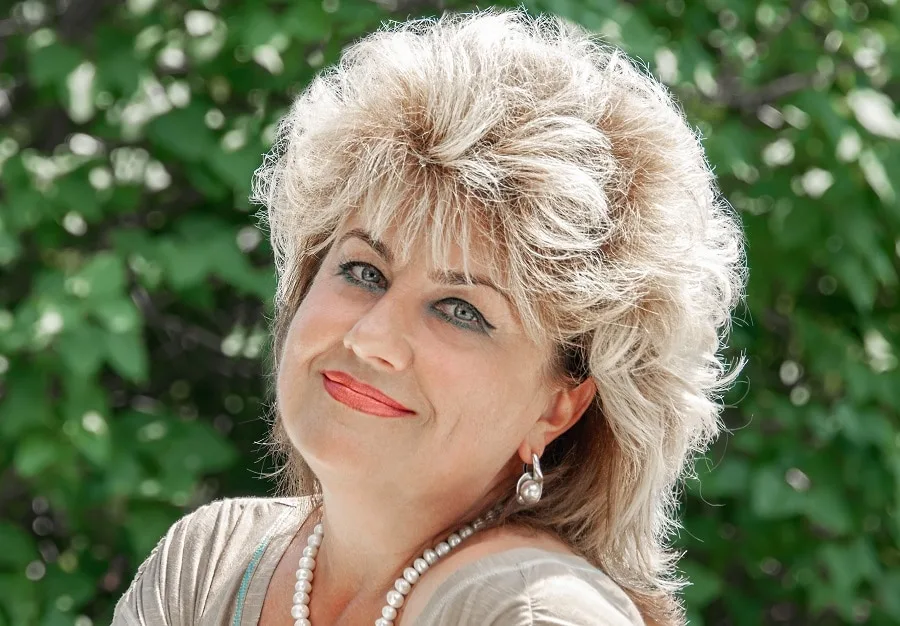 Shags are from the 80s and if you would like to give a shoutout to that era, then this voluminous mullet shag would be the perfect hairstyle to do so. This bouncy hairstyle with multiple layers looks super glam and stylish!
14. Beachy Waves Shag Cut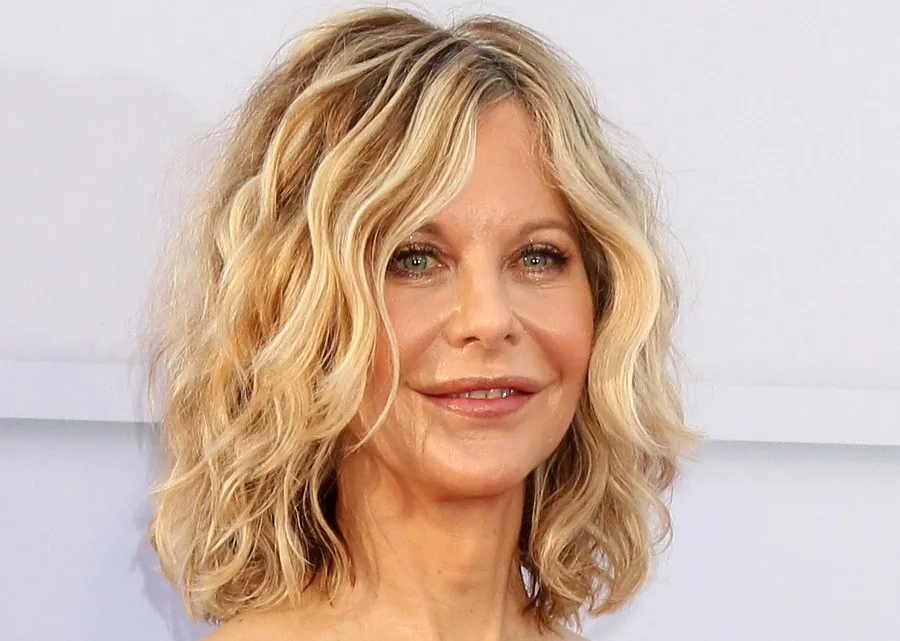 The modern shag is known for its classic combinations, such as this shoulder-length shag with beachy waves. It is easy to achieve and maintain while looking chic and super glamorous. A must try for your next hairstyle transformation!
15. Short Wavy Shag
This short shag haircut for women over 60 looks uber cool! The soft waves with bangs will give you beautiful, dreamy vibes. The length of the hair is perfect to show off your jawline and the bangs can easily cover your large forehead.
16. Razor-edged Shag with Curtain Bangs
If soft and dreamy is not what you are after, then this razor-edged shag might be the right fit for you. It is a simple, medium-length hairstyle for old women that pops out because of its sharp razor edges. The curtain bangs with outwards ends also add to the edginess of the style.
17. Choppy Shag with Highlights and Lowlights
Next, we have this choppy face-framing shag haircut. The different layers and lengths create a slightly messy look. To make your shag haircut look more dimensional, ask your hairstylist to give you some highlights and lowlights.
18. Layered Long Shag
Women over 60 with long hair should bookmark this layered long shag for their next salon visit. This super stylish haircut is easy to manage and is a great take on a classic shag cut. The different layers form a beautiful frame for your face along with some swooped-back bangs.
19. Mid-Parted Wavy Shag
If you have medium length wavy hair, a simple shag haircut like this can have you looking stunning without putting in too much effort. All you need to do is make a middle partition and then let those curtain bangs and loose waves work their magic.
20. Textured Short Shag for Thin Hair
For women with thin hair, it can be really difficult to get a haircut that doesn't make their hair look frumpy and lifeless. If you are due for a haircut, try this textured short shag for fine hair. The different textures and long bangs will make your hair look fuller and thick.
21. Neck-length Shag
If you are looking for a haircut that will add some height and volume to your hair, then this neck-length shag haircut is perfect. The different layers ranging from short to long add chicness to your overall look.
22. Blonde Pixie Shag
Here is another great shag haircut for women over 60 with fine hair. This choppy haircut with side-swept bangs makes your overall hairstyle look quite fun and quirky. It is a low-maintenance hairstyle and does not require hours to nail the look.
23. Stylish Shag with Textures
Get your A-game on with this super stylish shag with stunning layers and textures. This is a must-try for women over 60 with medium to thick hair as it will keep their hair in check and will also make it more manageable.
24. Messy Shag with Bangs
Messy shags look super stylish and you do not require a lot of effort in styling them too! It's a win-win haircut for women who want to look their best without having to deal with styling equipment on a daily basis. Here, the bangs add to the charm of the look.
25. Tousled Wavy Shag
For easy management of your hair, it is best to opt for short haircuts such as this nape-length shag haircut. Opt for this style with tousled waves which will make your hair look a bit more voluminous.
26. Green Layered Shag
If a 360-degree hair transformation is what you are looking for, then this green layered shag haircut will fulfill your requirement. This shag hairstyle will no doubt have all eyes on you wherever you go!
27. Chic Salt and Pepper Shag
Embrace your salt and pepper hair with this chic and stylish shag haircut. The different layers of this hairstyle with subtly styled ends look beautiful as they frame your face. It is a low-maintenance hairstyle and ideal for women with long faces.
28. Vintage Voluminous Shag
With some subtle and modern twists, there are a lot of vintage styles that women over 60 can flaunt. Check out this voluminous shag which is a great take on a classic 70s and 80s hairstyle.
29. Classy Shag with Bangs and Highlights
Bangs and highlights are two great elements that can jazz up even a simple haircut such as this one. This hairstyle with its choppy and razor-edged layers, highlights, and bangs can make you look fab every single day.
30. Thick Shag for Women with Glasses
This version of the shag is a layered hairstyle with long bangs that will look stunning on women with glasses. The thick layers swooped back slightly form the perfect backdrop to let your pair of glasses shine.
The beauty of a shag haircut is that it suits women with all face shapes, hair textures, and hair length. Whether you have a pixie cut, a lob, thin hair, thick hair, curly hair or long hair, you will find some inspiration for your next shag haircut in the above list.
Most women over 60 like it when they don't have to do much more than just run a brush through their hair; and a shag haircut is perfect for this! This haircut is definitely one of the top contenders on the list of trending hairstyles today, so go ahead and flaunt this style.