Lavender purple hair looks amazing on girls and women who have a confident fashion sense. It is so eye-catching that people can't fail to spot it when someone walks into the room.
Although purple highlights look great on most women, dyeing your hair purple or lavender color can be a massive step. Why not take a look at some of the coolest lavender purple hair ideas from our list?
Vibrant Lavender Purple Hair Colors
If you want to dye your lavender purple hair, then you may need to bleach your natural hair first. The color will not display properly on naturally dark hair, so you will apply bleach products first. It is better to ask a professional stylist to do this for you so that you do not do any damage to your hair.
Once your hair has been successfully bleached, you will be able to apply the vibrant purple dye. Make sure that you continue to use color care shampoo and conditioning products to keep your style looking great.
Thick and Lightly Waved
Lavender purple hair is one of the most requested shades in 2021, and if you are a girl that loves to look trendy all the time, you must get it ASAP! Bleach your hair first and go for a darker shade. Gain some volume by styling some waves.
Blissful Purple Plum Hair Ideas
Pale Lavender and Light Curls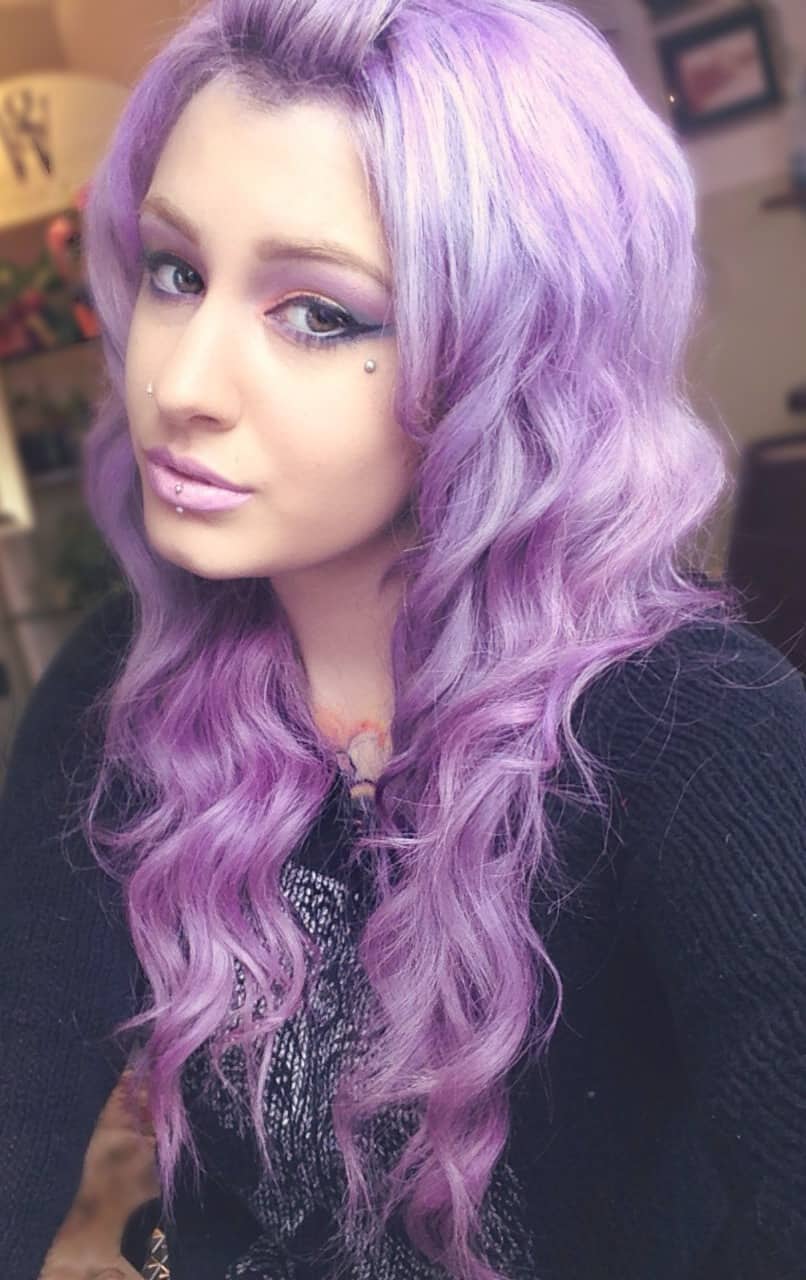 Layer your hair first if you want to recreate this mindblowing look. Opt for a pastel lavender color and create some effortless curls with a wand. To maintain this astonishing hue, make sure you revive your color when it starts to fade.
Lavender and Blue Multi-Shade Style
Rainbow lavender hair is so mesmerizing! This unicorn hair trend is vibrant and bold and is a perfect choice for this summer. Create pastel blonde, teal and pink hues and make them beautifully blend with the lavender. Use the top hair to build two braids that meet in the back.

Splurge yourself with a pastel lavender shade that gets all the attention when you enter a room. Remember to boost its vibrancy from time to time because this hairstyle needs regular touch-ups.
Take this lavender hair color to a whole new level by creating a marvelous sombre. Keep the shade darker in the root area and gradually add a silver touch once it reaches the tops. Gain more volume with some big waves.
Build an eccentric retro hairstyle by dyeing your hair in an ashy lavender color and use your long bangs to build Victory rolls. You will show off your creativity and bold personality through this fabulous hairdo.
Two-Tone Purple
There are so many ways you can play with lavender hair color, and one of the options is to choose two purple tones for your hairstyle. Create a middle part and dye one section into an electric purple and the other one in a hair color with pink-ish notes.
Curled Updo + Hair Accessories
Even if this color is a bold and striking choice, you can also turn it into an elegant updo that is perfect for a wedding or a glamorous party. Create some teal peekaboo highlights and style an intricate bun. Decorate the hairdo with a turquoise hair accessory.
Grey and Purple Mix on a Shoulder Length Cut
Jazz up your hair with a beautiful mix of lavender ombre and blonde highlights. Opt for a pastel hue for the roots and a darker shade for the tips. Create a few wide platinum blonde highlights to match the purple.
Pink with Lavender Highlights
Pale pink hair with lavender highlights is a daring hairstyle that will fabulously suit any Asian girl. Layer the hair and wear the long fringe on one side.
A marvelous hairdo like the one above will certainly capture your heart and make you crave for a lavender hair with blonde highlights. Go for a fishtail braid on one side and gently pull off the edges to give it more dimension and a fuller look.
Lavender hair looks terrific even when paired with messy hairstyles. Keep the hair in a medium length and toss your fringe on one side. On the opposite part, create a messy braid. Give the mane a big tousle and you'll have a hairstyle that captures all the attention.
Boho lavender hair is an excellent option for girls with blue eyes and fair skin. All you need is commitment and the courage to adventure on this journey. This is not a hue for girls that want to keep a low profile.
Boho Wedding Hairstyles for Real Beauties
No matter what you are wearing, a long sleek straight lavender purple hair will get all the attention you deserve! Remember that when you're using the iron to create that flawless hair, use a hairspray that protects the threads from the heat. You don't want brittle, damaged hair, don't you?
Not many girls are ready to go through a radical hair transformation. If you want this gorgeous hair color but don't want to bleach your hair, there is always an alternative. A wig can be the best answer for your cravings, and you can style it however you want without damaging your own locks.
If you want to make a big impression, why not think about choosing a lavender purple hair color. This color choice will help to turn heads wherever you go.