Every old lady wants a low-maintenance hairdo that doesn't require too much work and styling. So if you are a woman over 50, a wash-and-wear hairstyle is a great way to relieve yourself from the burden of arranging your tresses every day.
For that to be possible, you need a haircut that is perfect for your face shape. The hair texture is also an important aspect to keep in mind because you won't be using any heated tools or even a blow dryer.
Low-Maintenance Wash and Wear Hairstyles for Over 50
If your hair regularly falls straight and flat, a haircut with layers is probably the best approach. It builds volume, looks cool and messy, and requires only a tousle.
Bobs and bangs are also great if you're a woman over 50 looking for a wash and wear easy-to-maintain haircut.
But before taking any action, let's explore more hairstyling options, and after that, you can decide which is the best for you.
1. Shag with Bangs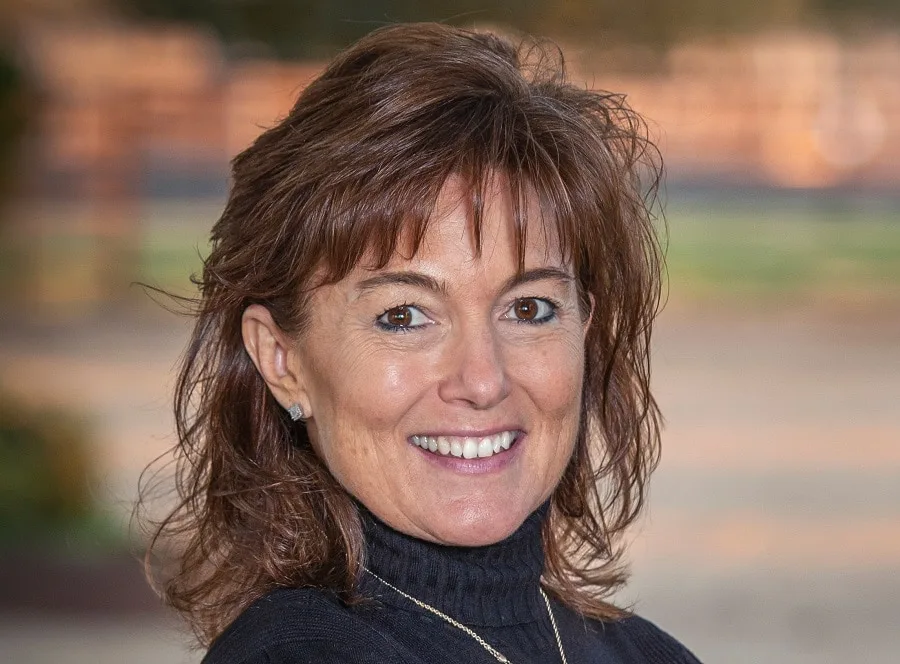 Shags involve a lot of layers and usually keep the hair longer in the back and with a lot of volume for the apex and crown.
By choosing this hairdo, you will obtain a wash-and-wear hairstyle that will sit beautifully without too much effort.
2. Comb Over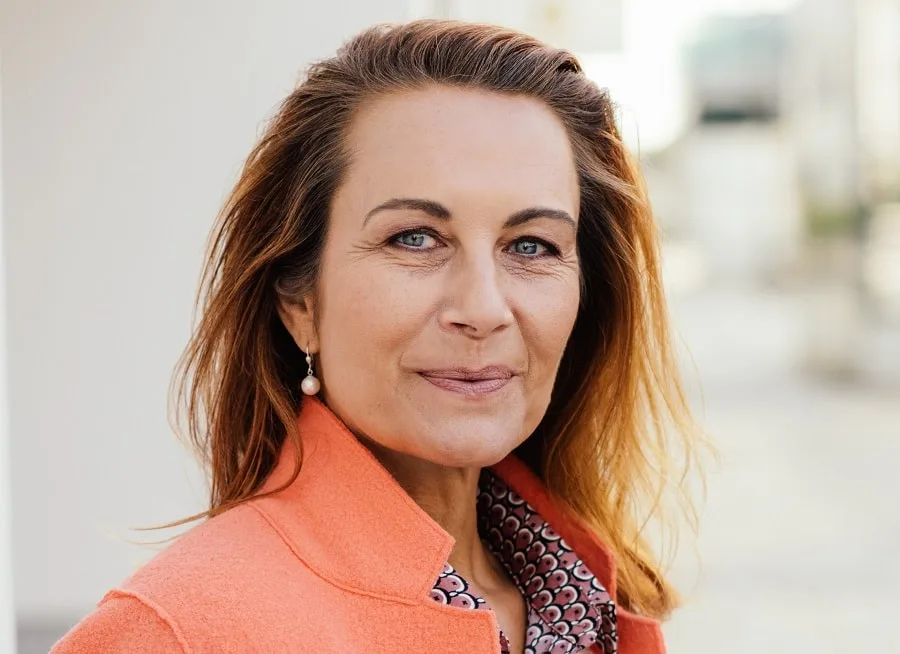 When you have straight hair and want it to look gorgeous, all you have to do is occasionally trim the ends. It will make your tresses look healthy and provide more thickness.
Choose a warm natural hair color that suits your skin tone.
3. Low-Maintenance Bob Over Women Over 50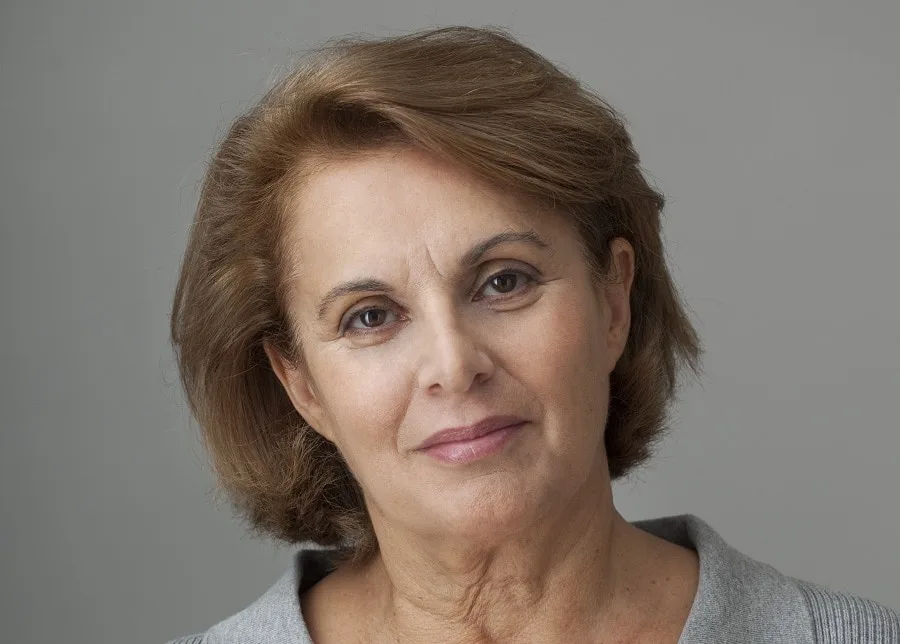 Bob haircuts are ageless and low-maintenance. They offer plenty of styling opportunities but are also a great choice for women over 50 who want a wash-and-wear hairdo.
Comb your hair to the back and use a round brush when detangling after your shower.
4. Bob for Coarse Hair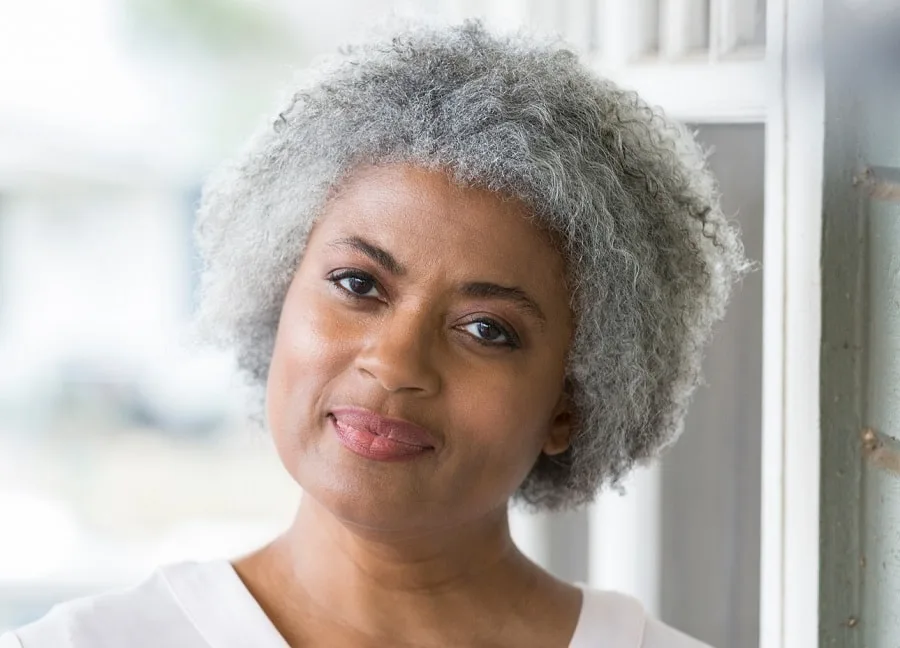 We love this wash and wear haircut for black ladies over 50. It is easy to keep your coarse hair tamed. You just need to find the proper haircut.
So give your Afro locks a rounded shape and style some layers. To make sure your hair is manageable, use conditioners and hair masks developed for this hair type.
5. Layered Blonde
Brushing your hair while your tresses are still damp will make your hair dry without creating too much fizz.
The trick in getting gorgeous hair without styling it is to invest in a beauty salon experience and a hair treatment and color that leaves you with a marvelous blonde hair nuance and nourished hair.
6. Frizzy Hair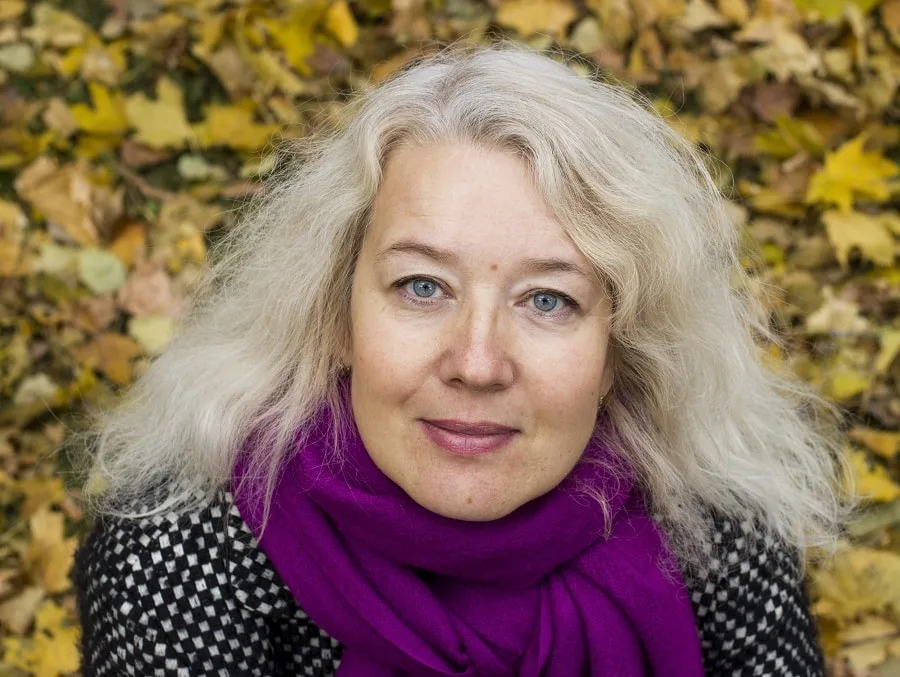 Some old women hate the frizzy hair aspect, but some really adore that particular dimension and full aspect.
When your hair is wavy, instead of flattening it or styling the waves, comb it with a brush and do a side part. It will gain all the volume you craved for!
7. Asymmetrical Bob
An asymmetrical bob gives your hair the shape you need. This wash-and-wear hairstyle is ideal for women over 50 that don't want to spend all their morning in front of a mirror blowdrying, straightening, or using lots of hair products.
8. Short Layers for Thin Hair
As an older woman with very thin hair, you don't want a hairstyle with no personality. It needs to fit your face shape and provide great framing.
Go for short bangs and numerous layers that you can tousle or messily arrange. Even as a woman over 50, you can look cool without too much effort.
9. Tight Curls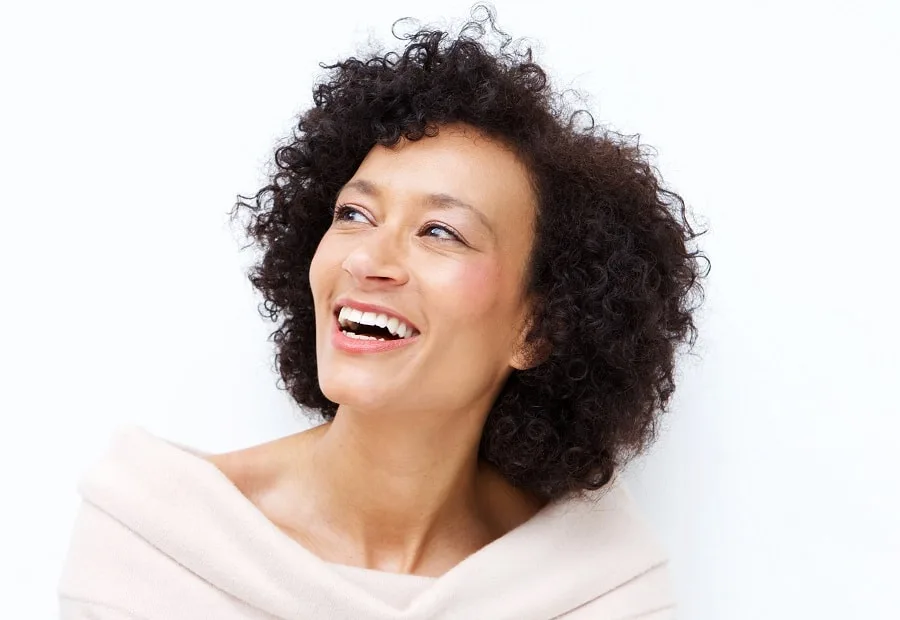 When you have such wonderful curl patterns, you must highlight them with a proper haircut. If you choose a short hairstyle, your riglets won't obtain that loose aspect caused by the weight of your hair. This way, they will preserve their tight shape and gain bounce.
10. Medium Hair with Bangs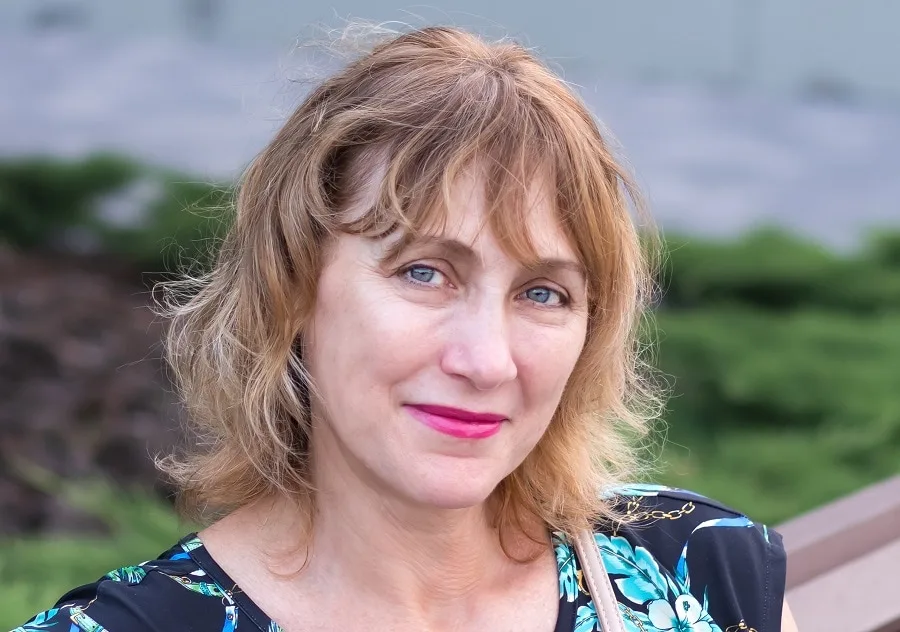 Wavy hair is the perfect canvas for highlights, blonde nuances, and a wash-and-wear haircut. Keep the longer tresses reaching the shoulder line and style layers and bangs.
Spread the fringe on the forehead and keep it just above the eyebrows. The hairdo is superb and doesn't need any styling.
11. Low-Maintenance Straight Hair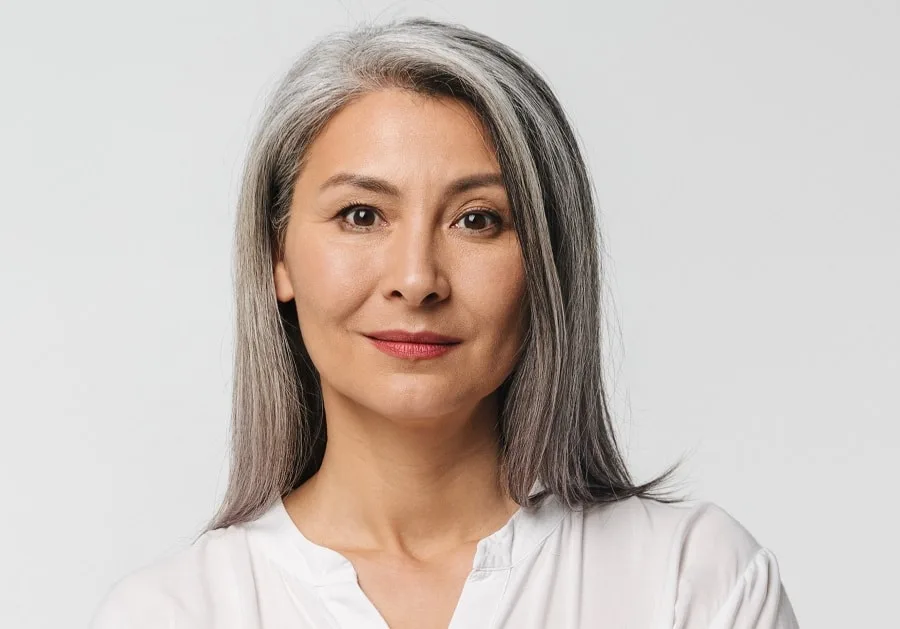 You can easily pull off a wash-and-wear hairstyle if you naturally have thick straight hair. Use a leave-in conditioner so that once you comb your hair after the shower, it remains silky and with less frizz. Do a side part and wear your tresses on your back.
12. Outwards Layered Tips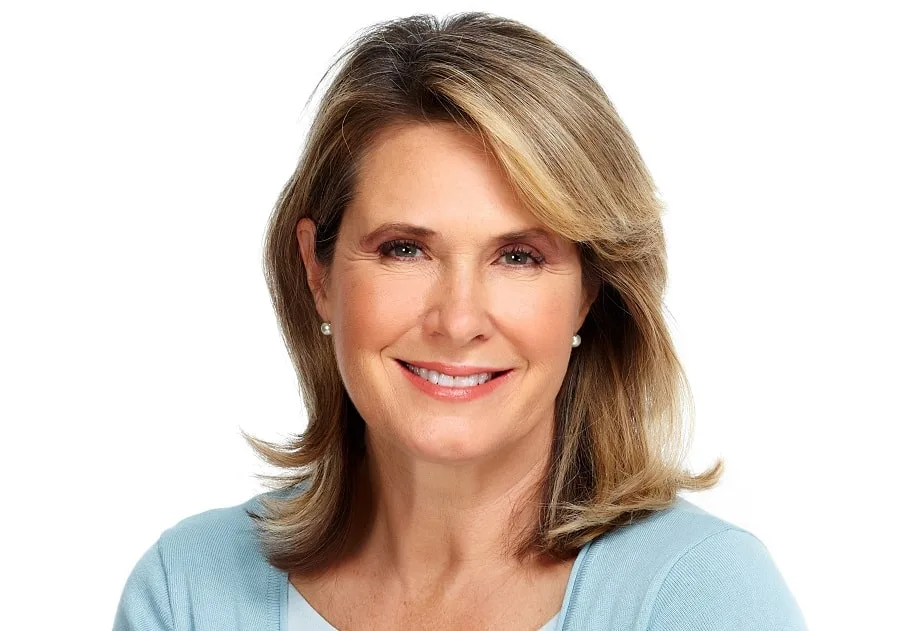 Women over 50 with prominent cheekbones will look great with a medium-long hairstyle with low layers and feathered bangs swiped to the side.
By creating angles, the roundness of your face will be diminished, making a more elongated appearance.
13. Short Pixie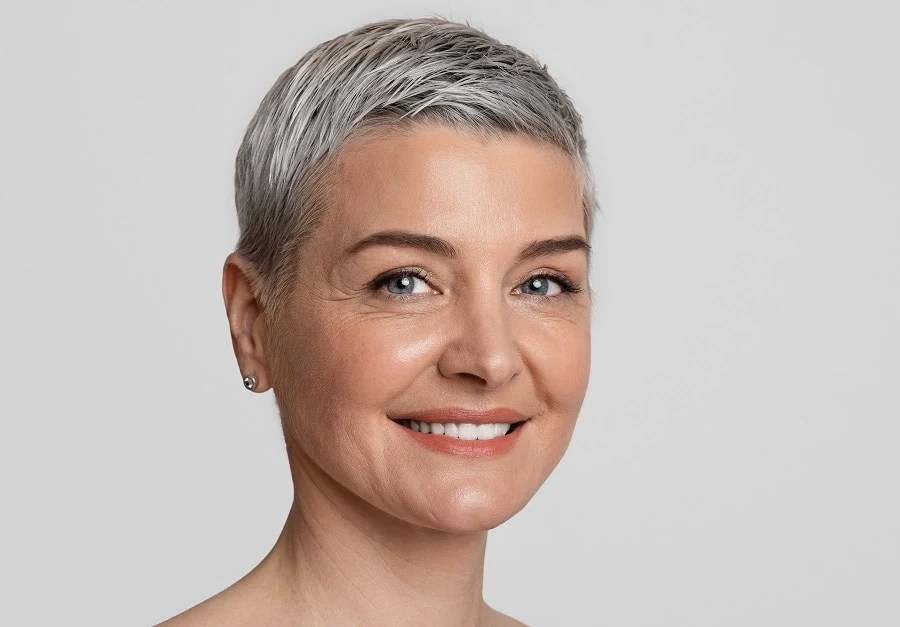 Short haircuts are practical for ladies over 50 because they require minimal styling. Get a short pixie and dye your hair to obtain that marvelous gray nuance.
Don't do this procedure at home because it will most likely require bleaching. See an expert that knows how to achieve this color without causing too much damage.
When styling, you can use just a little bit of pomade to obtain that stunning wet look.
14. Messy Voluminous Cut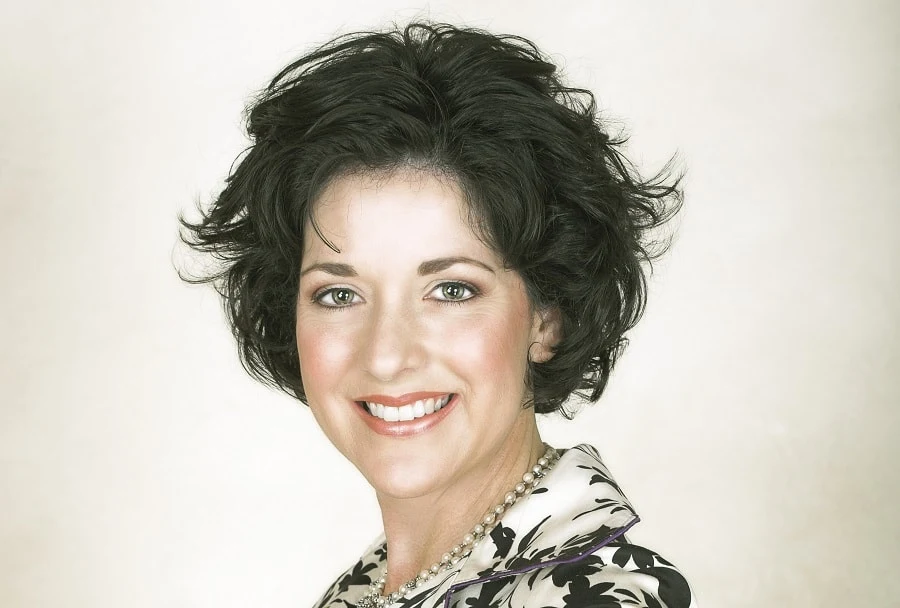 When you get a messy cut, one of its perks is that it doesn't have to look pitch-perfect. You can tousle your tresses or mess them around as you please. And when waves are involved, you get a voluminous hairstyle that needs no styling.
15. Wash and Wear Middle Part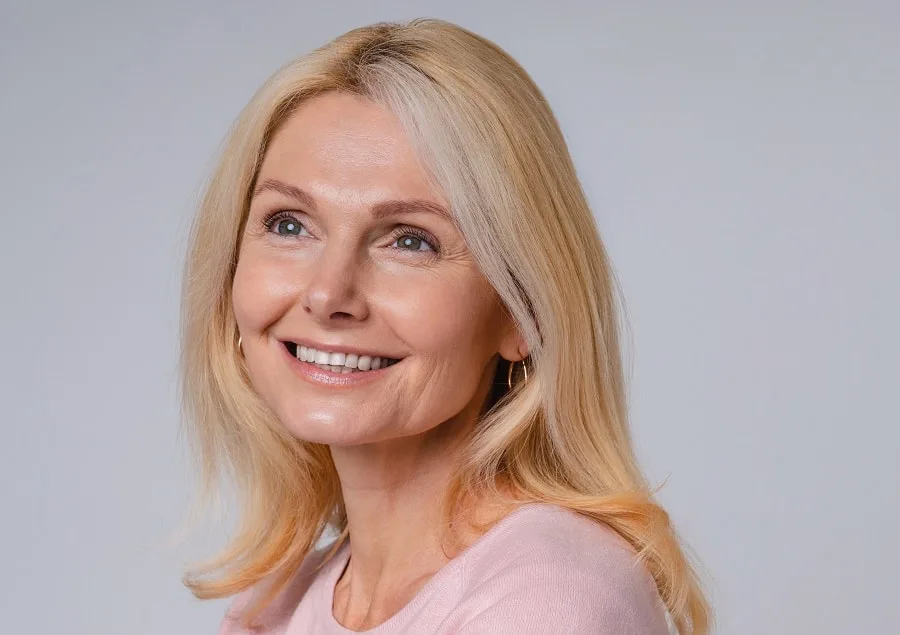 Before getting a haircut, you must know how your hair usually falls and when the waves naturally form. According to that, you can trim your locks, create layers, and give your hair a shape. This way, you won't need to use any heated tools for styling.
16. Pixie For Over 50 Women with Glasses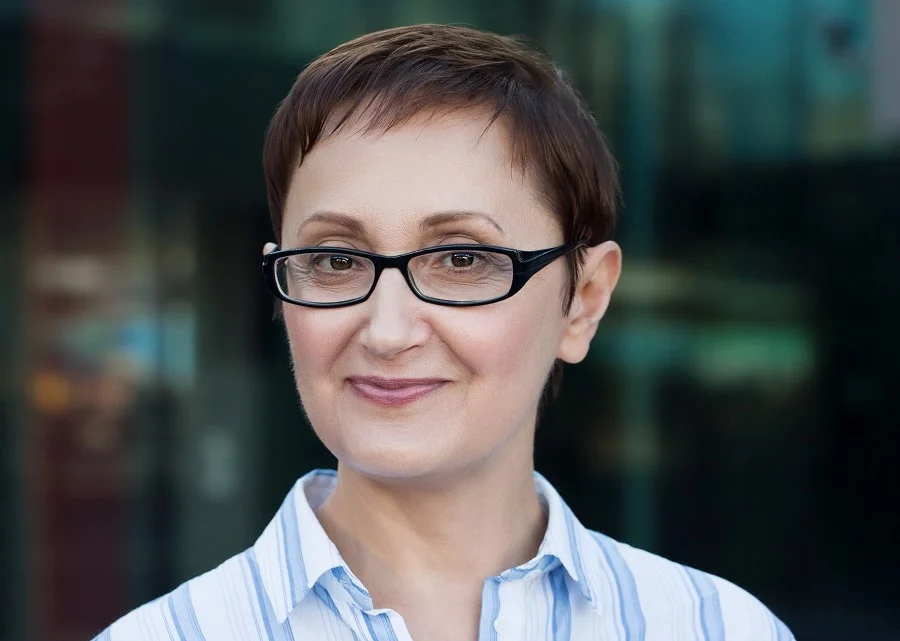 Smart casual looks are a great choice for women over 50 with glasses. And a wash-and-wear hairstyle is probably the best approach.
Go for a short pixie cut that features slightly longer hair for the apex and baby bangs. Make sure your face shape is suitable for such a short fringe.
17. Young Bob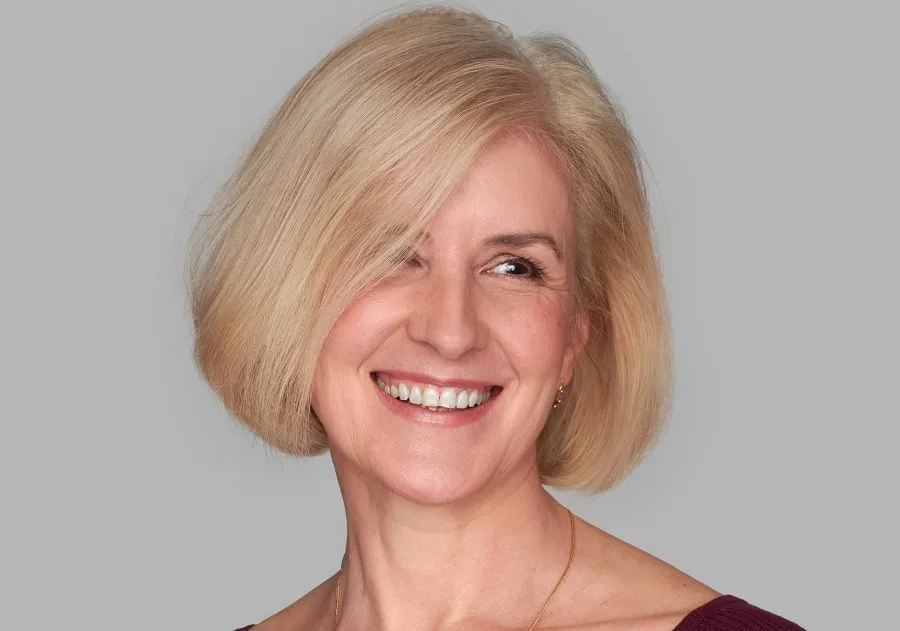 When having thick straight hair, you don't need to invest too much time in styling your locks. Get a blunt bob haircut and do a side part.
Choose a warm blonde color that suits your fair skin. Brush your hair while it's still damp. You can use a few pumps of no-frizz hair lotion to tame your locks.
18. Layered Curls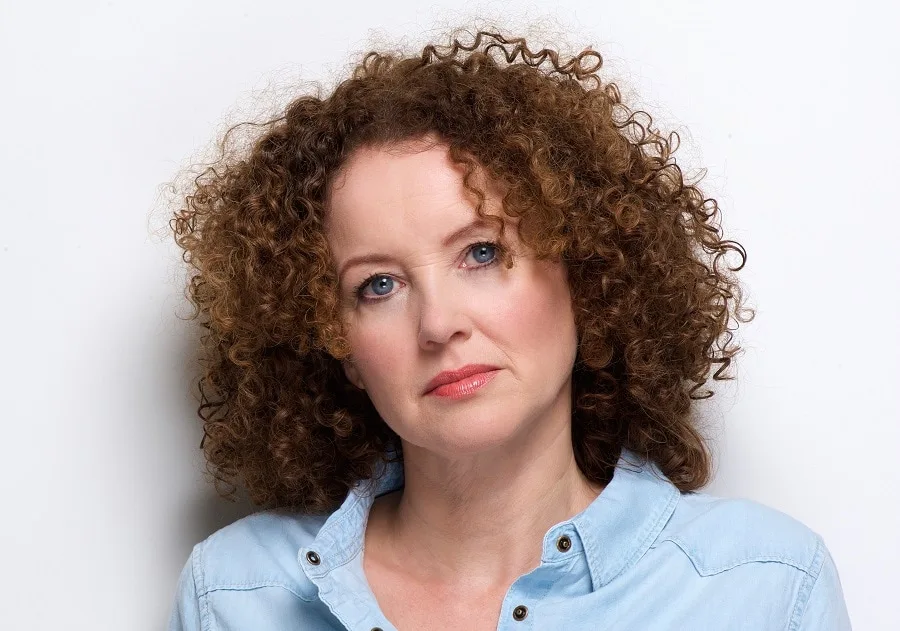 Such tight curls can be so hard to manage, but with the right haircut, they can be easily tamed. And it all starts with using proper hair care products that are specially designed for curls.
Create layers for the crown because you probably don't want to end up with a triangle shape cut.
19. Short Bangs for Asian Women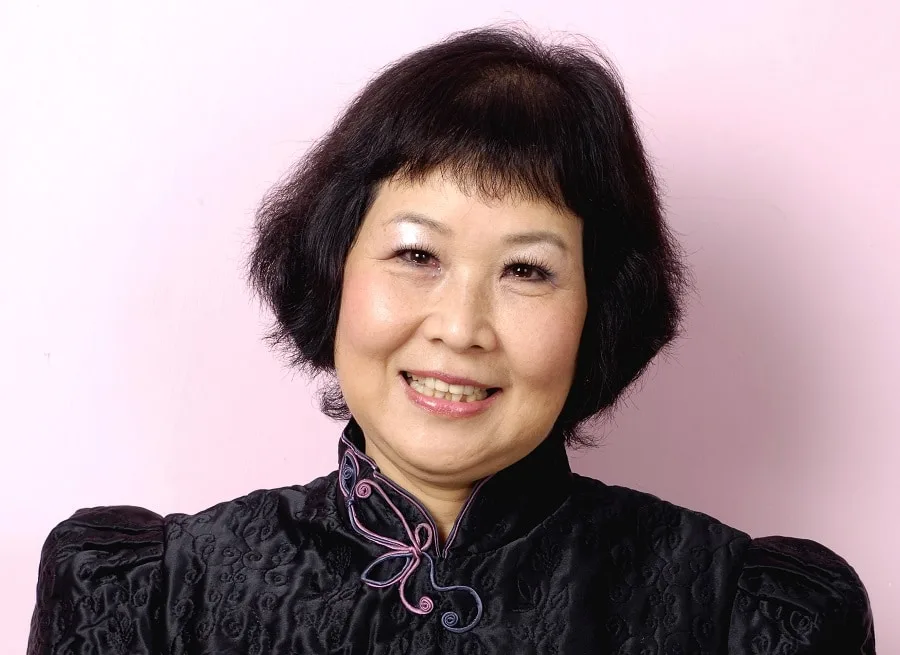 For this hairdo, you need to build stacked layers on the sides and back. Baby bangs will complete your hairstyle, creating great framing. Using a rat tail comb to tease the lateral pieces in order to obtain more volume.
20. Loose Waves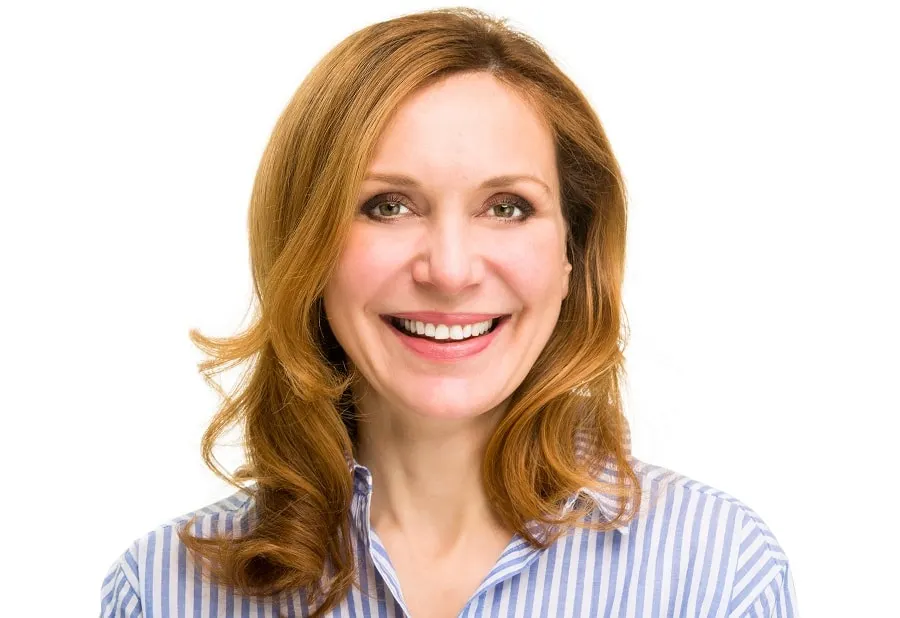 When your hair is naturally wavy, you must take advantage of this texture and while your hair is damp, use a rounded brush to shape those loose curls. Swipe your bangs to one side and go for a blonde hair color with a tint of copper.
21. Yellow Mohawk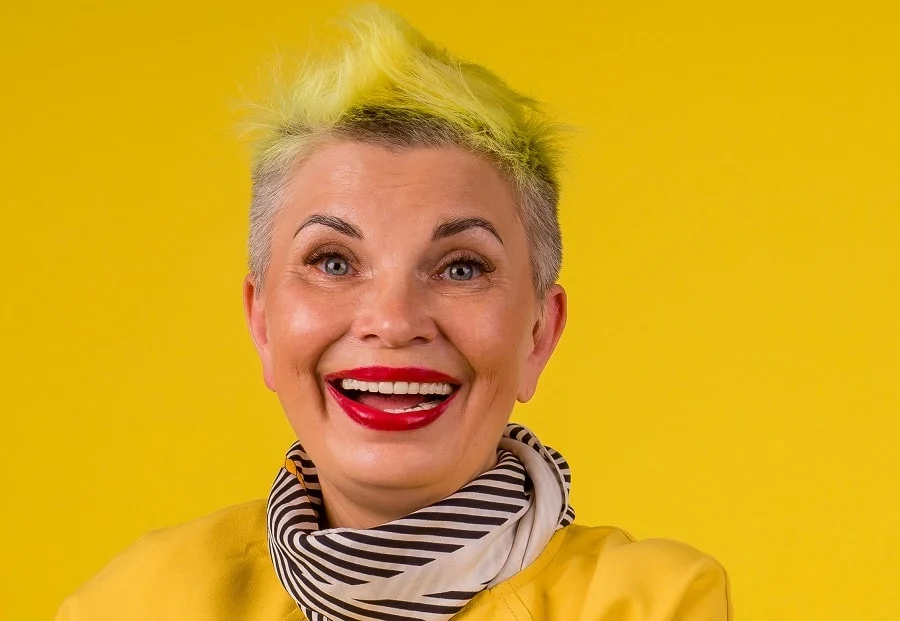 If cut properly, such mohawks are easy to style, even without a blow drier or any other heated tools. So cut the sides short and do a high fade that extends into a mohawk.
Dye the top with semi-permanent electric yellow dye and use fixing spray to make the mohawk stand all day long.
22. Stacked Pixie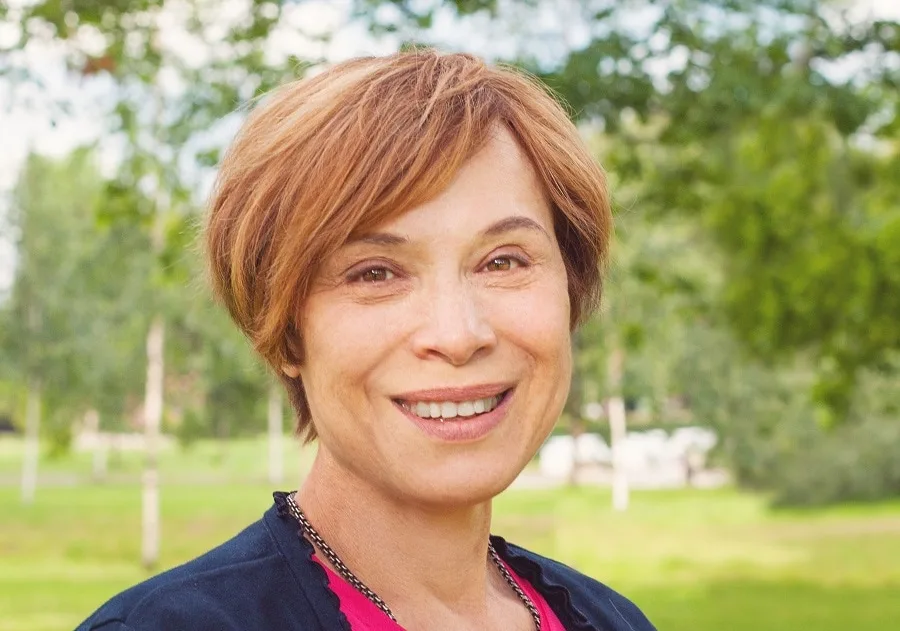 Layered stacked pixie haircuts provide more volume for the sides and back. They also feature small thin strands in the back, that cover the nape area. Go for a side part and comb your bangs toward the ear.
23. Natural Waves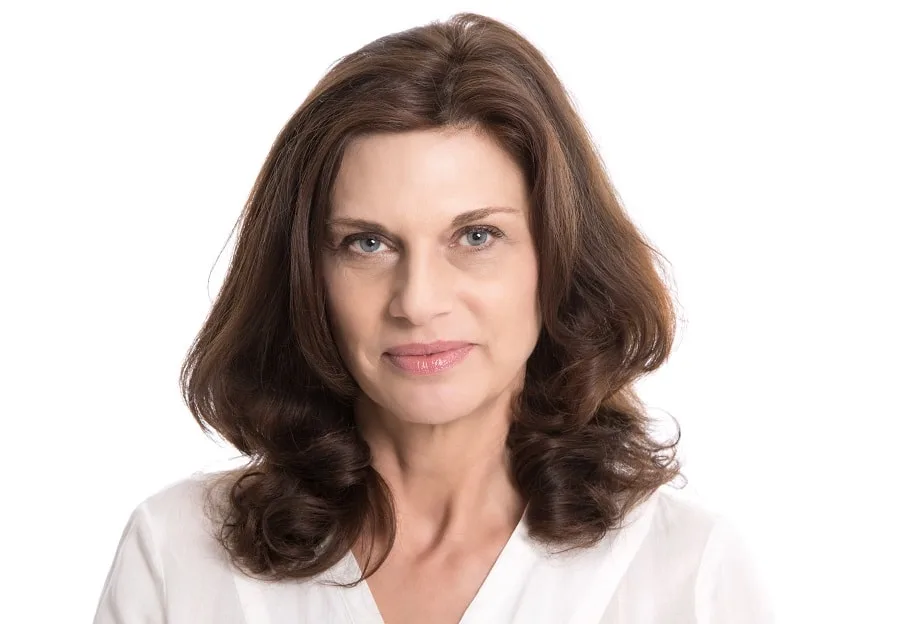 If you love natural elegant looks, brown hair dye will certainly complement your fair skin and blue eyes. If your hair tends to get curly at the ends, better define that area and create two-level layers.
Wear and wash hairstyles are an exquisite fit for women over 50, especially when you don't want to invest time in styling your hair every day. Let us know in the comments which hairdo you might adopt in the future.