Choppy bob is a laid-back haircut or a type of hairstyle that looks effortlessly chic. Imagine short, "bed head" hair with a pretty and feminine twist – that's short choppy bob. This popular haircut is easy to style and can adapt to women who are into different looks ranging from romantic and elegant to edgy and adventurous. In this post, we bring you 31 amazing choppy short bob styles to try.
How to Style Short-length Choppy Bob
When it comes to styling short and choppy bob haircuts, the first rule is that there are no rules. Messy look symbolizes this haircut, but you can adapt it to your own personality. It's entirely possible to have your choppy cut short bob look feminine, but also wild if that's what you want to achieve. After all, it all comes down to the personal preferences of every woman.
The most important thing about styling this haircut is to retain movement in the hair, but also to give it more volume and fullness. Start by washing your hair and towel-dry it before you apply mousse. Then, blow-dry your bob and scrunch sections of it using your hands. Proceed to apply texture cream through the layers at the ends of your hair to give your hair movement and volume.
Now, curl ends of your hair using a curling iron. Make sure your curl layers throughout your hair as well, but do it in different directions. This will give you a messy look and effortlessly chic appearance. Set the style with hairspray and tousle your hair a bit using your fingers. That's it.
You can try out different hair accessories, styles, colors, and you name it.
Amazing Choppy Short Bob Styles
Need the inspiration to style your choppy bob? Scroll down to see 31 amazing short choppy bob ideas.
1. Off Center Part with Waves
Instant sleek style can be yours with a short choppy bob filled with tight waves or curls! Before styling, part hair off center to switch up your face dimension. You can use a little hair clip to neatly pin back one side of the hair.
2. Platinum Bob with Layers
What do you get when you combine a short choppy bob with lots of layers? Tons of volume and texture! If you're feeling bold, go with platinum blonde hair color, too. You'll feel chic and powerful with this beautiful do.
3. Teased Asymmetrical Bob
An asymmetrical or stacked bob with choppy cutting gets a lift in volume from teasing the hair's natural waves and curls. If you leave the front sections of hair the same length, you won't have to worry about pesky fringe styling.
4. Purple with Straight Layers
Prefer a hairstyle with minimal texture but still want enviable style? A short choppy bob with layers can be straightened for smoothness. Give the look a punch of color with a beautiful faded dark purple.
5. Asymmetric or Geometric
A short choppy bob styled in an asymmetric or geometric cut will give you tons of texture. Play it up by straightening hair and teasing it at the crown. Finish off the look with dark red or a rich ginger color.
6. Wispy with Side Bangs
For women who have fine or thin hair, the wispy-cut short choppy bob is a beautiful hairstyle that will work with your hair type gorgeously. You'll notice this cut features wispy, feathered ends and a soft curtain bang.
7. Edgy and Extra Long
Trying to express your inner baddie? Short choppy bobs with their longest length at the front will get you there! After straightening hair, use a blow dryer to blow the hair toward the front. If you don't want to wear the hair over your entire face, you can blow it all just toward one half and get the same effect.
8. Blonde Thick Layered Bob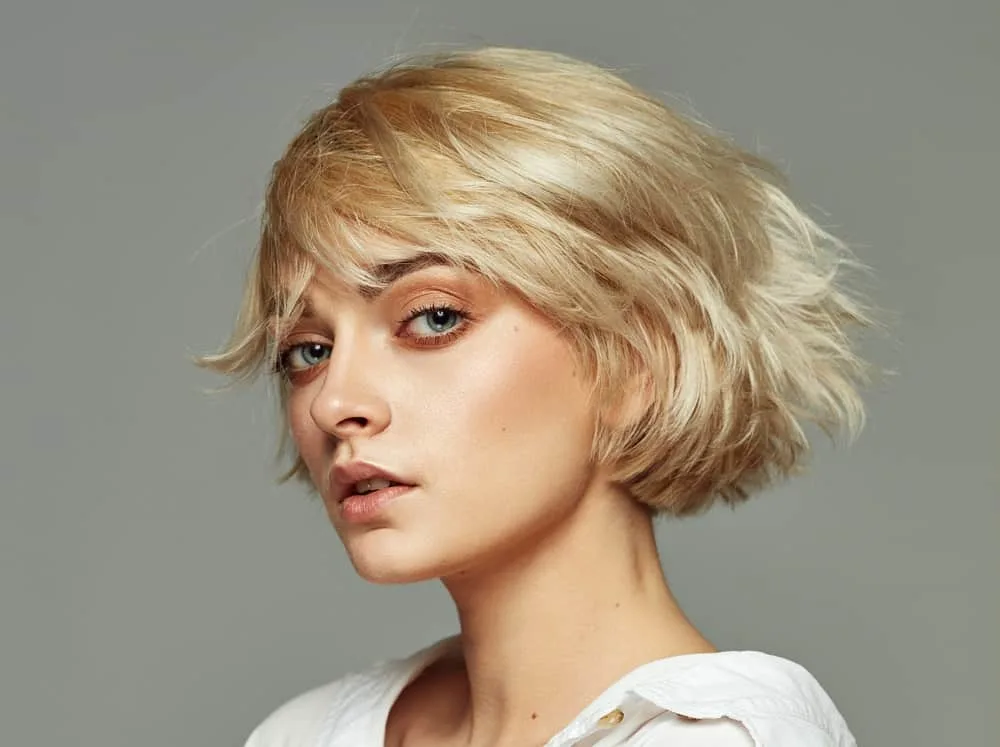 Do blondes really have more fun? Find out when you choose a short choppy bob with side bangs for your thick hair! Lots of layering will show off razor-cut ends. Straightening the hair and teasing the back will make sure your new hairstyle is noticed by everyone.
9. Punk Pink Bob
A bright and vibrant punch of pink is just the color to make you feel like a feminine goddess. An asymmetric style is especially flattering on women with petite or oval faces. The longest pieces will be at the front, emphasizing soft layered waves like pictured above.
10. Thin Choppy Bob with Long Bangs
If you have thin hair, work with it by first growing your bangs long and arranging them over your face to create this beautiful, mysterious "veil." It's that flirty touch needed to make a short choppy bob both soft and edgy. If you want to play with color, try this faded dusty blue.
When the term "bob haircut" comes to mind we immediately think of the sleek and sophisticated cuts, but they can go the other way around. Choppy shorter bob gives your hair some playfulness and enhances its volume. Your sandy blonde hair will be even more accentuated when styled in a cropped bob.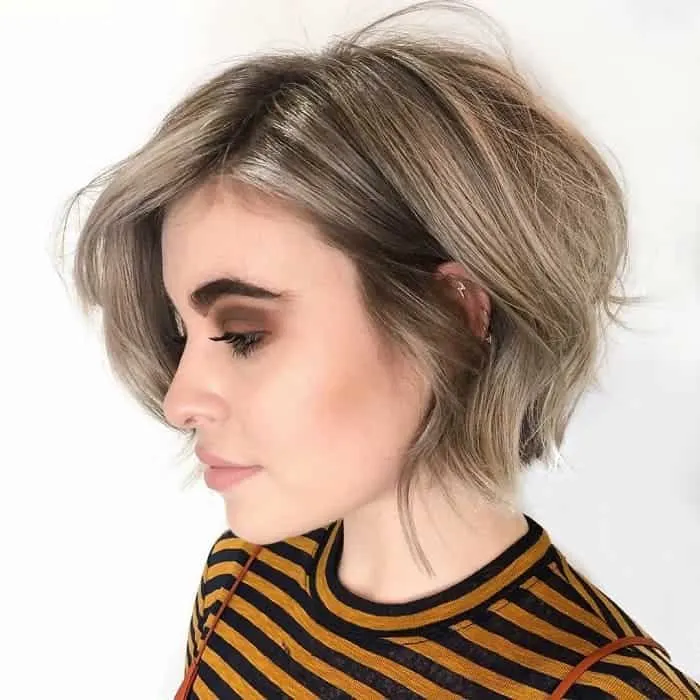 Women and girls with fine hair want to get more volume and fullness. Thanks to short choppy bob you can easily make it happen. Choppiness visually boosts volume and hair appears stronger and fuller. There is no awkwardly "flat" appearance that most women don't like to see in their hair.
Redheads are truly gorgeous. A shorter hairstyle can accentuate your vibrant hair color even more. Short a-line bob looks spectacular when combined with red hair regardless of the hue. There's something about this flaming color and choppy texture that gives your style a whole new dimension.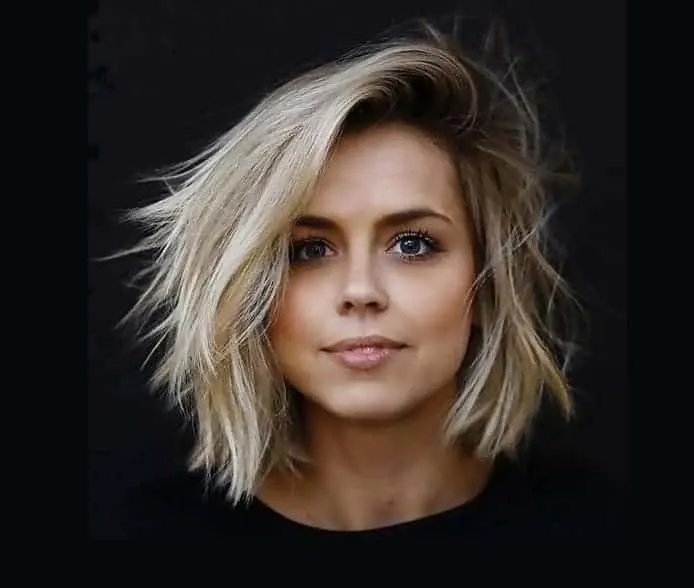 Want to give your thin hair more volume? Then choppy bob is the answer. This hairstyle will give you volume and playfulness, but at the same time, it's chic and romantic. With short choppy bob, you can easily combine different vibes and looks in a single haircut. For extra dramatic effect style your hair in a manner that most of your tousles and strands are on one side as shown on the photo below.
Not all short bob haircuts are equal, and some are still longer than others. If you're a fan of shorter cuts, then you still take chopped short bob into consideration. Take a look at the haircut below. It's super short, choppy, and looks so edgy when paired with brunette hair. So chic, yet so unusual all at once. Isn't it fantastic?
A common problem with thick hair is that it can be difficult to control. Shorter hairstyles suit this hair structure perfectly as they give you more control, but retain the movement and volume. Chopped bob is one of the best hairstyle options for women with thick hair. It looks great on both dark and lighter shades. Here's a great example of chopped bob in dark hair.
You prefer edgy hairstyles and love to stand out? Not a problem! One of the best things about short choppy bob is that you can incorporate it in any style you want regardless of the vibe you want to ooze. Get super short bob but leave some strands longer than others. Highlight in vibrant color and bangs can boost dramatic effect and edginess.
18. Two-Tone Short Choppy Layered Bob
There comes the moment when we want to do something about our hair, add a new color, but we love our hair and don't want some drastic changes. We've all been there! Although it seems like a confusing idea, it's entirely achievable.
Combine your shorter choppy bob with two-tone hair. Just get highlights that are a shade or two lighter than your hair and voila, your new hairstyle is perfect.
Ladies and girls who wear glasses often think it's impossible to find a hairstyle that will suit their face shape and glasses perfectly. Choppy short bob haircut can prove you wrong. This curly, yet choppy bob haircut with bangs adds more definition to your face but also flatters your glasses too. It's a super cute style you should try for sure.
Ombre and balayage are not reserved for long hair only. You can look spectacular when you combine these highlighting techniques with short and choppy bob. The choice of color is up to you. You can go for shades that are similar to your hair, or you can go in a different direction and try something edgy.
Bob and Korean bangs go together like hand and a glove; they're a perfect match. If your goal is to have that messy, yet chic vibe then combines your short choppy bob with see-through bangs. Your hair will appear more playful and voluminous. Let's not forget that bangs give you a more youthful look.
The beauty of choppy cut short bob is that it suits women of all ages. For example, this hairstyle looks absolutely marvelous on older women as it gives them the youthful, more rejuvenating vibe. Pair the choppy bob with baby bangs, and you'll get an unusual, yet beyond an amazing look.
What every woman over 40 wants is to look younger and more sophisticated. With short choppy bob haircut, you can easily make it happen. Combine this amazing hairstyle with thick, messy bangs for a youthful look. This hairstyle is particularly awesome in women with the oval face shape.
If you're looking for a hairstyle that will give your round face slimming effect, then short length choppy bob might be the answer. The playfulness of this hairstyle combined with unique texture makes this haircut a wonderful option for the effect you want to achieve.
Square face shape is indicated by a somewhat stronger jawline. Therefore, the goal is to keep the face defined, but also to lessen the sharpness of the jaw area. Short choppy bob with subtle balayage highlights can do the trick.
Women who prefer more romantic hairstyles may want to try combining their choppy bob with bangs parted in the middle. Soft and feminine – this hairstyle can work with any outfit choice ranging from cute dresses to professional ensembles.
Black women have strong, thick hair that can be difficult to control. Choppy shorter bob retains movement of your gorgeous hair, but it allows you to style it more effectively through improved texture and definition.
All fans of ultra short hair will love this style. Short choppy bob and straight bangs reaching your eyebrows are both cute and playful. This hairstyle is particularly lovely on women with fine hair. The best thing of all is that it's easy to care for this haircut.
Use hair accessories or a colorful scarf to give your hair more edge and cuteness. Take a look at the photo below. Lovely short chopped bob looks even cuter with a scarf tied in a delicate bow.
30. Bob and Braid Combo
Braids are not for long hair only, and they can work with short hair as well. Make a twist braids on the side of your head and use bobby pins to attach it like a hair band securely. So cute!
Curly and chopped short bob gives you, even more, volume and playfulness. If you're a free spirit, then this style is a must-try.
Bob is one of the most versatile haircuts as it allows us to get the style that suits our personality, face shape, and hair texture the most. Short choppy bob belongs to those hairstyles that look great on everyone as seen throughout this post. Don't be afraid to experiment. Good luck.