Have you had your eyes peeled for a hair color that will look not just great but fabulous with your olive skin tone and brown eyes? We understand your struggle and completely empathize!
Having olive skin and brown eyes is one of the best combinations of physical features. The lightness of olive skin and the darkness of brown eyes means your look is versatile and that means you can pull off a wider range of hair colors. A bright platinum blonde, a rich caramel highlight on brown hair, or a bolder choice like bright red are all options.
So whether you like neutral hair colors or something more fierce to match your personality and inner fashionista, you'll find a hair color you like to flatter your features in our list of the best!
Hair Colors for Olive Skin and Brown Eyes
For the best hair colors to stun with your beautiful olive skin and brown eyes, take a look at the options below!
The mix of light and medium blonde hair color here as an ombre is a beautiful soft transition of color perfect for ladies with an olive skin tone and brown eyes. Wear the shade on long hair for a graceful, elegant addition of color and add in soft waves for subtle texture.
2. Very Bright Red
A stark contrasting hair color on olive skin tone can look really gorgeous, you just have to know how to work it. If you love being bold, choose this really bright red hair color. Women who have a gothic or punk vibe will appreciate the electricity bright red brings.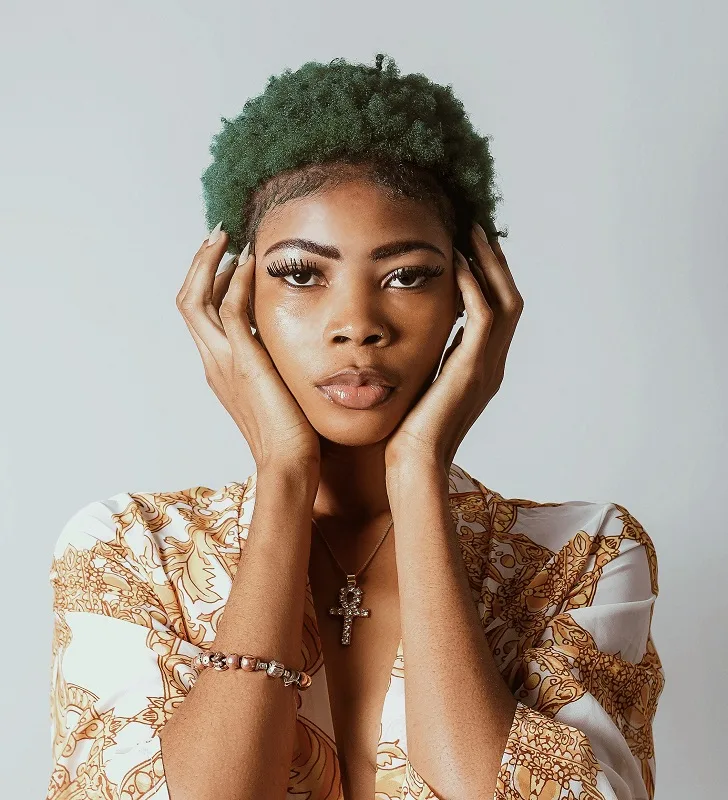 Green is always an option when you have olive skin tone and hazel eyes. This dark forest green will off set your brown eyes beautifully and the color is adorable on short natural black curls! To emphasize the color even more, play with a forest green eyeshadow.
If your favorite part of your brown eyes is their richness, chocolate brown hair color with lighter brown highlights are for you. They look gorgeous here on long wavy hair and against an olive skin tone.
If your base color is dark, just add a beachy blonde balayage for an instant glow up! The light color will bring warmth to your olive skin tone as well as draw attention to your dark brown eyes.
Need a hair color you can wear professionally to work but still want something eye-catching? A light purple is feminine, work-appropriate, and great for olive tones. It will also be a soft touch to your brown eyes. The look above features shoulder-length straight hair, but the purple hair color would look equally as pretty on wavy or curly hair.
Auburn with red highlights is for those ladies who have a spicy personality. Rock the hair color on long wavy hair and watch how your hazel eyes take center stage!
A dark brown hair color is easily freshened up with a few thin to medium-thickness caramel highlights. If you have an olive skin tone and brown eyes, keep this color pair at the top of the list!
9. Medium or Dark Purple
If you prefer medium and dark hair colors and are looking for a color that's more fierce than traditional, opt for this shade of purple. Purple hair colors in any shade really flatter olive skin tones and brown eyes. This curly short pixie is the perfect way to rock it!
Rose gold hair color is sweeping the hairstyle world and it's easy to see why. Long wavy hair leaves plenty of room to flaunt the stunning shade and frames an olive skin toned face with brown eyes.
11. Pure Black
Embed from Getty Images
An olive skin tone can easily and beautifully pull off pure black hair color. Whether you wear your hair short or long, the color is timeless and versatile as it's both bold and soft on your skin tone.
Whether you prefer wearing your hair long, short, or somewhere in between, the above 11 colors will work gorgeously with them all and accentuate olive skin tones and hazel eyes on any woman.
As you can see, even just highlights bring your hairstyle to a whole other level. So if you're nervous about completely changing your entire hair color, start with highlights for a small but noticeable change.