Are you one of the lucky ladies out there blessed with olive skin tone and hazel eyes? Congratulations, you can rock pretty much every hair color under the sun!
However, there are a few key hair colors best suited for your combination of physical features, and it's especially important to pick the right hair color to bring out those green and gold tones in hazel eyes!
You might think that your olive skin tone and combination hazel eyes means you can only stick to a certain color wheel, but there are actually many hair colors you can add to your hairstyle to accentuate your best features and look amazing overall.
Whether it's a fierce dark purple you desire, a medium green for your eclectic personality, or a more neutral shade like blonde, there's a hair color for you!
Gorgeous Hair Colors for Olive Skin and Hazel Eyes
After you take a look at the beautiful, chic, and at times bold hair colors that are the best hair choices for your olive skin and hazel eyes, you won't feel stuck in your hair rut anymore!
1. Rich Red
Ginger Spice herself would approve of this gorgeous deep ginger hair color that beautifully flatters olive skin and hazel eyes. Rock it on your long curly or wavy locks and part hair at the side for that extra volume.
2. Blonde Highlights on Dark Blonde Hair
If you have olive skin and hazel eyes, go for a dark blonde base color and bright blonde highlights. This gorgeous hair color instantly revives any look, like this long curly hairstyle.
Whether you wear your hair down and gracefully over the shoulders or up in a cute bun, you'll look chic and boss.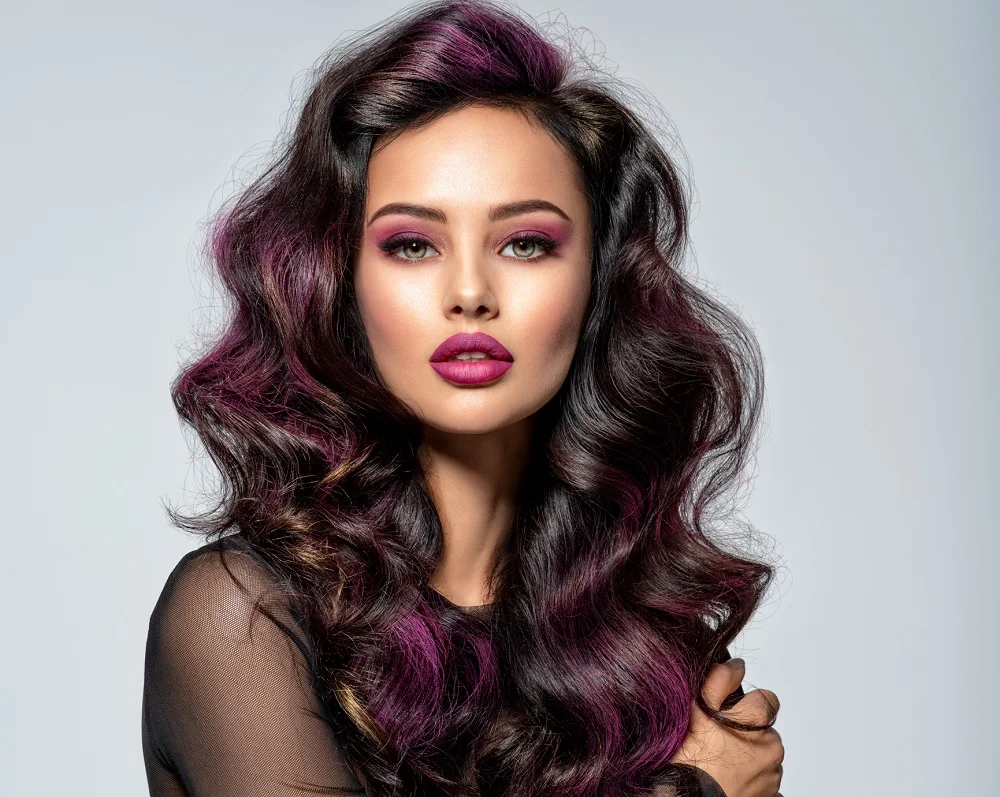 A black or brown hair color deserves a pretty pop of purple highlights. Just a few thick ones around the face will bring a feminine punk touch to your olive skin and hazel eyes.
To wear it on date night with your spouse, just add your favorite pink lipstick and pair it with an equally pink eyeshadow!
4. Medium Green Pixie
Do you love a playful yet short punk hairstyle? Go for a pixie cut with green hair color! It's a bold choice and looks awesome against olive skin. The green tones are also perfect for making hazel eyes pop.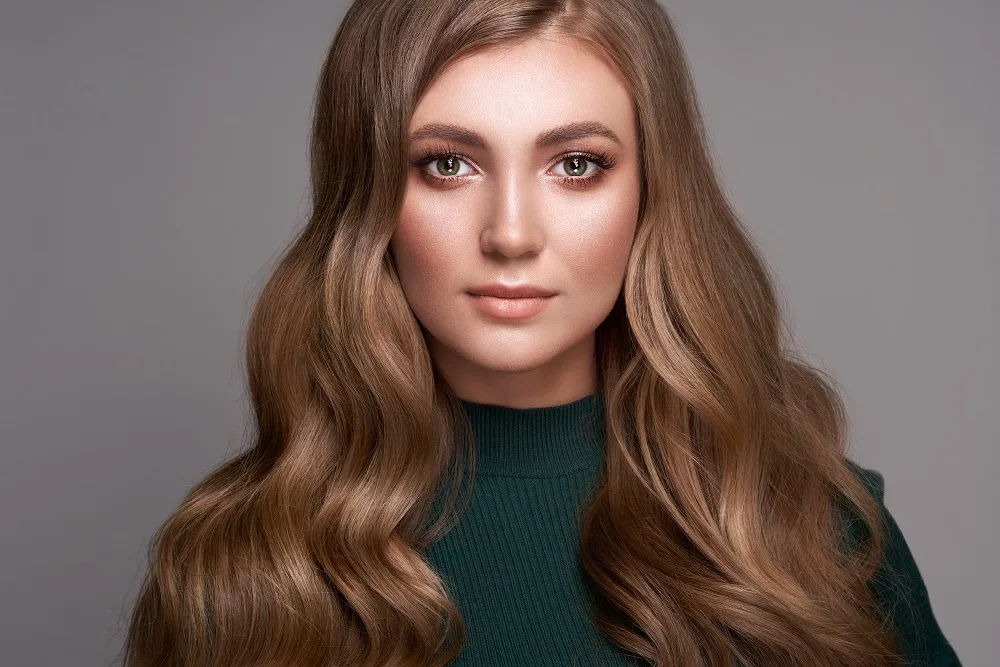 Medium brown is a hair color that suits every skin tone. Your olive skin tone and hazel eyes will love how the soft color brings attention to your best features. Try it on long wavy hair parted in the center or slightly off center.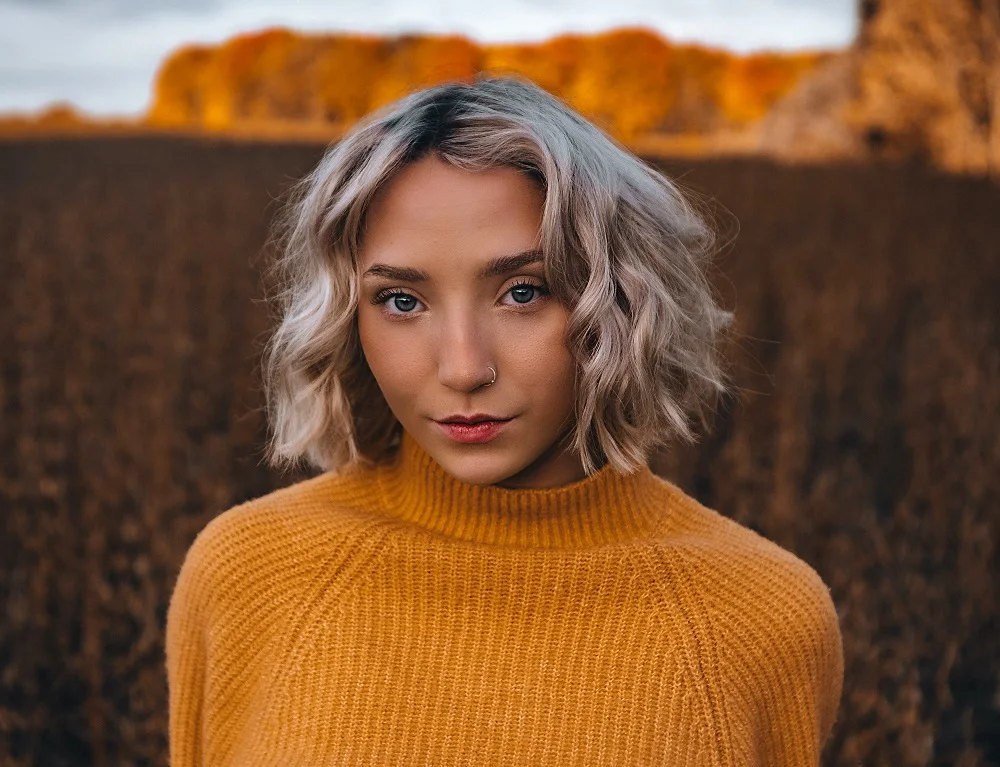 If your olive skin tone and hazel eyes accompany a small face, opt for this adorable choppy pixie in an ash blonde hair color. Its lighter shade works especially well if you have a dark base to peek through the short textured layers.
If you have the freedom to go bold with a bright shade, try bright pink hair color! On this short curly hairstyle with side bangs, the color is a gorgeous complement to olive skin and hazel eyes. To add another dimension to the pink hair color, consider adding darker pink highlights.
8. Dark Brown Long Hair
Even Cindy Crawford wouldn't say no to this gorgeous chocolate brown hair color. Dark brown is another hair color that looks gorgeous on any skin tone, but especially an olive tone. Let the dark brown work its wonders on your long, wavy hair with your olive skin tone and hazel eyes.
Another fierce red hair color is this bright one, which is super bad ass on long straight hair. If you love edgy touches, add a fade on just one side. Your hazel eyes and olive skin tone will stand out easily with the bright color on your side.
One hair color that is a little less in your face is this dark purple. Its darkness will beautifully complement your olive skin tone and bring out the green flecks in your hazel eyes. Go for long layers and part it at the side to frame the eyes.
From brown and blonde to vibrant pink and purple, it's true and clear that there's no shortage of perfect hair colors to flaunt with your olive skin tone and hazel eyes.
Your only move now is to decide which of the 10 hair colors above to start with! Be sure to share your final look with us in pictures!