The comb over is one of the most stylish men's haircuts that you can opt for. The best part about this classic style is that it can easily combine with any hair length and look great on any hair texture. Popular and extremely stylish, long comb over haircut has become synonymous with edgy, exotic styling the world over.
The wide range of options within this styling genre appeals most to people. Be it the universal hair swept on the sides or comb over undercut, it manages to give a distinctly striking makeover to your overall personality.
Best Long Comb Over Styles for Men
Here is a quick look at some of the most stunning comb over hairstyles for men with long hair that you could try. These are not just stunning but relatively easy maintenance options too.
1. Shaved Lines
In the list of unbeatable comb over hairstyles for long hair, this one is an undeniable winner. It is funky, creative and offers a unique dimension to your personality.
This is a type of style that creates a definitive statement and offers a stunning contrast. It also involves the use of minimum chemicals and styling products.
When you think of the long hairstyle for men, this is one of the classic representations. The undercut along with the comb-over combine a sense of restrained styling that enhances the overall impact.
This is also a versatile way of styling the hair. Irrespective of the occasion, this style looks appropriate.
When you think of flexible long comb over options, this is a wonderful option. It combines the slick back styling with the long hair and brings a striking, rugged, masculine touch to the overall hairdo. Moreover, it brings out a subtle styling sensibility that is rather attractive.
4. Wavy Comb Over
If you have naturally wavy hair, this comb over is one of the perfect ways to style your long hair. It effortlessly combines length, volume, and concept to bring out a definitive and appealing style. It is cute as well as a confident haircut that can bring about an absolute makeover of your personality.
In case you are keener on a hipster and more modern look, this is the type of haircut you can choose from. This undercut hairstyle along with the beard and the mustache create a distinctly rugged and masculine appeal.
The nose pin and the earring along with this style is the perfect representation of a punk-style esoteric hairdo.
This is a kind of comb over that combines absolute contrasts of long hair and taper fade. The two together create an unforgettable combination. The hair remains manageable despite the length and can be adjusted as per convenience.
7. Combed Back Mullet
The comb over is styled similar to a Mohawk in this hairstyle. It is all creating a stunning impact. The Mohawk styling also ensures that the long hair remains manageable despite the length.
This is a rather stiff long top hair styling. The comb over is styled in a stiff slicked-back fashion, and when combined with the medium skin fade it makes for a rather unique impact. The sparse chin strap beard further accentuates the rugged look.
This is another long hairstyle in slick comb over look that heroes stiff styling and makes an undeniably lasting impact.
The wavy long hair comb over is another unique styling success. The tapered beard adds to the overall masculine appeal of this style.
This textured comb over fade is another versatile option. The long length of the hair can be altered as per your professional demands or personal choice.
This can be worn in a wide number of occasions as per the user's convenience. It highlights a practical style with scope for fine detailing.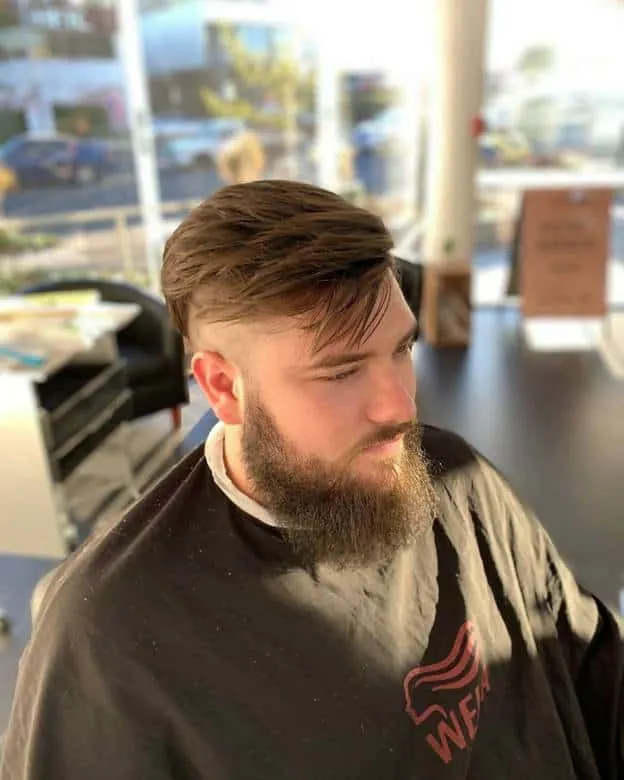 These messy fringes give this long haircut a naturally soft style and make it a rather approachable alternative.
Despite the heavily rugged and masculine accessories like the beard and the overall comb over, these fringes make all the difference. It is a rather bold and striking comb over style.
There is nothing too complicated about this haircut. This is a type of style that can be easily adapted to individual preferences and ambient challenges. You can use gel on it; it looks formal and sober, you let it loose, it is flowy and informal.
Even the length of the hair can be adjusted as per your preferences, and how you are used to wearing it. Therefore it is a beautifully versatile and flexible way of styling the hair.
This textured comb over looks even more dynamic when you team it up with the shaved lines and the skin fade. It enhances the rugged masculine appeal of this style, and it screams out fashion in every possible way. This is a kind of style that will guarantee a second look every time you step out.
15. Curly Comb Over
Did you think that style like a comb over is the bastion of those with poker-straight hair? Well, here is a perfect example to set the record straight for many.
This is an easy-going and free-flowing style that perfectly complements your face and at the same time celebrates your long curly tresses to the absolute hilt.
The degree of fade can completely transform the entire hairstyle. This is a style that clearly drives home this basic point. Just replacing a high fade with a mid-fade changes the whole dimension of the overall look.
It looks relatively softer and a lot less edgy. What has, however, not changed is how good it looks and the way it completely transforms your face with a stylish edge.
The high fade contrasts this comb over. The longer hair is swept to one side, but when coupled with that high fade, it offers a welcome variation that is not just stylish but functional too.
It makes the hair extremely manageable despite the length and creates an illusion of voluminous top. This is particularly useful for those dealing with sparse hair issues.
This long comb over is extremely flexible and invariably versatile. Even the slightest variations can bring in a completely new element to the overall look.
These golden highlights are a case in point. What is otherwise a normal brushed back comb over is suddenly looking dynamic and undeniably gorgeous. It can work well both in formal and casual gatherings.
19. Red Highlights
The red hair on top is the most striking aspect of this style. A regular comb over gets a brand new dimension with this little color variation.
It introduces a subtle contrast that effortlessly makes this a rather attractive style. The bright red color tone also ensures a substantial impact on the overall styling.
In this comb over on long hair look, the sharp partition in-between creates a sense of contrast and variation in the overall style. It breaks the monotony in a meaningful way, and the soul patch with a hint of a beard adds a distinct touch of rugged and subtle masculine appeal.
The long comb over style can adapt to a wide range of facial shapes, hair types, and ages. As long as it is styled appropriately, it can easily take center stage and enhance your overall look. It is versatile, functional and creates a unique appeal that is hard to miss wherever you may go.
The good news is you can also style it a bit soberly when you are preparing for a corporate meet or a business gathering. Remember to give proper direction to your barber for the best results.