Ombre hairstyles for black girls are so stylish and trendy. They will make the faces of girls with dark skin look so bright and radiant. These hairstyles can actually look amazing on black girls because their base is already dark brown or black.
How to Style Ombre for Black Girls
Dark brown and black are great to combine with almost any other color. Both when it comes to choosing the right color for your ombre and the right way to style it later is at the end of the day a matter of your personal preference.
Be prepared to bleach your hair at least to get the ends of your hair to be a few shades lighter. If it is your first time wearing an ombre, don't lighten a big portion of your hair, but rather try wearing an ombre just on the ends first so that you are not overwhelmed by the contrast between the blonde hair and the deeper skin tone.
For any type of highlights or ombre hairstyles, the best and safest option is natural waves, regardless of whether your hair is longer or shorter. Wavy hair brings out the texture of the hairstyle and makes it look gorgeous. And what's more, it's an appropriate hairstyle for any occasion.
Beautiful Ombre Hairstyles for Black Girls
Following are the most gorgeous ombre hairstyles for dark skin toned girls. Check out draw inspiration for your new look.
Rihanna is a fan of a dark blonde, honey ombre and it's a perfect example of how great ombre hair looks on dark skin.
Ideal for: All face shapes.
How to style: If your hair is long, the ombre should start around 5 inches below the top of your head. The color is a medium-dark honey blonde that looks so natural and pretty.
Black girls look great with a burgundy or coppery ombre that matches their dark skin so well.
Ideal for: Square and oval-shaped faces.
How to style: Since the hair is short, the ombre should start pretty high up. The coppery red doesn't have to be too bold and bright. Part the short bob hairstyle far on one side to enhance the beauty of the red ombre for black girls.
Even if your skin is dark, there's no reason why you wouldn't experiment with cooler shades of hair and makeup. If you have good makeup skills, they can help you emphasize the beauty of any hair color.
Ideal for: Oval and round-shaped faces.
How to style: To achieve and maintain this short silver hair ombre on black hair and dark skinned girl, your hair has to be completely bleached and regularly toned.
Otherwise, use a hair straightener to create these natural messy waves and part your hair on the side opposite to the one where you'd usually part it to achieve volume.
Royal blue is another color that goes well mixed with black hair. A classic and stunning ombre hairstyles for black hair.
Ideal for: Oval and heart-shaped faces.
How to style: If your hairstyle is bob, a lob or just below shoulder-length, you can just straighten it with a hair straightener.
This is an example of ombre hairdo on dark skin that's more on the cool side mixed with ashy ombre and cool-toned makeup that looks flawless and angelic.
Ideal for: Round and square-shaped faces.
How to style: An asymmetrical bob is great for emphasizing the bone structure of your face.
If you're ready to commit to wearing an ashy blonde ombre, go for it and be ready to dye a bigger portion of your hair. Combine it with natural waves swept to one side.
For those black girls who don't want a huge change, and just want to avoid their hair looking dull and one-dimensional, the best way is to go for a natural ombre.
Ideal for: All face shapes.
How to style: Lighten the lower parts of your hair so that they end up being a nice light brown color that is just a few shades lighter than your natural hair color.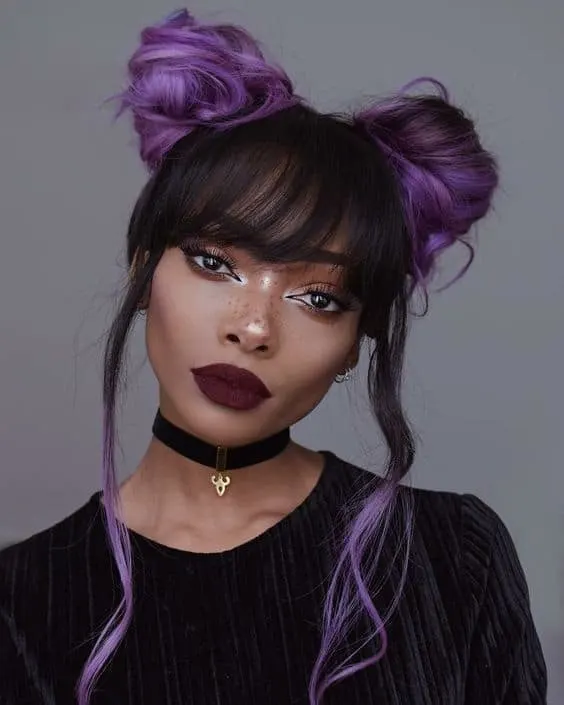 Black girls rock bright colors just as good as girls with a lighter skin tone. This ombre hairstyle for black hair is so vibrant and head turner!
Ideal for: Heart and oval-shaped faces.
How to style: Bleach the ends of your hair in an ombre and tone it with electric purple color. Get the most out of your new hair color by trying different buns and ponytails such as this gorgeous purple space bun.
8. Burgundy Ombre
Red ombre on black hair was considered a great combination since the beginning of time.
Ideal for: All face shapes.
How to style: To emphasize the beauty and shine of your dark hair and dark skin, do this bright burgundy ombre. Style the hair into loose curls.
If you want to go bold, even bolder than that purple ombre, try this light blue hairstyle with black roots. The blue ombre for black girls will make such a wonderful contrast against your dark skin.
Ideal for: Heart and square-shaped faces.
How to style: When dying your hair, you'll have to bleach everything except one or two inches around the roots. Then tone it into this gorgeous bright blue color. You can style it into a high messy bun.
Strawberry blonde is a great shade that is neither warm nor cool, and that is what makes it pretty, original and universal.
Ideal for: Round and square-shaped faces.
How to style: Just, as shown above, these ombre hairstyles for black hair dark skin work beautifully with a wavy bob.
Chestnut Hair Color Ideas for 2023
Another neutral shade is this light blonde that is neither too yellow nor too ashy.
Ideal for: Oval and heart-shaped faces.
How to style: Be brave enough to become fully blonde with this ombre hairstyle on dark skin tone that is by now a classic.
FAQs on Ombre Hairstyles for Dark Skin
Which ombre color works perfectly for dark skin tones?
Darker skin tones can also be warm or cool. They are mostly warm, but there are exceptions. If your skin tone is warmer, such as Beyonce's or Rihanna's, you should go for warm honey, copper, or chestnut hair ombre.

If your skin tone is cooler, go for an ashy undertone in your ombre. A warm ombre on a cooler skin tone can make you look sick, or even tacky. And an ashy ombre color can look artificial against a warm skin tone.
Can black girls try bold colors?
The answer is – of course, they can. When we're talking about bright, bold colors, it's not a matter of skin tone anymore.

It's a matter of whether you are brave enough to wear it and commit to it. A bright ombre can't really look natural against any skin tone, but it can look very cool and unique.
These hairstyles give black girls so many different options when it comes to making their hair look more fresh, shiny and flattering. So which ombre hairstyles for dark skin tone are you gonna pick? Let us know.