Medium shag haircuts are one of those that are utterly stylish and timeless. They are versatile, so guess what? All women can try it. Whatever texture you have, length or hair color – you should try shag haircuts.
Spring is coming and you are in desperate need for a new haircut? No worries, we have gathered some of the best examples of shag haircuts for medium length.
How to Style Medium Length Shag Haircuts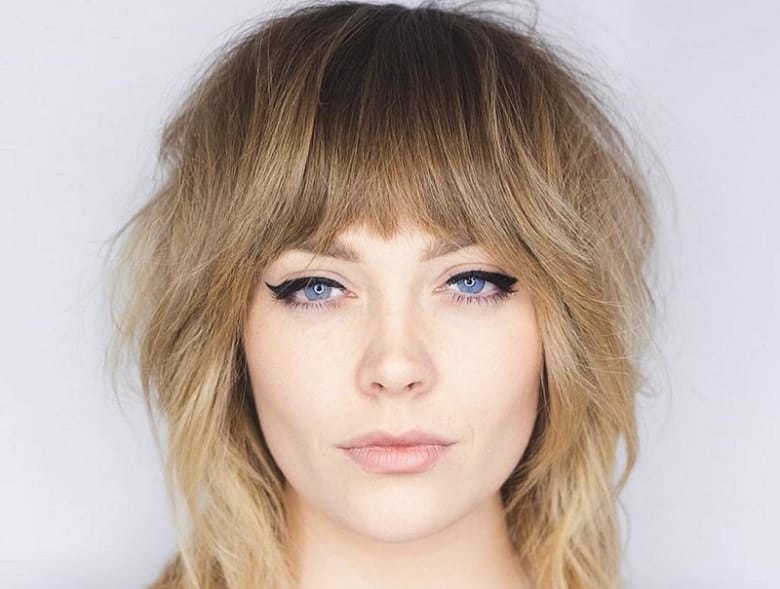 A shag haircut looks amazing on any length. A short haircut will make you sexy, while long ones are great for styling. However, we can surely say that medium shaggy hairstyles are versatile and super-trendy. Shags are perfect for any occasion. Providing your hair with more texture and layers – that is the main task of shag haircuts.
The thing about shaggy haircuts is that they need to be tailored to everybody. That is why every hair stylist recommends medium length as something that is most versatile and easiest to style.
The key to styling great medium shag is to point out the layers and the texture of your hair.
You will need to put on a mousse on a towel-dry hair – preferably on the layers around all sides.
Detangle your hair by using a wide-tooth comb to prevent any knots.
If you want to create movement and texture the easiest way to do it is to make twisted buns all over your head. You can section your hair in zig-zag movements.
Blow dry your hair with a diffuser.
Once you are done drying removes all bobby pins and twisted buns.
For extra texture and volume spritz, some hair sprays at the ends to make it messy.
For the end, you can always use your fingers to create desired volume and texture.
You can also try the old-fashioned way of making texture and waves – by using rollers. They are great for making your hair look smooth but voluminous.
Curling wand can also make a shaggy haircuts look messy and stylish. They are great for finish touches – adding more texture and making layers look beautiful.
Watch The Following Video to Learn How to Style Medium Length Shag Hairstyle
Popular Medium Shaggy Hairstyles
From interesting dyes to straight hair and retro vibes – we have gathered only the best medium shag cuts that you should consider before cutting off your hair.
1. Rock 'n' Roll Inspired Hair
For all those rock 'n' roll fans, try to make a hairstyle like this. You will be amazed by the comment you will get. French bangs are great for framing your face, no matter which shape you are. Medium shaggy hairstyles like this one are great for both everyday wear as well as for rock concerts, of course!
Imperfect waves and a lot of shaggy texture is all that you need for this lovely haircut. Medium shag haircuts, including this one, are perfect for all season wear. Golden hues look simply adorable, especially if you dye your hair in two tones. Balayage is one of the most popular dyeing techniques, don't hesitate to try it.
Ash tones are great for all girls who like their hair to be really highlighted. With chopped and highlighted hair ends your hair will definitely be eye-catching. Medium shag is great to style in the morning – you won't need more than 20 minutes to get it done.
Bangs are a great addition to your hairstyle. And it is not a surprise that they are super popular and timeless. You can choose these side bangs that will frame your face but won't hide your eyes. On the contrary, these bangs will definitely highlight your cheekbones.
Two-toned blonde hair looks this amazing because of the shaggy structure. Yes, it's true! To create this messy look you will need curler as well and a mousse. This can be a really great medium length shag haircut for everyday wear, especially if you are styling it for the beach and summertime.
Shaggy medium hairstyles are definitely the easiest for maintenance. You can leave it straight or use a curling wand to make lovely medium beach waves. No matter how you decide, your hair will be ready for everyday and workwear.
7. Voluminous Shaggy Haircut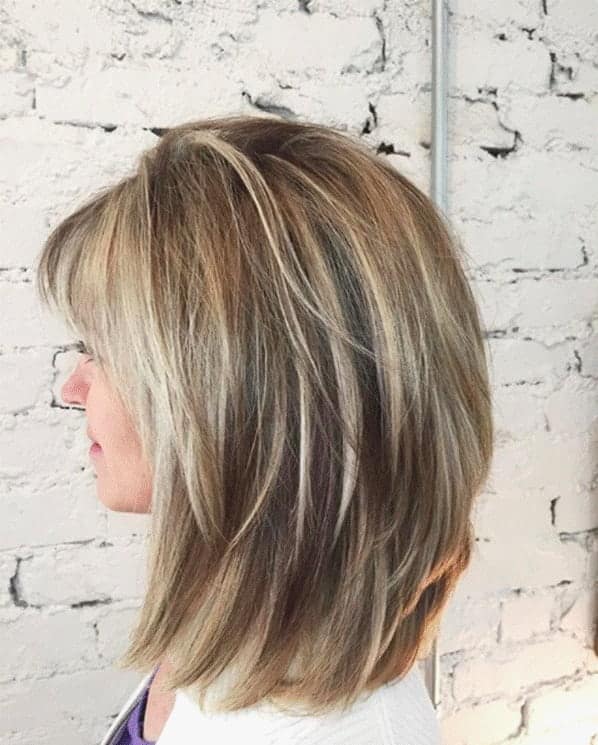 Not all medium shag haircuts are wavy. You can absolutely wear your hair straight and with a lot of layers. This chunky highlight hairstyle is perfect for ladies who like their hair to be always in order, with perfect texture and classy.
A lot of layers and the difference in their length is what makes this hairstyle look so good. Honey hues suit girls with fair skin complexion, but everybody can try it. Blondies have more fun, right? This haircut is great for day to night wear – from your working hours to post-work drinks with colleagues.
9. Fringes and Shaggy Style
Bangs that frame your face and mid-length shaggy haircut are an amazing combination. Ashy shades of blonde with dark roots and lighter hair ends will be simply hard not to notice. You can wear this haircut all the time, while it takes short for it to be styled.
10. Sleek Medium Black Shag
Black hair is eye-catching almost the same as a blonde. Layers on this length are perfect for texture, volume, and highlights. If you don't want your medium shag haircuts hair to be two-toned – no problem. It will look equally chic like this. 10
All girls with curly hair who have thought they can't style shag hairstyles were wrong. Medium shag hairstyles look perfect and so messy chic on curly and wavy hair. You will love the result. Choppy ends, curly bangs – this haircut has everything.
The perfect combination of romantic and bold is visible in this haircut. While the color of the hair reminds of on the '80s and grunge, the medium length shag haircut makes everything look romantic and pretty. You can rock this haircut whether skin type or face shape you have.
Lavender grey hair is really something that not everybody would wear. Even though it is for the brave ones, nothing costs you to try it! Shaggy hair texture and layers will give even fine hair more volume.
The same rule applies for both natural hair and curly hair girls – you can absolutely wear medium shaggy hairstyles. Even though natural waves are harder to style, you can still look amazing with shag layers. They will even add more volume to your wavy hair.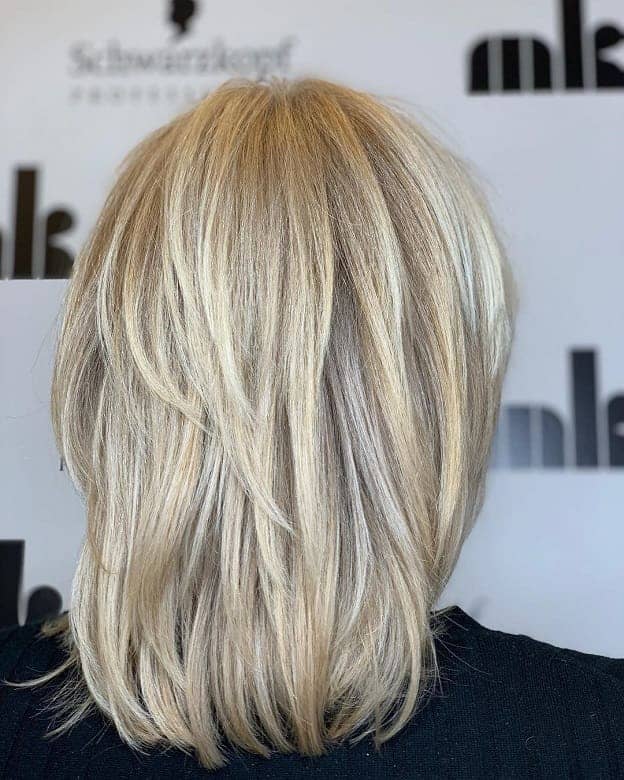 This is what we call classy shag hairstyle on medium length hair. It's perfect for all women who like their haircuts to be modern, yet not eccentric. The crown layered shag needs to be styled every day in order to be perfect. These layers will also provide you with a lot of volumes.
For this amazing hairstyle, you will need to take some time in the morning to make it look pretty. Dry your hair with a diffuser and always have a good brush around to make it look smooth and polished.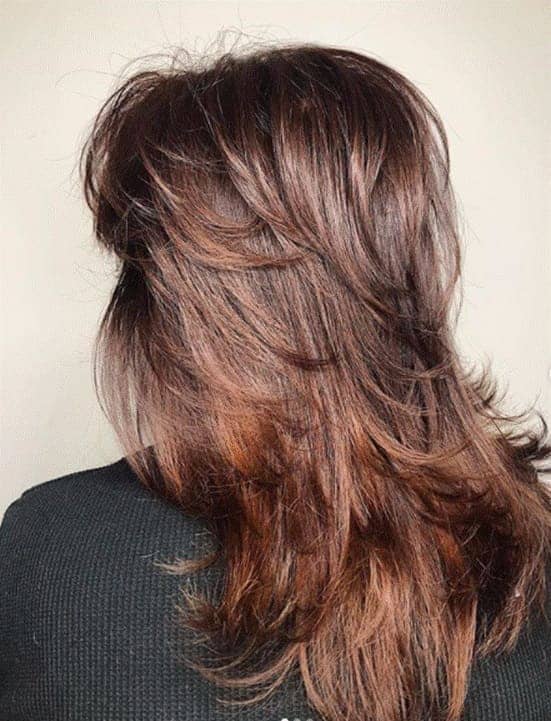 Brown dye that melts into a lighter shade at the hair ends looks very eye-catching. You can be sure that this kind of medium shag cuts will definitely gain you a lot of comments. It is simply great for women that like classic and timeless hairstyles.
18. Side Shag Haircut
By throwing your hair at one side, you will show off your wild and bold side. This will make your hair looks pretty messy, but also fantastic for everyday wear. The color of this hair matches perfectly with fair complexions.
From pink roots to the mauve hair ends – this hairstyle is really interesting for all of us. Even though the hair dye is not something that you see every day if you are brave and bold enough try it. Side bangs and these lovely beach waves are making a great combo.
This hairstyle might be the bravest thing you will do, but you will be amazed by the results. Purple hair color on a medium shag haircut is not something that all girls want, but if you are bold enough – try it. A deep side part will add a perfect finish touch to this hairstyle.
21. Hippie Vibe
Pastel blush hair is rare but beautiful. It can instantly make you feel like a princess. Also, this dye is amazing for adding a certain hippie vibe to your medium shags.
There is a saying in a world of hairstylists that say – the choppiest your hair is, the better it will look. And really, this lovely hairstyle is shaggy, with medium length, and absolutely great for maintaining. Wear it every day – for your work or after work activities.
23. Messy Look
The glam vibe is on point with this lovely haircut. As you can see large curls are great for styling, even if you have medium shag haircuts. This medium shaggy hairstyle is an amazing example that you can wear for all elegant events.
FAQs on Medium Shag Haircuts
Q1. Can You Try Shag on Medium Fine Hair?
Ans: Sure you can! Make sure to add more layers. Especially those in the crown part. They will make your hair look more voluminous and give an appearance of more texture. Wear this haircut with minimal accessories.
Q2. Can You Try Shaggy Hairstyles with Curly Hair?
Ans: Curly shag haircuts require a bit more maintenance but they are definitely achievable. Furthermore, curls add more texture, and more texture means beautiful shaggy hairstyle. By adding foam or gel after washing your hair you will be highlighting your curls but in a positive way. Curly shags are great for all of those who like messy, chic, and casual hairstyles.
Q3. Which Face Shape Is Best to Get A Medium Shags?
Ans: Medium shag haircuts suit for women with the round face shape. However, always consult with your hairdresser. Sometimes, layers are those who determine which haircut fit perfectly to some face shapes. Depending on where the layers are or how much distance is between them, you can find out the real shag hairstyle that is perfect for your face.
As you can see, medium length shag haircuts are one of those great versatile ones that suit, well, almost everybody. You can wear it from day to night, without worrying that you look boring. One thing is sure – you must try shag haircut and let yourself fall in love with it!