Back in the 90s, black girls with blue hair like Lil' Kim were praised for being bold. It was seen as different, yet like a costume, not something the average lady could wear every day.
But if you've been having the blue tickles and looking forward to trying some new hair color, we are recommending any of these blue hairstyles for black girls looking to rock and own their hair this year.
does blue look good on dark skin?
Yes, blue looks fantastic on dark skin. The contrast between the vibrant shades of blue and the rich, deep tones of dark skin creates a stunning effect. From light pastels to deep midnight blues, various blue hair color shades complement dark skin beautifully.
Experimenting with blue hair can help you find the perfect hue to enhance your natural beauty and make a bold statement.
How to Dye Black Hair Blue
There are several ways to dye black hair blue for black girls:
Direct Dye: Direct dyes are colors that stain the surface, barely penetrating the hair shaft. They make no use of ammonia, peroxide or color developer.
Direct dyes can be found in vibrant blue shades that wouldn't require bleaching even on the darkest of hair.
Bleach: The most common way to get blue hair is to lift your hair color to the lightest shade by bleaching and then dying it with light blue hair color. This will ensure you get the exact shade of blue you want, as seen on the box if you're using a box dye.
Color Chalk: For pastel colors, you can try color chalking. It's a very simple technique that doesn't require bleaching or anything of the sort.
If running chalk over your hair is time-consuming, you could opt for liquid chalk dyes. They are basically a liquid form of colored chalk and can be easily washed out.
Popular Blue Hairstyles for Black Girls
Below, we have collected some of the best blue hair color ideas for black girls. Take a look:
#1. Royal Blue Hair on Black Girl
Make a bold and regal statement with royal blue hair. This rich, vibrant shade of blue is perfect for black women. It helps make a lasting impression.
#2. Midnight Blue Braids
Add a touch of mystery and sophistication to your look. Midnight blue hair is perfect for this. This deep, almost-black shade of blue blends seamlessly with black hair. It creates a subtle yet captivating effect. Achieve this look with temporary hair color.
#3. Electric Blue Highlights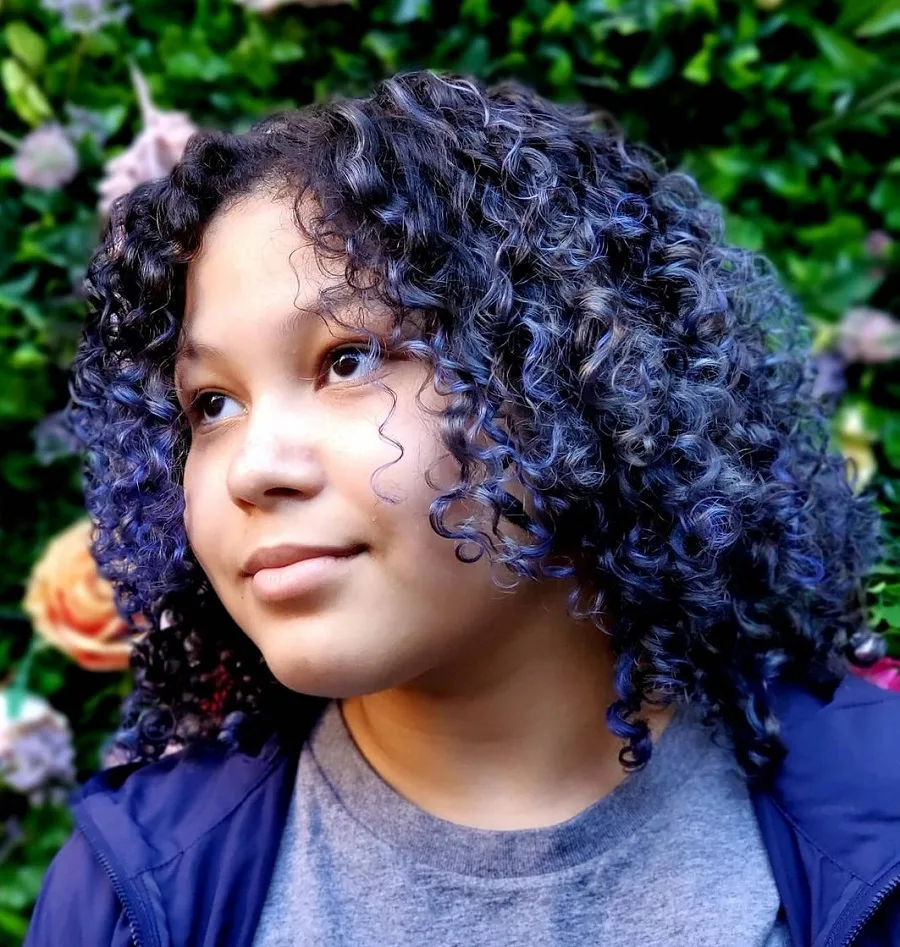 Turn up the intensity with electric blue highlights on black hair. This striking color contrast creates an eye-catching look that is both edgy and stylish. This can be achieved with colored clip-ins or by getting a professional colorist to add blue highlights to your natural hair.
#4. Blue Balayage Curls
Make your curls pop with a blue balayage effect. This technique blends the blue color seamlessly into your natural black hair, giving it a unique and mesmerizing look. This style works best on textured hair and can be achieved by a professional colorist or with temporary hair color.
#5. Blue and Silver Ombre
Combine blue and silver hues to create a stunning ombre effect that is both sophisticated and trendy. This cool-toned combination looks fantastic on dark skin tones.
#6. Blue Afro Puff
Embrace your natural texture and make a statement with a vibrant blue afro puff. This bold and fun hairstyle can be achieved with temporary hair color or by dyeing your natural hair. Make sure to keep your hair moisturized and well-conditioned to maintain healthy, vibrant color.
#7. Sky Blue Box Braids
Sky blue box braids are a trendy and protective hairstyle for black women. This cool and refreshing shade can be achieved by using pre-colored synthetic braiding hair. This style is perfect for those who want to experiment with blue hair without committing to dyeing their natural hair.
#8. Navy Blue Undercut
For a daring and edgy look, consider a navy blue undercut. This dark and mysterious shade of blue adds an element of surprise to your hairstyle and is perfect for those who want a subtle yet impactful color change. This can be achieved with temporary hair color or by visiting a professional colorist.
#9. Blue-Tipped Senegalese Twists
Add a touch of blue to your Senegalese twists by incorporating blue tips into the style. This is an easy way to play with color while keeping your natural hair protected. Simply use blue-colored synthetic hair when creating your twists or visit a stylist who specializes in colored braids and twists.
#10. Two-Tone Blue Hair
Stand out from the crowd with a two-tone blue hairstyle. Combine different shades of blue, such as vibrant cobalt and a more muted pastel, to create a unique and eye-catching look.
#11. Blue and Black Layered Bob
Add depth and dimension to your bob by incorporating layers of blue and black. This chic and modern style looks fantastic on dark skin tones.
Funky blue hair ideas for black girls. This cobalt blue with purple hair shadows is anything but basic. It's a head-turner that would command the attention of an entire room, especially given how it flatters dark skin.
This blue can be achieved by bleaching your hair before dying it blue. Or it can be achieved with colored chalk in dry or liquid form.
#13. Blue Locs
Never imagined dreadlocks could pull off blue colors? Well, now you know. This was done by getting Marley's hair/ crotchet faux locs in blue color and proceeding to install it.
The good thing about this colored dreads is that your hair could still be black or whatever color your hair currently is.
This means you don't have to dye your hair or get any damage from doing so. This also works as a great protective style for black girls with blue hair. Naturals with locs can also give this a try with their real hair.
This denim hair shade looks great on all shades of black skin because of its subtleness. The entire hairstyle is best done on relaxed hair.
To get your hair flat and laid in the direction as seen in this photo, your hair needs to be relaxed and combed in the direction it would be styled in, that's toward the ears as in this case.
Once it's been shampooed and rinsed, you'd find that your hair will lay perfectly in the direction you styled it. That way, when it's cut, it would look crisp. However, do not dye and relax your hair on the same day, it's not advised.
This candy shade with blonde roots gives a playful and cute vibe to black ladies with blue hair color. As usual, it's done using a lace front to avoid damage to your real hair.
#16. All Blue Everything
Black girls with blue hair are a sigh for sore eyes. And with straight hair is as in as ever, if you need to stand out from the crowd of straight black hair, try going blue.
Now, this shade of blue is magnetic and highlights the face beautifully. You could even opt to dye your eyebrows too, depending on how deep you're getting the blue tickles. If you're going to do that though, you should get professional help.
Short bobs are chic on their own but when you try it on a black girl with blue hair, you get a stunner. To get your weave an even shade of blue like this, you'd want to visit a salon and let a pro colorist get their hands on it.
So far, anyone can tell that nearly all shades of blue go well with dark skin. With this blue-green hair combined with the waterfall curls, it's not hard to see the mermaid vibes this hair is oozing out. It also blends perfectly well with the brown skin tone.
To achieve this blue hair for black women, you could buy custom-made weaves or wigs that come in this color or you could get a professional to get this done for you.
Play with different gradients to give more dimension to your blue hair. In this case, the roots are black, the body of the hair is a vibrant cobalt blue which ends in light blue highlights. It's easy to get a custom-made look in this color.
But to achieve this perfectly, we'd advise getting acquainted with a professional colorist because achieving this look would take more than bleaching your hair and dying it blue.
The wet waves are a sultry look that is naturally achieved when the hair has been drenched in water, like on rainy days or after a day at the pool.
But experts have been able to pull off this sultry look without drenching the hair in the water, who wants to walk around with dripping wet hair anyway? This can only be achieved with Caucasian human hair.
To get wet waves, start off by spraying sea salt spray all over your weave. Apply some mousse and men's wet hair gel then seal with some oil to give it loads of shine and keep it from being crunchy.
Follow this up with a blowout while scrunching up your hair to maintain the waves. The perk of this blue hairstyle for Afro black girls is that once blown out, it gives incredible short beach waves.
Why go blue alone when you can add bits of green and purple? A colorful way to wear blue hair for black girls.
Ombres are cool but reverse ombres, also known as sombres are cooler. This blonde hair darkening into an aquamarine blue gives the illusion of dip-dyed hair.
You can get styles like this pre-colored or you can buy a blonde weave and dye the bottom parts aquamarine. Black girls with blue hair can rock this style.
In conclusion, blue hair on dark skin is nothing short of a captivating combination. It's a testament to the magic that happens when you unleash your creativity and let your true colors shine. After all, life is too short for boring hair, and with blue as your companion, you'll be nothing short of a showstopper!
FAQs
Which skin tone is perfect for blue hair dye?
Different shades of blue are suitable for different skin tone. Baby blue hair is perfect for light skin tone, navy blue hair goes well with dark skin and for the fair skin tone, bright blue shade is best.
Which blue hair shade goes well with black women?
Dark blue or navy blue shades go well with black women.
Blue or sea-green which one looks better?
Blue hair looks better with almost all skin tones and sea-green hair is perfect for light skin tones.