Faux locs and bob, both are an evergreen trend. When both combined, the combo hairstyle is guaranteed to suit everyone's every face cut, every skin complexion and eye color, and every hair texture. We are not seeing this trend going out of style anytime soon so, get ready to rock your faux locs bob look any day, every day!
This hairdo is ideal if you want style and elegance both incorporated into one. With this hairstyle, you can be confident that everyone is going to love your fabulous new look.
Trendy Faux Locs Bob Styles
Scroll down to find twenty-one bob haircuts with faux locs that are absolutely stunning.
Bob is a trendy hairstyle of every time. For a little edgy twist to it, blonde angled lob should be your go-to look. Ask your stylist to color your hair a blonde shade and side part them.
Add golden ribbon and shell ring to your bob for a good look. This is an amazing faux locs hairstyle which will make you appear stunning.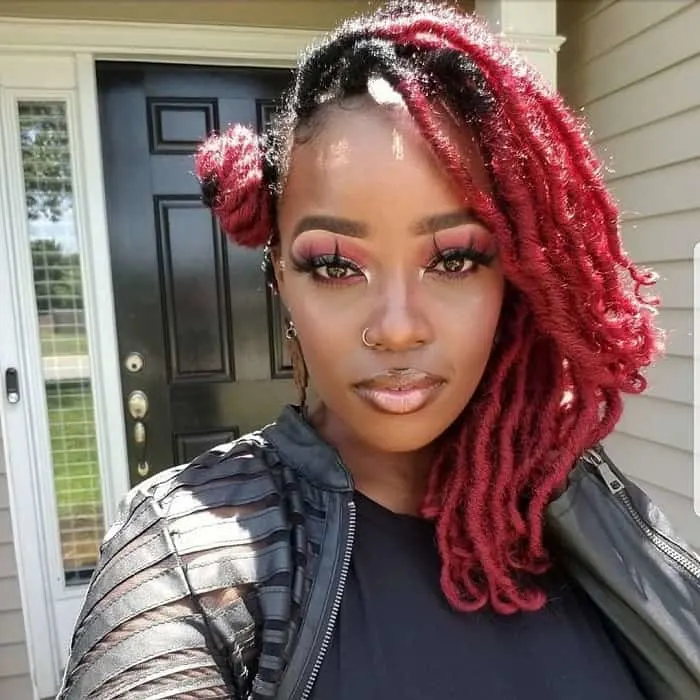 For a funky look,we suggest that you get a red short bob. To achieve this hairstyle, go to your stylist and get your hair dyed a red shade. Cut them short and weave them into faux locs.
Short bob look will make you seem cool and funky and will save you from all the hassle of long hair.
Thick faux locs lob is a cool hairstyle and will make you look really pretty. All you need to do for this lob hairstyle is that you have to divide your hair into small square parts and twist them into thick locs.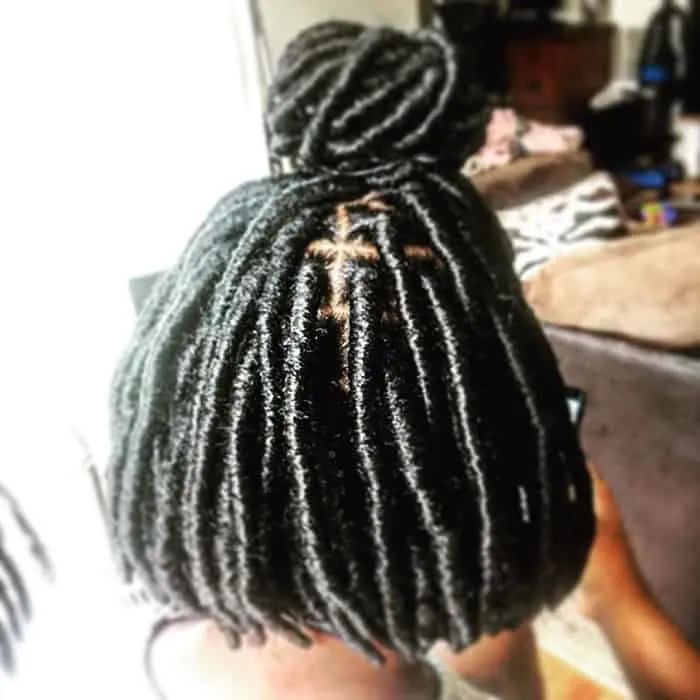 Bob with a half bun is a unique hairstyle.If you want to do something new with your hair, get this hairstyle. Get your faux hair knit into a locs hairstyle.
Take the top hair and round them up into a topknot.Once you step out of your home, everyone is going to love you with this new hairdo, and you are going to love yourself for this decision.
5. Triple-tone Locs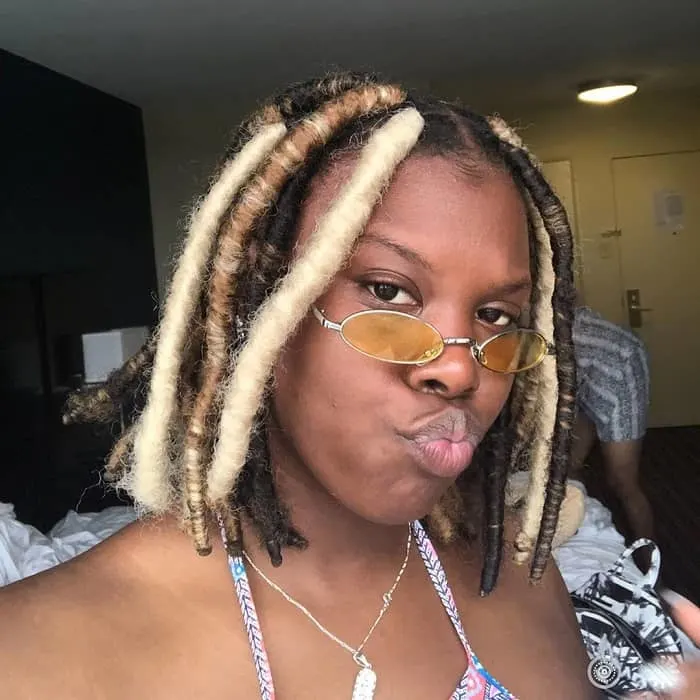 A bob combined with triple tone fake locs is a combination made in heaven. The middle part your hair and style them into triple colored crochet faux locs.
You can wear this hairstyle whenever you want and where ever you want. It is also suitable for every occasion you can think of.
For a really fantastic hairstyle, go with grey side part bob. Make sure the next time you go to a salon, you get your hair dyed a grey shade and then style them into faux locs.
This hairstyle is perfect for any occasion you are planning on going to and even for your regular day strolls on the roadside.
If you want to get this hairdo, then get your front hair dyed a brown shade and the rest of the hair a black shade. You can also check the differences between faux locs and soft locs here.
Twist them into faux locs and cut them short for a bob look. This is an elegant hairstyle and will surely make you look great without putting in a lot of effort.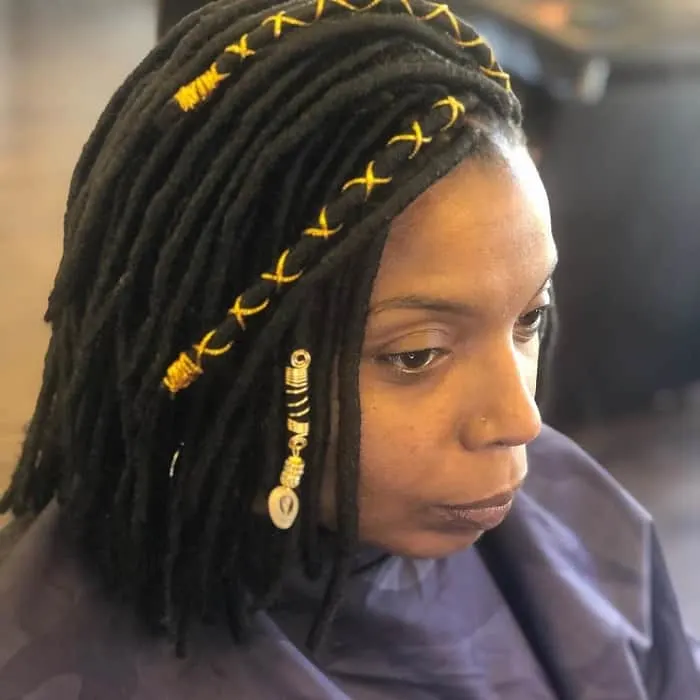 To leash out the best in you, go with side-swept bob with faux locs hair. This haircut is perfect for your Afro-textured black hair. Sweep all of your thick hair to one side and style them into locs. Add golden ribbons and springs to your locs to complete your look.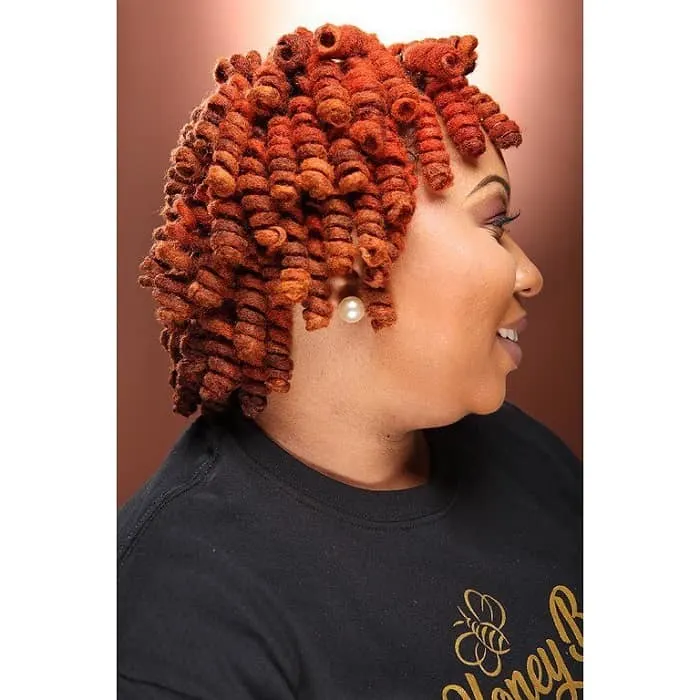 For an utterly unique hairdo, get your hair dyed a beautiful ginger red shade which gets a little dark at the tips of the lower her.
Get crochet faux locs and then spring them up. Leave some bangs on your forehead, and you are all set to go out with your crochet faux locs bob and bangs.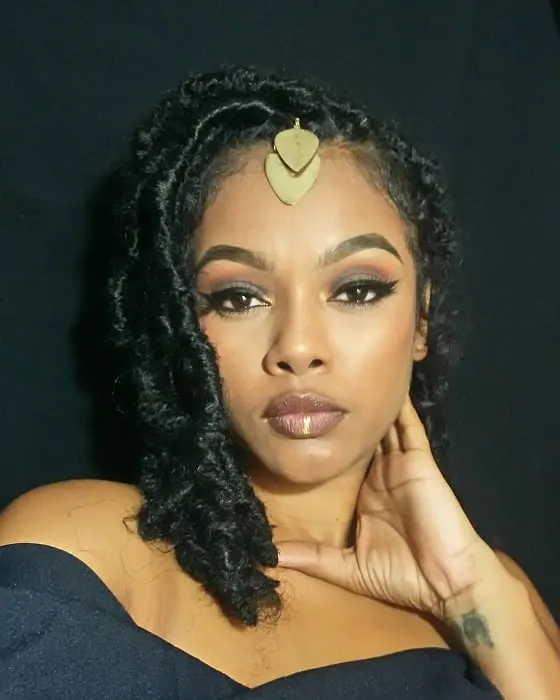 This hairstyle can be achieved without a lot of fuss. All you need to do is weave your hair into locs and cut them into a bob style.
Classic faux hair locs never disappoint, and everyone knows that. So, why hesitate to get one for yourself?
11. Thin Lob
If you don't like heavy and thick locs, then go with thin ones. Ask your stylist to weave your hair extension into thin locs and then style them into a lob hairdo. Add a metal ring to finish your style and look stunningly attractive.
If you don't want to go with straight locs, then go with curly ones. You need to get your hair woven into faux locs and then work your fingers through them to give them a curly look. Add some beads to your hairand some blonde peek-a-boo hair.
If you like the light brown hair color and wish that you had it, then go for this bob haircut with brown faux locs. Get your hair twisted and then ask your stylist to dye them into different shades of brown to give you your dream look.
You are going to fall hard in love with your hair again and again after getting this hairstyle.
Faux locs and curls combo is the best combo you could ask for.If you want to have this hairstyle, then get your top hair woven into and leave the rest of the lower hair curly. Add some springs and beads to your bob hairstyle as well to finish your beautiful style.
Petal locs bob looks so beautiful. Add a pop of brown color to your petal locs black hair. Give your hair a shape of bob.
You are going to look dreamingly beautiful with this twisted hairstyle and can quickly become everybody's hairstyle inspiration the moment your feet hit the floor.
For this hairstyle, you need to get your hair woven into braids, twisted with faux locs, and curled into curly strands. Use some styling products to flip them inwards, and you are all set to go. After all, alittle multiple style never hurt anybody!
17. Inverted Bob with Brown Highlights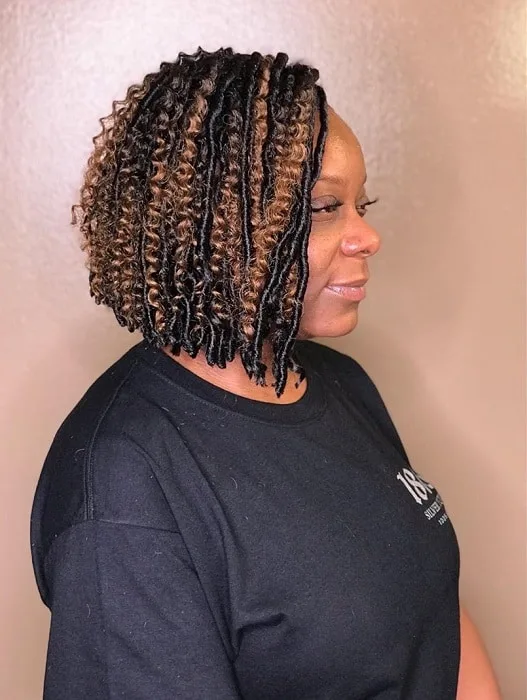 Bob with highlights is a classic hairdo. If you want to appear elegant and stylish at the same time, get brown highlights to your dark weave hair and get them woven into locs. A bob shape to it and level up your hairstyle game.
18. Thick Textured Lob
If dreadlocks and lob is your thing, then you might like going with thick textured lob as well. Give some texture to your hair and get them knit into thick faux crochet locs style.
A lob hairdo to your textured locs will make you look exquisite. If you know how to style well, can become your fabulous style statement instantly.
Dark mahogany is a really gorgeous hair color, and when combined with faux locs with curly edges, it is bound to bring out the best in you.
Ask your stylist to dye your hair a dark mahogany and then weave them into fake locs while curling the middle length hair to the edges for a beautiful style.
If you would like to go with something classic and clean, then go with brown ombre hair color. Dye your bobbed hair and style them into faux locs. With this hairstyle, you can rest assured that you are going to be a true trendsetter and a style icon for everyone.
21. Red and Black Locs
For a cool and trendy look, we suggest that you opt for red and black dyed faux locs bob. Get your dark hair styled into locs and add some random red strand to your style. Adorn your hair with golden ribbons and beads to complete your look.
There is not a single thing that can go wrong with this hairstyle so, you can wear this hairstyle as many times as you want without any hesitation.