Incorporating fade on men's braids styles are trending over the internet like huge. Braids can be defined as a complex structure or pattern formed by interlacing three or more strands of a flexible material such as textile yarns, wire, or hair.
Compared with the process of weaving, which usually involves two separate, perpendicular groups of strands, a braid is usually long and narrow, with each component strand functionally equivalent in zigzagging forward through the overlapping mass of the others.
The fade haircut, also known as a taper, involves gradually cutting the hair on your back and sides shorter as it gets closer to your neck. By blending and fading the hair on the sides, from long at the top to short at the bottom, your barber can taper your cut into your neck and sideburns.
How to Style Braids with Fades
If you've got the hair for braids and want to rock this style, we've got all the information you need to braid your own hair in a few easy steps and come out with a stylish man braid.
The man braid is a hairstyle that demands a certain length of hair. Like the man bun, the man braid is best suited for longer hair. You'll need at least a few inches of hair to obtain a noticeable man braid. With about three or four inches of hair, you can get some smaller braids, and if you want to go for super long braids, you can go as long as you want. Five to eight inches of hair will produce longer, more dramatic braids, and hair longer than eight inches will make for the most extreme braids.
When it comes to facing shape, certain braided hairstyles will favor different face shapes. If you're simply looking to include a braid or two in your current fade haircut, then you don't need to worry about face shape too much. If you want a style more akin to cornrows, where you're braiding most of the hair, then face shape matters a little more. Guys with square, triangle, diamond, and oblong faces are best suited to fully braided styles. The fades here is not always really visible.
You'll also need a few pieces of equipment: a good quality comb, hair oil, small hair bands, and a spray bottle for water. Hairbands are the only absolutely necessary tool, but depending on your hair type, it may benefit you to have some of the others. Once you've got the materials you need, you're ready to start styling your braid.
You can start with no preparation if you have manageable hair, but if your hair is tougher to work with, use the spray bottle to mist your hair with water. You don't want your hair to be drenched––moisten it enough so that it's flexible to work with. Brush or comb your hair to get all the knots and kinks out.
Locate the area where you want your braid. Grab that section of hair and divide it into three sections. You can do this using your fingers or a comb. Start by taking the leftmost section of your hair and crossing it over the middle section. Then take the rightmost section and cross it over the middle section. Continue in this alternating fashion until you've finished the braid, which should be fairly tight. (You can also braid starting with the right side.)
Once you've finished the braid, fix it at the end with a hairband in the same way that you would tie a ponytail. You can then shave the hair left surrounding the braided parts to give a nice fade.
Braids and fades is a very suitable hairstyle for men with both short and long hair. The difference might just be the number of braided parts and faded parts. The difference in fades is also important because there are various types of fades.
For instance, there is a difference between razor fade and taper fade. The razor fade, also known as a straight razor fade, is a type of mid or bald taper fade that requires your barber to shave your sides and back.
While the taper fade is generally longer fades, starting with a couple of inches of length and gradually going shorter down the hairline. Fade haircuts go from short down to ultra-short or all the way down to the skin. A taper is usually cut with scissors.
Braids for men are certainly a trendy style, but they can also cause harm. Extremely tight braids can cause traction alopecia, which is hair loss that occurs when there's too much pressure on the hair follicles. Don't tighten your braids too much––if a braid feels painful, undo it and braid it until it's comfortable.
How to Style Fades on Braids for Short Natural Hair
Here is a hairstyle for the most fearless and courageous men who would not mind having the extra short hair, especially when the hairstyle actually has a special feature that can make you different from the rest.
The men's short hair braid option can be done with the help of extensions, but at the same time, if you have short hair, you can create the braided Mohawk without them. The choice is completely yours, depending on the circumstances.
Also, here is a tip for you, instead of braiding back your hair in a straight way, you can give a patterned look to the cornrow braids that are on top of your head, so it can add a more edgy look to the hardcore hairstyle that you are creating with fades inclusive.
Beyond the popular low and high taper fade black haircuts, there are a number of different types of fades, such as the temp, bald fade, drop, burst, and razor. Similarly, you can combine the taper fade with a comb-over, Mohawk, afro, high top, or curly hair to create any classic or modern men's hairstyle.
Popular Braided Hairstyles with Fades
Let's check out the trendiest fade haircuts with braids for men on Instagram.
1. Braided Top Knot
The super sharp temple fade with several thick braids up top pair handsomely together. The braided top gathered together in a top knot, a quick but stylish look for any guy short on time.
2. Thin Braids for Black Men
Black men fond of keeping their hair at least a little longer will love these long thin braids. They reach just past the ears and still allow a peek at an edgy fade underneath.
3. Rat Tail Braid
Actor Shia LeBeouf was one brave man trying out this long side braid. While the top part of his hair was short and wavy, the bald faded sides combined with long hair to make one unique rat tail hairstyle.
4. Gradual Fade with Braids
Looking for a little more detail in your haircut? A gradual fade will perfectly define your face shape, as well as a few medium-length braids gathered into a ponytail.
5. Half Head of Long Braids
It's not every day that you see a man rocking only half a head of braids! This style of long braids and a fade for Black men ensures you'll be one of only a few with such a bold look.
6. Braids with Hoops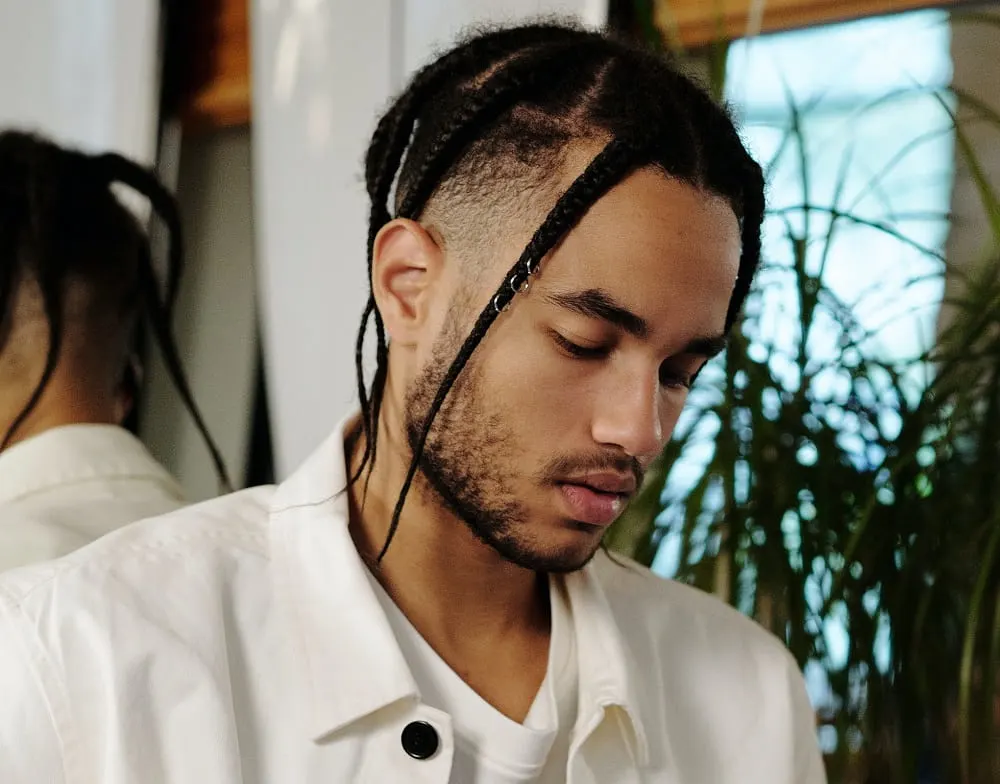 A gradual fade is only the tip of the iceberg for this intricate hairstyle for men. For thicker hair, make six even chin-length braids around your head and decorate them with a few silver hoops hooked in.
7. Braided Man Bun with Fade
A high fade is quite handsome on men with a long or rectangular face shape. We love the Viking vibe of a faded man bun.
8. Bald Fade with Boxer Braids
A bald fade with braids is the way to go if you're looking for an edgy men's hairstyle. This type of fade looks great with boxer braids, featuring bluntly-cut ends and hair string woven in. If your hair is light-colored, use dark hair string and vice versa.
Many ladies love a man with long hair. If that's you, freshen up your look by asking your stylist for a bald fade, then braid the top half of your hair and gather it in a man bun. Keep your facial hair buzzed or cut short for the best look.
10. Taper Fade with Cornrows
If you're looking for a haircut you can wear comfortably to the office or other professional settings, a low taper fade can update your look without being overwhelming. Add in thick cornrow braids and you've got a winning style.
11. Black and Blue Braids
Part of the fun of having hair is playing with color. A fade hairstyle with braids is the perfect opportunity to display your favorite shade. Bright blue pops amazingly well against dark hair.
12. Faded French Braid
To accentuate your long locks, opt for a rugged French braid. This one is accentuated with a bald fade that only takes up about two inches.
13. Fade with Shaved Lines
From the extra long black braids that nicely style up thick hair to the high fade detailed with shaved lines, this is a men's hairstyle you have to try. For a little more character, consider adding a touch of vibrant color.
14. Half Curly Half Braided
If you're lucky enough to have some curl or wave to your hair, show it off in braids on half your head that are braided just to your ears. Below that, shave in a short fade.
Love your long hair and don't want to chop it all off? A bald fade hairstyle with three tight Viking braids will allow you to keep your length but walk on the wild side with edgy detail.
This is suitable for men with long hair can be done on any face. It is done in a way that the Hair is braided in a vertical direction from the front to the back and the hair left sideways are turned into fades which are called taper fades. Bald fade can also be used in this case.
This is just like the cornrows but Ombre braid is used. Suitable for men with both long and short hair. There are different types of fade that can be done following this braids with fade hairdo, some of which are bald, razor, taper, etc.
This is done and suitable for men with long hair. This is done whereby most of the hair is fully braided and little fades are formed. A shaved sides style is most suitable for this type of hairdo.
This type of fade haircut with braids is suitable for people with a round face or oval face. It can be done with little or more hair.
It is a very unique style which is formed when braids are made to form cornrows and knotted at the back, the hair at the sides are then shaved off to give fades. The type of fade used in this case is called undercut fade.
Suitable for people with much hair. After braiding the front a knot is well made at the back and hair at the sides are shaved to give fades.
This fade on braids style is a very unique hairdo for men and requires a lot of hair and it is suitable for men with a round face. This style is done whereby the hair is braided in a zigzag form and the hair sideways are turned into fades. Any type of fade can be used here mostly bald and skin fade.
This can be done by men with both short hair and long hair. It can be done on any type of face both straight, oval, round etc.
This high top fade with part hairstyle is done whereby the front hair is braided in an upward direction and the remaining hair is used to form a ponytail. After the fades are gotten due to the type of braid long hair fade is suitable.
23. Funky Braided Hair
This is a very rare style, which is suitable for people with long hair. Here the hair is made by dying some parts to give it a funky look then it is braided and fades are also made after braiding. Undercut fade is suitable for this hairdo.
24. Box Braids
This men's box braids with fade is a hairstyle suitable for guys with both short and long hair. It can be done whereby the hair is braided and during the process a box pattern is formed and the sides are fades. The type of fade done along the box braid is also called box fade giving the hairdo a unique look.
This is mostly done by men with long hair. It can be done in various forms just that after braiding the initial braided part is also braided together and fades are done afterward.
This style is suitable for men with long hair. It requires a nice technique in styling, here the hair is braided to look like a fishbone after which low fades are done.
This man braid hairstyle with fade is a well known style and can be done on any head and with any type of hair be it long or short. The hair is braided in a wavy pattern and fades are done sideways.
This is a very unique type of fade cut on braids and mostly done by both men with long and short hair. Here the hair is braided from the back like the top knot braid but in reverse form. Fades are then done sideways.
29. Two Toned Braid
This is a unique braid with fade hairstyle just like the cornrows but the braids are done with two colors.
Suitable for men with long hair, this taper fade with braids style requires a lot of hair. The hair is first turned into locs, that are then braided to any suitable style. Fades are done afterward.
FAQs
Here are some of the most commonly asked questions regarding men's braids with a fade.
Can I get a fade with my braids?
You can get a fade with your braids. A lot of guys like this tight and clean hairstyle! No matter the type of braid, as long as it is on the top of your head only, you can sport the fade and braids style.
Should I get a fade before or after braids?
If you want to get a fade with braids, get the fade done after the braids are complete. You do not want to accidentally shave off any hair that could be used in the braids.
Cornrows or box braids – which goes best with a fade for men?
A lot of men prefer cornrows with a fade. Box braids can look chunkier and less tight, so many men who want a clean look choose cornrows.

Box braids make for a more dimensional look, so if that is something you prefer, you should choose box braids for the full effect.