If you feel like your hair needs more definition to emphasize locs, but also to frame your face then long layered curly hair is the answer. Curly hair symbolizes freedom as curls make you feel liberated and girly at the same time. However, styling this type of hair is not the easiest endeavor in the world. In this post, you're going to see 30 amazing ideas that you can try.
How to Cut Long Layers on Curly Hair
Reasons to add layers to your curly hair are numerous including the fact that layers make hair lively and vibrant. Layers add texture and fullness, but at the same time, they allow you to have more control of your curly hair. If you're going to do it yourself make sure you get sharp shears and a wide-toothed comb. It's not uncommon for women to make a mistake by using just about any scissors they have, but to get the best effect you need scissors that are specifically made to cut hair.
Wash, condition, and detangle your hair and allow it to air-dry. Yet another common misconception is that you should cut your hair while it's completely wet, but keep in mind that hair "shrinks" when dry so you may end up cutting more than you wanted. It's okay for hair to be somewhat damp, but make sure you avoid cutting it when it's completely wet.
Proceed to divide your hair into sections and cut them. For a more disconnected and natural shape take zigzag sections. Make sure you cut precisely to avoid getting the unappealing look. The best thing to do is to schedule an appointment and see a hairdresser who's experienced in cutting long layered curly hair.
Watch The Following Tutorial to Learn How to Cut Layers in Long Curly Hair with Bangs
Curly Hair Layers Vs No Layers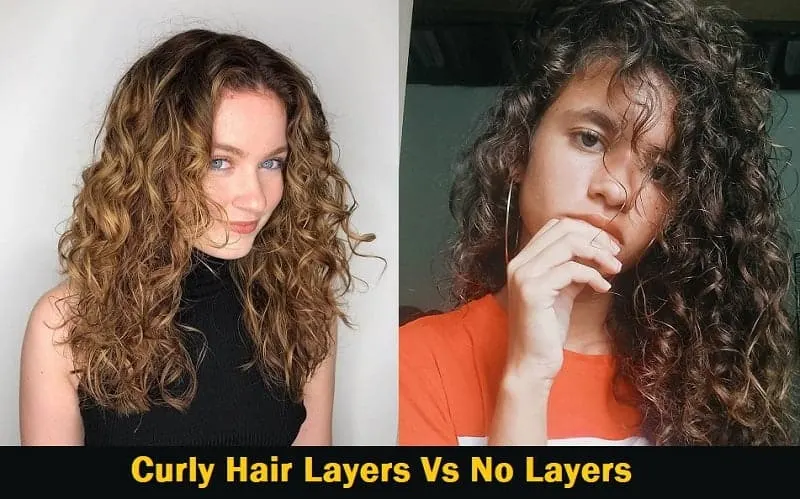 Both layered and non-layered look great on curly hair. However, if you want your hair to have more volume, freedom, and a structured look you may want to opt for layers. After all, layered hair is more voluminous but also has more definition and structure. That's the beauty of this hairstyle. It looks great, and you can pull it off with ease.
Coolest Long Layered Curly Hairstyles
Long curly hair with layers is a romantic style, but it's so easy to turn it into an edgy look. That's the beauty of this haircut, and you can rock it in different ways. These 30 ideas will show you how to pull it off.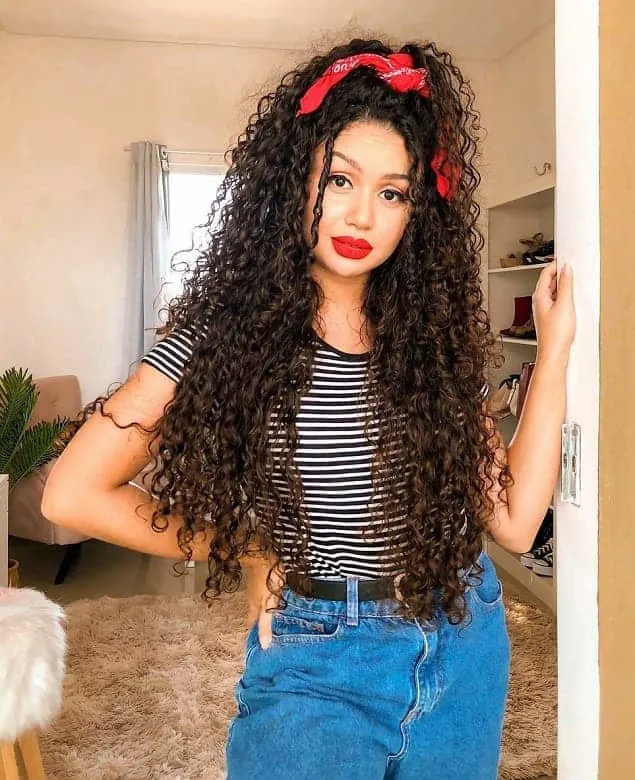 Use a bandana in a striking color to accentuate your long layered curls and achieve the feminine, yet a little bit edgy look. You can get bandanas in different colors and switch them based on your outfits, occasions, and more.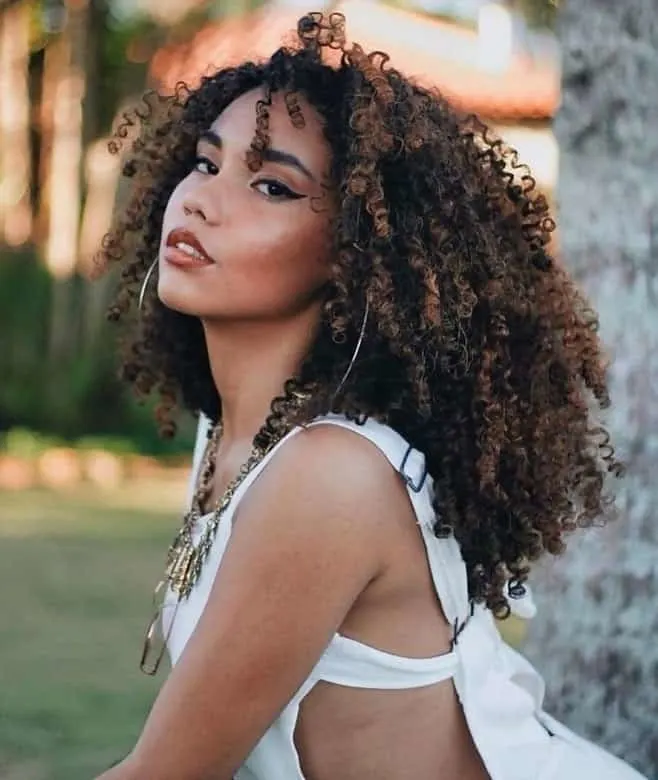 Tiny curls can be ruthless sometimes as they add a lot of volume, but it's not that easy to subdue them. But, with a layered cut, it can be easier to control your lovely curls without depriving them of their much-needed freedom. This way, it becomes easier to style your hair, but you also get more structure and texture.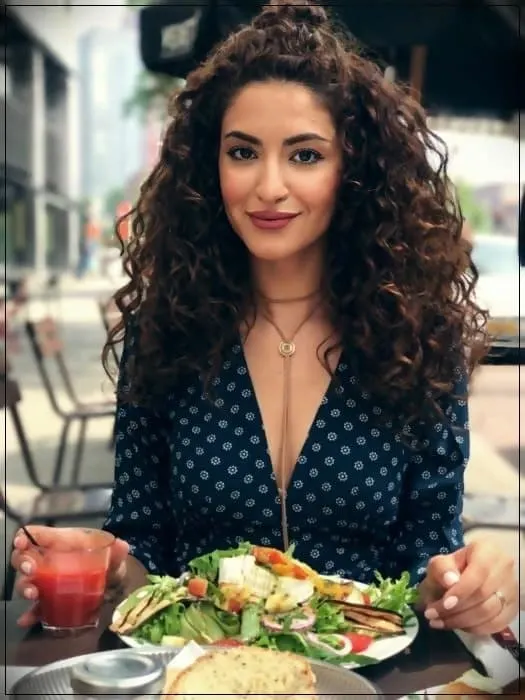 Just because your layered hair is long and curly, it doesn't mean you are out of styling options. In fact, there are many hairstyles you can try in order to achieve the fashionable, yet feminine and gentle look.
Creating a top knot or any kind of half up bun while allowing your beautiful tresses to flow free over your shoulders is a hairstyle you need to try. It's easy to create it, and it looks absolutely beautiful.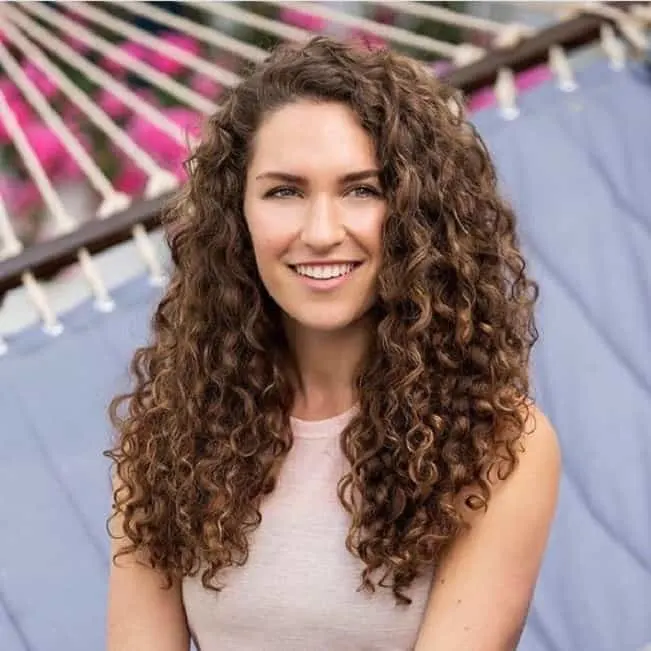 If you're a fan of simple, minimalistic styles, then you'll love this one. Here, long layered curly hair gently flows over the shoulders. Hair is layered subtly with a few "barely there" highlights to add more texture into the mix. The best thing about this simple style is that you can rock it in different ways including styling your hair in a bun or top knot.
Top knots are incredibly popular today. They're cute, chic, yet casual at the same time. While it's possible to create a top knot on any hair texture or length, it works best with curly hair with long layers due to volume and fullness it provides.
Choose this style for those effortlessly chic moments when you want to look relaxed, but not like you spent too much time achieving it.
6. Blonde Locks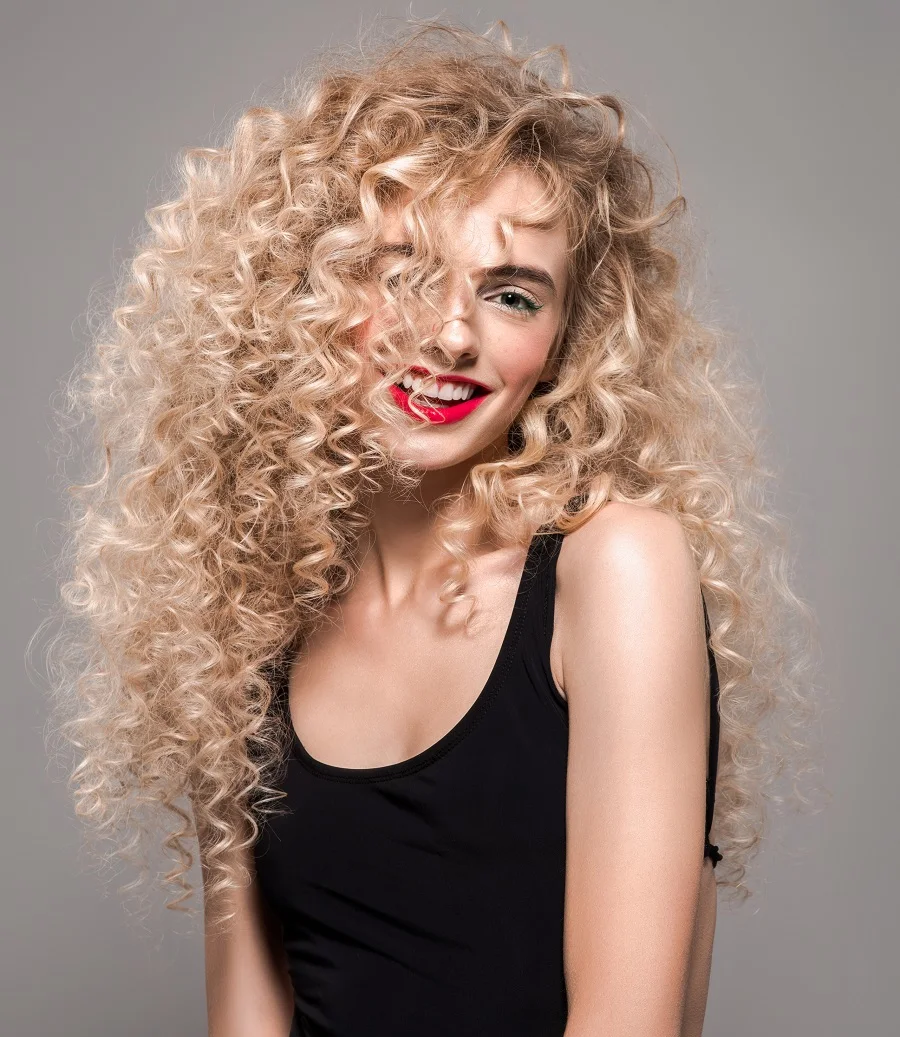 Lucky enough to have long blonde curls? Add some life to them with layers starting at chin length. Accentuate the look further with dirty blonde roots merging into the lighter blonde hue for a barely-there ombre effect while side-tousling the locks and leaving them loose for a fun and carefree appeal.
7. The Head Scarf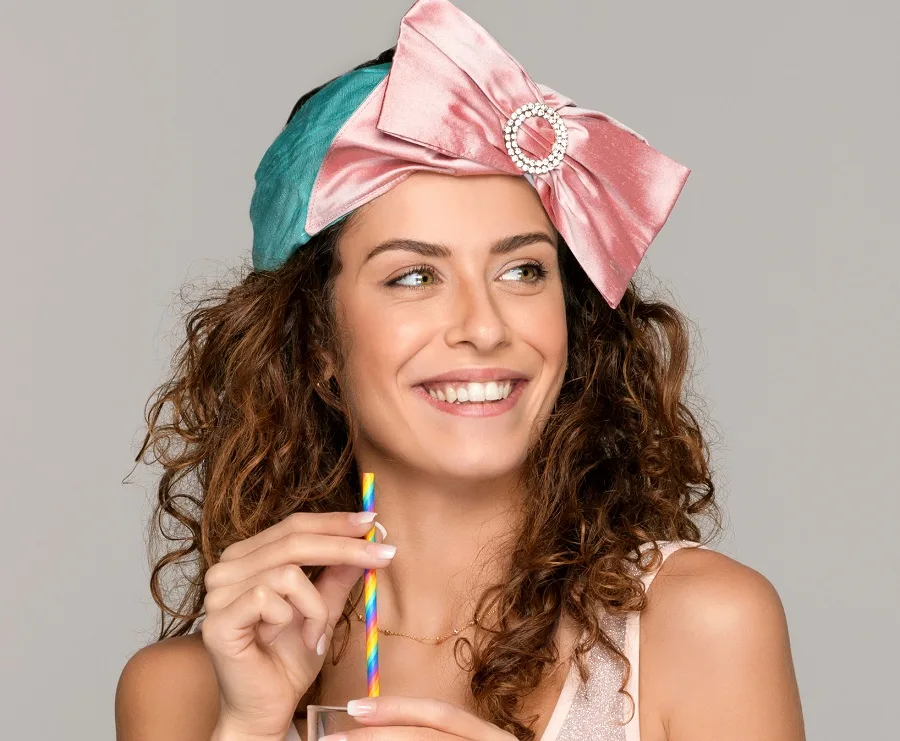 Those who like to keep it low-maintenance yet stylish can consider this style as their next look. Chop the hair at varying lengths and tease the layers using your fingers for a messy look with a bow head scarf keeping the strands away from the face. Ready!
8. Milky White Mane
Age is just a number when it comes to this hairstyle. Elderly women can refresh their look by dying their curly mane in a shiny milky white blonde hue and going for U-shaped layers. Toss the strands forward and top off with a punk hat recreating the style exactly.
9. Voluminous Updo
Stand out from the crowd with this gorgeous long layered curly hairstyle suitable for both formal and informal events. Although it seems complicated, it just involves taking the chunks and pinning them back leaving the ends free to dangle. Tug some strands loose and use hairspray to keep the romantic style intact.
10. Rumpled Braid
Long curly layers are a lazy girl's to-go hair look. The strands are clipped at varying lengths and are flaunted by styling them in a loose side braid with a deep side parting. Pull some strands loose for an undone look and you are ready to go.
11. Loose Curls + Floral Headband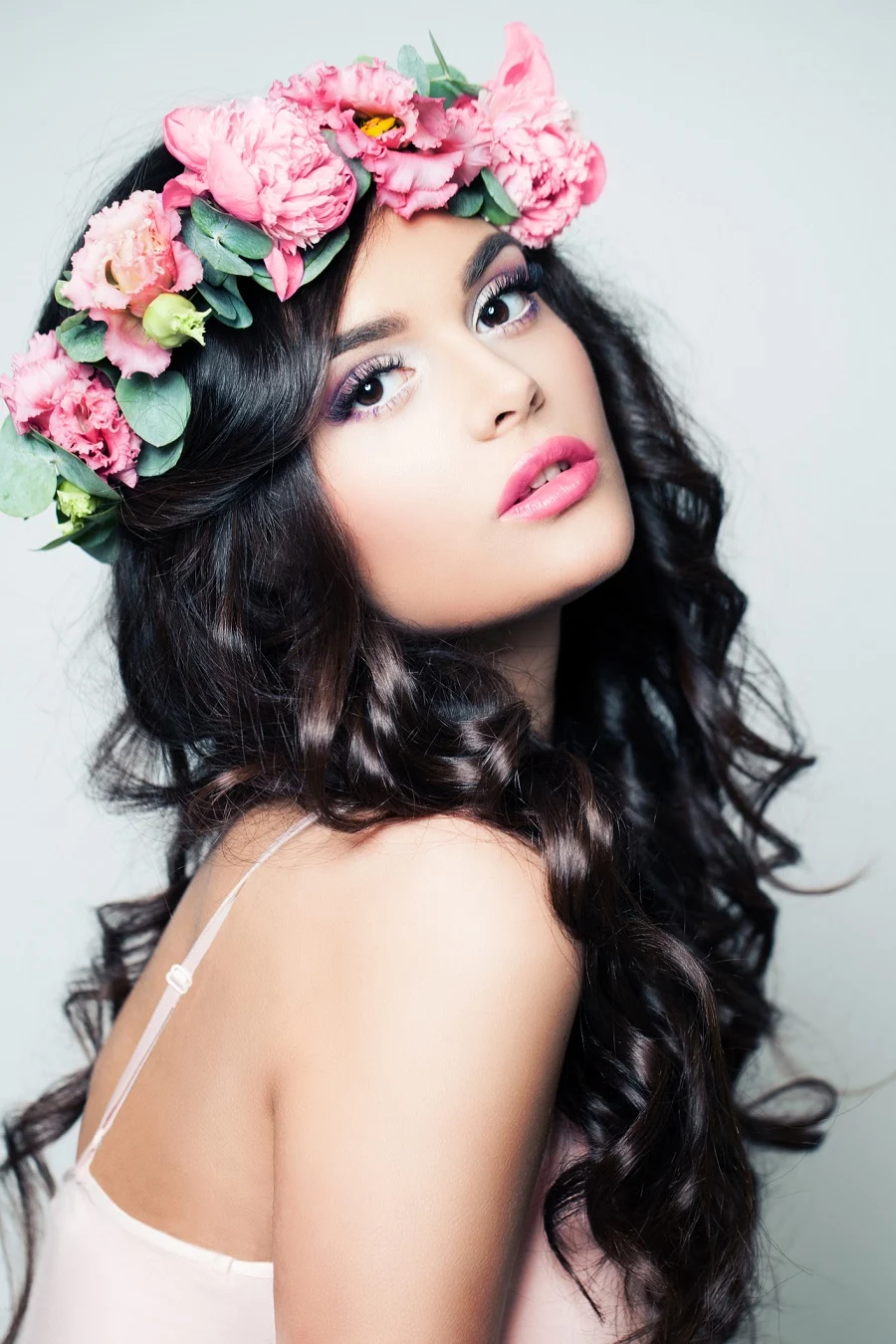 Bored of your naturally straight tresses? Don't worry as here is an inspiration to give you a hair makeover. Ask the hairstylist for V-shaped layers and loose beach curls. Pin back the side swept fringe and add a beautiful floral headband to finish off the style.
12. Mermaid Vibes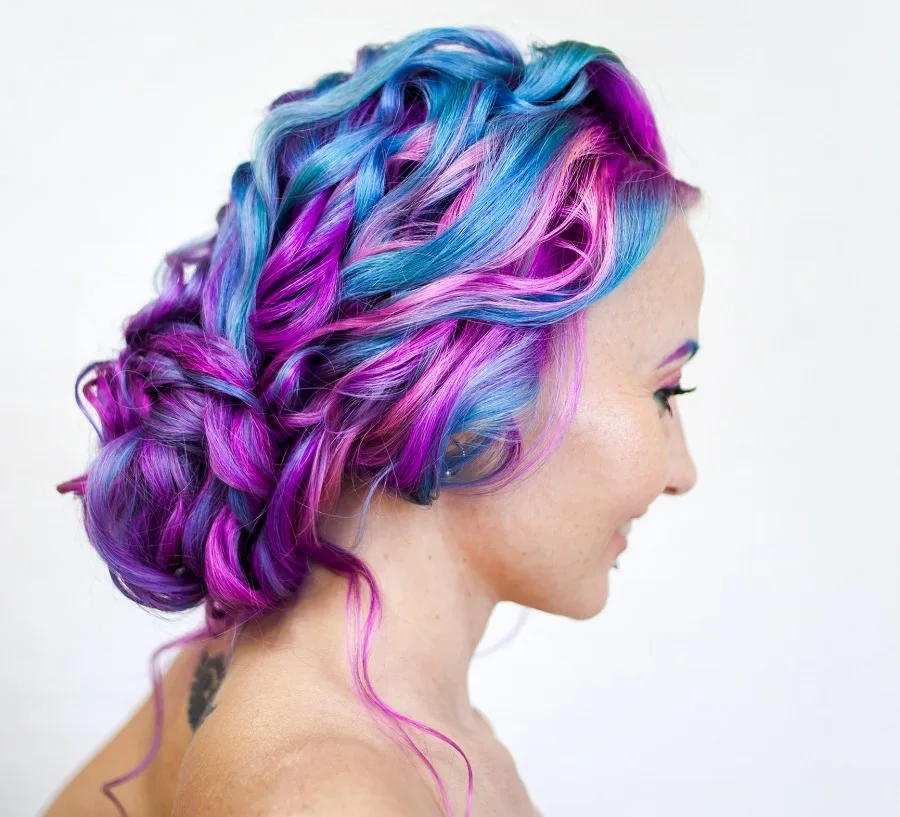 Turn around some heads by adding a mix of vibrant hues to that long curly mane. Cover the entire head with streaks of aqua blue, baby pink, and bright purple giving off mermaid vibes. Leave the hair loose in all its glory or secure it in a low bun on a hot summer day.
13. Dark to Light Ombre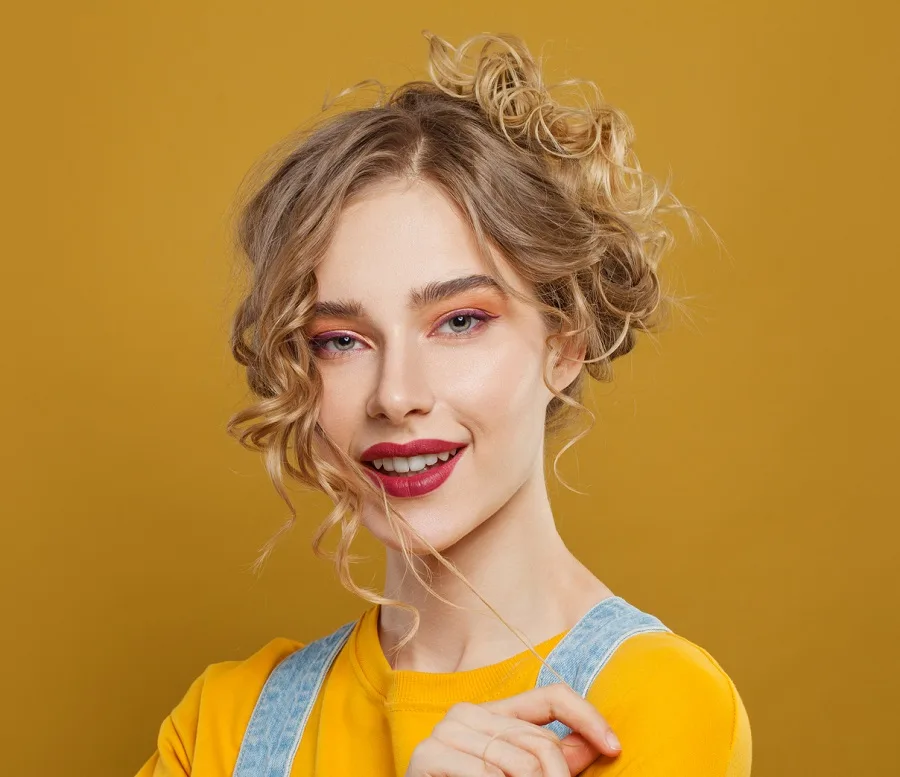 Flaunt those layered curls with pride by accentuating them with a dark to light ombre look. The dirty blonde top melts seamlessly into the shiny golden blonde hue reaching the tips. Pin the strands in a side updo with some dangling along the face on the opposite side for a groovy finish.
14. Funky Fauxhawk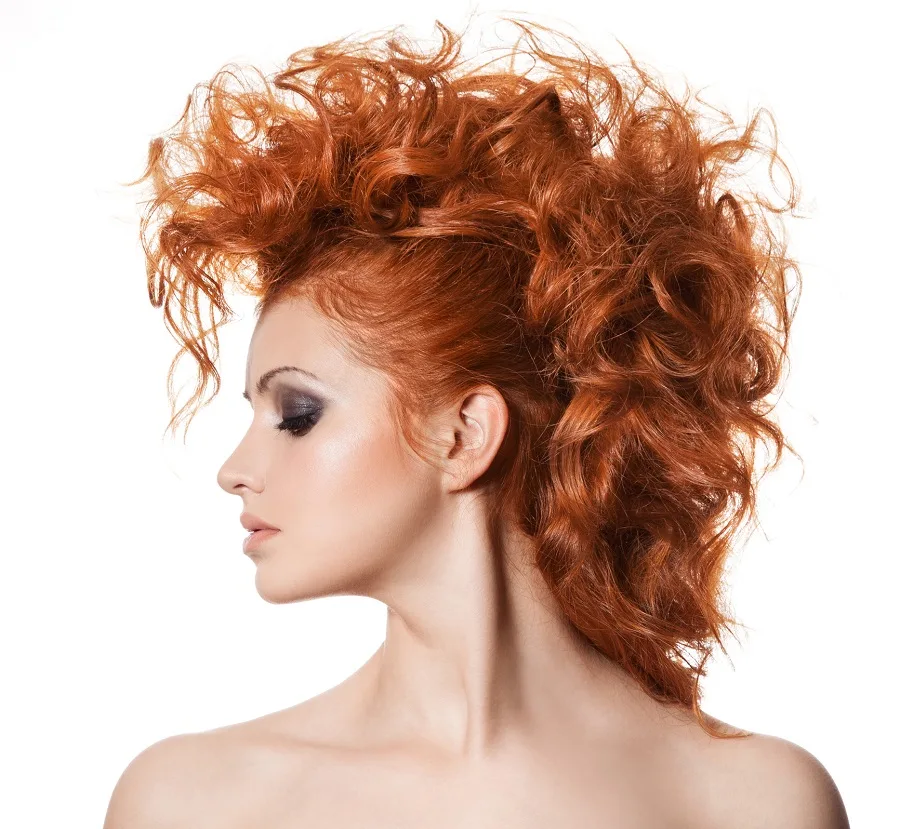 Express your wild side to turn around some heads by rocking this hairstyle the next time. Slick back the sides of the ginger tresses for the choppy layers to be gathered along the center creating a punk fauxhawk and secure with pins. Use a curling tool to enhance the curls further.
15. Wedding Look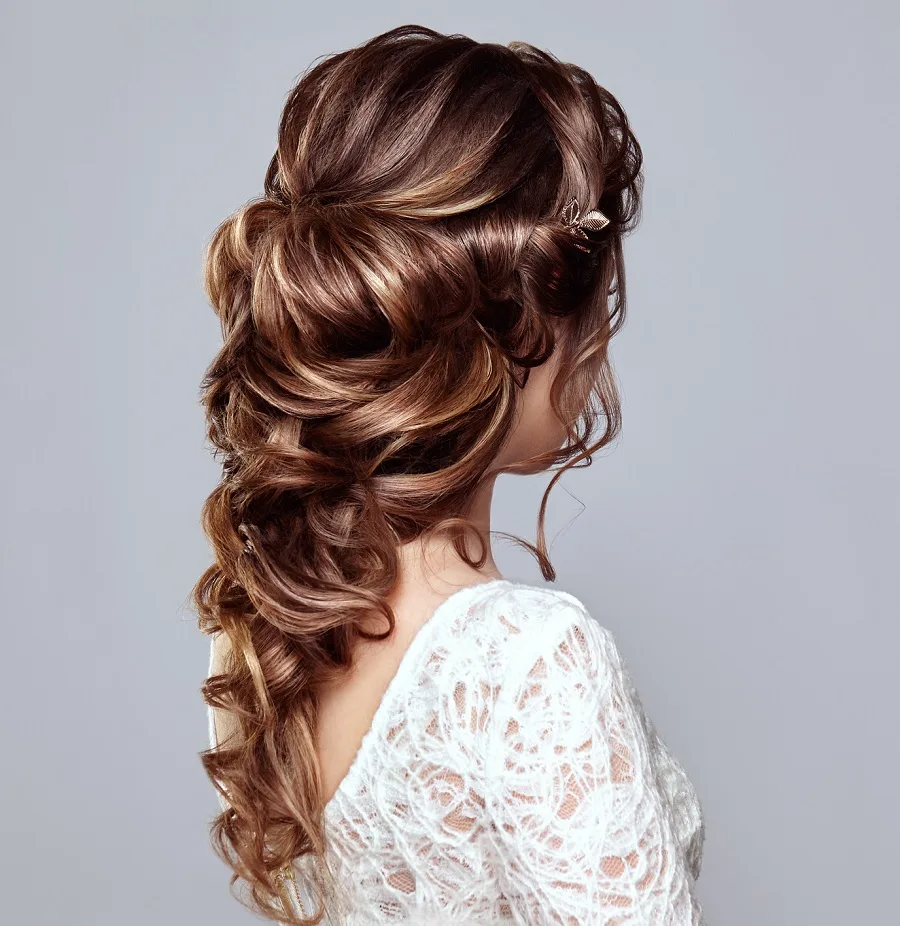 This look is ideal for brides and bridesmaids. The blonde highlights peek through the chestnut brown strands while the layered hair is curled before being styled. Twist back the side locks and braid the strands loosely pulling some loose at the front to accentuate the face elegantly.
16. Ginger Curls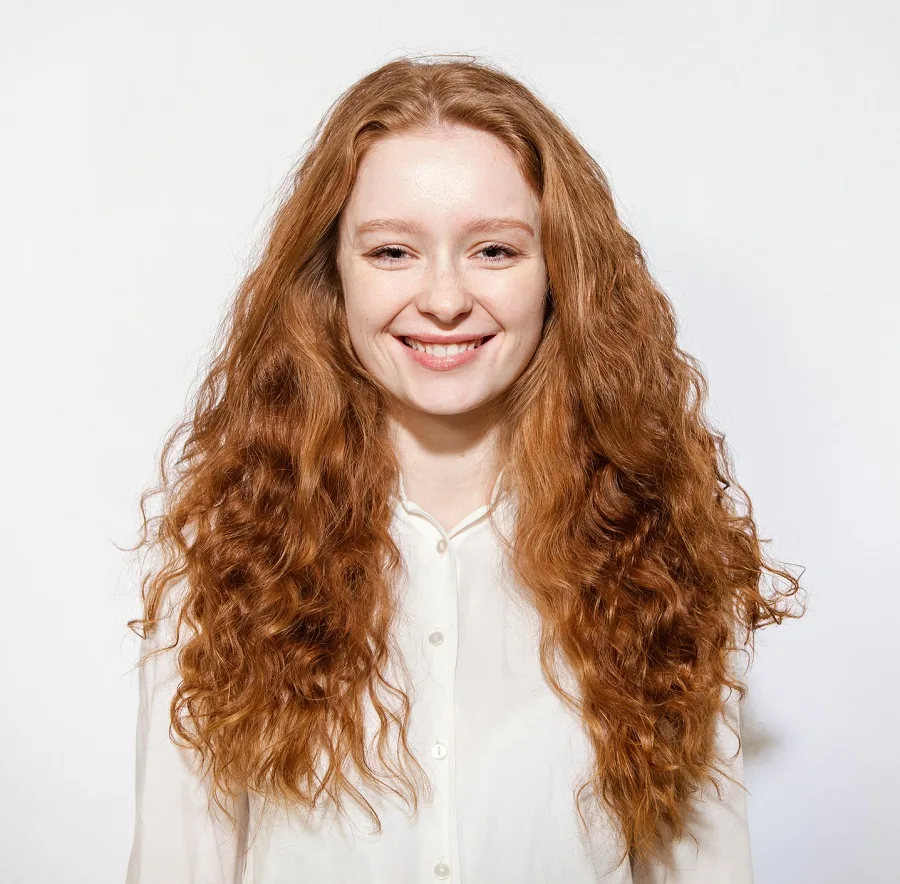 If you are blessed with ginger hair that is naturally curly there is nothing more to can ask for. Layer the long curly strands along the length to create some volume and movement. Wear the mane loose to look as dauntless as Merida from Brave!
17. Asymmetrical Style
A messy updo does no surprise anymore, but this asymmetrical hairstyle surely does. The mahogany red top lightens into a reddish copper shade midway to the ends. Style half of the middle-parted hair into a ruffled updo with pin curls while the remaining is left loose to fall on the shoulder.
18. Pineapple Puff + Highlighted Tips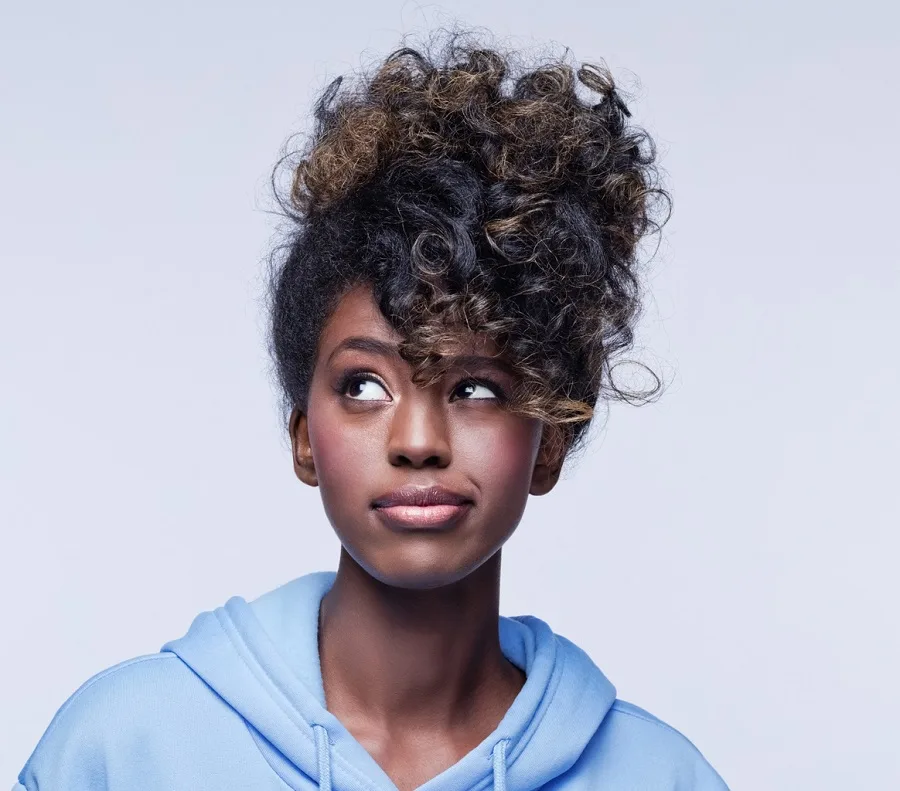 African-American girls can make their layered long curls more noticeable by highlighting the tips of their black mane with a hint of blonde. Gather all the strands up at the back and secure them with a clip to fall over on the forehead as a curly fringe.
19. Layers for Thin Curls
Adding volume is the main concern for ladies with thin hair. The best way is to add as many layers as possible and curl the strands. Enhance the look further by using some volumizing hair product and finger tousle the mane to one side for an carefree look.
20. Box Braids
Instead of getting box braids of uniform length, try them on a U-shaped or V-shaped layered haircut for the plaits to fall at varying lengths. Pull some strands loose to create a hot mess of braids and curls. Finish off with accessories like hair rings and cuffs or leave it simple.
21. Subtle Gradient
The messier, the better! Those looking for something more easy-going can consider this style. The medium-length curls are chopped into layers with eye-grazing curly bangs. Spice up the look with the dark brown top transitioning into a golden hue reaching the tips creating a gentle gradient effect.
22. High Ponytail
Here is another long curly hairstyle with gorgeous layers ideal for ladies of all ages. The curls and layers work together creating a voluminous bouncy mane that is styled in a high ponytail. Go for two ponytails aligned above one another instead of one to add that extra oomph to the look.
23. Two-Toned Layers
Set those wild curls free rather than taming them. Opt for a choppy middle-parted shag with some short front strands falling over on the forehead and add a blonde hue midway to the ends creating a two-toned appeal. The emerging roots add up to the overall style making it low-maintenance.
24. Deva Cut
The Deva cut is a special layered haircut for ladies with kinky curls. Each strand is styled individually to fall around the face flawlessly. Copy this look by dying the natural coils in a deep copper shade and black roots with a simple side parting. Voila!
The major benefit of long hair is that you have tons of styling options and having curls doesn't make you an exception from that rule. If you love simple, yet dramatic styles, then you'll definitely like this layered long curly hair with side part style.
All you need to do is to gently sweep most of your hair to one side for an asymmetrical, yet dramatic and sophisticated effect.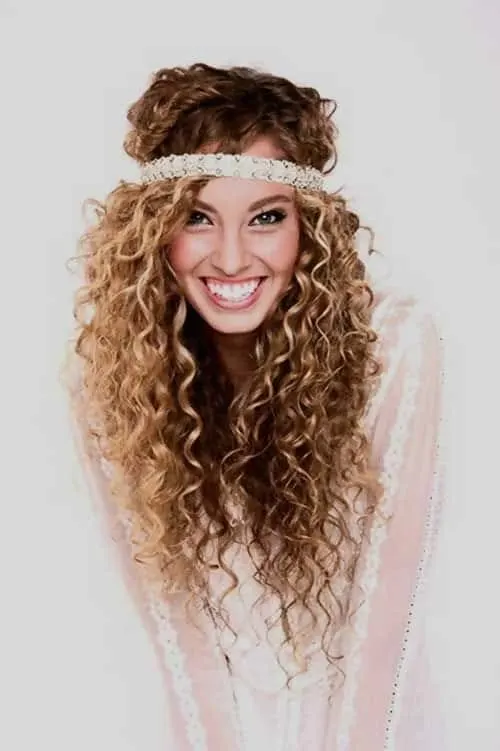 Hair accessories allow us to style our hair and achieve the desired look without too much effort. There are different accessories online and in stories suitable for any style or preferences.
Romantic, edgy, elegant, or casual, all you need is to choose the vibe you want to exude and find a perfect hair accessory to match it. For example, hairbands are easy to put on, and they look incredible.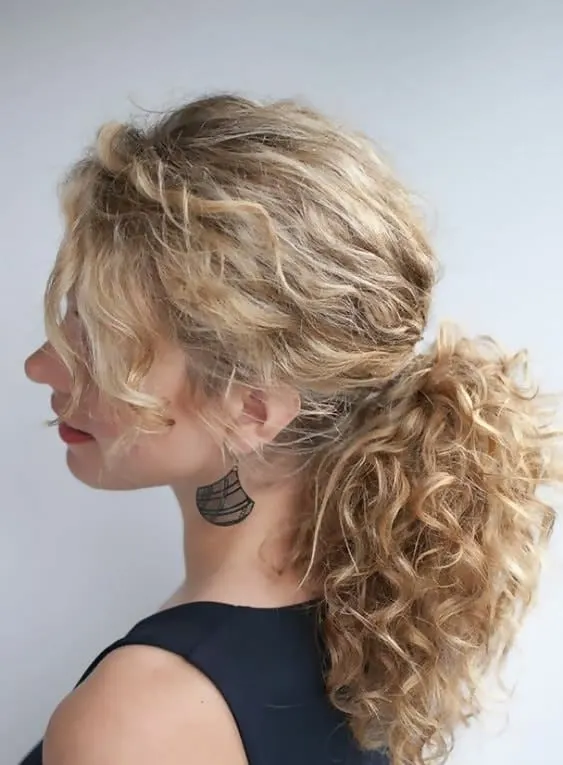 Don't let anyone tell you that you can't have a nice ponytail if your hair is curly. Create a low messy ponytail that will give your long curly layered hair more texture and definition.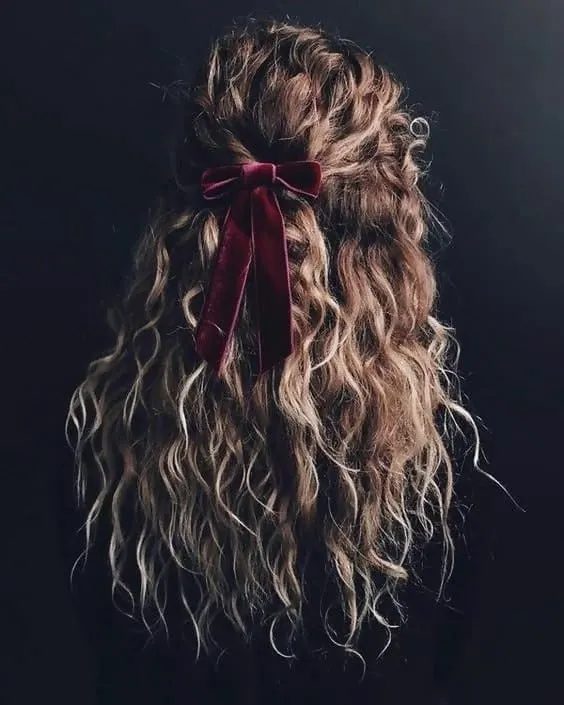 Here's a cute long layered curly hairstyle with balayage that you'll want to copy. Use a red ribbon to create the bow that will stand out on the back of your head. Isn't it fantastic?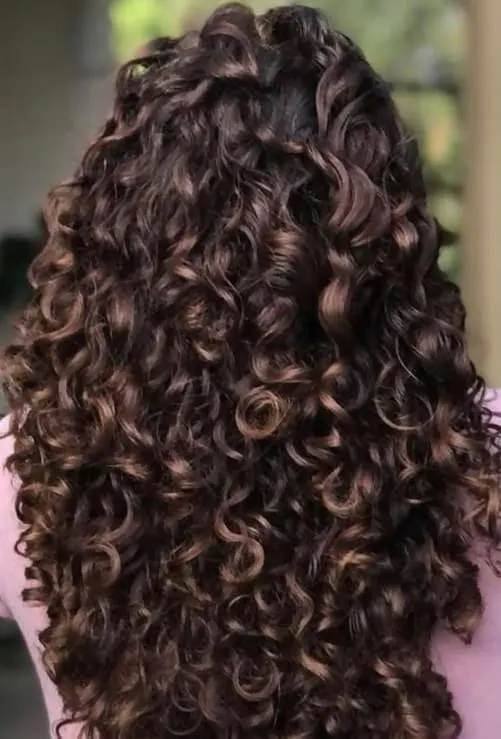 Girls and women with curly hair look absolutely adorable, and this is especially the case if your hair is long. Dark, long, layered curls are mesmerizing to watch. Layered look gives your hair more control, but retains its volume, just as you can see in the photo below. To emphasize curls, you can also opt for curly highlights.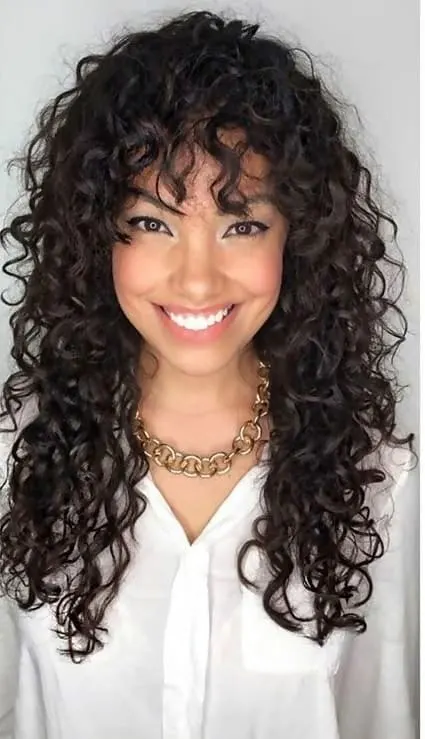 A common misconception is that girls and women with curly hair shouldn't rock bangs. Wrong! Bangs are a huge trend, and there are different types which suit different hair textures and face shapes. In fact, bangs can additionally frame your face and accentuate your eyes. Combine your layered long curly hair with bangs, and you'll absolutely love the result.
Long layered curly hair is a defined, yet chic and romantic look that you can rock effortlessly. Throughout this post, you've learned how to cut this type of hair, but you also got 30 amazing styles to try. All you need is to go ahead and get your layered look.