If you feel like your hair needs more definition to emphasize locs, but also to frame your face then long layered curly hair is the answer. Curly hair symbolizes freedom as curls make you feel liberated and girly at the same time. However, styling this type of hair is not the easiest endeavor in the world. In this post, you're going to see 11 amazing ideas that you can try.
How to Cut Long Layers on Curly Hair
Reasons to add layers to your curly hair are numerous including the fact that layers make hair lively and vibrant. Layers add texture and fullness, but at the same time, they allow you to have more control of your curly hair. If you're going to do it yourself make sure you get sharp shears and a wide-toothed comb. It's not uncommon for women to make a mistake by using just about any scissors they have, but to get the best effect you need scissors that are specifically made to cut hair.
Wash, condition, and detangle your hair and allow it to air-dry. Yet another common misconception is that you should cut your hair while it's completely wet, but keep in mind that hair "shrinks" when dry so you may end up cutting more than you wanted. It's okay for hair to be somewhat damp, but make sure you avoid cutting it when it's completely wet.
Proceed to divide your hair into sections and cut them. For a more disconnected and natural shape take zigzag sections. Make sure you cut precisely to avoid getting the unappealing look. The best thing to do is to schedule an appointment and see a hairdresser who's experienced in cutting long layered curly hair.
Watch The Following Tutorial to Learn How to Cut Layers in Long Curly Hair with Bangs
Curly Hair Layers Vs No Layers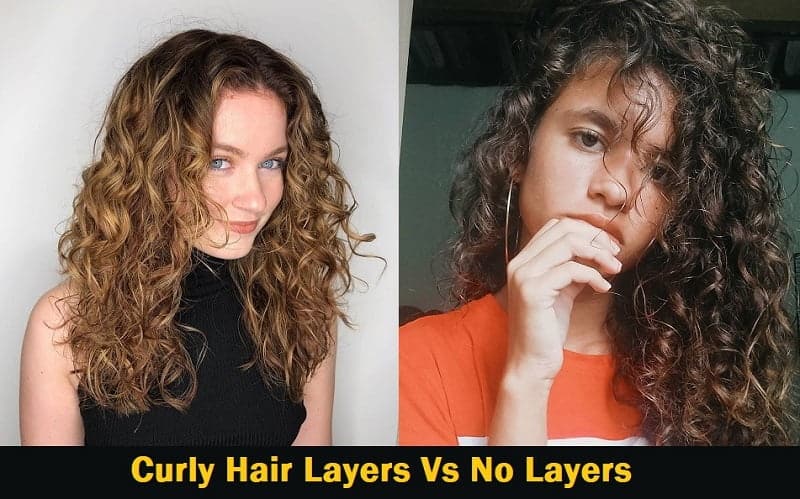 Both layered and non-layered look great on curly hair. However, if you want your hair to have more volume, freedom, and a structured look you may want to opt for layers. After all, layered hair is more voluminous but also has more definition and structure. That's the beauty of this hairstyle. It looks great, and you can pull it off with ease.
Coolest Long Layered Curly Hairstyles
Long curly hair with layers is a romantic style, but it's so easy to turn it into an edgy look. That's the beauty of this haircut, and you can rock it in different ways. These eleven ideas will show you how to pull it off.
Use a bandana in a striking color to accentuate your long layered curls and achieve the feminine, yet a little bit edgy look. You can get bandanas in different colors and switch them based on your outfits, occasions, and more.
Tiny curls can be ruthless sometimes as they add a lot of volume, but it's not that easy to subdue them. But, with a layered cut, it can be easier to control your lovely curls without depriving them of their much-needed freedom. This way, it becomes easier to style your hair, but you also get more structure and texture.
Just because your layered hair is long and curly, it doesn't mean you are out of styling options. In fact, there are many hairstyles you can try in order to achieve the fashionable, yet feminine and gentle look.
Creating a top knot or any kind of half up bun while allowing your beautiful tresses to flow free over your shoulders is a hairstyle you need to try. It's easy to create it, and it looks absolutely beautiful.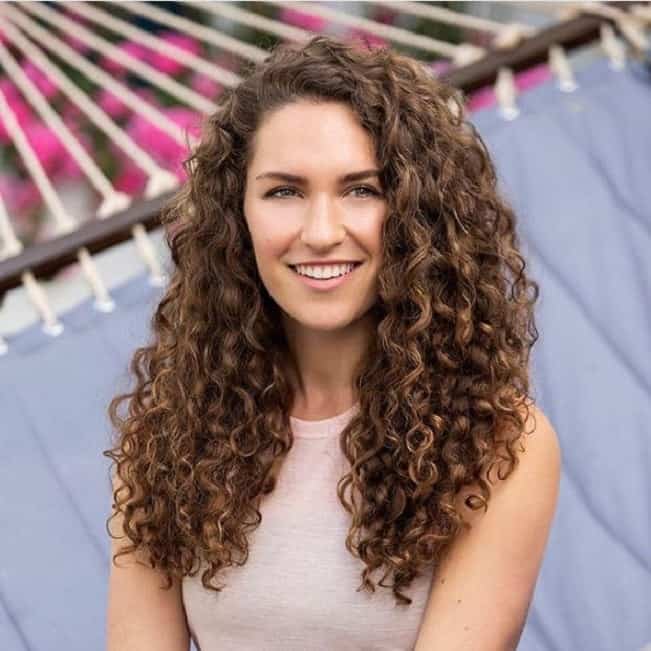 If you're a fan of simple, minimalistic styles, then you'll love this one. Here, long layered curly hair gently flows over the shoulders. Hair is layered subtly with a few "barely there" highlights to add more texture into the mix. The best thing about this simple style is that you can rock it in different ways including styling your hair in a bun or top knot.
Top knots are incredibly popular today. They're cute, chic, yet casual at the same time. While it's possible to create a top knot on any hair texture or length, it works best with curly hair with long layers due to volume and fullness it provides.
Choose this style for those effortlessly chic moments when you want to look relaxed, but not like you spent too much time achieving it.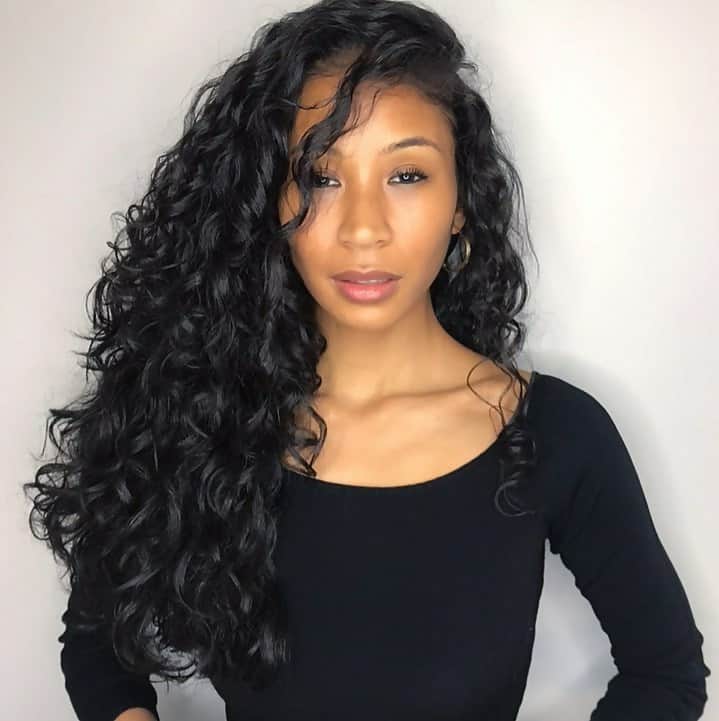 The major benefit of long hair is that you have tons of styling options and having curls doesn't make you an exception from that rule. If you love simple, yet dramatic styles, then you'll definitely like this layered long curly hair with side part style.
All you need to do is to gently sweep most of your hair to one side for an asymmetrical, yet dramatic and sophisticated effect.
Hair accessories allow us to style our hair and achieve the desired look without too much effort. There are different accessories online and in stories suitable for any style or preferences.
Romantic, edgy, elegant, or casual, all you need is to choose the vibe you want to exude and find a perfect hair accessory to match it. For example, hairbands are easy to put on, and they look incredible.
Don't let anyone tell you that you can't have a nice ponytail if your hair is curly. Create a low messy ponytail that will give your long curly layered hair more texture and definition.
Here's a cute long layered curly hairstyle with balayage that you'll want to copy. Use a red ribbon to create the bow that will stand out on the back of your head. Isn't it fantastic?
Girls and women with curly hair look absolutely adorable, and this is especially the case if your hair is long. Dark, long, layered curls are mesmerizing to watch. Layered look gives your hair more control, but retains its volume, just as you can see in the photo below. To emphasize curls, you can also opt for curly highlights.
A common misconception is that girls and women with curly hair shouldn't rock bangs. Wrong! Bangs are a huge trend, and there are different types which suit different hair textures and face shapes. In fact, bangs can additionally frame your face and accentuate your eyes. Combine your layered long curly hair with bangs, and you'll absolutely love the result.
Long layered curly hair is a defined, yet chic and romantic look that you can rock effortlessly. Throughout this post, you've learned how to cut this type of hair, but you also got eleven amazing styles to try. All you need is to go ahead and get your layered look.