What is manlier than a cool Viking haircut with warrior-like facial hair? If you've seen the TV show Vikings, then you know how tough and macho those warriors of the past looked.
Deadly Men's Viking Hair Ideas
This list of 30 Viking haircuts will inspire you to try one yourself!
1. Side Combed Hair with a Full Beard
This Viking hairstyle proves there is a way to rock a rugged look in a neat way. Just comb short hair to one side and rock a full beard that is cut in a rounded shape and brushed down smoothly.
Ideal for: Oval or other long face shape.
2. Half Shaved Head and Chin Strap Beard
If you're rocking long hair with a bit of wavy or curl to it, you can easily punch up your style to a Viking look. You'll need to shave half your head so it's completely bald, and pair it with a precisely-cut chin strap beard. Be sure to keep your mustache short and trim.
Ideal for: Men with a strong bone structure (ex. square-shaped face).
3. Three Braids with Undercut
A minimal bald undercut subtly peeks out from under a long braid on this Viking hairstyle. Start with three large braids that extend from the hairline to the neckline, then combine them into one braid.
Ideal for: Square and round faces.
4. Thin Hair with Long Beard
Older men with medium to long hair and a long beard should choose this dapper version of the Viking haircut. Wear hair down and brush your beard until it's mostly straight.
Ideal for: older men with a round, small face shape.
5. Twists or Dreadlocks with Bald Fade
A bald fade perfectly complements these long twists. If you're a man with natural black hair, you can rock twists or dreads in a thick ponytail. For a bit of color, add bright red braid extensions.
Ideal for: long or oval face shapes
6. The Redheaded Viking
Are you a natural redhead? This hairstyle's low maintenance does red hair justice worn loose with a long beard. Keep your mustache short and trim to avoid looking too caveman!
Ideal for: oval or round face shapes
7. Fishtail Braid Man Bun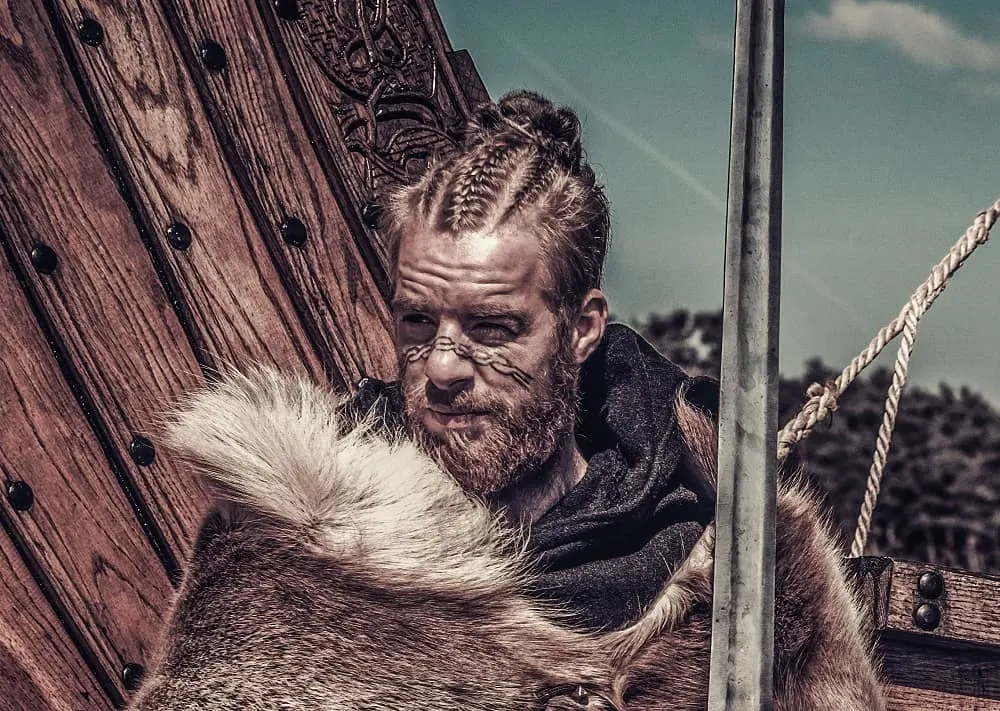 We're getting all sorts of Brad Pitt in Troy vibes from this fishtail braided man bun! The typical messy Viking look instantly becomes filled with detail with the addition of braids. If you're feeling bold, consider a taper fade on one side.
Ideal for: rectangle or "boxy" face shapes
8. Faded Ponytail with Dread Extensions
The buzzed fade surrounding this men's ponytail will give nice definition to your face, but the real Viking detail is in the ponytail. Long bright extensions as dreads or twists mix with braids to create a fuller look.
Ideal for: square face shape
9. Fishtail Braid Half Updo
A Viking half updo is very hot with a fishtail braid down the center of your head. Make two thin braids at the side and gather them all in the back at mid-height.
Ideal for: any face shape
10. Short and Combed Back
You don't have to have long hair to rock a Viking hairstyle. This short haircut is finger combed back away from the face. It looks slightly rugged with a full beard. The height up top is great for accentuating strong cheek bones.
Ideal for: rectangle face shape
Braids are among the most common details in Viking hairstyles. To create this braids style, sweep the hair towards one side and part the hair on the opposite side in three horizontal sections.
Braid each section into a French man braid and secure it with an elastic band. Decorate the braids with some hair rings. You can repeat the process on the other side as well or leave the braids only on one side. Wear the rest of the hair messy.
Ideal for: Oval and square-shaped faces.
Use hair clippers to shape the undercut. The length of the undercut Mohawk should be even everywhere. Braid the hair from the top into a wide Mohawk braid. You can intertwine a leather band in the braid if you want to give it a more authentic look.
Ideal for: Oval and round-shaped faces.
Dreadlocks for men can have a Viking hair vibe too! You can shave the sides of the head, especially if you have a tattooed headpiece that you want to show off. Secure the dreadlocks in a high ponytail. A well-shaped beard can also be a great match for this hairstyle.
Ideal for: Oval and round-shaped faces.
Contrary to the popular idea of Viking haircuts, the Viking men also wore short haircuts. Instead of a smooth fade, you can shave the sides and the back of your head off completely. Leave the high top short and front swept without much styling.
Ideal for: Oval and round-shaped faces.
A messy wavy hairstyle also represents a Viking men's hairstyle very well, especially if combined with a ginger beard. You can just use a little bit of hair gel to make it sleek at the front. It gives you a rough and rugged look.
Ideal for: All face shapes.
A similar style as the first one, except its much cleaner as you should comb through the entire hair before braiding. You can always ask for help from someone to help you if you find it difficult to braid hair at the back.
Ideal for: Square and heart-shaped faces.
Vikings were simple warriors who were highly practical and went with what they have. You too can keep it simple. No need to do many fancy things to your hair to fashion it into a Viking style hairdo.
Let it grow to shoulder length. After washing your hair, which is recommended to do regularly, dry it with a blow dryer to keep it full of volume and sport a blonde beard for the final touch.
Ideal for: Heart and square-shaped faces.
18. Shoulder Length Half Updo
A half updo is one of the more common and simpler hairstyles for Viking men where you should just take a strand of hair on each side of your head above the ear and tie them horizontally at the back of your head. Keep the overall haircut at shoulder length.
Ideal for: Heart-shaped faces.
Sometimes, to get a Viking hair look, you don't need hair at all. Shave it off clean and grow a long beard to complete the full circle of manliness.
It is highly recommended to use sunscreen if you go outside on sunny days and some skin moisturizer during winter times so that your skin doesn't become dry. As for the Viking beard, regular beard oil will keep it healthy and soft.
Ideal for: Round and oval-shaped faces.
This one is one of the most easily recognized Viking hairdos. Instead of braiding, simply twist the hair strands from the forehead down. You can keep the twists short or fashion them down to the nape of the neck to form a short Mohawk fade.
Ideal for: Oval and round-shaped faces.
This was a haircut usually worn by some of the clan elders and priests. In combination with a scruffy beard, it will give you a menacing, mischevious look. But it is definitely one of the coolest Viking haircuts out there. The man bun can be let loose into a ponytail and, in a more Viking fashion, braided.
Ideal for: Round and oval-shaped face.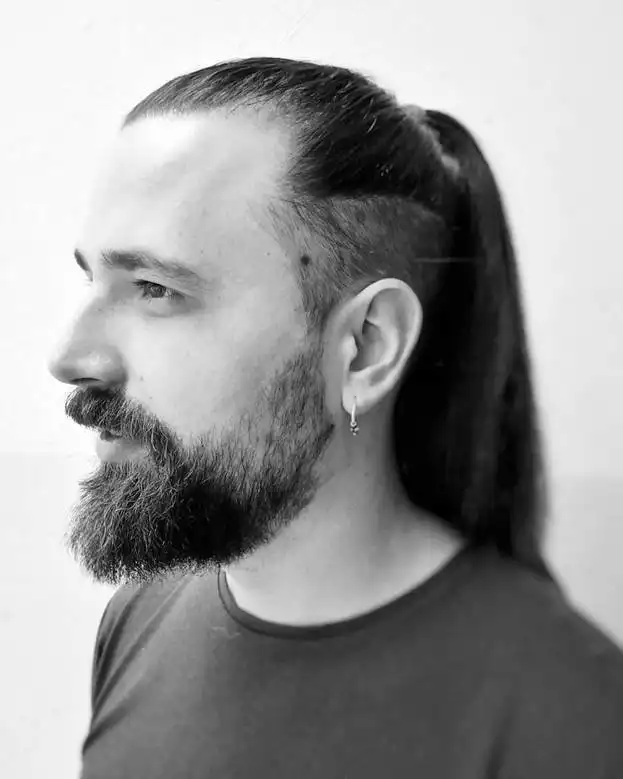 This is another simple nordic hairstyle that is low-maintenance. It will take a lot of time and patience to grow it so use the hair clipper for the undercut very carefully. Use some hair oil or wax to keep the boy ponytail smooth and silky.
Ideal for: Oval and round-shaped faces.
If long braids or tapered undercuts are not your things, don't worry. With this haircut, you can still achieve a Viking hair look with just a tad of hair gel.
Grow the hair on the top out just a little bit longer than the sides. Rub some hair gel into your palms and go through your hair in an upward motion, slowly forming the fohawk.
Ideal for: Heart and square-shaped faces.
Not all Viking inspired haircuts are made out of tight braids or shaved parts of the head. In the past, they were more commonly loosely and quickly made.
If you are ina hurry or just casually going out with friends, this one just might be the one for just such an occasion. Make as many braids as you want and style them to your liking.
Ideal for: Oval and heart-shaped faces.
25. Undercut Faux Hawk with Braids
This Viking look is a stylish mix of the two most common hairstyles, great for both formal and casual occasions.
Braid small strands of hair and then braid them, eventually twisting them into a single ponytail that is held together with an elastic band at the base of it and with one at the end of it. Men's box braids should be braided tightly so as to not fall apart easily.
Ideal for: Round and oval-shaped faces.
This nordic hairstyle was so popular throughout history that it was even used across the deep Atlantic Ocean. The Native Americans used a haircut similar to the one Viking people used.
But a clear distinction between the two is in the facial hair which just goes to show how much an important asset a beard is to the authentic Viking style. Wash it regularly to keep it silky smooth.
Ideal for: Oval and round-shaped faces.
This hairstyle was probably used by some of the younger Viking guys in the past as they just started to grow their hair. Simple combing the hair backward will do the trick. Some hair oil can be used to keep it soft and glossy.
Ideal for: Oval and square-shaped faces.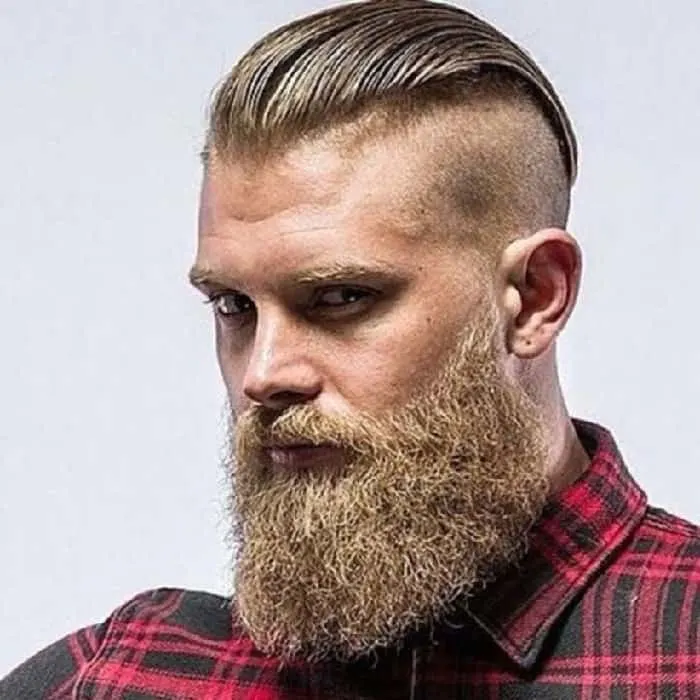 This is another style for short-haired men that is sleek and fresh. Easy to style with some hair gel or wax to keep it swept backward. The length should be kept somewhere around the middle of the back of your head and the sides should be shaven daily.
Ideal for: Oval and round-shaped faces.
If you don't think a ponytail will fully complete your Viking hairdo, then make a simple, thick single braid for men. And that's it. If you are impatient to grow long hair, there are plenty of great hair extensions that you can find and use to completely blend in with your own hair.
Ideal for: Oval and round-shaped faces.
Since Vikings lived more than 10 centuries ago, it's hard for us to picture how they looked. Contrary to popular belief, many experts believe that a lot of them actually fashioned a short undercut or a messy fringe with a lot shorter back and sides.
It was quite a modern Viking hair look for those times, that was both easy to style and to maintain. Just a tad of hair gel or wax should be enough to style the fringe and prevent it from falling into your eyes.
Ideal for: Oval and heart-shaped faces.
Viking hairstyles can never be a miss if you wear them with the attitude of a real Viking. They will always bring out your courageous side and make you look confident, ready for any task coming your way.