The fringe that is currently in trend and is stealing all of our hearts is none other than the emo bangs. If you are, up to date with all the different hairstyles for women that are currently taking the social media by a storm then, you might have come across the long fringes, swoop, and wispy styles that are particularly on the rise.
Are you intrigued? Then, why don't you browse through the end of this article to find unexpected and spectacular emo hairstyles that are in action and slaying the world with its unusual looks!
How To Style Emo Bangs
A sweeping emo fringe bangs that can cover a portion of your face undoubtedly looks stunning. So, let's check out how you can look like a vulnerably sexy and trending being.
Step 1: Make sure your hair isn't too short. Start by being patient and growing your hair. Your bangs will look good if they cross your nose (lengthwise) but not your jawline.
Step 2: Never cut your hair when it's wet.  This is because your hair will look longer when it's wet. In order to prevent accidents, blow dry it first.
Step 3: If you have curly or wavy hair then proceed forward by straightening your hair. This will help you cut the right length.
Step 4: Emo bangs will either be on the left or right side of your head. So, if you do a middle partition, its high time you change it so that your hair naturally falls to either side of your face.
Step 5: Want to color your bangs first? Then, go ahead and do it before you begin the haircut.
Step 6: If you are doing it at home, you will need hair shears, rat tail comb, razor, hair clips, and the water-filled spray bottle.
Step 7: Separate the hair you intend to cut off and tie the rest of the hair securely. In case you have thinner hair separate your bangs in two different layers. Now, cut your hair in an angle towards one side of your face by an inch. Keep in mind that the upper layer of your hair should be slightly shorter than the lower layer.
Best Emo Bangs for Every Women
Black clothes, facial piercings, and colorful spiky hair, don't you think we have got the whole concept of the emo look in these few words? Now, is the time to head out in an unconventionally stylish and funky look without giving a second thought about what the world has to say. Check out the exotic emo bang hairstyles we have in store for you.
Are you one of those women who march around the world in their unique personal style? If you do, then this emo hair with bangs is perfect for you. The lavender purple hair with alternating green streaks will look sensational with the cap cut bangs.
If you have the guts and confidence it takes to carry this daunting hairstyle, then go ahead and give it a try. Firstly, bleach your hair in red orange hair shade. Then color half of your hair in a vibrant red shade. The end result will be phenomenal.
This short look with emo bangs is for all those ladies with hair as dark as the moonless sky. If you don't have black hair, then go ahead and die your hair before you get a haircut.
4. Multi-Colored Emo Look
Every lady with medium length hair who has a penchant for experimentation must give this style a try. The ultimate look of this side emo bangs hairstyle will help you look chic and make head turns everywhere you go.
This versatile hairstyle demonstrates relaxed hair color with light blue hair bangs which can be styled the 'emo' way.
6. Emo Hairstyle – The Icy Blonde Way!
Every girl that has short or medium ice blonde hair can now enjoy the beauty and awesomeness that emo bang hairdo brings with it. The loose waves will add a dash of seductiveness, youthfulness, and freshness to your personality.
The daring and alluring look of the bright red hair is stunning. The contrast that the fiery red creates with the dark root will add another level of depth to your emo hair bangs look.
8. Pink Waves In Emo Style
The pink ombre, the soft look will add unbelievable magnificence to your look. The pastel pink hair color at the roots and its soft transition to light pink which then fades and turns to white at the ends is what you want. This magnetizing emo bangs look will help any girl look stunning. If you are worried about creating curls, then don't. All you have to do is tie your hair in a bun before you go to sleep and then enjoy gorgeous locks in the morning.
This style is easier to pull off than the other outrageous styles you just witnessed. If you are in search of a hairstyle that is a reinvention of the emo hairstyle with bangs which is subtle yet emo, then this is the one.
This haircut oozes out oomph. It's short, sassy, and oh so sexy! The cropped emo side bangs hairstyle is extremely easy to carry out for it brings no fuss with it. It is bound to upgrade your fashion sense.
This pixie bob hairdo is bound to make heads turn your direction. The dyed emo bangs and short layered hairstyle are undoubtedly one to pick. It sports a fun and hep look that is to die for.
Bold, sexy, and not to mention outrageous. This hot, punk hairstyle is something that is worth a try. Doesn't it seem straight out from an anime movie?
13. Emo Layers In Plum Shade
Isn't this plum hairdo cute, trending, and foxy at the same time? This bangs can perfectly blend in with your emo personality. And, those days when you feel the world is a beautiful place, you can style your hair in a cute boho way.
14. Spiky Emo Hair
The thing about colors is – you will look exceptional with a blend of several colors together. Now, is the time to sport your emo bangs that will be as vibrant and pretty as a crayon box. The short spiky hairdo will further spice up your fashion statement.
If you are not into vibrant colors or even jet black, then why not give the golden blonde hair look a try? Though it looks subtle, the shaggy hair bangs will clearly scream out EMO!
16. Fringes In Dual Color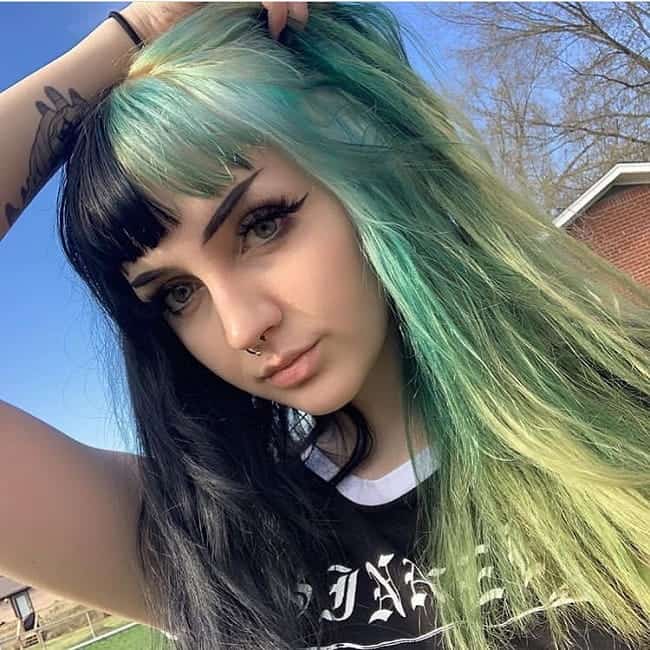 The carefree, great, and stylish cropped emo bang look in contrasting dark and light shades is what you can choose for your extravagant personality.
The fringes and thick bangs define this emo hairstyle. Depending on the shape of your face, choose either the side swept full forehead look or go for only the highlights to complete your look. This hairstyle is perfect for all those ladies who go around the world with "Like I care" attitude.
18. Uneven Cuts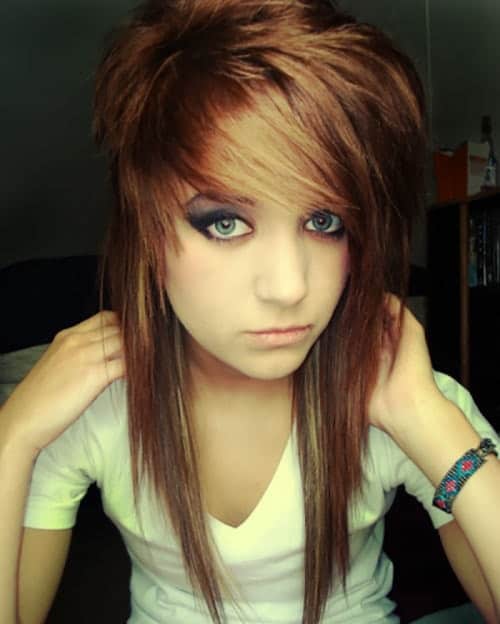 Do you want to look phenomenal and stand out from the crowd at the same time? This is the kind of emo bangs which will look great.
Though this hairstyle looks relatively simple than the other emo hairdo, this style is chic and perfect for those who are just getting a hang of this style. The fine layered, emo bangs are covered in vibrant rosy gold. It is the ultimate combo of classy and bold.
This ginger color emo side bangs for medium hair not only looks cute but also stylish. Give it a try and get an adorable look!
FAQs on Emo Bangs
Take a look at some of the queries that you might have :
Is there any difference between scene and emo hairstyle?
Ans: The scene subculture has an undying love for neon colors which separates it from the emo. However, scene hairstyle looks almost similar. Both the hairstyles are centered across bangs or fringes that is brushed to one side of the face. Emo hairstyle demonstrates hair that has been dyed black and has stripes of other colors and the scene hairstyle is an exaggerated version of the emo one with the use of neon colors.
Which shape is perfect for emo bangs?
Emo bangs generally look good in every kind of hair, however, it looks the best if you have long hair.
It is time to embrace the majestic look of the emo bangs and get lost in the world that is all about style.