Beautiful Weave Bob Hairstyles
#1. Side Parted Weave Bob
#2. Bob Weave + Middle Part
#3. Black Weave Bob
#4. Blonde Bob Weave
#5. Straight Bob Weave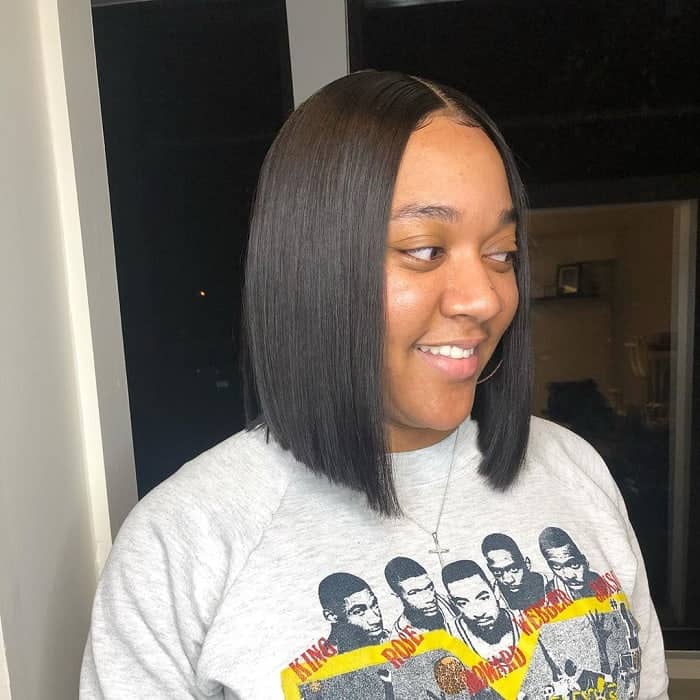 #6. Red Bob Weave
#7. Bob Ponytail with Weave
#8. Messy Bob with Weave
#9. Ombre Bob Weave
#10. Blue Bob Weave
#11. Burgundy Weave Bob
#12. Crimped Bob Weave
#13. Pink Bob Weave
#14. Honey Blonde Weave Bob
#15. Copper Bob Weave
#16. Highlights and Lowlights

You can give your hairstyle more texture and depth by adding complementary highlights and lowlights. Colors that complement your naturally shade can also help your hair to look like it has more sheen.
Most popular weave styles for women
#17. Pixie Weave
A pixie weave looks great if you have smaller facial features. For extra Hollywood glamour, keep your style much shorter at the back than it is at the front.
#18. Bob with weave Bangs
Heavy bangs look perfect with a bob style. For a really eye-catching look, team blunt bangs up with dark eye makeup. This is great if you have striking eyes.
#19. Short Bob Weave
A longer front section is perfect for framing your face, whilst a shorter back will will help to give the superstar style. The style looks best with bangs.
#20. Arched Fringe

An arched fringe follows the natural curve of your face. It looks really good on a chin length weave bob with a blunt cut.
#21. Wavy Long Bob
If you have a thicker style, a long bob might look really good. Tight waves look really beautiful as part of a casual style and as part of a glamorous 'do which would be great for formal events.
#22. Sleek WeavyeBob

If you are the type of person who doesn't like to have a hair out of place, then a sleek bob is the perfect choice for you. Using heat serum and straighteners will help to give you a perfect look, but make sure your weave can take the heat before you use them.
#23. Loose Waves
Very loose waves look beautiful in a bob style. To create waves, you can put your hair into curlers, and then brush through it without putting any hair spray in at all. This will leave you with very loose waves.
Different bob cuts trending right now
#24. Red Alert
Red highlights or lowlights look subtle yet quirky in a darker hairstyle. The colour looks better in dark brown or black hair than it does in blonder weave bob colours.
Just because you have chosen a bob style, doesn't mean that you have to have something symmetrical. Keep your hair chin length at one side, but drop it down to your collarbone at the other side.
#26. Diagonal Parting
If you have thinner hair, a diagonal parting can actually help to give your hair more volume. The diagonal parting helps to lift the hair from the roots.
#27. Purple Reign
Black hair can look amazing when it is mixed with purple colouration. Try an ombre style where the purple colour gradually fades into black towards the roots of your hair.
#28. Tousled Light Curls
Tousled light curls offer a great way to get volume into your hair. To get a tousled look, shape your hair with curlers and spray once you take the hair out. To give your hair a tousled look, run your fingers through your hair a couple of times only.
#29. Short Pixie Bob with Heavy Fringe
Even if you have a weave, you can still choose to have a much shorter style. This thick weave bob can look amazing if it is lightly tousled and then fixed with a small amount of styling gel.
#30. Green with Envy
This amazing colour is a really eye-catching choice if you have a weave bob. This type of shade looks like it is black until it catches the light and you notice flashes of green as well.
#31. Red Tips
If you do decide to get red dye put in your hair, you don't have to colour it all of the way through. Dye your hair red at the tips, but leave the weave bob black at the roots.
#32. Quiff Fringe
Create a retro hairstyle by teasing your fringe up into a quiff and then hold it in place using a little bit of styling gel. This creates a really androgenous look which will get you the right kinds of attention.
#33. The Blues
For an amazing en pointe bob hairstyle, cut your hair into an assymetrical bob, and then add some blue highlights. The blue will help to give your hair a funky new look.
#34. Rolled Fringe
A rolled fringe is reminiscent of a 40's pinup girl style. You can actually team a rolled fringe up with lots of different weave bob looks to give yourself a little touch of retro glamour.
#35. Blunt Bob with Weave
A blunt cut might look quite severe, but if you team it up with the right fashion choices you can create a look which is really edgy instead. Keep your hair smooth to give it a real sheen.
#36. Curly Bob Weave
Big curls give your bob width rather than length. Controlled curls can help to create a bob which is reminiscent of the big styles which were popular in the 70s and 80s.
#37. Blunt but Wispy
If you want a blunt cut, but you want to look less severe, you can try adding a little wispiness to your hair. Get your stylist to make a few choices cuts to feather out your hair.
#38. Scruffy Bob
This weave bob looks a little bit messy on purpose. Make choppy cuts to the end of your hair to give is variable length and then run your fingers through it to give it a slightly tousled look.
#39. Spiral Curls
Wrap your hair around the length of your curling tongs to create long, spiral curls. This look is an amazing style to wear to your next big event.
#40. Voluminous Waves

Volume can be achieved by brushing upwards from the roots. Get a loose wave of scrunching product through fistfuls of hair whilst you blow-dry it.
#41. Side-swept Fringe
Put in a side parting and then sweep your fringe over from one side to the other. This will help to keep your hair out of your eyes, as well as giving your style a touch of class.
#42. Sleek Bob with a tail

For a funky twist, have one long section coming out of the back of your bob. Keep the rest of your style with a blunt cut.
#43. Thick Bob
A thick weave looks really good in a bob style. A little bit of layering at the bottom of your bob can help to give your hair more shape.
#44. Shaggy Bob

Cut a lot of layers into your weave to create a shaggy bob. Run a little bit of styling product through your hair to create a slightly messy tousled look.
#45. Face Framing Layers
Cutting layers into your hair will help to frame your face. For the best effect, cut to chin length at the front and make gradually longer cuts as you go further back.
#46. Pageboy bob
If you still want to keep your hair relatively short then you might want to consider a Pageboy style. This weave bob style looks particularly cute if you have very delicate facial features.
#47. Sleek Layered Bob with Highlights
Even if you have a sleek bob, you can still give your hairstyle the appearance of texture and depth by using highlights and lowlights to change the look of your hair. Layering will also help to create texture and depth, whilst the sleek look maintains your shine.
#48. Textured Short Bob
A chin-length bob can look really beautiful when you have given a little bit of texture to the style. You can use a diffuser attachment whilst blow-drying your hair to help to create this type of texture.
#49. Beach Hair
This style of hair is the perfect choice if you want to look like a boho beach babe. The shading and texture make the style look sun-kissed and like you have just stepped out of the sea.
#50. Flyaway Locks
Flyaway locks are one of the names given to hair which is intentionally left looking slightly messy. This type of style is great if you want to create a look which appears as though you have not tried too hard!
#51. Long Bob with Heavy Bang
This long bob style is a high fashion hairstyle for those who want to look like they are a top model. Have a longer cut around your face and then make gradually shorter cuts as your hair gets further back to create an amazing weave bob style.
#52. Voluminous Bob
This style looks thick and lush. Even if you have a thinner weave, you can create artificial volume by brushing upwards from the roots. You can also give the illusion of volume with the clever use of highlights and lowlights.
#53. Corkscrew Curls
Whilst you are waiting for your natural hair to grow, you can put in a weave bob with natural looking corkscrew curls. This look is a great choice for showing cultural pride.
#54. Tight Curls
If you do not want corkscrew curls, you can still wear your hair in beautiful tight curls. This is a glamorous hairstyle which is ideal for a night out on the town
#55. Weave Bob with Voluminous Fringe
Put aside parting into your weave bob and then brush hair towards the front to create a gorgeous fringe. Brushing forwards from the base will help to give your fringe extra volume for a really glamorous hairstyle that can also be worn for every day.
If you get a weave, you can have any style that you want as long as you are prepared to wait for it to be sewn in. This means that you have literally thousands of different options available to you. This list has shown you 70 of the best options for a bob style. Speak to your stylist and they will help to give you the weave bob that you have always dreamed of.