There is no reason why your haircut should be dull, which means it's time to get an a-line bob with bangs. Shorter in the back and longer in the front, you can easily notice that sharp line of the hairdo when you look at it from the side. This an already approved mane by so many popular stars, so we decided to bring you 25 gorgeous hairstyles to choose from.
A-Line Bob with Bangs
The styling is completely your choice. You can opt for a straight, sleek look, the option where you can notice the chic short or long a-line cut the best. We have cherrypicked the best of a-line bob with bangs hairstyles for women. Go through the styles to find the exclusive one for you.
1.
2.
3.
4.
5.
6.
7.
8.
9.
10.
11.
12.
13.
14.
15.
16.
17.
Side swept bangs are great for both straight and curly manes. They are easy to style and come in several variations.
Ideal for: If you've been looking for a dramatic hair change this year, an a-line bob with bangs might be the answer.
How to Style: Keep the bob very straight, smooth and sleek, so that everyone will see your brand new fabulous hairdo. For the bangs, you can use a round brush to blow dry them to the side, or go for a flat iron. Some ladies don't even need hair tools when styling their fringe.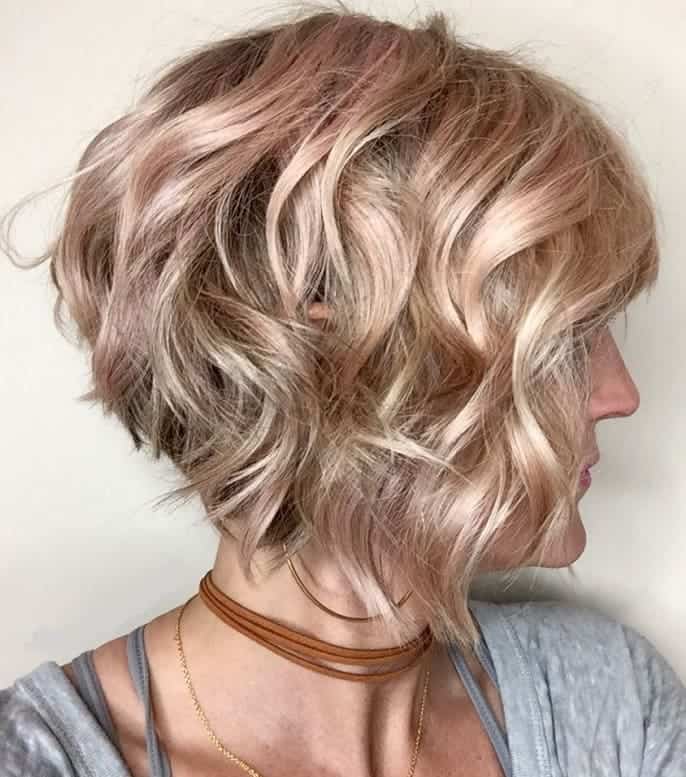 Long is better if you are not 100% convinced that this is the best hairdo for you. When it's longer the hair will grow back faster, plus there is space for corrections.
Ideal for: Forget about long hair, the new trend is all about getting a short chop. If a short bob is too drastic for you, long a-line bob cut with bangs should do the job.
How to Style: Do chic messy waves with a curling iron or a hair straightener all over the hair. The choppy bangs can be either straight or wavy as well. You can experiment with all the different looks one day at a time.
Straight and sleek means that your a-line long angled bob will be the centerpiece in the look. Straight hair really accents the longer strands in the front.
Ideal for: This hairstyle is ideal for all the ones that are in love with blunt bangs.
How to Style: If your hair is straight you will only need a round brush and a hairdryer to curl the ends towards the face. If it's curly, you can definitely use a straightener.
21. Pastel A-Line Bob with French Bangs
Pastel pink hair shades are officially taking over. They will be everywhere, including clothes, nails, and hair. This pink pastel hue is so beautiful. You can decorate your a-line bob hairstyle with bangs with a statement hue such as this one.
Ideal for: Ideal for both dark and light skin tones, because the pastel is flattering for everyone.
How to Style: It really looks superb when you add fun waves all over. The bangs can definitely be blunt and thick to really accent the face frame.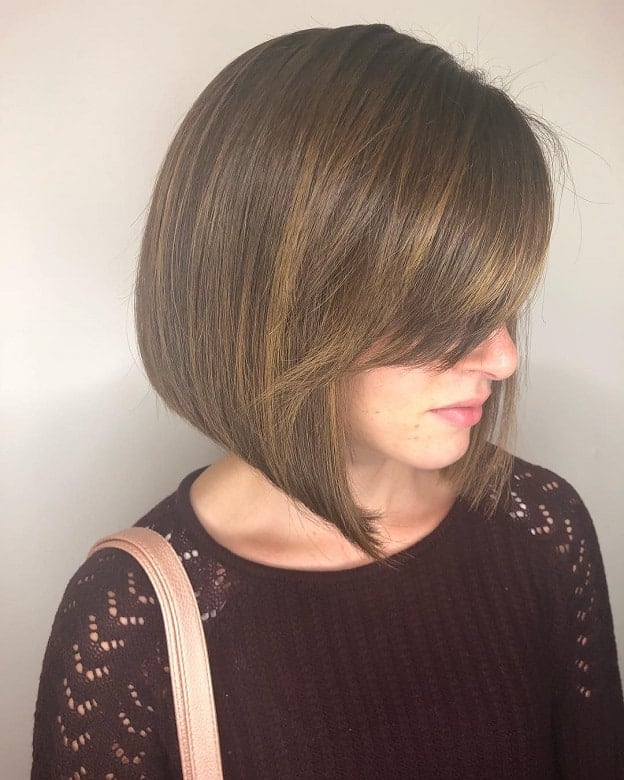 The bigger the hair, the closer to god. If that's your life motto, this is the mane you need. If you like this haircut, check these cowlick bangs that are trending in 2022.
Ideal for: Women who like to stand out should try this a-line bob with bangs hairstyle. Layers help with the volume, together with good styling products.
How to Style: Get a teasing brush to achieve such a full and voluminous look.
Shorter means that your hair will be dry faster and you'll spend less time styling it. If you opt for this short a-line bob haircut with bangs, you can always add some layers here and there.
Ideal for: Perfect for women who prefer easy hairdos that are simple to take care of.
How to Style: You can let the hairdo air dry since you have it very short and cute.
Classics are great for all ages. The cute a-line bob with bangs is even cuter thanks to the thick, blunt fringe. You can also get this look with red bob weave.
Ideal for: Perfect for everyone who likes it, even the ones who think that blunt bangs are not their thing.
How to Style: For a perfectly styled straight bob, you can either blow dry it with a brush or straighten it with an iron.
Basic hair colors are so boring nowadays. If you are in the search of a very eye-catching, vibrant hue, we have an idea. This cool rose pink hair is the most impactful dye we've seen in a while. If you're going to the hair salon, make sure to show your hairstylist this picture.
Ideal for: Great for all adventurist women who can't get enough of hair changes. The neon hue is very intense, so be convinced that everyone will be looking at it with fascination.
How to Style: You can get a sharp A-line, or a barely noticeable one. These bangs on a-line bob hairdo look best when straight. Keep it sleek, and don't forget the short, baby bangs as well.
A-Line Bob Vs Inverted Bob
There is one main difference between an a-line bob and an inverted one. When cutting the inverted bob, hairstylists do the back part in more layers, which gives it plenty of volumes. The two can look very much alike, especially if the inverted bob does not have many layers. There are women who are obsessed with having a very high and voluminous bob, so they ask for many layers.
The ones who prefer a softer look either opt for fewer layers or an a-line bob. An a-line bob is much flatter in the back, while the inverted has a round shape. All those stacked layers give a much more rounded form. The thing is that today there is a very thin line between the two hairstyles.
There are ladies who want an a-line hairdo but with the minimal amount of stacking, so it's transitional do between the two looks. In most cases, there are obvious angles in the front with the A-line cut, while the inverted features softer vibes, with front sections that are curled towards the face.
There is no wrong or right way to do an a-line bob with bangs. All of the choices are so beautiful and flattering that you'll end up having a hard time choosing a single one. The fringe detail is what makes the fun bob even cooler and popular for 2022.