Above the shoulder haircuts are the most widespread in the world. Above the shoulder length is usually easy to deal with and there are many ways you can arrange such hair.
However, sometimes it might seem that you are out of ideas. Many women tend to wish they had longer hair to come up with more exclusive hairstyles.
Fortunately, there is no need to wait for months until your hair grows long enough to make those braids you always dreamed about. There are so many medium length hairstyles you haven't tried yet that you'll be busy looking magnificent without the long tresses.
Popular Above The Shoulder Haircuts for Women
No matter what hair type you have, be it thin and brittle locks or thick and curly tresses, the women's above the shoulder haircuts will look good on it if you choose the right approach. A medium hairstyle can't be boring.
There are so many ways to make it look fantastic, you'll be surprised. We collected over 30 examples of what you can do with your hair the next time you find it dull and ordinary. Don't rush to cut it or settle in for a long wait. You can take advantage of these hairstyles right now.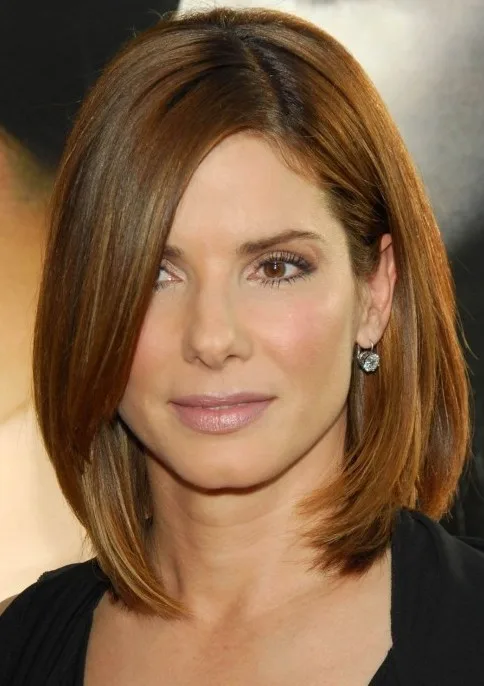 A lot can be said about the unique simplicity of an asymmetrical bob. If you have straight hair, you should definitely try this amazing option. Consider making long bangs that can partially cover your eyes.
2. Soft waves
If your hair is wavy, it might not always look neat. Consider getting some help from a curling iron to tame your waves and make them look softer. Think about straightening out the top part.
If your hair is missing some volume and you are tired of making it look neat and impressive, think about making an a-line bob. The short back part will kick up the volume and the front strands will frame your face in the best possible way.
Medium Hairstyle Ideas for Women with Round Face Shape
4. Pixie with wispy bangs
A pixie is truly the queen of the above the shoulder haircuts for women. There is so much to experiment with! Consider adding long wispy bangs and leaving some strands to just cover your ears.
5. Round bob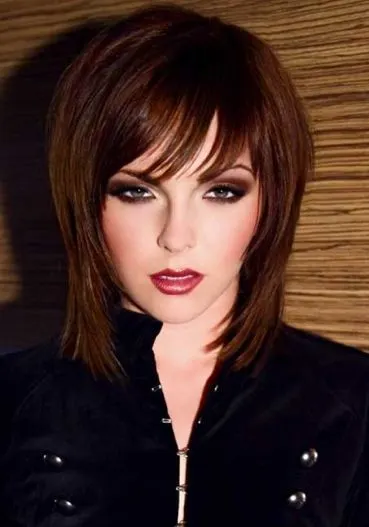 If a simple round bob might seem to dull to you, consider leaving some strands to reach the shoulders. A layered haircut on top and straight on the bottom will create a wonderful hairstyle you always wanted.
6. Wispy bob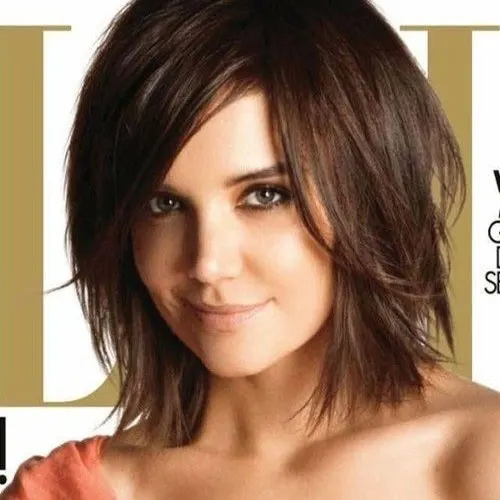 Bobs are fun no matter what type of hair you have. So if your locks are thin and unruly, consider creating this messy bob. Just make sure the bangs appear neat as a contrast. Arrange them with some hair gel.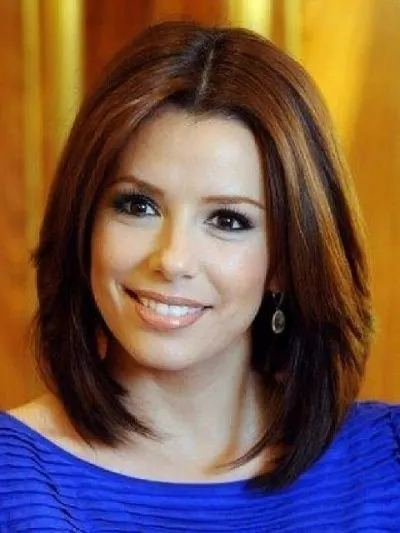 Your favorite asymmetrical bob will look even better if you decide to use highlights. If you have dark hair, consider auburn or even fiery red strands that will outline your facial features.
8. Long tresses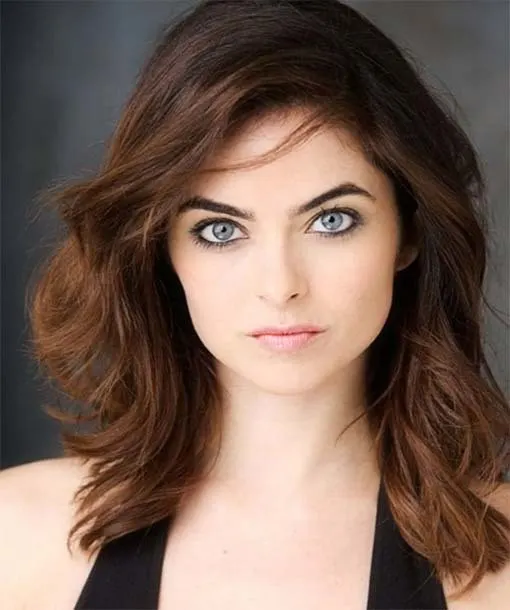 If you are planning to get an above the shoulder haircut for women, take a good look at your long tresses. Are they wavy and unmanageable? Then the haircut is in order. Make an appointment.
9. Blonde ends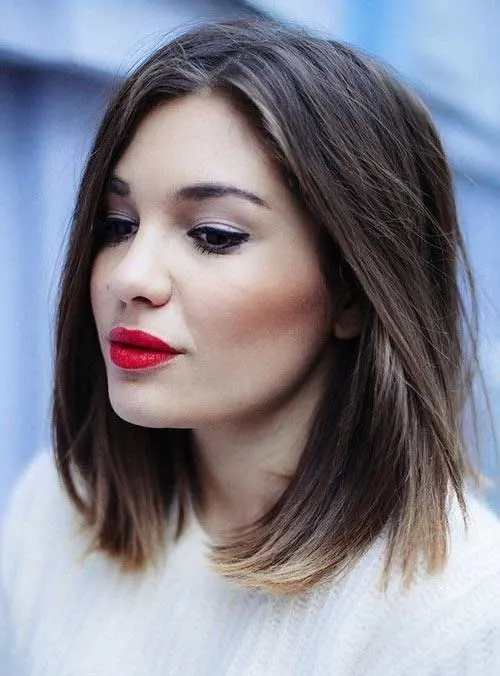 Ombre, balayage, and highlights are popular but some consider them boring. Add some zest to your hairstyle by dyeing just the ends of your simple bob. You'll immediately get a stylish image.
10. Simple and beautiful
What can be more beautiful than a simple long bob with a middle part? The best part about this hairstyle is the lack of maintenance. Choose such a bob and forget about too much hair hassle.
11. Wavy ends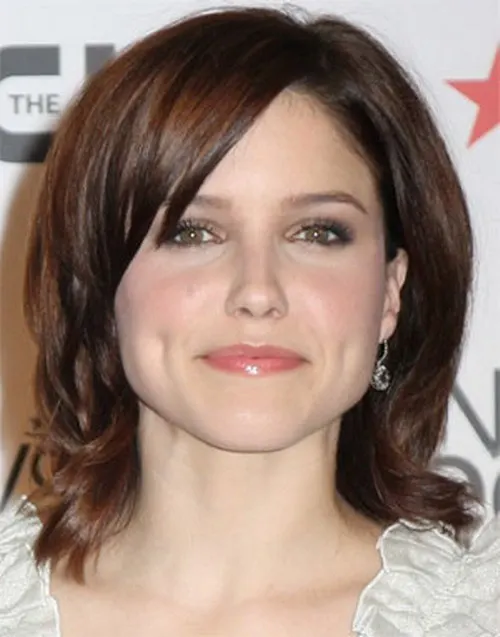 This above the shoulder hairstyle is a wonderful choice for those girls who are losing the battle with unruly curly hair. Use a curling iron to straighten out the top part and make the bottom curls neater.
12. Curled ends
If you want to make your long bob look neat and beautiful, consider using your curling iron to curl the ends inwards. This move will immediately turn a simple bob into an elegant long hairstyle.
13. Wavy bob with partial highlights
A wavy bob is always a great choice for a hairstyle. It can hide all the imperfections and allows you to keep the maintenance to a minimum. Partial blonde highlights will make it even more stunning.
14. Wild bob with blunt bangs
Girls with wavy locks can enjoy this wild and messy bob that doesn't require any hair gel. The windblown appearance will look terrific when mixed with straight and blunt bangs.
15. Long bob with eye-covering bangs
While this is not exactly above the shoulder haircut for women, it looks pretty impressive due to the long eye-covering bangs. Consider creating such a fringe to make your image brighter and sexier.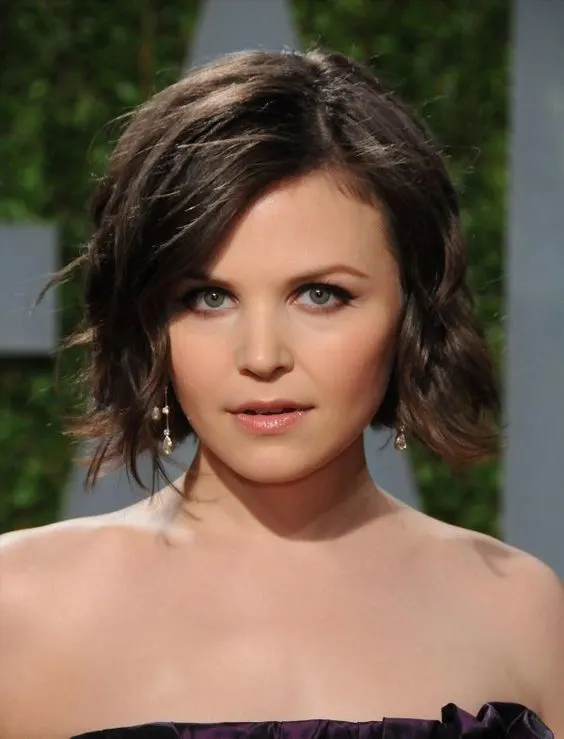 Chin-length bob is exactly what you need to keep your curls tamed. The shorter your hair is, the more comfortable your curls will feel. All you'll need to do is apply some hair gel to keep the fizziness away.
17. Hidden highlights
Hidden honey highlights look amazing on brown or auburn hair. You can only make a few of them all over your head while creating several prominent ones in front and among the bangs.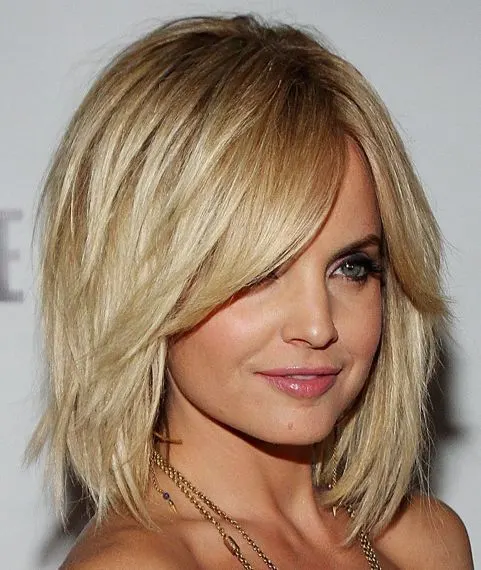 If your tresses are missing some thickness, a layered bob is a great way out. This above the shoulder haircut for women take all the best out of a bob and long bangs. It's easy to keep neat as well.
Best Medium Length Layered Hairstyles
19. Rich colors
Make the medium hairstyles even more impressive by adding some rich colors such as purple or mahogany. Don't waste your time on popular shades when you can really stand out of the crowd.
20. Princess style
Use your imagination when styling this above the shoulder haircut for women. Keep the top part straight and round or triangular and then play around with the ends.
21. High hair
If you are looking for a pageant style, you can improve your haircut by pumping up the volume at the roots with a curling iron. Use some accessories to create a more festive appearance.
Make your asymmetrical bob even more special by dyeing it with platinum blonde hair color. This color is a little hard to maintain but the impression it makes is truly priceless.
23. Classic Lob
A lob is, in essence, just a long bob! If you intend on making a dramatic hairstyle change from long hair to short hair, this bob hairstyle couldn't be right up your ally.
This is one of the popular above the shoulder haircuts and is an excellent safe change and is extremely easy to style. There is no way you wouldn't be turning heads if you do make an appointment to get this haircut!
24. Bold red and smooth layers
If you are looking to color your hair but want to make sure there is a minimal amount of damage, red is the way to go! Red is a color that never goes out of style and has the easiest aftercare.
Bright red paired with a bob that has long layers is a great haircut and style for someone who desires to opt for things that are out of the box.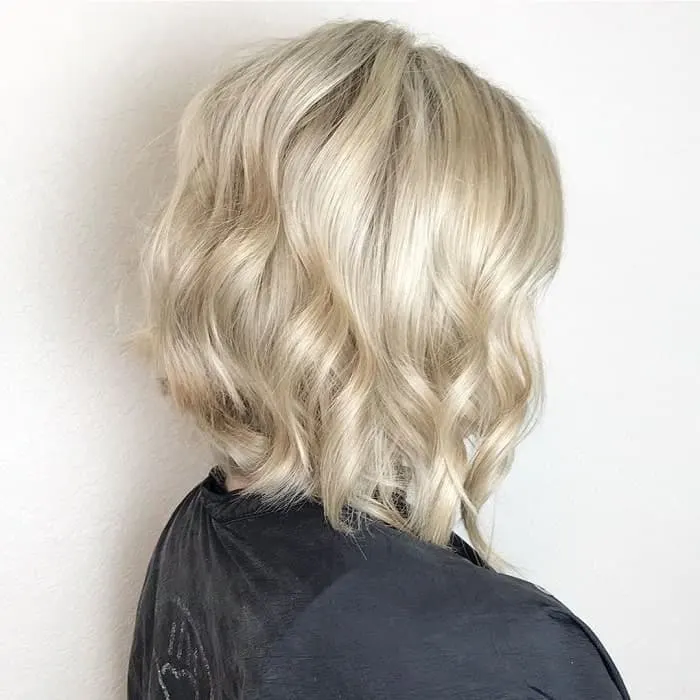 Asymmetrical wavy bobs are great for hair that's thin and not naturally straight. The asymmetrical cut gives an illusion of fuller hair while styling it in waves makes it more voluminous as a whole.
Indulge in colors that are bright and vibrant. This pink-tipped above shoulder haircut is a great new hairstyle you could easily have. The two-toned pink gives the hair depth, while the short hair makes it a convenient length to manage. It's the apt hairstyle for someone who doesn't mind the extra attention.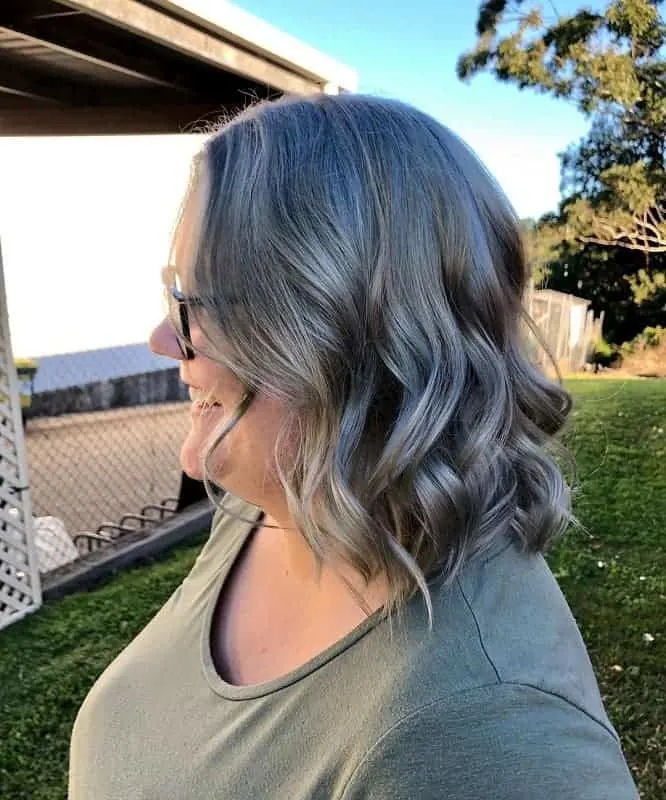 Above shoulder length haircuts being extremely versatile look good on women of any age and along with any hair color. If your hair is grey and you choose to go entirely grey, the long bob is a great way to style it. Its short and can be worn both straight and wavy.
28. Neat curls
Just a simple style that's one of the most popular shoulder haircuts can frame a face. You could switch up the styling by curling it. The curled look is more full and fun! This haircut is something you can go for if you have a round face and a sharp, big forehead.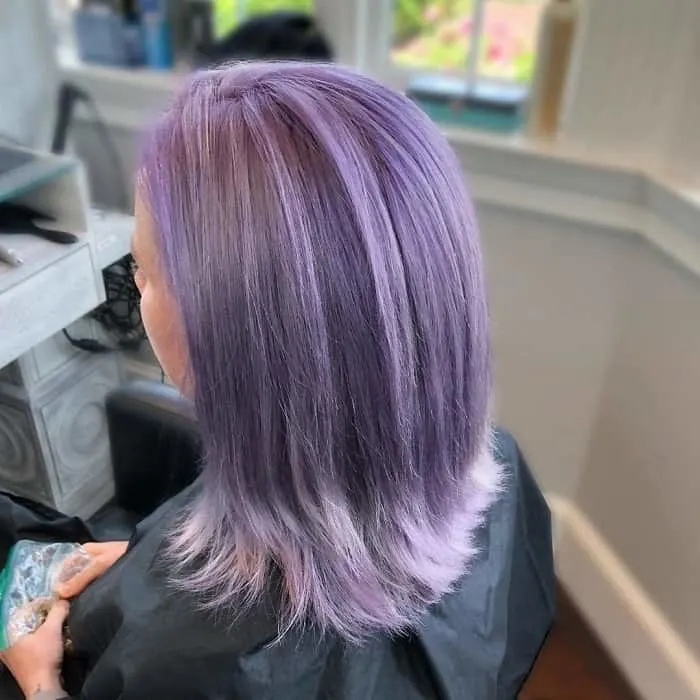 If you aren't someone who would like multiple layers, feathered medium haircuts for women are a great alternative for you. This way, the hairstyle looks amazing, styles perfectly, and is well-groomed. You could opt for this haircut if you are blessed with naturally thick hair.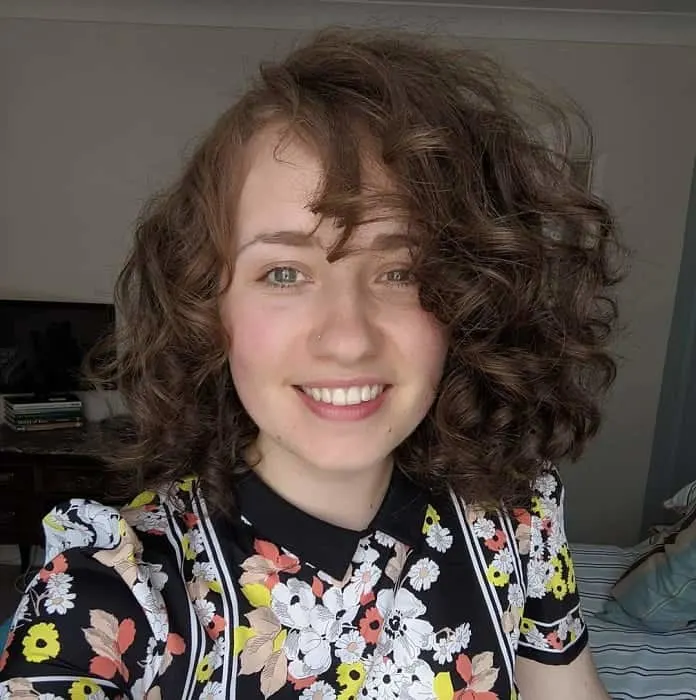 Curly bobs can look good on naturally curly hair as they look on naturally straight hair. Having your curly hair cut in a bob will help you spend much lesser time styling it.
Above the shoulder or medium length haircuts & hairstyles vary greatly so there is absolutely no need to try and grow your hair long. The main advantage of these options is low maintenance. Give a couple a try!