Whether long, short or medium-length, styling thick hair is a pain in the neck. And doing shaggy hairstyles for thick hair is quite a battle too. After all, it's crucial and challenging to fix the crown of a thick mane on your head as it demands to be treated exceptionally.
There are a few hairstyles that were literally made for people with thick hair: pixie, bob, and shag cuts are at the top of the list.
A shag hairstyle is a retro-inspired hairstyle invented by Paul McGregor and first used on Jane Fonda in the movie Klute. Since then, hairstyle is adding new dimensions to the fashion world.
A shag haircut is done by cutting the hair short in layers to various lengths. Most of the hair is feathered at the top rather than below.
The shaggy cut is usually followed by layered or textured bangs but it totally depends on the taste and choice of a person since a thick shag hairstyle is so versatile in terms of the persona it creates.
Trendy Shaggy Hairstyles for Thick Hair
If you're seeking a hairstyle that removes the weight from your thick voluminous hair, then a shag cut is the best option. Here are 30 dandy shag haircuts for thick hair:
1. Blonde Shag with Short Bangs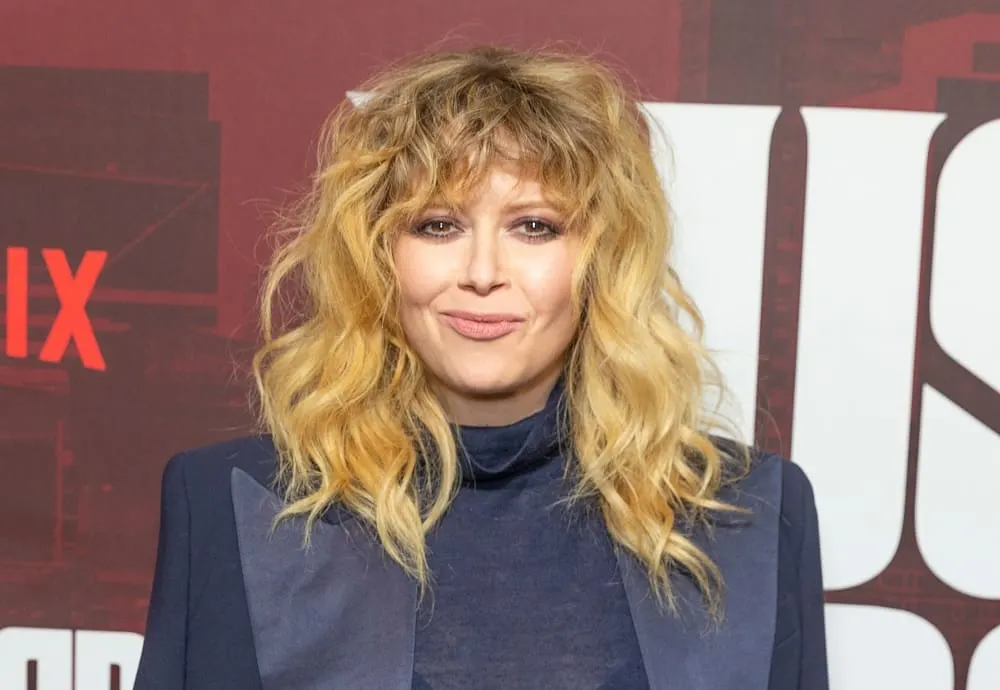 Actress Natasha Lyonne is the perfect example of someone who rocks the shag haircut flawlessly. Her blonde locks feature soft waves, while the short bangs nicely frame a round face.
2. Short Layered Waves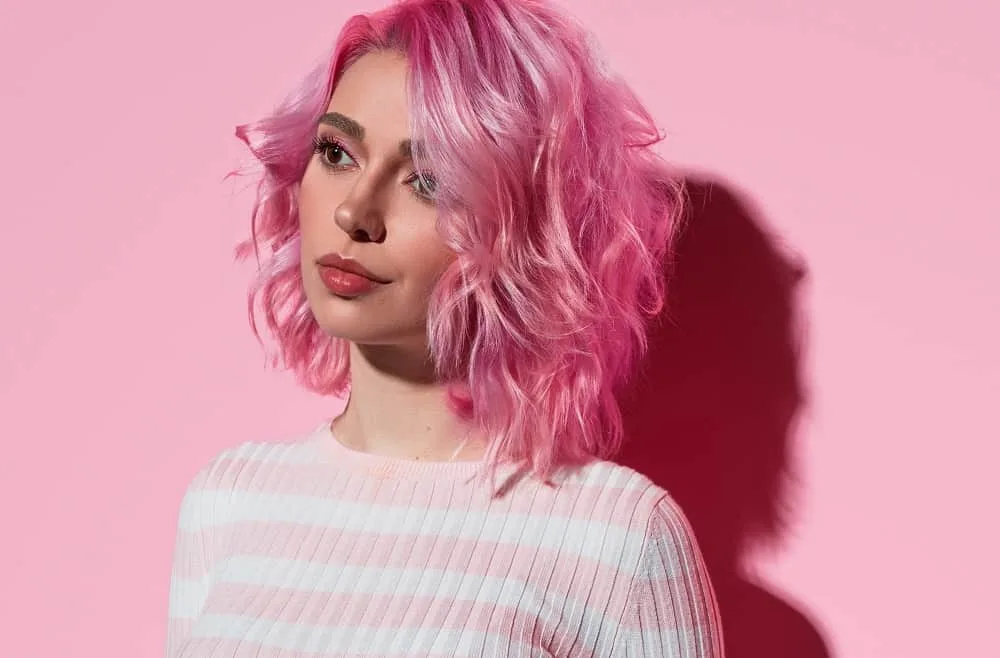 Prefer your hair to be a short, manageable length? Go with a bob with lots of short layers. This shaggy style will especially help ladies with fine or thin hair get a thicker look. A bright color like pink will bring those locks to life.
3. Wispy Shag with Straight Fringe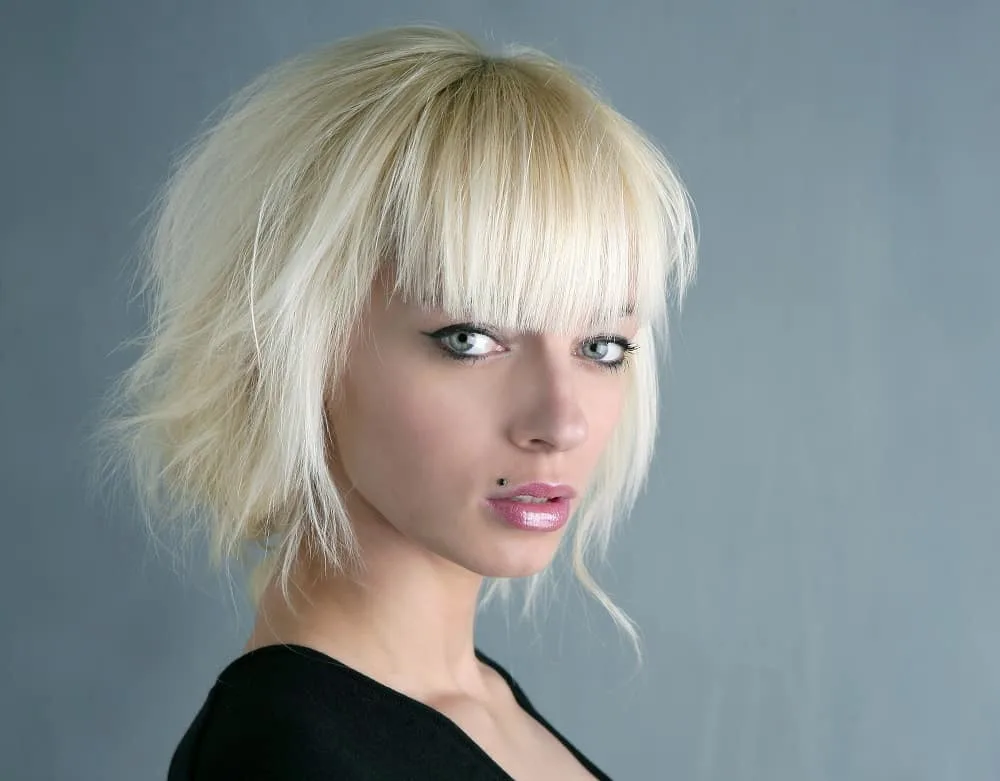 To style thin or fine hair, a shag haircut with wispy cutting is a must for creating a look you love. This platinum blonde style uses extra long straight bangs to form a chic, sophisticated look you can wear anywhere.
4. Straight with Side Bangs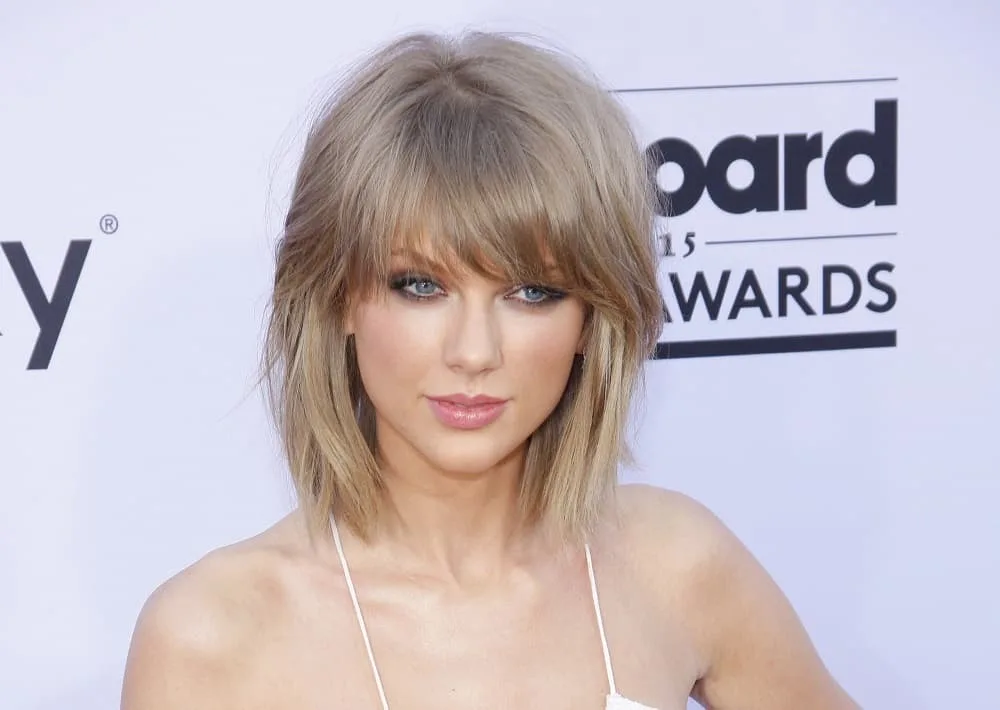 We love Taylor Swift's shag haircut, featuring a straightened bottom and thick, teased top. The light blonde hairdo is complete with side bangs you can arrange with fingers to lie across the forehead however you prefer.
5. Thick Curly Bob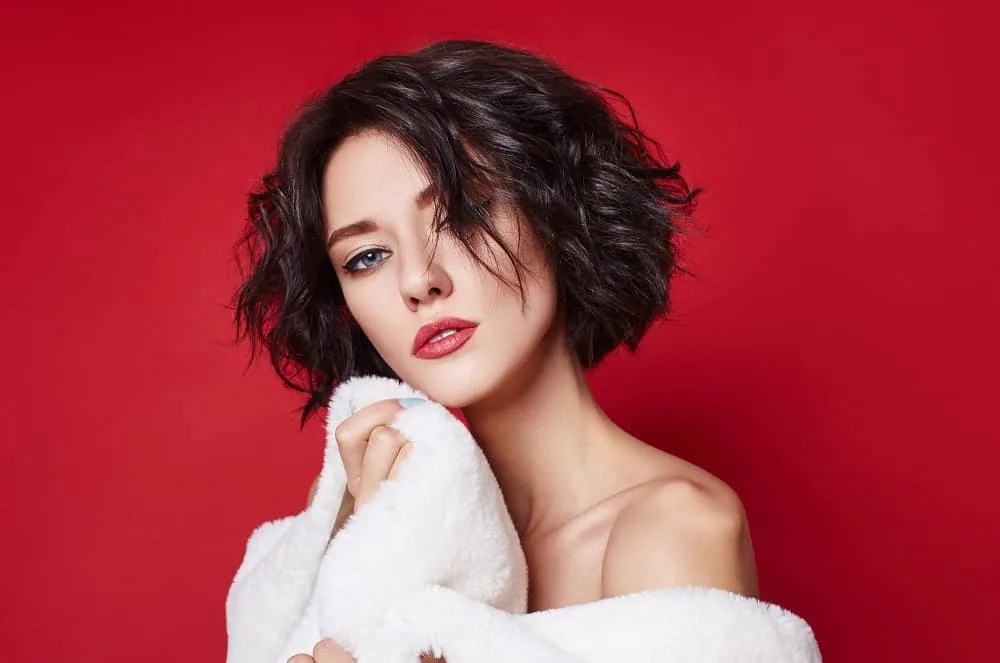 Those thick locks don't stand a chance against a super chic shaggy bob with its voluminous waves. A rich dark chocolate brown is gorgeous on ladies with light or pale skin tones. To help with face-framing, pull loose straight tendrils.
6. Long Blonde Ombre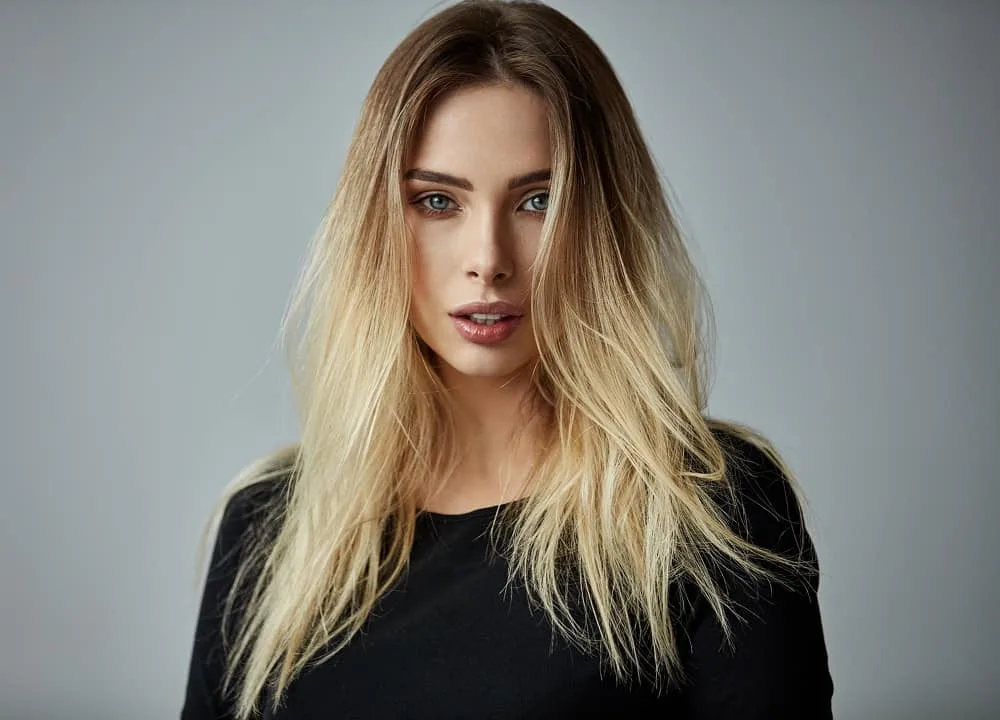 Sometimes your long straight hair can get to feeling just a bit boring. Nix that immediately with a shag haircut. This style features blonde ombre with most of the body up top for shape and movement.
7. Punk Pixie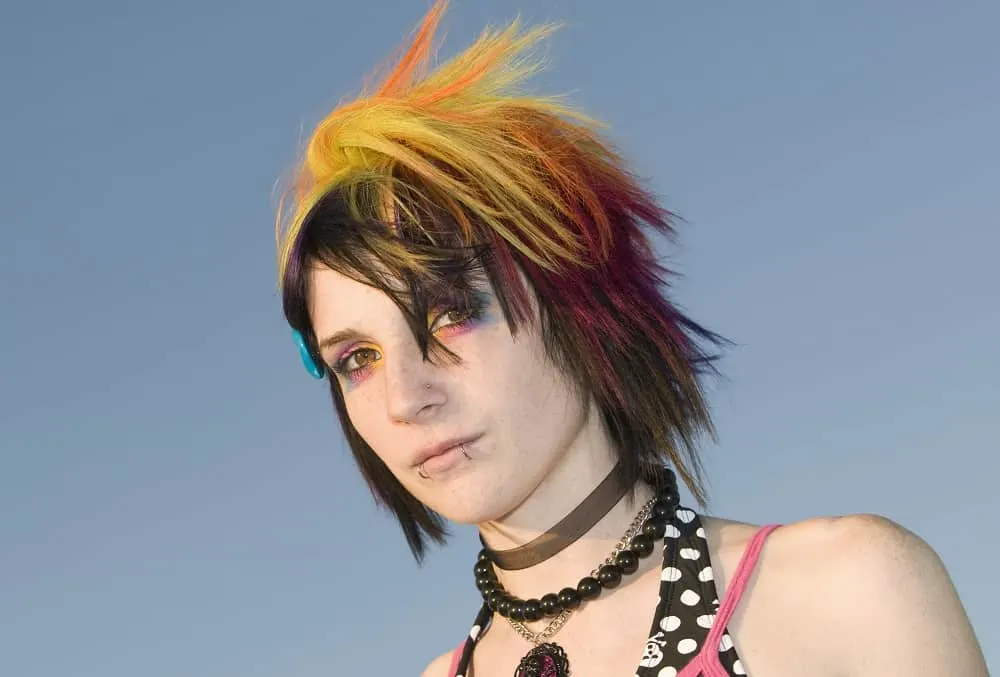 Your inner punk is screaming for a new look, so a women's shag haircut is a must! Make that long pixie or bob more electric by straightening the layers and adding in vibrant yellow, orange, and dark red highlights.
8. Light Blonde Shag
If you have a small, petite face, a shaggy bob or long pixie will be gorgeous on you. Ask your stylist for lots of short layers, and straighten your hair for a beautiful classy look.
A diagonal center part will give the style more personality, too. For light skin toned ladies, a very light blonde or platinum hair color will be stunning!
9. Textured Shaggy Bob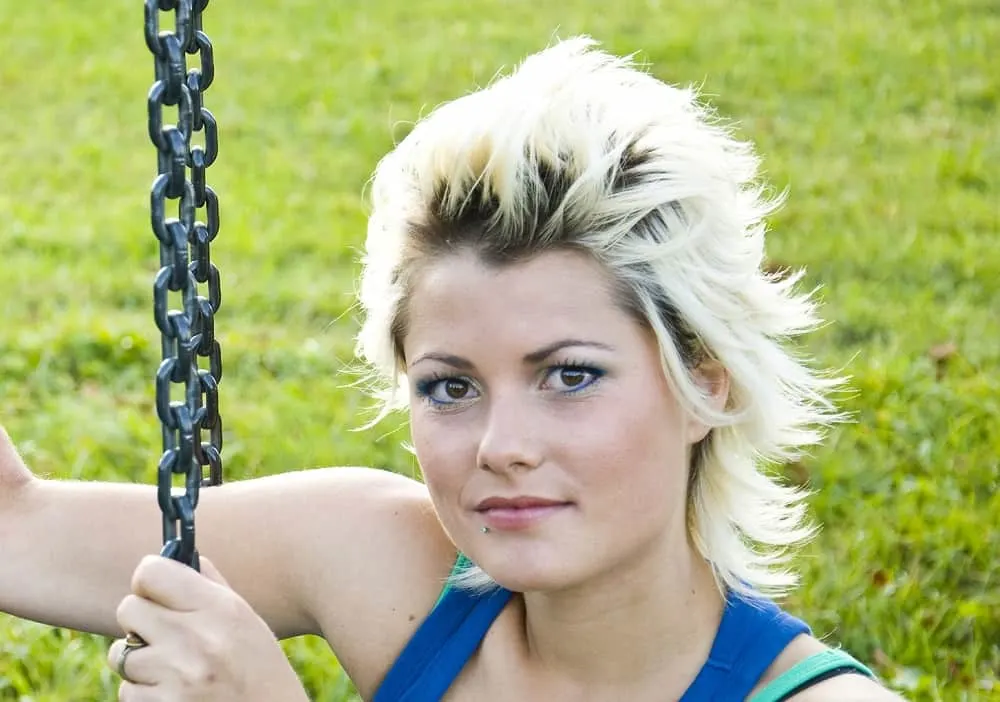 For older women wanting a youthful look, try a shaggy bob in platinum blonde. If your natural color is black or brown, when those roots start growing out, your piecey, textured look will still be amazingly hot.
10. Shag with Strawberry Blonde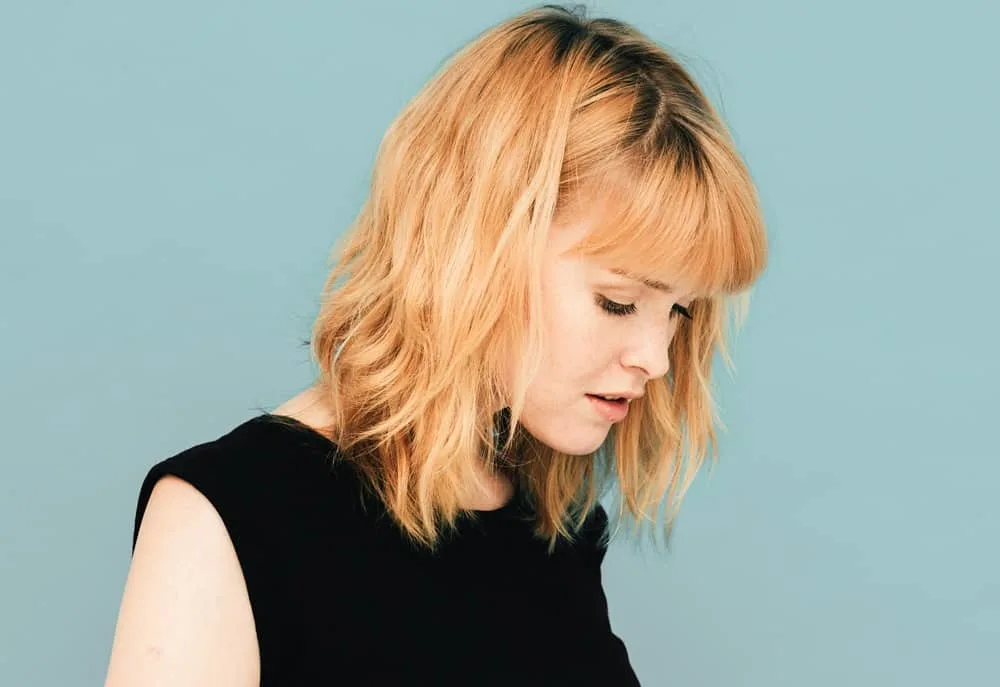 Another beautiful color option for ladies with light or pale skin tones is a strawberry blonde. This color makes shaggy haircuts with short straight bangs soft, but sexy.
11. Shaggy Lob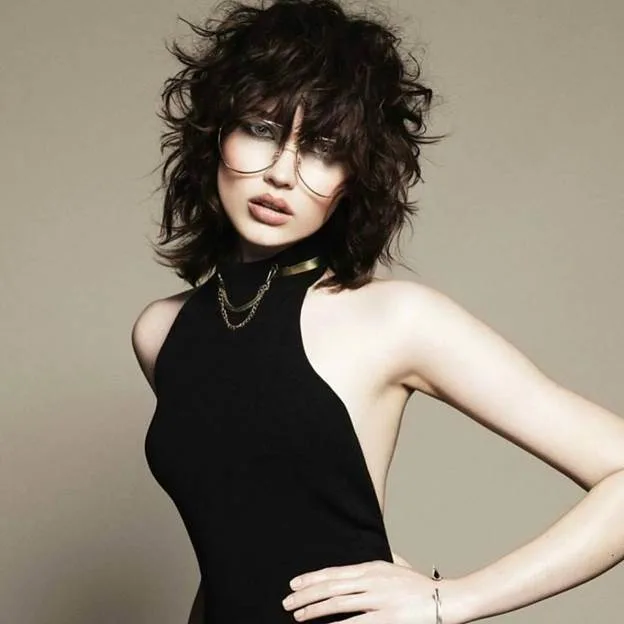 A lob is a long bob with a length between long hair and short bob. This sloppy and messy bob looks voguish with textured messy bangs perfect for round faces with symmetrical features.
12. Shaggy Hair with Bangs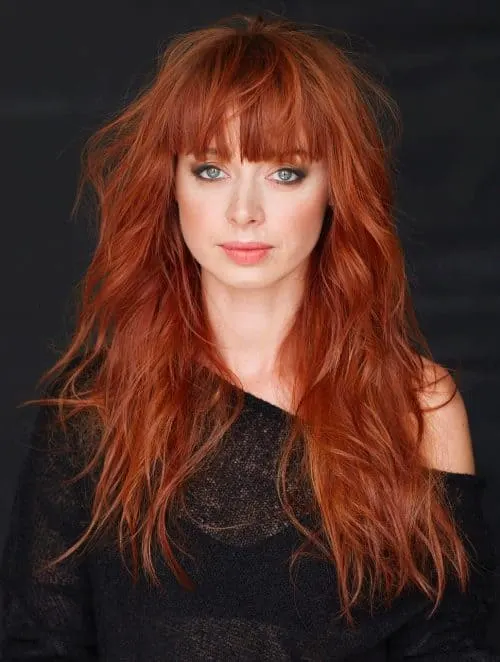 A shag cut on thick hair doesn't always have to be short and extra choppy. If you don't want to compromise on the length of your hair, take inspiration from this beautiful wavy shaggy hairstyle with long burnt orange hair and straight bangs.
13. Shaggy Pixie Cut
The pixie cut is a go-to-hairstyle for women with thick hair who want to remove some weight out of their crazy mane on the head. If you have short and thick hair, you can get a shaggy pixie cut with messy bangs to feel like a diva.
14. Shaggy Mohawk Pixie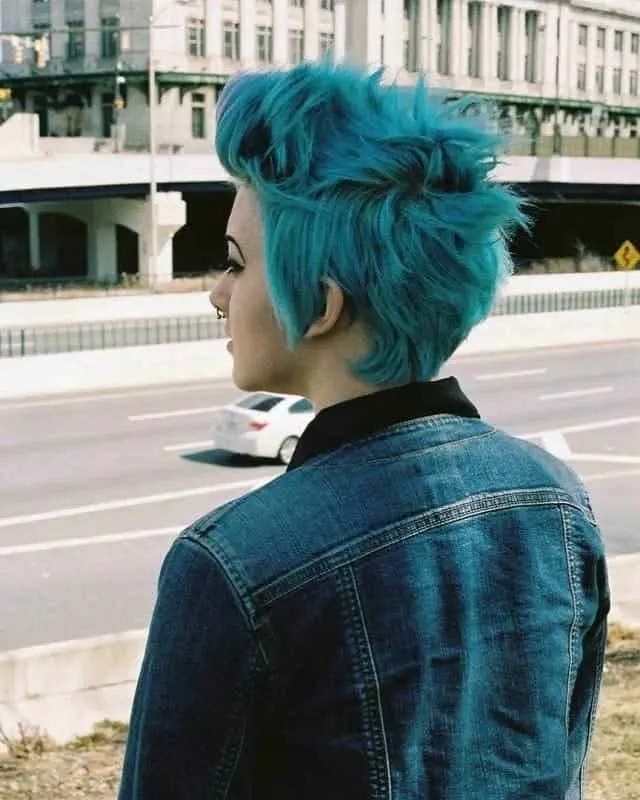 This is an extraordinary combo of three contemporary hairstyles namely, Pixie cut, shaggy cut, and Mohawk hairstyle. Shaggy Mohawk pixie is an extraordinary hairstyle not suitable for the faint-hearted.
If you are gutsy and bold enough to try the hairstyle, simply rock it with some bold hair dyes like aqua blue or fuchsia pink.
Curly and thick hair can be the worst possible scenario when you hate styling the hair and rushing to the salons. If you are lucky enough to get the duo, get your hair cut into medium length shags with bangs to avoid the hassle.
16. Undercut Shag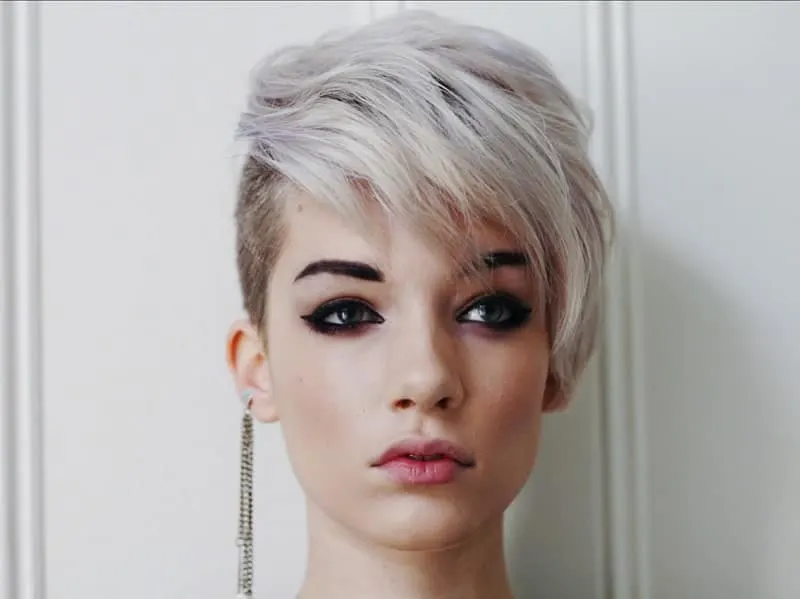 Undercuts are a lifesaver for thick and coarse hair as it shaves off some weight out of your head in the most stylish way possible.
Get the ultra-stylish and bodacious look with the deep and astounding shaggy hairstyle for thick hair with an undercut.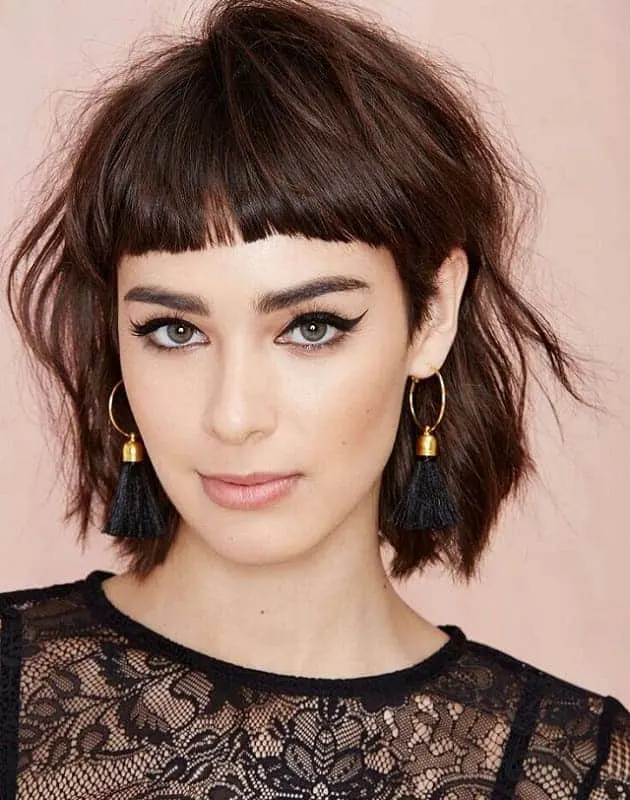 Bob and bangs are super cool and edgy and they are a blessing in disguise for people with a thick mane on their head. This shaggy thick haircut gives your hair the perfect definition and texture it deserves.
18. Shaggy Hair with Highlights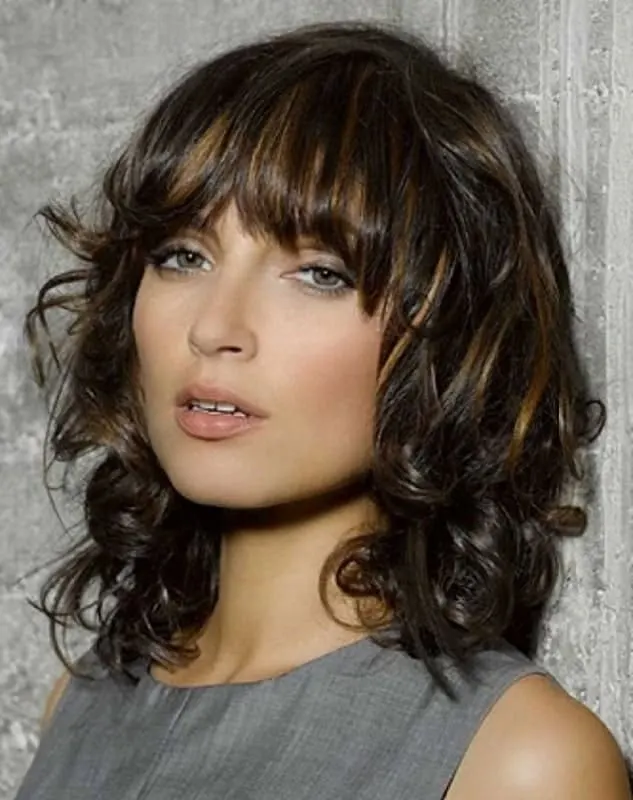 This shag cut with dark brown curly hair and blonde highlights accentuates with your facial features. The shag cut removes the weight out of your thick hair while the highlights make sure to retain the texture and volume of the hair.
19. Platinum Blonde Shag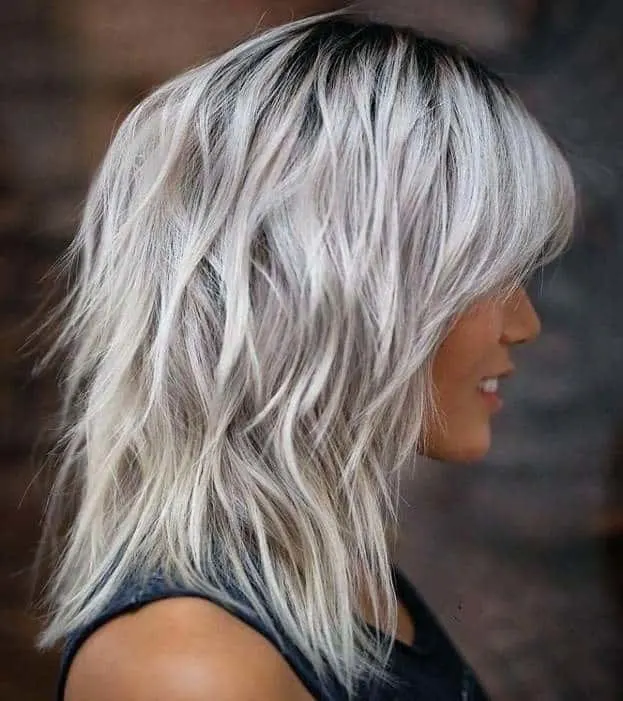 Shag is the game of uneven, messy and enough layers. The more the layers, the better the shaggy hairstyle for thick hair.
Layers provide your hair with the perfect messiness and sloppiness. You can dye your hair with some cool dyes or embellish it with highlights or lowlights.
Stand out from the crowd with this ethereal platinum blonde medium length shag cut with untouched roots and messy bangs.
20. Chin Length Shag with Bangs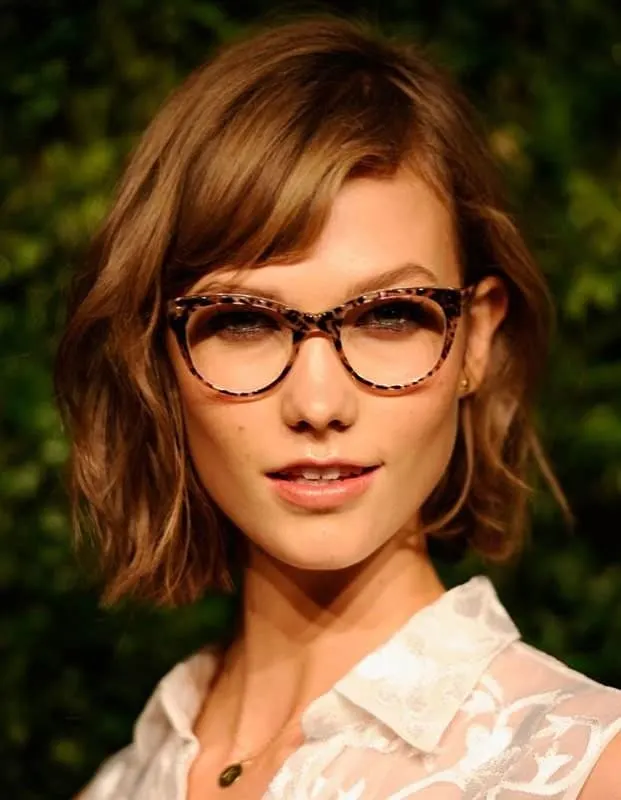 With short side bangs and soft wavy blonde chin-length bob, this shag haircut on thick hair looks phenomenal with subtle makeup and funky accessories on young girls and women.
21. Extra Choppy Bob
This extremely shaggy hairstyle for thick hair is exquisite with layers scattered all around and straight bangs framing the face.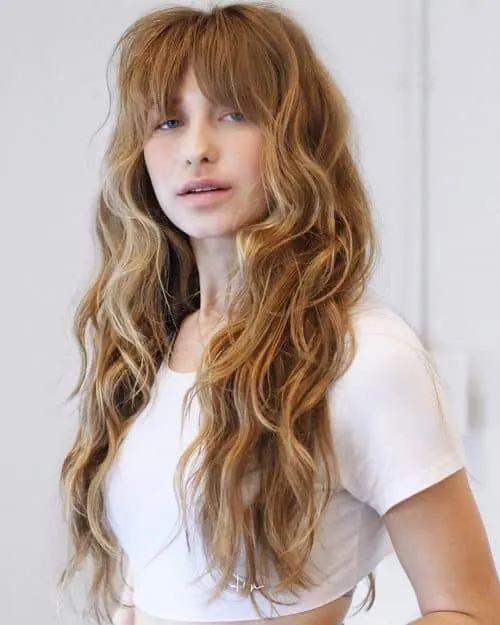 Messy Bardot bangs, sloppy, uneven wavy blonde hair, parted at the middle with dreamy eyes and no makeup justifies the overall look of a perfect messy, undone, crazy yet chic hairstyle.
23. Boy Cut Shag
With effortless easy and low-key hairstyles, why should boys have all the fun? Flaunt this fun, trendy and witty shaggy thick hairstyle like a starlet with extremely short and uneven boyish shags.
Highlights and lowlights add life to your dull and boring hair and this rainbow colored highlights to the medium or short length shag haircut for thick hair turn heads, grabs attention and win hearts.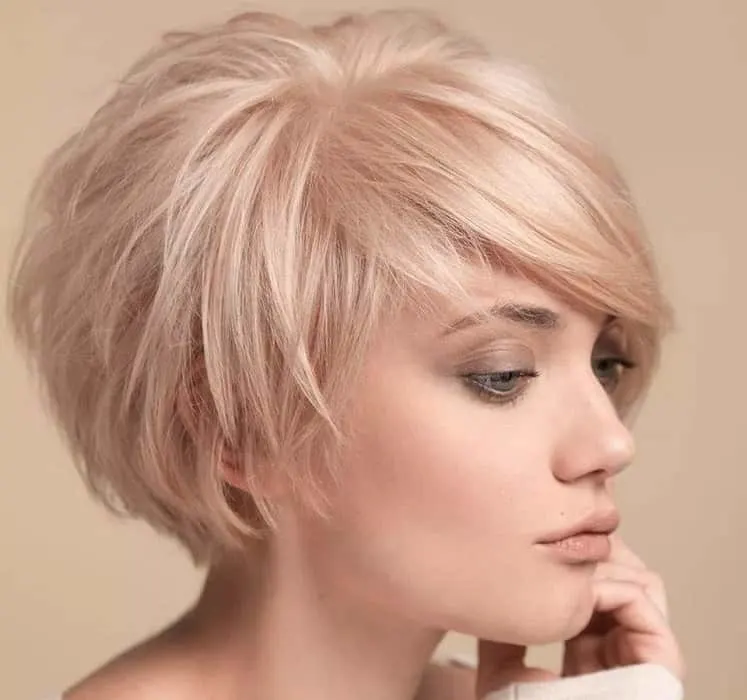 A soft yet shaggy style with thick hair that can be worn by women of all ages is perfect to accentuate the cheekbones and jawline. Sport the hairstyle with smokey eyes and bold makeup to steal the show.
26. Curly Shag with Layered Bangs
A shag hairstyle on thick hair can be worn without bangs. However, it is beyond the shadow of a doubt that bangs add extra elegance to your look. Rihanna is a style icon and the way she's wearing her curly shaggy hair with bangs is superior and outstanding.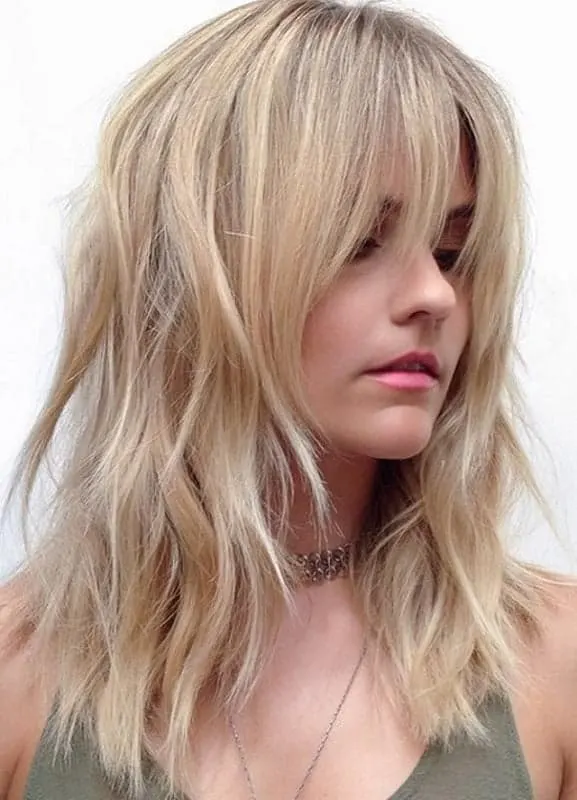 Thick shaggy hair paired with thin curtain bangs is pleasing to the eyes. It is sensational to see the fuller and thicker hair transform into thin curtain messy bangs on the front to stand out in the crowd.
28. Sort Shaggy Bob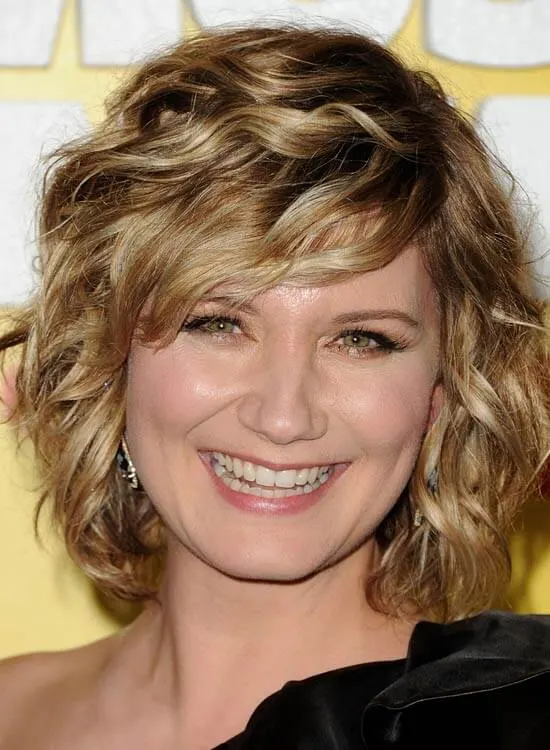 Waves can get you a shaggy look with much effort and styling, it is a good technique to cut fewer layers if you have thin and fine hair.
Luscious blonde wavy thick hair and shaggy haircut with the side sweep textured bangs framing the face looks exhilarating and refreshing.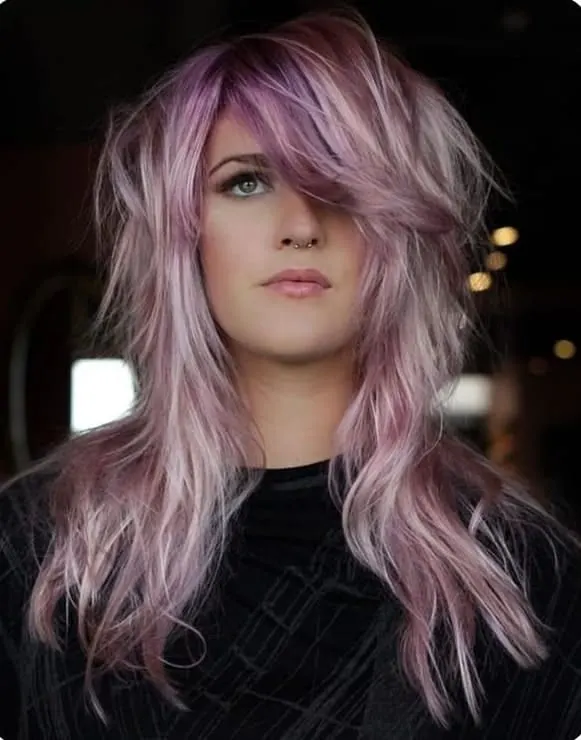 This long shaggy hairstyles for thick hair are effortless with low-maintenance and can be styled into traditional ponytails, updos, and buns.
30. Sleek and Straight Shag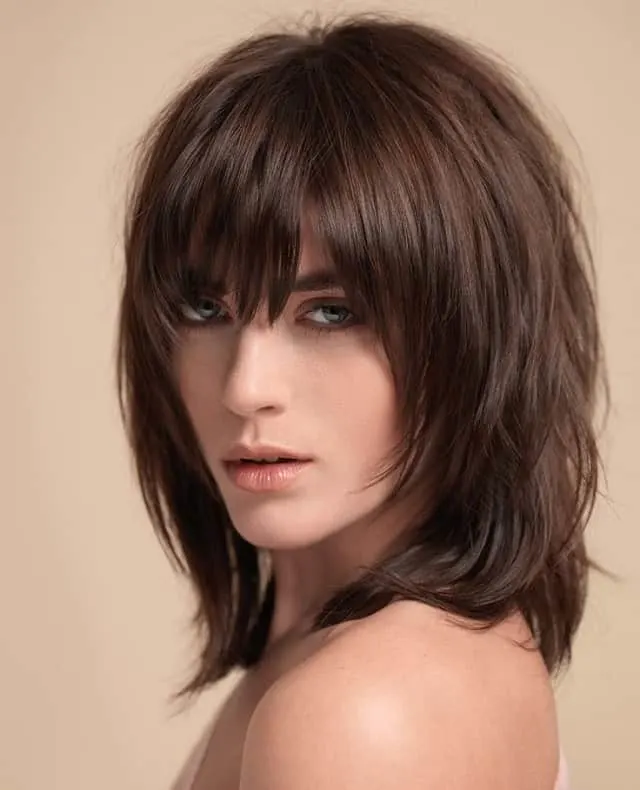 With distinct three layers, the thick hairstyle achieves a shaggy appearance. Sleek and straight hair with bangs that frames the forehead is difficult to carry.
FAQs on Shag Hairstyles for Thick Hair
For which type of hair shaggy cut is the perfect; thick or fine?
The Shaggy hairstyle looks lovely on thick and long hair, both, as it gives volume and texture to the thin and fine hair and settles down the frizz on the thick mane.

However, it is a highly recommended hairstyle for women with thin hair as it adds volume to your thin hair and makes your hair look voluminous and thick.
What length of the shag cut suits the best on thick hair?
The middle-length shag hairstyle works perfectly well for women with thick hair as it adds movement.

For a more subtle look, ask your hairstylist to remove the weight from your sides a bit to make them look more spacious and airy.
Shag is a very popular and trendy hairstyle with the good old vibes of the 80s and 90s that fits every length of the hair, whether long, short or medium. A shaggy cut for thick hair looks fierce and bold, whereas, with middle and long-length hair, it looks stylish and adds lightness.