Hairstyles go through a massive evolution every couple of years. Although not every hairstyle may be a hit, some unconditional hairstyles like the alt hairstyles, leave a mark and make a comeback as well after a couple of years.
We have all heard of cute bobs and lobs, sassy shags and pixies, and stylish and sleek updos.
However, if you are someone who likes to stay away from conventional hairstyles, then we recommend that you hop onto the bandwagon of the currently trending hairstyles – alternative hairstyles.
What is Alternative Hairstyle?
Alternative hairstyles, or alt hairstyles, refer to unconventional, bold, and edgy hairstyles. These hairstyles are known for their uniqueness, bright colors, crazy textures, and exceptional patterns. This trending style includes hairstyles like remixed pixies, faux hawks, undercuts, and mullets.
If you would like to give this style a try, then check out this list of the top 30 alternative hairstyles for women.
1. 50 Shades of Blue
One of the USPs of alternate hairstyles is the use of bold colors. Here is an example of a simple, medium length hairstyle that has been elevated to the next level by coloring the hair in different shades of blue.
The hair at the crown starts with electric blue and then the blue becomes lighter as you move towards the back of the head.
2. Purple Lob
Pop colors like this bright purple are a huge hit with women in their 20s and 30s. Even if you have a simple layered lob, coloring it in this shiny purple hue will completely transform your look and make heads turn everywhere.
3. Close Cropped Mullet
Mullets are a great fashion statement and they add a fun and quirky element to your overall appearance. This close cropped mullet has a distinct style with short hair on the top of the head and long colored strands at the end. This is a great modern take on the traditional mullet style.
4. The Black and White Effect
This black and white combo could become the perfect hairstyle for your next costume party where you can dress up as the Evil Queen from Snow White and the Seven Dwarfs.
The platinum blonde bangs with a simple, beaded braid on one side make the entire style look devious.
5. Retro Red Pompadour
Pompadour hairstyles look elegant and you could give your traditional pompadour a modern twist by going big and bold with red hair color.
The sleek pompadour paired with flowing, wavy hair displays a stylish and elegant vibe. Although pompadours are known to be edgy, this style is softer and dreamier.
6. Teal Mushroom Cut with Bangs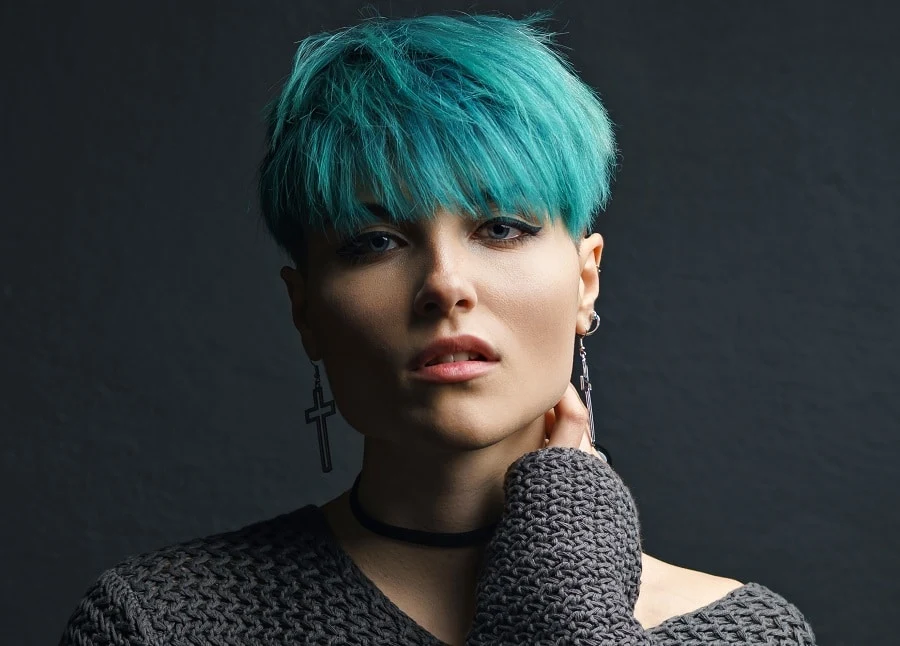 If you are in search of a hairstyle that is both soft and edgy at the same time, then do give this mushroom cut in a teal ombre a try.
The blunt cut's edginess is softened by the layered bangs and the soft teal color. This hairstyle is suitable for women with fine hair as well as thick hair.
7. Two-toned Spiky Bob
Get your grunge look on with this two-toned spiky bob! The combination of black and the reddish brown looks amazing.
As for the haircut, its razor edges and spiky bangs give a very grunge vibe. This hairstyle is ideal for women with square or oval faces.
8. The Pink Effect
Dreadlocks can completely transform your appearance but instead of flaunting your dreadlocks in their natural color, opt for these pink-shaded dreadlocks. The different shades of pink ranging from light to dark can make your hairstyle look quite fun.
9. Long Shag with Razor Edges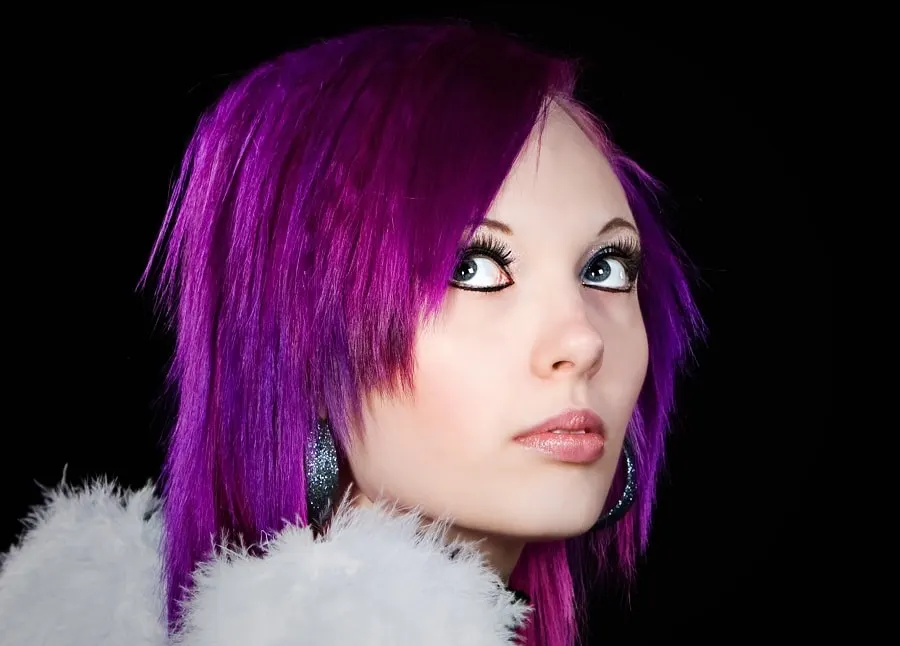 Give your regular shag hairstyle a makeover with these punky razor edges colored in bright purple. The different textures and hair length on either side of the head make your hair look voluminous and extremely stylish. A must-try style for women with fine hair!
10. Multi-colored Punk Style
This alternate hairstyle is as unique as you can get! From being multi-colored and a wavy bob to the blunt bangs and asymmetrical sides – this punk style has got it all.
This colored hairstyle is ideal for women with round or oval faces, especially those who are on the chubbier side.
11. Short and Spiky Crop Cut
Crop cuts are an all-time favorite with women who like low-maintenance hairstyles. But you don't have to be satisfied with your boring old crop cut when you have this stunning eye-catching pop green option to go for. Try this short and spiky crop cut for your next hair styling inspiration.
12. Puffed Updo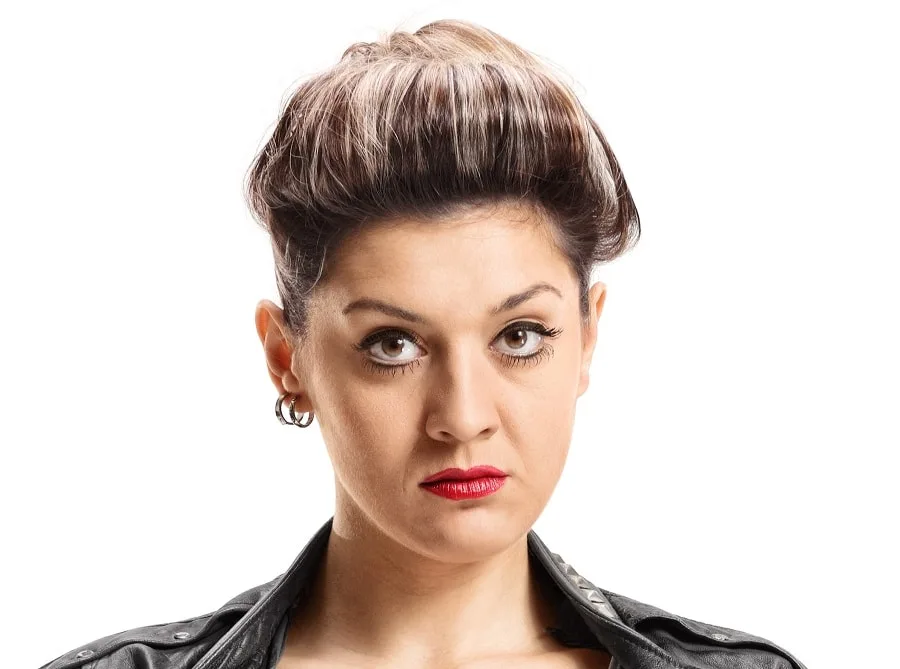 Women with long faces and medium length hair can try this puffed updo style. To get this look, you will need to gather your hair up into a bun, but remember not to pull it too tightly.
Instead, tie a loose bun so that you can make your hair look puffed up in the front.
13. Illusion of Braids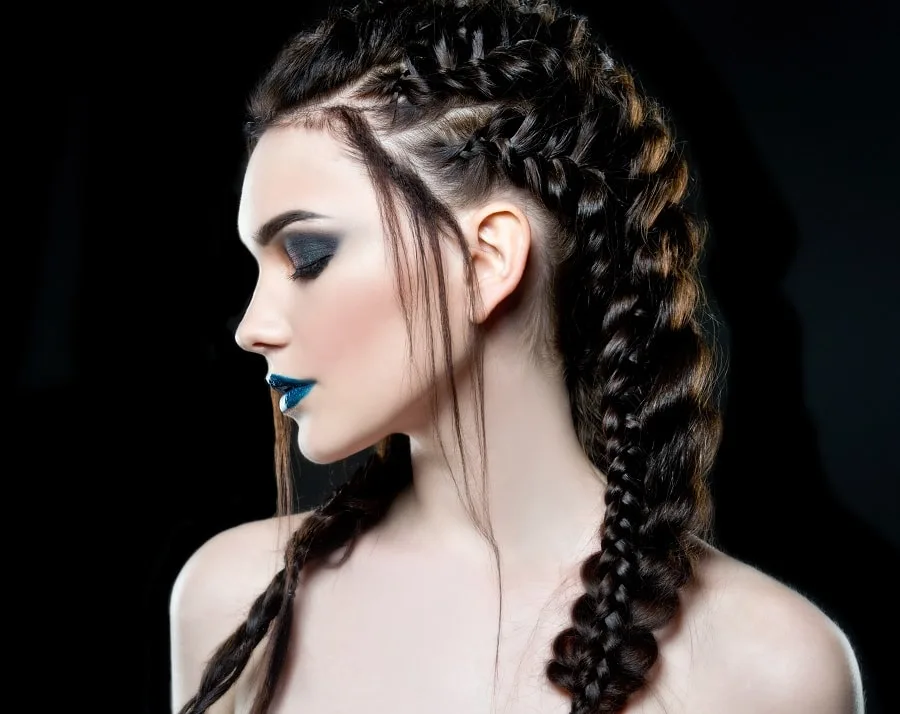 If braids are your go-to hairstyle, then it is time to give your simple braided hairstyle a boost with this multi-dimensional braided hairstyle.
This style has a mix of different types of braids ranging from thick braids to thin, fishtail braids. Finish off the look with some hair strands left loose on either side.
14. Side Shaved Elegance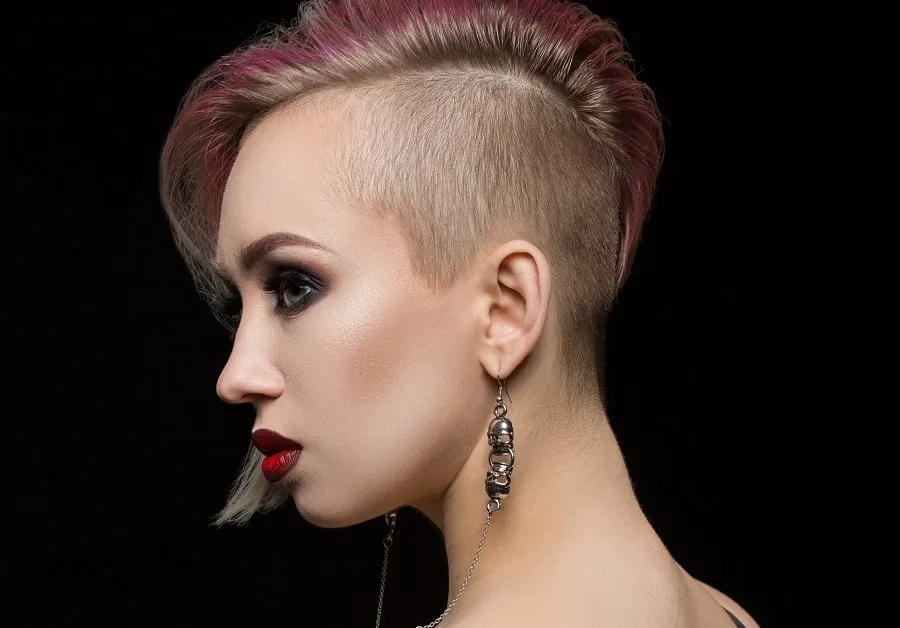 There is nothing sexier than women flaunting a shaved hairstyle. Check out this side shaved hairstyle that looks fantastic with its subtle combination of blonde and pink.
If you opt for this alternate hairstyle, make sure that the hair on the other side is styled properly and reaches just till your chin.
15. Pin Straight Hair with Bangs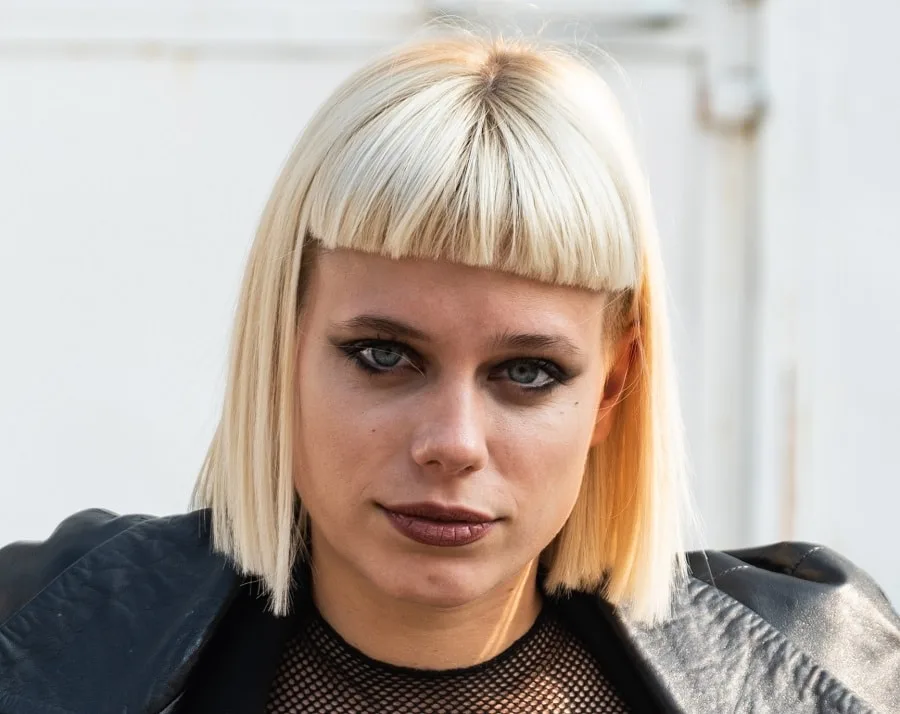 Aiming to flaunt a no-nonsense hairstyle that emits serious 'don't mess with me' vibes? Then this pin-straight bob with uniformed bangs is what you should try next.
Make sure that you have the edges sharp and straight to get the full effect of the hairstyle.
16. Edgy Blonde Punk Hair with Red Streaks
The category of alt hairstyles is all about sass and edginess, and what better way to embrace the trend than by getting this edgy blonde punk hair.
Add some blood red highlights that peek through to create a truly phenomenal hairstyle that will suit women with all hair textures.
17. Two-toned Layered Style
Black and pink is one of the most classic color combinations – be it for clothing or for your hair. Take this two-toned hairstyle, for example!
The colors add more volume to your overall hairstyle and are an ideal choice to show off your rebellious streak.
18. Messy Layers
Layered hairstyles can make your hair look bouncy and voluminous. More than that, gone are the days when layered hairstyles were all about looking elegant and sophisticated.
The current trend is to flaunt your layers subtly and messily, letting your hair create a trend of its own.
19. Brown and Teal Ombre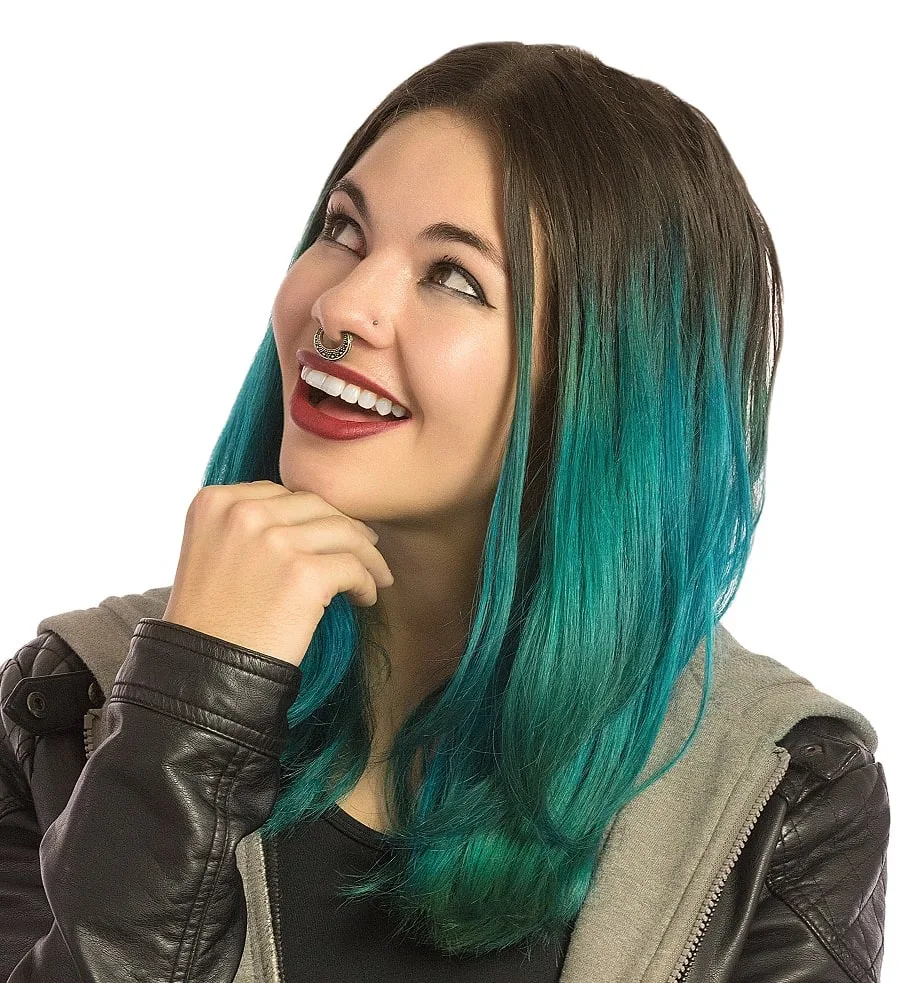 Although most of the alternate hairstyles require some styling efforts, there are a couple of them that do not require you to spend hours every morning.
For example, this simple, medium length hairstyle has been elevated to the chic level by simply opting for an ombre color combination of brown and teal.
20. Gothic Style Long Hair with Baby Bangs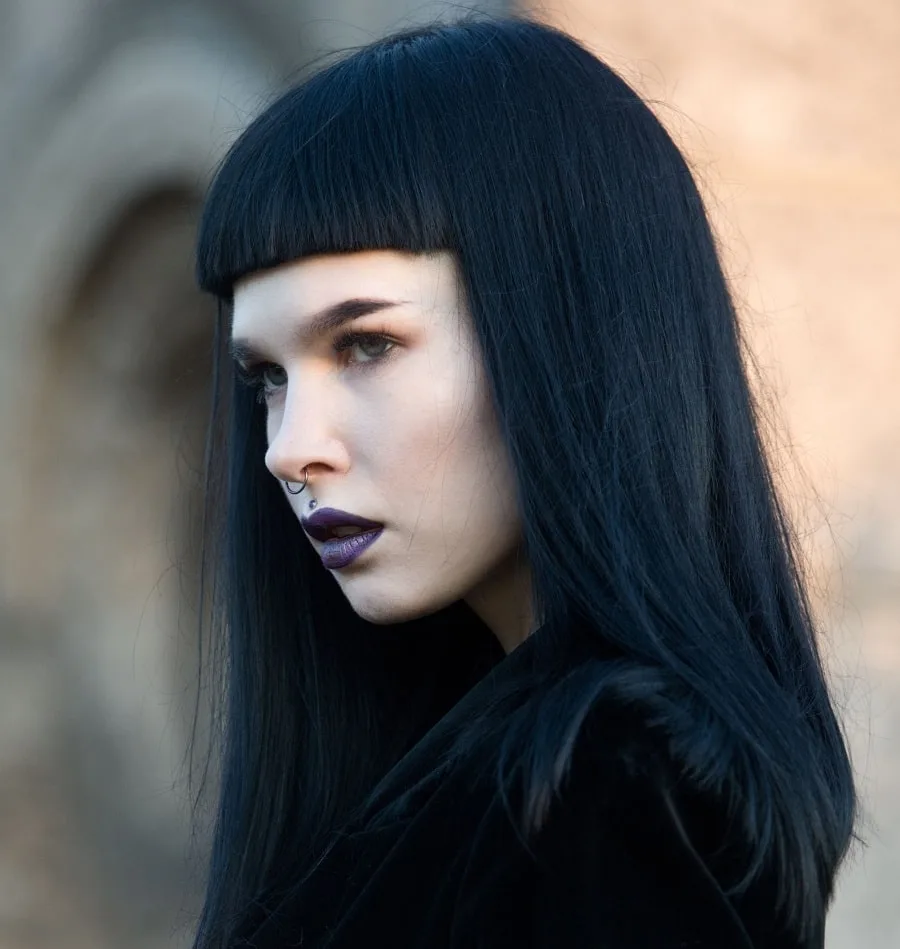 Want to channel your inner gothic beauty? Start your goth journey with the right hairstyle, such as this long hair with baby bangs.
Make sure that you have uniformed and straight edges at the end of your hair as well as for the bangs to completely nail this look.
21. Voluminous Faux Mohawk
An alt hairstyle is all about making a splash. This voluminous faux mohawk is just the right hairstyle for you to go all out with this trending hairstyle. This stylish updo is all about being bold and dramatic.
22. Billowing Bob with Bangs
The inverted bob is a cute hairstyle sported by women across different ages. However, if you want to move away from cuteness, then this billowing bob with short hair on the back of the head, long strands on the sides, and long bangs is a must try.
23. Ombre Dreadlocks with Deep Brown Roots
Not sure if dreadlocks are for you? Try this faux dreadlock style to get an idea of whether or not you should fully commit to having dreadlocks.
This multi-colored hairstyle with pink ombre, dark brown roots, and blonde bangs will make you the center of attraction within no time.
24. Colored Layered Long Hair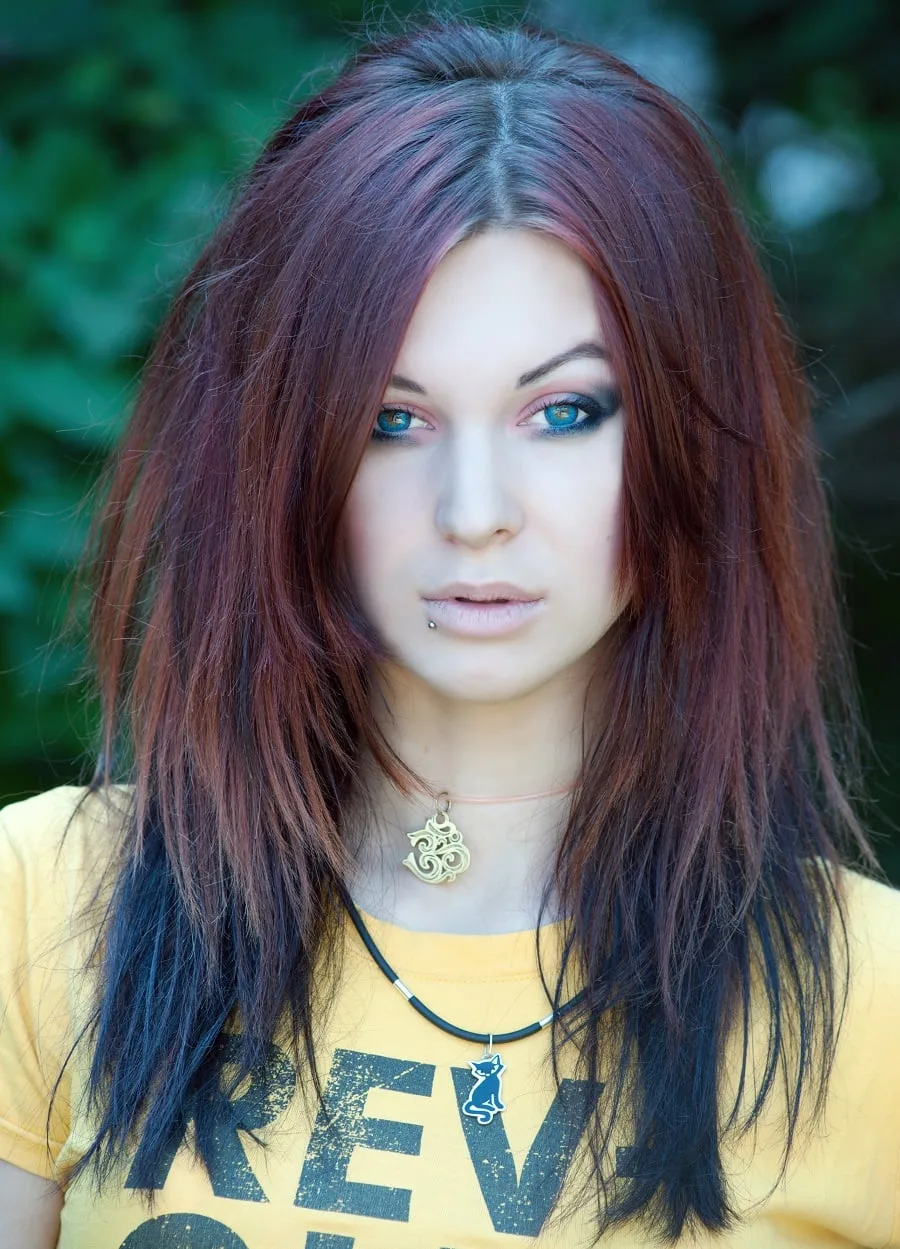 If you have long hair, then ask your hairstylist to give you a layered look such as this one. Make it unique by opting for a dark teal color on the ends of the longer strands. A simple mid-partition will have your beautiful face framed by the hair strands.
25. Disheveled Pixie with Asymmetrical Sides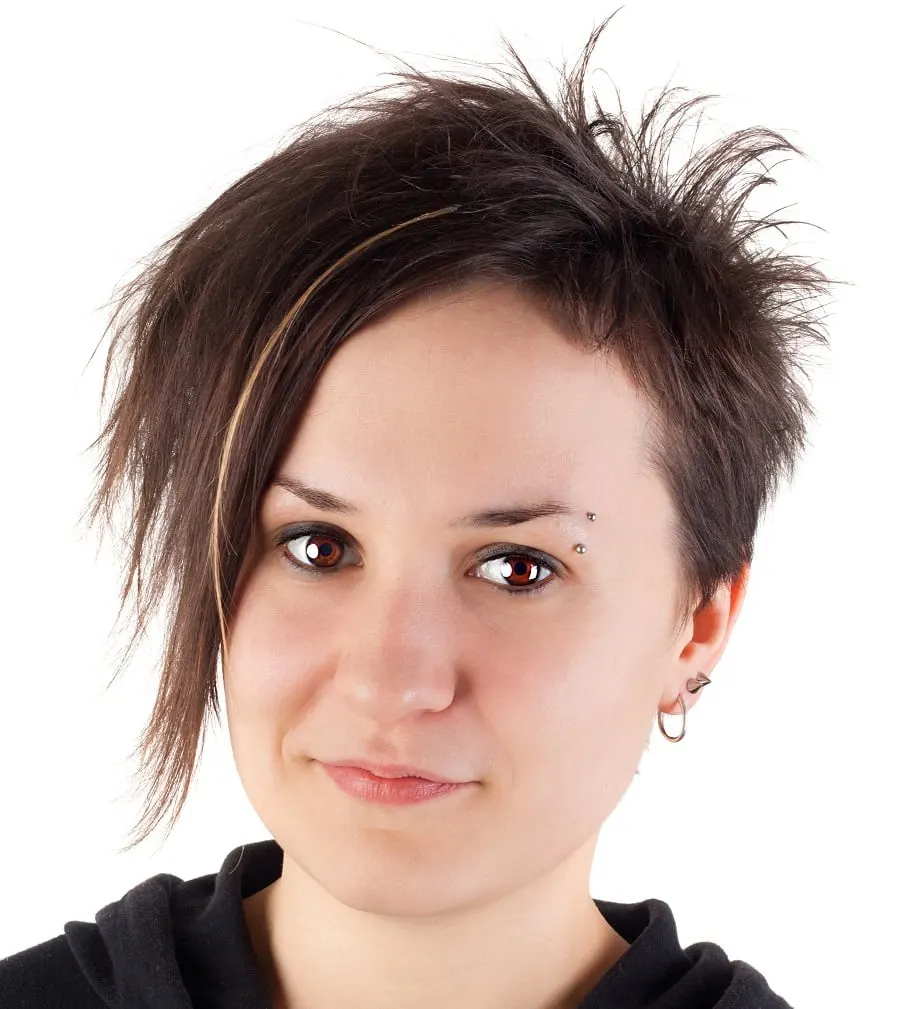 Asymmetrical sides are a key component in many alternate hairstyles for women. Take a look at this disheveled pixie hairstyle with asymmetrical sides.
The combination of layered long strands on one side and short, spiky strands on the other make this hairstyle appear super chic and edgy.
26. Mullet with a Faux Mohawk
What do you get when you combine two popular hairstyles? A unique hairstyle that will grab eyeballs wherever you go!
Here is a combination that you should try – a mullet with a faux mohawk. The end result looks chic and sophisticated, for sure.
27. Multi-colored Gothic Inspo
Gothic hairstyles are not just about embracing the color black. The current trend has women experimenting with different color combinations to ace the gothic look.
Here is a unique multi-colored combination of brown and pink with a black bandana.
28. Wavy Ombre Effect
This list has proved that alternate hairstyles are all about taking a risk and trying different color combinations. This wavy lob is another great example of how white, brown, and a purple ombre can be combined together to achieve a refreshing and fun hairstyle.
29. Spiky Mullet with Long Bangs
Mullets are truly everywhere – from their traditional forms to different modern interpretations of a classic mullet. If you are looking to add a twist to your mullet hairstyle, then this spiky mullet with long bangs should be on your list next.
30. Tapered Faux Mohawk
You cannot go wrong with a tapered faux mohawk hairstyle such as this one. Ideal for women with round, oval, and square faces, it is quite easy to style and maintain this hairstyle. Maintain uniqueness by keeping the ends at the nape in your natural hair color.
Although many people use words like punk, edgy, androgynous, and grunge to describe alt hairstyles, you really cannot categorize them this way. Each of these hairstyles are unique and a great representation of your creativity and personality.
The one thing to keep in mind before you get your alternative hairstyle is that you need to own your style. All these styles focus on unconventional cuts, bold colors, and unique silhouettes, so if you don't embrace the style completely, you will not be able to do justice to your look.