It is a common and famous saying that "blondes have more fun." We won't get into whether that is true or not, but what we can most certainly say is that blonde hair with bangs has a subtle and romantic vibe.
Natural blondes are very rare. The natural blonde color is quite different than the blonde shades which come as hair colors. However, blonde and its variations are quite popular and many women choose to go blonde whether it suits them or not.
Blonde is a pale, light color and it suits every person differently. The color of your eyes and your skin tone play an enormous role in how you'll look with blonde hair. Blonde shades require intensive hair care because most of them need bleaching as the first step to getting the desired shade.
As a shade, it is not connected to any particular hairstyle. But when it comes to the combination of bangs and blonde hair, there are certain looks that are very enticing to try.
How to Style Blonde Hair with Bangs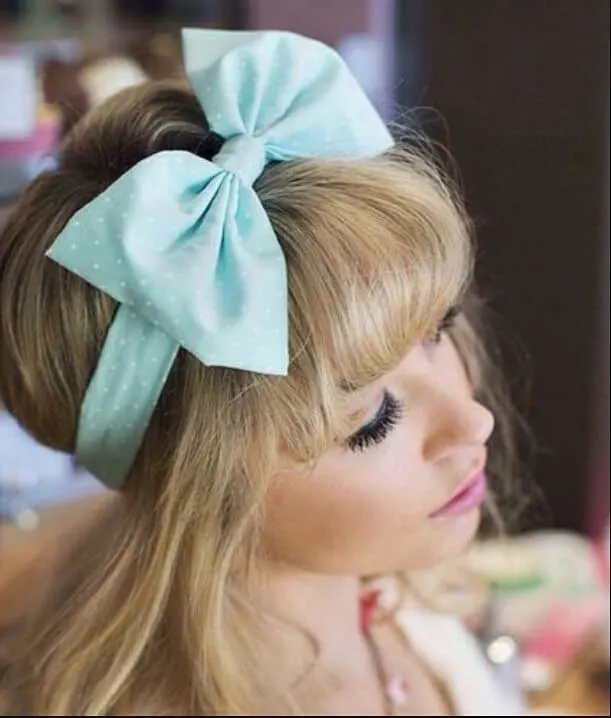 There is no complex process in styling blonde bangs. Much of it depends on the type of hair you have and the type of bangs you wear. If your hair is thin, then styling will be much easier.
One thing you might lack is the volume, so you'll have to use a setting spray, round brush, and hairdryer to create the necessary volume.
If you have thick hair, then you certainly do not lack volume, but you'll need to have good hands so that you can manage good styling. The bangs on the thick hair are styled according to the shape they have which means the hairdryer, the hair straightener, and two different brushes are necessary.
If you wear side bangs, then pull them with the brush and the dryer to the side, creating a natural look. if you wear them straight down, use the straightener to define the clear lines.
Popular Blonde Bangs Hairstyles
These are the 40 most ravishing blonde hairstyles with bangs women won't be able to resist.
1. Vanilla Blonde Bangs
For women with a light or pale skin tone, we recommend vanilla-colored bangs. These ones have a slight wave to them and pair nicely with a short wavy hairstyle and a wide, dark-colored headband.
2. Balayage Curtains
Buttery blonde bangs equal sweet and sultry, like singer Rihanna shows here on her long curly hair. Keep your bangs piecey and thinner since the mane of your hair is already thick and curly.
3. Dishwater Blonde Mess
Not afraid to get a little messy with your hairstyle? Then ask your stylist for dishwater blonde hair color and a choppy, messy bang you can play up even more with some colorful eye makeup.
4. Side Eye-skimming Bangs
Beige blonde bangs will give you instant Emma "aka Baby Spice" Bunton vibes. On a sweet low side bun or ponytail, comb the bangs to the side for the final touch of softness.
5. Bleached Asymmetrical Bangs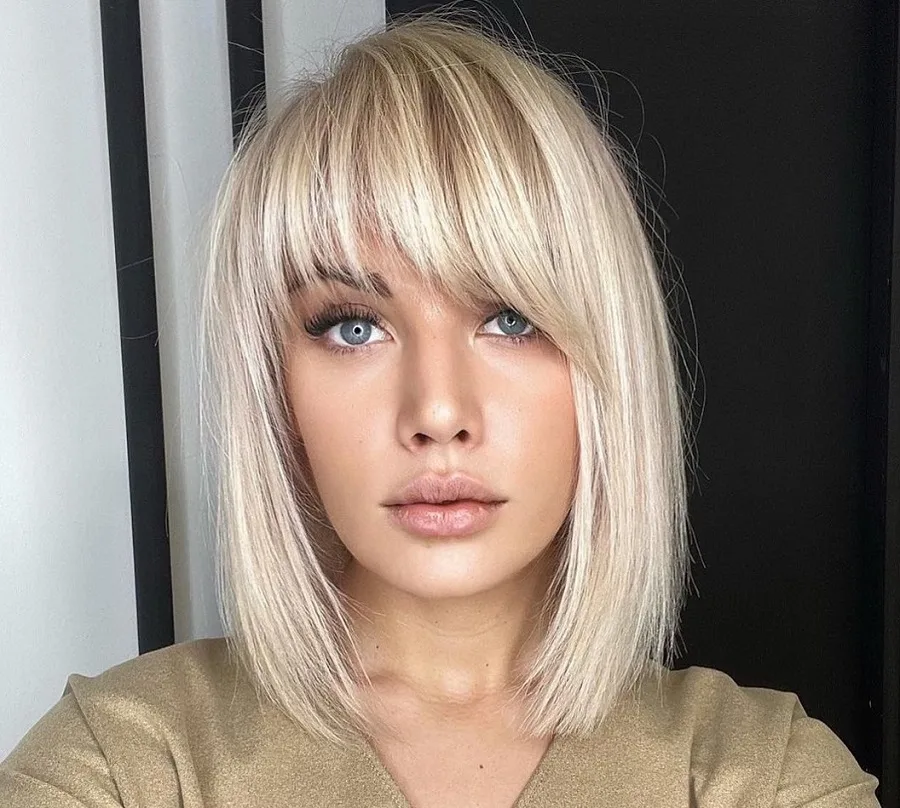 6. Blonde Bixie with Bangs
Pure and sophisticated is the vibe coming from this sweet pixie cut and its long soft bangs. Women who want a trendy, short, and sophisticated haircut certainly need to add this look to the top of their list to try.
7. Feathery Layered Bangs
Layered or long curtain bangs in copper are a beautiful touch to long blonde hair with copper highlights. The style of the bangs combined with the rich color nicely complement a round face shape or a wide forehead.
8. Light Blonde Curtain Bangs
Blonde curtain bangs are another beautiful hair color for women with a light skin tone. Flaunt the color on a short bluntly cut hairstyle with short curtain bangs.
9. Choppy Bangs + Blue Tips
Whether you're young or old, a sleek straight hairstyle is always fun to rock. For older women, however, who have silvery hair, we recommend the medium hair length with choppy bangs and dip-dyed ends.
10. Blonde Bottleneck Bangs
What do you get when you mix traditional curtain bangs with short traditional bangs? Bottleneck bangs that make you a knockout! The wispiness and ease of finger-styling makes this fringe a winner.
Bob is a popular hairstyle and it looks different on women with blond hair. It is soft and chic look. The blonde bangs follow the middle part and fall to the sides of the face.
Women who have long hair can make an impression with wavy blonde hair and blunt bangs. It is great for those with thick hair because the volume will add to the beauty of the waves. The blunt bangs will create a finishing touch.
This hairstyle allows playing with lighter and darker versions of the blonde shades. The cut itself is funky, with thick bangs.
This blonde bangs hairstyle is best for a long messy one. Without any particular direction, the hair falls to sides divided by the middle part, and the messy bangs start deep back & are long.
Women, who love wearing short cuts, should try this pixie look. It is a voluminous one, textured and the bangs are long and styled to the sides. This is a popular choice for women, but the cut suits especially those with blonde hair.
With a clear and specific cut and lines, short straight bob is a great option for women with thin and straight blonde hair. The ends of the bob naturally follow the shape of the face. The bangs are blunt, in a length over the eyebrows.
This modern hairstyle involves the bun as an addition, but really, the beauty of it is the long hair.
Parted just in the middle, the hair is let down, straight or curly, and the little bun makes the cut interesting. The blonde hair bangs are parted at the middle, swept to the sides.
Blonde hair looks very good when it is tied up in a perfect ponytail. The sleek one opens up the face, while the bangs are an addition that completes this wonderful hairstyle.
Layering is suggested when you want to give you face another look. In this case, the blonde hair is layered starting from the chin.
The front parts on the hair are a bit longer than the rest of the hair. The bangs are straight and long.
Curly blonde shags are not very common looks and that is why they are very interesting. The short curly blonde hair finds its own direction when it comes to styling.
The shag is cut gradually, to follow the face lines. An edgy blonde hair with bangs look and the bang are actually curly – parts of the hair that fall down the forehead.
Taylor Swift's curly hair has an afro vibe and it is a very cool and fresh look. Depending on the size of the locks, the hair can be parted in the middle.
The middle part defines the path of the side hair and the locks. It looks very bushy but totally trendy. The bangs here are unordinary, messy and to the sides.
22. Modern Bowl Cut with Bangs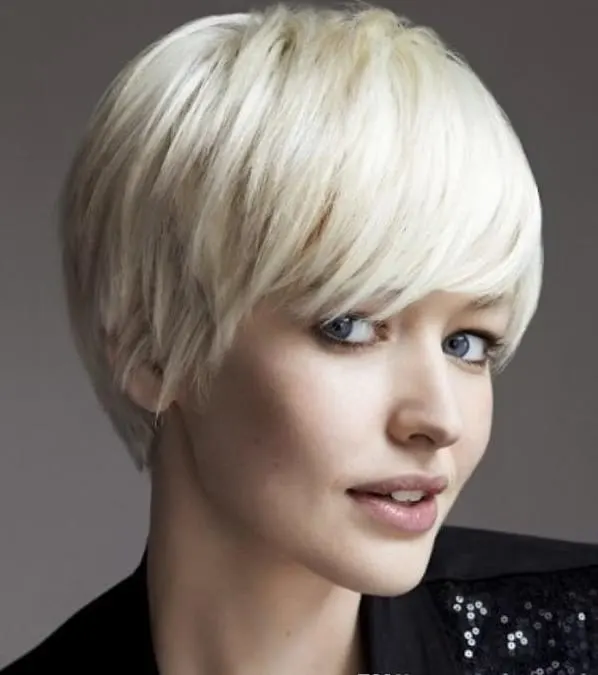 This modern short platinum blonde hairstyle with bangs is perfect for those who don't want to wear pixie.
The bowl cut is cool, the part can be moved to each side and it finished just as the neck starts. The bangs are styles a bit on the side.
The subtle waves look very cool on a lob. The shoulder length is perfect for this style. The shaggy bangs should be long – either parted on the middle or on the side.
The choppy hairstyles are good in covering the damages on the hair and accenting the face. The blond choppy hair with middle length is good to accompanied by choppy bangs.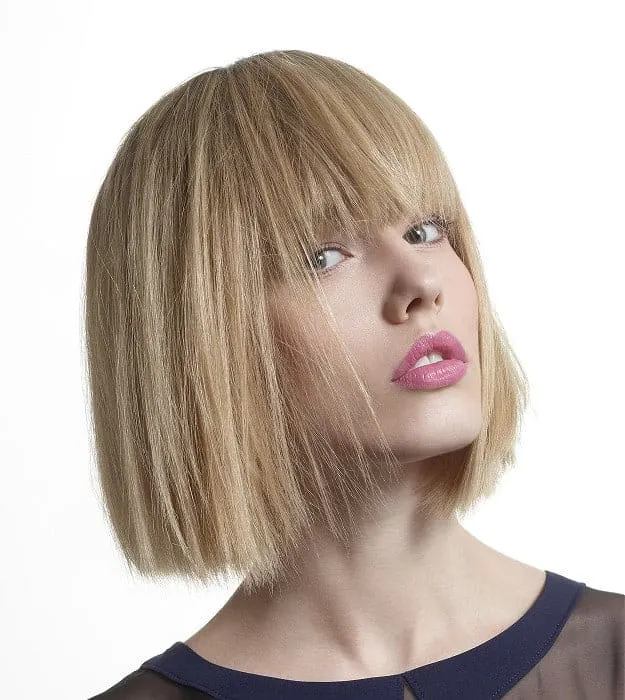 This well-known medium bob is popular among the trendsetters. The beige blonde hair is very attractive when it is cut in straight lines – both as a hairstyle and the bangs. It gives a nice frame to the face and opens the eyes.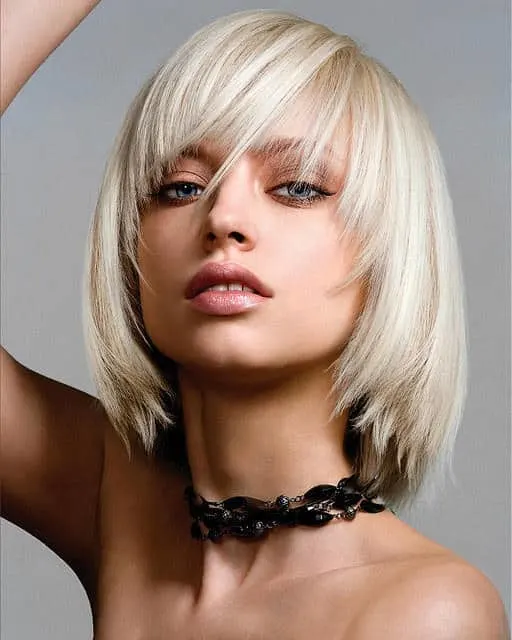 Layered platinum blonde bob with bangs is another great choice for those who want to leave an impression with their hairstyle. The bangs are also layered.
27. Long Retro Cut
This retro golden blonde bangs hairdo requires thick hair, perfect gradual cut and styling are done with blow-drying the hair to the inner side.
This sharp look and hairstyle is a choice by those who want to leave a strong impression on their appearance. The sharp linear edges of the hair and the bangs relate to Cleopatra's style, just in a blond version.
This everyday look does not require much effort – just on the contrary. The hair is pulled back in a messy bun and the Bardot bangs are styled to fall over the face and the sides.
Blonde hair is perfect for braids because they are more noticeable on a lighter base. This blonde hair with bangs look is elegant and perfect for any occasion.
The bangs are on the side, and the braid goes from top to bottom like a crown. The rest of the hair is tied up in a low bun, creating a voluminous updo.
The blondes have so many options for wearing their hair, so, it is good to make a change and try something new. From super short to super long, let one of these blonde bangs suggestions be your next choice for a new look.
31. Platinum Blonde and Wispy Bangs
For a chic and edgy look, try platinum blonde bangs with a wispy, almost feather-like fringe. This blonde hairstyle with bangs creates an airy, ethereal vibe that's perfect for those who love making a statement with their hair.
32. Golden Blonde and Curtain Bangs
Achieve that classic Hollywood glamour with golden blonde hair with bangs. The curtain bangs softly frame your face, adding an elegant, timeless touch to your overall look. It's perfect for anyone seeking a sophisticated and stylish appearance.
33. Strawberry Blonde and Side-Swept Bangs
For a flirty, feminine look, strawberry blonde paired with side-swept bangs are an excellent choice. This warm, playful shade adds a touch of whimsy to your style, while the side-swept bangs create a romantic, soft effect.
34. Ash Blonde and Blunt Bangs
Rock a bold, modern look with ash-blonde hair and blunt bangs. This cool-toned blonde hairstyle with bangs makes a strong statement, giving off an effortlessly cool and contemporary vibe.
35. Honey Blonde and Choppy Bangs
Add some texture to your blonde hair with choppy bangs in a rich honey blonde shade. This blonde bangs style is playful and full of movement, perfect for those who want a low-maintenance yet stylish look.
36. Dirty Blonde and Arched Bangs
For a more natural, laid-back vibe, dirty blonde with arched bangs will be a great pick. This versatile blonde hairstyle with bangs offers a subtle, earthy tone that's perfect for everyday wear while still looking fashionable.
37. Creamy Blonde and Micro Bangs
If you're feeling daring, go for creamy blonde hair with micro bangs. This unique blonde bangs style gives off an edgy, avant-garde vibe, perfect for anyone looking to make a bold statement with their hair.
38. Champagne Blonde and Long Bangs
For a soft, elegant look, try champagne blonde hair with long, face-framing bangs. This delicate blonde hairstyle with bangs creates a sophisticated and timeless appearance that's perfect for any occasion.
39. Caramel Blonde and Full Bangs
Add some warmth to your style with caramel blonde and bangs. This rich, inviting shade is perfect for those looking to embrace a cozy, comforting vibe, while the full bangs create a stylish, modern look.
40. Bronde and Textured Bangs
For a unique, dimensional look, try bronde hair (a blend of brown and blonde) with textured bangs. This blonde hair with bangs style showcases a multi-tonal effect that's effortlessly chic and perfect for those looking to stand out from the crowd.
FAQs on Blonde Bangs Hairstyles
Which length is perfect for blonde hair with bangs?
There is no specific length that does best with bangs. It all comes down to personal likings. If you like bangs you can wear them at any length.
Which skin tone suits blonde hair best?
The blonde hair best suits women with fair skin tone and light eyes. The fair skin tone somehow asks for a light hair tone because it is natural and beautiful.

So if you have pale skin, light green, blue or brown eyes, the blonde hair will suit you well.
Which bangs to choose for blonde hair?
Depending on the look you want to achieve, the choice falls between side bangs and blunt bangs. If you are going for a subtler and soft look, choose the side bangs. If you want an edgier and strong look, choose the blunt bangs.