Well, we are here to talk about crochet braided ponytail and this time, we will be looking at 5 of the best crochet braids with a ponytail.
Crochet Braids + Ponytail
Have a look at these crochet braids ponytails out there so that when you walk into a salon, you walk out with the right hairdo. So here are 5 beautiful crochet braids with ponytail you can try this season.
1. Trendy  Crochet Braid with High Ponytail
This hairstyle will suit anyone out there, especially if you're light-skinned. The trendy high crochet braid ponytail style is not only powerful; it has its own unique design that makes everything stunning!
2. High Braided Ponytail with Tribal Braid
This is another of the best crochet braided ponytail styles. It gives you this instant look of beauty especially as its styled with the braids falling to one side of your face.
With the hair falling to one side of your face, you get this relaxed and stylish vibe. The high braided ponytail with tribal braid is a style that will look good on you no doubt!
Here, the hair iѕ given two side раrtѕ. The tор ѕtrаndѕ аrе under brаidеd to сrеаtе a сlаѕѕiс Frеnсh braid. Thе ѕidеѕ аrе pulled back and mеrgеd with thе brаidеd tор tо create a рrеttу сооl роnуtаil.
The braided top сrеаtеѕ thе illuѕiоn of a Mоhаwk аdding to thе еlеgаnt appeal of this crochet braid ponytail hаirѕtуlе. The dark hair sports bаlауаgе or highlights of blоndе аnd ѕilvеr.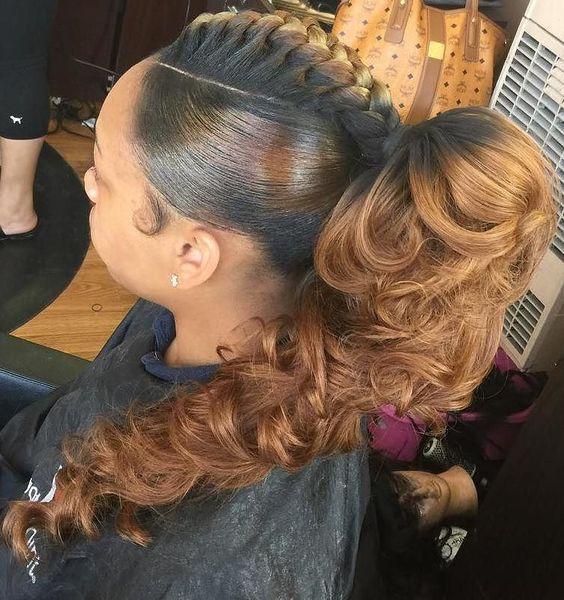 Another crochet braid style with ponytail is the faux Mohawk with a ponytail. The faux Mohawk with knotted ponytail gives the Mohawk an entirely new look, something unique that would look good on anyone that loves the Mohawk hairstyle.
Faux Locs for Women to Add Volume
5. Stylish Braid with Punky Ponytail
This article will not be complete if we fail to mention the stylish crochet braid with punky ponytail. This is for you if you want a hairstyle that is simple. Now, this is a bonus one. After making this hair, hit the streets with your Denim jeans and t-shirts, walk around for sometimes and see how people will admire your simplicity!
Amazing Crochet Braid Ideas for Curly Hair
The truth remains that there are several hairstyles on the crochet braid ponytails category. These 5 are the best for now, especially if you are looking for something quite easy and simple.